10 best SaaS marketing tools and platforms for 2021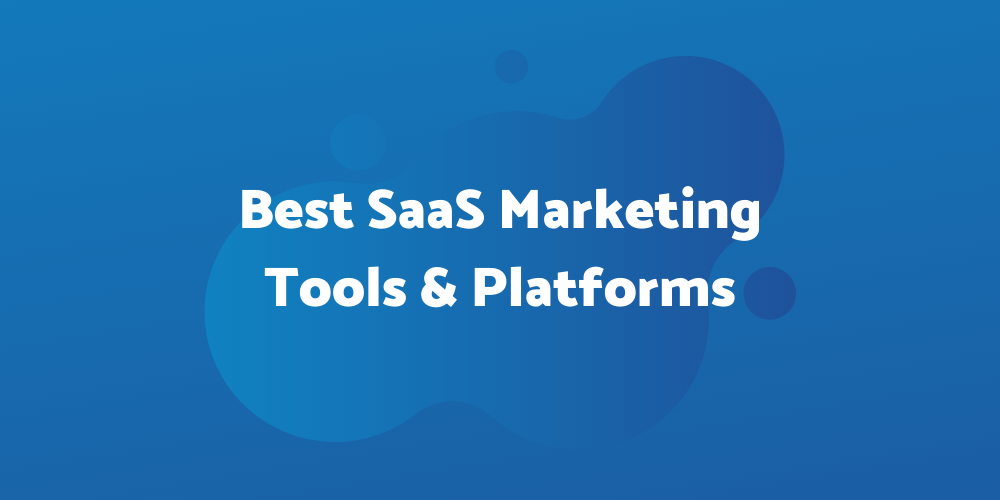 Best SaaS marketing tools and platforms
Google Analytics. Free, in-depth website traffic metrics.
Vidyard. The best marketing a sales video hosting platform.
Hootsuite. The complete social media management platform.
SparkToro. Market research and audience intelligence for all.
SEMrush. The most comprehensive SEO toolkit.
Zoom. The ubiquitous video conferencing tool.
LuckyOrange. The best heatmap software.
Zapier. Connect and automate your disparate tools.
HubSpot. The central hub for all your marketing and sales software.
RightMessage. The most under-rated marketing tool in existence.
Does everyone know what time it is?
TOOL TIME.
Welcome to this special 2020 edition of Tool Time. I'm your host, Morgan "the man with the plan and they told me this was too long for a middle name but I'm going to make them edit it out to be sure" VanDerLeest.
And joining me today are 10 must-have software-as-a-service (SaaS) marketing tools and platforms. My oh my, these tools are some keepers.
If you didn't get the brilliance of that extended 90s' sitcom reference… I'm sorry, we can no longer be friends.
Join the IMPACT coaches for a deep dive on a new topic every month in our free virtual event series.
But before we dig into that, what is SaaS?
In a nutshell, it's software sold on a subscription basis (generally monthly or annually) and is usually accessible online. This may be a freemium service (free to start with additional features behind a paywall) or fully paid from the beginning. But when you use it, it should feel like having superpowers: something you would have to spend way too much time or money doing on your own.
Now, if you've been keeping track, the MarTech landscape has increased to around 8,000 solutions.
In other words, it may take you a little while to filter out the noise and find the best of the best tools. And to make it more complicated, some tools are incredibly niche and some are largely encompassing, so finding the ideal tools for your business may take some fine-tuning.
Lucky for you, I'm a glutton for punishment and sifted through that crazy.
Below are 10 of the best marketing tools you can find, and unless you're already using this whole stack you'll find something you can appreciate in here.
It's Tool Time, baby!
Oh, Google, our mighty and vengeful overlord. No matter how many sacrifices we make, it's never enough to appease thy algorithm for long.
Joking aside, it's hard to imagine a marketing stack that doesn't include Google Analytics. First of all, it's free (pencil that into the budget) and since Google is the search engine to beat, Analytics is a great way to see how it specifically is evaluating your site.
Google Analytics measures all kinds of traffic metrics for your website, analyzes performance (like load time and mobile responsiveness), and surfaces audience insights.
Even if you're using another traffic analytics tool, wiring up Google Analytics is a great way to compare and go more in-depth regarding traffic metrics, visitor categorization, and location segmentation.
These metrics help you determine what content to create more of, which referral channels you should focus on, and what pages you need to revise (if they have a high bounce rate, for example).
Google not your thing? Here's a privacy-focused alternative: Fathom Analytics. It's far less in-depth, but it's clean, doesn't require a cookie notice, and highlights some of the most important metrics like unique visits, time on site, top pages, and referrers.
Video has been on the rise for years, and it's more important than ever. There are a handful of great video hosting providers out there, but only a few are focused on marketing and sales. And of those, Vidyard is IMPACT's tool of choice (and an affiliate of ours).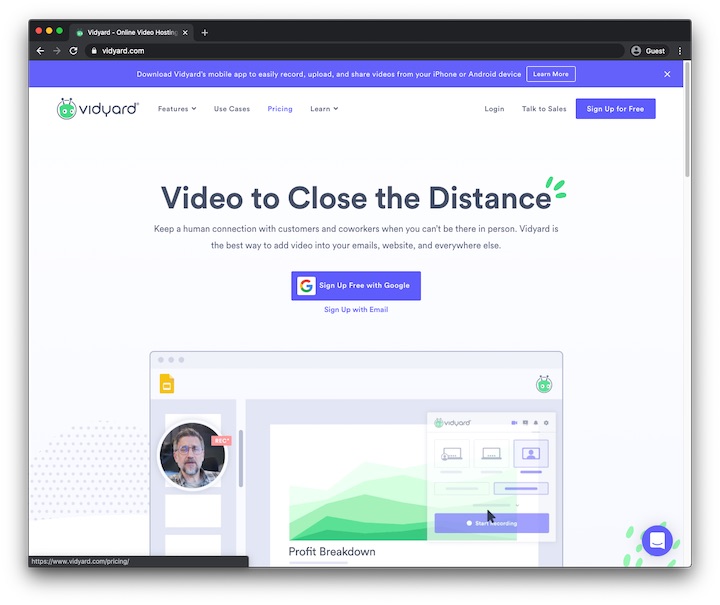 Vidyard has three main focuses (and we use all of them!):
Sales teams
Internal communications
Marketing teams
Everyone gets inundated with emails and plain text messages.
Vidyard's GoVideo functionality helps sales teams and internal communicators stand out, add a face to their messages, include calls-to-action in the video, and know who has watched their videos and how many times.
That can be the difference between a lukewarm and fiery hot qualified lead. If you haven't been using videos in your sales process, you're leaving opportunities on the table!
The marketing side enables you to see how many people are watching your website's videos, how long they're watching, when they fall off, and in which mediums your videos are doing best. And all of this feeds back into your CRM, giving you tons of engagement information for your audience.
Vidyard not your thing? Loom has been making some big waves in the video space, and their toolset has inspired the interfaces of Vidyard and others. Our product team uses Loom since it's tailored toward product over marketing, but has many of the same benefits as Vidyard.
Regardless of your feelings around social media, literally billions of people use these platforms and they are hard to ignore. If your business doesn't have a social media presence, you're missing out on a great way to get engaged with your audience and Hootsuite is a top-tier social media management platform.
It has tools for nearly everything, from publishing your content into the world and monitoring and engaging with your audience to empowering your teams to build your brand in public.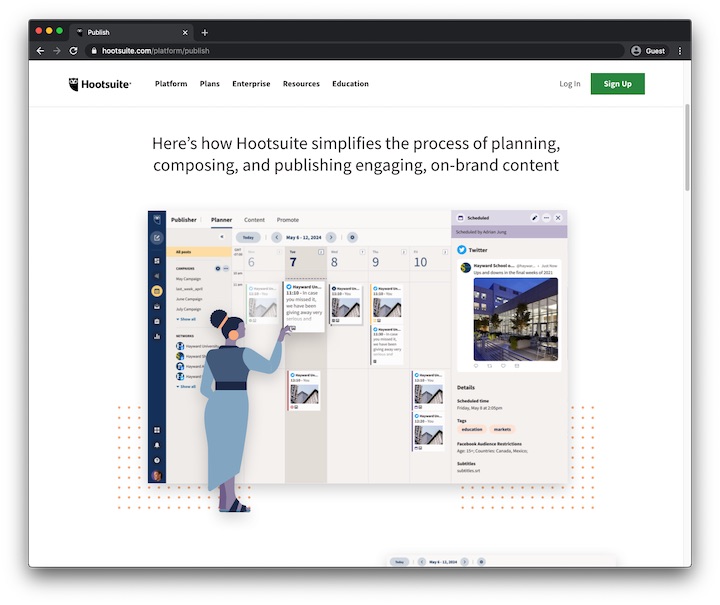 Create and schedule your content, get a unified social media inbox (hallelujah!), and keep your team trained with Hootsuite Academy, all under one roof.
Not a Hootsuite fan? Buffer has tools for both publishing and analyzing your social media efforts. While not as in-depth as Hootsuite, Buffer's straightforward and clean interface and experience can make your social media management efforts more delightful.
SparkToro helps you identify the biggest areas of influence in your audience. It's the brainchild of former Moz CEO Rand Fishkin and Casey Henry, former Moz, Wistia, and HubSpot employee.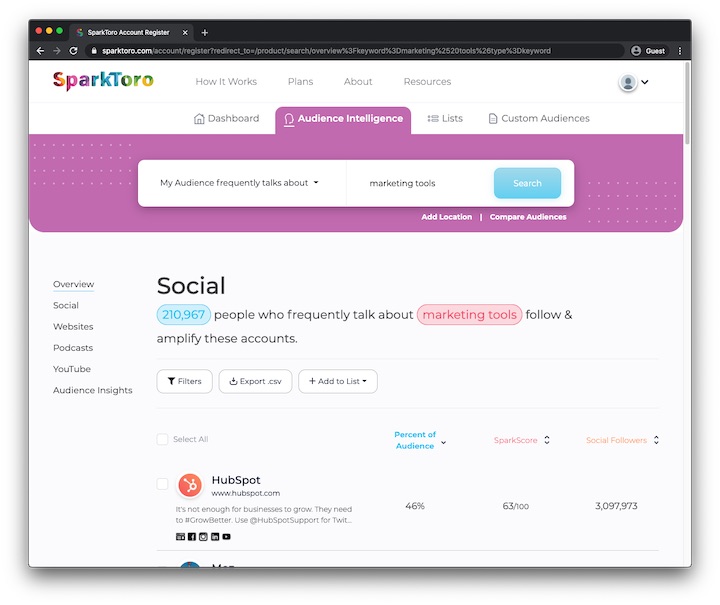 SparkToro gathers enormous amounts of social and web data and puts together trends for what your audience consumes online (text, audio, video, follows, discussions, etc).
With that level of marketing research and audience intelligence, you can pinpoint your areas of focus and do things like:
Sponsor the top podcast in your audience's circle
Guest post on the websites your audience frequents
Collaborate with influence marketers to get in front of your audience when they're most engaged
Another fun tidbit about SparkToro: It's not your typical startup trying to climb to the top as fast as possible. Rand and Casey are building a sustainable, profitable business that provides incredibly valuable information without breaking the bank. This enables them to focus on their customers first, empowering them to find the best-fit audience for their business.
If you're interested in learning more, IMPACT's Kevin Phillips interviewed Rand Fishkin regarding SparkToro on a ToolTorial episode!
No marketing stack is complete without a powerful SEO tool, and for that,, we have to recommend SEMrush (another IMPACT affiliate).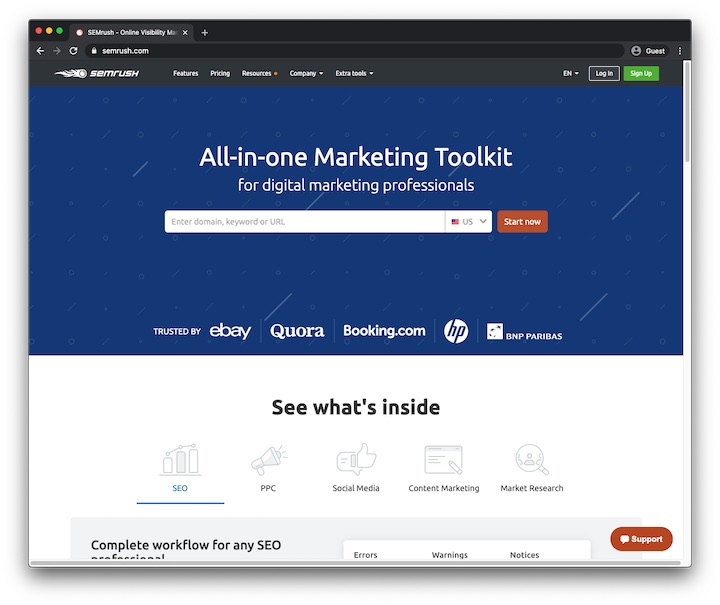 With over 40 tools in their kit, SEMrush almost has too much for digital marketers.
While the bulk of their tools fall under the SEO category, they also support content management, advertising, social media management, and competitive research.
Their SEO category includes everything you'd expect (non-exhaustive list):
Keyword tools
Backlink analytics
Traffic insights
Site audit
We regularly use SEMrush to audit and make recommendations for our clients, and it's one of the most comprehensive SEO tools in the industry.
Ah, the hero we needed. Zoom has become one of the most ubiquitous tools on the market, as everything from schools to family gatherings have been held via video conference during the COVID-19 pandemic.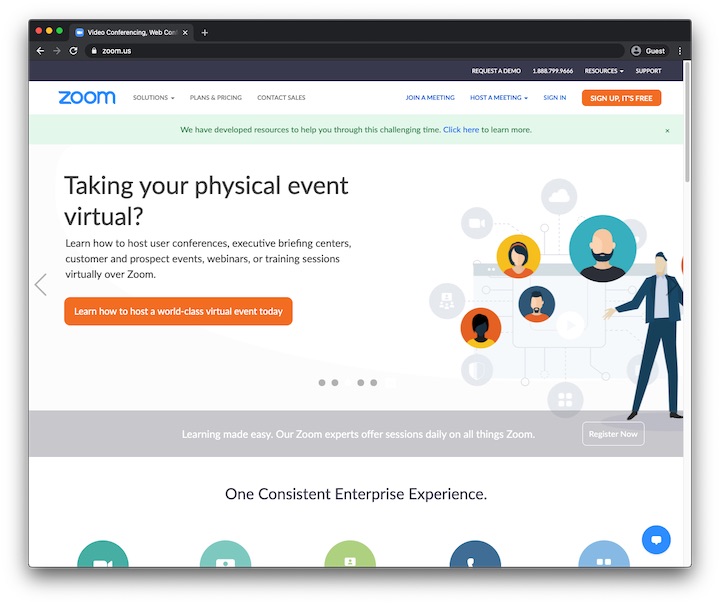 If you haven't been on a Zoom call yet, it's one of the de-facto video conferencing tools on the market right now, competing with the likes of Google Meet/Hangouts and Microsoft Teams.
The free version has unlimited 1:1 meetings, and a 40-minute maximum on group meetings (up to 100 participants). It's an effective way to do customer interviews, connect with coworkers, and attend industry virtual conferences.
Want a Zoom alternative? Check out Whereby, the browser-based (that means no app or download required!) video conferencing app that's got just about everything you need (check out #4 on this IMPACT Toolbox article for more details).
When it comes to heatmap tools, LuckyOrange is the tool to beat. A heatmap tool shows you where on your site people are focused and clicking.
Are visitors making it below the fold? Which call-to-action (CTA) is winning out on the page?
This is the detailed level of information that helps turn a page from a lackluster brochure into a lead-generating engine, with actual data about how people are interacting with your site.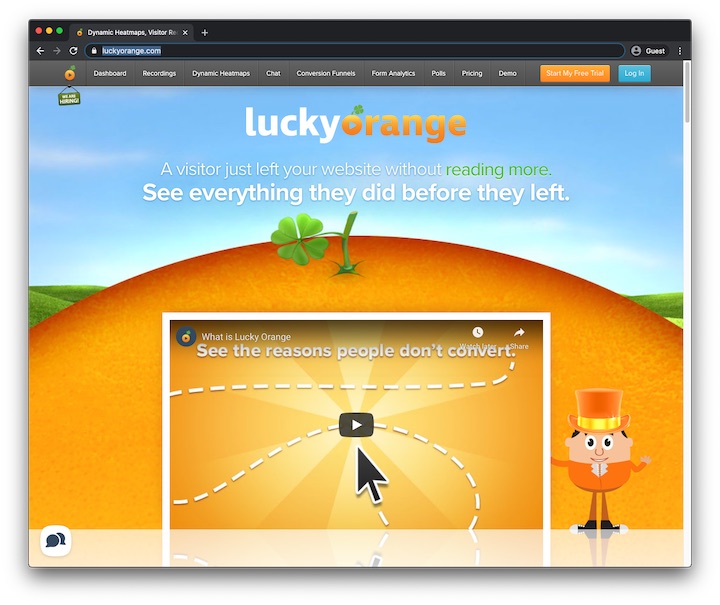 Not only is LuckyOrange insightful, but it's also very competitively priced.
Starting at $10/month for up to 25,000 pageviews, that's enough to handle most website traffic. And if you've got more than that, then you should have more than $10 to spare on tools!
As with most of these tools, we use LuckyOrange on IMPACT's website and we recommend it to our clients.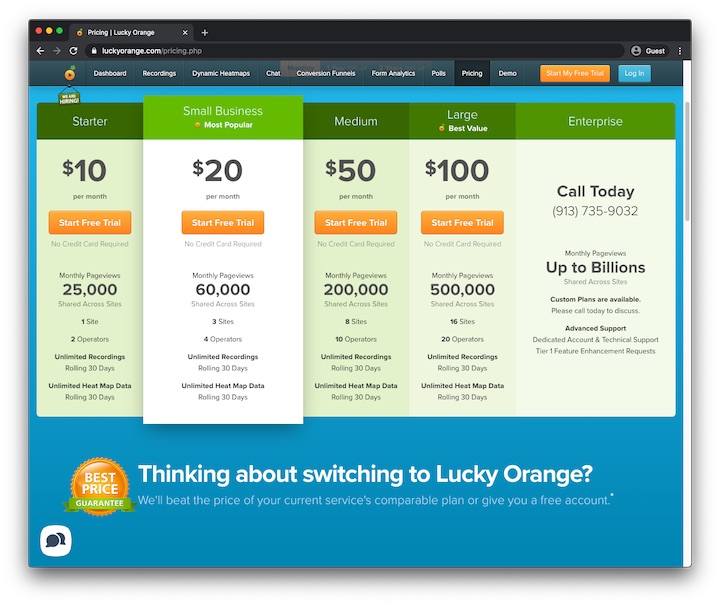 And if you're currently using another tool, LuckyOrange will beat the price or give you a free account.
This guy markets.
With the multitude of marketing and sales tools out there, sometimes they don't always work nicely with one another. That's where Zapier comes in.
With Zapier, you build "zaps" or connections that take an event from one service and trigger something to happen in another tool.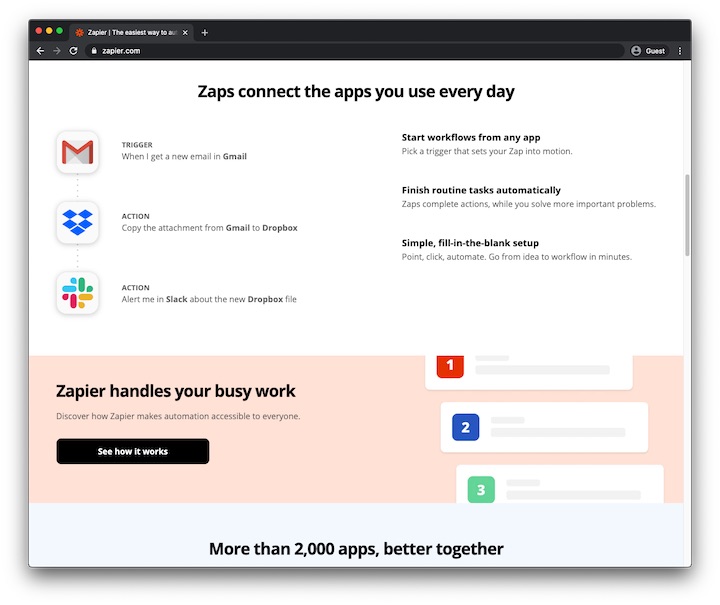 For example, create a new HubSpot contact when you add a Google Sheet row or register new leads from webinars.
If you're finding yourself doing anything manual on a regular basis, it's worth checking Zapier to see if you can automate the process. Or discover the ways other marketers are using Zapier.
As a HubSpot Partner Agency, we may be biased, but honestly, it's hard to make a list of marketing tools that doesn't include it. So hard that I couldn't leave it out.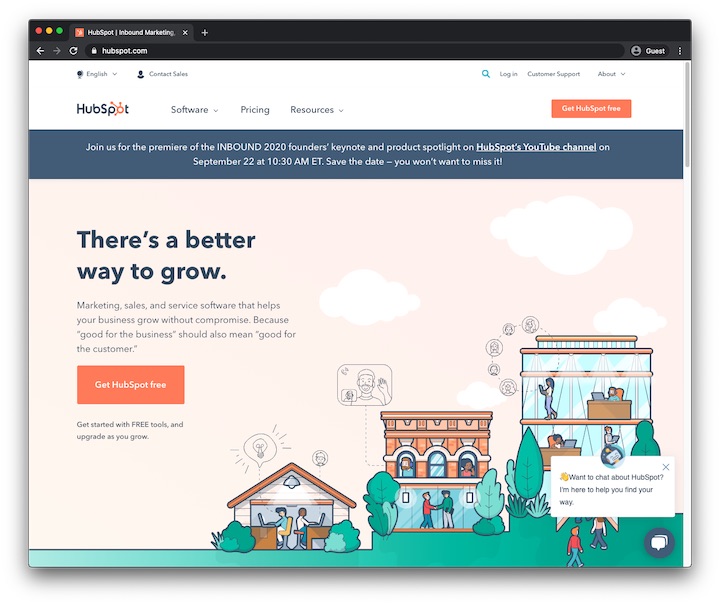 HubSpot holds a unique role in the MarTech landscape. While there is a ton of functionality built-in, its real power is acting as a hub for the rest of your marketing and sales tools.
With their App Marketplace, HubSpot enables the integration of a ton of other applications with it. By doing this, HubSpot becomes the indispensable linchpin of your marketing stack.
But depending on your needs, you may not even need integrations. With HubSpot you can:
Develop and host your website
Create and manage your blog
Track traffic metrics
Run email marketing campaigns
Manage customers with their CRM
That's enough to start building some serious ROI for your marketing efforts. If you're not sure how to track ROI reporting in HubSpot, be sure to check out IMPACT's Director of HubSpot Training Carina Duffy's course on the Fundamentals of ROI Reporting in HubSpot (Pro membership required).
Hands down, RightMessage is the most under-rated marketing tool in existence.
I'll say it again. The most under-rated marketing tool in existence.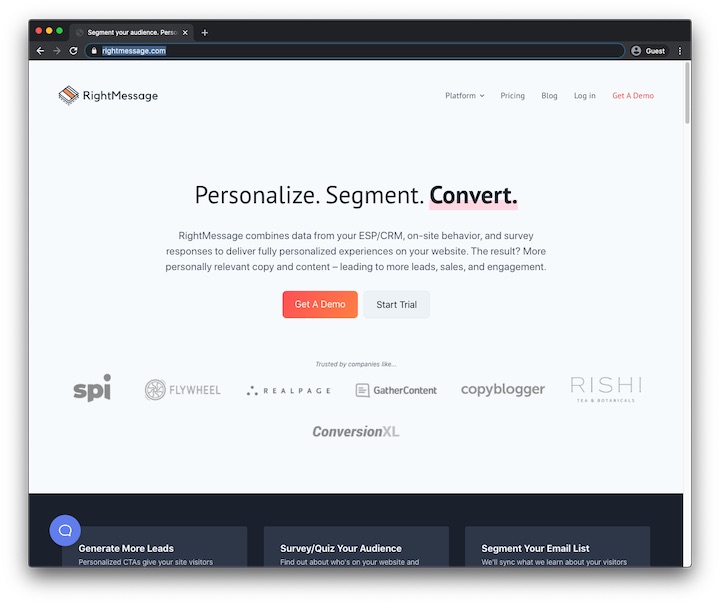 The key for marketing is conversion. If people aren't converting, then you aren't getting leads.
RightMessage is a conversion powerhouse. Get started by including the JavaScript snippet on your website. Then it helps you personalize, segment, and convert your audience through a series of clean but powerful tools. RightMessage is like HubSpot's Smart Content but more comprehensive.
It all starts with the form flow builder. First, you create a series of forms that dynamically display based on how your visitors respond. These can be simple, one-click multiple-choice forms, or more complex custom fields. Then you display unique calls-to-action based on their responses the information in your CRM.
That's right. RightMessage has a two-way synchronization with the best CRMs in the industry, including HubSpot, and the content you display to visitors is based on the information you already have.
Never ask a subscribed contact for their email again. Show a relevant CTA instead. Allow your audience to self-segment themselves.
Automatically tweak form content based on answers to previous questions.
And when you're ready to power-up the rest of your website, you can upgrade to their Personalize Plan that allows you to personalize anything on your website: headlines, images, copy, CTAs, you name it.
RightMessage helps you get all the little things right to make your audience feel heard like you're speaking directly to each of them individually.
It will take some strategy to get the most out of RightMessage. But even some basic segmenting can drastically improve your conversions.
Now the real question…
What SaaS tools are you using?
Especially if it isn't on this list, I want to hear about it! Tweet me @morganandrewv and let me know what you're using and how you came to pick it.
It's a glorious time to be alive as a marketer with such a range and depth of tools. While it may seem overwhelming, the sheer breadth just improves the likelihood that there's an ideal tool stack for you out there.
Join the IMPACT coaches for a deep dive on a new topic every month in our free virtual event series.
Published on September 24, 2020