The Top 12 HubSpot CRM Integrations Users Love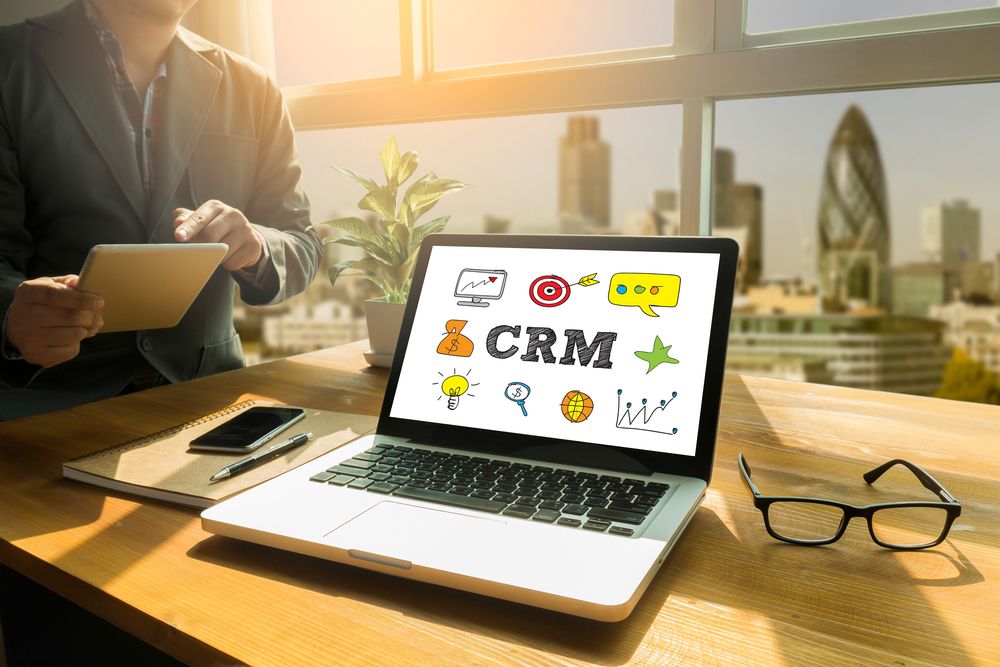 Are you effectively managing your contacts and leads?
One of the best ways for you to manage your leads is by integrating HubSpot with your customer relationship management system (CRM).
HubSpot allows you to keep track of all the information collected from your CRM and leverage that information in your marketing activities. This allows your sales and marketing teams to work in perfect harmony.
Why Integrate Your CRM With HubSpot?
There are several benefits to integrating your CRM with HubSpot. With the integration your sales team will be able to access and use HubSpot's contact intelligence on workable leads within your CRM, without logging into HubSpot.
This allows your team to measure which campaigns are generating an ROI and which ones aren't as effective.
What marketing team wouldn't love to analyze which marketing campaigns are the most effective at generating customers?
Automated Lead Entry
No one wants to manually enter lead after lead into their CRM. It's a time-consuming and tedious hassle that only gets worse as your company grows larger. The automated lead entry that comes with CRM integration makes your life so much easier.
You no longer have to export a huge file of contacts into HubSpot. With the integration of your CRM and HubSpot, lead entry is now automated. This not only saves time, but it also ensures that no leads slip through the cracks.
Other CRM integration features include:
All of the contact properties your lead provides through form fills

Lead source
First visit date
HubSpot score
First conversion event and date
Last conversion event and date
Lead Intelligence
Lead intelligence is all about the information you need to help sell your product or service.
Every time prospects interact with your website, whether they view a page, download your recent eBook, or perform any other action on your site, HubSpot is able to provide you with that information -- helping you convert that prospect into a customer.
How lead intelligence works inside your CRM with HubSpot:
Leads enter your system by either filling out a lead capture form on your website or by importing leads into HubSpot.
Lead data is stored in both HubSpot and the CRM, including detailed lead intelligence gathered by the HubSpot software. Detailed lead intelligence includes the pages your leads viewed, conversion forms completed, social media details, any email marketing communication, and identifies when leads revisit your site.
By integrating the two software, it will automatically remove any leads that are already in the CRM system. Duplicate leads can be identified based on each lead's distinct HubSpot ID and their email.
Leads are then assigned to the appropriate sales reps based on various lead assignment rules.
When the sales team closes a deal, that customer's lead status as an opportunity is closed and the integration records the contact as a customer, closing the loop.
Closed-Loop Reporting
Closed-loop reporting is a marketing tool that relies on data and insights about interaction between your company and each contact. The ability to close the loop helps your marketing team understand their best and worst lead sources.
With this valuable information you can strategically plan your marketing efforts and campaigns by focusing on your best lead sources -- the ones with the best conversion rate to customer.
Closed-loop reporting will help you:
Focus on the right channels and offers

Deliver clearer results
Gain insights about your target audience
Shorten your sales cycle
Keep your cost per lead low.
12 CRMs That Can be Integrated With HubSpot
Now, while not all CRMs integreat with HubSpot, fortunately, most of the top-rated CRMs do. Here is a list of the 12 best CRMs that you can integrate with HubSpot.
Salesforce is the king of CRMs and their tools integrate seamlessly with HubSpot.
Sales Cloud provides contact management, opportunity management, and sales collaboration through a variety of features which you can customize to fit your organization.
They have everything your sales team needs from reporting to sales forecasting, and even territory management.
Whether you have a small business or large enterprise, Salesforce can accomodate your needs. It is especially effective for the latter.
[Integrate Salesforce with HubSpot]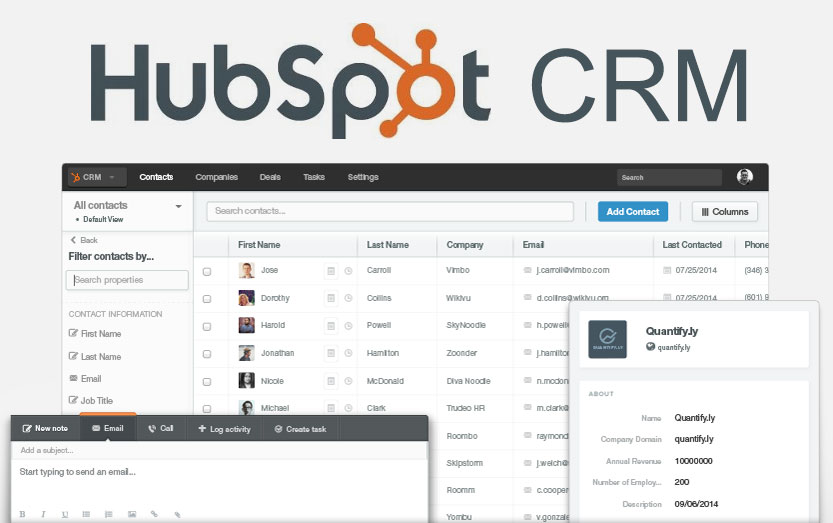 HubSpot CRM is a free, easy to use CRM system that eliminates manual work and helps your sales team. It allows you to keep all your contacts in one centralized database, automatically logs every interaction for you, and crawls the internet to find company information for your contacts.
While it lacks some of the advanced capabilities of more robust CRMs , it's not designed these . Instead, the HubSpot CRM allows companies to get some of the advantages of having a CRM for smaller teams or organizations. In fact, many companies continue to use HubSpot CRM alongside other third-party CRMs.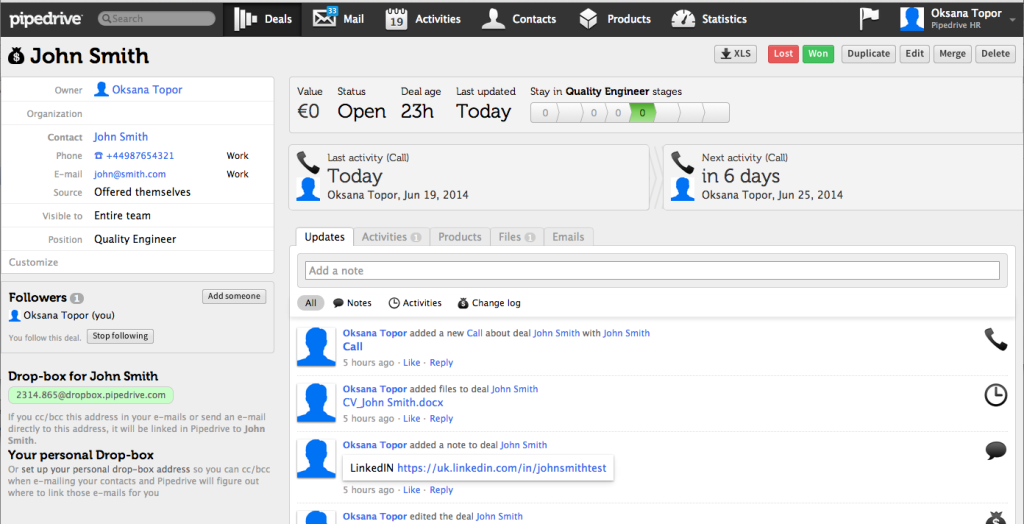 Pipedrive is a sales tool geared towards entrepreneurs and small businesses. It visualizes your sales pipeline and helps you make sure important conversations and activities don't get dropped. Salespeople and managers enjoy Pipedrive because it's very user-friendly.
[Integrate Pipedrive with HubSpot]
Zoho CRM provides a 360-degree view of your entire sales cycle and pipeline. It allows you to identify trends, find opportunities, improve efficiency, and lower costs with valuable insights.
Zoho is enterprise-ready and has the ability to scale alongside the growth of your business, while simplifing your processes.
[Integrate Zoho CRM with HubSpot]
Nimble transforms who you know into how you grow through smarter relationship management. Relationships can make or break your business, and they are difficult to manage in a noisy world. Nimble is designed to intuitively combine all your contacts, email, social signals, activities, and follow-ups everywhere you work.
[Integrate Nimble with HubSpot]
Prosperworks is a smart and simple CRM for Google Apps. ProsperWorks CRM helps you identify, track, and optimize sales contacts and opportunities without all of the manual data entry.
Their CRM takes about five minutes to get setup and doesn't require any training to use. It has an intuitive visual tool that allows you to manage your complete sales pipeline with ease so you can close more deals.
[Integrate Prosperworks CRM with Hubspot]
Infusionsoft is an all-in-one sales and marketing software designed for small businesses.
Infusionsoft has been around for over a decade and is one of the most popular CRMs out there. However, it also has a reputation for being one of the more complicated to use. Once your team figures out how to use all of the advanced features, there's nothing you can't do with Infusionsoft.
[Integrate Infusionsoft with HubSpot]
Insghtly's web-based CRM allows you to manage leads, as well as manage projects more efficiently. You can use Insightly with any email system, or take advantage of their seamless integration with Gmail/Google Apps or Outlook 2013/Office365.
Insightly gives you everything you need to take care of your customers. Stay on top of your sales processes at every step ‐ from initial lead management and customer communication, through reporting, invoicing and customer payment.
[Integrate Insightly with HubSpot]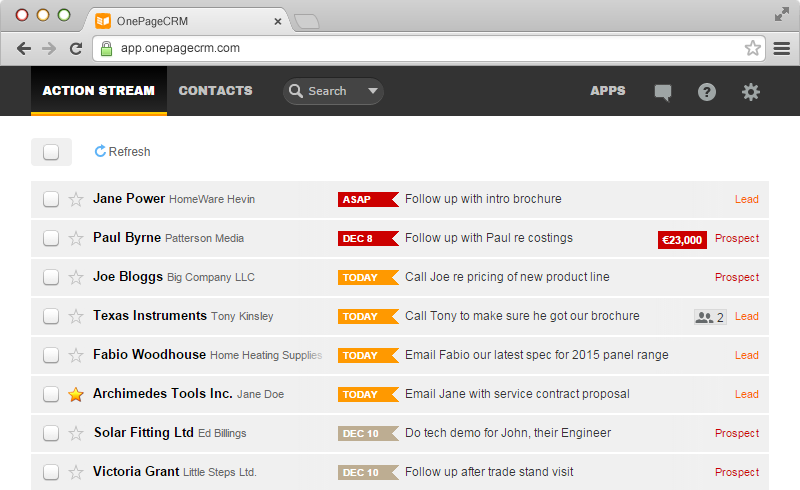 OnePageCRM turns the complexity of CRM into a simple to-do list.
Built using GTD (Getting Things Done) productivity principles, their intuitive approach to sales helps you convert leads to customers, reach targets, and grow your business faster.
Capture leads from Gmail, Outlook, social media, and other sources and create a contact in OnePageCRM in just one click.
[Integrate OnePageCRM with HubSpot]
SugarCRM enables businesses to create rewarding customer relationships with their innovative, flexible, and affordable CRM solution.
Their CRM uniquely places the individual at the center of focus, allowing businesses to transform the customer experience and enable highly personalized interactions that drive customer loyalty throughout the entire customer lifecycle.
[Integrate SugarCRM with HubSpot]
Base allows businesses to take a scientific approach to sales.
With their powerful, all-in-one sales platform that increases adoption and data capture among sales reps, Base provides sales leaders with the actionable, quantifiable insights needed to accelerate performance and grow revenue in a way thats measurable, repeatable and scalable.
[Integrate Base CRM with HubSpot]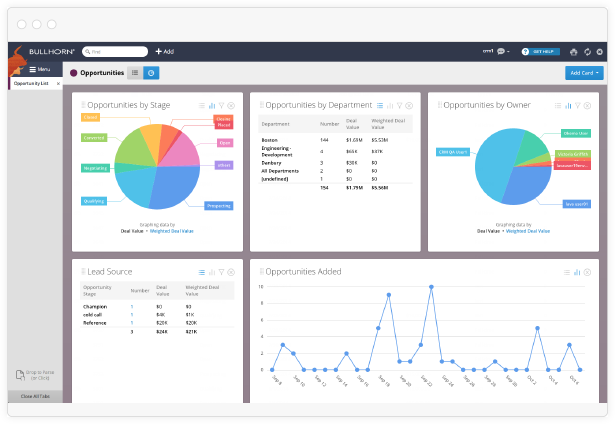 Bullhorn offers cloud-based CRM solutions for relationship-driven businesses.
Its automated data capture and customer insight technology helps companies win customers and keep them happy and engaged.
Bullhorn CRM is mobile, user-friendly, and completely automated so your sales team has more time to focus on building real relationships and less time on managing contacts in your database.
Free Assessment:
How does your sales & marketing measure up?
Take this free, 5-minute assessment and learn what you can start doing today to boost traffic, leads, and sales.