5 best virtual event software options for businesses and brands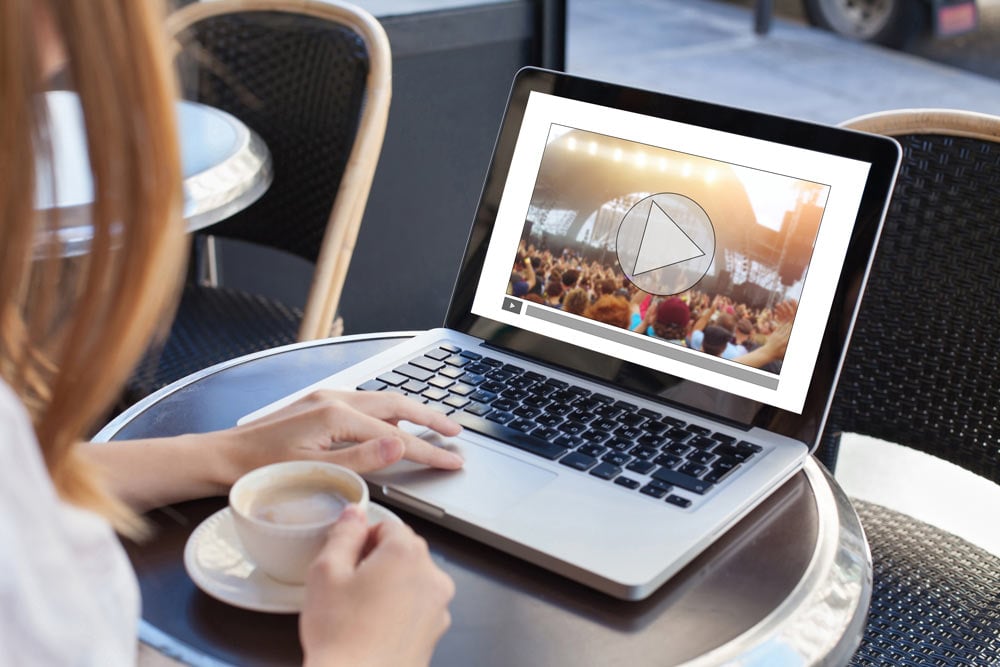 Best virtual event software:
Accelevents
Swoogo
Hopin
Brella
InEvent
When we wrote our first version of this article back at the end of March, we had no idea that nearly everyone would pivot their in-person events to virtual ones due to COVID-19.
There are now more virtual event software options than ever before as many organizations have added virtual or hybrid event capabilities in the past few months or improved on what they already had. That means there are literally hundreds of options to choose from and it can be hard to even know where to begin.
As the director of events here at IMPACT, I've used a variety of event software to produce our 2020 virtual events (we hosted five so far and have two left this year).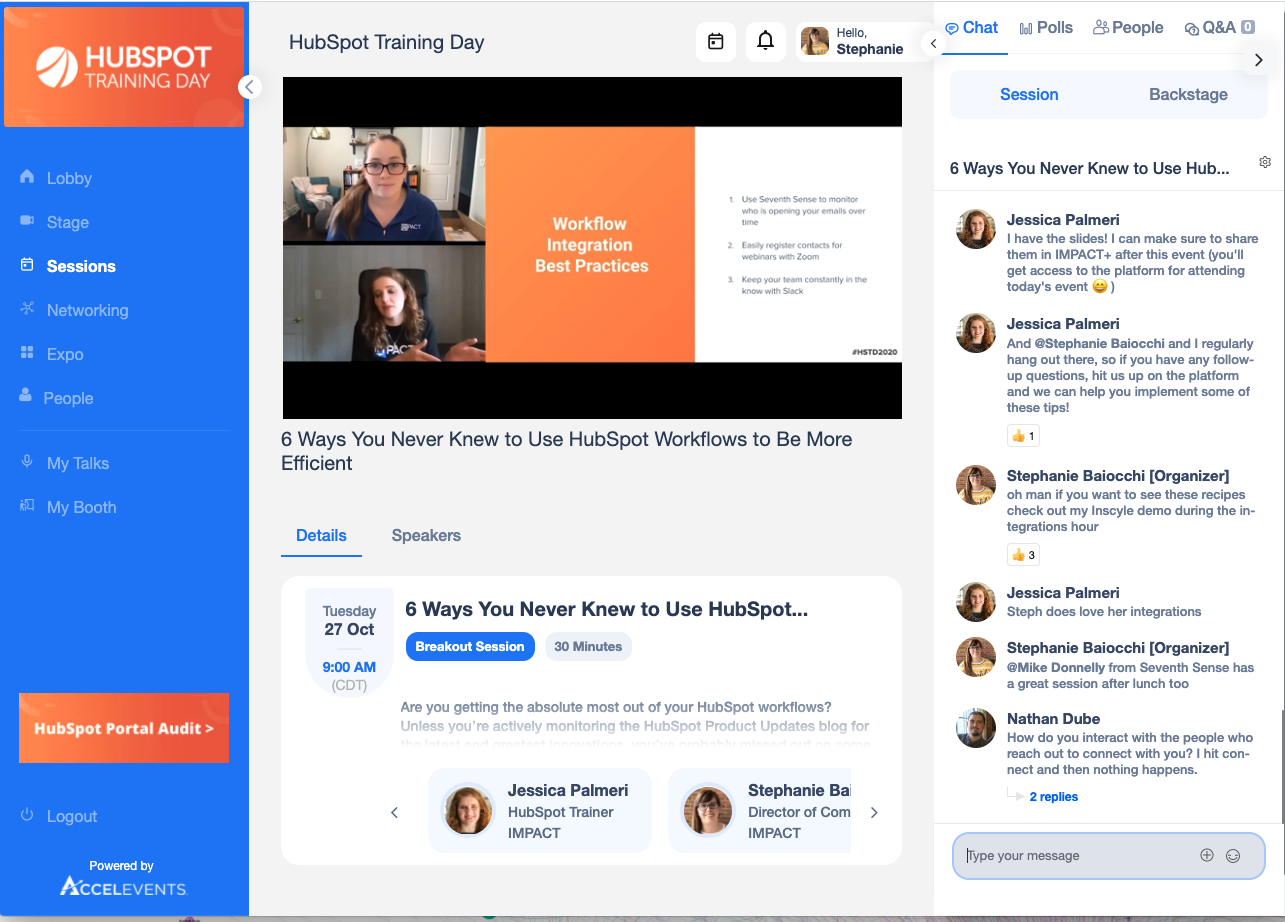 I've also, however, attended many other events for research, and talked with other event professionals in event planning communities about what works and (most of all) what doesn't.
The tools listed in this article are my top choices for what I see most virtual events needing. Sure, there are massive events like those run by Tony Robbins or Apple. There are also smaller events (less than 50 people) that may not even require a software like this and could be run simply on Zoom.
What you ultimately choose will depend on your needs and the experience you want to provide to your audience.
I included tools in this list that can help you with live streaming, simulive or pre-recorded content, virtual networking in one-to-one and small group styles, attendee chat, gamification, and more.
I'm sure this will not be the last time I update this list. In fact, I'll probably be writing a new version in a few months all about hybrid events. But for now, as we stick with virtual events, I wanted to make sure you had our most up to date information on the best virtual event software options out there.
But first...
What is a virtual event software?
Virtual event software is a tool that allows you to create an online event experience with live or recorded video and audio content and the ability to interact with other "attendees" virtually. This is done with the goal of helping expand the reach of events and making remote events immersive and experiential alternatives to in-person events.
(Obviously, however, without the need for comfy shoes.)
There are plenty of reasons why you may be looking for virtual event software but a few likely scenarios are:
You need to take a now-canceled in-person event virtual
By a show of hands, how many of you fall into this category? That's what I thought… this is a very common scenario for most people right now. Now, you're trying to find the best solution for your event size and attendee demographic.
If the event won't be in-person ever, you should look into a software with a full virtual lobby experience and more robust features: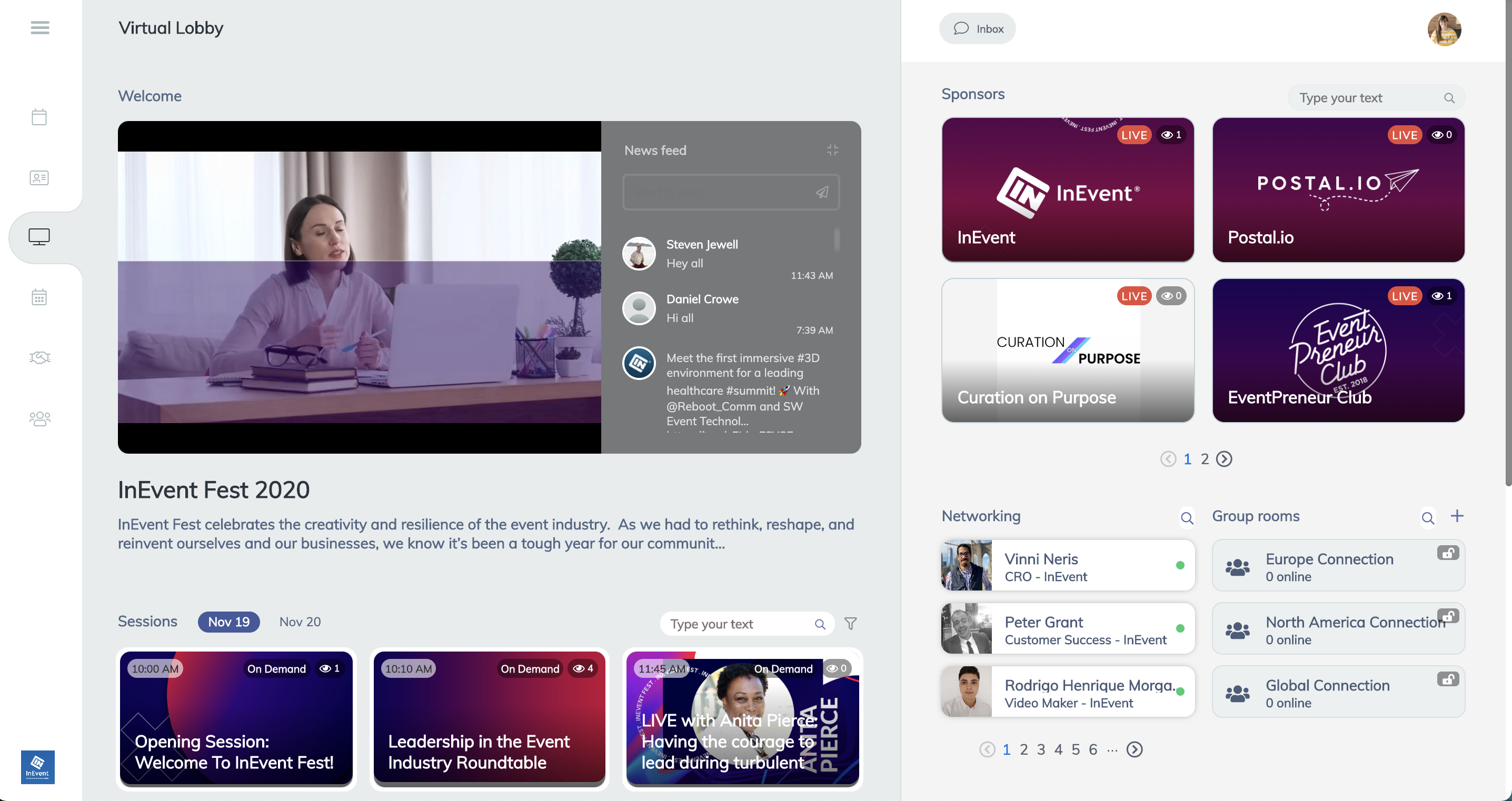 This will let your attendees get as valuable an event experience as possible, without ever having to leave the comfort of their home office (which at this point might be their couch).
You've rescheduled an event and want to support your attendees before then
This is kind of where we at IMPACT landed in all of the craziness. Digital Sales & Marketing World was originally scheduled for the first week of this past April, (now, it's fully virtual) and we felt compelled to support our audience members who were excitedly awaiting the event.
That's exactly why we held the first-ever Digital Sales & Marketing Day (DSMD) on April 6. We envisioned DSMD as a virtual event full of proven tactics to empower our audience (business leaders, digital marketers, and sales professionals) to drive new business and thrive in a digital-only, video-first environment.
While having to pivot our entire event, we kept one thing in mind — the tactical content and business education our attendees were seeking.
You're trying to expand your reach and create brand evangelists
Your event needs to satisfy the wants and needs of your audience but it also needs to help you grow your audience and reach new prospects, too.
A virtual event can be a great way to not only expand your audience reach and gain new eyes outside of your borders, but also to turn your fans into evangelists.
Whether you offer the event for free or for a small cost, it can be a powerful tool for educating your audience. In turn, you can (potentially) increase their trust in your brand and increase their likelihood of doing business with you — or staying your customer.
Virtual events also give you the opportunity to highlight close business relationships you've cultivated (and keep speaker costs down). Most folks are more than happy to get additional exposure via a live or pre-recorded session - it's a win-win!
What to look for in a virtual event software
The type of virtual event software you need will depend on a handful of factors:
How many attendees are you anticipating?
Will sessions be live? Pre-recorded? A mix of both?
Do you have budget constraints?
Will you charge for your event or is it free?
Will your event have sponsors or exhibitors?
All of these are questions you may want to answer before you start your initial research phase. They were some of the questions I asked of myself and the team before venturing out to find our next event solution.
Each virtual event software has its own level of customization and feature sets, but some typical features you'll find are:
Virtual lobbies with agendas
Public and private chats
Attendee polls
Sponsor areas and ads
One-on-one or small-group networking
File sharing capabilities
Reporting on user engagement metrics
If you're struggling with busy speaker calendars and scheduling conflicts when trying to take your in-person event virtual, this could be a great option for you. Plus, it cuts down on the number of possible tech issues that could arise.
Another big question is if you'll need support for the day-of activities. This usually entails making sure there are no technical issues, helping with last-minute registrations, even handling the actual management of session footage (in some cases).
Many companies will actually do the initial setup and day-of management for you for an additional fee. Sure it's a little extra, but it might be the added support and stress-reducer you need right now.
OK, with all of that housekeeping out of the way, let's talk about your virtual event software options…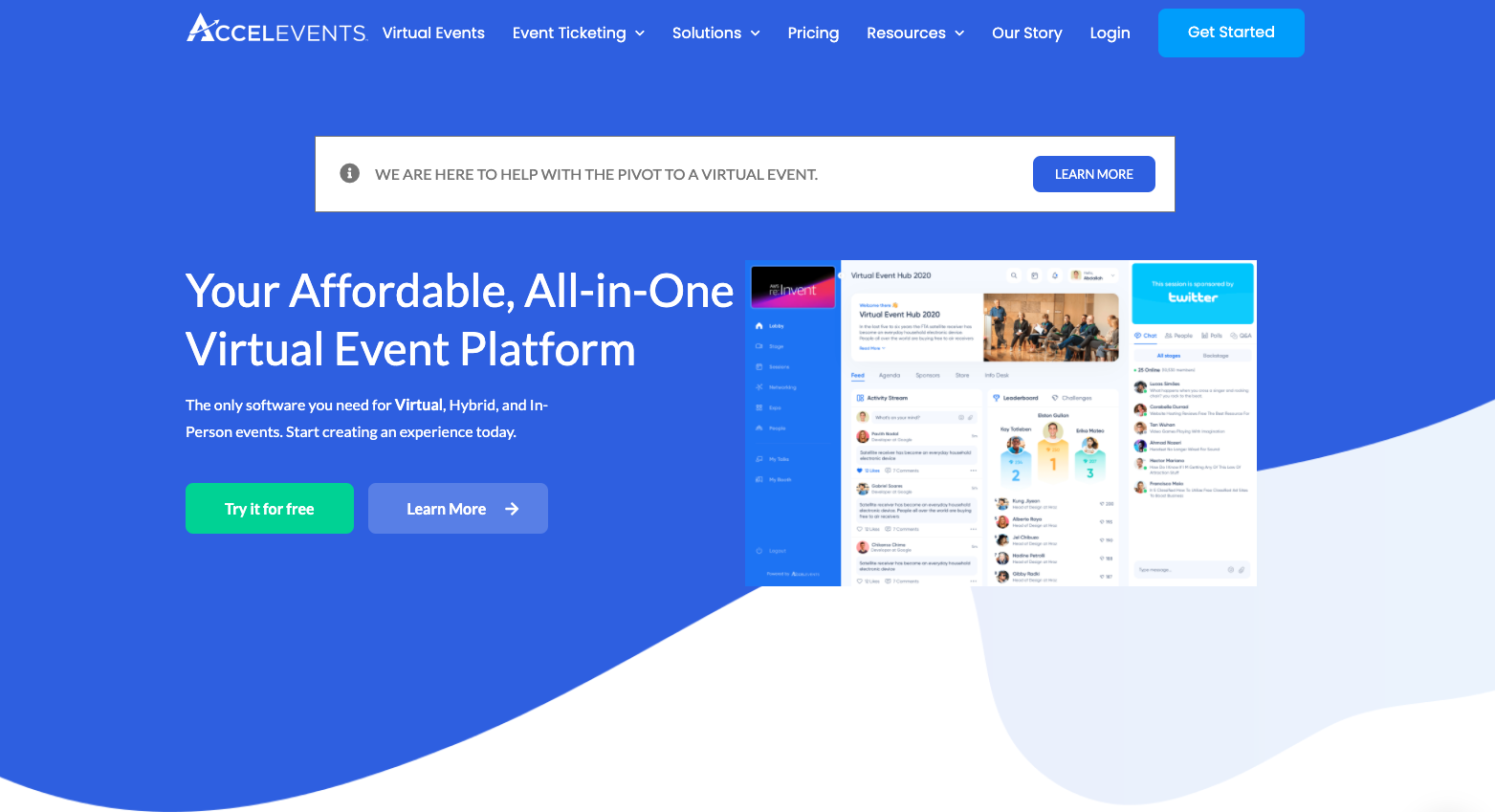 Accelevents is an all-in-one virtual event platform known for its ease of use and live 24/7 support. The platform offers robust virtual event hosting features including ticket sales, live streaming, live chat and polling, virtual exhibitor booths, breakout sessions, A.I. powered networking, gamification, and more. They also provide a built-in production studio or you can bring your own.
Accelevents is a great choice if your event is highly focused on building relationships and making connections. The platform allows for easy one-to-one video speed networking among attendees as well as small group discussions and roundtables through the lounges feature.
Accelevents also has tons of reporting available for which sessions or speakers performed best, who attended what, which attendees visited sponsor booths and how warm of a lead they are, and more.
Plus, while we may not be planning in-person or even hybrid events right now, Accelevents offers many features to support these event types for when the time comes.
After using Accelevents for our final two virtual events in 2020, HubSpot Training Day and Video Sales & Marketing World, I was so happy with them we just signed up to use them for all six of our planned virtual events for 2021!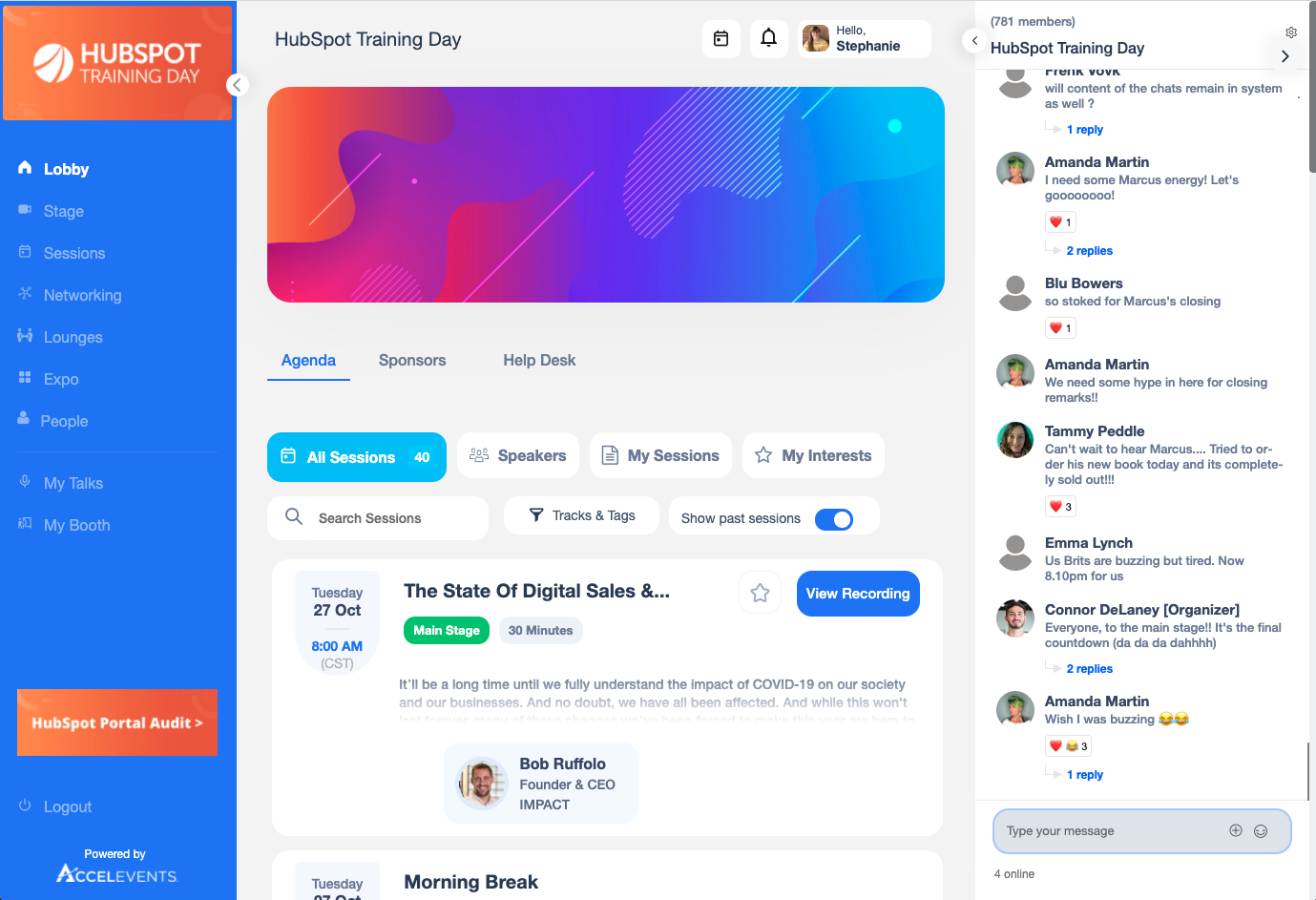 Recently, I spoke with the Accelevents CEO, Jonathan Kazarian and he mentioned they're working on building a HubSpot integration. I'm really excited to have this available in the future.
Let's talk about price
As I mentioned, virtual event software pricing can be really difficult to nail down. However, Accelevents also presents their cost clearly right on their website. There are a few important things to note about their cost structure though.
Simply put, they charge $3 per attendee for free events or 20% of the ticket price (+2.9% plus 30 cents translation fee) for paid events. Payments are processed using Stripe.
There is a minimum fee of $500 per day of your event — so, at minimum, you'd need to have at least 167 attendees at $3 each, or pay more until you hit that $500 threshold.
Also, while you can import registrants instead of using Accelevents registration tool, you are required to do them in batches of 300, and it takes 48 hours to fully process. I hope to see this change in the future but basically what I'm saying here is, this may not be a good fit if you're doing a really small event of less than 100 people — especially if it's a free event.
Conversely, if you're charging for your event, 20% is a lot. You may end up paying far more than most other virtual event softwares cost if you sell a ton of tickets at a high price point.
Fortunately, Accelevents gives you multiple options of what this pricing might look like for an event like yours, along with some great FAQ answers including how they charge for multi-day events and no-show registrants.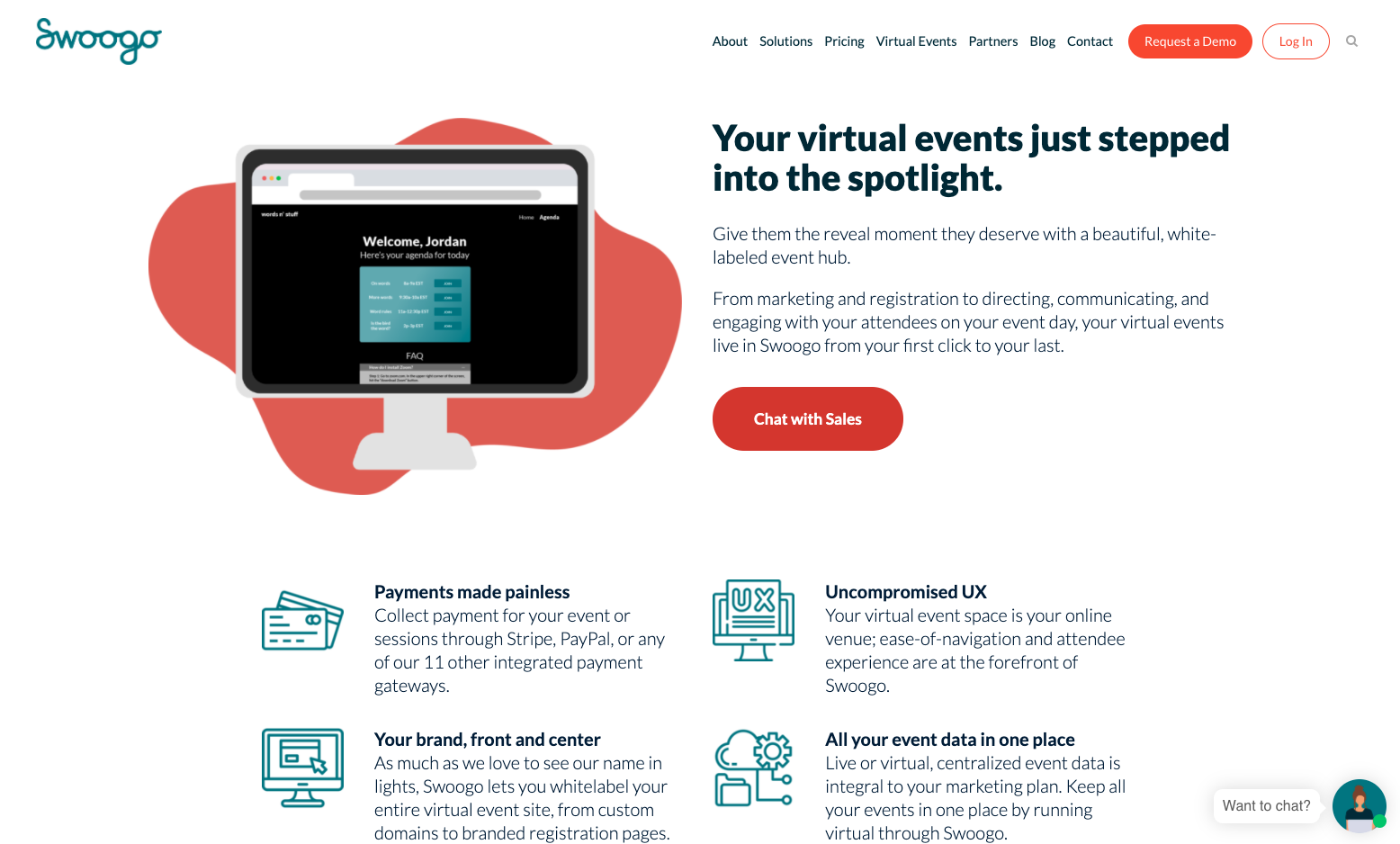 We've been using Swoogo at IMPACT since we were registering people for our in-person conference that was originally scheduled for this past April. Even after the pivot to virtual, we continued to use Swoogo for all our event registration for the following reasons:
robust customization ability
ease of use
fantastic HubSpot integration
incredibly helpful support team
As Swoogo began to launch their virtual event hub solution in March, I was stoked to try it out. Not only is it just as easy to use and also highly-customizable, it's also platform agnostic. This means while you could use Zoom or On24 to stream your content, you can pretty much use whatever system you already have available.
Yes, this means Swoogo does not have their own broadcast capability but there are plenty of options available for you to use. Also, frankly, I love that they left this choice up to the user to create the exact type of event experience they want.
When discussing the platform, Michael Sabani, VP of customer experience at Swoogo, told me their goal was just to "get customers creating virtual events as quickly and easily as possible."
Michael went on to tell me:
"The really important thing we've seen in the last 12 years, er, I mean six months (this year feels so long!) and the reason we've chosen to go in the direction we have — is the fact that a lot of virtual event platforms are 'registration form lite'."
He's not wrong.
Most event software focuses specifically on the day-of experience. Unfortunately, most don't offer a very robust registration experience that can help event organizers plan and segment content, recommend certain sessions, and more.
This is exactly why we kept using Swoogo for all our event registration even when we hosted our events elsewhere. We weren't looking for complex registration capabilities necessarily. Instead, we really just wanted a truly complete registration experience, allowing us to personalize the event for registrants based on the information provided during registration.
Building an event in Swoogo's platform is super simple.
Plus, Swoogo also enables you to easily accept payments during the registration process using one of their 13 different integrated payment gateways, including Stripe and PayPal.
Post-registration, there are tons of reports for you to use and you can customize them to fit your needs. I'm not even exaggerating when I say I've never seen reports this easy to use. From cross-event reporting to HubSpot sync status, they've thought of everything.
Swoogo also allows you to brand the event hub as little or as much as you want. While they're out of the box themes are great on their own with a little color customization, you can go as far as creating an event that looks like an in-person venue, only virtual, if you want. Swoogo has a pro services team that, for a one-time cost, can take designs and wireframes and turn them into templates and themes for you to use with all your future virtual events.
Finally, one of my favorite Swoogo features only became possible recently.
I was explaining to their team that one of the main reasons we couldn't do our next event on the Swoogo virtual event hub was because we needed it to be "simulive." This means recorded content that would play at a scheduled time for all attendees and would not allow them to pause the video or skip ahead. If someone joined five minutes late, they should join five minutes into the recorded video.
The team at Swoogo not only created this functionality, they also added it to the platform, so it's available for everyone now!
This just goes to show how much Swoogo is constantly making updates to their tool. While they do not have much networking capabilities or user profiles just yet, if that's not something you need this could be the perfect solution for you. If it is, well, stay tuned. You never know what they'll do next.
Let's talk about price
While virtual event software cost information can be notoriously difficult to find, Swoogo, as with most things they do, makes it simple and even enjoyable to learn about their pricing. They call it their "annoying-Bob-from-Finance friendly pricing model."
They even kick things off by saying:
"Per registration pricing should have been left in the early 2000's along with fedoras and ultra low rise jeans. Our user-based model is designed to make having lots of events that a ton of people want to attend totally painless – as it should be."
Pricing starts at $7,800 per year which includes one full user, one reporting user, unlimited events and registrations, support, and your very own strategic account manager.
I've attended a few events on Hopin and I have to say it's really enjoyable to use from an attendee perspective. From what I've heard, it's also enjoyable to use as an event organizer.
Hopin was actually founded in 2019, with the initial goal of moving events online to provide a more green event experience. Their timing couldn't have been more perfect though, as so many events transitioned to virtual as a result of COVID-19.
It's quick and easy to set up a Hopin account and even build an event. It's pretty much all self-service. They even have a native video stream platform as well as the option to connect to YouTube Live. They have easy networking for attendees and the platform really encourages people to connect with one another.
Finally, one thing I really loved about Hopin was the ability to easily toggle between events hosted in the platform and see connections I've made at past events. It's easy to follow up with people after the day of the event has passed, and I can use my one main attendee profile for all the events I attend.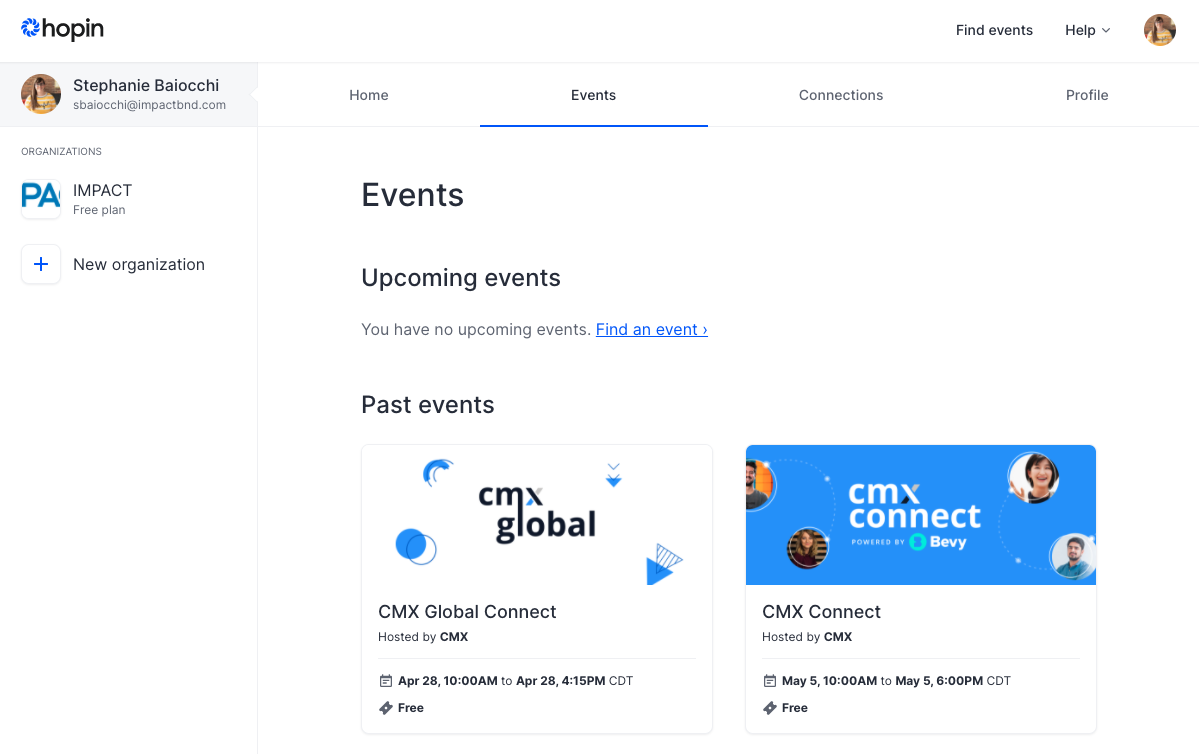 Let's talk about price
While the Hopin pricing page is a little difficult to find (it's in the footer), they have incredibly simple pricing… until you get fancy.
It's $99 per month to use all of Hopin's core features. This includes free and paid tickets, referral tracking, their robust attendee experience, multiple live video sessions, support for multiple languages, and more.
However, if you want to customize the emails, branding, or use any of their integrations you'll have to pay more.
How much more? Well, it doesn't say. In fact both the "business" and "enterprise" tiers frustratingly don't even have a range of prices listed. They just push you to talk to sales.
This was frustrating back in the early months of the year because so many people were suddenly reaching out to them and it was difficult to get a response. However, that's changed now as things have calmed down and Hopin has staffed up.
Hopin also offers a nice 20% discount to nonprofits.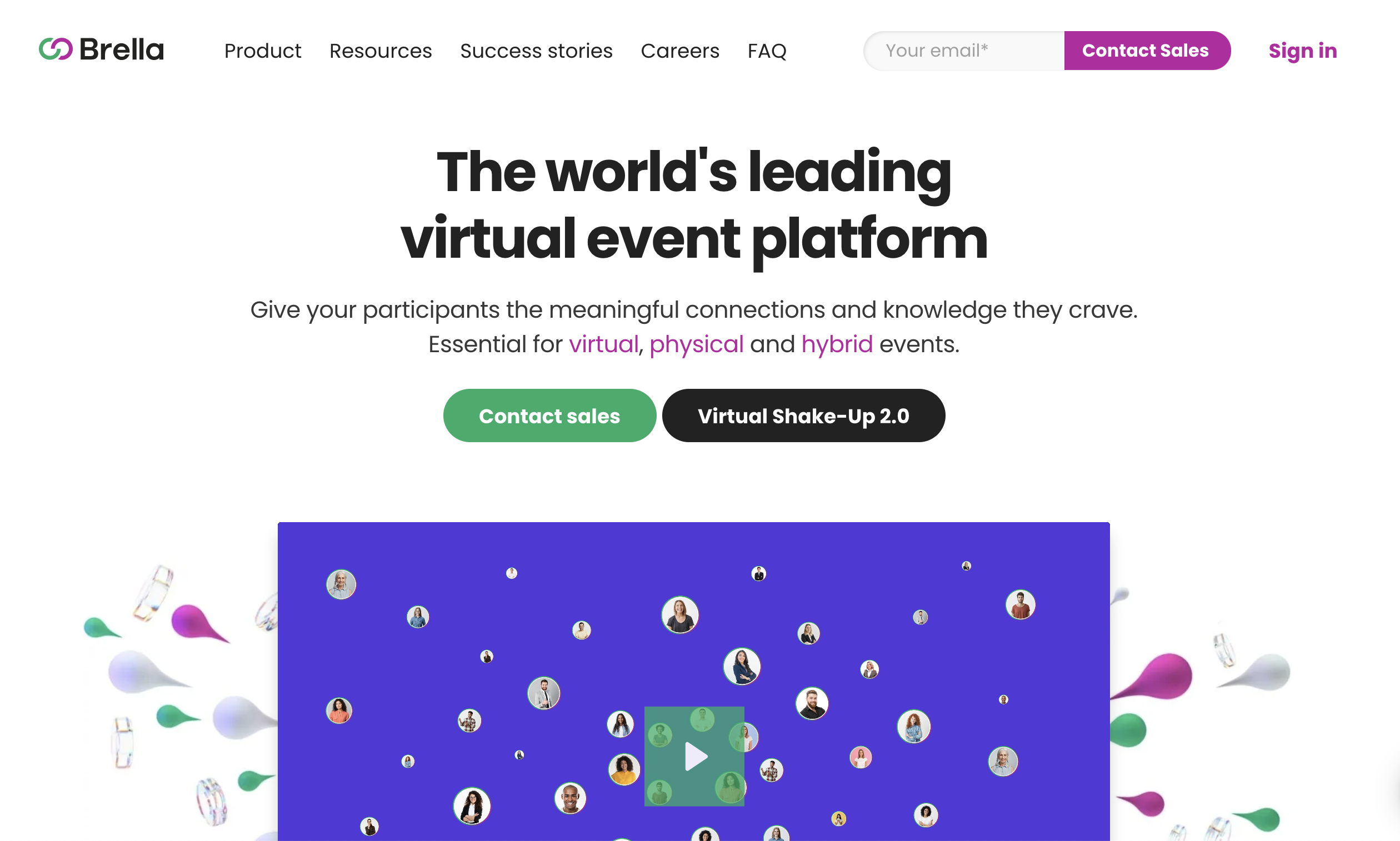 Brella is a virtual event software highly focused on attendee networking. Brella has powerful matchmaking solutions including recommended matches powered by AI, dedicated meeting slots, an app with messaging and notifications, a designated meeting area, and more.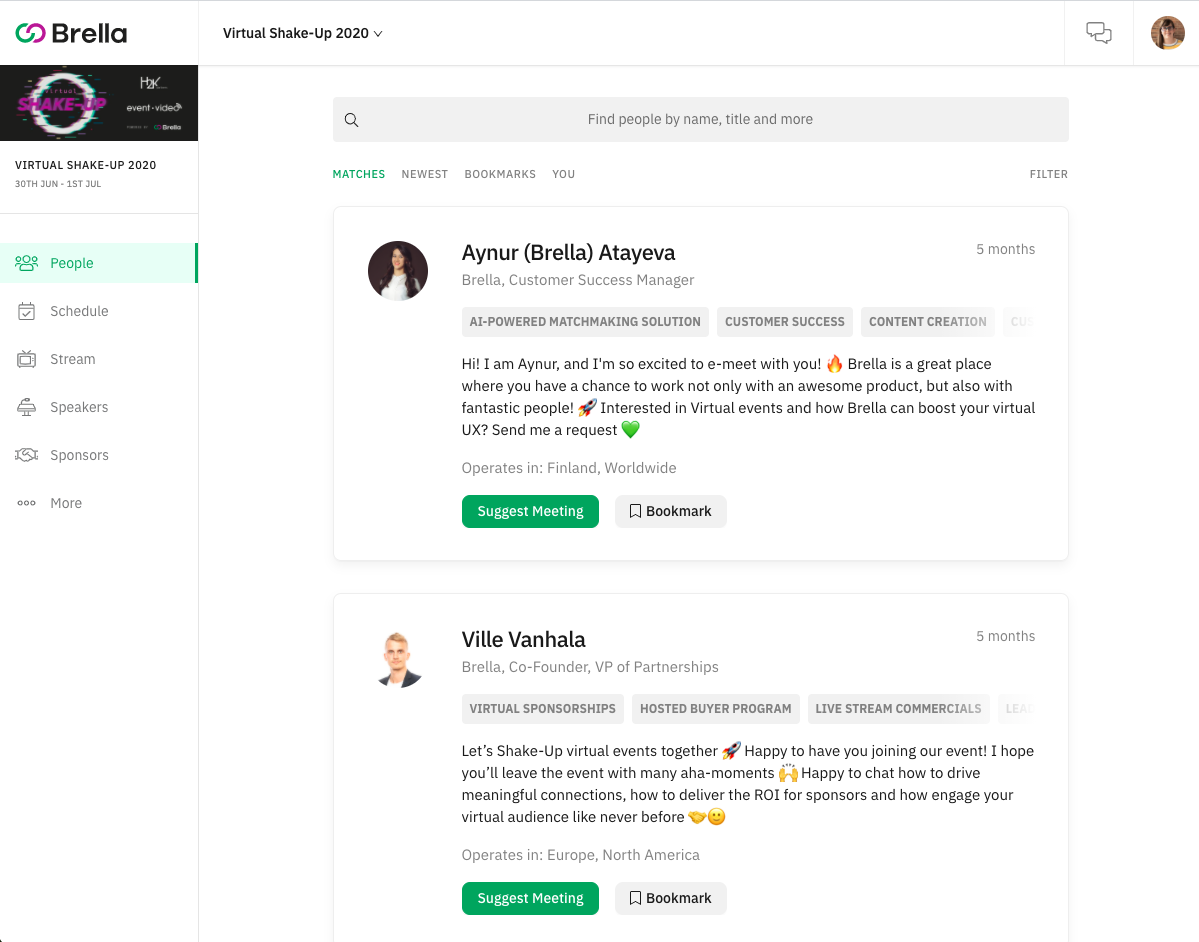 There's also a detailed list of everything else you get (or can get) with Brella. This includes livestream hosting (though no pre-recorded video option), one-to-one video networking, group chat, virtual booths, and more. You get full branding capability and can customize your pages to fit your needs.
Let's talk about price
Although Brella's pricing was actually quite difficult to find on their site, it does exist and I eventually stumbled across it after searching a bit.
To get an exact quote, you'll need to contact their sales team. However, they do show an example of what their most common service would cost you. The self-service version starts around $3,000 and the enterprise version, including training and a dedicated customer success manager, starts around $6,000.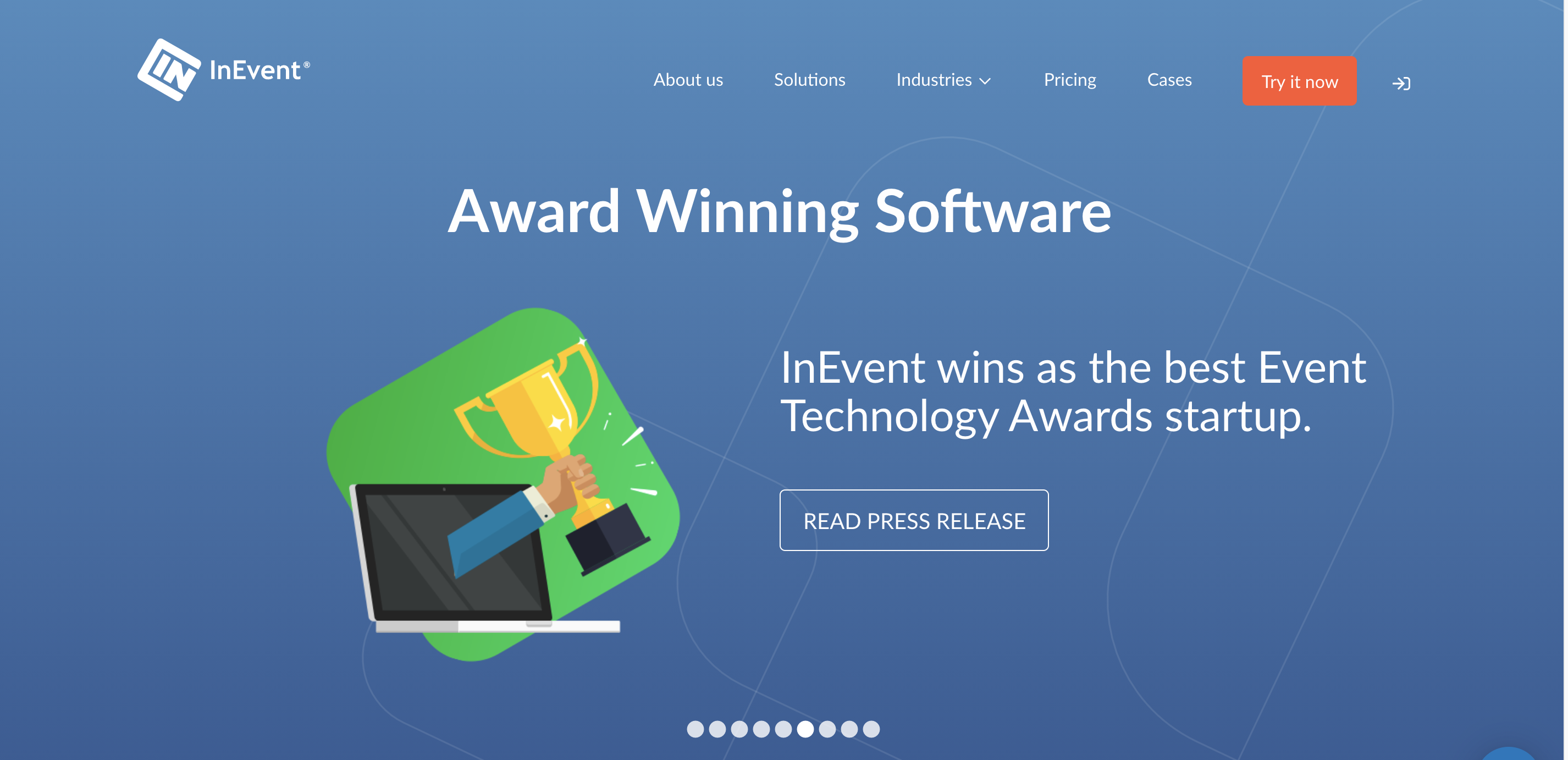 My final choice for top virtual event software is InEvent. I haven't actually used InEvent for any of my events yet, but I definitely want to at some point.
They offer solutions for virtual and hybrid events and offer a ton of customization options along with really robust reporting tools. Reporting is definitely one of the places where InEvent shines. It's also easy to use but highly customizable.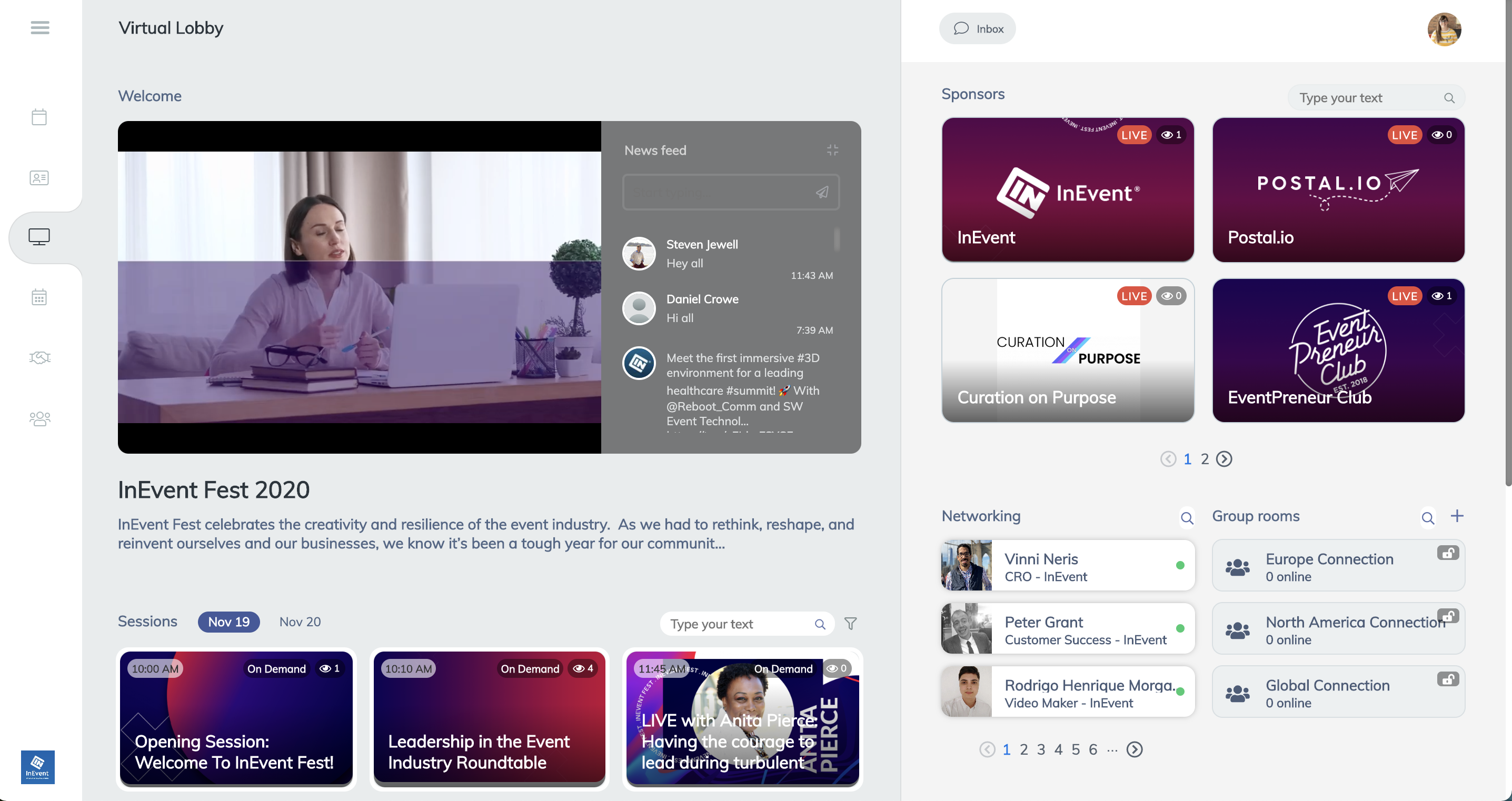 Let's talk about price
InEvent's pricing page is fairly straightforward with the basic plan starting at $2,990 for event engagement and video. The express plan starts at $3,990 for the event experience plus registration.
There are additional features available for an add on cost such as custom branding, payment and CRM integrations, attendee video networking options and more. All plans come with email and chat support and you can add on an account manager or training as well.
So, what now?
There are quite literally hundreds of virtual event tools out there that offer a wide variety of options — some of them may even be specifically geared toward your industry or integrate well with other tools you're already using. But I've found that for most virtual events, the five solutions listed above are great options and I'm confident you'd be successful using any of them.
As you're vetting these tools, take time to do an in-depth demo — with event tools, sometimes these are scheduled and you sign up to attend so you can see what their event experience is like as an attendee. If you can, set up a trial portal to test things out for yourself on the back end. More than anything, make sure to keep the attendee experience in mind while still making sure all your needs are met.
If you're worried that your team isn't fully equipped to handle making all decisions that go into planning a virtual event, that's OK. Virtual event planning is a lot of work. And, as I've talked about in the past, they're just as complex as in-person events, from a planning perspective. So, if you're struggling, a virtual event consultant can help you.
No matter what you choose, start by looking at your own needs first before you start researching. That will determine the best choice for your next virtual event.
Free Assessment:
How does your sales & marketing measure up?
Take this free, 5-minute assessment and learn what you can start doing today to boost traffic, leads, and sales.