5 Smart Ways to Combat Common Buyer Questions With Content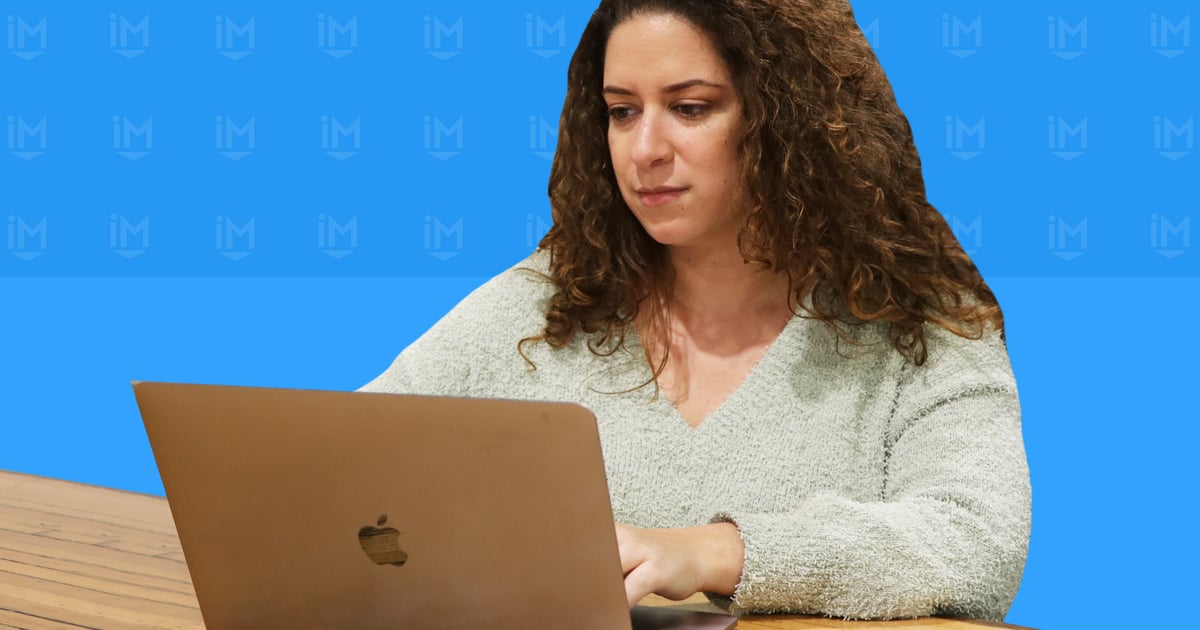 Most modern buyers are being more careful than ever with their money.
And who can blame them?
According to a study by Paysafe, the global cost-of-living crisis has forced 44% of people to change their payment habits, with 40% tracking spending more accurately and 21% avoiding buying on credit.
Consumers are still spending, of course, but they want more control over how they're doing it — and they want to make sure every purchase is worth it.
That doesn't make things any easier for salespeople.
People are completing more of their buyer's journey on their own. In fact, the majority of buyers (62%) say they engage with 3-7 pieces of content before connecting with a salesperson.
In other words, people are researching their purchases heavily without the help of a salesperson. And when they do get in touch with sales, they're asking more questions to avoid buyer's regret.
Many of these questions may be uncomfortable for marketers, salespeople, and businesses to tackle. Some may even catch businesses off guard, but answering them is also essential in winning over a potential buyer.
The questions on every buyer's mind
While every product, business, and buyer is different and may prompt different concerns, some things are universal.
When it comes to making a purchase decision, for example, we've found the most common questions from buyers tend to be the same regardless of things like buyer, product/service, or industry.
These questions usually fall into five categories:
Costs and pricing: How much your solution costs (factors, considerations, what defines value, etc.).

Problems related to your offering: The negatives about, or issues with, your solution.

Competitor comparisons: How your product or solution compares to similar products or solutions.

Reviews of your business: Honest and unbiased opinions and observations about your product, solution, etc.

Best options: What the best solution available is to the problem you solve
Sure, perhaps a buyer won't ponder all of these when it comes to small or minor purchases (think chewing gum at the grocery store), but for large or impactful decisions, they can be make or break.
Think about it. If you're spending thousands of dollars on a car, you'll want to do your due diligence to make sure your investment is sound. The same may go for smaller things you use every day like your shoes or coffee maker.
These purchases all have long-term effects on your life and are worth researching to make sure you make the right decision.
Tackling these areas through your marketing not only gives your buyers the information they're looking for while going through their buyer's journey, but also helps establish you as the helpful, trustworthy expert in the eyes of these buyers.
But what does this content look like?
How to combat the most common buyer questions with content
Quality content can help accomplish a number of marketing and sales objectives and resolve just about any buyer objection, but here, we'll focus on the five most common we discussed.
Question #1: How much does it cost to work/buy from you?
60% of consumers consider price their first purchase criteria, while just as many think it's important to compare prices from different sellers before taking action.
That said, it doesn't matter how high or "complicated" you think your pricing is, buyers (no matter what your industry) want and expect to know how much your product costs before they even reach out to your sales team.

I get it; maybe you're worried your audience may have sticker shock at the sight of your price and immediately write you off. They probably won't — but even if they do, that's a good thing.
People who can't afford you won't (and shouldn't) buy from you no matter how good your sales team is. Telling prospects your price upfront and letting them disqualify themselves, saves them and your team a lot of wasted time and effort doing the sales dance.
Even if buyers can afford you, forcing them to "call for a quote" can leave them with a bad taste in their mouths. They begin to wonder if you're trying to hide something or you're just trying to get them on the phone for a sales pitch.
Modern buyers don't want to be sold to, and they don't want to have to set up a call with you out of this fear.
When you're transparent about pricing, potential buyers know what they're getting into and determine for themselves if hopping on the phone with you is a good use of their time.
You're an honest business that wants to give them all of the information they need to make an educated buying decision for themselves. You are a business they can trust.
So what should you do?
Answer: Create a pricing calculator
Depending on the nature of your business and product, one of the most engaging and direct ways you can educate your customers about how much it costs to work with you is by creating a pricing calculator (or estimator) on your website.
These interactive tools allow a prospect to enter details about themselves or their business and receive a custom estimate for how much they'd spend with you instantly.
This IT Cost Calculator from IMPACT client Intelligent Tech Solutions is a great example. All prospects have to do is answer five simple questions and they'll get an estimated monthly cost for each of the company's service tiers.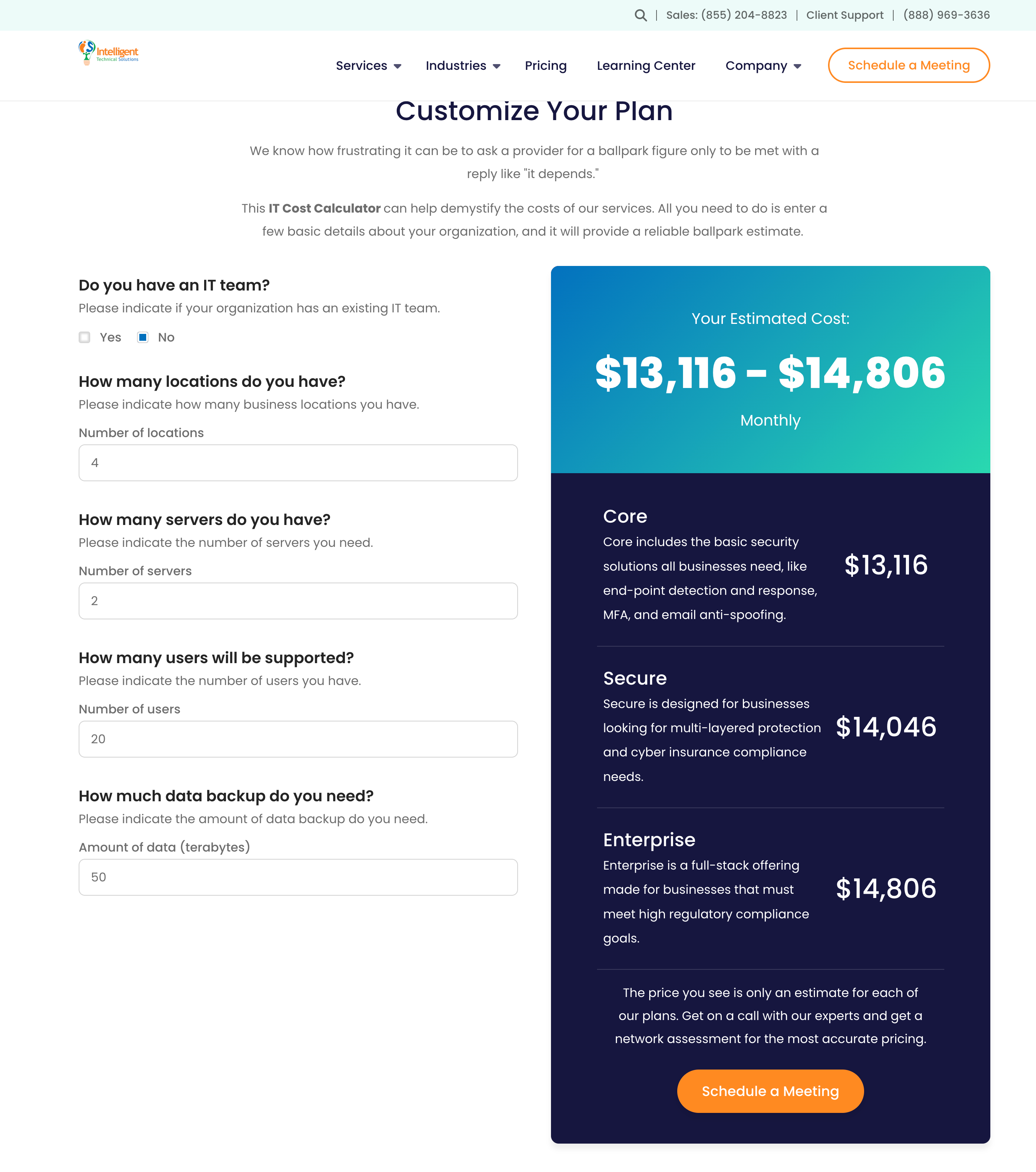 Tools like ION can help you do this on your own, but if you want something a bit more complex, you may want to reach out to a professional.
While interactive tools like these may seem like a bigger financial and developmental lift than a traditional static page, studies show they also lead to 4-5 times more page views and convert 2 times better.
The same study found that 96% of people say that content interactivity impacts buyers' decisions.
Question #2: What are the problems with your product?
Talking about shortcomings in your product or service may seem counterintuitive, but the reality is prospects are wondering about them.

The best way to handle this is by controlling the conversation. Be honest about your problems. Be the first to address them rather than letting potential buyers learn about them second-hand, or worse, after they're a customer and feel blindsided.
Creating content that is candid about your problems allows you to control how they're discussed and explore solutions to them.
This helps minimize potential fear and resistance of your buyers by letting them know in advance what they might experience and also position yourself as the trustworthy expert who is on top of their issues.
Some buyers will see your cons, balance them against the pros, and be fine with the decision to move forward. Some will choose to shop elsewhere, and that's okay.
By addressing potential problems head on, you've armed prospects with the power to opt-out so no one's time gets wasted and no one's left with unmet expectations.
Answer: Write an article about your product's drawbacks
The answer is quite direct here: Write an article discussing the biggest problems with your product or service. But don't simply use it as a confessional.
In other words, don't simply admit to any shortcomings and move on. For each problem you bring up, make sure you also detail a possible solution.
You want to stay humble enough to put yourself out there, but you also want to show that you have the knowledge to solve any shortcomings.
When you do this a prospect will see that you're transparent enough to acknowledge your flaws, but also wise enough to work around them.
IMPACT client Usherwood does a great job of doing this on their blog: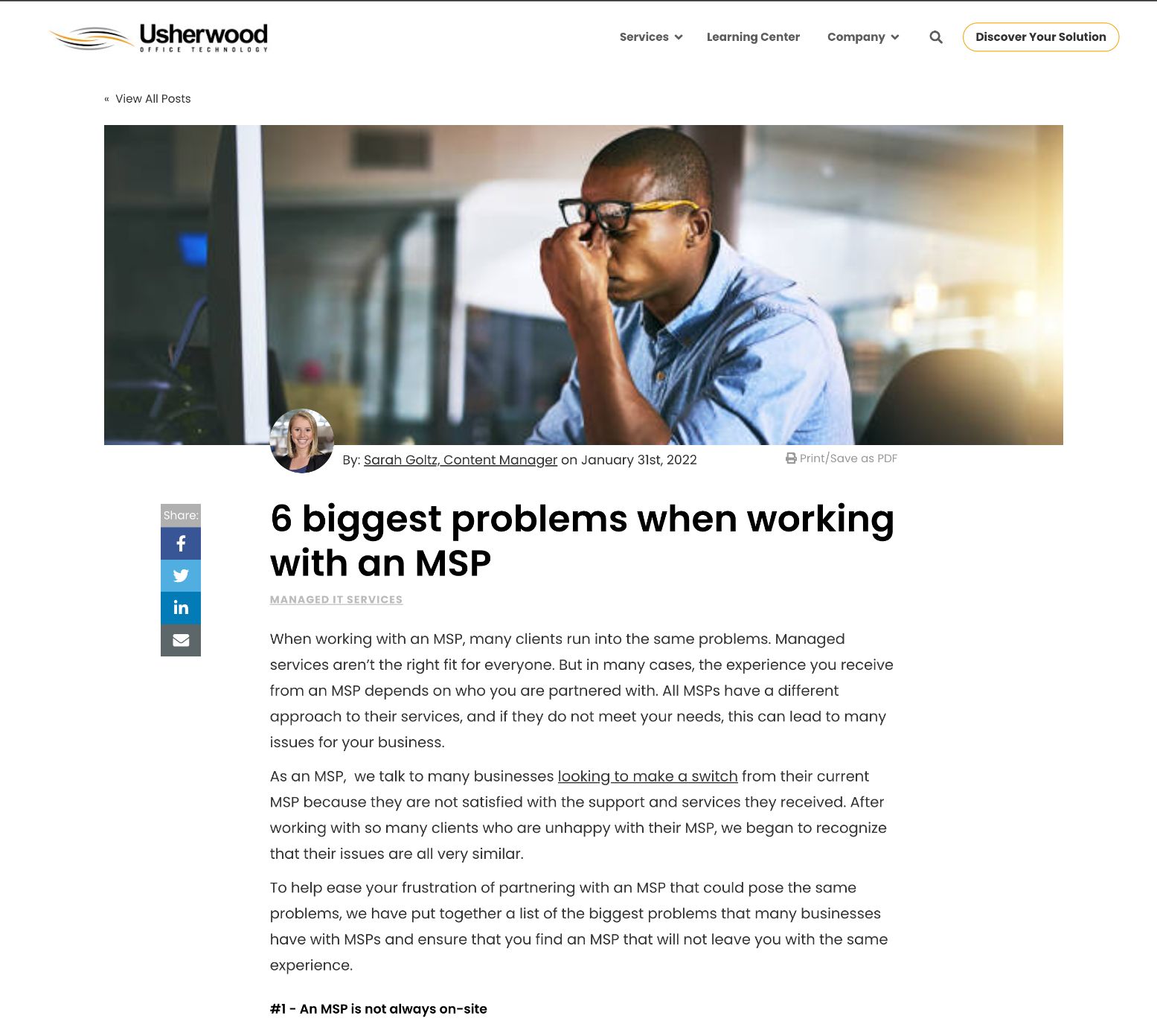 In this article, the Managed Services Provider (MSP) discusses six problems or concerns that can arise when working with a MSP, but also discusses ways to overcome the issues and still accomplish your goals.
Bonus tip: Don't forget about video! Having a member of your team discuss any problems and solutions "face-to-face" in a video adds a more personal and human touch to the conversation and further builds trust with the viewer.
Question #3: How do you compare to your competitors? (Or how do other options compare to each other?)
65% of buyers report spending time comparing options before making a purchase. In other words, if you think your product or service is the only one buyers are considering, you're dreaming.
Embrace the modern buyer's tendency to comparison shop. Get in front of them when they're weighing their options by providing them with the comparisons they seek.
This will let you guide the conversation surrounding the comparisons and build trust as the expert who provided the information. .
Solution: Create a comparison page on your website
Product/service comparisons can be quite complicated — whether they be between you and a competitor or other alternatives. They can include price, materials, procedures, features or other things that can get technical.
While you can certainly walk someone through these things in an article or video, I've found one of the most effective and engaging ways to do so is through a website page.
Ecommerce marketing automation platform Drip does this for five of its most direction competitors on its website: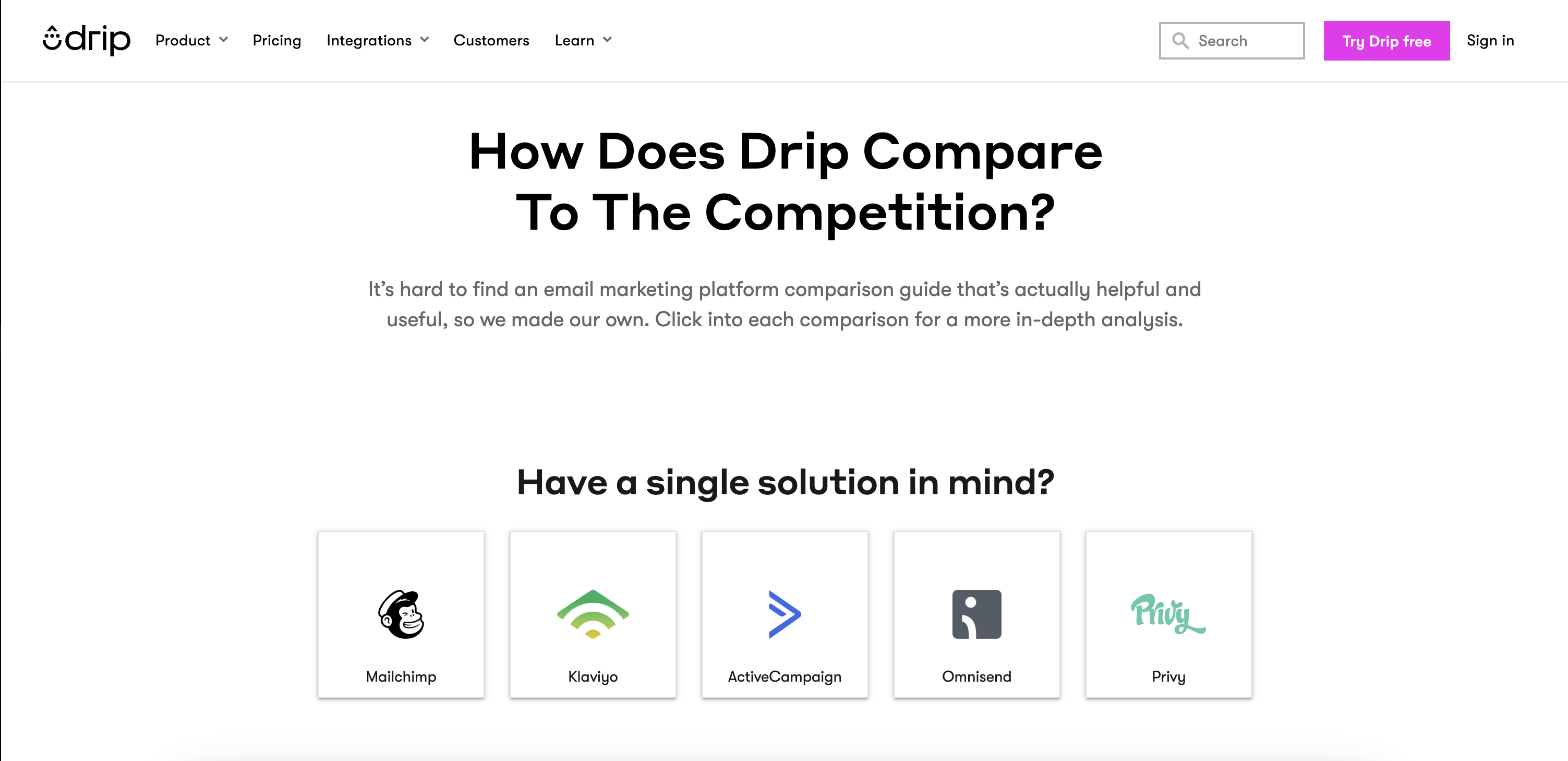 After selecting one, the prospect is taken to a page dedicated to analyzing Drip against it.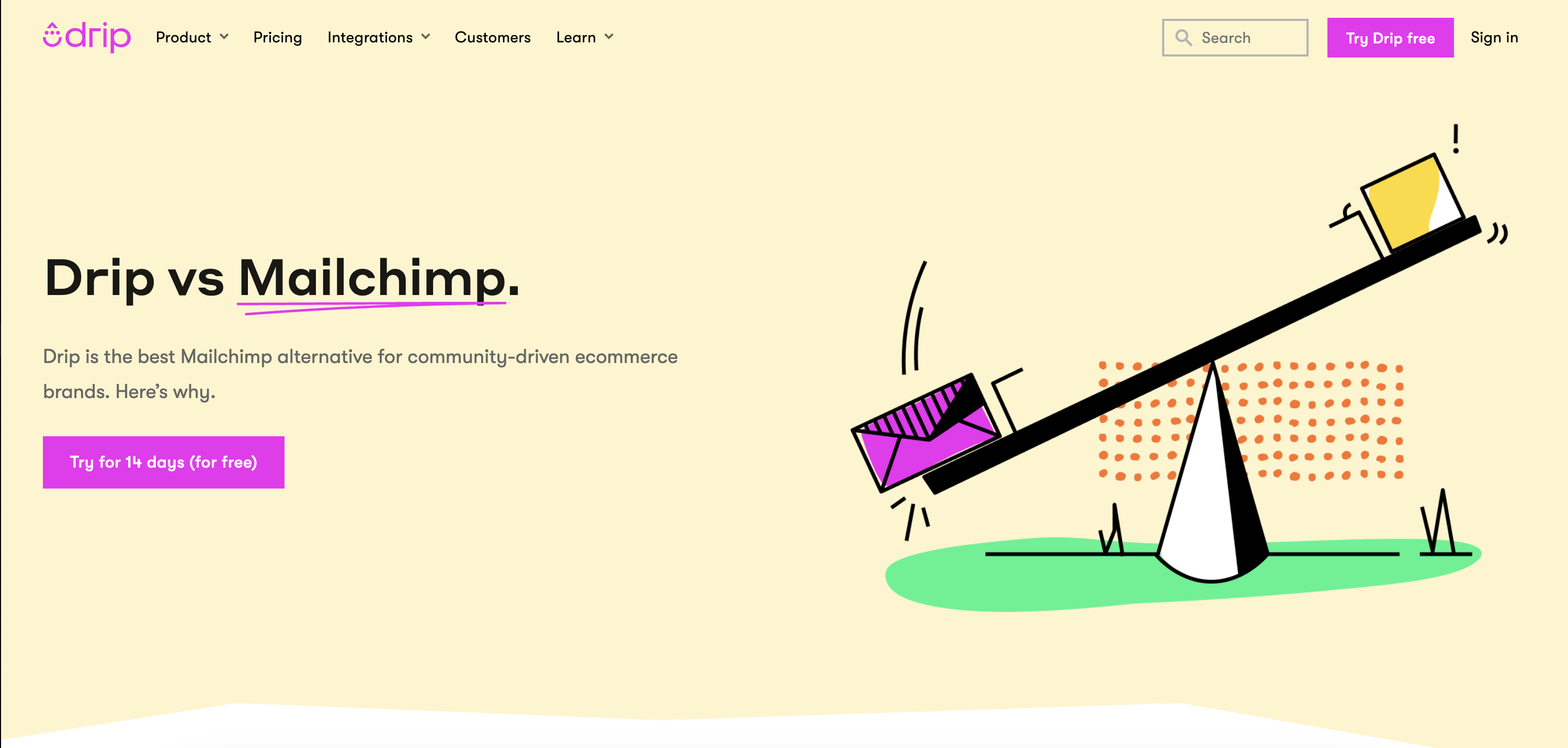 The page compares features, functionality, and even includes testimonials from people who actively chose Drip over the competitor at hand.
Question #4: How are you reviewed?
95% of shoppers say they read online reviews before making a purchase. In fact, 72% of shoppers don't take action until they've read reviews, and 97% of buyers say reviews influence their purchase decisions.
They trust third-party reviews more than any of your marketing messages — So, give them what they want by harnessing the power of social proof.
Answer: Share real ratings, testimonials, and reviews
Incorporating social proof into your marketing is not uncommon.
Some brands choose to share testimonials, others opt for third-party ratings or awards, or even a social media feed of what buyers are saying about them.
While all of these are effective options, you can also consider compiling them into a single page like our friends at HubSpot.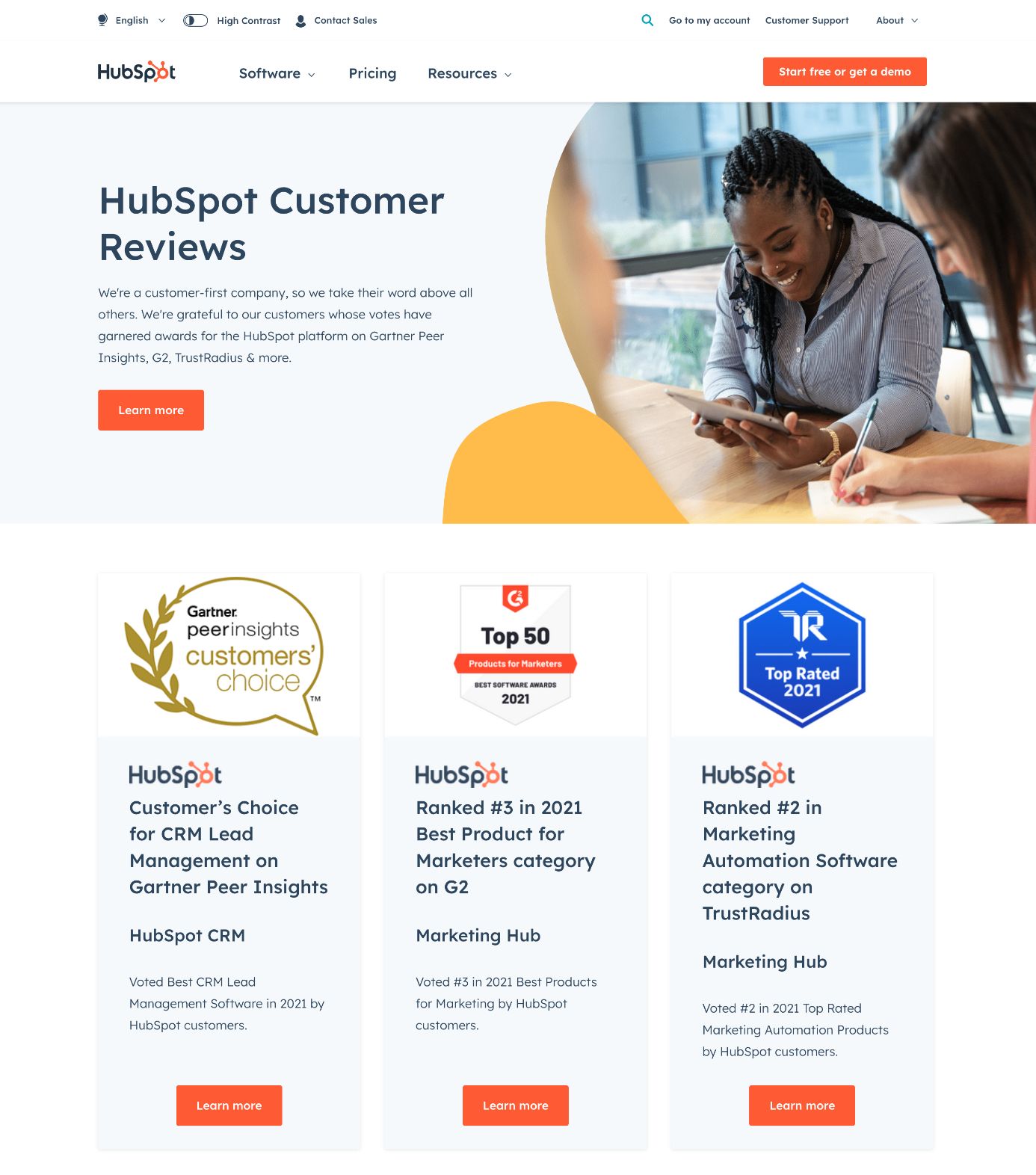 Not only does it share testimonials for each of its hubs, it also shows a long list of its awards and rankings/ratings against competitors.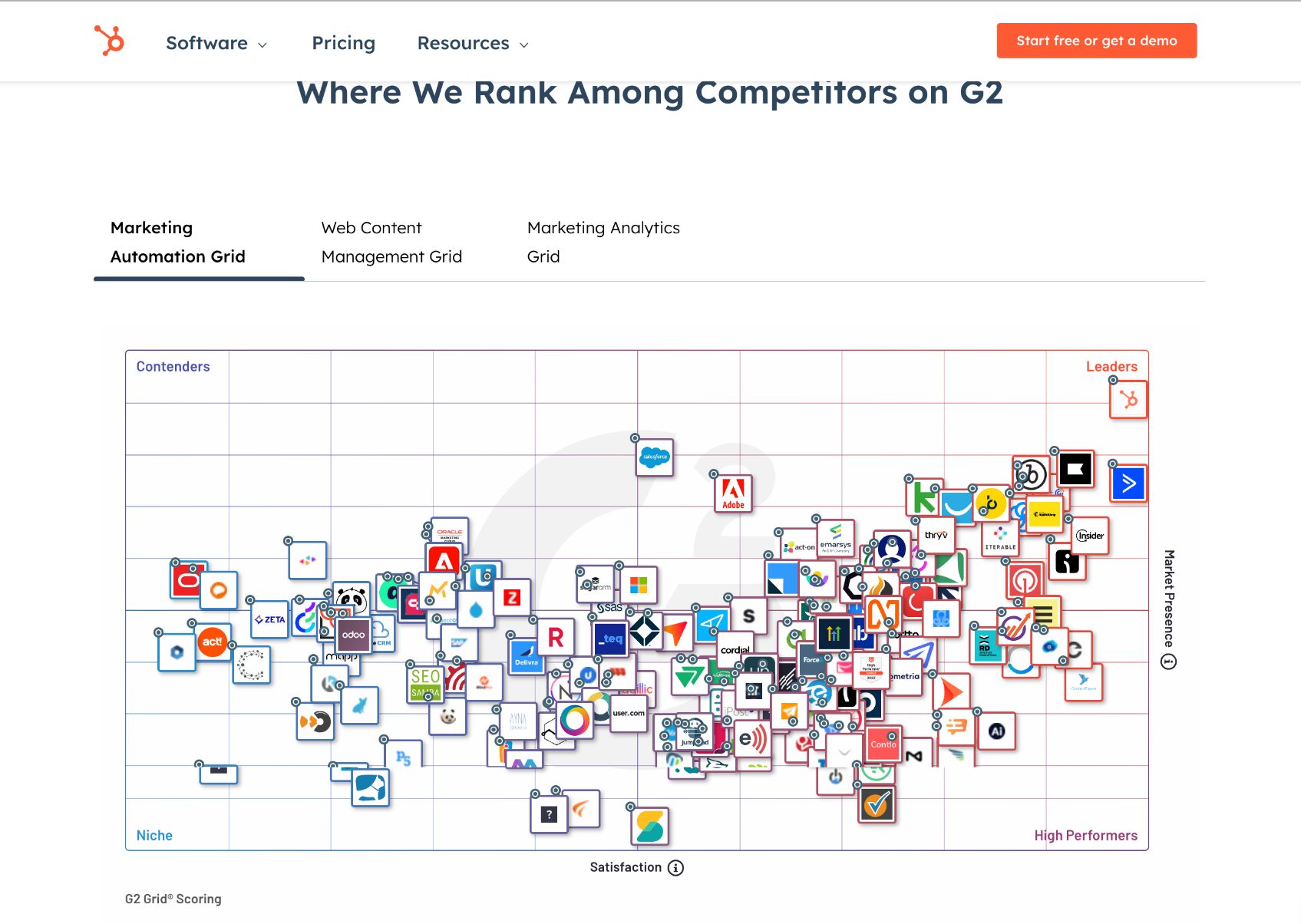 It also pulls in a lot of graphics and charts to illustrate its standing in a more visually striking and memorable way.
Question #5: What are my best options?
In recent years, searches for "best" products have increased dramatically. People want to know they're getting their money's worth and making a purchase decision they won't regret later on.
We already know they're comparison shopping and weighing the pros and cons between you and your competitors. Help narrow the list even further by telling your target audience exactly what their best options are and why.
Like addressing your problems, competitors, or any uncomfortable questions your buyers may have, taking the initiative to discuss other options or alternatives voluntarily will allow you to guide the conversation and build trust.
Answer: Publish a "best of" or "top" list
This is exactly what it sounds like, a piece of content listing the best or top options your target audience has for solving their problem and why they're worth considering.
You can say as much or as little as you like, but I'd recommend airing on the side of going into the essential facts such as:
Who/what they are
How long they've been in business
Any awards/certifications they've won or compliances they follow
Their particular specialties or what they're known for
Any benefits and any drawbacks
If you want to compliment a competitor, you're more than welcome to, but don't bash them! Sharing anything derogatory can backfire on you, as the trust you're trying to establish with prospects could begin to slip.
Here's an example from Envato sharing their picks for best graphic design tools.


In it, the creative tools provider goes into details like price, pros, and cons of each tool so you can more easily compare them.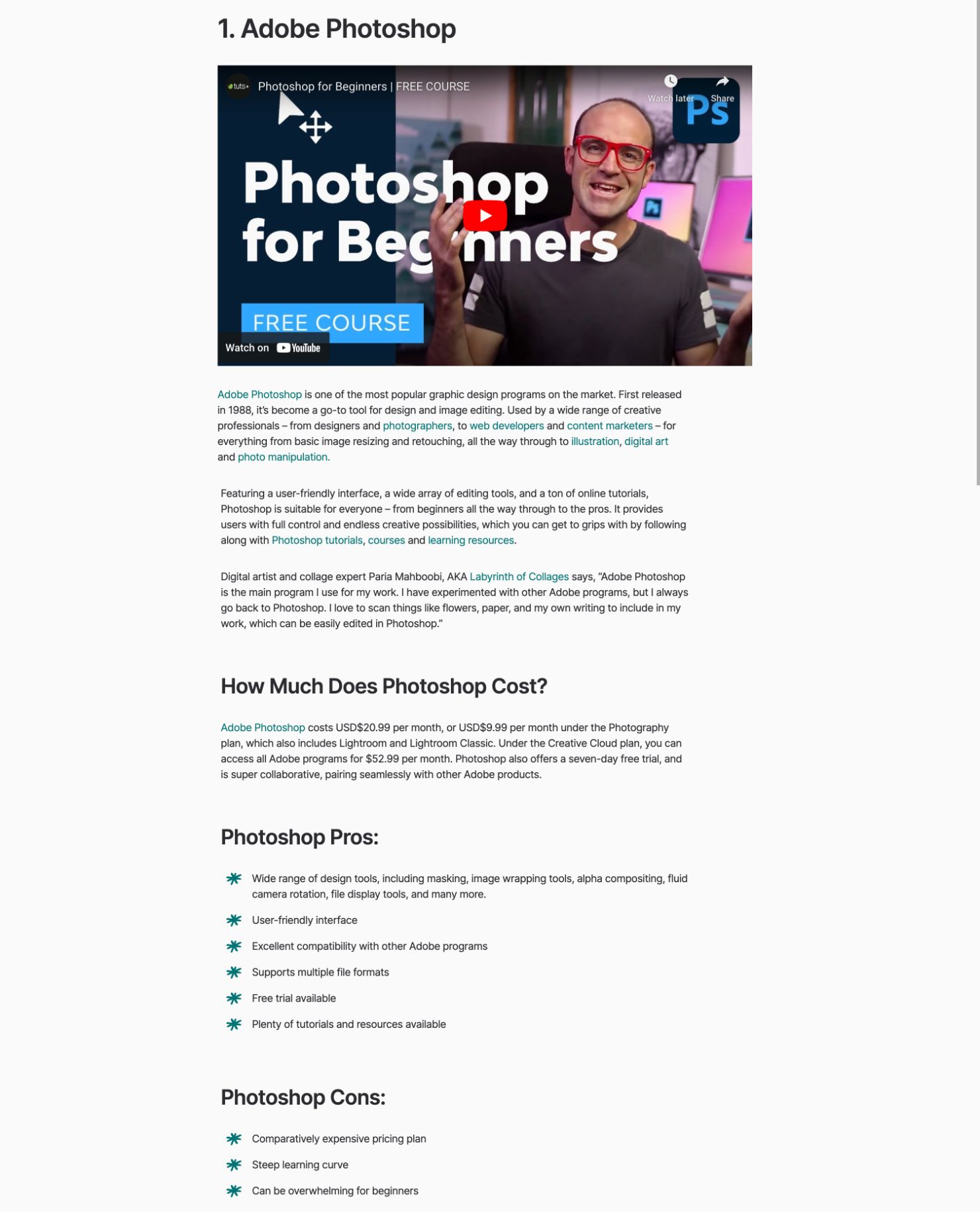 It also makes use of videos and bulleted lists to may the content easier to consume.
Get comfortable with uncomfortable questions
Not all of these questions are fun or easy questions to answer.
In fact, some of them, like discussing a problem with your product or service or why your product costs what it does may be flat-out uncomfortable, but this discomfort is good.
Like a personal relationship, having honesty, candor, and respect in a business relationship is important.
It helps create the trust needed to make a prospect feel comfortable buying from you and having the courage to address uncomfortable questions like those we discussed is a powerful first step.
Want to dive deeper into these five question areas and creating content around them? Check out our free course, "How to Write The Big 5."
Free Assessment:
How does your sales & marketing measure up?
Take this free, 5-minute assessment and learn what you can start doing today to boost traffic, leads, and sales.