What should a website redesign process look like?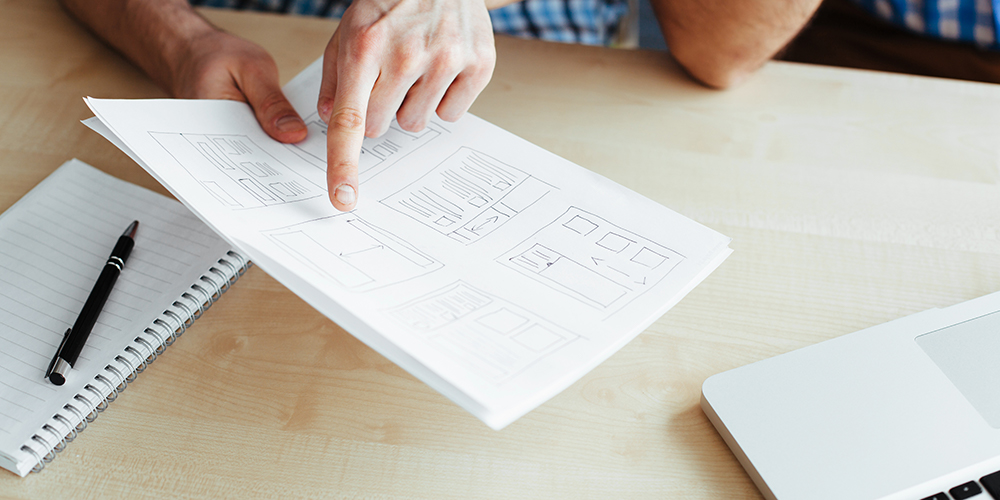 How many of you have ever felt victimized by a website redesign?
Don't worry, I have too.
Way back when, I learned the (very) hard way how important a website process is.
See, for a long time, we didn't have one.
We tackled each project as it came and let multi-functional account managers manage different kinds of projects across the board including website projects, marketing retainers, and other client delivery projects.
To make an extremely long story short, we fell on our faces repeatedly, and felt the pain for quite some time.
Then, once the hypothetical swelling went down, we recovered with full understanding of how it all went wrong.
So, we decided to build a team focused solely on delivering website projects and build a real process from the ground up.
Pause for reflection.
Since then, our team has made huge strides in our ability to deliver amazing websites -- and I couldn't be prouder of that.
But, at one point or another we've all been there.
We've either been promised (or it's been you doing the promising) a project within a certain timeline and within a certain budget and by week two, every single one of those promises have been broken in a big way.
If you have a couple of website redesigns under your belt, it's pretty much to be expected, right?
Not exactly.
The dangers of designing without a website process
A lack of website process, or processes that are underdeveloped, will lead you to three common pain points:
A website that isn't going to launch on time
A website cost that's more than originally agreed upon
Writing WAY more content than you ever thought possible, in no time flat
Late, expensive, and exhausted is not what anyone is after.
But again, this doesn't have to be your reality.
Understanding what a website process should look like can help you avoid disaster on future projects.
Knowing the what, and most importantly, the why behind a process will help you move into your next redesign project with total confidence and a complete understanding of the journey you are about to embark upon.
Building a great process
We've been building websites for quite a while, and it took us a long time to perfect the pieces of our process. And, we don't think it is perfect yet, but we've sure made a lot of progress. Maybe, just maybe, some of the lessons we've learned can be valuable in helping you build your process!
The strategy process
Now, if that header has you thinking "huh?" you're likely not the only one. We get that all the time.
We ask our clients to commit to a strategy before we can accurately scope a website.
This helps us fully understand the ins and outs of every nook and cranny of your current website and what your goals are for a redesign.
I know that likely goes against almost everything you've come to understand up until this point (send the RFP, receive quotes, etc.), but remember, doing things the way you've always done them is going to get you the same exact results you've always gotten.
So, stay with me!
We refer to our strategy process as a "Website Blueprint."
In this pre-execution phase, we aim to discover as much about you as a company and your goals for your website as we possibly can.
The goal is to understand what we need to build at a high level. The ultimate vision for what we need to create is built from a combination of a few things:
Your current website's performance. We look at what's working and what's not for users on your current website. We want to keep the good and find a way to change the bad.
Your business and sales process. It is important for your website to accurately reflect the way you actually do business with the humans you serve. It is important for us to understand what it looks like for you to do that in order for your website to meet your needs.
Your dreams for your website. Seriously. What do you wish/want/hope for your website to do for you? It is important to understand everywhere you see your website going (even if you aren't quite ready for it to be there just yet).
Buyer behavior. We look at how your ideal visitors are searching and how we can help make sure you are showing up for them.
What your team has the resources to do (and this one is very important). During our blueprint phase, we level set with you and your team on exactly what you have the bandwidth to do, and what you don't.
We help you narrow down the options, and what impacts that might have to budget, for how much effort you can devote to the project and how much you'd like us to do.
While this sounds premature in a lot of ways, it serves a very specific purpose.
Most website redesigns are scoped based on your current website, not necessarily what you want to accomplish in a redesign.
This is a mistake because if you're redesigning, it's likely because your current website lacks something (or a lot of things.)
With this in mind, the blueprint allows for true alignment on what the scope of a website should be.
At this point, you're probably thinking, "ok, that makes sense, but how do we reach this alignment nirvana?"
I'm glad you asked.
To truly prepare for a website scope, you've got to analyze what your users are currently doing and then determine what you'd like them to do.
We do that using the following steps:
1. Dissecting key user pathways
Since you are building a website for your users and not just your own personal preferences, you have to understand how your users have historically used your website.
By dissecting their patterns, you can start to encourage new behaviors that can help your users discover the information they need faster or convert on offers that can better help them in their journey.
Sitemaps and user flows serve different purposes, but ultimately help a team plan for user behavior.
Sitemaps focus on how a user will navigate the site and the organization of those items that need to be included in the main menu and the footer and user flows visualize the path taken by a user to accomplish a task.
Strategists, project managers, designers, and developers all contribute to these documents, which eventually, will help the team determine how many module sections need to be built for the user to efficiently navigate through the site and ultimately convert.
Not only does the sitemap deliverable capture what will be in a header and footer navigation, it also deep dives into the URL structure, primary keyword, and SEO title for each page within the navigation.
2. Gathering design inspiration
It can be hard to align an entire team from leadership all the way down to marketing on design direction. There is always the case of "I'll know it when I see it!" that must be satisfied.
At IMPACT, we start by choosing a few sections of the homepage to design in order to show a design direction because it gives some real-world examples of our vision in action.
We only choose a few sections at this stage so we can experiment.
We also specifically choose the homepage as in almost all cases, it's designed first because of its impact as the very first impression of your brand.
These sections hold a lot of weight for the user as they capture the user's attention and really set the tone and the look and feel for a brand and all the subsequent pages.
This exercise starts with the client telling us a bit about what they're looking for; sharing other sites that they like, and explaining how they see their brand being pushed.
From there, our designers gather their own suggestions and inspirations that they then discuss and brainstorm off of with the clients.
Often times, clients have a very difficult time articulating their design desires until they see an actual sample design, but incorporating this element of collaboration and sharing what other brands have done into the strategy process gives them the opportunity to illustrate those thoughts.
This phase of the pre-process really provides invaluable insight into the client's preferences, while supporting the discussion with strategic research.
3. Developing a strategy deck
This pre-project plan includes a defined strategy that includes extensive keyword research and a review of their current website analytics.
The focus is all about the user.
We are looking to understand who is converting, when they are converting, how long it takes them to convert, and what types of hurdles are currently in their way.
Those hurdles may be obvious things like having the right modules in the right order on a page, but sometimes they are a little more elusive, like page-speed.
If it's available for analysis, we're going to analyze it and report on the findings.
This research is so incredibly important and valuable as it provides us with all of the information we could ever need to fully understand a client's needs and determine the direction of the project as a whole.
Note: That is why we don't actually scope a project until this point right here.
Once we have a full understanding of what the project should include, we include it and we can quote as accurately as possible.
This is the tough part.
Everyone wants a timeline and a price BEFORE you get started.
Whether you work for or with an agency, or you are working in-house, timeline, and budget are the number one concern and the first question asked.
But, as you can clearly see, quoting timelines and budget for a project in which you don't understand the proper parameters is simply going to lead to a blown timeline and a blown budget.
Think on that, let it marinate. It's a big shift in the way you've likely always done things.
Lastly, in our strategy deck, we discuss a launch plan.
You heard me right. We're talking launch plans before the project has even reached the very first stage.
If you've ever been present for a website launch, you know how incredibly exciting, yet hypertension-inducing it can be.
All of that stress comes from not having the proper process in place, and launches are different every single time.
New players are introduced late in the game (likely your IT squad), email could go down, you may forget a domain you thought you had, or you might not even know what a DNS server is. It's incredibly stressful.
But, when you are aware of what you'll need before the project starts, you can gain some major clarity around how it's all going to go down and what you can do to prevent any issues from popping up.
By establishing this plan upfront, launches are smoother and much more successful.
Now that we are in complete alignment on the future plan for the website and we know exactly what we want out of this project, let's really get started.
The build-out
1. Design sprint
Here at IMPACT, we work in design sprints, a very high-intensity short time period where we focus on getting all your designs done.
They typically take between 3-6 weeks depending upon the size of your website.
We meet with our clients twice per week and move through all page designs in the first few weeks of the design sprint, and the final week is usually a wrap-up of all the individual modules that will make up your website.
"Wait, tell me more about these modules," you say!
IMPACT develops modularly, so you end up with a collection of highly flexible modules you can use in any order on any page you like, so you are actually left with infinite combinations you can group together in order to make a new website page.
Our goal is to give you building blocks and allow you the ultimate degree of flexibility to adjust structure, content, and order of information for each page you manage.
The wrap up of the design phase just breaks out what each of these modules and their many variations will look like.
Ultimately what clients get are sample page mock-ups as well as individual module design mockups.
2. Content
Let me guess, you were expecting to see development here weren't you? Slow down! You're getting too excited.
Content first (although we often do Content and Development in tandem).
I know, this seems a little backward from what you've likely done before, but this is super important and entirely non-negotiable.
Often times, content is saved until the very last moment and it's a mad scramble to get everything together, write some new paragraphs, and then throw it all into a brand new site just to never look at it again for two years.
Just like you don't want to build pages without strategic analytical reasoning to back it up, you don't want to design without utilizing context from finalized copy.
You shouldn't be writing to fit a design, you should be designing in order to best aid and present the message and value proposition on each and every page.
Our design sprints are designed to help make sure your content and structure fit together as best as possible.
As a strategist, I can sit here and confidently tell you that the best design in the world is going to fall flat every single time if it doesn't match the final content.
That being said, content isn't a last-minute step. It's a primary, essential step to a great website that you should absolutely put at the top of your list.
Generally, we see clients tackle content in one of three ways: (1) they choose to do it themselves, (2) they do it themselves, but ask to have access to our content experts to coach them on their content journey, or finally, (3) they throw their hands up and pull in an outsourced writer.
If a client is having trouble communicating what they do, why they do it, how it can help others, we often recommend a messaging workshop. This establishes a very solid foundation of alignment for either of the three options mentioned above.
If a client is struggling with how they want to sound, we recommend a content style guide workshop which deep dives into a brand's voice and tone. This helps to establish guidelines for how to write for your brand. Again, very helpful for any of the three options mentioned above.
Lastly, content coaching may be essential for your project.
Find a content coach that isn't just a word guru, but someone who understands what makes great website content and can push and pull you to get out of the "us" and "we" pitfalls of website copywriting.
4. Development and testing
Now, that designs are complete, and there is some content written, this is where the real magic happens.
Developers are amazing people who bring designs to life.
In order to do this successfully, they follow a strict order of operations.
First, they should tackle your global elements that appear across the entire website -- usually the header and footer.
Since these elements are across every single page of your website, it's essential to have these in place and approved before further development starts.
Then, they should get into the core of the execution, module development.
As stated in the module documentation section of the article, development takes every care to make each and every module as flexible as possible.
In order to achieve this result, it is equally as essential in this stage to provide candid feedback to the developer.
Modules contain options like color pickers, heading styles, dividers, border shapes, calls-to-action, video, etc. can all be implemented in a single module with the ability to choose functionality with each implementation.
You should test every option for every module as you receive them and raise a red flag if something isn't working or isn't what you expect. Silence is agreement!
5. Quality assurance and launch
Even with a highly-detailed and buttoned-up process, there will be room for human error. So, every single process should have this step. If it doesn't, run for the hills.
Quality assurance ensures that any mistakes are caught prior to launch so you are launching the best product possible.
This shouldn't be as simple as checking the page, checking the box, and moving on, however.
You should really be leaning on each team member's expertise to ensure the quality is the highest and best it can be.
You want to be sure that your website works across all necessary browsers and devices. We typically use a tool called BrowserStack to help with this process.
Strategists should be double-checking the page content for best practices, designers should be checking for overall design consistency, developers should be checking for efficiencies in code and page speed, and project managers should make sure everything is working correctly as originally scoped.
After any necessary revisions are taken into account, it's time to break out that launch plan we spoke about in the pre-process.
Due to that plan, you should know exactly who needs to be on-call and in the room for launch.
No one should be scrambling to figure out passwords, any extra costs for redirects or subdomains should be accounted for and expectations around email and propagation should be clearly set.
6. Ongoing Improvement
Yay! You're done!!
Well, not quite.
You can't just launch your new website and forget about it, you should have a plan in place to make continuous improvements.
Over time, your processes, team, services, prices, and even buyers will change and your website needs to change with them.
It's a living, breathing, hard-working member of your sales team and you need to make sure that it is always current and optimized to offer the best experience.
With this in mind, you should regularly check your analytics, especially your conversion rates and user paths, to remain nimble and in service to your users.
Plus, even with all the research and strategy in the world, every decision made on your website was just a prediction. You can't really know how something will perform until it's live. Every decision is a hypothesis that should be monitored, measured, and reported on.
If the hypothesis did not result in your desired conclusion, you must adjust the experiment.
In this case, you'll need to be ready to make adjustments to the design of your site and even the copy.
Be sure to carve out the time and the budget for ongoing efforts, specifically user testing.
In addition to your analytics, having regular user tests will provide the insight you need to make tweaks to your website.
Go forth & redesign!
So, that was a lot, I know. But, it should give you a better understanding of what taking on a website redesign is really going to entail.
Before you start vetting any agencies, or rallying your internal team to take these steps on yourself, be very candid with yourself about how much you and your team can commit.
Have a specific understanding of who needs to be involved and what their level of effort will be. Figure out who is the decision-maker and what other items are on their plate.
Don't just say you need a website in 90 days because you read somewhere that's a good benchmark.
Website redesign, even with the best process in the world will result in a long, committed relationship. How much your team can dedicate to the project is going to be a much better tell for a timeline and even cost.
While the website design process you use doesn't have to mirror the steps above, it should follow similar guidelines.
Make sure you have ample time for strategy and feedback and stay inquisitive about the timeline and how quotes for time and price were arrived upon. If that takes an exploratory exercise, consider that a good and very honest approach.
Need help redesigning your website? Talk to us
Free: Assessment
Does your website build trust with buyers and bring in revenue?
Take this free 6 question assessment and learn how your website can start living up to its potential.