All My Clients Drink Too Much (5 Signs of a Strong Agency Relationship)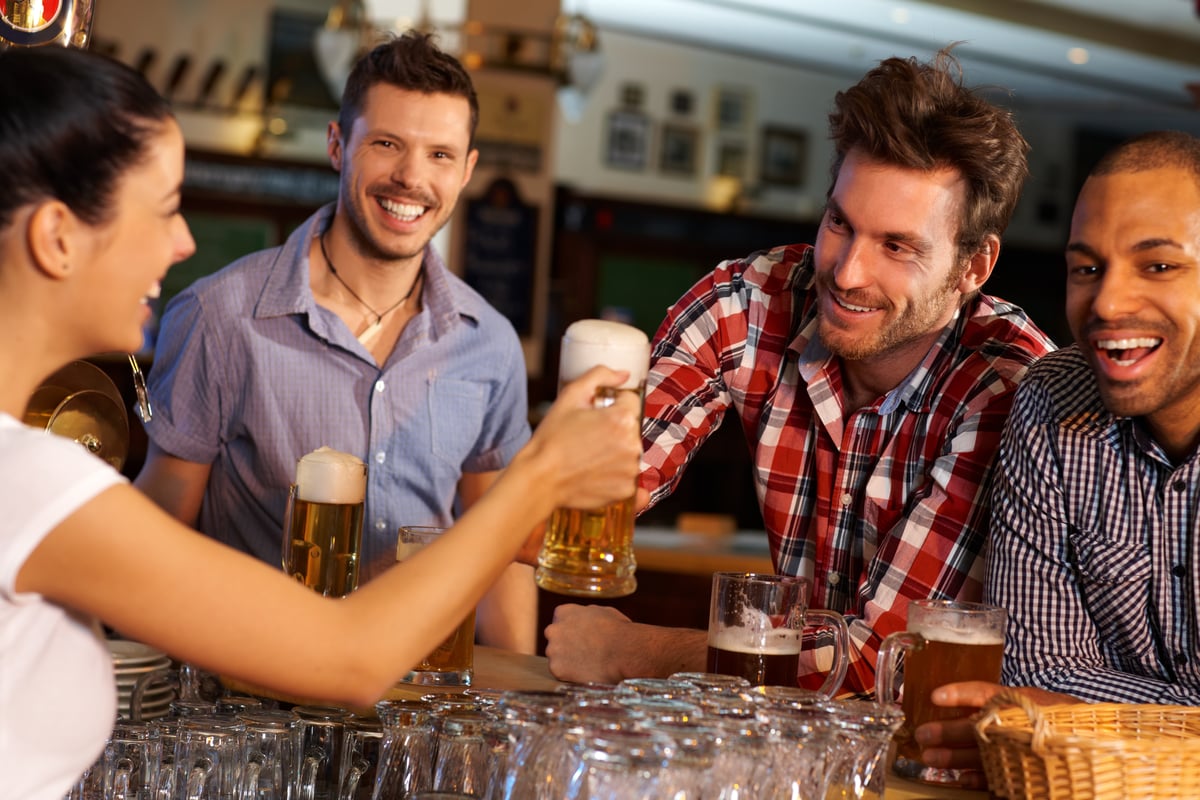 All my clients drink too much. For real; they tell me.
Well, maybe I'm exaggerating a bit. About the drinking too much part, not the "they tell me" part. Because they really do let me know when they're about to down three tasty glasses of wine with their lunch, or why the reason they didn't get me those contact lists this morning was because they decided to go to a Rangers playoff game last night and enjoy a nice, cold beer (or two) instead.
But this doesn't surprise me. Actually, I value the fact that they share these things with me. It shows that they are comfortable with our professional relationship.
I know, you must be wondering, "What does this have to do with finding a great marketing partner?" Well, a lot actually. In a sense, although my clients hired me as a partner to help them with their marketing, I also see them as my marketing partner.
Collaboration is key to a successful partnership, and there are many different -- but all equally important -- factors that define it. So, I've broken it down into five simple, but maybe not-so-obvious, elements that should be apparent in your relationship with a marketing partner.


1. You Can Trust Them
Trust is the foundation of any successful relationship, not just in business, but in every situation. You know when you trust someone, and you know when you don't. But trust doesn't just "happen" overnight; we all know trust must be earned. So what can your marketing team do to make you trust them?
Everything.
Yes, everything. From hitting all of the specified deadlines you agreed upon, to proactively creating a new strategy to increase your lead generation because they know this is your slow season. There really isn't a limit to what actually defines trust. Like I said, you just know when you can trust someone. The feeling you should have when you don't have to consistently check in with yet another person to ensure that this month's campaign was launched correctly, on time, and with zero errors should be a feeling of relief. After all, you're not supposed to manage your marketing team, right? Right. You're supposed to work with them.
Trusted Advisor Founder, Charles H. Green, explains in more detail how to really measure trust. His Trust Equation includes three numerators: credibility, reliability, and intimacy; and one common denominator: self-orientation. The result? Trustworthiness. Further explained, "trust in business...requires good 'scores' on all four variables in the Trust Equation. You want high credibility, reliability and intimacy, and low self-orientation."
The right marketing partner will have all three numerators, with a targeted focus on helping grow your business. They'll make you trust them.


2. They Understand You (and Vice-Versa)
Think about the last time you had to hire someone to execute a very important project for your company. Who did you choose to do the job? Why did you choose them? Probably because they understood your company, your industry, and how to capitalize on your expectations, right? Any company can say "I can." But you want one who actually will.
Truth is, if your marketing team doesn't get you, they won't get your target audience, your content, or how to help build you a successful marketing plan. You need someone who is going to be willing to learn the ins and outs of you, your business, your industry, and your business goals. Don't settle for anything less.
But in order to have a great relationship, you need to understand them, too. It's extremely important to get everyone on the same page in every aspect of working together. Make sure you educate yourself on what exactly they're doing for you. This will help you see the value in what they're providing.
And if they don't deliver something on time, ask them why. Listen to what they have to say. They're people, too, and people make mistakes. I'm not saying you have to accept the fact that they failed to meet the deadline; I'm saying to try to understand why they didn't. You're partners; you have the same goal, so use this small setback as a way to improve your next campaign.


3. Their Passion Level is Equal to Yours
PlanetSoho said it best when they said, "At the core of motivation lies passion. If motivation is the motor that gets the car moving, then passion is the fuel."
Your job exists because someone had enough motivation and passion to create it. People who are passionate about what they do enjoy going to work every day. They know their purpose and what part they play in achieving bigger goals. Passion is what drives business.
But working with a marketing partner who knows your business and industry just isn't enough; they have to love it as much as you do. Think about it: if you didn't care about your job, would you work as hard as you do? Well, neither would they. Make sure your partner has done their research, has generated key takeaways about what makes the industry tick, has put themselves in your personas' shoes, and has really made a willing effort to get to know what you do every day.
In the long run, this will be the driver of your successful relationship, I promise. They'll want to celebrate with you when you close a deal, and they'll be upset with you when you don't quite hit your revenue goal for the month.
Passion is extremely important to the success of a business, and "people with passion can change the world." (Please tell me you know that's a Steve Jobs quote.)


4. They Provide Great Value Through Helpfulness
Work with someone who is genuinely helpful to you and your organization. Don't work with someone who will be a task-taker for you. Work with someone who has your best interest in mind. Don't work with someone who will say anything just to get you to spend more money with them. After all, "The difference between helping and selling is just 2 letters. But those letters make all the difference."
The key point I'm trying to make here is work with someone who wants to bring value and success to your company by simply helping you. Not questioning you, not telling you what to do, and not just doing what you say. Like I said in the beginning of this whole thing, collaboration is the key to a successful and enjoyable relationship.
So, work with someone who defines and knows your needs, asks questions to figure out how to solve them, and then executes on those needs, while incorporating your opinions, thoughts, and ideas into their own to make the best possible outcome.


5. You Enjoy Their Company
You can't possibly have a great relationship with a marketing partner if you don't enjoy their company, can you? I know I wouldn't be able to. You want to spend time with people you like, and so do they.
I'm not saying you have to want to go out for a drink with them on Friday night. But you should at least want to get on the phone with them every week. Business aside for a second, be able to talk about your family, your pets, your vacation plans, and anything else that might matter to them (and believe me, if they're the right partner, it will matter to them, and they will care about your life).
Oh, and...if you enjoy each other's company, build a great friendship, and look forward to each conversation, you can bet you've found a trusting, understanding, passionate, and helpful marketing partner who has great ideas to help you reach your business goals (see what I did there?).


Key Takeaway:
To wrap up my rant, I just want to reiterate the fact that success through partnership comes through teamwork. One side is no more important than the other. If you don't find the perfect marketing partner the first time around, don't settle; the right one is out there and wants to accomplish all your goals with you. That partner will exhibit great amounts of:
Trust. They will make you trust them through everything they do.
Understanding. It's extremely important that they understand you and your organization thoroughly in order to execute on all the small (and big) details.
Passion. Passionate people get stuff done. And they'll never stop trying...or caring.
Value through helpfulness. It's one thing to be helpful. It's another to provide value behind helpfulness where it really matters.
Joy in your friendship. Be friends with your partner, and you'll get more accomplished. It's as simple as that.
All organizations are different, and so are all marketing agencies. So find the agency that wants to be an extension of your marketing team, because you deserve nothing less than success.


Is IMPACT the right agency for you?
I can assure you that IMPACT expresses the above features, but are we the right agency for you? Find out by filling out this form or clicking the orange button below. We'd be happy to help you set up your own personalized phone call to identify your biggest marketing challenges and goals, as well as determine if we're the right fit for you. If not, we'll point you in the right direction. Pretty easy, right?
Free Assessment:
How does your sales & marketing measure up?
Take this free, 5-minute assessment and learn what you can start doing today to boost traffic, leads, and sales.