5 Lessons I've Learned After Filming 5 Video Case Studies for IMPACT in 4 Weeks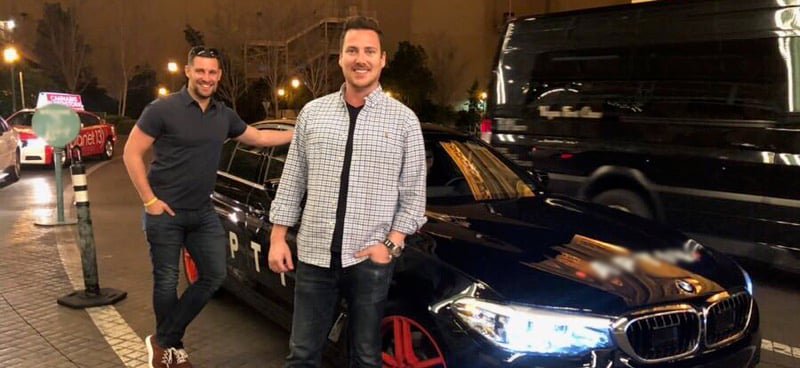 Over the past month, I've had the opportunity to travel the country with IMPACT's Founder and CEO, Bob Ruffolo. Officially dubbed by Bob as the "Bob & Alex Roadshow," our mission was to capture video case studies with some of our valuable clients.
The driving force behind this was a core philosophy we practice here at IMPACT called They Ask, You Answer, created and developed by our very own Marcus Sheridan.
They Ask, You Answer is arguably the most straightforward guide to optimizing your current marketing strategy.
The general philosophy at its core is to stop selling and start helping. The goal is to be seen as a trustworthy resource for people searching for answers rather than another advertisement.
Using this as our driving force, Bob and I embarked on an incredible journey. Our travels took us all over the United States to Boston, Las Vegas, Austin, Cleveland, and Detroit.
It was impactful on multiple levels.
First and foremost, the opportunity to visit with our clients face-to-face is always an incredible opportunity. I think that sentiment was mutual for our clients because they also got to spend quality time with the CEO and Creative Director of IMPACT.
Secondly, and most importantly, Bob and I got to witness the success each company experiences implementing They Ask, You Answer first-hand.
Being on location with their marketing teams and hearing their journeys from good to great was incredibly rewarding for us both.
I learned a lot during the past month, but before I get into those lessons, here's a little background.
Why Are Video Case Studies so Important In Today's Marketplace?
Case studies, especially in their video form, are seriously under-leveraged by most organizations. Why is that?
Video requires a lot of effort and often new skills and more often than not, companies can't see the value in this. Generally speaking, they often don't understand how to measure their effectiveness of the medium or how much a scope of work should actually cost them.
Those are valid concerns but they are based upon fear and not facts.
Fact, there are multiple platforms and ways to accurately measure the effectiveness of your videos. Our friends at Vidyard are a perfect example of that.
Their platform is incredibly intuitive when it comes to real time metrics, giving us the ability to make accurate decisions to increase the effectiveness of any video we create.
What about price? Production costs are usually not cheap. That is true, yes, however I'd like to challenge all of you to shift your perception.
We all know the saying "you get what you pay for" right? Personally, I'd rather pay a little more for something to have the confidence of knowing I invested in a good product or service.
The same rules apply here. More importantly, you have to look at it as an investment towards generating a return for your business.
Strategic videos like case studies will engage, educate, and convert more of your best customers. Conversions equate to profit that should far exceed your initial investment.
Spend a little to get a lot!
With this in mind, case study videos are a sound investment. I'm feeling bold enough to say that they are arguably one of the most effective tools you have as a business.
In fact, video case studies are far more effective than the traditional sales collateral tactics you most likely have in place.
For real?
The folks at Skeleton Productions have a great article explaining exactly why. I think it's safe to say they know their stuff, with clients that include the likes of Universal Studios, Experian, STIHL, and Europa.
I couldn't agree with them more. People feel a deeper connection by watching a video that genuinely conveys a story. It makes it relatable. Reliability is the key to connecting with others.
Imagine seeing other companies, much like your own, facing the same obstacles. That's likely to hit home. Now imagine seeing those obstacles transform into winning situations. I would feel empowered and excited to achieve the same type of success. Wouldn't you?
A video case study is your chance to share those personal stories and provide social proof that what you claim is actually true.
It's imperative to paint pictures, evoke emotions, and give your audience a chance to see that you can deliver real results.
People connect with stories, period. It's the oldest form of communication in our history as humans on this planet. When it comes to business, there's no better method of storytelling than by using your customer's voice in a data-backed case study.
For Bob and myself, our focus was to create an environment where people felt comfortable enough to genuinely share their experiences. We spent a lot of time asking questions to deeper dive with the teams we worked with.
It was imperative for us to tell their story as authentically as possible.
5 Lessons I've Learned from Our Journey
1. Great Business Is Built On Strong Relationships
There is arguably nothing better than a handshake and a conversation. Even with all the technological advancements that connect us all, there is nothing in comparison to real human interaction.

The best part of this trip was exactly that; the human interactions we shared. It was an opportunity for Bob and I to get to know each other creatively and personally, but it was equally an opportunity for us to foster even stronger bonds with our clients.
Being on site at our clients offices gave us a unique view into what their teams day to day operations are like. We got to see first-hand how the marketing teams have been implementing They Ask, You Answer in their organizations. We also witnessed the direct results of that implementation.
In every case we witnessed rapid growth. The growth was not only on a revenue level but on a team level as well. Seeing a team of one or two people grow to five or six due to demand was incredible.
To see that type of personal and professional growth was beyond inspiring for Bob and I. It reaffirmed the impact we can make on organizations and on individuals. The best way I can describe it would be similar to when a teacher becomes the student.
That was arguably the most rewarding part.
2. They Ask, You Answer Is More Than Just a Book
This trip also taught me that They Ask, You Answer is so much more than a best-seller. It's an ideology that can transform an organization.
In order for They Ask, You Answer to be most effective, you need buy-in. We're talking about shifting your company's cultural from the executive levels all the way down. That shift will uniquely position your entire staff for success.
I remember interviewing the CEO for an incredible company based in Cleveland. They specialize in commercial roofing systems. He spoke about how saw Marcus speak at a conference and was inspired by his words. So much so that he bought one of Marcus's books.
After reading it, he said the lightbulb went off.
He knew what he needed to do. He went on to explain that the reason they experienced such success was due to his buy-in as the CEO. It started at the top and worked it's way down through the team.

After implementing They Ask, You Answer his marketing team grew from one person to four. Their metrics have exponentially increased. The most important metric of all, their revenue, increased their profits to the highest in their companies history.
Filming these case studies proved that They Ask, You Answer really works. Organizations that fully embrace this cultural shift experience positive results, period.
They Ask, You Answer is focused on being transparent.
It's about addressing organizational issues head on in order to solve for them effectively.
It's about being honest with the audiences you engage with. It's about driving positive change for your company and clients. It may not be easy to address the issues, it may be scary to make changes, but if you can dig deep to find the confidence you have inside... the reward far outweighs the pain.
As a marketer, it was extremely humbling to see They Ask, You Answer in action with our clients.
Every single interview we conducted with our clients showed positive results. More importantly it showed how effective it can be in growing and uniting your sales and marketing teams. Usually sales and marketing have very different opinions. Not any more.
3. You Need to Tell A Human Story
Metrics drive growth which is fundamentally important. We all know that.
However, metrics are just numbers that represent the efforts of real people. Those people spend countless hours creating, coordinating, and driving campaigns to turn the dial in a positive direction.
People are at the epicenter of what really matters. It's critical to capture those people in action. It's equally important to showcase who they are in a genuine way by telling their story.
It's important to highlight more than what a person does at work. The same rules apply to the company.
This is your chance to showcase the layers of your company and the depth of your team.
What hobbies and activities do your team members like to do in their free time? How do those experiences give them a healthy balance to live life to the fullest and bring their A game to the workplace? What's your company culture like? What are the day to day interactions that make people want to come in and work together?
Those are the stories that people can relate to.
4. Go In With a Plan
Filming a video case study is no small feat, so it's important to go into the process with a plan of action.
Personally, I like to film for an entire day, breaking it into two.
The first portion is for interviews. That is when I interview the key stakeholders on the team to capture the content we need. What they say will be used to craft the story we tell in the editing room.
Once we have the interviews have been conducted we break for a quick lunch to regroup, talk creatively, and reset all the video equipment.
The second portion of the day is geared towards B-Roll footage only!
A lot of production companies overlook this very important piece. I can't stress this enough, B-Roll is crucial. This footage is what you will use to connect the different interviews you filmed earlier in the day.
If you have great spoken words from you interviews, you need footage to compliment what they are saying. For instance, if someone is speaking about how they spend a lot of time coaching clients you need footage of them actually coaching clients.
Hearing it is one thing but seeing that person physically practicing what they preach establishes credibility.

Taking a few shots of B-Roll isn't enough to cover your story. It equally doesn't give your audience enough depth to truly connect with the people they are seeing.
Take your time and position yourself for success! I promise you will not regret the outcomes.
5. Reward Your Client
Demonstrate your appreciation by treating your clients to a meal or some type of activity together!
If you're going to be working with them for the entire day, why not develop the strongest relationship you can with them?
A perfect example of this happened in Austin, TX. Bob and I were on location for the entire day with the marketing team for one of our clients. It was a great day. We captured amazing content and learned so much from each other.
At the end of the day we planned to go to a rodeo together for dinner and festivities. We were in Texas, so a rodeo seemed fitting.
We walked the fairgrounds all together, had great conversations, great food, and experienced quite a show at the rodeo. It was a fun experience, yes, but it was so much more than that. It gave us the chance to really get to know one another.
As a result our relationship with this client is stronger than ever. We also walked away with an incredible case study to share with the world. It was truly a win- win for everyone involved.
Those relationships and those moments aren't something I will not soon forget.
Conclusion
The most important takeaway from this experience, on a personal level, has been the relationships I've built. I'm grateful to have met so many incredible people that opened up and let us into their worlds. It's truly humbling.
As a marketer, it's been extremely eye opening to see They Ask, You Answer in action.
I say that because Marcus Sheridan is a major part of the IMPACT family and we practice his philosophy as if it were a part of our DNA. However, to see an external team adopted, practice, and successfully implemented it is truly amazing.
The "Bob and Alex Roadshow" is still underway.
We still have a few more stops to make and success stories to tell. I'm excited to see what those future experiences have in store for us all.
Stay tuned to see the fruits of our labor.
Free Assessment:
How does your sales & marketing measure up?
Take this free, 5-minute assessment and learn what you can start doing today to boost traffic, leads, and sales.