Avoid the summer slump in business: 4 tips to keep your metrics hot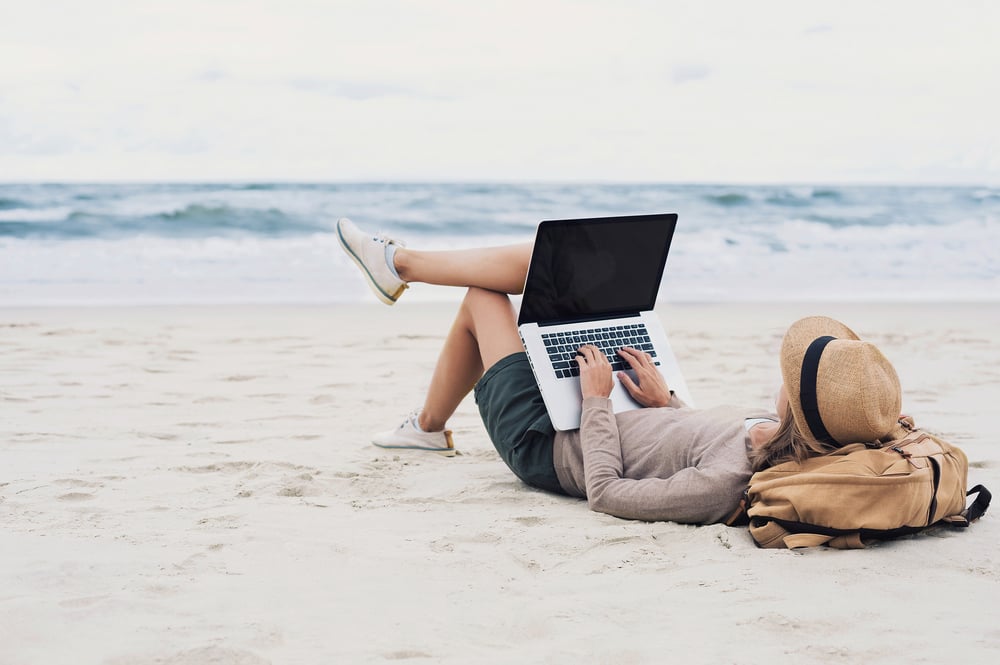 With Memorial Day behind us and kids counting down to the last day of school, offices everywhere in the United States are filled with professionals thinking about vacation.
Many people hoard their vacation time and spend it lavishly during the summer, heading off to elegant seasides or holing up for a backyard staycation. In fact, experts predict that post-pandemic leisure travel will bounce back to at least what it was before.
When it seems like everyone is either on vacation, about to leave, or just returned, it can feel like business goes on the back burner.
As a result, companies often see their numbers take a hit during the summer months. Robust sales growth can slacken, as can web traffic, event attendance, inquiries — and any other metric you might use to measure growth and success.
By the numbers: What the summer slump looks like
Warmer weather affects productivity in a number of ways. According to research from Grasshopper Group, 25% of office workers report feeling their productivity slip during the summer — and 63% admit to leaving the office early, lured out by the promise of barbecues and the beach.
If this is happening in every office across the land, the magnified effect could be gigantic.
And it's not just offices. Some manufacturing is legitimately made slower by heat. According to Intuit, a recent study in India found that factory productivity drops by 4% for each degree the temperature rises above 80 degrees F.
Outside of the U.S. (especially in Europe), August is a month of vacation, which shutters the economy.
When you add vacation time to diminished productivity to heat-induced malaise, you've got a recipe for a general slowdown. Any key business metrics you follow could take a hit.
So, as summer begins, how can you hedge against this coming slump?
4 ways to avoid the summer slump
There is no panacea to reverse a broad social trend. The fact is, your numbers are likely to reflect a slowdown over the summer (depending on your industry, of course!), but you can take some strategic actions to mitigate the effect.
Use these tips to help you make the most of summer in your office, even as you dream of sandy beaches.
1. Remember important days so you can plan-plan-plan!
If you're running your content publication calendar effectively, you should be well ahead of any upcoming holidays or events that can impact your business or audience.
Remember that producing marketing materials takes time. To take something from brainstorming to final publication can take weeks or longer.
Therefore, plan ahead and get started early on that key content, whether it's written, video, social media, podcast, or something else. This can range from the whimsical (a 4th-of-July themed post) to the critical (getting your back-to-school promotion just right).
With the right plan, you're not left scrambling.
📚 Want to keep learning about content strategy? Try this free course: The revenue team approach to sales enablement content
2. Reach your customers where they are — even if that's on vacation
Your customers are likely to be still checking their email during their vacations. Some may be traveling and doing a "workcation" — where they work remotely from a vacation spot.
If you make use of location personalization based on IP address, you can present the most relevant offer to the right customer at the right time.
For example, if you're a brick-and-mortar business with multiple locations, you can tailor your messaging so that your customer vacationing in Michigan has local offers to choose from — or maybe a local support number for customer service.
"Even if you don't have local offices or numbers," says Ramona Sukhraj, IMPACT's associate director of content, "you can cleverly incorporate your readers' IP locations into your copy or messaging.
"Perhaps position your offer as an exclusive for people in that area," she says, "or simply say, How's it going in [insert location]?"
Keep in mind that you don't want to veer off into creepy stalker territory, but the right amount of personalization can show you're invested in providing the best service and experience possible.
You can also take this as a good reminder to always keep location in mind when you send out bulk emails. Do you do business in Argentina? Australia? South Africa? Your blockbuster summer sale might come off as tone-deaf to customers who are just starting winter.
📚 Want to send better emails? Try this free course: The inbounder's guide to email marketing
3. Sales may slow down, but don't get lazy
The seasons affect every industry differently. For some businesses, such as airlines, the summer could be your make-it-or-break-it time of year.
For many businesses, though, this is a time to pull back ad spend or to strategically shift your focus in favor of lead generation, nurturing, and planning.
IMPACT social media marketing expert Ali Parmelee generally sees a slight reduction in ad spend over the summer. It's a time, she says, for planning your publication calendar and making sure all of your assets are updated and optimized.
Or, try a pivot.
If you sell a cold-weather product (e.g., boots), you could run a special promotion sale, or, thinking ahead, you might want to expand your catalog or adapt your messaging. Maybe your focus shifts to emphasize summer hiking — or maybe you start selling sandals as well.
But even if your sales flatten, don't let summer laze you into inaction. "Once we hit August, we're building and planning for Black Friday and Cyber Monday," says Parmalee. "So the name of the game during the summer is lead generation."
According to Ali, many retailers will earn 30% of their entire annual revenue during the six-week holiday shopping season, so their planning never really stops — it just ramps up in late summer. Gather those leads now so you can nurture them during the busy months ahead.
📚 Want to master social media? Try this free course: The fundamentals of social media marketing
4. Stay consistent, even as the rest of the world doesn't
During summer, depending on your industry, sales are likely to slow down. This could mean that prospects are slower to respond or that someone might ghost a meeting.
According to Mike Vavruska, account executive at IMPACT, buyers tend to be more hesitant in general — inclined to push back a decision for a few months. "Summer is a time of too many distractions pulling business leaders every which way," he says. And this can throw a wrench in the works as you try to hit your numbers.
The solution, according to Vavruska, is your own consistency. When everything around you is in flux, keep yourself steady. Make small goals, build routines, and don't get discouraged by the summer slump.
Keep reaching out to prospects, too. "Sales is a numbers game," he says. "The more touches you have, the more chances you have for deals."
Make yourself a list of what you need to get done and hold yourself accountable. Your close rates may drop and your sales process may stretch out, but not because of anything you do. Keep on target and stay positive.
Your numbers will even out in the long run — likely because of the hard work you put in during the summer. The more seeds you plant, the more conversations you start, the more chances that deals will come to fruition in later months.
📚 Want to post better sales numbers? Try this free course: Assignment prospecting
Focus on what you can control — and keep getting better
Summer melt, summer slump, summer slow-down – call it what you will. Global economic factors beyond your control impact the way business gets done during the summer. You can't control everything, but you can take positive steps to stay on top.
The key, as usual, is planning ahead. Know what you're facing and adapt the best you can. The more times you've been through it, the more you know what to expect.
If you find yourself alone in the office, waiting for colleagues and decision-makers to return, there's no better time to hone your skills and grow professionally. Check out the courses on IMPACT+ — or talk to an IMPACT coach to see how we can help your business grow.
Free Assessment:
How does your sales & marketing measure up?
Take this free, 5-minute assessment and learn what you can start doing today to boost traffic, leads, and sales.