Should you hire a paid media agency for your Black Friday and Cyber Monday campaigns?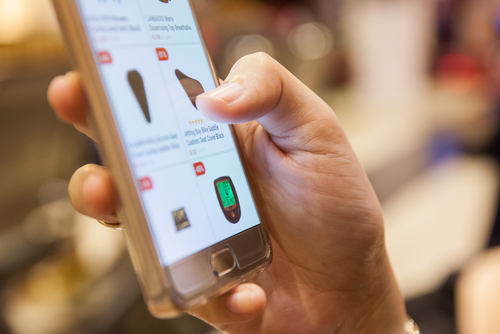 Curious when e-commerce businesses start thinking about Black Friday and Cyber Monday?
Here's the truth: They never stop thinking about Black Friday and Cyber Monday.
The campaigns that gird these lucrative days are planned in the summer — and the aftermath lasts long after the end of November.
Some e-commerce businesses see as much as a third of their annual revenue come through in the few days after Thanksgiving. Each year, consumers spend more and more money online, with 2019 seeing a near 20% increase from the year before. In fact, at one point last year, online buyers were spending $12 million per minute, according to CBS News.
If you are serious about your e-commerce, you should partner with an agency to help get the best return on ad spend (ROAS) for your social media and search ads.
Here at IMPACT, we deploy our team of specialists to run an omnichannel strategy for our clients, shifting budget and spend based on countless variables that present themselves in this hectic time of year.
Two such experts, Facebook Ads Lead Ali Parmelee and Google Ads Lead Jason Linde, explain exactly why it's so crucial to have a top-notch agency on your team heading into Black Friday and Cyber Monday.
Planning for Black Friday and Cyber Monday starts early — very early
John: For companies who get a lot of their business through paid media, do they ever stop thinking about Black Friday and Cyber Monday?
Jason: No, they don't. For e-commerce companies, this is their bread and butter. For some brands that are directly tied to other holidays, it might be less of a focus, but for most, Black Friday and Cyber Monday are so big that they never stop thinking about it.
Ali: We find that a lot of clients will have cornerstone promos that they do every year, like a Christmas in July sort of thing, but there's absolutely nothing like Black Friday, Cyber Monday. Most companies will plan on earning 30% of their entire annual revenue during that time.
John: If they're bringing in 30% of their annual revenue during this time, I'm sure their advertising spend goes up, too. When do they start advertising?
Ali: Honestly, you never stop. You spend the entire year leading up to it prepping for "the big show." But at worst case, we get started planning before the end of July!
Businesses use evolving strategies
John: So, if they're getting started as early as the summer, how does the advertising change between then and November?
Ali: There's this specific strategy that you have to be thinking of almost regardless of what your product is as you're leading up to November: You have to be list-building to make sure that you are stuffing your funnel as much as possible to get enough net-new people in there. That way our auctions can focus more on retargeting.
Everybody is going to be advertising for Black Friday and Cyber Monday, so if you're trying to do a normal strategy of picking up net new clients, then you're just going to price yourself out with how high the cost per clicks (CPCs) and cost per thousand impressions (CPMs) are going to be.
If we normally put 70% of our focus on top of funnel for Facebook and Instagram, we're inverting that for black Friday, or depending on the scale of the spend. Maybe it's a 50/50, but it's definitely not 70% top of funnel anymore.
Jason: There's a lot of things to look at in the months leading up to it in order to build lists:
Are you doing giveaways?
Are you doing lead gen campaigns?
Are you getting SMS opt-ins and email opt-ins?
There's a lot of chatter out there right now that this is going to be the craziest Black Friday, Cyber Monday ever. So, a lot of people are talking about coming up with a standalone sale a few weeks in advance when CPMs are going to be lower, trying to get people in the door then — and then get them to still come back for Black Friday.
John: How much are you likely to see CPC and CPM rates go up?
Ali: It could be as much as ten fold. This image is from Facebook; it notes general auction trends:
Jason: There's always uptick, but this year is going to be even greater. You're going to see more brick and mortar retailers jumping in because of COVID limitations on in-person shopping.
CPCs have been in flux since the pandemic started, but they're climbing now, and that should continue.
Why partnering with an agency makes sense
John: So, should businesses hire a paid media agency for their Black Friday/Cyber Monday campaigns?
Jason: Yes. For me, it comes down to strategy and management tactics. You shouldn't try to do it all alone.
Ali: Also, reputable agencies are partners with the platforms, so they have extra access to the channels. I know Jason does for Google, and I do with Facebook because we are a Preferred Partner. Any time there's an issue, I'm able to email and get an instant response. I can even text my rep and get an answer.
For example, today we have a Labor Day sale that started at 7:00 AM for one of our clients — and one the flagship products got rejected from the product catalog, which means it can't be used for retargeting until it gets approved.

So, I emailed my rep at 7:00 and got it taken care of. If you don't monitor all the moving parts constantly, it could take some time before you even realize there's a problem, and then even longer to get it resolved.
If you are thinking about trying to do Black Friday, Cyber Monday on your own and you're not planning on doing anything until November, you're already way behind. You're likely wasting your time and money.
When it comes to the actual implementation, an agency will help you with both the strategy and the creative.
You've got to get photo shoots done. You've got to get all your messaging set. You've got to be running page speed tests. If your site is too slow, it's going to hurt you. Facebook and Google don't like that, so be sure to clean up your site.
These are all things you need to be thinking about long before you even get to Black Friday.
Paid media campaigns only work if you have a great website
John: So, success on social media platforms is not just about the platform, but also about optimizing your own site?
Ali: Exactly. It's hugely important. Page speed is so important for ads. People bounce if it takes too long.
Also, some people don't realize they shouldn't use Bit.ly links or redirects within their ads. Facebook doesn't like that.
There are all sorts of things, some you wouldn't necessarily think that can affect your paid ads. Ask yourself:
What's the health of your email list?
How well segmented is it?
How fast is your website?
Are all of your privacy policies in place?
How is the conversion rate for your landing pages?
What about your SMS opt in campaigns?
There are so many factors.
Jason: Last year, I watched Ali prepare a full tactical strategy with a client and then literally have to pivot within an hour of launch. So you can't just launch a single ad campaign. You also have to have backup plans as needed.
John: What made you have to pivot so quickly?
Ali: This brand has a very specific tone. In one ad, they were trying to be a little cheeky and people didn't like it at all. It was creating buzz — and we were getting purchases from it — but the president and the founder of the company were really uncomfortable with the comments that were coming through.
The good thing was we were so prepared that we had over 25 ads to pull from, so we were able to instantly pull it and replace it with new ads.
8 common missteps of companies who don't hire an agency
John: What are some of the most common missteps you see companies make if they don't hire an agency?
Jason: There are many, but these are very common:
You test ideas during the most expensive auction times of the year
You start too late and don't spend enough leading up to Black Friday and Cyber Monday
You didn't audience-build enough earlier in the year
You don't have a real strategy
You don't have a contingency plan
You don't have pivot ads up your sleeve
You don't have the time to watch every variable
You focus on attracting net-new customers when CPMs are too high (Rather, you should build up your top-of-funnel earlier so you can focus on retargeting to keep CPMs lower.)
There are more, but that's the list that's top of mind.
Predictions for this year's shopping season
John: What do you both predict for this year?
Ali: I think there's going to be a rise in net-new purchasers this year who are searching for new brands for gift giving to friends and family (as well as themselves), so audience building is going to be vital. Even more so than usual.
Speaking of gift giving, e-commerce sites need to make sure they have gift-giving options in place this year — gift messages, gift receipts, and even wrapping. Fewer people will likely be exchanging gifts directly this year.
Also, gift cards are going to be important in case there are any shipping or inventory issues. This is a big concern this year with the pandemic and uncertainty about inventory delays.
Jason: I feel the same exact way. There is a piece of me that does wonder if we will see disappointing numbers because we've already seen so much online shopping during COVID.
But at the same time, so many people skipped vacations and other big expenses this year. If they're feeling secure and ready to spend, they might all feel like they need to treat themselves and their loved ones after such a brutal year.
Ali: Yes. Maybe you might normally treat yourself to that moisturizer you've been thinking about, but now you might actually get the tool that goes with it. Say that's $200. I think our AOVs (average order value) might be higher this year for Black Friday and Cyber Monday. We'll have to see what happens.
Companies should also be ready to up-sell or offer add-ons for customers. Think about it: you go to physical stores, and you make some small impulse purchases, maybe when you're waiting by the register.
Online retailers should be ready to do the same.
Free Assessment:
How does your sales & marketing measure up?
Take this free, 5-minute assessment and learn what you can start doing today to boost traffic, leads, and sales.