Instagram ads cost: Pricing, overview, and expert tips for 2020
What does it cost to get started with Instagram ads?
Because Instagram is owned by Facebook, all ad buys must be done within the parent platform. In fact, it is considered a mistake to split your Instagram advertising from your Facebook ads. On the platforms together, expect to spend at least $3000/month to get started.
With social media marketing becoming an increasingly central part of many companies' ad budgets, I sat down with IMPACT's Paid Media Specialist Ali Parmelee to discuss her thoughts on getting started with Instagram ads.
Here's what you need to know if you're starting out.
How Instagram is different
Me: How is Instagram as a platform is different than the other social media platforms?
Ali: Each platform has its own perceptions of who's on it, what they use it for. A lot of people use Twitter for their news. They'll use Facebook for their news and sharing life events and opinions.
Instagram is passive eye candy. A lot of people will use it just to kind of see what other people are doing, what's going on. And you definitely find more of that stylized look and feel on Instagram.
That's the big difference between Facebook and Instagram. People will put up images and they'll be fuzzy and sort of blurry image, or they're putting text over it — and doesn't matter as much on Facebook.
On Instagram, you don't expect to see text overlaid on the images. It's more about the image aesthetics.
Me: So if you're a company who's advertising across multiple platforms, you might produce similar content, but the way it's presented would change depending on the platform?
Ali: Exactly. Sometimes people who are just getting started organically posting will say, "Oh, I can just push whatever I'm posting from Facebook over to Instagram or vice versa." And you should never do that because it's just a different style.
You'll do longer-format copy sometimes on your Facebook posts, but you shouldn't do that on Instagram. You also use more hashtags on Instagram.
You have to think about the platform, and use that style for your ads, too.
Me: It makes sense that an audience should have some unique expectations of businesses on each platform. What should companies on Instagram expect of the audience?
Ali: There's definitely a younger demographic on Instagram. Facebook is still more widely universal with more overall users on the platform. On Facebook you range from teenagers up to grandparents. On Instagram, you're going to find a younger, more college vibe where the heaviest density of users is high school through 40s.
Compared to Facebook, audience engagement is going to be higher on Instagram.
Here. This is from Spout Social: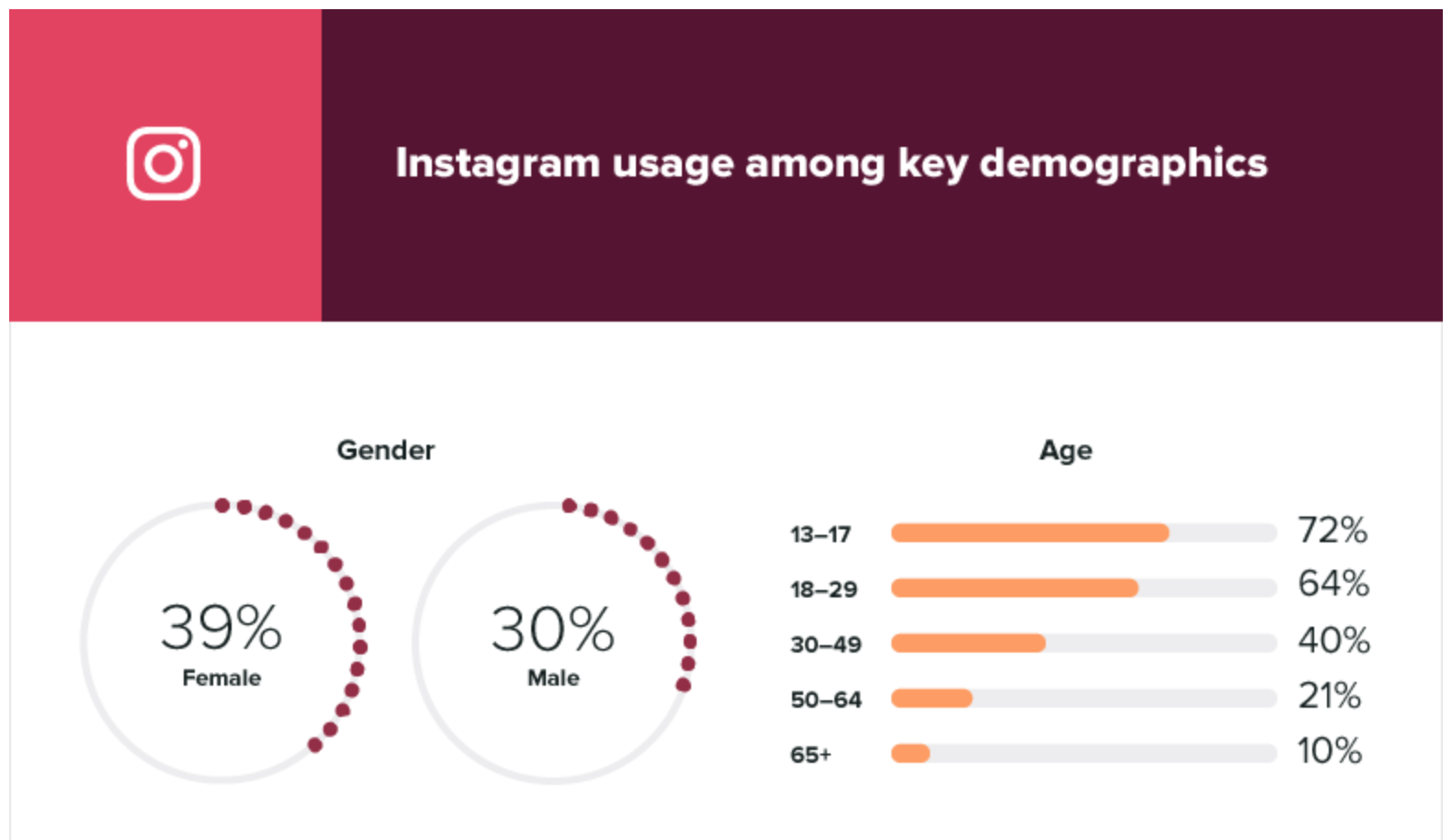 Getting started with IG ads
Me: If a company wanted to start out advertising on Instagram, would you suggest they focus on other platforms as well?
Ali: It's considered a cardinal sin to split out Instagram from Facebook when doing your placements and targeting. The only time we do that is for native style ads. But even then, we are running stories ads to Facebook, Instagram, and Messenger.
As far as Instagram ads, it's important to make sure they match the platform. We try to practice what I call "ad camouflage." We don't love lots of texts overlays. A little text overlay here and there is good, but we reserve that for big sales like Black Friday.
Ages ago there was this video comparing an Apple product box to a Microsoft product box. You want your ads to look more like Apple than Microsoft, because you don't want all that text. Then it looks like an ad.
That's why we work so hard to make sure that the imagery that we're using can look great on Facebook and on Instagram and that we're not doing all these graphics and overlays. I can't express enough how much you want to make sure that fits into the organic feed as well.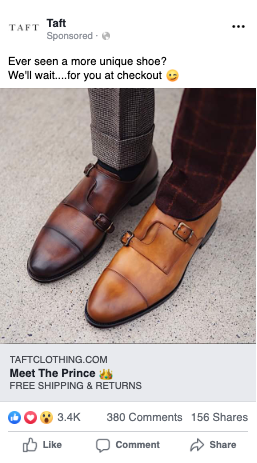 Source: TAFT
You want people to see ads and see organic posts and not really be able to tell which is which at first glance.
Me: Can you talk about how targeting works on Instagram?
Ali: Exactly the same as Facebook — it's all still the pixel. Facebook is building the data through their pixel regardless of whether you want to use the data for Instagram or Facebook. So we retarget the same exact way on Instagram as we do on Facebook.
Me: I think of Instagram as almost exclusively on an app. Whereas there is a Facebook app, of course, but there's a lot of desktop use as well. Does that change strategy?
Ali: No. Honestly, even though you have desktop usage for Facebook, you're still using it on your phone a lot. In fact, Facebook has been revamping its standards and guidelines for the image formats that it wants. They are now giving a better bid optimization if you do square images and videos.
They want you to do square because it looks better on mobile. We track for our clients and monitor how purchases and leads are being acquired, both on Facebook and on Instagram. I don't have any clients where their acquisitions are higher on desktop than they are on mobile.
Here's a current client example. The extra 3.37% is from Facebook Messenger: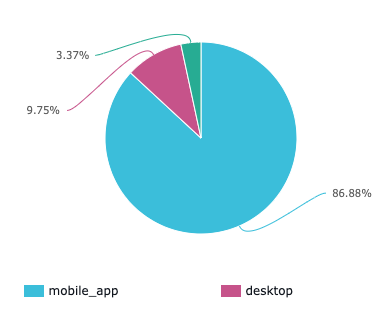 Here's are examples of a current e-commerce client's sales results this month on platform:
I'll also look and see what's the data, Facebook versus Instagram. Every brand is going to be different, but you can usually see a direct correlation between your target persona's demographics and the platform. Still, it's usually at least a 60/40 split, 60 Facebook, 40 Instagram.
I work with a variety of brands, from fashion to homegoods to lifestyle. Their prices range anywhere from less than one hundred dollars to thousands of dollars. And yet, most of their metrics look just like this.
Different types of Instagram ads
Me: Can you talk to me about the different kinds of Instagram ads?
Ali: There's really three types that you can run. I think this is one of those kind of like a-ha moments if you don't realize. You have to place Instagram ads from Facebook Ads Manager. There's no other way to do it.
It's all through Facebook, which is why I'm saying the data is exactly the same. You're checking the box of where you want the placements to go.
So, you can pick Facebook, Instagram, Messenger, Audience Network (which is all sorts of games and things). For Instagram, you've got your feed, you've got your stories, and relatively new is Instagram Explore. It's only in the last month or so that they've really made this available.
Me: Tell me more about Explore ads
Ali: When a user is going to the Explore section of Instagram, they can now have ads served up there. There's not a lot of data yet. It's that new. Facebook is getting more advertisers. The more advertisers they have, the more real estate they have to come up with to give people places to advertise.
But they always try to leave it at a ratio of about every three posts you're going to see an ad.
Me: Do these three types of ads all cost the same?
Ali: This is where it gets very interesting. It's all exactly the same as with Facebook. You can break it down to look and see your CPCs and CPMs, how much it's costing you per click, per view that you're getting.
What we recommend is never breaking out the placements. This is a best practice from Facebook — their AI has gotten that good. They will be able to see which platform is performing and guide the ad spend there.
When you're selecting your placements, you can default to do all placements, which is what Facebook wants you to do, or you can hand select where you want things to go.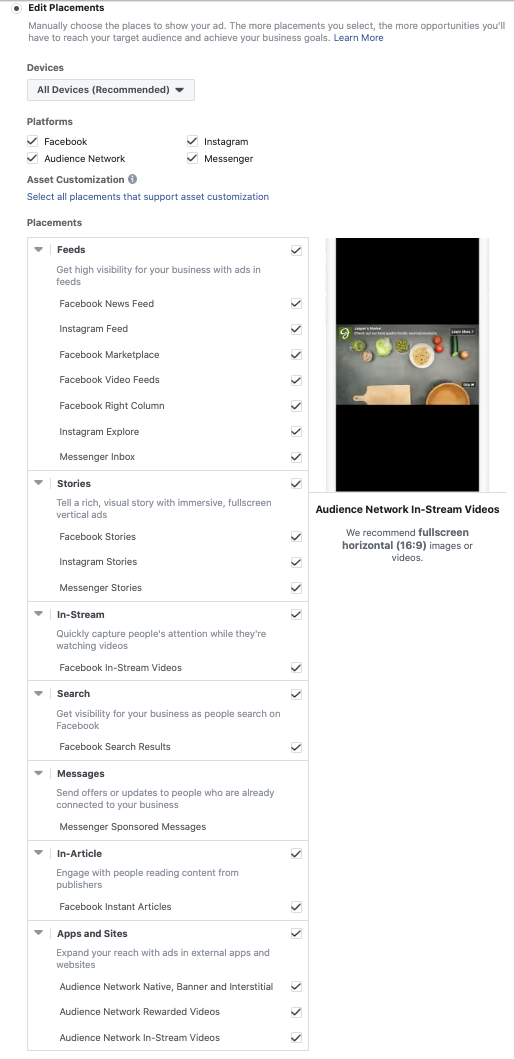 When we first take over an account, we will do all placements for the vast majority of campaigns. We'll test it out and see what data can we get.
Typically, we do all placements when we're targeting bottom of funnel, because at that point we just want the customer to buy no matter where they are.
For the top of funnel, though, we test a little bit more, but probably the one that we leave out as much as possible is Audience Network, which expands your ads to third party apps and websites. I find people don't mean to actually click on it; they just accidentally do.
How to best use your paid social budget
Me: When I asked you about Facebook ads, you said that someone getting started should expect to spend at least $3,000 per month. If you were talking just about Instagram, what should a company expect to pay to get started?
Ali: Honestly, unless you are only targeting teens with your ads, I would say don't split your Facebook and Instagram budgets. That $3,000 budget should be for both.
Me: What should be the ratio?
Ali: It depends on what you're trying to do, but Facebook has gotten so good with their AI that you can really trust them to allocate your budget.
If you're going to try Instagram ads and you have products to sell or you're trying to generate leads and educate people, you should be doing it on Facebook and Instagram. You shouldn't be isolating them. They should be together.
And then, as long as if you're spending $3,000 a month, after after six to eight weeks, you should know how you're doing on both platforms.
Influencer advertising
Me: When many people think of advertising on Instagram, they think of influencers. What's your take?
Ali: It's interesting. We have this newer client, and I was meeting with their social media team earlier this week. I talked earlier about "ad camo." Well, I said to them, "we need to be as aligned as possible because I want people scrolling through your grid and your feeds, and not be able to tell the difference between the ads I'm putting out there and the posts you're putting out there."
When I'm writing ads, I'm scouring my client's Instagram and Facebook posts so I can see what are the preferred emojis they're using, what hashtags they're using, what language they're using. What commonalities are in the comments? I want the ads to fit in seamlessly in style and tone.
And so that's where, when we look to get user-generated content — and it could be influencers or it could be micro influencers — if they're posting and giving us permission to be able to reuse the imagery, those are honestly some of the best ads that we do because it looks even more authentic. And then we're able to put whatever copy we want with it.
With influencers, you actually do more branded style posts, and there's a way to do it in the back end of Facebook where you have to tag that this is co-done with another brand.
There are different levels. There's micro influencers, there's influencers, and then there are partnerships, which are with celebrity-type names — that's where you're going to put the branded aspect of it in the backend of Facebook.
But for the most part, most people are going to be in the micro and regular influencer arena, where you just have to make sure you're following rules. So, you're tagging them with their handle, things like that.
Me: But even if it's a sort of micro-influencer that still has to be disclosed in the posts, right?
Ali: It's still a little bit gray on some of this. The way that I'm looking at it from a paid ads perspective is we'll always tag them back. For them as an influencer, they have to be tagging the brand to get credit for it. Sometimes they're getting paid, sometimes they're getting another type of compensation. But there's got to be some sort of reciprocal tagging, so when people see that tagging, they know it's an endorsed post.
I think we're going to see more shake out on that in the upcoming year on how that gets managed for better transparency.
But for a client right now, I have a list of the influencers they're going after. Now, we can start to monitor their handles. They're going to send us images that we can use and then we can take those and turn them into ads.
So, it is a prevalent part of how we build ads. It's all just a matter of walking the line without crossing it.
Getting started with Instagram ads
Me: So, if a company were looking to begin with Instagram ads, what do they need to do before they even get started? How do they get their ducks in a row before they sign up?
Ali: They need to focus on their content and their assets. You have to have a strong understanding of your brand to have a successful Instagram page. There is so much effort that goes into planning an Instagram grid — and I don't think people really understand that.
The successful brands I've worked with, they have the grid on their wall and they're planning what posts are going to be and how they work together. It's so artfully crafted with pre-shots, to final shots.
While this should be a given, make sure you have someone who's dedicated as your social media manager to treat this as a real platform for you. Don't get into it if you can't embrace it. Once you've done that and you've established some followers, then start looking at Instagram ads.
When I get asked, "Hey, so and so wants to know if we can run ads for them?" before even requesting behind the scenes access to review the state of their Facebook and Instagram media buying, I'll start running through my checklist: How many followers do they have? What's their engagement level on Facebook and on Instagram? Are they actually responding to questions? How often are they posting? What's the state of their grid? Because all of that is really, really important.
Instagram ads should be a continuation of your existing effort on the platform. If you don't know where to start, start by building a solid organic presence as your springboard.
Free Assessment:
How does your sales & marketing measure up?
Take this free, 5-minute assessment and learn what you can start doing today to boost traffic, leads, and sales.