27 powerful LinkedIn business pages examples to inspire you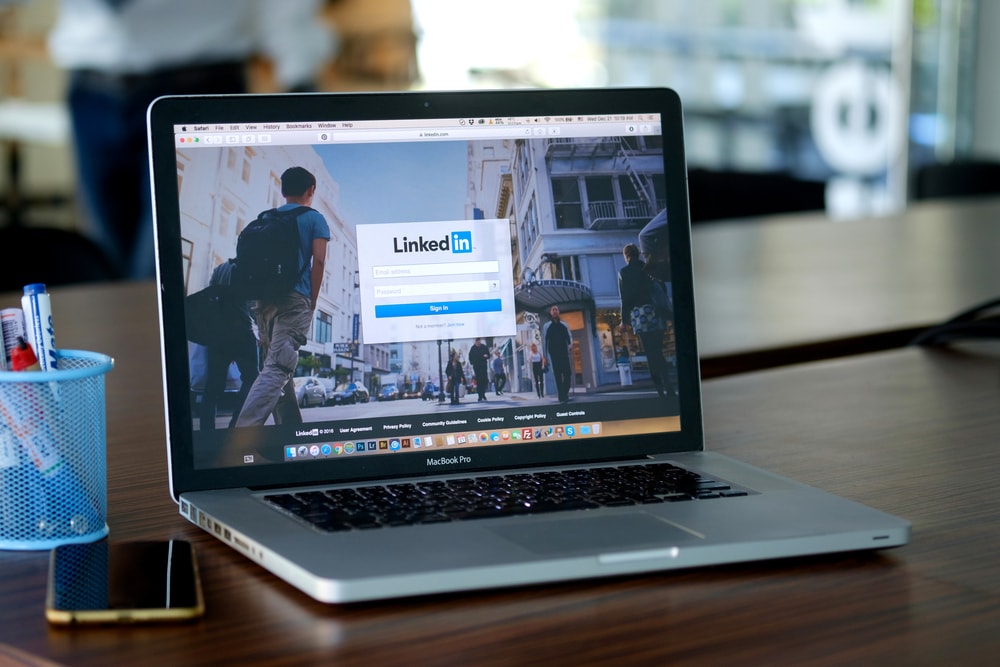 "Hey, let's connect on LinkedIn!"
Hearing this, I was baffled.
Huh? Not a business card? Or a phone number?
"Make sure you check out our business page, too. There are some cool job opportunities available."
Business page? Job opportunities?
Not so long ago, this is what went through my mind when others asked to connect on LinkedIn. Over the years, I've realized I'm not alone.
So, here's the deal, folks — baffled as you might be now, as I was, LinkedIn is a must-have for business professionals.
🔎 Related: Are LinkedIn ads really worth the cost?
It's the hub for digital networking and building professional relationships with your peers. The platform allows you to connect with others in your field (or not in your field), share valuable content and insights, and even find your dream job. And yet, so many businesses don't know or take advantage of what LinkedIn has to offer.
In many cases, businesses create a LinkedIn business page because they feel they have to, rarely embracing the opportunities it can bring.
Why LinkedIn business pages matter
Let's go back to that moment of confusion I shared earlier.
I was attending a conference, giving and taking business cards, exchanging handshakes, all the works for finding a job. I wasn't expecting an in-person LinkedIn request.
Fast forward a day or two, I checked out their profile and navigated to the business page, crossing my fingers for a job opportunity and I was instantly turned off by what I found.
They had a nice cover photo, but it couldn't cover up a lot of other issues with the page:
The information provided on the page was extremely generic.
There was no content or opportunities present for audience engagement.
And, of course, there were no job listings of any kind (as I was promised).
I exited their LinkedIn business page, and at the same time, their company exited my mind.
Compare my experience to what you may experience with a company's website. Doesn't sound that different, right?
Pretty early on, you can tell if some of the fundamental pieces are there (or not there), and base your response on that.
🔎 Related: LinkedIn spills the beans on how their ranking algorithm works
A business's LinkedIn page, just like their website, is a huge opportunity to present who a company is, what they do, and why people should want to follow their brand.
That's the impact of an effective or ineffective LinkedIn business page.
Today, there are over 690 million members on LinkedIn, and users are more engaged than ever on the platform.
That's why your business's presence on LinkedIn is crucial to building a strong brand reputation and for creating connections with job seekers, advocates, and your prospects or customers.
Whether you are updating your current page or creating one for the first time, here are the most important factors you need to consider for building your company's LinkedIn page.
How to optimize your LinkedIn business page for success
1. Fill out all the information on your business page
If your page doesn't have all the necessary information filled out, you immediately lose credibility with the user visiting your page.
Sure, it can seem like a no-brainer, but so many companies fail to do this and it hurts their performance significantly.
In fact, according to LinkedIn, companies who fill out all the information get 30% more weekly views on their pages than those that don't.
What do you need to fill out?
Logo and cover image: These visual aspects make your business page recognizable and visually appealing.
Company overview: Discuss who your company is, what you do, and other information users ought to know such as a mission statement or core values that define your brand.
Company information: Your company's website URL, Industry, number of employees, office location or address, and specialties are all key pieces of information that will help you in searchability.
2. Make your business page SEO-friendly
As with a website, your LinkedIn page is going to rank for keywords both in Google and LinkedIn itself.
As you are building out your business page's basic information (as highlighted in Step 1), cater your copy to include those enticing, powerful keywords that can drive search traffic.
Imagine a high-level job candidate searching for a technology company in the Dallas, Texas area.
If your page is well optimized for related keywords, you could be the first company that pops up in their results and you now have a top-quality candidate knocking on your door.
Start with your page's overview section. You can set the tone with engaging text that is not only keyword-rich but also enticing for your audience to read.
Next, move to your basic company information and the specialties you list.
Those keywords are going to make it easier for search engines both in LinkedIn and abroad to find companies that relate to a given user's search.
What does it look like all together? Take a look at Intel Corporation's LinkedIn business page.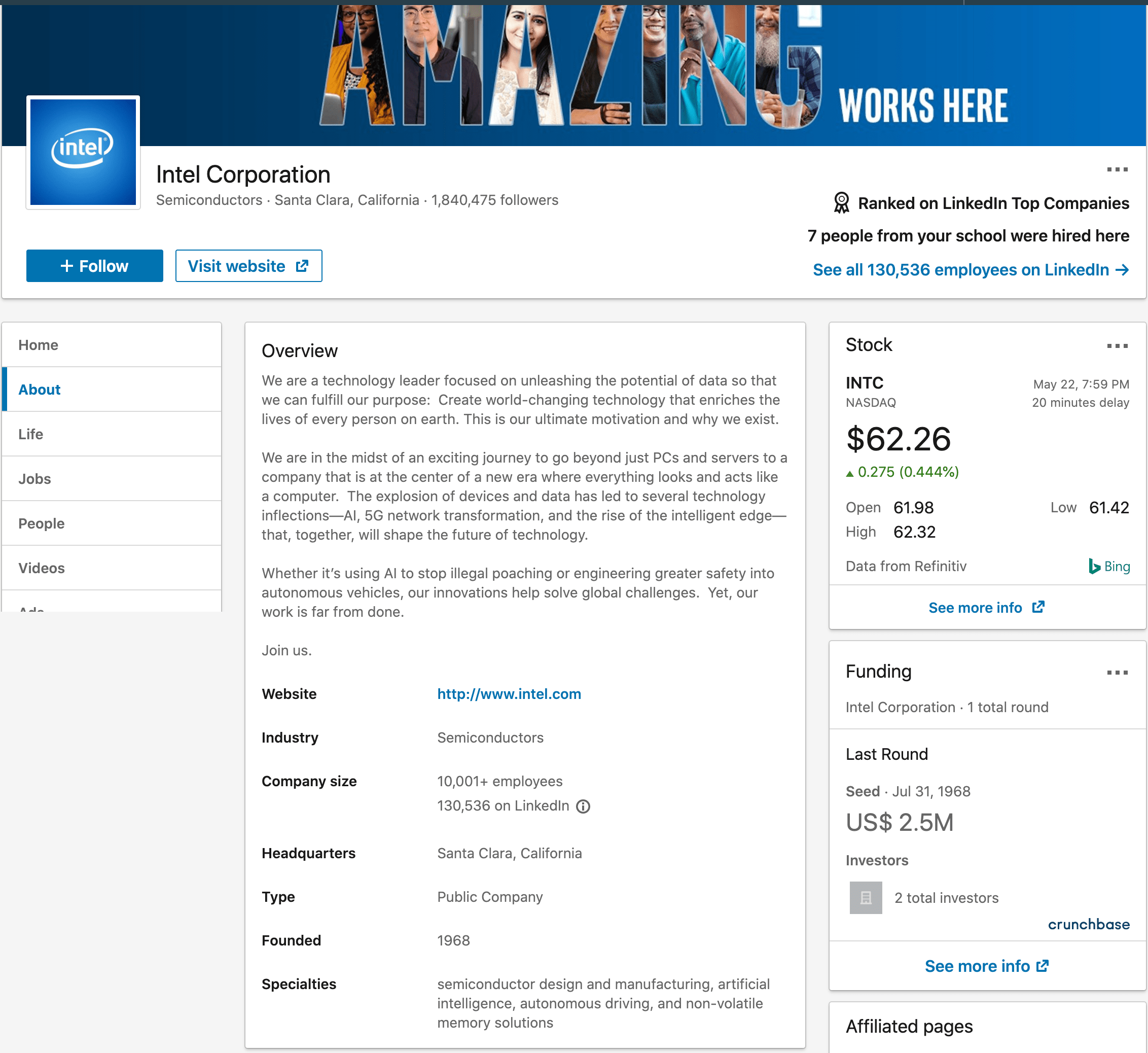 They optimize their page to be searchable by search engines while still providing an engaging and empowering tone for the reader, using strong keywords like technology leader and artificial intelligence.
3. Share open job opportunities
LinkedIn is one of the largest job search engines in the world, with over 20 million jobs currently available.
Posting open job opportunities directly in the Jobs tab of your business page will help optimize the page overall in several ways.
First, your job opportunities, and in turn your page, will be listed in both Google and LinkedIn's job search engine.
If a user were to search "digital marketing jobs LinkedIn," into Google, they'd get the following page: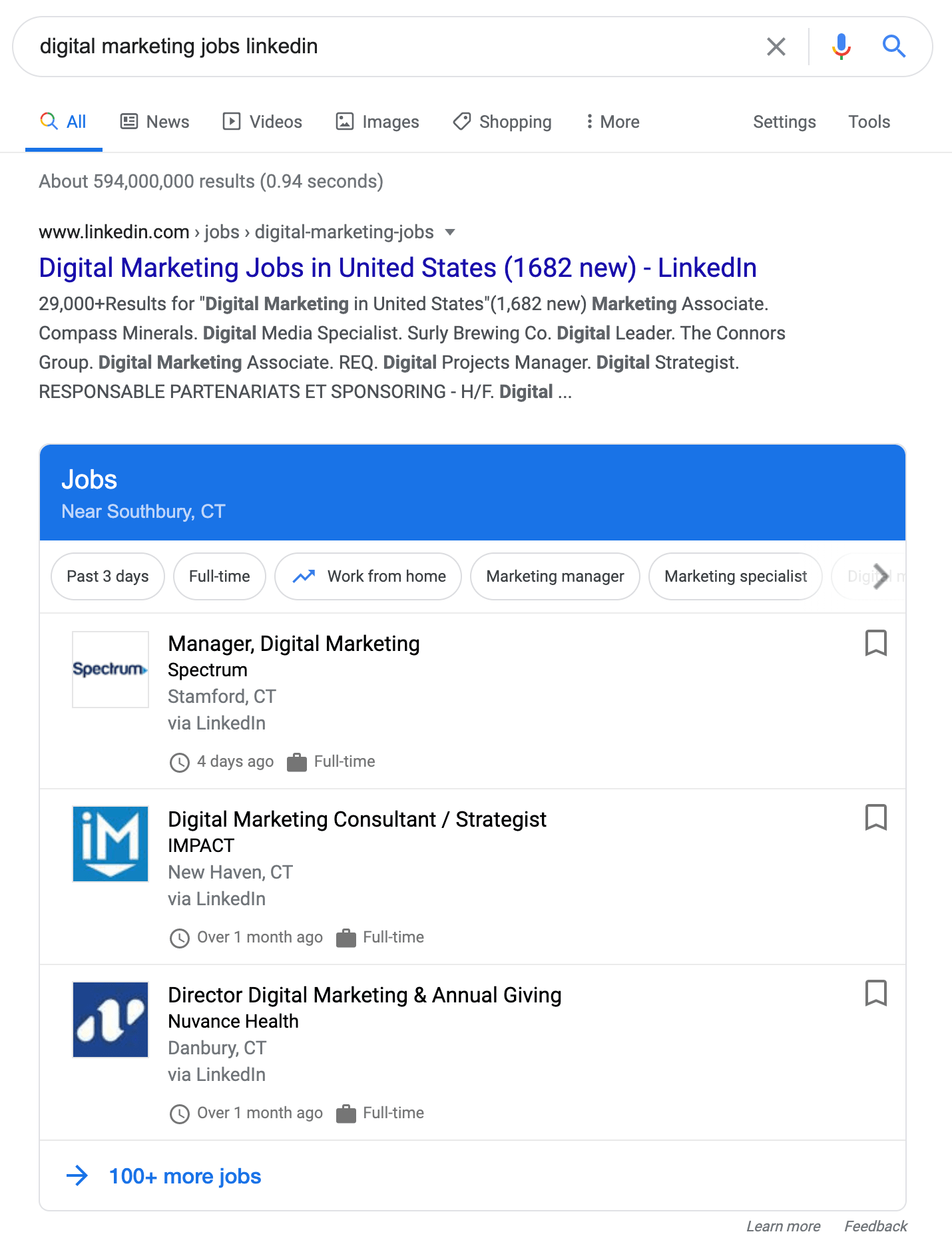 Google will first plug LinkedIn as the first website to go and find these opportunities. However, it will also have direct plugs based on your location (should you choose to filter it) so that you can find positions near you.
Second, any keywords included in the details of the job post will drive more traffic to your page when those keywords are searched.
By adding these job opportunities to your LinkedIn business page, you will perform better in search results, bring more interested traffic to your page, and get in front of the top talent you are looking for.
4. Share engaging content regularly
Even when a company's LinkedIn page has the basic information filled out, there is still much to do in order to make the page actually feel engaging, active, and alive, starting with content.
Hopefully, you are already creating great content on your website in the form of videos, articles, and downloadables.
Share that content on your company's LinkedIn page!
It was found that by even posting on a weekly basis, companies see a 2x lift rate on their page and post engagement.
Further, visual content gets significantly more engagement than text-based content.
Videos on LinkedIn specifically get 5x as much engagement as typical text posts, with LinkedIn Live video getting 24x engagement.
Images also garner a significant boost, averaging more than 2x the comment rate.
Whether you are sharing interesting industry insights, a recent company update, or showcasing your content, make it visual.
5. Engage with your audience and be an active industry voice
The final step to building a powerful LinkedIn business page is to be actively engaging with your audience.
As with building any social media following, you can't just sit around and wait for the people to pour in. You have to engage with them directly.
If you want to engage with an industry expert, try using mentions to tag them directly in the post.
Industry leaders will have significant followings with the audience you want, so by either tagging them in your posts or by commenting on theirs, you can get engagement from the audience you care about.
Or, if an employee, customer, thought leader or brand advocate tags your page in their post, give it a reshare to increase exposure.
Another great option is to use relevant hashtags that your target audience is also using and following. This will get your content in front of the right people and build up your credibility in the given space.
27 examples of powerful LinkedIn business pages
There's a lot of ground to cover when you want to create an effective LinkedIn business page.
To help you get started, here are 27 great LinkedIn business pages that are excelling at these five steps and what sets them apart.
1. HackerEarth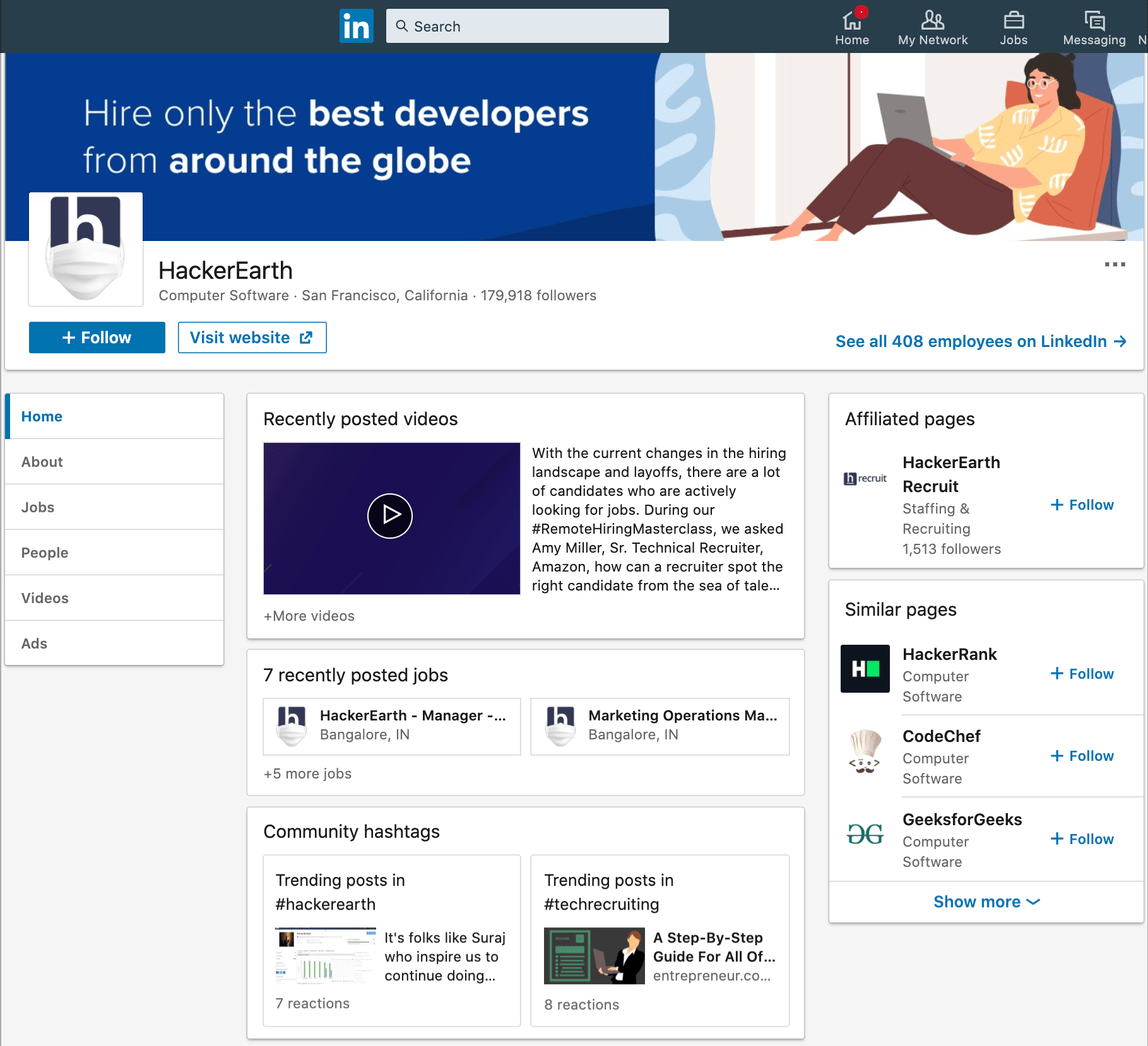 HackerEarth is a developer assessment software used to measure the skills of developers during the hiring process.
What makes HackerEarth stand out on LinkedIn is their content. As we discussed earlier, sharing content regularly on your business page can double your post engagement week over week.
HackerEarth one-ups that by posting content daily, each of which provides value.
Here are some examples of posts that were shared recently.
Their content is consistently driving value to their followers by bringing in industry experts from companies such as Microsoft and IBM as well as promoting upcoming events and competitions.
HackerEarth uses visual content in three different ways here as well. The first is a quote about their upcoming hackathon, the second is an official announcement of the upcoming hackathon, and the third is a video clip from a recent masterclass hosted by Microsoft.
By sharing this engaging visual content, their business page is seeing more than 40 engagements on every post they share.
2. Intel
Intel Corporation is one of the largest technology companies out there, developing cloud computing, artificial intelligence, data centers, and even their own PCs.
As a larger brand, it would be easy for Intel to simply say "Hi, we are Intel, but you already know us."
Instead, their company overview goes beyond that by highlighting where they intend to go next as an organization:
"We are in the midst of an exciting journey to go beyond just PCs and servers to a company that is at the center of a new era where everything looks and acts like a computer. The explosion of devices and data has led to several technology inflections—AI, 5G network transformation, and the rise of the intelligent edge—that, together, will shape the future of technology."
While it may not seem like much, this is packed with keywords that users are looking for and is voiced in an engaging way for the audience.
That, on top of the strong following that already exists for Intel, ensures their LinkedIn business page is driving traffic to their page, their job opportunities, and their content.
3. Major League Baseball (MLB)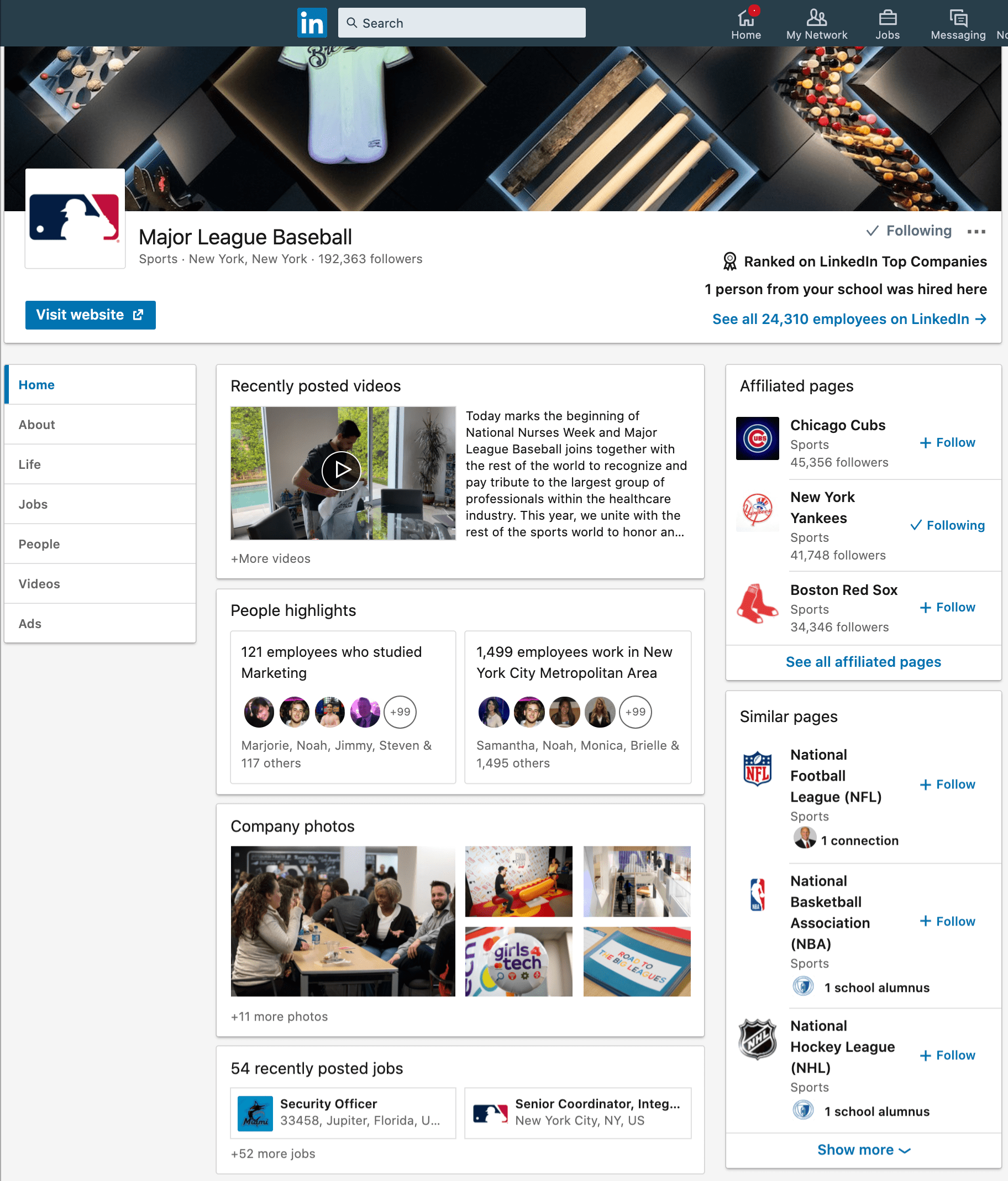 To start, Major League Baseball has an amazing cover photo (baseball die-hard over here), but their content is diverse and engaging for their audience as well.
Given the national and even global reach of the MLB, they regularly share content from different brand partners such as Fanatics, posts by league teams, as well as programs for youth athletes to get involved in.
By posting content with and about other baseball organizations, Major League Baseball has established itself as an industry-leading voice on LinkedIn. It's a homerun!
4. Razer Inc.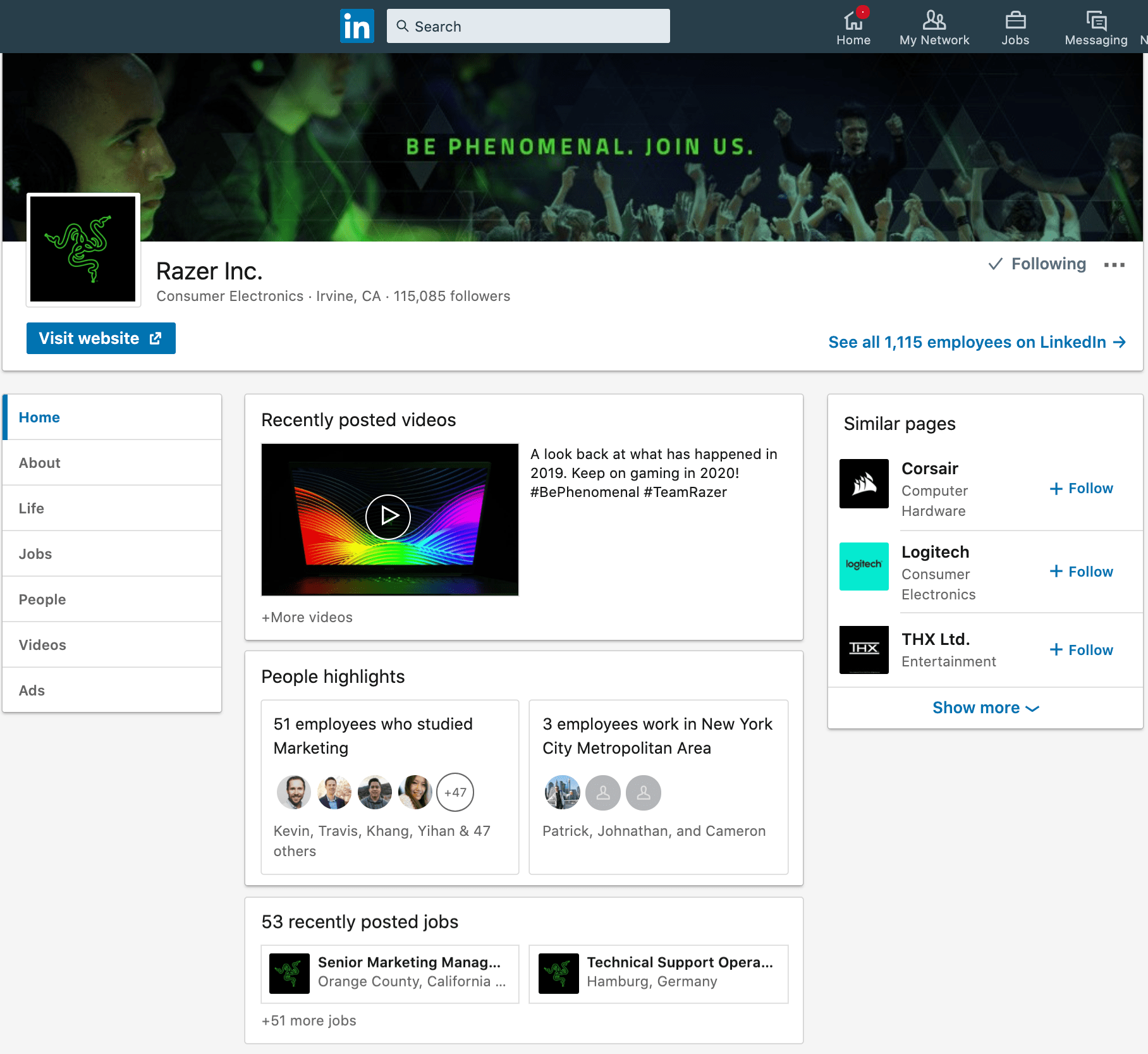 Razer Inc. is the world's leading gaming lifestyle brand. From apparel to computer accessories and gaming laptops, Razer Inc. is a giant in the industry, but what makes them stand out is how their content branches out from just gamers.
They share content about their social outreach initiatives, Razer Fintech (their partner brand), and even international government partnerships.
By sharing these different types of content with their audience on LinkedIn, Razer Inc. gives their followers a better understanding of the bigger mission of the company instead of being just a gaming brand.
5. Spotify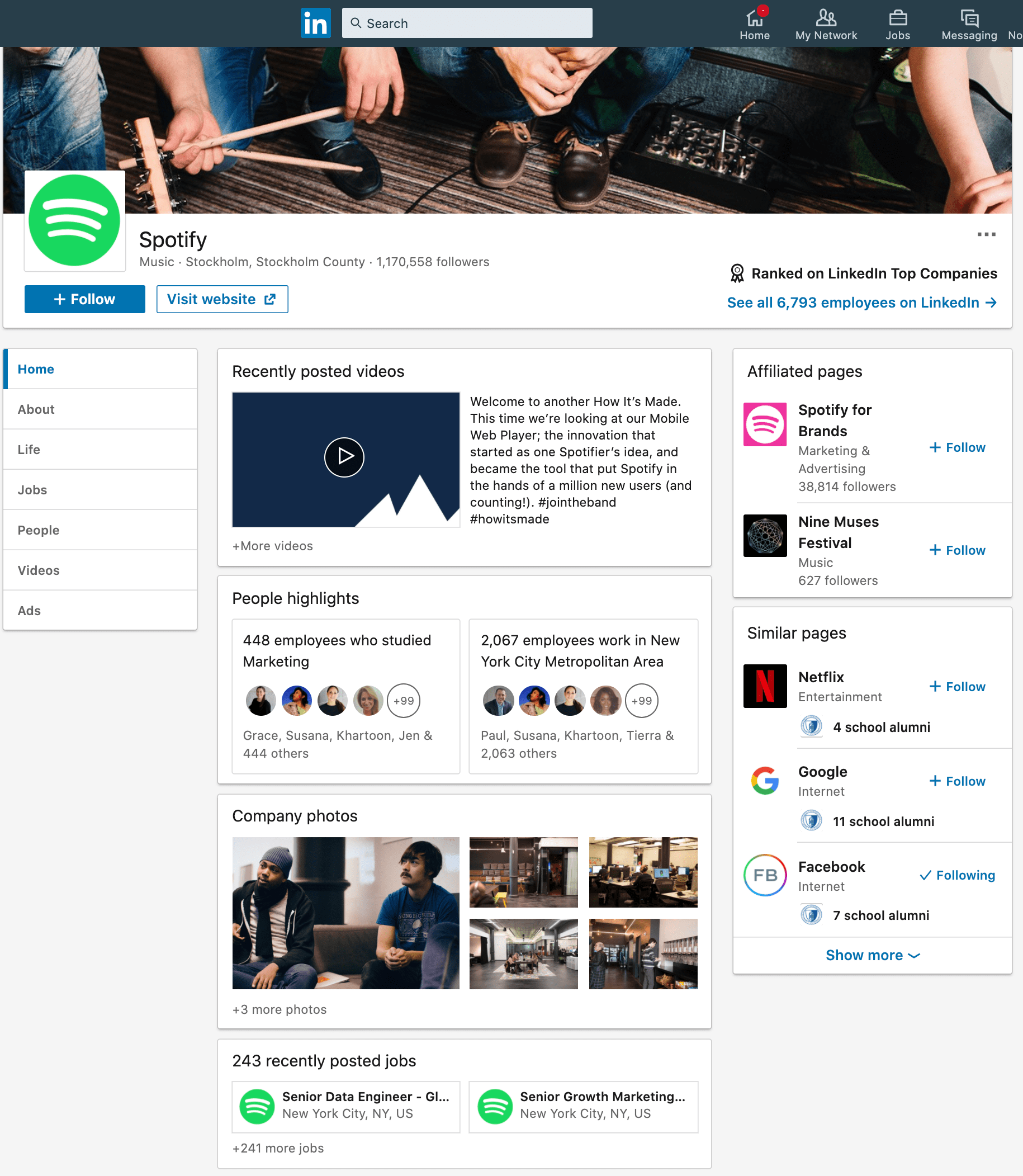 Streaming giant Spotify does a lot more than just share music and podcasts.
Spotify is a prime example of how to effectively use video content on your LinkedIn business page.
They have a popular "How It's Made" video series where they meet up with experts across the company to discuss the different projects, tools, and overall awesome things they are working on.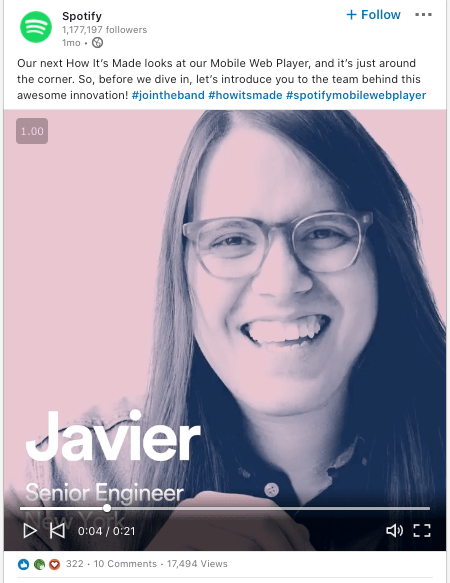 Creating a series like this on LinkedIn allows Spotify to showcase their company expertise while at the same time creating content that users want to come back for.
6. Airbnb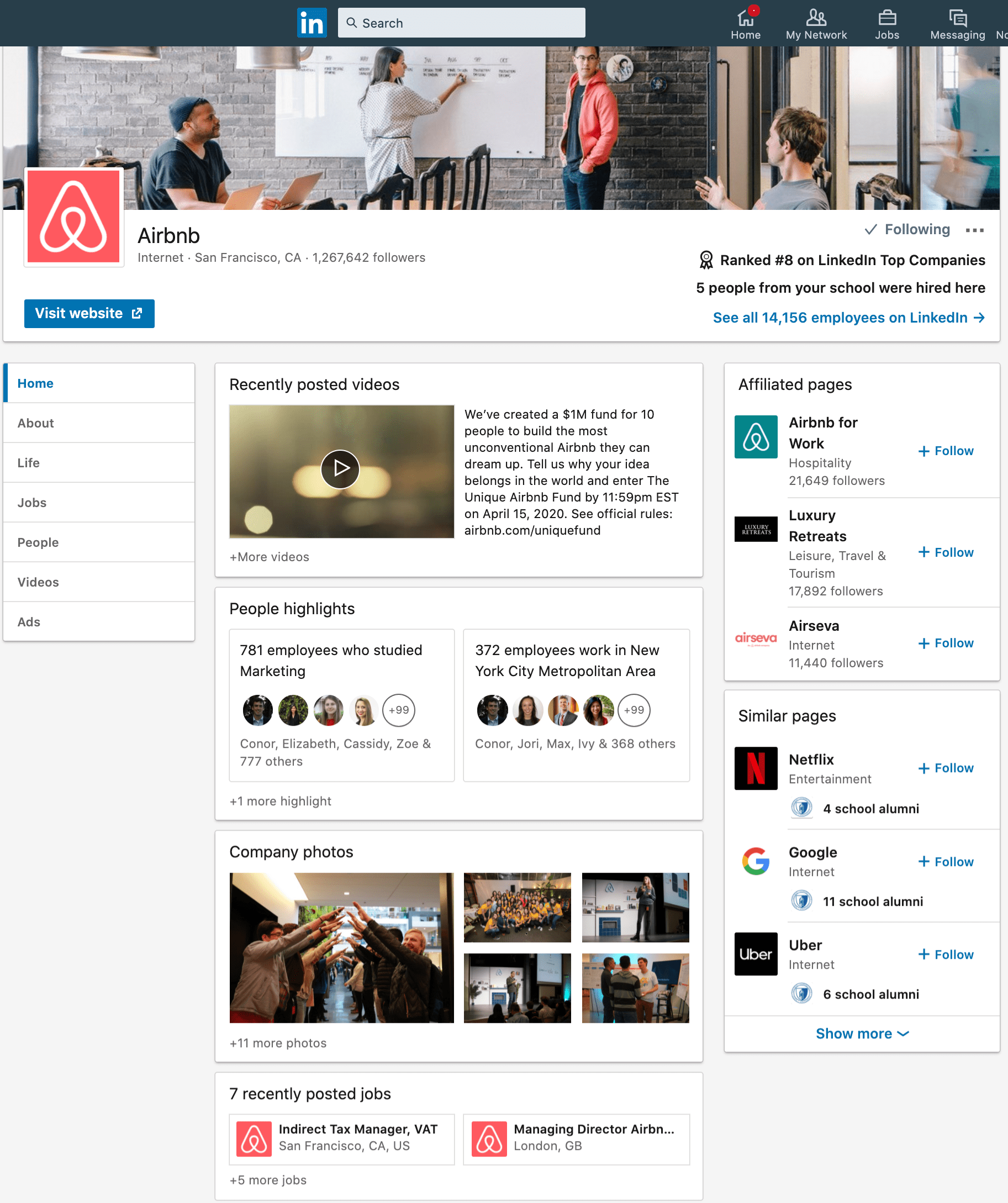 Airbnb is the world's largest community marketplace for people to list, discover, and book lodging accommodations.
They effectively use their page's about section to not only showcase their brand's international reach, but also the personality and culture of those who work there.
"No global movement springs from individuals. It takes an entire team united behind something big. Together, we work hard, we laugh a lot, we brainstorm nonstop, we use hundreds of Post-Its a week, and we give the best high-fives in town."
Airbnb garners a feeling of family and comradery on their LinkedIn page, giving both a job applicant or a customer a clear idea of what makes Airbnb special.
7. Goodr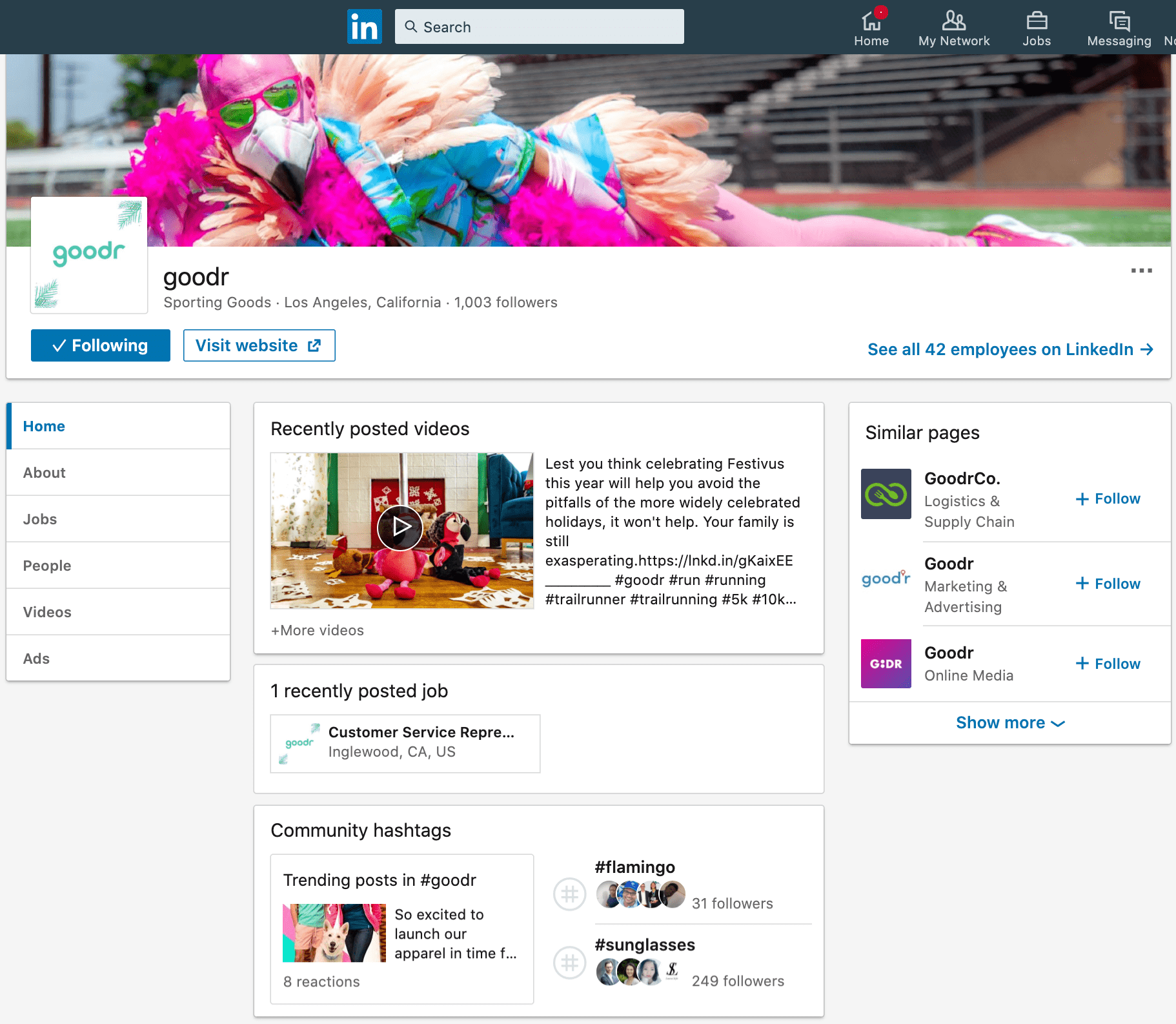 "Bold" is an understatement for Goodr.
They are an up-and-coming sporting goods brand, primarily selling accessories such as sunglasses and hats.
As crazy as their brand looks, their identity and culture carry through everything they do, even on LinkedIn.
You see the crazy flamingo man — sure, why not — but, I'd challenge you to find any other brands that embrace that sort of crazy, quirky personality on their LinkedIn page.
Goodr stands out from the typical business professional feel of LinkedIn because their content, imagery, even the language they use challenges the norm in a great way.
8. UPS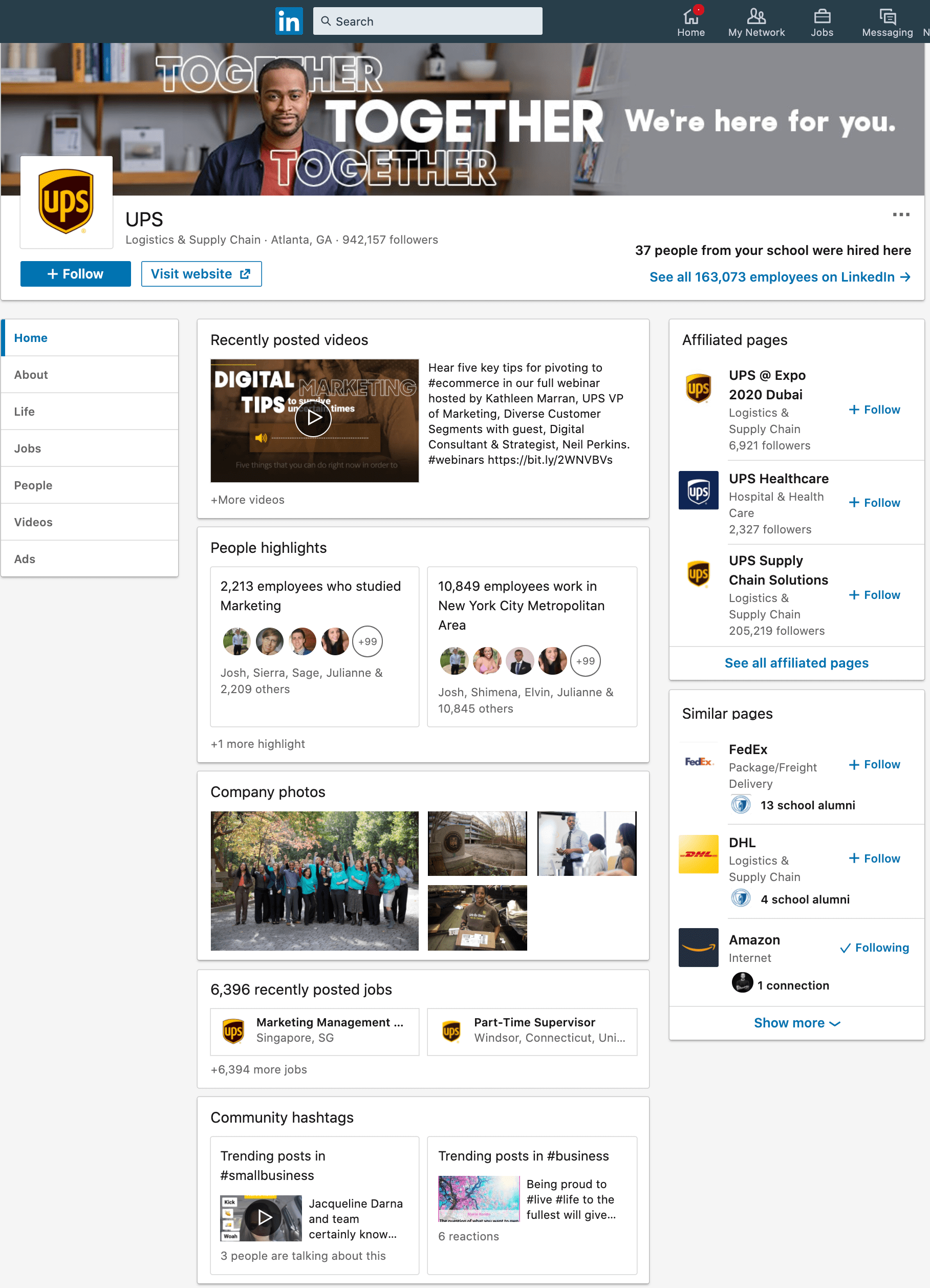 As a global leader in logistics and package and freight delivery, UPS sets the example as a people and customer-first company.
UPS does this by creating heartwarming campaigns around those values on their LinkedIn page. A couple of campaigns that stood out to me were the #ThanksForDelivering and the #SmallBizPROfiles which showcased their appreciation for their drivers and the small businesses who trust UPS.
Posting this type of content on a LinkedIn business page does more than just make your brand look good, it builds a reputation that your organization cares about those they work with and work for.
9. Slack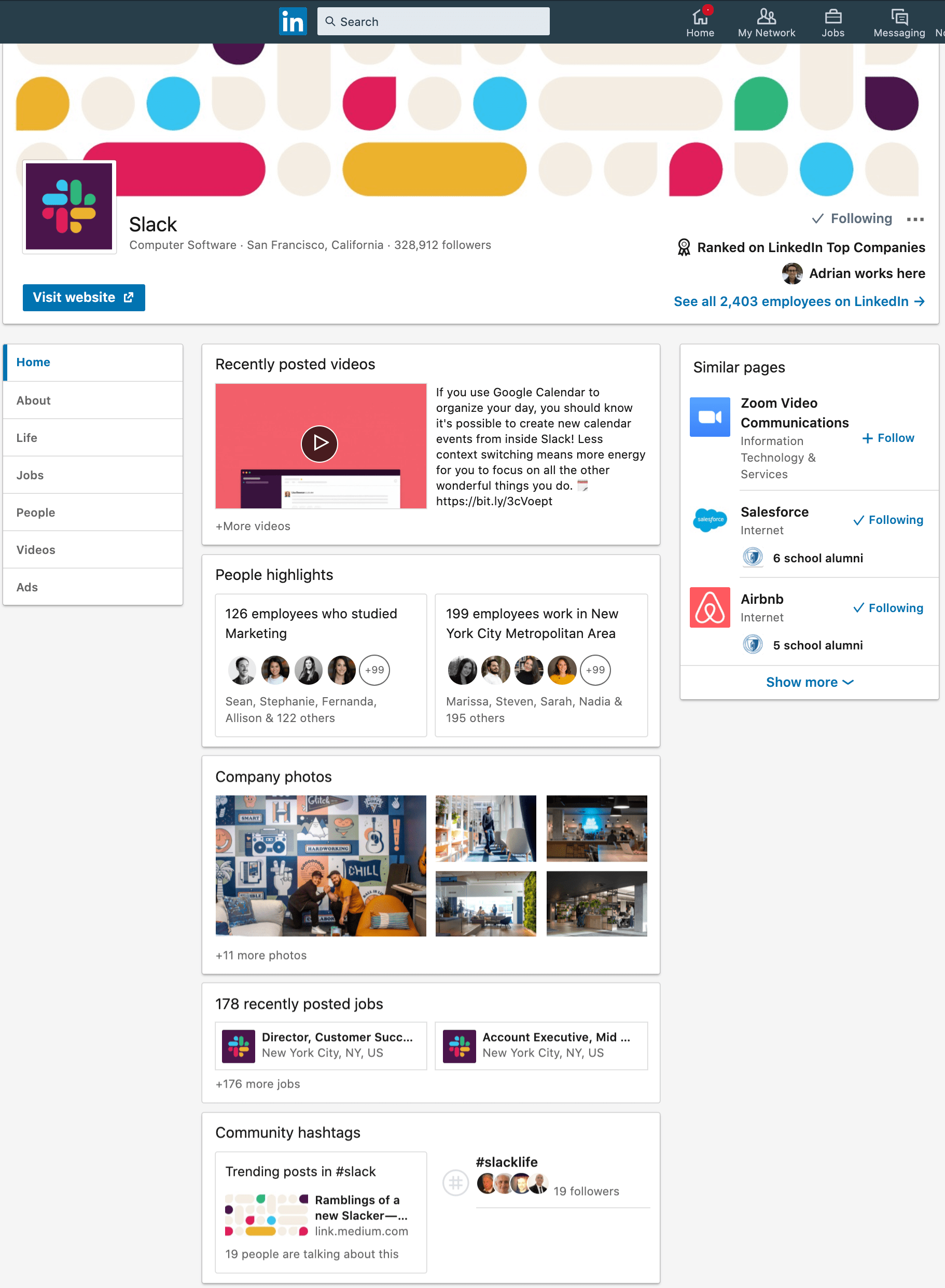 Slack is a tool that has revolutionized the way employees and communities communicate with each other.
Their LinkedIn page has a lot of content educating people on how to succeed with Slack, but also numerous case studies and experiences that other organizations have gone through and learned from.
By providing this content in an educational way on LinkedIn, Slack positions themselves as not only a great software solution, but as a resource for how to communicate effectively across different industries.
Their recent case study about Wayfair is a must-read for teams struggling to transition to a more remote workforce.
10. Cognixia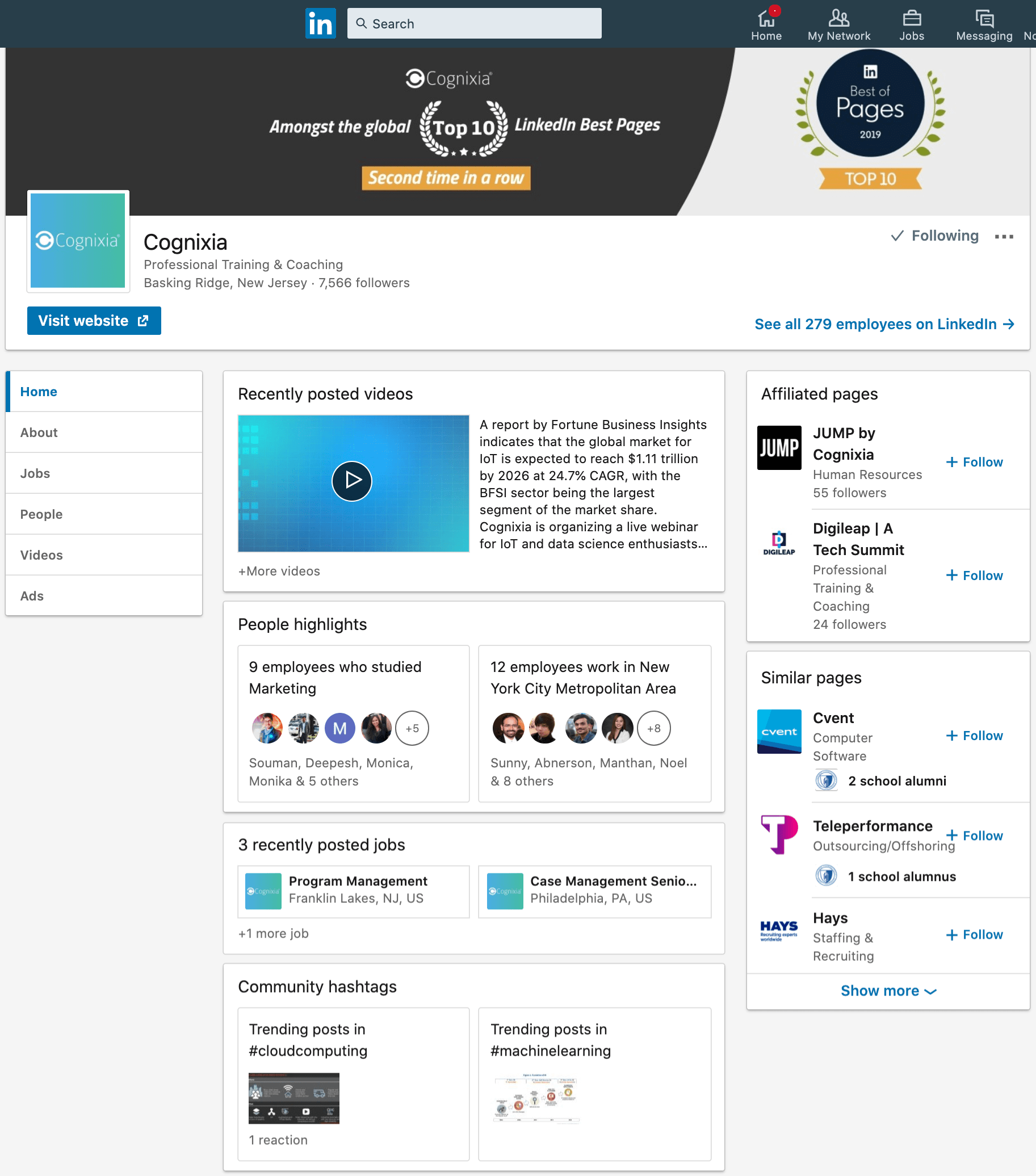 Cognixia is a technology training company that helps businesses prepare for the technological solutions yet to come in the future. How do they leverage their LinkedIn page to show this?
Cognixia hosts webinars regularly for their audience to learn the latest news and trends in business technologies and they make sure to regularly share those events on their page.
This keeps their audience interested and engaged with both the industry and what Cognixia can provide as an industry leader on LinkedIn.
11. Tesla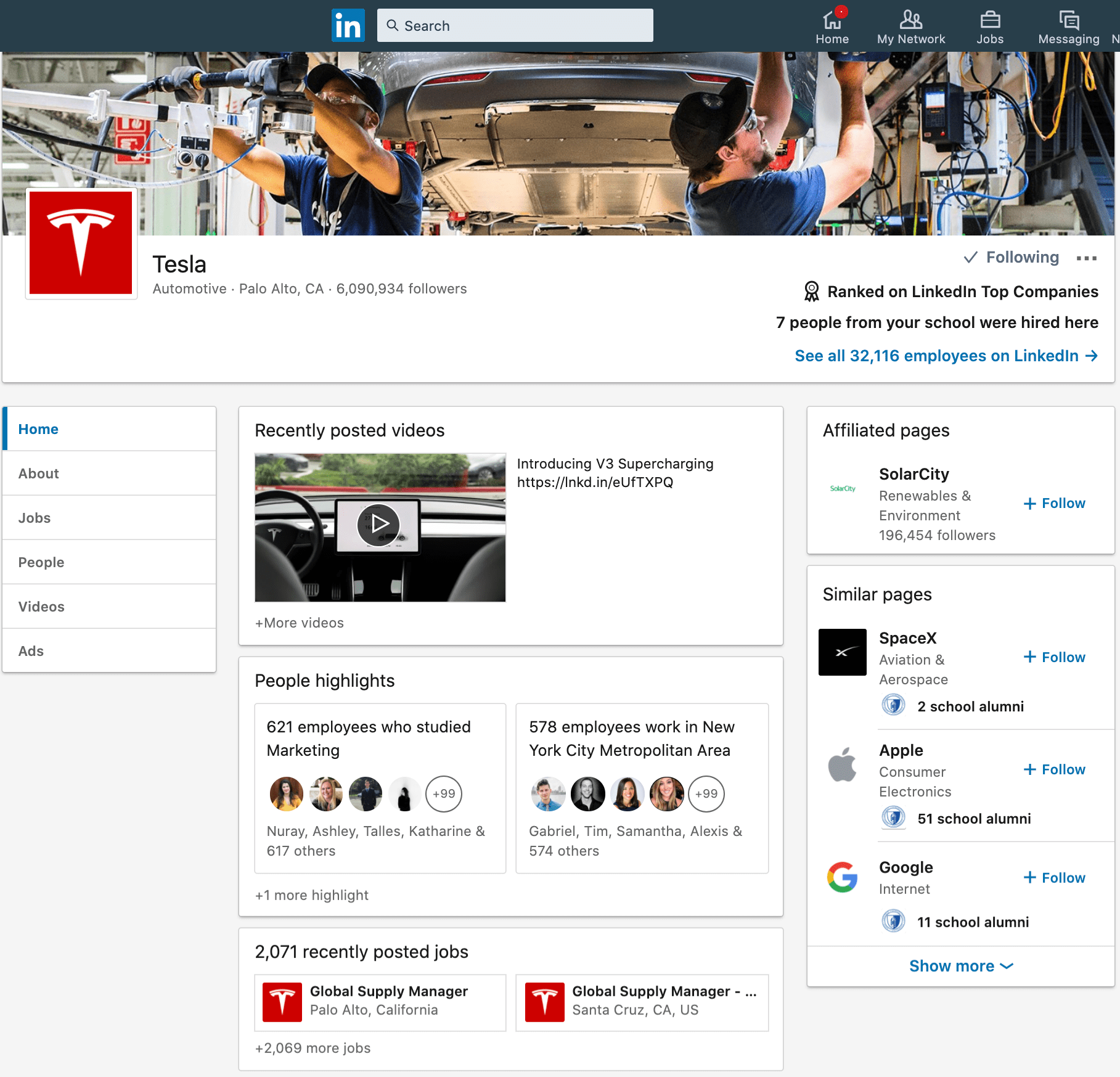 Tesla is not any old car company, they are the company leading the way towards a sustainable energy solution in the industry.
For their LinkedIn page, Tesla leverages its brand recognition by making bold statements through the logo and branding of their content. That big red T as well as their engaging visual content makes for a strong business page.
12. Facebook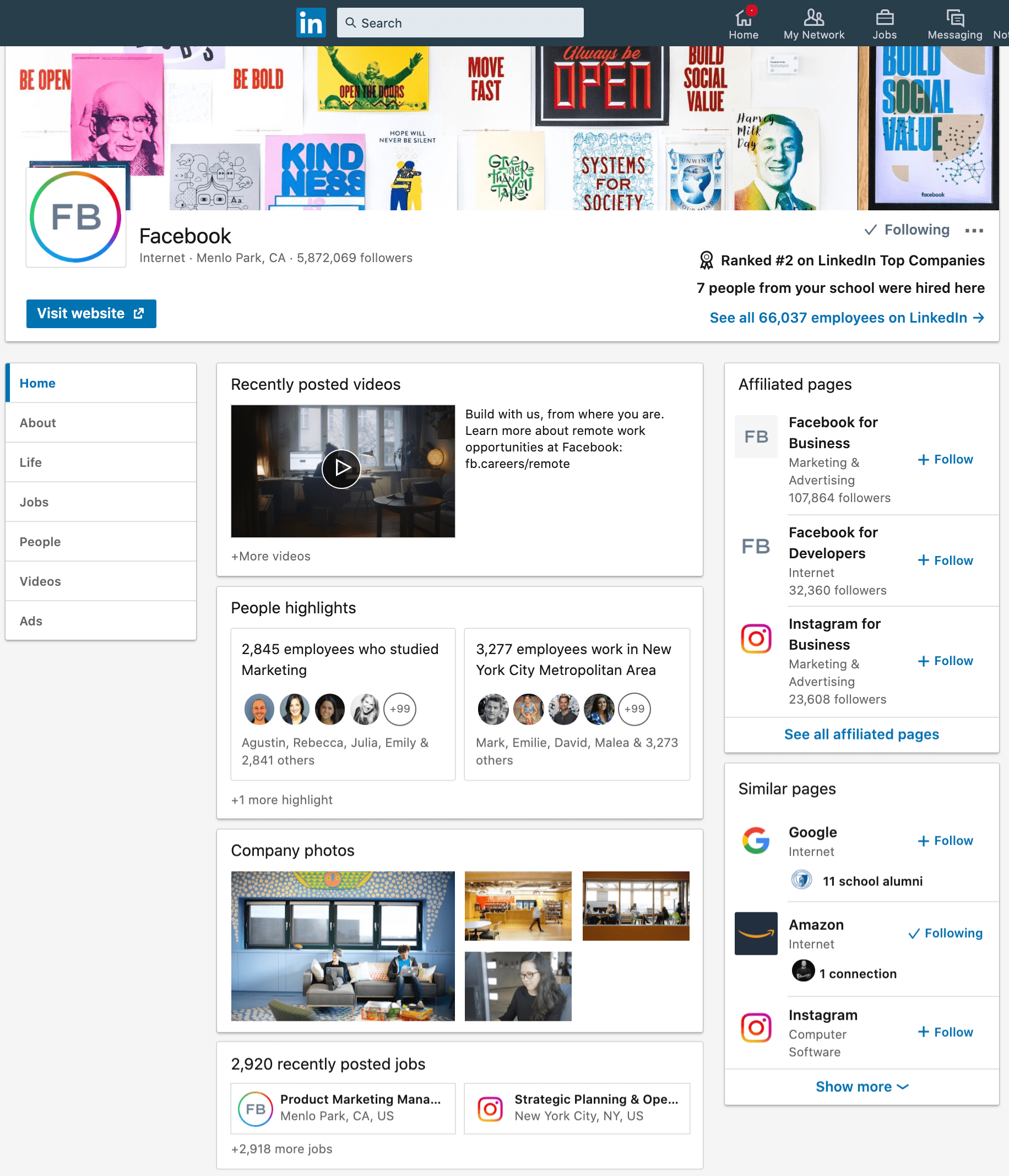 Wait, Facebook doing well on LinkedIn? That seems like cheating.
What makes Facebook's business page stand out is how they create content that is relatable to their audience, especially in their hiring.
Recently, Facebook created a video highlighting the challenges working parents face when they are remote and how Facebook can help.
This type of content makes the audience feel heard and helps them to easily connect with Facebook as a brand. It also likely leads job candidates to check out their Jobs tab to learn more about these positions.
13. Wilson Sporting Goods Co.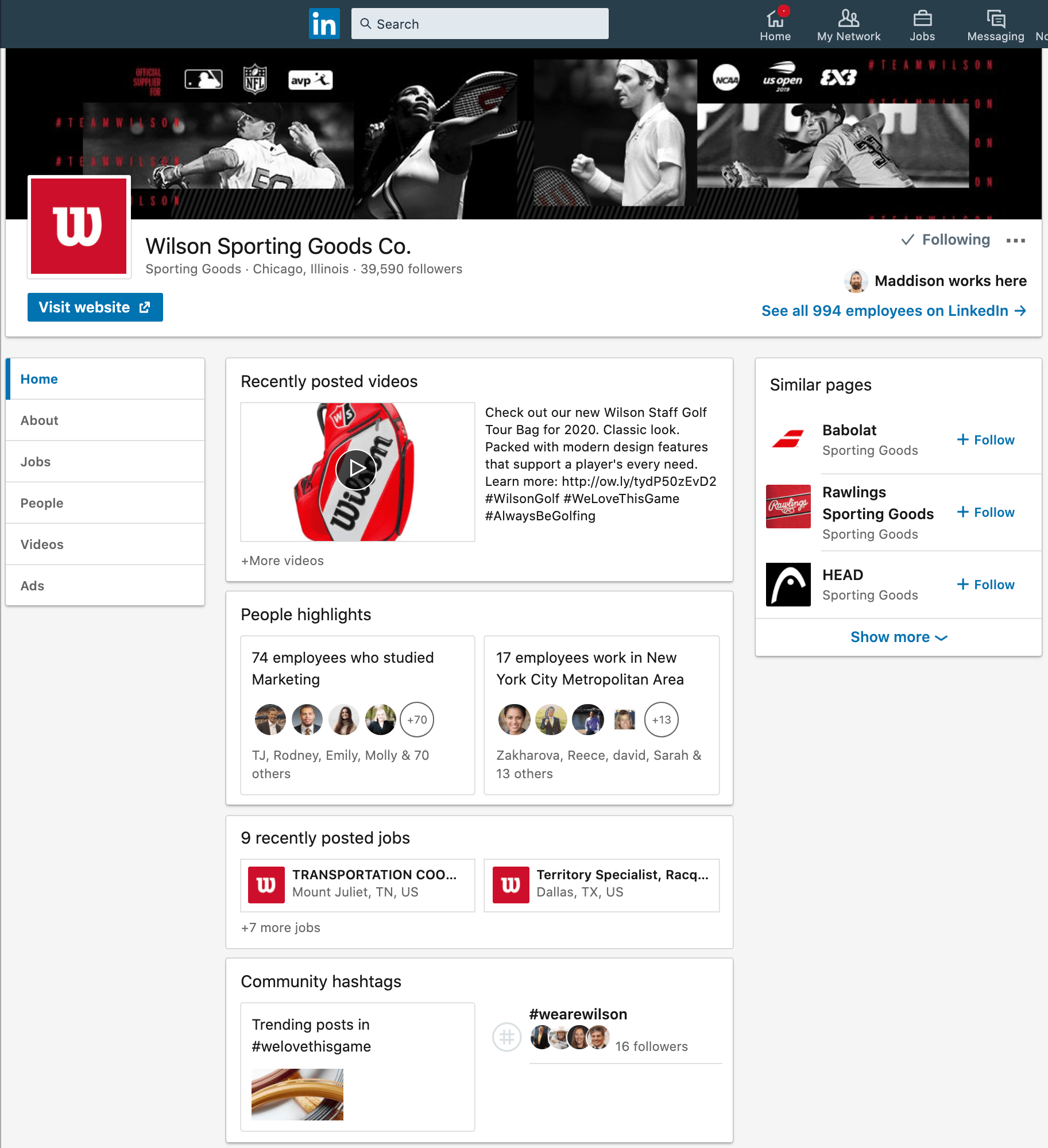 Wilson Sporting Goods is a leading sports equipment and apparel brands in the world and is the official supplier for numerous collegiate and professional organizations.
Being involved in many different professional sports leagues, Wilson uses their cover photo to showcase some of the major athletes they work with. Further, their content covers a lot of the smaller sports their brand works with, including pickleball and beach volleyball.
14. Jabra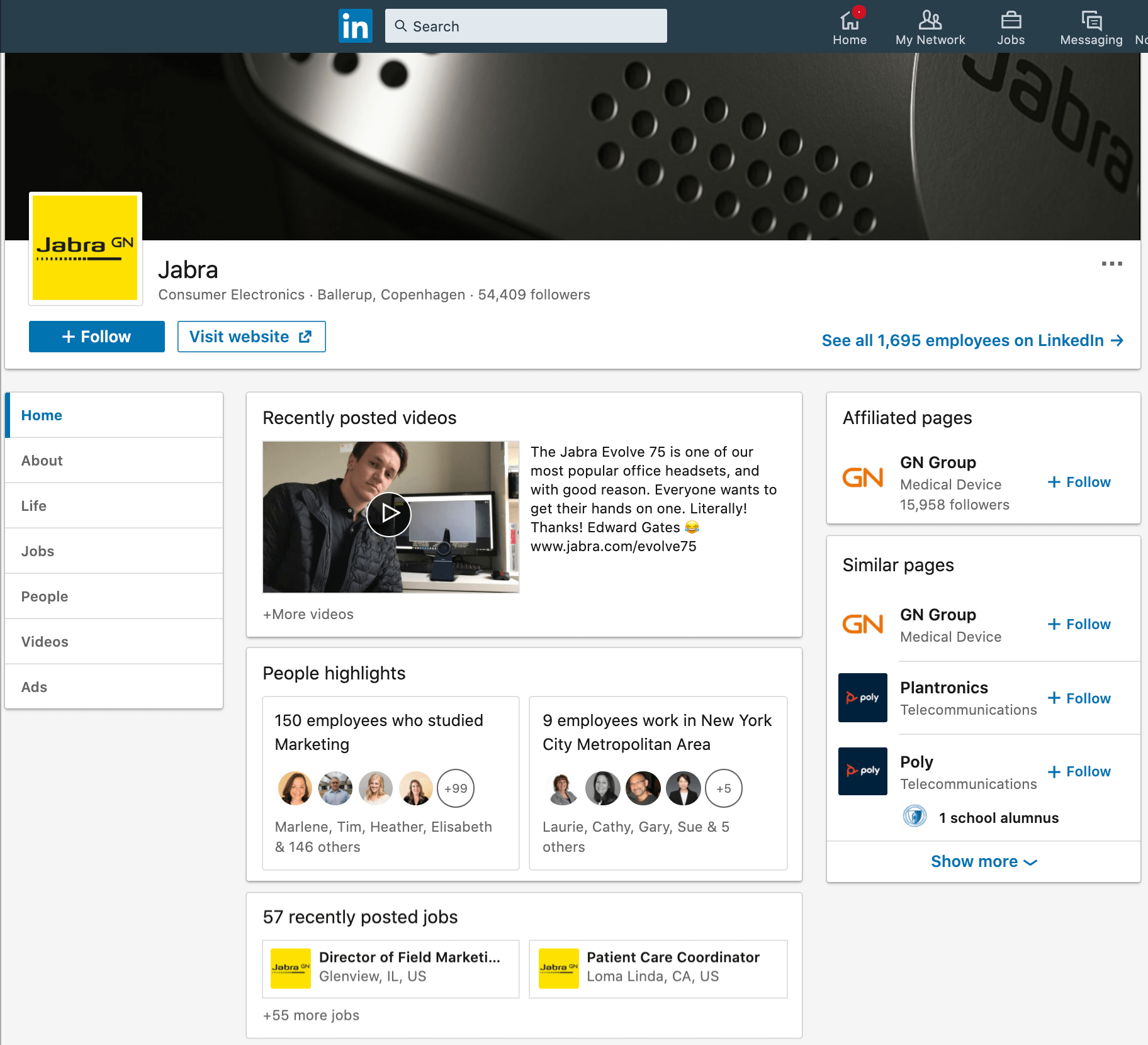 A top player in the audio engineering industry, Jabra provides top-quality audio solutions through headphones and speakers.
On LinkedIn, Jabra delivers the content users need in their industry through in-depth product reviews, webinars, videos, and timely publications that discuss how to best use the tools.
One article which stuck out to me was their announcement and review of the new Evolve2 headsets and how they can help those who want to enhance their work-from-home environment.
By providing this type of content on their LinkedIn business page, Jabra has established themselves as a thought leader in the industry.
15. Electronic Arts (EA)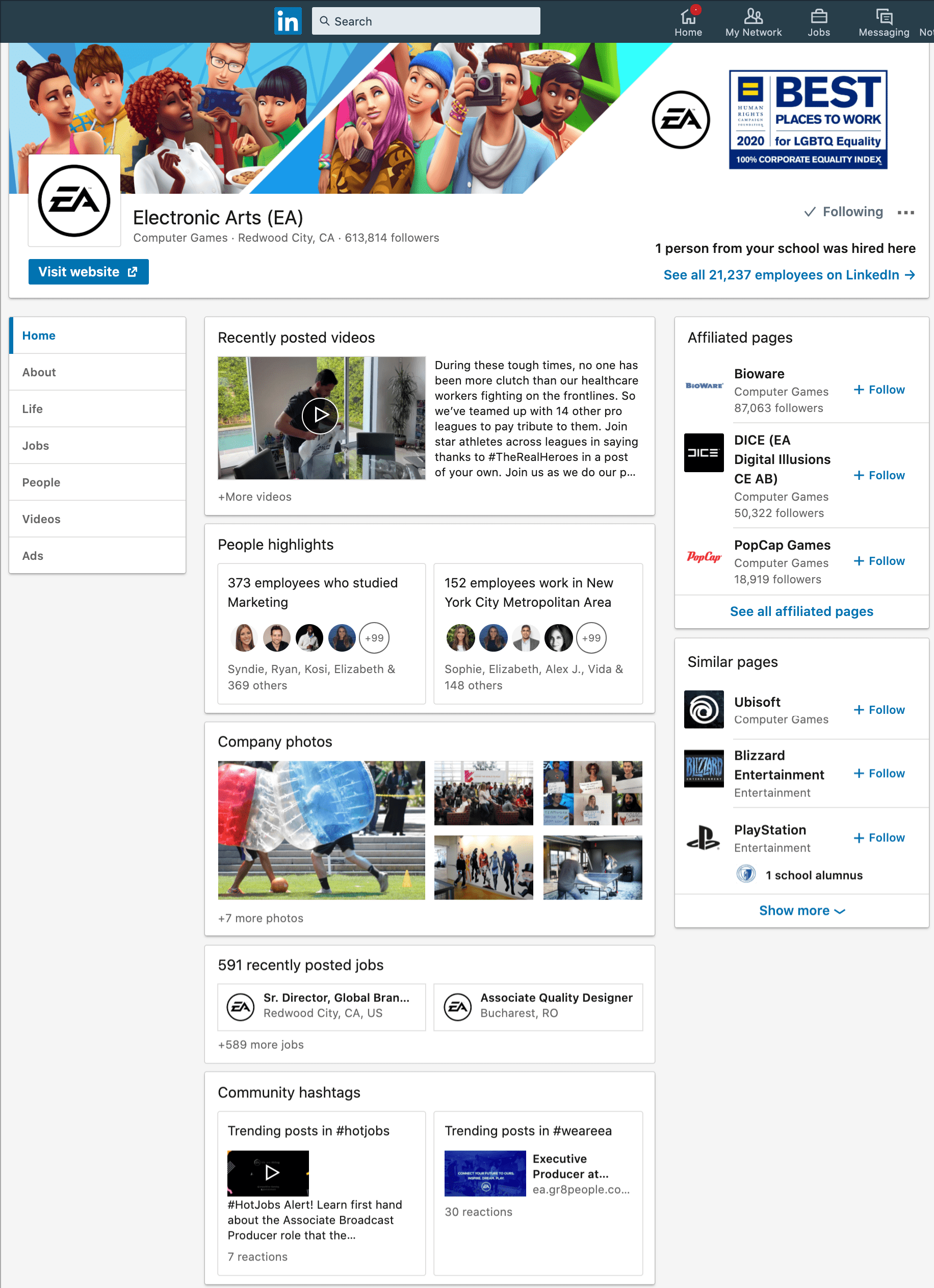 One of the largest game developers in the world, Electronic Arts (EA) creates amazing gaming experiences through its huge variety of titles.
While their LinkedIn page does feature a lot of different content, their hiring videos stand out to me the most. They use two different types of videos to do so.
The first is an overview of several positions open at different gaming studios under the EA brand.
The second is more of a job pitch style, where a member of the team discusses the role and why it's important.
Both of these video styles are extremely effective on LinkedIn. They are highlighting open positions that educates their audience about the roles (or at least makes them aware of it) and gives them actionable steps for how to get started.
16. New Balance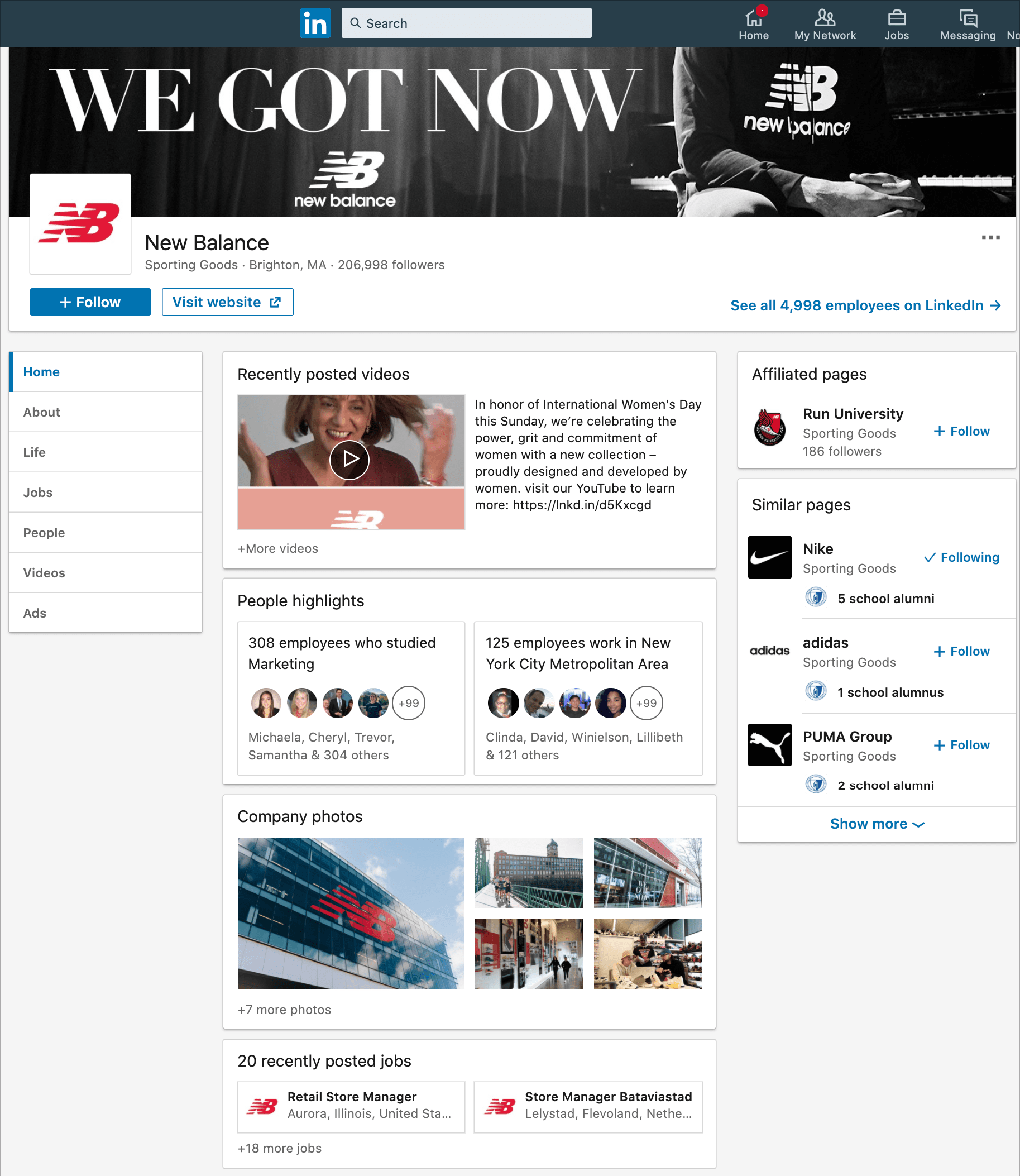 New Balance is one of the largest sports footwear and apparel brands in the world.
They do an excellent job of telling their brand story and building an emotional connection with the user in their company overview.
Their mission statement sums it up best: Our mission has always been to support the performance of athletes, and with an unparalleled focus on quality and craftsmanship, we've come to set the standard for comfort and fit in an industry all too often driven by hype.
What makes this so effective in a LinkedIn setting is they are calling out the realities of sports brands today. Hype is not their overarching motivator, great craftsmanship and quality drives them forward.
17. Unilever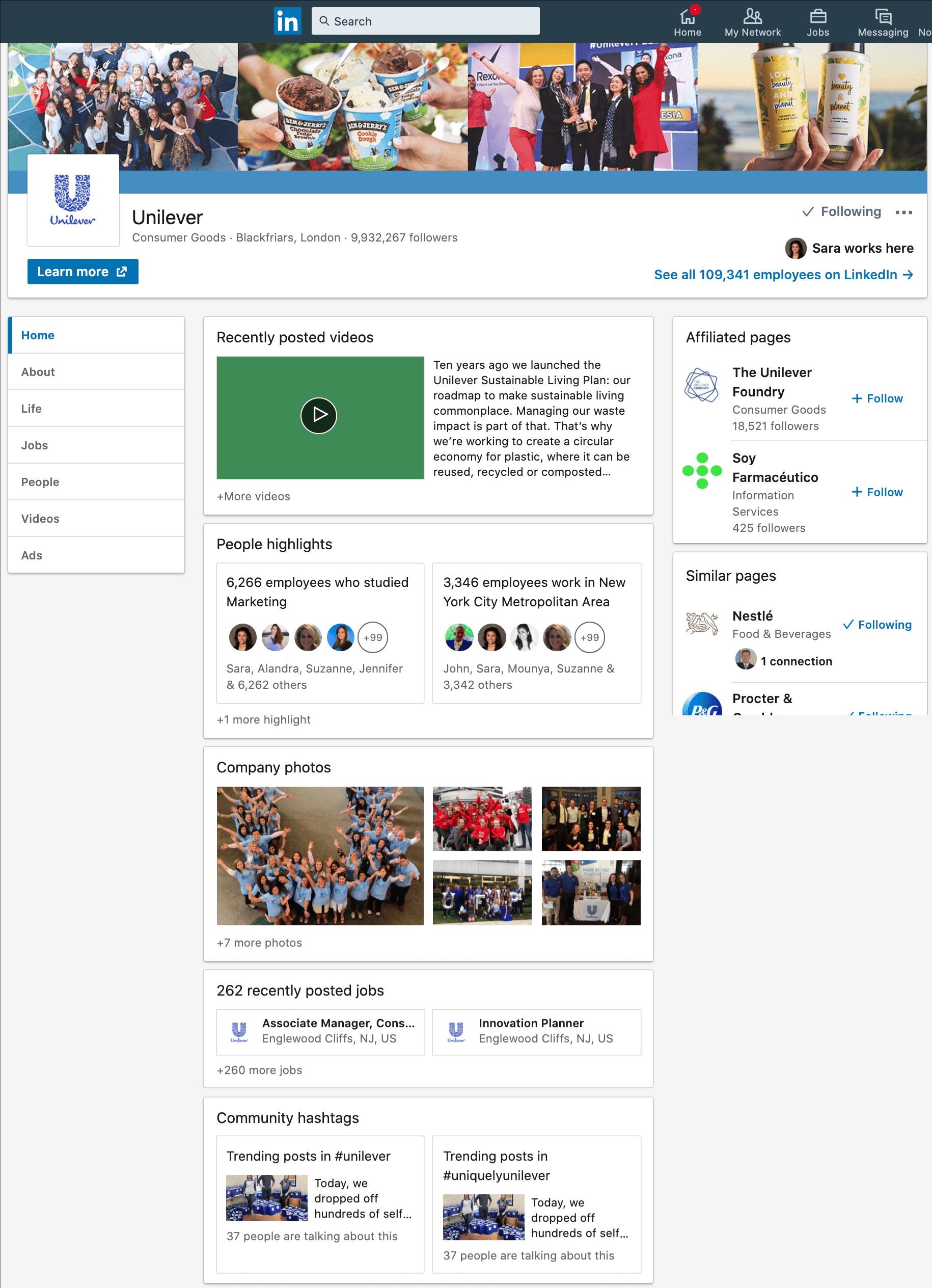 I'm pretty sure Unilever has a product for everything in the consumer product goods (CPG) space.
Rather than highlight all of their different products, Unilever's business page puts a strong focus on the community and sustainability initiatives they have in place with each of their brands and as a company.
As part of a 10-year celebration of the Unilever Sustainable Living Plan, they have been sharing initiatives being taken by each of their brands to highlight steps they have taken and milestones they have achieved in creating a safer and more sustainable world.
Their content carries more weight on LinkedIn versus just talking about all the great products they have. By focusing on the other side, users get a peek under the hood of what Unilever's greater values are as an organization while still building connections with their brands.
18. Dropbox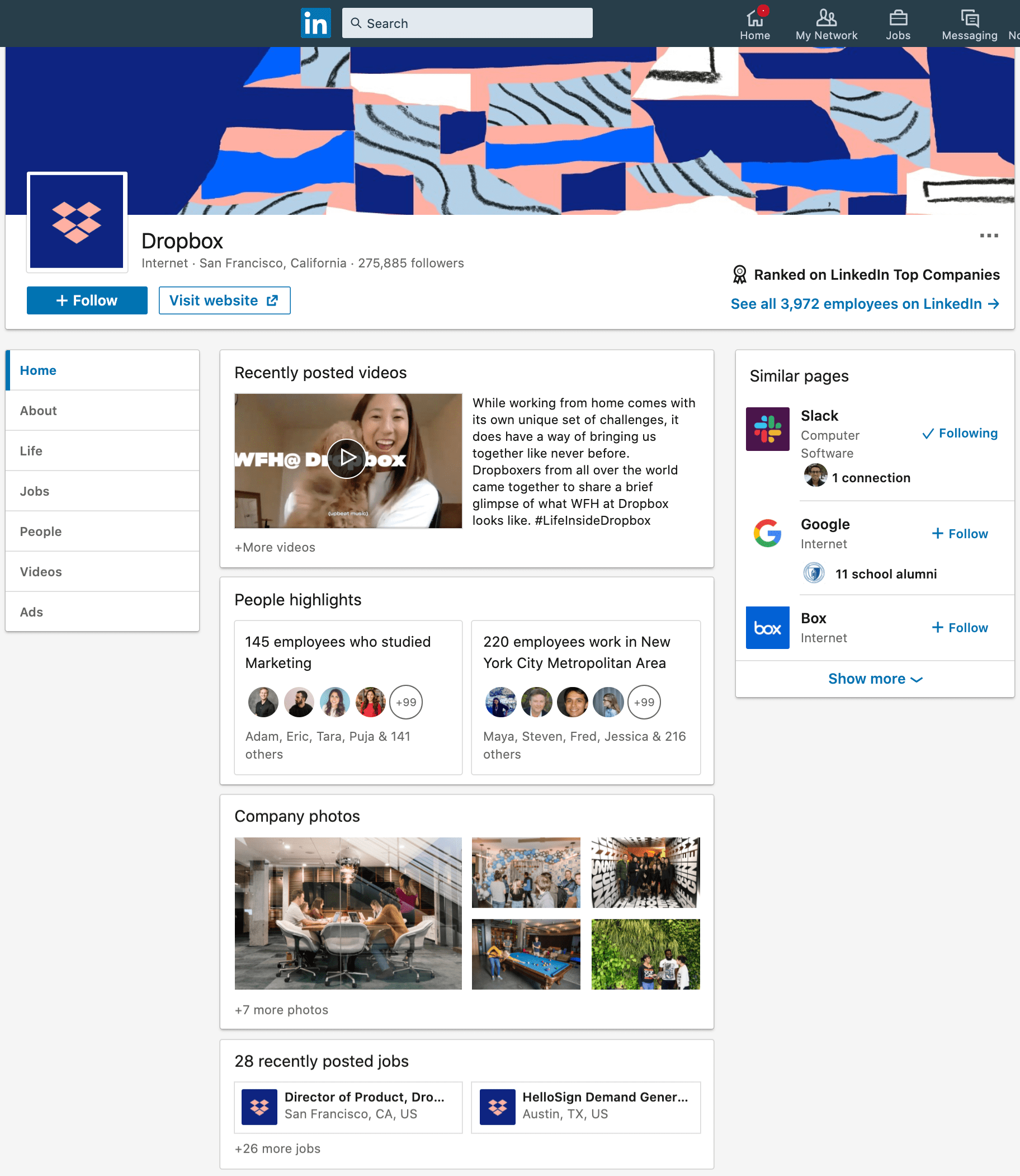 Dropbox was one of the first file storage and organizational platforms ever and is extremely well known.
Their employee showcases are a unique way of sharing their thought leadership and the many different voices at the company.
I don't see many companies showcase their employees on LinkedIn, especially in such a 1:1 style as Dropbox does. Plus, they go across all different departments, giving users a fuller view of what makes Dropbox a great place to work.
19. Netflix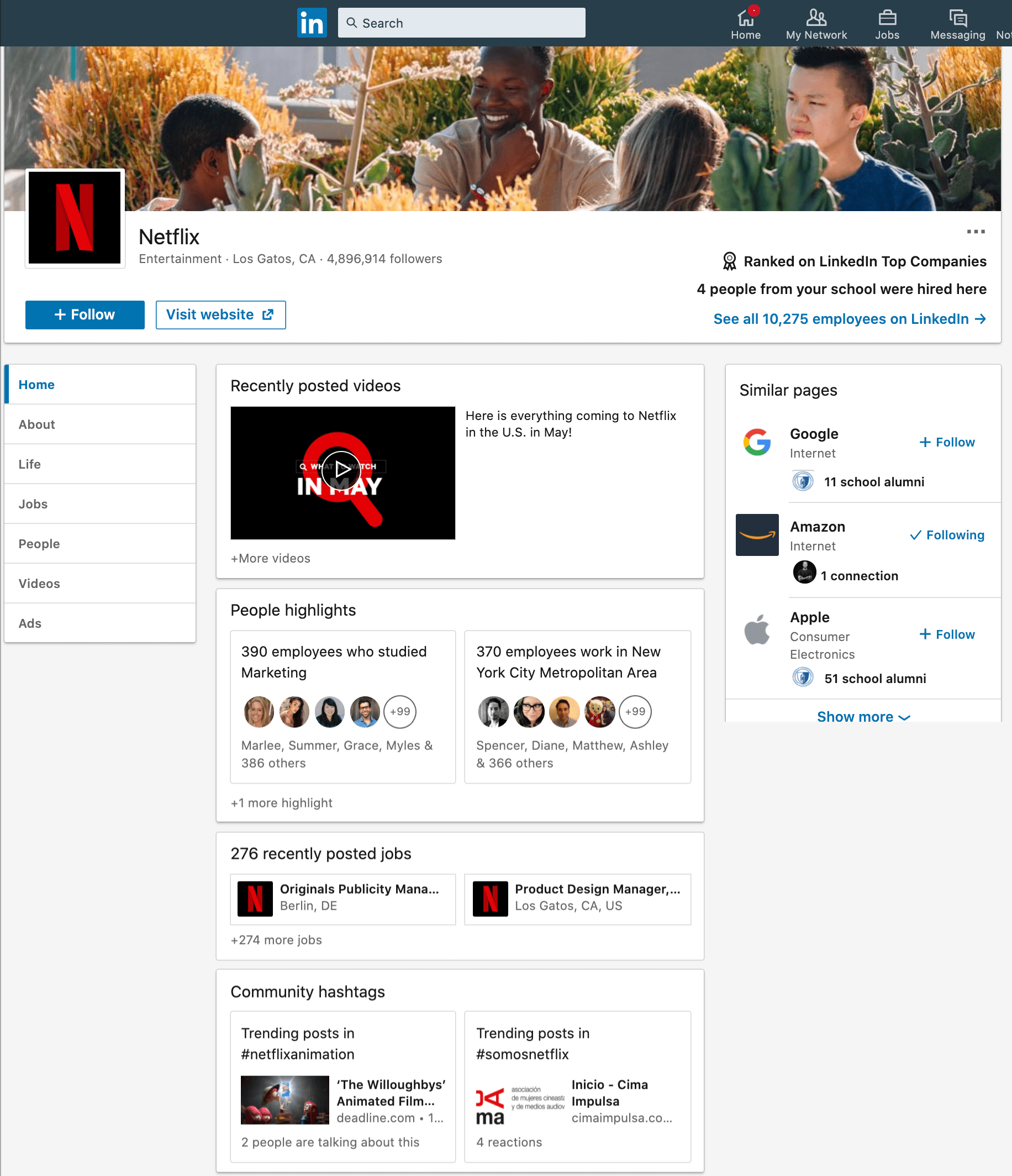 Netflix revolutionized how we watch movies and television shows, from DVD rentals to streaming services to now putting out Netflix original movies and television alike.
With all of that content available to them and coming soon, Netflix has a huge library of content to pull from and talk about on LinkedIn.
This stands out and breaks up the usual business content of LinkedIn with exciting announcements about upcoming shows or movies coming to the platform.
20. Deloitte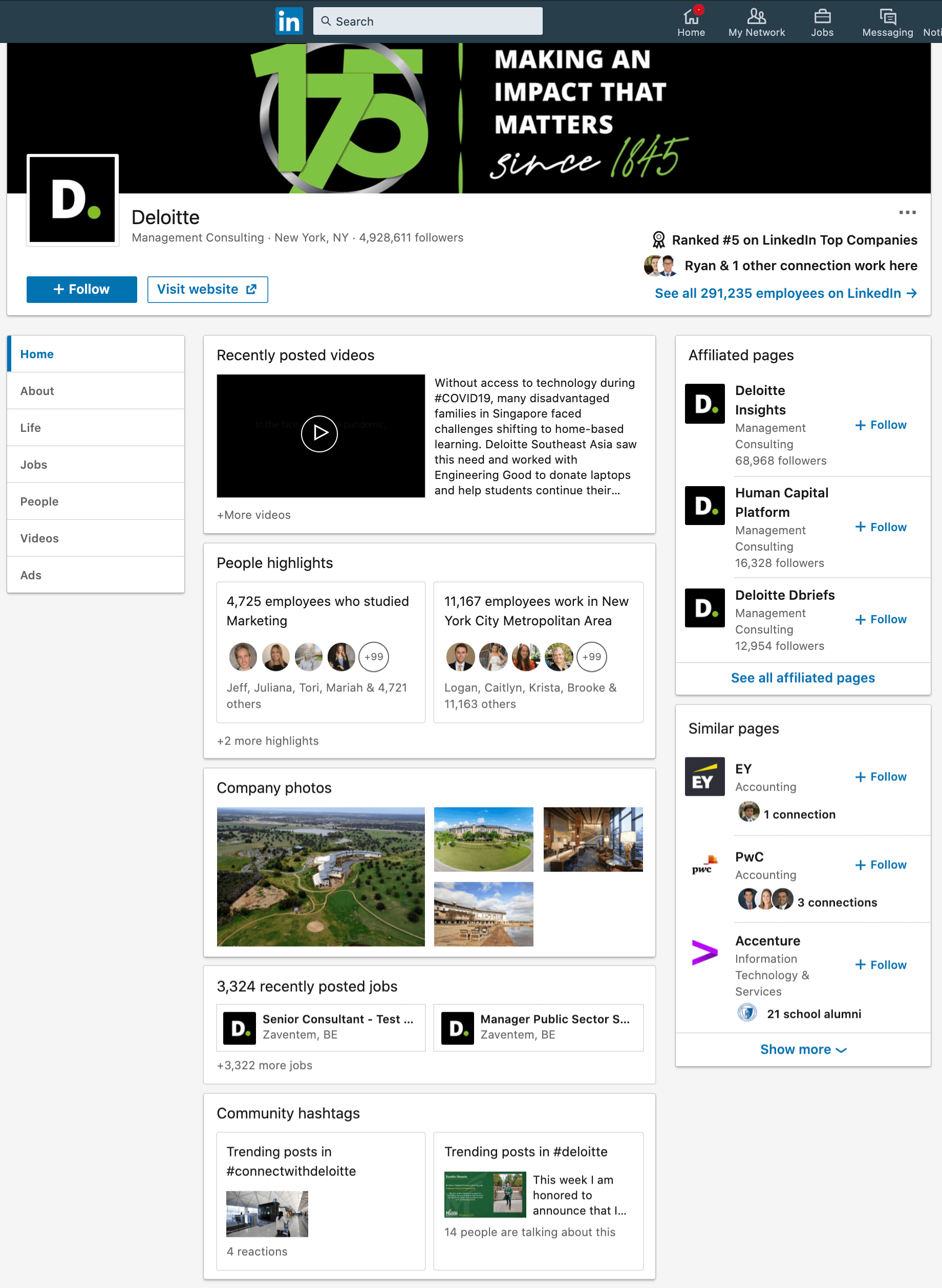 Deloitte is one of the largest management consulting firms in the world and another brand seeing success with video on LinkedIn.
Where Deloitte really excels using video for anything from showcasing their team to sharing industry insights and thought leadership from their company leadership.
Using video as their primary source of content makes it easy for their audience to consume information and learn from what they have to say.
21. Amazon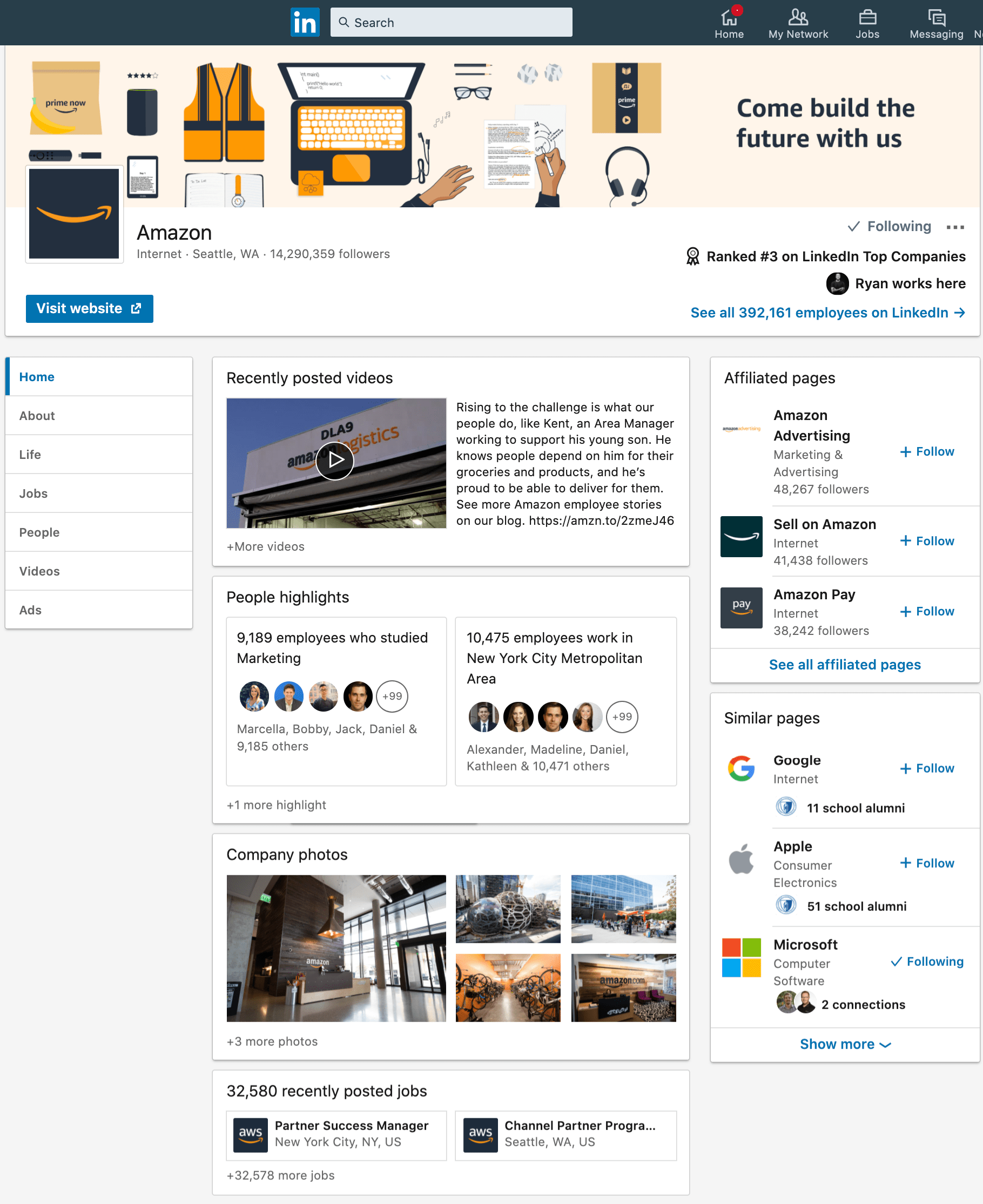 Amazon is one of the largest companies in the world, working in e-commerce, voice assistant technology, and web services.
While Amazon posts great content about job opportunities and employee spotlights, I found their LinkedIn cover photo and company overview to be the key differentiators.
Their cover photo successfully captures the abundance of services they offer: audio assistance (Alexa), food delivery (Fresh), audio and visual streaming services (Prime Video and Fire Stick), books (Kindle), and their delivery service of basically everything you need (Amazon.com + Prime).
Their overview also showcases the motivation behind all their initiatives: customer obsession and answering the needs of the consumer with the best new ideas and innovations.
22. Delta Air Lines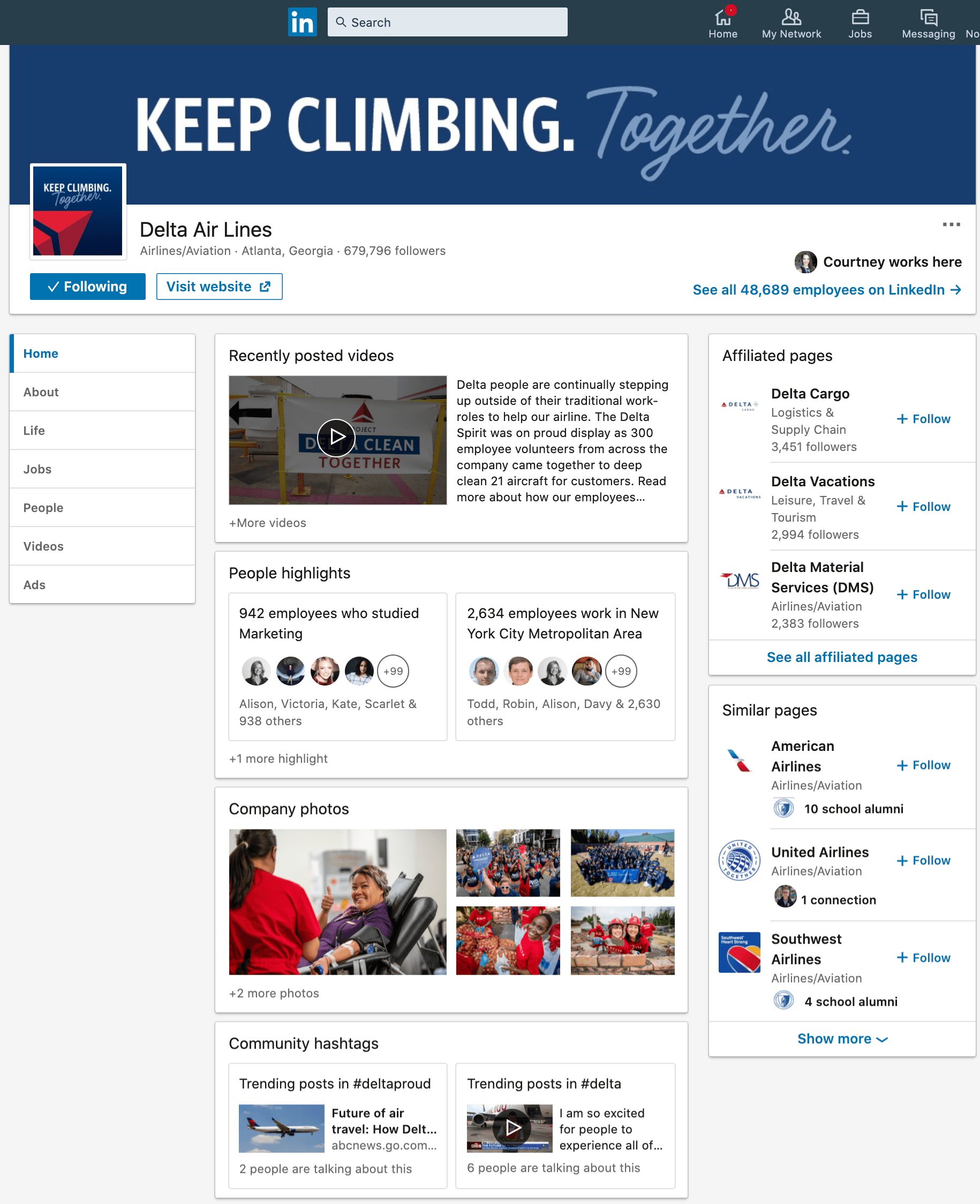 Delta Air Lines is one of the most recognizable international brands in the airline industry.
The airline rarely, if ever, focuses their LinkedIn content on themselves, but rather focuses on how their initiatives help the consumer have a better experience.
For example, Delta shared this infographic about setting the industry standard for safer travel and it is all about how the consumer benefits from this, not how Delta is doing a great thing. Content like this gets a ton of engagement for them, capturing over 1,000 engagements per post.
23. Verizon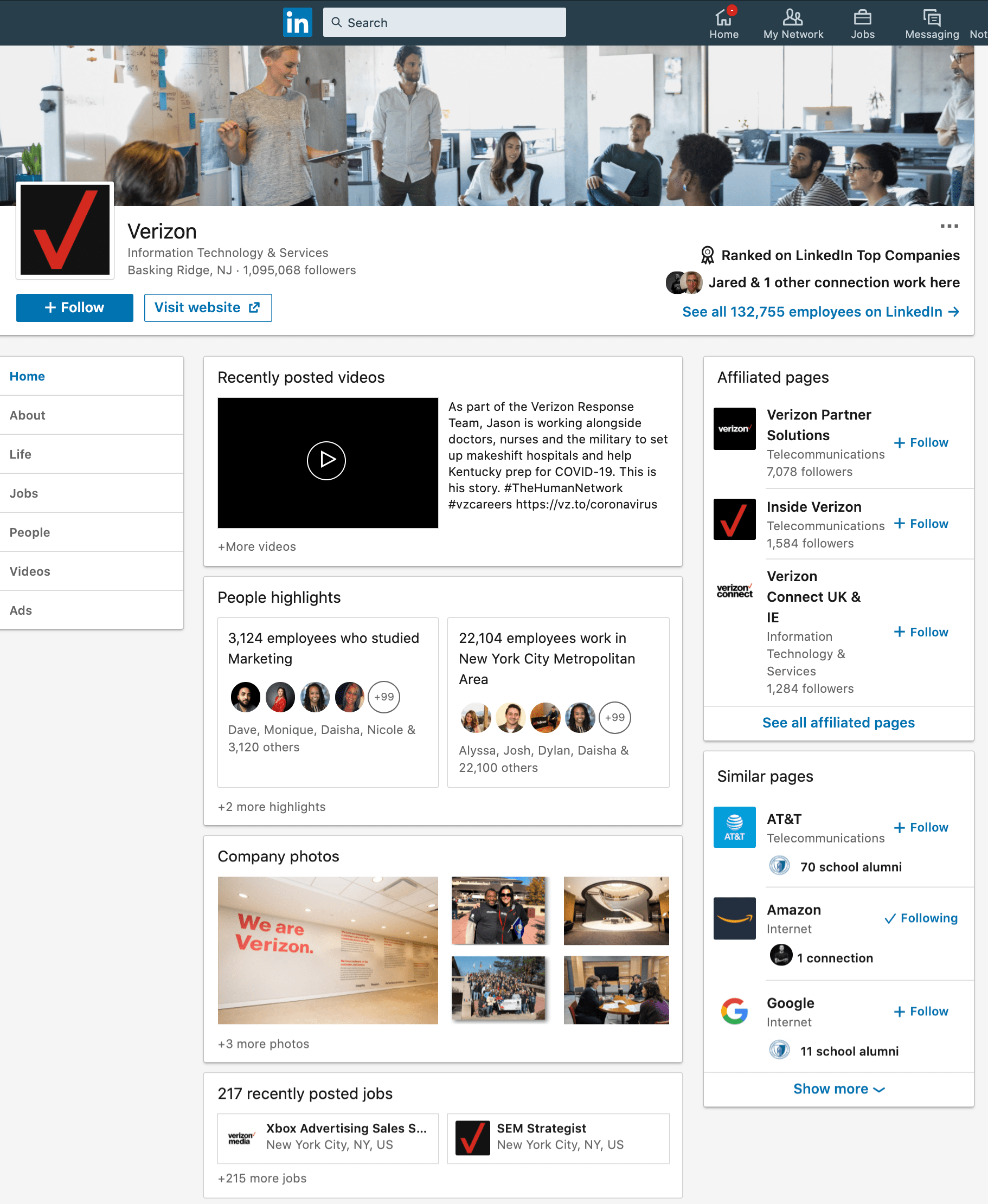 As one of the world's largest electronic communication companies, Verizon uses their LinkedIn page to share content that speaks to larger topics than just their services.
For instance, they recently hosted a webinar titled Running to a Crisis: Leadership Skills from the Military, which doesn't have to do with electronic communications, but is super valuable for business leaders to know about.
Overall, on LinkedIn, Verizon has positioned themselves as a thought leader and is sharing content that isn't about them, but is about greater business success.
24. Walt Disney Company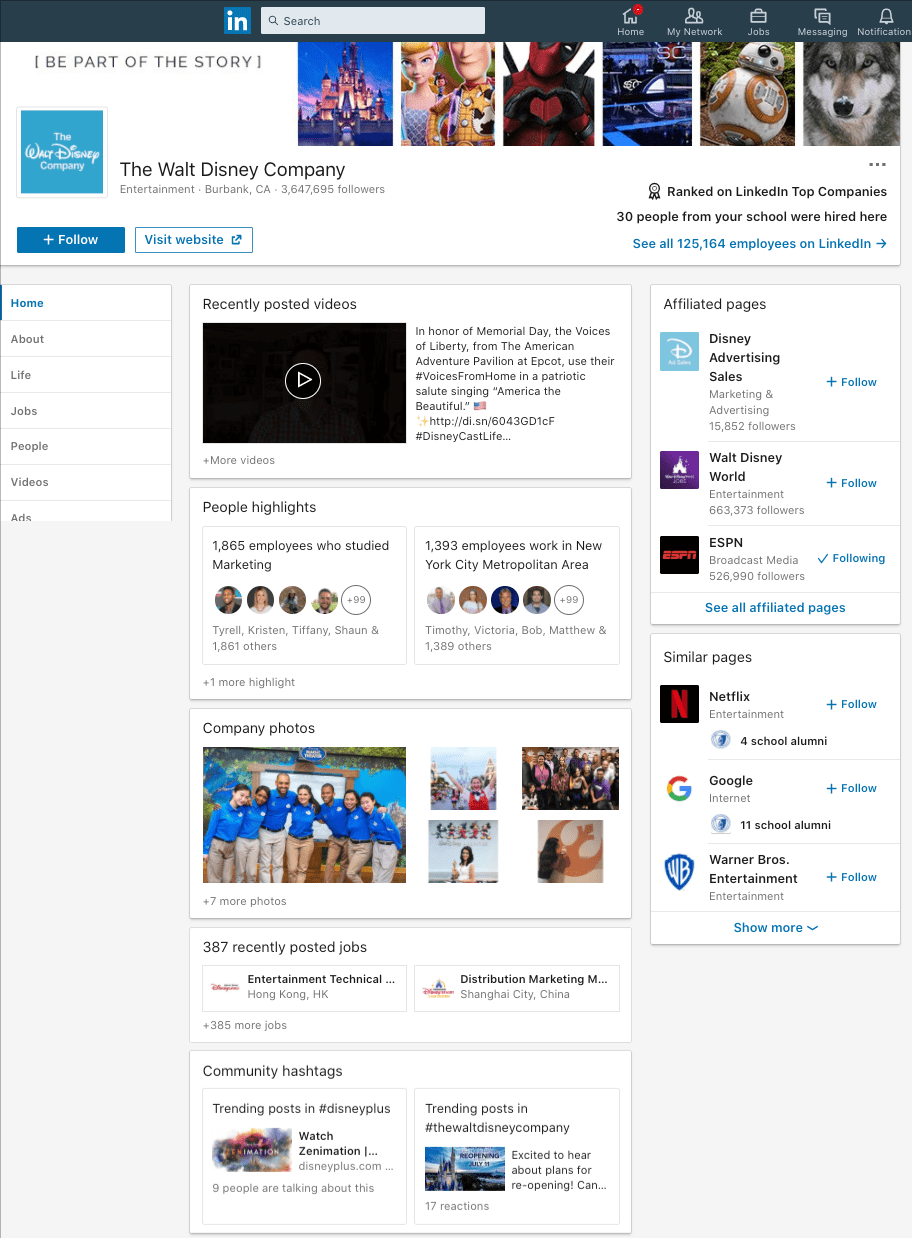 Walt Disney Company's LinkedIn page isn't just an outlet for sharing content, but a place where you can learn about the company, the many different projects they're working on, and behind the scenes looks at the animation and development for their movies and shows.
Disney brings fun and youthful energy to their LinkedIn page through interactive studio tours and ride showcases that show how the magic comes together.
25. Google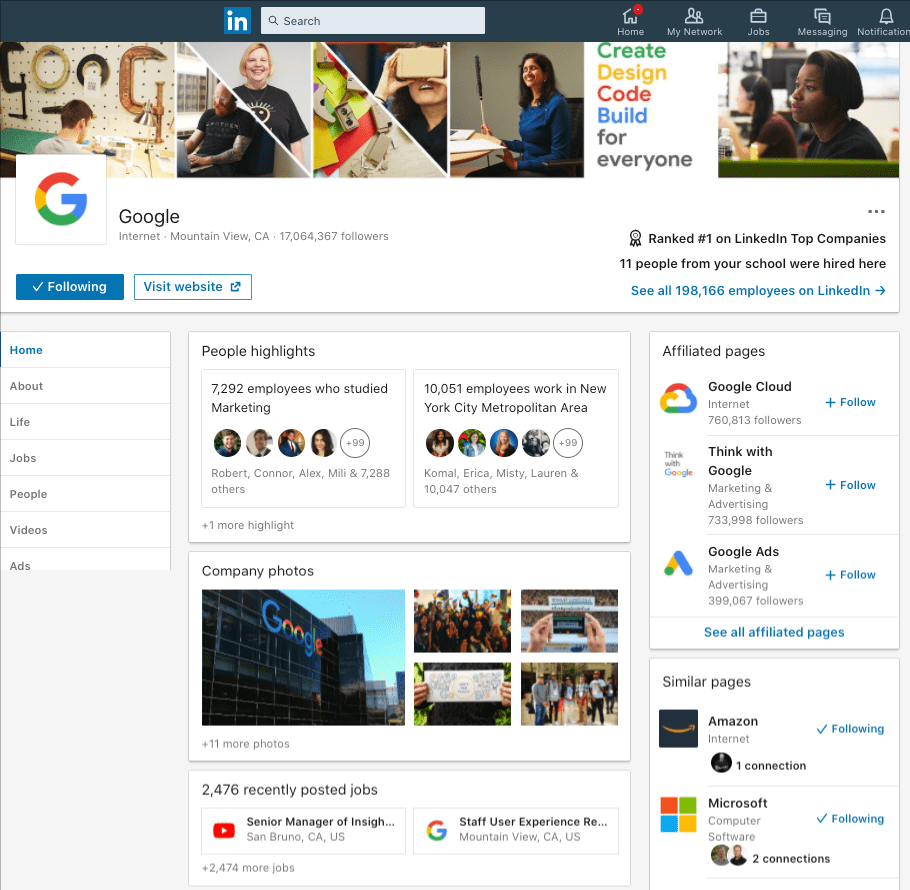 Google needs no introduction. They are the tech giant of tech giants as the world's largest search engine.
Since Google is one of the most sought after job destinations, they have been running a really cool campaign on their LinkedIn page called #MyPathToGoogle. In this campaign, they highlight the different journeys their employees have gone and debunk some of the myths of working at Google.
This shows all the different potential avenues job applicants can go on to find a job at Google as well as showcasing the culture of Google.
26. IBM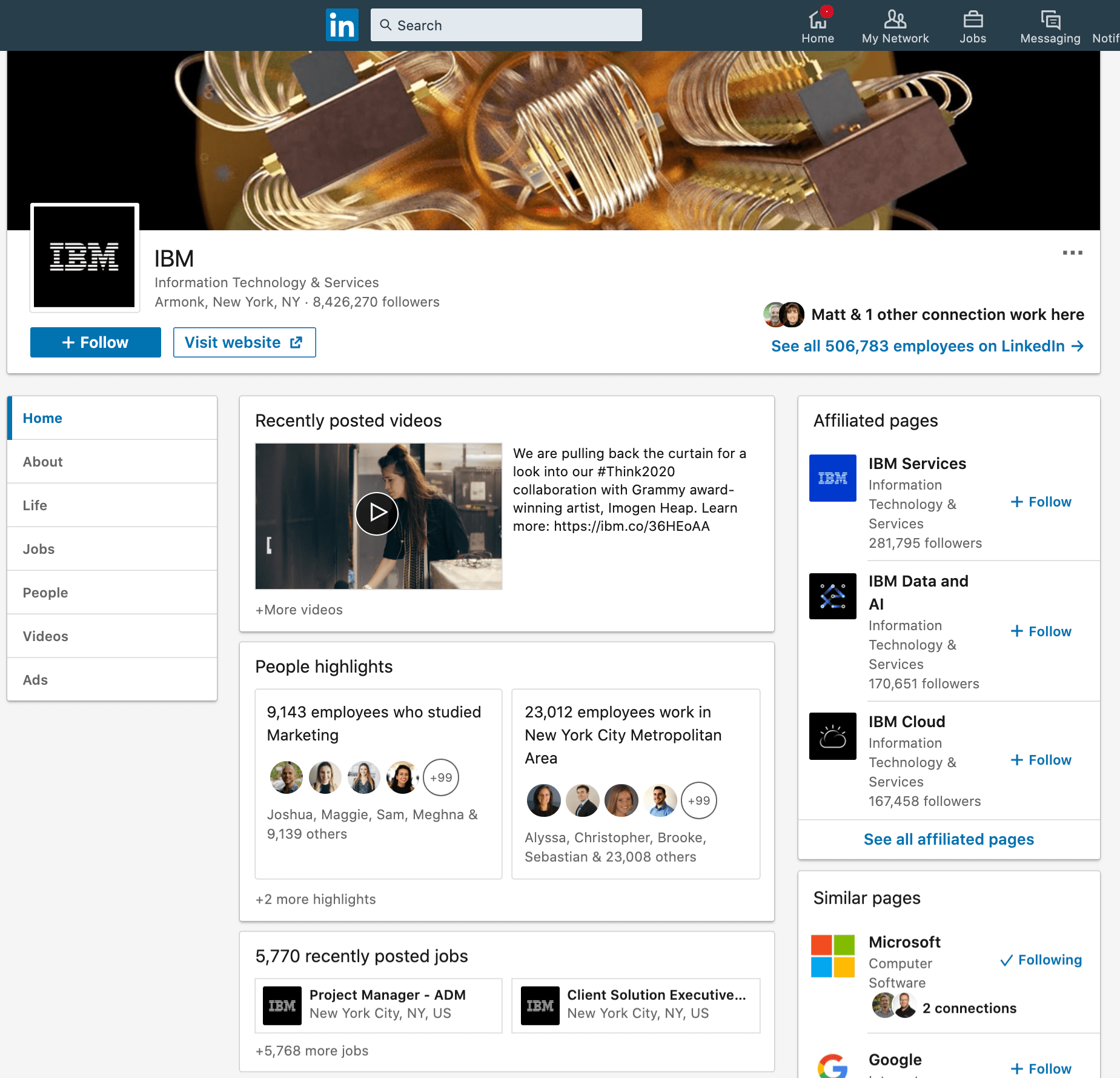 IBM is an information technology powerhouse that shares content that is industry-leading, thought-provoking, and genuinely interesting, even for those of us (me) who are not necessarily tech wizards.
I love the strategy they took in writing their overview section, setting the expectations of work being bigger than a job, it's an opportunity.
"At IBM, work is more than a job - it's a calling: To build. To design. To code. To consult. To think along with clients and sell. To make markets. To invent. To collaborate. Not just to do something better, but to attempt things you've never thought possible."
27. Salesforce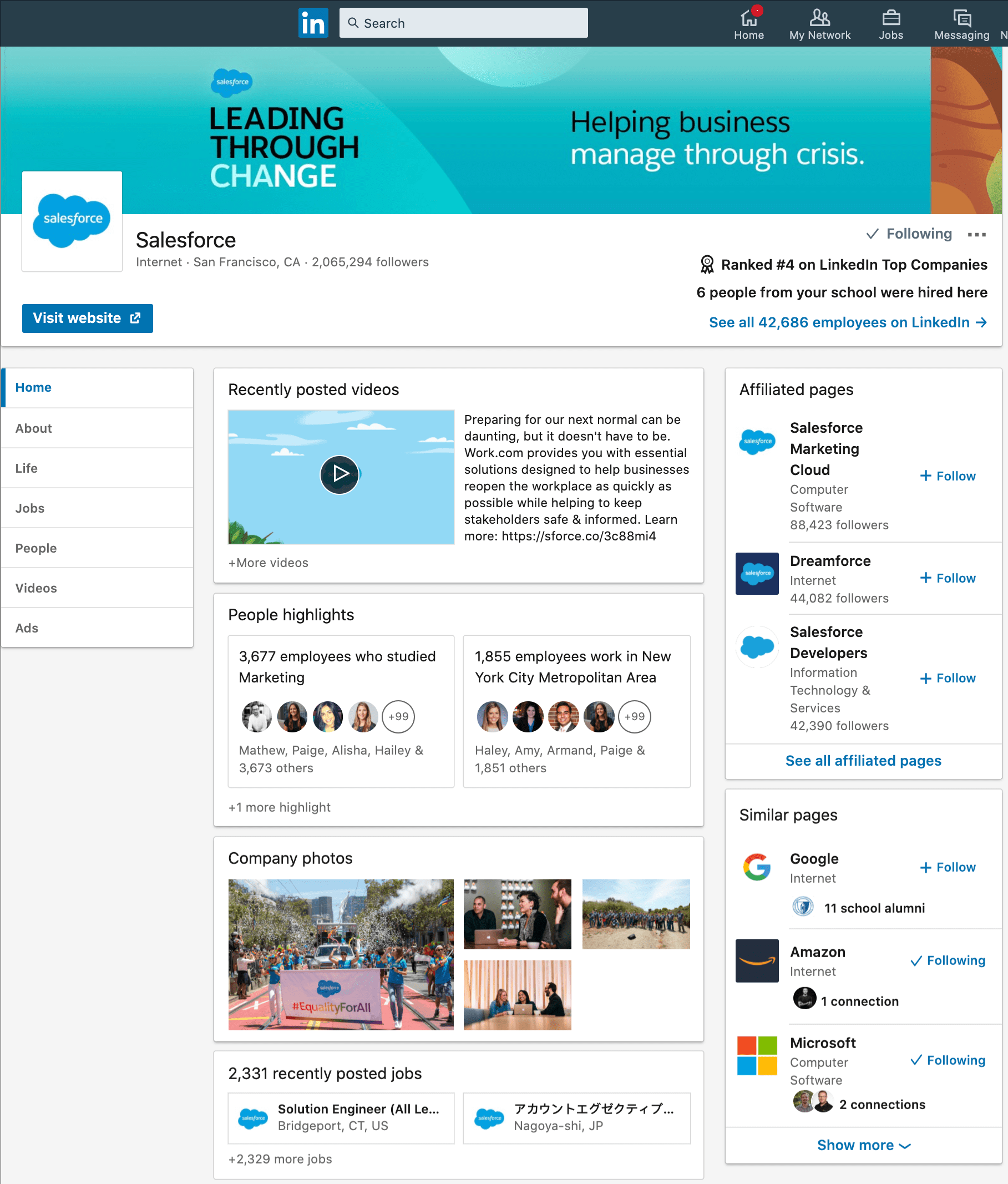 Salesforce is an industry-leading customer success platform, mainly known for its CRM tools.
On LinkedIn, Salesforce publishes content about all different topics including crisis response playbooks, best practices for using their platform, upcoming webinars and events they are hosting, community outreach initiatives, and more.
Since Salesforce has so many users on its platform, providing this content on its LinkedIn business page helps its audience build a connection with the brand while learning how to best use the platform for their business.
Upgrade your LinkedIn business page and presence
Your LinkedIn business page is a lot more than just another thing to manage. It, in many ways, functions as a second website for your organization.
Depending on the user, your LinkedIn business page could be the first impression you make with a potential job applicant or customer, so you better make it count.
With that being said, you now have the tools, along with a plethora of examples, to create a great LinkedIn business page. Go get to it!
Free Assessment:
How does your sales & marketing measure up?
Take this free, 5-minute assessment and learn what you can start doing today to boost traffic, leads, and sales.