The Best of MarketHer (So Far)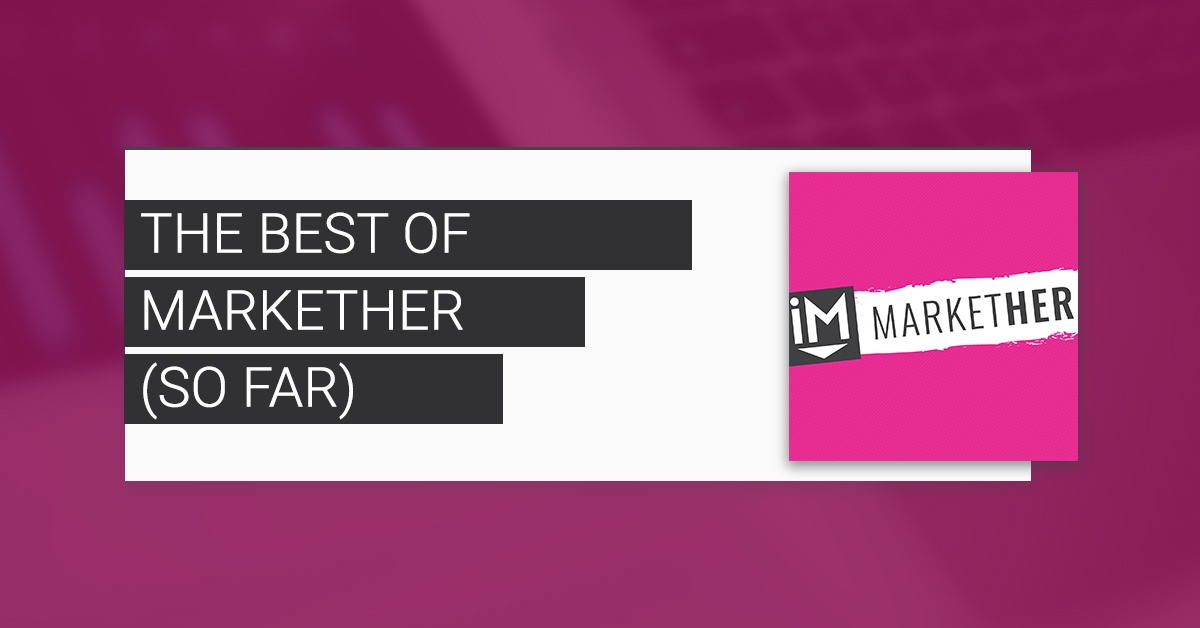 If you haven't checked out MarketHer yet, this post is for you. (Or even if you love MarketHer, really!)
After 9 months and 36 episodes, we're wrapping up and reflecting on Season 1 - and we can't wait to show you what's next!
I've talked quite a bit about how MarketHer got started, and a little bit about how starting a podcast has helped me grow into a better leader. Our hope is the show has been helping you just as much as it!
(For newbies, check out our first post featuring Episode 1 and more about the show.)
As we roll into the summer season with busy family lives, we're talking a super short hiatus to prepare for Season 2 and make the show even better for you.
But, before we do, we want to celebrate our fan-favorite episodes, and give you a behind-the-scenes look at what went into each episode.
Ending the Stigma of Mental Illness in the Workplace
Before this episode, we had had moderate success and were feeling really great about the show.
We had a couple hundred views each week (not bad for a brand new show we were all doing on our free time) and were receiving positive emails and Facebook feedback.
Then this juggernaut of an episode came out, which is sitting around 1,300 views total.
In full transparency, we were nervous about releasing this episode.
I called my boss, Chris Duprey, and asked him to watch it before we released it to make sure we handled the topic with the care it deserves.
Once released, we crossed our fingers and hoped for the best -- and that's what we got! People emailed us in droves, commented on our Facebook posts, and verified the episode did exactly as we intended.
Interview with Radical Candor Author, Kim Scott
We honestly didn't think Kim Scott would join our little show, BUT we thought we'd reach out to her and try anyways.
Sure enough, she was ecstatic to join and we now consider her a friend. (How cool is that?!)
In this episode, she provides even more insight into leading others in a radically candid way that you don't get from reading the book alone. If you're as big of a fan as we are, check it out.
Small Business Leadership Lessons - Gage Strength Training
Who doesn't love hearing how an actual successful small business owner built a strong, inbound business from the ground up?
Angela, one of the show's co-hosts, started attending Gage Strength Training in January, and as she got into it and met all the members, she realized this was no ordinary gym.
It was a community -- and an inbound one in every sense of the word.
We had to hear from owner, Devin Gage, on how he created this and how others could do the same.
Getting Out of Your Comfort Zone
We had know super fan, Katilyn Casso, for a few months before she joined us for an episode. She was active on our Facebook group and attended a local video training we did in the office.
One day, she sent us an email suggesting the topic of getting out of your comfort zone. We loved it and already loved her, so it was a no-brainer to have her join us to talk about it.
This is our second most viewed episode to date.
LuLaRoe Lawsuit: 4 Things to Consider When Starting Your Own Company
Lastly, I had to include our LuLaRoe episode. To be honest, I was NOT expecting this to be one of our most popular episodes.
Usually we tackle bigger issues, like you see from some of the episodes above. I personally am not involved in anything to do with LuLaRoe, but when we all read an article about how a change in their policies affected so many women across the United States, we just had to talk about it.
If you love their leggings, but know someone who was affected financially by their no return policy for vendors, you don't want to miss this episode.
What's Next for MarketHer?
Good question! We are gearing up for Season 2, which we will take everything we've learned from Season 1, and make the show even better! (We may even get decent microphones :)
If you have a topic suggestion, or want to join us for an episode, email us at MarketHer@impactplus.com, and be sure to subscribe to be the first to know when Episode 1, Season 2 comes out!
Be sure to join our MarketHer Facebook Group and join the MarketHer Real Life conversation!!
If you have some tips, email us at markether@impactplus.com. We will share it on our Facebook page!!
Listen to the Episode on iTunes
Stay Connected, Get Engaged!
First, subscribe to MarketHer on iTunes.
Second, have a question or an idea for a future episode of the podcast? Let us know by commenting below, subscribe to our playlist on YouTube, connect with us directly on our channels below or send us an email.
Angela: LinkedIn, Twitter, Instagram
Britt: LinkedIn, Twitter, Instagram, Facebook
Brie: LinkedIn, Twitter, Instagram
[NEW] MarketHer Official: Facebook, Instagram, Twitter (also Snapchat IMPACTMarketHer)
Or, you can leave us a comment below! Until next week...
We Listened, You Heard, Now, Go MarketHER!

Free Assessment:
How does your sales & marketing measure up?
Take this free, 5-minute assessment and learn what you can start doing today to boost traffic, leads, and sales.