365 videos in 365 days: An interview with Chris Greene [Film School For Marketers Podcast, Ep. 26]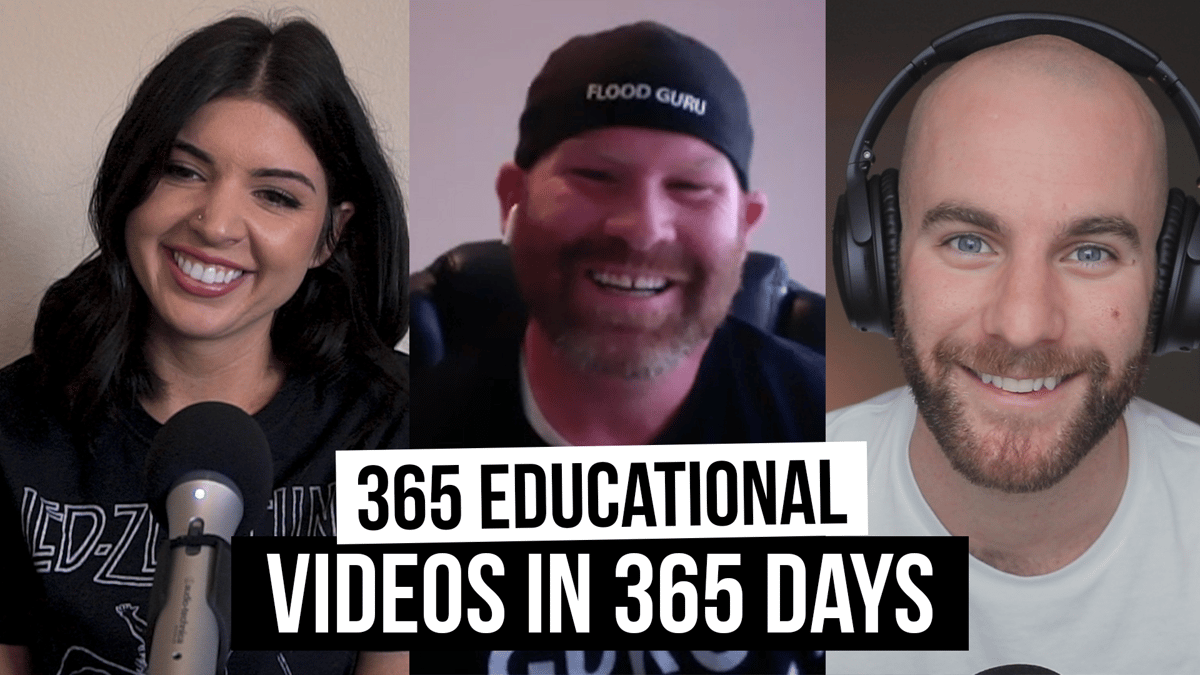 On this episode of Film School for Marketers, we have special guest: Chris Greene from Flood Insurance Guru.
Chris reached out to us to share something pretty amazing he's committed to — 365 videos in 365 days.
In addition to producing an incredible amount of video content, he has also made other commitments to blogging and producing a podcast.
Today we interview Chris about his journey, where he started, what he's learned and the success he's seen from investing in producing consistent content.
Chris' background and how he got started
10 years ago Chris was in the process of purchasing a house.
He ended up finding out that the house he was purchasing was in a flood zone, and he didn't have the greatest experience as he was figuring out what to do.
He took what he went through as an opportunity to make sure others didn't have the same experience and started his own insurance company in 2015 — Flood Insurance Guru.
As Chris got started, he didn't find any content out there about flood insurance and what to do.
He ended up committing to creating educational content and set the goal of producing 365 flood insurance educational videos in the course of 365 days.
He is now at 280 videos.
Some might ask, "how is there enough content to produce that many videos?"
Well, Chris takes every question he has gotten and turns it into a video. His video average about 2-3 minutes in length.
Since starting, he's taken the videos he's been creating and has been turning them into blog content.
He has also started a podcast. True to form, he has dedicated himself to producing 100 podcasts and 150 blog posts this year.
What impact has producing consistent content had on your business?
Chris has gone from no one knowing about him or his business to becoming a household name across the country and competing against national insurance companies.

Chris also makes it a priority to travel around the country to shoot video so that it relates to different people. He doesn't use a green screen, but instead takes the time to go to different areas.

How do you make time for all of this content?
A lot of business owners feel that there isn't enough time to create a couple pieces of content a week, let alone a video every day. Chris talks about where his motivation to do this comes from. He says you find the time to do things that are important to you.
He picks a couple hours each night to also do blogging. He says he might not be a great writer, but at least his content is out there.
How do you plan out the content you're going to cover?
Chris takes all the questions he gets but he also uses keywordtool.io to see what questions people are asking Google. He then takes that information and creates video around it and ensure keywords are in his title and description when he uploads to YouTube.
Chris spends an hour every day studying the federal emergency management agency's flood manual. This allows him to provide the best answers to his audience. He breaks down what he finds in the manual and also relates the issues to certain areas.
How quickly have you started to see results?
It took three to six months to ramp up. He's now seeing people submitting forms on things he wrote months ago. He realized that he could compete with larger companies by creating valuable content that others aren't willing to put out there. He isn't creating this content to sell; he's doing it to help people through the process. Then, the content is out there if anyone decides they want to hire him.
How much time does it take to produce your content?
1-2 hours on video and then another 1-2 on blogging each day.
Why aren't people in your industry doing this?
Others aren't willing to put in the work it takes to do this. It takes time, but it pays off.
What is something you wish you would have known when you started?
The return on investment. Chris says he would have started producing content consistently a long time ago. He would have committed to doing a little bit every day if he knew his business could survive doing this.
Do you rely on search engine traffic, or do you do additional promotion?
Chris said he is solely focusing on organic, but is about to get into paid. He wanted to make sure he knew what he was doing with the organic content first.
Do you use videos in your sales process?
Chris talks about how every single person whom he interacts with and wants a quote gets a video along with their quote. He uses a video side by side with the quote to go through it.
What are the most successful things you've done?
Chris helps people with disaster assistance, and when he put those videos out he had almost 1,000 views in 24 hours. Those are people who were in a bind and didn't know what to do, and he was able to help educate them through the process when other agencies weren't. This effort also ended up generating referrals and business.
What kind of engagement do you get?
Chris gets the best engagement on Facebook, and there's a reason for it. He has focused a good amount of his strategy on that platform. He also created a LinkedIn group where he answers flood questions across the country every day.
After the 365 videos in 365 days, what's next?
Chris said he would like to focus on doing 500 videos in 500 days. With that being said, he's strategic about the videos he'll do because he isn't creating them for the sake of just having video. He thinks through what is going to bring value and educate his audience.
If you could give advice around creating consistent content, what would it be?
You don't have to do a video every day, do one every week and work your way up. It's important to take that idea, put it in place, and learn from it.
If you want to see Chris' content you can check it out through the following:
Want to connect with him? Connect with him via LinkedIn or reach out through his website.
We'd love to hear from you!
First, subscribe to our Film School For Marketers podcast.
Second, leave us a review on iTunes or share the love with fellow marketers and sales professionals who could benefit from our content.
Lastly, have a question or idea for a future episode? Let us know!
Free Assessment:
How does your sales & marketing measure up?
Take this free, 5-minute assessment and learn what you can start doing today to boost traffic, leads, and sales.