Want educated customers? These 4 types of guides can provide on-demand info
Your customers want information at every stage of the buying process, including after purchase. When you equip them to make a buying decision they won't regret, they'll love you and your products even more.
John Becker also recommends this free guide: The Ultimate Inbound Marketing Strategy Playbook 2022.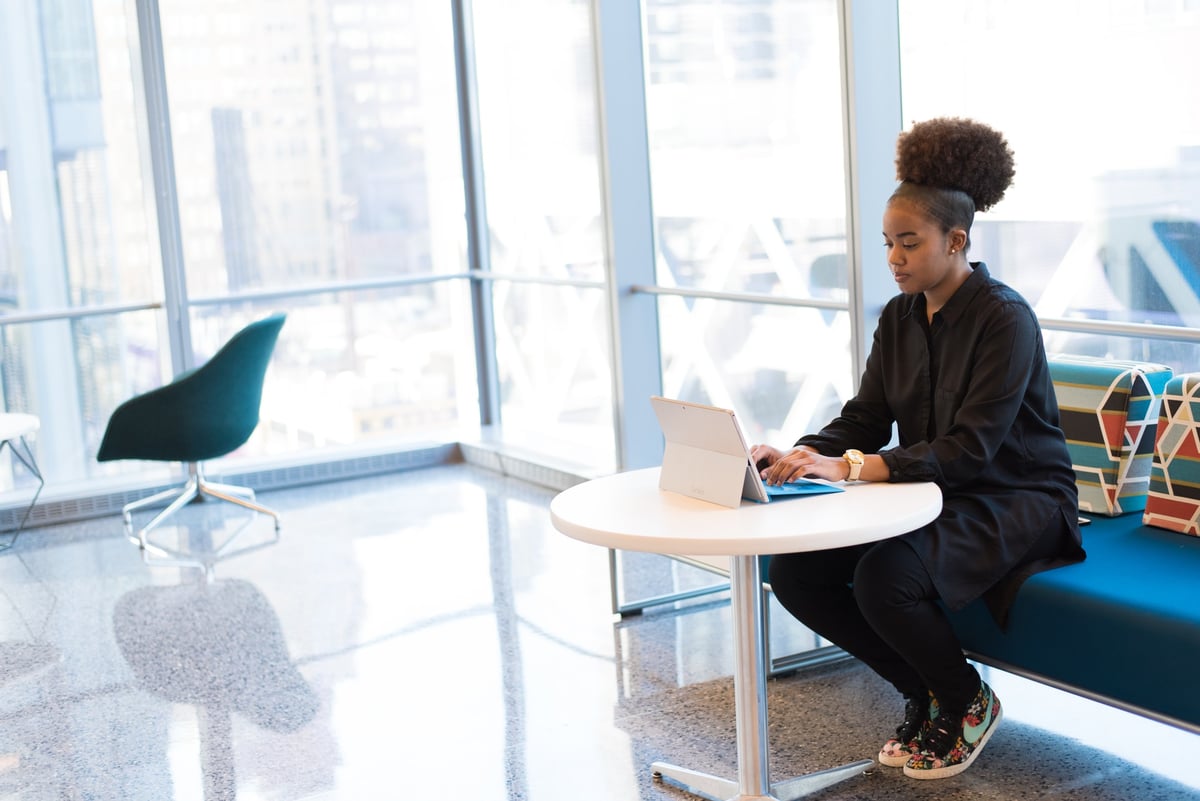 Traffic and conversions from individual pieces of content are nice, but you can supercharge those numbers with content guides that provide more value to your customers, wherever they are in their buying journey.
Free Guide: The Ultimate Inbound Marketing Strategy Playbook 2022
A content guide can take many forms, but in general, it's a robust and detailed resource that provides information for buyers. Exactly how you go about creating a content guide — and the type you create — depends on what you're hoping to accomplish.
IMPACT's Senior Content Trainer Kevin Phillips explains the four types of content guides in this course on IMPACT+. For an in-depth look at each, along with tips and tactics to get you on the right track, head over to the platform and check out the course.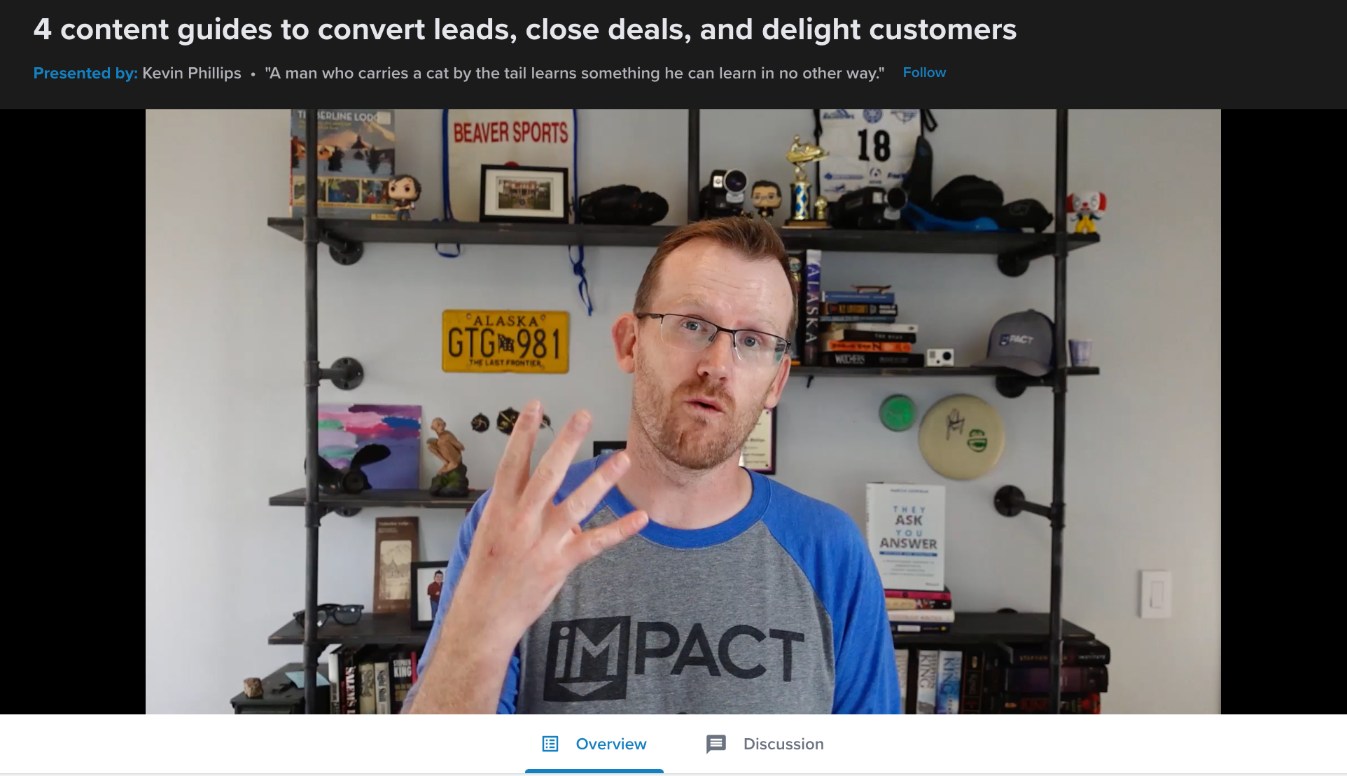 For a quick overview, keep reading.
4 types of content guides
In his course, Phillips outlines four types of content guides, moving down the content marketing funnel from early awareness to post-purchase.
Although there are four to learn about, Phillips explains that the boundaries between them are not always clearly defined. So, to make this information work for you, use the four types as guidelines and explore the gray areas to the extent that makes sense for your goals.
Info guide
First up are info guides. You could also call them ebooks. In essence, these offer comprehensive coverage of a particular topic.
These should be aimed at top-of-the-funnel prospects who might be aware of their problem or challenge but are not yet aware of your solution. Therefore, these are intended for a very broad audience. For example, if you're a landscaping business, you might publish an info guide on common weeds that invade suburban lawns.
That's great because it will drive a lot of traffic. Not everyone who reads it will contact you, and that's OK.
Some might be DIY-ers, while others just might not be ready for what you sell yet. From a strategic point of view, an info guide is all about being helpful and building brand awareness and authority.
Buyer's guide
As we move down the funnel and get closer to a purchase, the next type is a buyer's guide. This is another in-depth piece of content that helps someone make a purchase decision.
In the landscaping example above, the reader was problem-aware. The buyer's guide is where solutions come into play. A buyer's guide could cover all of the potential solutions to keep your lawn weed-free: preventative measures, herbicides, hand tools, mineral supplements, etc.
Or, if you're looking to teach your child to ride a bike, a buyer's guide could cover balance bikes, training wheels, tricycles, and more.
Now, this is where things start to blend together a bit. Technically, a buyer's guide should help customers connect solutions to their problem — but the solution should not just be yours. A thorough presentation of your solution comes next, in the seller's guide.
Seller's guide
Although a buyer's guide helps customers make an informed decision about what solution they need, a seller's guide is about you.
And while the buyer's guide was aimed at the middle of the funnel, the seller's guide is more of a sales enablement resource. A seller's guide can help close a deal because it covers all aspects of your products and services. You should include client examples and case studies that prove the efficacy of your offering and support your case to make a sale.
Here's the overlap: Phillips advises that the same document could be both a buyer's and seller's guide — especially if it starts with general information and then moves into specifics about your services. If this is the case, make sure you present your solution patiently. The middle-of-the-funnel buyer is not ready for a sales pitch.
Customer guide
The customer guide is different. This is for customers after they've made a purchase. Think of it as a cross between an owner's manual and an enthusiast magazine. A customer guide provides the information that allows a customer to be successful with whatever you sell. You want them to stay happy and to know what to expect.
If you sell software, this could be a get-started guide with tips, tricks, and troubleshooting. If you sell boats, you could include monthly maintenance reminders so your customers keep their boats in tip-top shape.
It's often said that happy customers are your best advertisers. If you want those customers to become brand ambassadors, give them the information that will make them love you even more.
Do you need to make all of these guides?
No, you don't. And you certainly don't need to do them all at once. Talk to your sales and marketing teams to see which would be the most helpful. If you're going after traffic, an info guide allows you to bundle some of your best-performing content in a way that's thorough and user-friendly. Google loves that.
If you need robust, detailed content to help get deals over the line, a buyer's guide or seller's guide (or a hybrid of the two) might be the biggest priority.
The beauty of writing these guides is that you're rarely starting from scratch. Chances are you have already created a lot of the information and content. You'll need to organize it, sew it together, and add design elements to create the content guide.
Therefore, before you start, audit the content you already have to see where the holes are and how you can bring it all together.
Writing your content guide (in 7 steps)
When you know what type of guide you need, you're ready to get started. Of course, writing this new guide is not your only responsibility. You've still got other content duties filling up your day-to-day. Therefore, Phillips recommends trying to tackle a guide over the course of a quarter. This allows you to check boxes and move forward, with a realistic publication date in mind.
When you're ready to get started, follow these steps:
Set your milestones: Because you're likely to have other tasks on your plate, give yourself plenty of time. Break down your task into smaller chunks, and give these "due dates" so you keep progressing.
Conduct a brainstorm: Think about the end goal of any guide you're producing. If this is a sales enablement piece, meet with your sales team so you know exactly what needs to be in it. If it's a customer guide, meet with your product designers or other experts. You'll want to get the tone just right.
Produce an outline: Before you start writing, develop an outline so that you know how each section will fit together.
Write the guide itself: With an outline, you can break down the writing into smaller segments. As you chip away, keep hopping between sections to make sure the narrative progression is smooth.
Create supporting assets: You might need a graphic designer, a photographer, or other experts to help you produce the final draft. Or, maybe you just need time in Canva to build from a template you like. In any case, this will be more than just an article, so it should be packaged and branded as such.
Hit publish: Once you've finished (and read through it VERY closely with your team), you can publish. This could mean attaching your PDF to a landing page, making it available for the sales team to use with prospects, or sending it to new customers once they've made a purchase.

Then,

turn your guide into pillar content

:

Phillips recommends having different versions of your guides to serve different ends. A gated PDF can help you gather contacts who download the asset. At the same time, you can repurpose the same content into an article that boosts search volume and dwell time. You've worked hard on this guide. Make sure it works hard for you, too.
For a more in-depth look, take the course
Kevin Phillips' course is funny, engaging, and highly practical. This outline offers a basic overview, but if your interest is piqued, head on over to IMPACT+ to check out the full course. You'll be glad you did.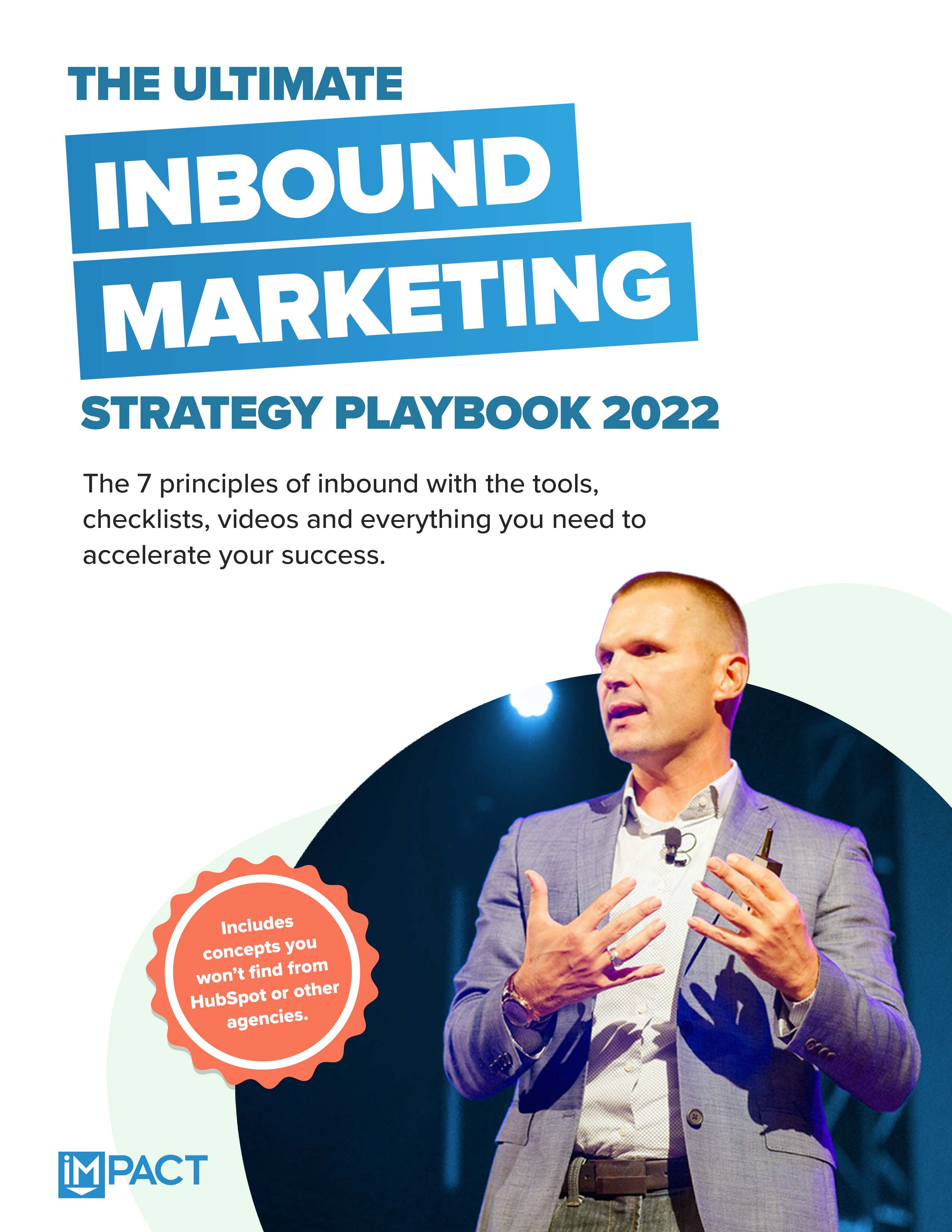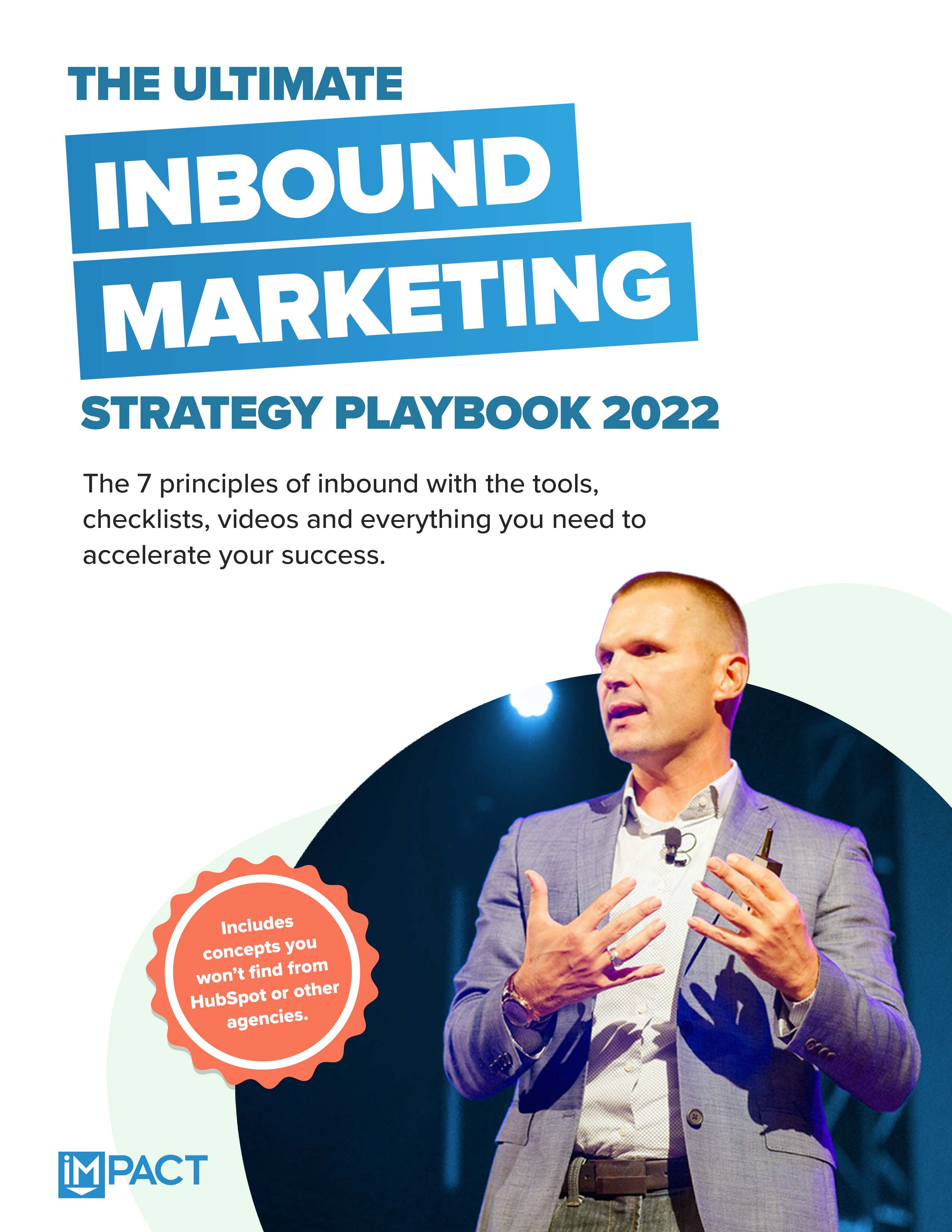 Free Guide:
The Ultimate Inbound Marketing Strategy Playbook 2022
Take your inbound strategy to the next level
Master the 7 principles of highly effective inbound marketing
Dramatically improve your inbound sales
Get more buy-in at your company
Published on July 8, 2021