12 Amazing Conversion Rate Optimization Case Studies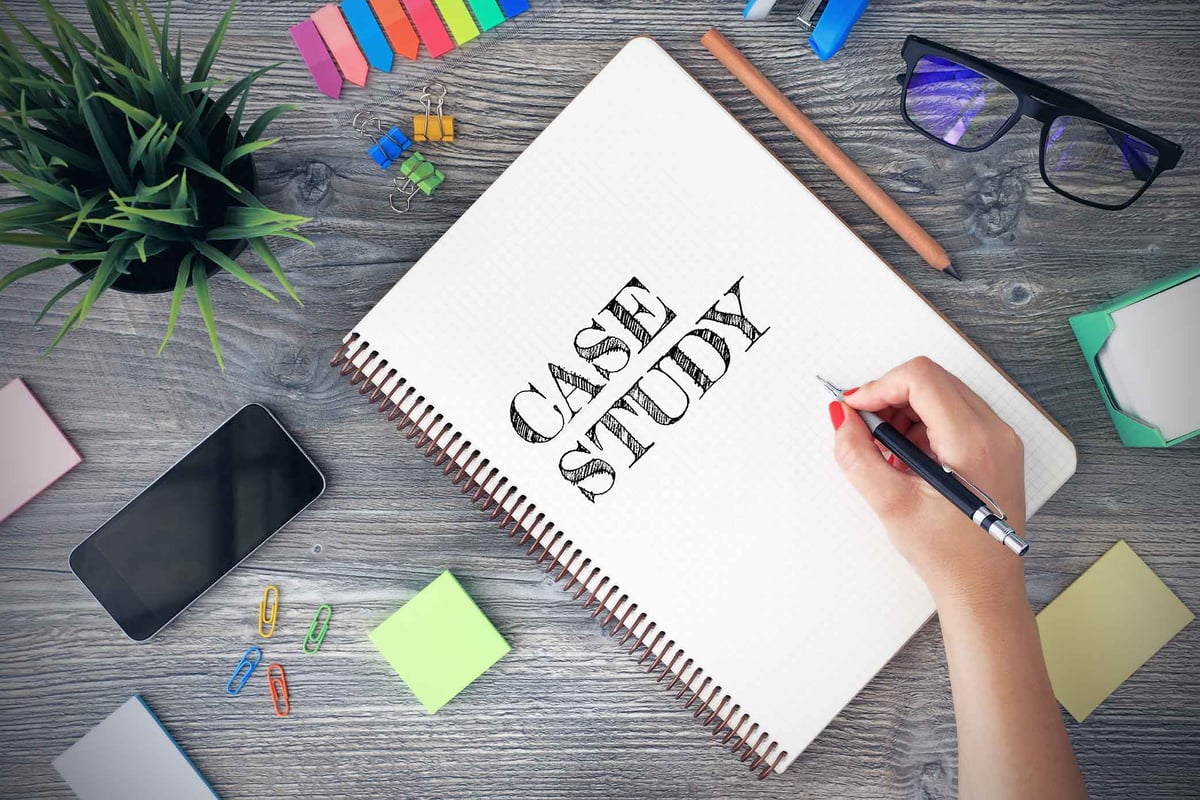 There's a lot of hype around Conversion Rate Optimization (CRO) and you're probably wondering if it's real.
Well, you're in luck. We're going to share 12 real CRO case studies with fascinating results that may sound too good to be true, but are.
The best part of all is that every single one of these case studies involved small changes that any company could test for themselves.
Take a look and see for yourself how powerful CRO can be.
1. Adding a Human Image Increases Sign-Ups by 102%
People relate to people better than they relate to products or services. Whenever you can add a human element to your offer, it will be more engaging in most cases.
When 37Signals (Now Basecamp) sought to improve conversions on their landing page, they tried several different tests with marginal results. Finally, they decided to start from scratch and added an image of a woman smiling to make the page warm and inviting.
The result – conversions spiked by 102.5%!
Key takeaways:
Don't be afraid to start from scratch and test completely new ideas

Test human elements whenever appropriate
2. Changing CTA Location Increases Conversions 591%
Where your CTA is located on the page is often just as important as what the CTA says.
Nature Air had several landing pages with conversion rates they weren't satisfied with. After some research, they ran an A/B test on each landing page, one of which moved the CTA to a more prominent location.
Here is the control page:
Here is one of the test pages that has the CTA in a prominent position on the page.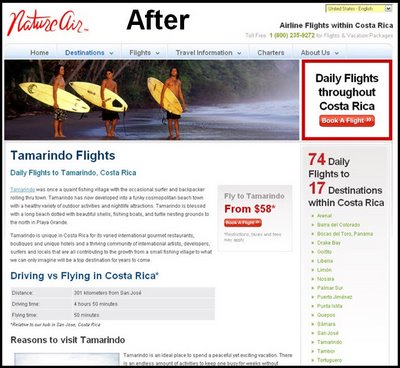 As a result, the conversion rate increased from 2.78% to almost 19% – a 591% increase!
Key takeaways:
You might have an attractive offer, but users won't know unless they see it

A/B test different locations for your CTA -- i.e. above the fold, when users attention is usually at its highest
3. A 3-Step Website Update Increases Conversions by 400%
The team at Conversion Rate Experts created 11 experiments for Voices.com targeting various stages of their sales funnel. Their challenges included targeting multiple audiences and adding perceived value for a "middle man" service.
Of the experiments they ran, the following are the three that had the most significant impact on their conversion rates.
They added logos of previous clients to instill trust in prospects.

They created two different CTAs to segment their audience based on their two primary buyer personas.
They also added a useful video to eliminate confusion over how the service worked.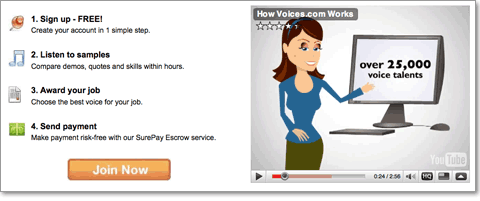 Key takeaways:
Visitors should feel your company is safe and trustworthy

Your website should make it crystal clear which steps to take, especially if you serve multiple buyer personas

The easier you make it for prospects to convert, the more likely they are to do so
4. A Pricing Page Redesign Increases Conversions by 25%
Sometimes it only takes a few small tweaks to increase conversions and that's the case with BaseKit. The company felt their original pricing page wasn't performing as well as it could and decided to test a redesign that resulted in a 25% increase in conversion rate.
Here is what the old design looked like: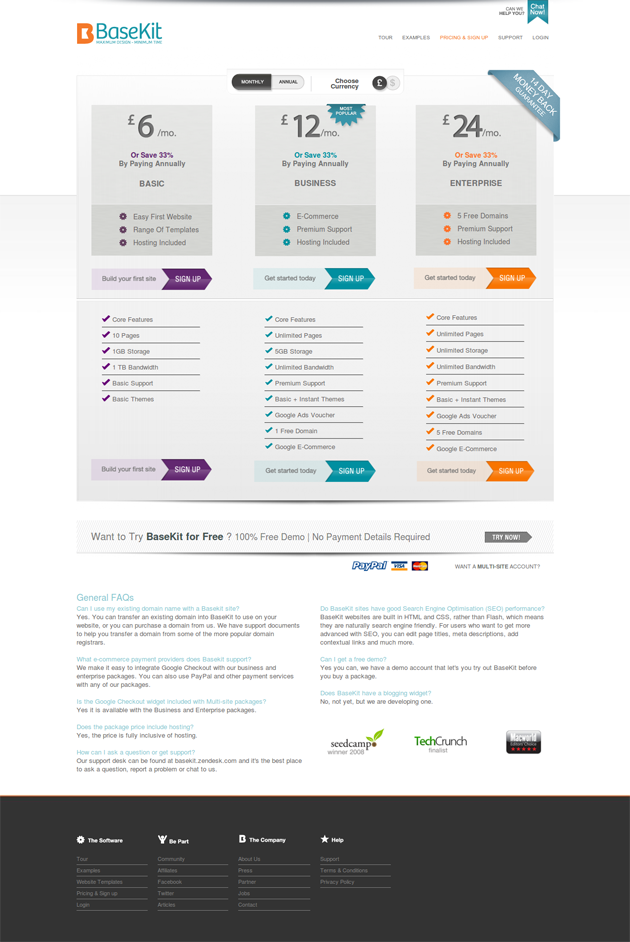 Here is the new design:
As you can see, they've added color behind the prices and to the "Try Now" button to make them stand out more. They also made currency selection more eye-catching and made their recommended plan more visually prominent through color and positioning. Overall the design looks cleaner and easier to read.
Key takeaways:
Your pricing page is critical and even though a prospect has made it that far in your conversion funnel, poor design (or copy) can still lead to drop off

Clean, clear design performs well because people want to know exactly what they're getting before they make a purchase
5. Changing the CTA Button Color Increases Conversions by 21%
Different colors evoke different emotions from users and as simple as it sounds, the color of your CTA buttons matters. Performable (now HubSpot) tested their homepage CTA button with green and red colors, while keeping the copy the same.
The result was a 21% increase in conversions.
Key takeaways:
The smallest details can have a big impact

Red is an action color and often performs best on buttons and links
6. Implementing Live Chat Improves Conversion Rates by 211%
Intuit added proactive chat to several areas on their website to better serve their prospects and customers. Each area saw an uptick in conversions.
After adding chat to their checkout page, their conversions went up by 20%, and even better, the average order value increased by 43%.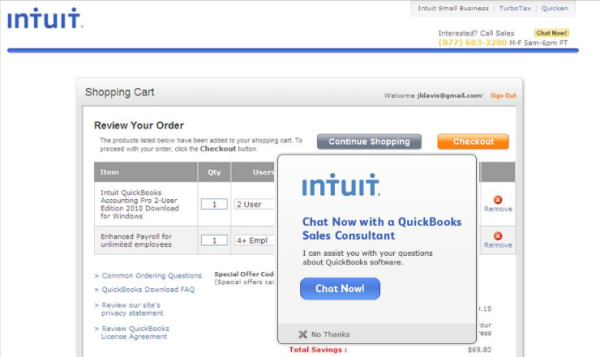 Implementing live chat on a product comparison page increased sales by 211%.
Key takeaways:
There are virtually unlimited ways to improve conversions and you shouldn't feel limited to the standard A/B tests such as headlines and button color

Live chat is a valuable tool because many prospects will have questions, but they don't want to take the time to email your company or call your sales reps
7. Removing Trust Image Increases Conversion Rate 400%
Normally, we associate an increase in conversion rates with adding elements of trust, but in the case of Bradley Spencer, they saw the opposite effect.
Here is the original page with a big secure image:
Below is the new version without the big secure image: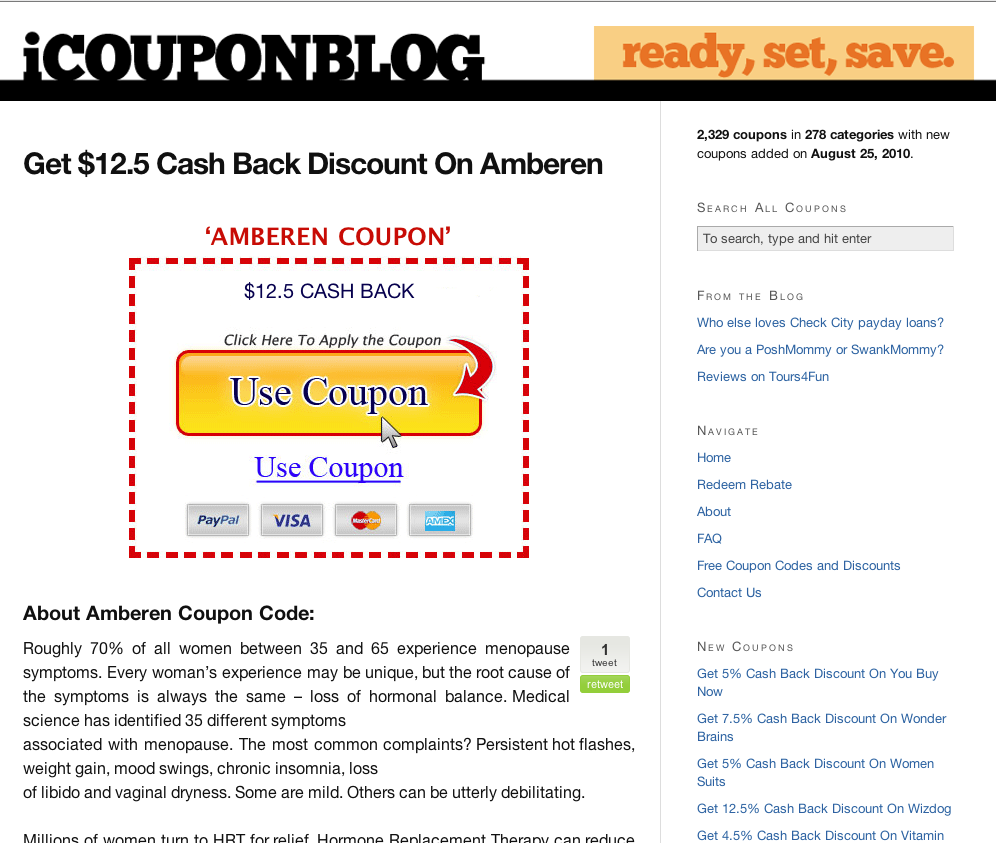 It only took around 3 days for conversions to increase by 400%, most likely because the image was too distracting from the offer.
Key takeaways:
Don't trust anything as fact until you've tested it

By default, trust images don't improve your website's trust and should be carefully selected
8. Proving Authenticity Boosts Sales by 107%
Express Watches is an online watch retailer and one of the biggest concerns of their customers is that they are buying authentic brands.
They decided to test a seal of authenticity to see if it had an effect on sales. Below is the control page.
Then here is the variation page with a seal of authenticity:
The result was an increase in sales by 107% with the variation page.
Key takeaways:
Phrases like "Authorized Dealer" or "Certified Partner" build trust with online shoppers

If your industry has known issues with fraud, elements of trust can have a big impact on conversions
9. Sales Increased 41% After Adding a Guarantee
Horloges.nl is another online store that sells watches, based in the Netherlands.
They made some tweaks to a banner on their landing page for the Casio G-Shock line of watches that resulted in a 41% increase in sales.
Here is the original banner:
The copy translates as:
Official G-Shock dealer

Free shipping

Tomorrow at home (aka "Delivered the next day")
Here is the version they tested:

The copy translates to:
Free shipping – Familiar with PostNL (aka "reliably with PostNL")

Tomorrow at home – Order before 16:00

Official Dealer – 2 year guarantee on watches
By slightly changing the design and adding trust building elements, they improved conversions and also increased the average sale by 6%.
Key takeaways:
Backing your products or services with a guarantee allows people to feel more comfortable about purchasing

You can also test different types of guarantees (30-day, 60-day, etc.)
10. Improving Generic Form Copy Boosts Sales by 22%
Kaya Skin Clinic is a beauty clinic that wanted to book more appointments and close more sales from their website. After analyzing their landing page, they decided to test a new form copy to replace their generic one.
Here is the control page: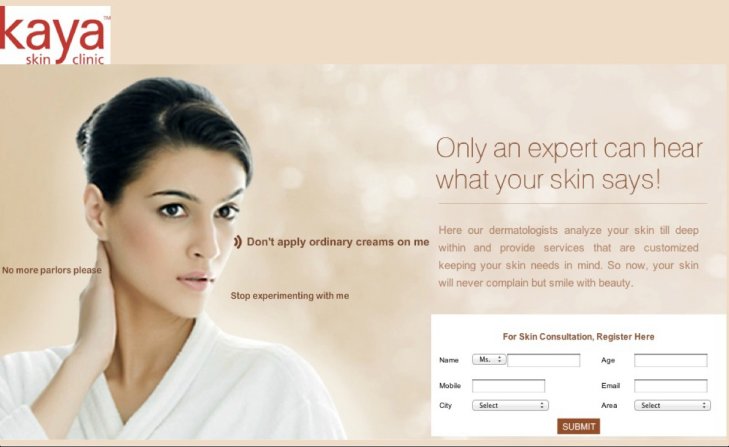 Here is the new variation: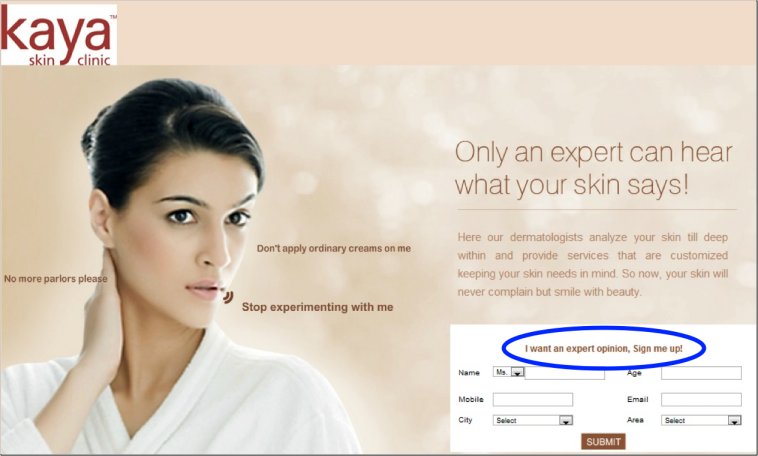 Simply changing the form copy from a generic consultation to an "expert opinion" increased conversions by 137.5%, which resulted in a 22% rise in sales.
Key takeaways:
Look for ways to use more conversational, relatable language in your copy because generic copy doesn't resonate as well with people

Focus less on what you're offering and more on what your buyer persona actually wants (an expert opinion in this case)
11. Reducing Form Questions Improves Conversions by 35%
Flying Scot provides airport parking in Edinburgh, Scotland. They had the goal of increasing conversions on their website and after some research they discovered the number of questions/fields in their forms were creating barrier in their conversion funnel.
This is the original details page where too many prospects were bouncing: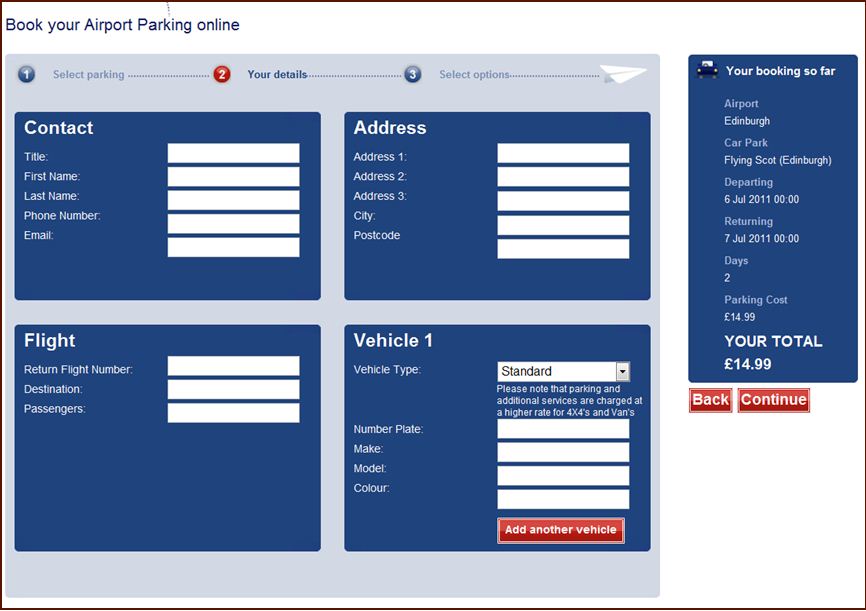 Here is the variation page with significantly less questions:
By reducing the amount of work required to convert, the company saw an increase of 45.45% in visitors moving to the next step and a 35% increase in form conversions.
Key takeaways:
Keep forms limited to the information you need and don't ask unnecessary questions

If you require a lot of information, try to break it up into multiple steps so each page doesn't look intimidating
12. Adding Video Improves Email Opt-ins by 100%
Vidyard wanted to increase email opt-ins for their alpha product, so they tested a landing page with and without video to see which performed better.
Here is an image of the page: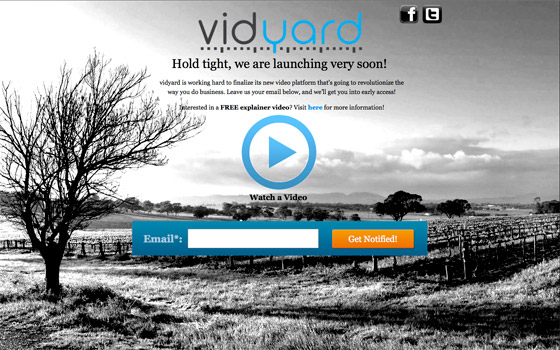 The version of the landing page with a video saw a 100% increase in conversions.
Key takeaways:
In most cases, video is more engaging and converts higher, but only when the content is good

If you're marketing a service, especially a digital service, your landing page should feature that service in action
30 Conversion Rate Optimization Experts Worth Following on Twitter
The content above was an excerpt of our new guide, "The Inbound Master's Guide to Conversion Rate Optimization" To learn more about CRO, testing, how to do it successfully, and experts to turn to, get your free copy of the full guide by clicking "Get it Now" below.
Free Assessment:
How does your sales & marketing measure up?
Take this free, 5-minute assessment and learn what you can start doing today to boost traffic, leads, and sales.