Customer Testimonials, Filming at Events, & Producer Problems [Film School For Marketers Podcast, Ep. 20]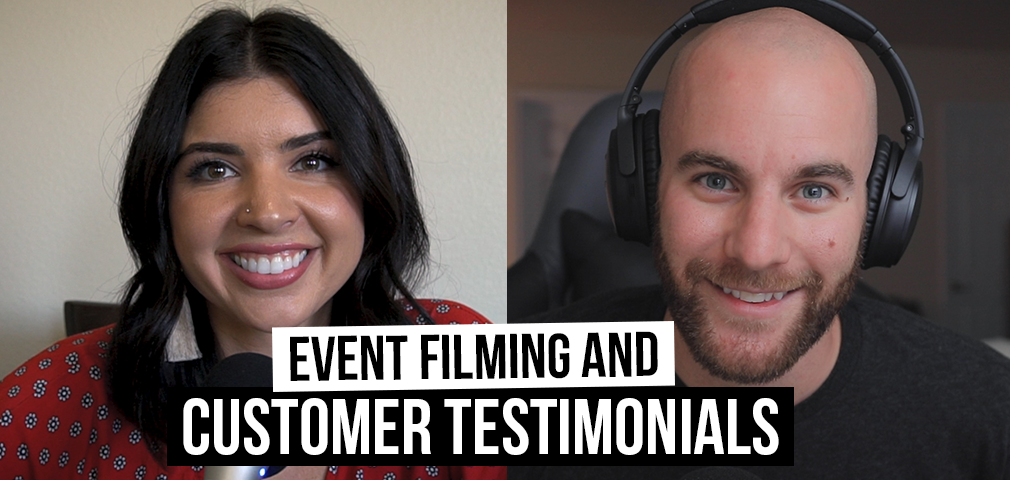 This past week was one for the books to say the least.
Zach and I were in Connecticut with the entire team for our major digital sales and marketing event, IMPACT Live 2019 (which becomes Digital Sales & Marketing World next year), where I had the chance to be heavily involved in the video production side of things for the first time.
On this episode, I share my experience and what I learned (the good and bad.)
We also chat about working with an outsourced video crew, what it was like getting client testimonials at a live event, and overall what it's like being a producer for the first time.
Listen to the full episode here (or scroll down to watch the video):
Client testimonials
While at IMPACT Live, we planned on shooting client testimonials.
Pre-event, I spent time planning out who was going to be interviewed, the ultimate goal of how these videos would be used for future marketing initiatives, and what questions I would be asking.
I also setup Acuity which allowed our team to get sign-ups for certain time slots, and also made it easy at the event to schedule additional testimonials.
You can check out the Acuity scheduling tool here.
One of the things I didn't do too well while running the testimonial shoot was keeping track of all the people I interviewed.
There were people who were scheduled with me, but there were also some that were brought over to me.
I relied on the fact that people verbally said their name and company on video but learned that I should have been writing it down to make sure spelling and information was correct so our video editing team could use it.
I also learned the importance of being flexible and how to best be effective with time when trying to fit in interviews with overall video footage of the event.
Working with an outsourced camera crew
We had a fantastic outsourced crew help us at the event.
I can't thank them enough for getting such great shots and running around with me nonstop — but they also opened my eyes to areas I could have improved upon when it came to giving direction.
Zach and I also discuss the importance of checking in on tasks throughout the day. For instance, it doesn't hurt to double check and look at shots and make sure you're happy.
In fact, your outsourced team will probably be happy about it.
It's also important to not be afraid to speak up because you can't go back and time and fix not getting certain shots, or things how you want them.
Producing for the first time
During the week, we also planned to film service videos with our team.
I talk about all the things I planned out prior to the shoot to ensure the day went as smoothly as possible. For example, working with product owners to put together scripts, working with leadership to get approval on everything, and making sure everyone was comfortable with the scripts and didn't memorize them.
Zach and I talk about the experience of helping people feel comfortable on camera, what it was like dealing with that for the first time, and ways that we and our clients differ in how we address it.
Another thing I learned is that if the person doing the video doesn't write the script, they aren't going to feel as comfortable with it.
The people doing the videos should be the subject matter experts and we should give them power and trust to own their scripts.
To bring it all home, I hope you enjoyed hearing about my experience of learning how to lead production as a newbie. If you're about to have an event or big shoot at your office and have questions - feel free to watch out!
We mentioned it first thing in this episode, but if you're curious what Digital Sales and Marketing World is all about, you can learn more about it here.
We'd Love To Hear From You!
First, subscribe to our Film School For Marketers Podcast.
Second, leave us a review on iTunes or share the love with fellow marketers and sales professionals who could benefit from our content.
Lastly, have a question or idea for a future episode? Let us know!
Free Assessment:
How does your sales & marketing measure up?
Take this free, 5-minute assessment and learn what you can start doing today to boost traffic, leads, and sales.