Subscribe
Join 40,000+ sales and marketing pros who receive our weekly newsletter.
Get the most relevant, actionable digital sales and marketing insights you need to make smarter decisions faster... all in under five minutes.
Thanks, stay tuned for our upcoming edition.
How to Market, Sell, & Connect With Gen Z [Film School For Marketers Podcast, Ep. 12]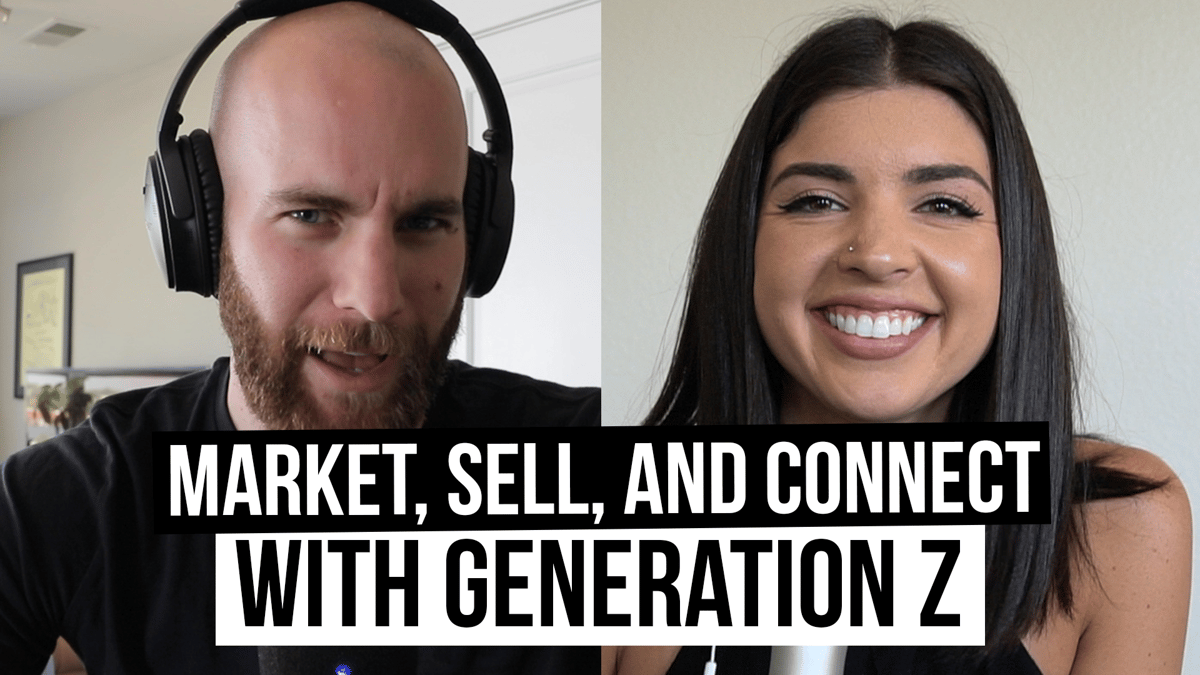 On this episode of Film School for Marketers, we're diving into a report done by Awesomeness and Trendera called Gen Z: Leaders of The Mobile Social Movement.
The survey was taken in 2017 by 13-17 year olds all throughout the United States who had a smartphone and at least one major social media platform they used.
Although it is two years old, it's still very much so relevant to today, if not more.
The survey dives into the generation's content consumption behaviors, what platforms they prefer to use, how they prefer to be marketed to, and how they compare to other generations.
We explore what parts of the survey stuck out to us, why they matter, and takeaways on how you can use this to tailor your video marketing to Gen Z.
Listen to the full episode here (or scroll down to watch the video):
Who Is Gen Z?
Gen Z is currently made up of individuals who are between the ages of 4 - 24 years old and currently comprise of 32% of the entire global population.
This is a generation of true digital natives.
They don't know a world where there is no high-speed internet or access to information immediately, which naturally impacts how they consume content, how they educate themselves, and how they prefer to be marketed to.
With Gen Z spanning out into people who are currently in their 20s, it's important to remember these aren't just children and teens. These are people who are entering the workforce and essentially young adulthood. If you're in the B2B market, chances are you'll be selling to a Gen Zer or the parents of one.
Let's dive into the major takeaways that stood out to us in the report!
The average Gen Zer watches 68 videos on at least 5 different platforms daily
That's a powerful number when you think about all the content available at everyone's finger tips.
When Gen Z is on social platforms, more than half of the content they are consuming is video.
We talk about whether there is such a thing as too much video and how that impacts the type of content organizations should make and how frequently.
We also discuss how the major social media platforms have made video king as they've learned that it's what people prefer to consume.
55% of Gen Zers Don't Need To See Someone In Person To Feel Connected To Them
We talk so often about how video is the tool that creates trust with your audience and this stat proves just that.
Whether they follow influencers or content creators, Gen Z feels that even though they have never met the people doing the videos, they actually know them and have a connection to them as a person.
Video has allowed that connection to happen more than written content could.
We talk about examples, what this means for businesses, and why video is going to allow your brand and organization to connect with your audience.
What Kind Of Online Aesthetic Gen Z Prefers
When it comes to online aesthetic, we talk about how the report shows Gen Z prefers raw, Millennials prefer curated, and Gen Z prefers imperfect.
We talk about how organizations sometimes get caught up in wanting to have perfectly produced videos and how this generation shows they want just the opposite.
We talk about crating video that is true, real, and puts the people of your organization front and center for your audience to build connections with.
Gen Z isn't looking to build a connection with your company or products, they are looking to build a connection with the people who represent your brand.
Some organizations become concerned about putting their folks on camera in case they leave at some point, but we talk about why that shouldn't be a concern and how you could be missing out on brand loyalty and revenue if you aren't adopting this into your video strategy.
If you don't do it your audience will get connected with someone else somewhere else.
The Top Used App By Gen Z
78% of Gen Z say YouTube is their most used app.
We talk about how Gen Z spends a good amount of time consuming short-form video on YouTube, how they prefer to be entertained/educated, and why YouTube should be a platform you should consider if they make-up your audience.
We also dive into more stats about the length and type of videos they prefer to consume.
It's also revealed in the report that Gen Z prefers to be marketed to on YouTube.
We talk about the continuous updates that YouTube makes to cater to users and keep them on the app and how the feed has become more personalized and curated than it ever was before.
The Type of Content Gen Z Prefers
We talk about the differences between Gen X, Millennials, and Gen Z in terms of the type of content they prefer to consume.
Gen Z tends to be more interested in brands that create content that is relevant to them and entertaining whereas Millennials care more about authentic and transparent content.
Should You Be Posting The Same Video On Every Platform?
This study showed that 57% of Gen Zers didn't like when the same video was posted across all platforms.
We talk about how this calls out the importance of tailoring the video content you're sharing to the experience on each platform.
When it comes to organizations who wonder if their audience likes hearing from them on social media, the study showed that 2 in 3 Gen Zers actually like seeing content from brands on social media.
Dark Side of Social Media
Last, but not least, we talk about the dark side of social media such as trolling, the stress Gen Z feels about their online reputation, followers, negative backlash, and how their lives are portrayed to the world.
We talk about what this means for companies and how they can tailor their social media approach whether that be responding to people's comments, being engaged directly with their followers to make them feel important, and promoting positivity across the platforms.
There are so many great takeaways and only so many we could cover in the 30 minutes we have.
We recommend you take a dive into the study to learn more about Gen Z and how you can tailor your content to how they prefer to consume content and interact on social media.
Our ultimate takeaway was that if you want to connect with Gen Z you need to be original, be helpful and to incorporate the people behind your brand front in center on video.
We'd Love To Hear From You!
First, subscribe to our Film School For Marketers Podcast.
Second, leave us a review on iTunes or share the love with fellow marketers and sales professionals who could benefit from our content.
Lastly, have a question or idea for a future episode? Let us know!
Free Assessment:
How does your sales & marketing measure up?
Take this free, 5-minute assessment and learn what you can start doing today to boost traffic, leads, and sales.