IMPACT+ vs. DigitalMarketer vs. Business Made Simple: Which is right for you?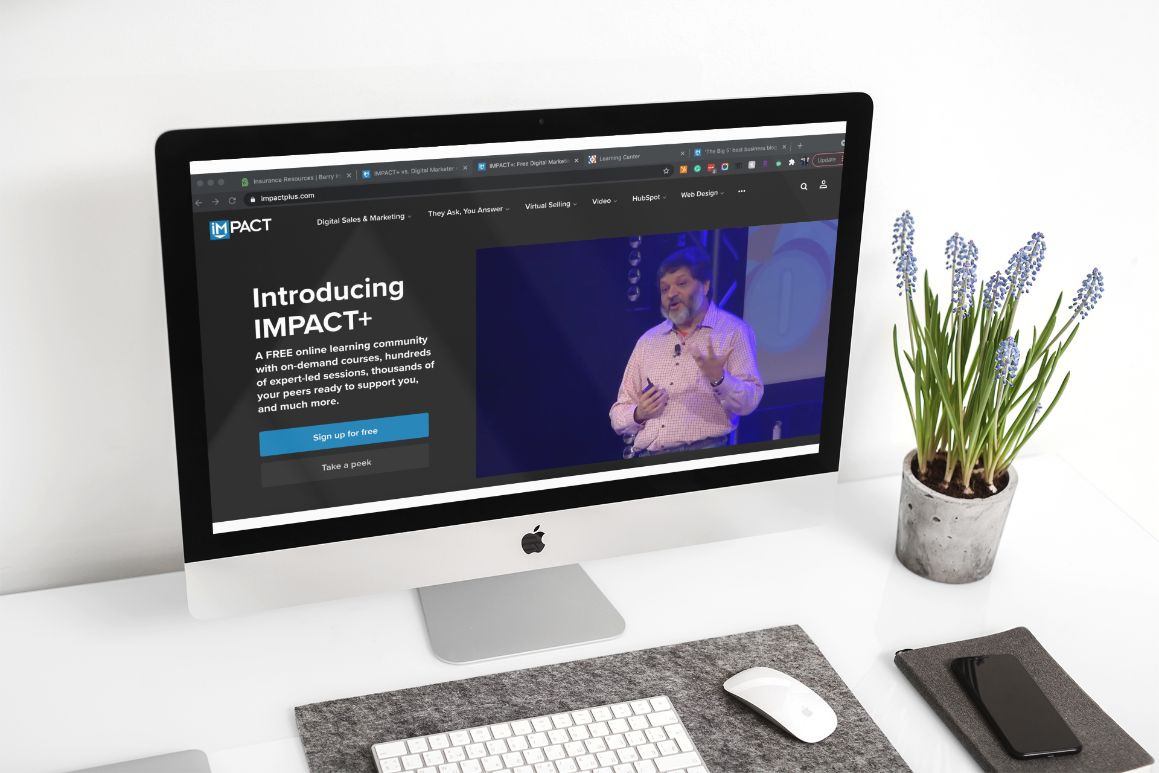 If you're searching for a learning platform to help you better market and grow your business online, you've likely noticed how overwhelming it can be.
There are so many companies out there teaching digital marketing skills, and it seems like each one has something different to say about what to do.
How do you wade through all that "marketing how-to" muck and find what will help you reach your ideal customers most effectively?
The good news: While the information, advice, and approaches surrounding marketing strategy can be just as diverse as they are confusing, there are also some incredible educational and subscription services out there that will simplify the process of wielding your to-be honed digital marketing skills.
And we're here to help point you in that direction.
Aside from our own learning platform, IMPACT+, we are often asked about whether or not DigitalMarketer and Business Made Simple are worth joining and how they're different from us. People tend to think they teach similar skills or provide the same value.
To save you from too much back and forth, we're taking out the guesswork and laying out everything we can tell you about these three options, including subject matter, types of subscriptions they offer, online communities, live events, pricing, and more.
🔥 Get started: Try a 14-day free trial of IMPACT+ today
Now before you say, "Hey, wait a minute. But you created IMPACT+," and walk away thinking this is just another ploy to say "Pick us; We're the best!," let's set the record straight.
While we are incredibly passionate about the learning platform we're building here at IMPACT and believe we are one of the best resources out there for learning how to apply digital marketing strategy to your business, we know we're not a good fit for everyone.
Of course, we'd love for you to choose us, but if you don't that's OK too. What means more to us is that you're able to make the best decision for you.
So without further ado, here is a comparison of the DigitalMarketer, Business Made Simple, and IMPACT+ learning platforms so you can find the best path toward building your digital marketing expertise.
DigitalMarketer
DigitalMarketer is mainly geared toward solo digital marketers or small to medium-sized businesses looking to enhance their digital marketing campaigns.
With a few different subscription options, the platform mainly teaches people the fundamentals of digital marketing as well as "how-tos" of commonly used tools and techniques. This includes "playbooks," or step-by-step checklists for using Facebook, Google Ads, and email follow-up campaigns, among others.
In addition to their library of resources for digital marketing newbies, they also offer plenty of subject matter for advanced digital marketers looking to up their game, like how to draft a multichannel marketing campaign or dig into analytics.
Underlying philosophy
DigitalMarketer is dedicated to being a one-stop for all you need to be a successful modern marketer and nothing you don't. As they state, "No theory, no fluff. Just the templates and checklists you need to get marketing done."
Also according to their website, they've tested several different marketing strategies and use their learning platform to pass on what they've learned to their subscribers.
DigitalMarketer especially focuses on high-impact, effective pieces of the digital marketing puzzle, like building pillar pages, launching podcasts, and creating compelling newsletters, so you can understand the fundamentals of each area and how to make it work for your company.
Courses offered
In alignment with their "one stop" approach, DigitalMarketer's courses, included with their two higher-tiered subscriptions, touch on a wide range of topics, including:
video-ad creation
creating content clusters
building product pages
You can purchase these courses for around $295 each if you're not looking to join the upper-tier subscriptions that include them.
In addition to a range of classes, workshops, and training resources, DigitalMarketer offers twelve certifications at $495 each, including courses focused on:
copywriting
content marketing
social media
and data and analytics.
They also offer a digital marketing certification for $999.
All of these courses focus on going deep into the topics at hand, so you can form the comprehensive understanding needed to apply them at your organization. These are the programs DigitalMarketer created to train their staff, which you can now access.
🔎 Related: Best digital marketing training resources for 2020
Mastermind groups
DigitalMarketer has a mastermind group on their Lab ELITE website page that is pretty exclusive and not accessible to general subscribers; it's a waitlisted, 100-member group that starts at $30,000 per year.
This is helpful for marketers who want to connect with others at the top of their game, bringing valuable insight to processes and offering helpful planning tips.
Community
Subscribers to Lab+ and Lab ELITE can enjoy a closed Facebook group where fellow Lab ELITE users can discuss their marketing efforts and questions online, providing subscribers with a platform to connect with and support others.
Events
As the primary partner and "Presenting Sponsor" of the yearly Traffic & Conversion Summit, DigitalMarketer helps drive the content programming and marketing initiative for this three-day, San Diego–based event.
Packed with keynote speakers like Gary Vaynerchuk, Daymond John, DigitalMarketer's CEO and founder, Ryan Deiss, and even a few celebrities, this digital marketing event can draw over 10,000 attendees. It benefits anyone who is looking to learn more about the latest business trends, strategies, and growth tips. It's also a terrific way to grow your network.
It's not clear on their website whether or not subscribers get discounted tickets, but you can check out the Traffic & Conversion Summit website for more details.
Subscriptions
There are three main subscription services available at DigitalMarketer:
1. DM Insider
The DM Insider subscription is a newsletter subscription built for solo marketers looking to gain access to general digital marketing tips and tools.
It's free to join and, other than signing you up for a weekly newsletter, this subscription option gives you access to over 40 of DigitalMarketer's marketing tools, templates, and audits.
2. Lab+
DigitalMarketer's most popular subscription, Lab+ includes everything you get with the Insider subscription, plus access to:
a library of over 30 marketing playbooks
one-day workshops you can play on-demand or watch live
a community of over 10,000 marketers
discount and deals on marketing tools
The focus with this subscription and its additional offerings is helping digital marketers check off those lists and "get things done." It moves beyond learning, delving a bit more into application.
3. Lab ELITE
The highest tier of subscriptions at DigitalMarketer is their Lab ELITE, which includes everything mentioned thus far in addition to personalized training and coaching.
This subscription works for companies and marketers who want access to courses and training in addition to personalized guidance tailored for your business. In other words, as you work through the self-guided courses, they have a team that can give you feedback as you go that is specific to your needs, goals, and team.
For this subscription service, however, you need to apply so they can be sure your business and its offerings are good fit.
Cost
The costs for subscribing to Lab+ and Lab ELITE can be a little confusing and show different figures based on where you are in the DigitalMarketer website. For example, this DigitalMarketer subscription pricing structure shows Lab+ at $95 per month and Lab ELITE at $295 per month.
But if you go to the Lab+ and Lab ELITE pages of the website, there is no price listed for Lab+ and Lab ELITE mentions two different types you can sign up for:
ELITE 90 for $2,995 per year
ELITE 365 for $4,995 per year
It could be that, at the time we're writing this article, DigitalMarketer is revising their offerings and rolling out some pricing changes—but be mindful of this if you wish to subscribe.
Free trials
Only the Lab+ subscription includes a free trial; you can try it for 14 days before having to pay the full amount.
Who is DigitalMarketer a good fit for?
If you're a small to medium-sized company or solo marketer looking to learn a lot of the "how to" of digital marketing tools and strategy, a DigitalMarketer subscription could be for you. This learning platform can be helpful at quickly getting your team up to speed about the different skill sets they need to build in order to accomplish all those business growth goals.
While I would say these courses are a better fit for people who are brand-new to content and digital marketing since they cover a lot of the basics, they're always adding new material.
The nice thing too is that with three different packages to choose from, you can sign up for the subscription level representing your ideal commitment and needs.
Business Made Simple
Business Made Simple's subscription service, also known as Business Made Simple University, is from the team behind StoryBrand.
It helps company owners understand essential leadership, marketing, messaging, and productivity skills they need to develop in order to grow their business through video courses.
The main focus here is teaching business owners everything they need to know to help their companies thrive by simplifying key business developmental processes in areas of communication, negotiation, emotional IQ, and more.
Underlying philosophy
Business Made Simple's core philosophy revolves around the StoryBrand framework, which is about improving your company's messaging and clarity using the basic elements of storytelling.
By understanding how your customer fits into the hero's journey of your business, wherein the hero (your customer) has a problem to overcome, meets a guide (that's you!) who offers a plan, and the hero engages in some type of action (buys your products or services) that helps them either succeed or fail in overcoming their problem.
Using this StoryBrand approach—developed by author and businessman Donald Miller—the Business Made Simple University subscription is aimed at helping you clarify your company's messaging (for both your customers and employees) so you can quickly and easily draw in your audience and sell to your customers or develop your teams and business structures more efficiently.
Courses offered
Although the courses offered are often updated and they plan to add more, there are currently eight courses currently available in both subscriptions.
Current offerings include courses like:
Every course comes with a few add-ons to enhance your learning, like complementary videos, downloadable workbooks, progress assessments, and scoreboards to help make the process a bit more engaging and hands-on.
Mastermind groups
Every year, several leaders from large organizations meet at Miller's home to discuss their challenges, failures, and successes. This is a time and place for high-achieving business owners to really dig in and learn from each other's experiences.
You can sign up to get notified about and sign up for these leadership events here.
Community
The only community access you gain through this subscription is if you train to be a Business Made Simple certified coach. This program teaches you how to hone your own coaching skills and teach others how to grow their businesses with the Business Made Simple approach.
In that case, you have access to other coaches to help encourage each other and offer coaching and training advice.
For regular subscribers, however, there isn't a community to join for discussing questions or to offer or receive peer support.
Events
Other than the leadership get-togethers at Miller's house, as mentioned prior, Business Made Simple University doesn't currently have any events listed on their site. It does say in the subscription notes that when you sign up, you'll be notified about any future events.
There are, however, a few events listed on the StoryBrand website, including a mix of private and live events centered around learning more about the StoryBrand framework and how to apply it in your business.
Subscriptions
There are two different subscriptions you can sign up for in Business Made Simple University:
The Individual Plan, for a single, personal account.
The Team Plan, for more than one member.
Both plans have access to all the same course materials. The difference is the team account lets you manage your team's progress and facilitate a little competition in completing courses.
Cost
There are two subscriptions, as mentioned before: "individual" and "team."
The individual plan is $275 for the year, and the team plan starts at $550 per year and increases for every person you add ($275 extra per team member).
Also, keep in mind that you can't subscribe to the programs on a monthly basis. It's a yearly subscription only, which might not be convenient for some.
Free trials
There are no free trials with Business Made Simple University, but you do get 24-hour access to unlimited courses and you can cancel at any time.
Who is Business Made Simple a good fit for?
Business Made Simple is great for business owners looking to get customers and team members to respond more effectively through clearer messaging by implementing the StoryBrand framework. This program helps you clearly understand your company's direction and lead your business better as a whole through better negotiating, team performance, brand messaging, and more.
IMPACT+
IMPACT+ mainly focuses on educating and training business leaders with a strong growth mindset—and their teams—about how to ramp up their digital marketing strategy and implementation.
We accomplish this with an online learning platform packed with on-demand courses, hundreds of expert-led training sessions, in-depth articles, online communities, and more.
Here's what IMPACT+ 's clean, easy-to-navigate platform looks like. As you can see, there is a lot to explore:
Underlying philosophy
The methodology we apply to digital marketing here at IMPACT+ is largely based on Marcus Sheridan's business philosophy outlined in They Ask, You Answer.
It's a unique approach to inbound marketing characterized by obsessing over answering your customers' and prospects' questions about your products or services in a radically open and honest way.
🔎 Related: What is They Ask, You Answer?
The idea is that if you're genuinely answering as many of your prospects' questions as possible, you're building trust while also educating potential customers about your products and services. This increases the likelihood they'll feel comfortable buying from you.
Courses offered
With dozens of actionable IMPACT+ courses, you'll learn everything you want to know about content marketing, video, virtual selling, HubSpot, and more with the They Ask, You Answer philosophy in mind. We start by teaching you the basics of They Ask, You Answer in a fundamental course named "Digital Sales & Marketing Framework for Today's Modern Buyer."
This course shows you how buyer behaviors have changed (did you know that 70% of a buying decision is made before a prospect contacts you?) and how They Ask You Answer can be used to grow every aspect of your organization—from sales, marketing, and leadership to product development and customer service.
Our guides in these lessons are experts in their field, and the topics they cover are clearly labeled as "beginner," "intermediate," or "advanced," so you can choose the appropriate level for where you are as a learner.
In addition to Sheridan's digital sales and marketing framework course we mentioned prior, some of our current course offerings include:
And while this list doesn't cover anywhere near what IMPACT+ has to offer for you now, keep in mind we also publish new courses regularly.
Mastermind groups
IMPACT+ Pro offers access to Mastermind Groups in IMPACT+ for content managers, sales managers, videographers, HubSpot users, CEOs and executives, and agency leaders.
🔥 Get started: Try a 14-day free trial of IMPACT+ today
Run by subject matter experts from the IMPACT team, these groups provide exclusive access to our experts as well as fellow IMPACT+ members. This can help you work through any challenges you're facing and to grow in your specific role. This also gives you the opportunity to meet with others in the same role who are implementing the They Ask, You Answer methodology and learn from each other's mistakes and share successes.
This can be an invaluable resource for those looking to grow by reaching out to peers and other like-minded professionals.
Community
IMPACT has also grown an inbound marketing and They Ask You Answer community that has over 8,500 members. Here, professionals consistently ask questions and share tips about how their digital marketing efforts are going—the good and the bad.
Another plus is that it is accessible directly in the IMPACT+ app, so you can leverage the community in the same place you're learning and don't have to go back and forth to social media or other platforms.
Events
IMPACT hosts a series of events throughout the year, with the most notable being Digital Sales & Marketing World (formerly called IMPACT Live) where nearly 1,000 attendees have gathered to learn from notable keynote speakers like Brian Halligan, David Meerman Scott, and Ann Handley.
IMPACT also hosts virtual marketing and sales events such as Digital Sales and Marketing Day and the Virtual Sales Summit, which have had more than 1,000 registrants.
Here are a few friendly faces from years past:
Subscriptions
IMPACT+ offers two subscription options:
1. IMPACT+ FREE
IMPACT+ FREE offers various on-demand courses, expert-led sessions, peer groups, and so much more. It's everything you need to plan your digital marketing strategy in one place, including:
A roadmap scorecard for tracking your progress
A range of courses covering the fundamentals of digital marketing
Access to community forums and group chats
Exclusive digital marketing resources
2. IMPACT+ PRO
IMPACT+ PRO is a more comprehensive plan offering all the learning benefits of the free subscription while also helping track your team's progress and take their understanding to deeper levels. This subscription will strengthen your team's experience with in-depth pro courses, monthly mastermind groups, and resources, including:
Everything included in the free plan
Team roadmap and scorecard
Pro courses
One private Mastermind Group seat
Pro resources, and all IMPACT event recordings

Cost
Each of our subscriptions has clear pricing on our website so you know what you're getting into. And if you're not ready to upgrade to PRO, always remember our free membership has plenty of incredible content to go around.
If you do find yourself interested in getting even more out of the IMPACT+ platform, you can always try PRO for a free 14-day trial with no obligation to commit. If you do decide to upgrade to PRO, you have the flexibility of paying monthly or annually.
Free trials
If you're not completely sold on the IMPACT+ PRO membership, you can always give it a try with a 14-day free trial so you can make sure the program is right for you before you fully commit.
Who is IMPACT+ a good fit for?
IMPACT is a great fit for sales, marketing, and leadership teams who are looking to grow their business by being the best teachers in their space and building trust. This is because our clients are active learners who believe that investing in training and building great teams is one of the keys to their digital marketing success.
🔥 Get started: Try a 14-day free trial of IMPACT+ today
IMPACT+ is also ideal for companies and marketers who want to go beyond the scope of learning digital marketing basics. While we do offer courses and education on fundamental skills, like what content marketing is and how to create an effective email campaign, our intermediate and advanced courses provide more of an in-depth learning opportunity for your team.
Things to consider when choosing a subscription
Now that we've outlined all the information we could share with you about these subscription services, you probably have a much better grasp of which one is the best fit for you.
Just keep in mind these are three unique subscriptions that can each help streamline and improve your digital marketing efforts in unique ways—they vary in the philosophies and methodologies that drive them as well as the skillsets they help you nurture.
All programs outlined here have merit, and they also each address a different aspect of your business:
DigitalMarketer helps you develop skills surrounding the various tools and tricks of the digital marketing trade
Business Made Simple helps you clarify your messaging in leadership, marketing, and productivity
IMPACT+ offers in-depth training around topics like using video in the sales process and creating a touchless buying experience on your website
If you'd like to learn more about what IMPACT+ has to offer, feel free to try PRO for a free 14-day trial. As we mentioned before, you can test it out with no obligation to commit.
At the end of the day, the best fit for you will depend on the specific needs of your team and business—and hey, you might decide it's all three!
Free Assessment:
How does your sales & marketing measure up?
Take this free, 5-minute assessment and learn what you can start doing today to boost traffic, leads, and sales.