Mindfulness: Why it's Our New Theme in Life and at Work This Summer [MarketHer Ep. 56]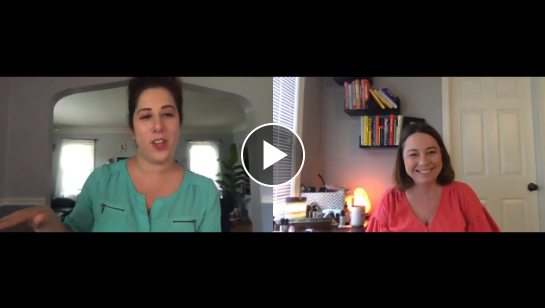 Angela and I aren't just MarketHer co-hosts, we're also friends.
Now, I'm not saying that to brag (because Angela is frickin' awesome) but because we find that our conversations revolve not only about work but around life, friends, family, vacations, and everything else under the sun.
Recently, we noticed that no matter what we chat about, there's been one common theme in all of our coffee chats these past few weeks -- mindfulness.
We dive into why this means so much to us and why we decided to focus the summer around this topic for MarketHer.
If you have a passion for this topic and would like to be a part of this show, complete this form! We'd love to have you join in on this conversation about mindfulness!


Mindfulness is defined on dictionary.com as, "The quality or state of being conscious or aware of something." or "a mental state achieved by focusing one's awareness on the present moment, while calmly acknowledging and accepting one's feelings, thoughts, and bodily sensations, used as a therapeutic technique."

I won't lie to you -- the definition of "mindfulness" is something that has scared me for a while now.
To me, it felt like this lofty goal of being absolutely, completely in touch with who I am at every moment of every day.

Even as I began a more purposeful journey (aka creating a vision board, reviewing daily affirmations, and so on), I never wanted to use the term "mindfulness" for fear that I wasn't doing it quite right.

That was until Angela began bringing it into our conversations and I started to realize that the idea of mindfulness isn't about being perfect. It's about being more in-touch with who I am. That's it.

And as I find myself getting caught up hectic days at work and busy weekends as the summer approaches, I know now, I need mindfulness more than ever.

I'm excited to discuss this new theme with YOU and with people, such as Angela and Chris Duprey (our Chief Operating Officer), to learn more about how I can be a better version of myself.

Now, Angela has a different reason for embracing mindfulness this season:
These last six weeks have been quite challenging for me as a team leader at IMPACT and as a mom of three kids.
I talk about it on the episode, but for those reading, let's just say a week and a half stay in the hospital plus another week of barely keeping things moving wasn't something I was planning for, but it happened.
I had to get back surgery, which was completely out of the blue. Then, in the weeks post-surgery, I forced to slow down.
For those who know me, this isn't an easy thing for me to do.
Every second of every day (aside from sleeping) is planned. There are no breaks when you work full time and have three kids.
There is no sleeping in or no moments on the couch locked into Netflix. You can't just pick up and meet up with your friends for happy hours or last minute weekend getaways.
Every single thing is planned out way in advance.
I realized during this forced quiet time, however, that my family AND my team can achieve a lot without me feeling like I need to be involved OR in control of everything.
I am learning to let go and be present, but I need help with learning how to do that, which is why we are focused on this topic.
Needless to say, this theme is something that means A LOT to us and we need your help!
If you have a passion for this topic, please complete this form for the opportunity to be a part of this season and our show!
Join us in our Facebook MarketHer Group to continue talking about opportunity!
As always, if you have some tips, email us at markether@impactplus.com. We will share it on our Facebook page!!
Listen to the Episode on iTunes
Stay Connected, Get Engaged!
First, subscribe to MarketHer on iTunes.
Second, have a question or an idea for a future episode of the podcast? Let us know by commenting below, subscribe to our playlist on YouTube, connect with us directly on our channels below, or send us an email.
Angela: LinkedIn, Twitter, Instagram
Kate: LinkedIn, Twitter, Instagram
[NEW] MarketHer Official: Facebook, Instagram, Twitter (also Snapchat IMPACTMarketHer)
Or, you can leave us a comment below! Until next week...
We Listened, You Heard, Now, Go MarketHER!

Free Assessment:
How does your sales & marketing measure up?
Take this free, 5-minute assessment and learn what you can start doing today to boost traffic, leads, and sales.