5 most common problems with working with a video production agency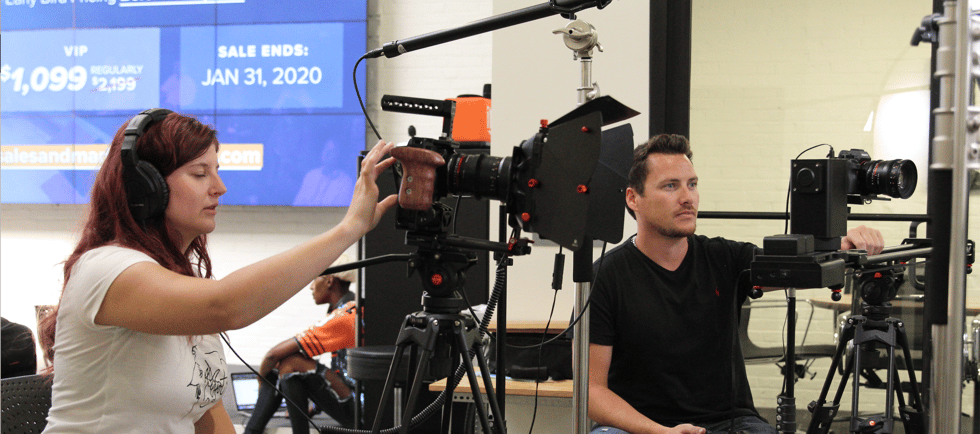 February 25th, 2020 min read
When businesses turn to production agencies to collaborate on video creation, they usually treat it like a DIY home improvement project.
Someone owns the project then finds themselves in over their heads, completely underestimating the amount of work required for the job.
They "fake it 'til they make it" right up until they produce a mediocre end deliverable that no one is actually happy about.
Looking at this situation, my man John Goodman said it best:
Recognize that if you're a marketer in a small or mid-sized business that's about to collaborate on some slick video projects with a video production agency, then you are most likely "out of your element, Donny."
You don't know the right questions that should be asked throughout the process or the creative decisions that you should have defined.
And frankly, the list of problems might be longer than you realize.
We at IMPACT fit the description of a "small production agency." The majority of our client content has been created by only two people:
Alex Winter, our Creative Director
Megan Lang, our Lead Video Editor
I'm biased, but I love these two. They've made some amazing, effective content together with our clients:
And they are proof of the quality outsourcing your video production can result in, but there are still problems you can face.
1. Long creation process
Now, this is something you may run into with a production company of any size, big or small.
There's an estimated timeline from when a client makes initial contact with a video production agency to when a final product is being delivered (and everyone is popping bottles and/or high-fiving).
However, that estimated timeline is likely longer than you think it is for many reasons.
For one, the planning and pre-production process usually begins with one person acting as the touchpoint to the production agency.
If pre-production is done sufficiently to ensure a deliverable that's properly aligned to your expectations from here, then there are usually anywhere from 3-6 meetings that need to take place.
These meetings usually are scheduled weeks apart and require much more prep work on your part, including example videos, creative asset gathering/sharing, internal coordinating and decision-making about who will be a part of the video.
Then, even after pre-production and the production itself takes place, you're on to the last stage of the creation process, which is (almost) always the bottleneck of every production agency: post-production and editing.
Many editors are consistently backlogged with other projects, since it takes the longest time relative to every other stage.
Editing also often requires a minimum of 2-3 revisions. The back and forth communication between you and the agency via email usually is several weeks more of time and effort.
God forbid that you have more than a few people in your organization that all need to approve the video. Then you're tracking down your own people, trying to get feedback on each draft.
This long timeline can delay initiatives or other campaigns that rely on the content.
It also means that your team cannot create agile content that responds quickly to news or updates. The videos have to be fairly evergreen and not time-dependent.
The last thing you want is to start the pre-production of a video that's obsolete by the time you actually get it.
With all of this in mind, quality agencies, small or large, must often be contacted 6-8 months at a minimum before a final video is needed.
It also requires you and your organization to do much of the heavy lifting as far as planning and articulate communication goes.
This brings us to a related problem…
2. Limited bandwidth and scope
No one wants to feel like they're rushing their project just to hit a deadline.
You want a PERFECT deliverable, not a "this is all we had time for" video.
The challenge with video production agencies is that you only have a certain amount of pre-production time allotted to define your goals as possible.
Agencies of all sizes likely have multiple client projects they're juggling at once.
So, they will likely have to limit the amount of time given in pre-production to understand your objectives and vision. This could lead to deliverables that only partially fulfill expectations.
The solution?
Generally speaking, this means that you should be allocating ample time with your internal team to define exactly what you want.
If you want a video to look, feel, and accomplish what you're hoping it will, it's more dependent on your team being able to articulate those variables than it is for the production team to extract them from you.
Don't get me wrong, the success of video planning and pre-production is not solely on your shoulders as the client.
However, I believe it's important for clients of video agencies to recognize that this burden is again more on the client than the agency, especially when the client recognizes that the agency's scope is small and within multiple projects at once.
You don't want to be spending money on a video that is doomed to be ineffective from the beginning.
3. Video equipment limitations
This may sound obvious to some, but the equipment used to produce videos makes a BIG difference in the quality of output and when working with a small agency, in particular, this can be become a concern.
Many small agencies don't always own the equipment used to produce the videos they make.
They will commonly rent gear on a "per-day" or "per-week" basis, which means you can't really know for sure what tools will be available for use on your projects.
This is why it's become important to ask for examples of previous work created with the same audio/video/lighting equipment that will be in use for you.
Moreover, not only do you want to be confident that the right quality of production equipment is going to be used for your production, you also want to make sure that the team has sufficient experience with the gear being rented or used.
When a team rents new or unfamiliar equipment, they may not know how to use it most effectively or may need some time to get acclimated to it. All of these changes can add variables to the quality of production you may experience.
Which brings me to the fourth problem with small production teams…
4. Changing talent pool
How do you know that your team is experienced not only with the gear, but also with each other?
It's very common for agencies, especially smaller agencies, to fill the additional required hands on a shoot with freelance video professionals.
Small agencies commonly do this particularly when the agency is not local to your business.
If your company is asking the agency to travel for production, it's more cost-effective for the agency to hire local freelancers before they fly a second cameraperson out with them, among other things.
Now, this isn't inherently a bad thing. Freelancers can be a smart way to keep costs low for the agency and (hopefully) therefore, for you.
The problems arise when the team being contracted to produce your content have different experience levels.
Freelancers are typically chosen based on convenience, availability, and cost long before the level of team compatibility is considered.
This sets up a variability of quality that you don't want to allow to show through on your end deliverable.
Particularly, if you've made multiple projects with the same agency, you will want the same hands working on your content to maintain consistency across creativity and expertise.
The same can be said if the crew working on your project hasn't collaborated before.
There's a real collaborative rhythm required on a shoot to make near-perfect content, and that rhythm requires a serious level of understanding; A gelling between all involved.
It's important to ask if the agency has worked with the freelancer(s) in the past, and how often. Asking for example footage that was created by the same team is a smart idea.
If not, you're going to start to feel like the agency is acting as the "middleman" between you and local freelancers for hire.
5. High cost-per-video
When you combine both the time and money investment that is required to create each video with an agency, you're looking at a big-ticket cost no matter how you cut the cake.
The cost of using an agency 3-4 times each year is equivalent to hiring an effective videographer in-house (starting at roughly $45,000 salary plus benefits), but minus the flexibility.
When your video production is in-house, you have more control over the whole video creation process, and are more likely to be working on the same timelines and schedules.
Your resources are also less likely to have to be divided with other projects or clients, as they might be with outsourced teams.
This undivided attention gives you the flexibility to create more videos without spending more, something not possible when outsourcing.
Every organization wants to save money.
Knowing this trade-off and what you could potentially be doing with the same resources, you must have a very clear purpose for working with an agency rather than producing in-house.
There must be a distinct reason why outsourcing is required for each specific piece of content, because this process is expensive, unscalable, and time-consuming.
Hopefully, only videos that require exceptionally high production value which will be able to be used for 3-5 years (at least) are outsourced at this point.
How to avoid common problems when outsourcing your video content
Now, the "problems'' I mentioned don't automatically spell disaster for your deliverables. In fact, many of them might not even come up!
However, it's important to recognize they could be the thorn in your production's side and then do as much as you can upfront to avoid it.
Then, once you decide that it does make sense to outsource a video to a small production agency, asking these questions can help avoid potential issues:
How will communication work?

Who will our team be communicating with during planning and pre-production?
How much time will we have to articulate our objectives and vision together? And how will we easily be able to communicate with the team when we need to?



Are there any extra costs we should be aware of?

What are the ways that this project could have extra costs throughout the entire creation process?
What extra planning and preparation can we do to minimize costs along the way?



Now that you know the scope of our project, what is the best and worst-case scenario of a timeline for receiving our final deliverables?


What equipment are you planning on using for our products and why does it make sense?

How often have you used this equipment in the past and do you have any examples of client work created with the same gear list?



Are you going to be requiring freelancers and, if so, how much production time has this team spent together in the past?
These questions will help to avoid misaligned timeline expectations.
They will shake out any potential grey area with the project's final cost. They will give you as much control as possible over the people and equipment being used for your production.
Above all else, they will show the agency that you mean business. You're educated in the video production world and there's no wiggle-room for corner cutting.
You badass, you.
When you should outsource your video production
Now, to be clear, ultimately, I do believe that most video should be produced in-house.
No one knows your company, your vision, and your goals better than your own team.
But there are times for amazing, high-production videos with a third-party.
Some objectives are too unique or advanced and require the expertise and focus of an agency dedicated to video production.
When you are deciding whether or not a video makes sense to outsource, ask these questions:
What is the difference in the benefit that I will get from this video being produced by a third-party compared to our team doing this internally or with a freelancer?
Why can we not produce this in-house to create lower-production content that gives a similar level of value to the viewer?
Will we continue to need additional videos similar to this one in the coming years?
Will this video be able to be used for many years to come?
If all your answers point to outsourcing and want to work with a team that understands the common problems we shared (and how to avoid them), then reach out to IMPACT's video production team. We'd love to help bring your video vision to life.