4 Secrets to More Professional Videos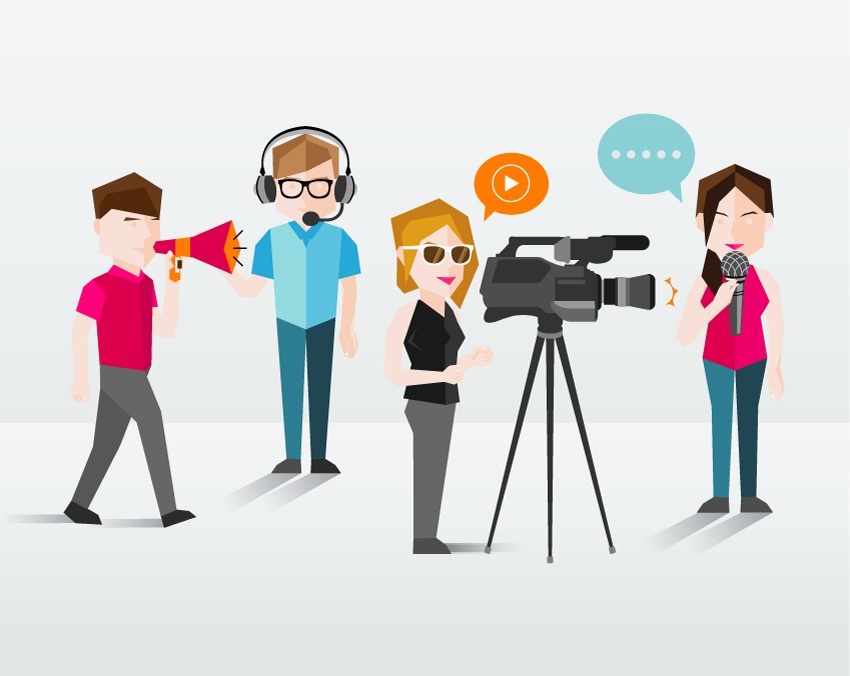 As many companies begin their transformation into a media company, they often experience the drastic learning curve that comes with creating video content.
Although you may feel like you're stuck in the middle of this learning curve, these 4 tips for creating more professional video content should save you some strain.
These are techniques that, at The Sales Lion, we work with our clients to develop and they have proven to dramatically improve video quality and confidence quickly.
We're going to be covering areas of beginner to intermediate skill levels, so anybody could take something away from this.
Tip #1: Avoid Shaky Footage
Have you ever watched a video and the person filming just couldn't keep the subject in frame? You probably got so frustrated, you wanted to just give up watching.
This is not the viewer experience you want to give you audience.
Now, shooting handheld footage, in some cases, works really well and can be an effective way to move your audience in an emotional direction.
Unfortunately, when it comes to shooting your business videos, this may not be the best style to take. The fact is, shaky footage looks amateur, and although you may be a beginner, your videos shouldn't reflect it.
Remember, videos are an important touchpoint with your brand and achieving that clean, professional look in them will build credibility and trust.
No Tripod, No Problem
There are a couple manual techniques you can use to avoid shakiness while shooting your videos:
T-Rex Arms

- Take the camera with both hands, and bring your elbows into your body just under your armpits and the camera close to your chest.

Human Tripod

- Use your surroundings as a place to rest your elbows. Find the ideal height for your shot and spread your legs about shoulder width apart to form the "Human Tripod."
Stabilizing Gear
Ok, so you have techniques for when you're on the go with little equipment, but sometimes, you need gear to give you that extra edge. What should you get?
Monopod

- Ideal for almost every scenario, a monopod allows you to move quickly and set up quickly. A monopod is simply a tripod but with only one leg (hence the name monopod). It's almost like a selfie stick that stands on its own.

Tripod

- This is the most common of all stabilizing gear, and a great tool for all types of situations; Interviews, close-ups, time-lapse just to name a few.

Gimbal

- A mechanical device that gives an object, such as a camera, the ability to rotate around a single axis. In simple terms, it's a device that allows you to attach a camera and with the right calibration, that camera will stay centered and fixed on a single plane.
#2 Capture Great Audio
Many can tolerate poor video quality, but poor audio is very distracting.
Investing in some simple audio equipment and using the proper techniques, you'll avoid irritating (or rather ear-itating) your viewer and make an optimal video experience.
Most smartphones now shoot video at 1080p if not 4k quality, however, they do not always have the best microphones.
Some inexpensive microphone options for your smartphone are:
Ampridge

MightyMic S iPhone Shotgun

Video Microphone
Alternatively, if are using a Prosumer or DSLR camera, you may want to try some more sophisticated audio equipment, which captures a greater range of sound and also improves clarity and depth.
Some microphone options for a Prosumer/DSLR camera are:
Sony UWP-D11 Lapel

Microphones

Sennheiser ME66/K6 Condenser

Shotgun Microphone
Other things to think about when it comes to your audio:
Watch out for windy days

Turn off any heaters or fans before recording

Stay away from roads with high traffic
Even birds in the background can be annoying 2 minutes and 27 seconds into your awesome video.
Make great audio incredible by playing with these settings in post production:
Make sure you are filling both audio channels (left and right)

Add some bass to the voice

Adjust the gain

Watch out for peaks and valleys
#3 Get Comfortable on Camera
Unfortunately, most employees you have were probably never trained how to act on camera.
Most don't understand the importance of a smile, head position, or what to do with your hands, but with a little bit of practice, it's amazing how anyone can transform into a powerful media voice for your organization.
Use these four techniques to instantly improve your camera presence:
Start every video smiling.

It's impact on your energy, and what the viewer perceives, is critical.

Keep your chin up when you speak.

It's a subtle way of keeping your body open and increasing overall camera presence. It also conveys confidence.

Maintain a very "open" position with your body.

Arms out– almost as if you're saying "Welcome!" to the viewer.

Pace your words when appropriate.

Specifically, slow down so as to emphasize your greatest points.
#4 Create Infinite Backgrounds
One small, but effective way to make your video appear more professional is to film on a clean, simple background. This keeps the focus on you and also creates that "studio" appearance.
There are several ways, as well as budget levels, you can use when trying to create these backgrounds.
Background Set Up
The first thing you are going to need is something white (or any solid color) to use for your background. (For instance, this backdrop system called Impact Background System Kit which retails for around $220.)
You could also use photo paper, a bed sheet, or even a plain wall if you know the tricks to use during post production.
A couple pro tips that we figured out with our background system are:
Take the time to iron your backdrop, or use a steamer once it's set up.

Make sure to have plenty of spring clips to secure the fabric and keep it tight.
Lighting Set Up
Now, lighting. This is one of the most important parts of pulling off this professional video or photo technique.
You need very bright lights that "blow out" your background, or in other words, create the effect of infinite depth. They need to be bright enough to shine on the entire background system. If not, you may want to add some

spill lights

into the mix.

Make sure you have good lighting for your specific subject. Remove any harsh shadows from the face or body and ensure that your subject is far enough away from the backdrop and that light is focused on the backdrop itself to prevent shadows. "Good lighting" can change depending on the person. Different skin tones, heights, etc. can all affect this. So make the necessary adjustments every time you film.
Camera Set Up
You can, of course, use almost any type of Prosumer or DSLR camera to shoot these types of videos, but there are a couple major things you will want to adjust depending on your setup:
Try manual focus over autofocus. Sometimes your camera may have a hard time focusing on the subject when using a bright background, especially if it's white.

Bump up your

exposure

in your camera settings to ensure the background is "overexposed," creating depth. I suggest you always white balance your camera before you start this process.

Make sure you have enough distance between the subject and your camera, but keep the background fully in frame. The result will be a subject that is in focus with proper lighting and an overexposed "infinite" background.

Zoom in on your subject to get a quality focus, or if possible, use the focus assist built into most cameras.
Start Filming!
With just a little bit of practice using these tips, and maybe some trial and error, you'll be on the fast track to creating impressive video content on a budget.
At The Sales Lion, we've learned many of these techniques by making mistakes and adjusting and you'll likely experience that type of growth as well.
In the end, remember, it's the quality of the information within the video that is most important. All of the videography techniques in the world won't make your content more valuable.
Take your time in the concepting phase of the video production process, and then use these techniques to make your finished product more impressive.
Free Assessment:
How does your inbound marketing measure up?
Take this free, 5-minute assessment and learn what you can start doing today to boost traffic, leads, and sales.
Get Started
Free Assessment:
How does your inbound marketing measure up?
Take this free, 5-minute assessment and learn what you can start doing today to boost traffic, leads, and sales.
Published on April 11, 2017