The Selling 7: How To Create Customer Journey Videos (+ Examples)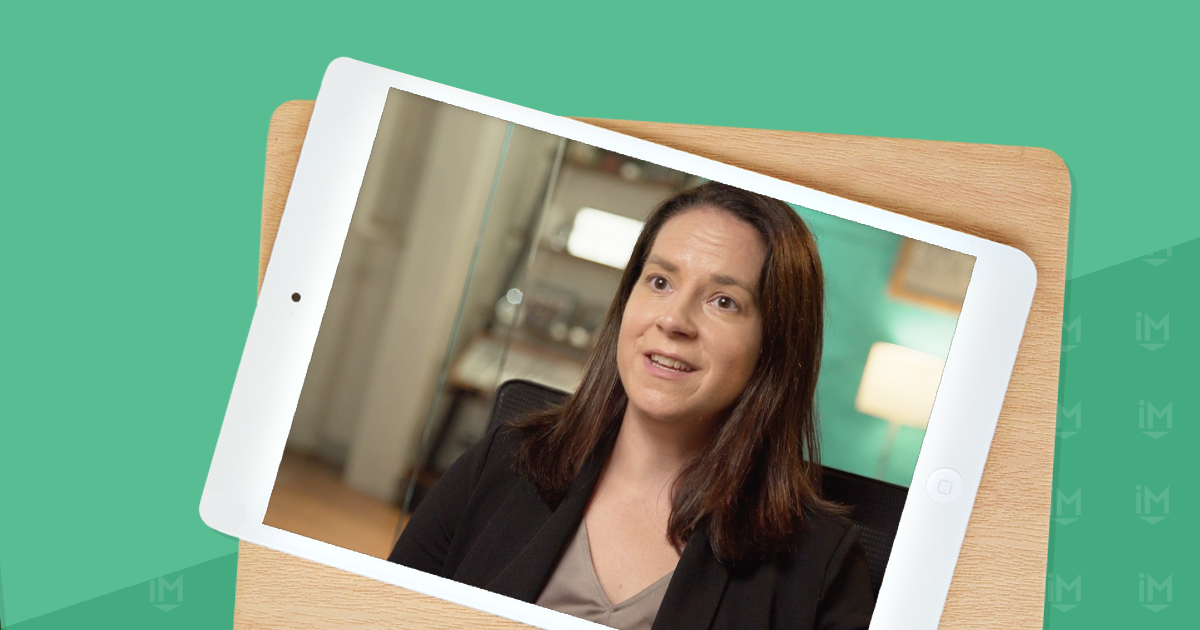 Most of us already know that featuring client testimonials and social proof on our websites helps potential customers make their final decisions to buy. In fact, 72% of consumers say positive testimonials increase their trust in a business, and 58% are more likely to convert if they read positive customer reviews.
That's a powerful outcome resulting from a simple recommendation.
There is one approach to testimonials, however, that is more pointed and effective at inspiring potential clients to work with your business than your typical run-of-the-mill testimonial.
These videos, which we call "customer journeys," are testimonials that are set up and filmed in three specific parts and are designed to draw your audience in faster and build even more trust with your prospects.
Part of The Selling 7 and described in The Visual Sale, these videos make it extremely easy for prospects to imagine themselves working with your business.
In this article, we're going to share with you:
What customer journey videos are and how they go a step further than general testimonials.
How to make the perfect customer journey video that builds trust with your prospects.
Seven incredible examples of customer journey videos done right to inspire you when making your own.
This way, you can eliminate all the guesswork from what it takes to create powerful video content for your website.
Here's what to know.
What customer journey videos are
When we think of customer testimonials, what often comes to mind are loyal customers raving about your business and sharing how wonderful you and your team are. But if we don't approach them the right way, these types of testimonials can come off as boastful and inauthentic.
Customer journey videos are a bit different. They use an age-old storytelling technique — the hero's journey — to draw audiences in and help them empathize with and see themselves in your customer's shoes.
This storytelling method has been used for millennia, and for good reason: It has proven to be a successful formula for engaging people and building empathy. When the hero (in this case your client) overcomes their biggest obstacle, it shows the world that their success in overcoming this obstacle is possible.
These videos make it easier for us to relate to and imagine ourselves succeeding like the hero in these stories.
Or, in other words, it makes it easier for prospects to envision themselves solving their biggest problems by employing your business to be their guide — the entity in charge of making sure your client's needs are met.
How to make a customer journey video that builds trust with your prospects
Traditionally, the hero's journey is a drawn-out, 12-step journey meant for longer, complex works (think Star Wars and Lord of the Rings).
But customer journey videos simplify and condense the conventional hero's journey into three major parts:
The problem — Where the client explains all the needs, stresses, worries, concerns, or issues that you've helped them solve. This is the reason why they contacted you in the first place.
The journey — This is the story or journey the client (and hero) embarked on with your company (the guide) to help them solve their problems.
Where they are today — This shows that, with your help, your client was able to fix their problem and now all is well.
To create these videos, ask a satisfied client to help you by allowing you to film their story. Most clients will be more than happy to share what it's like working with your business. Some might say "no," but that's okay. If you keep asking, you will eventually have more than enough who say "yes," and before you know it, you'll have a persuasive collection of customer journey videos to offer prospects.
The goal is to have your audience walk away thinking, "That client/company/person is just like me, and look how this business helped them solve their issues. I bet they will help me too."
Now that you know how customer journey videos are different from typical testimonials, here are some examples that will inspire you to create your own.
Example of customer journey videos we love
We've broken down each of these videos to explain the customer journey building blocks. This way, you can clearly see how to include all three parts of the hero's journey to generate your own effective testimonials.
1. La-Z-Boy: Jean in Savannah customer journey
IMPACT client La-Z-Boy Southeast published this customer journey video detailing how the furniture design and purchasing process unfolded with their longtime customer Jean.
Not only does this video make use of the hero's journey, but Jean does an incredible job making her journey into a personal story.
Why this video works:
Explains the client's problem: The client's furniture didn't work in her new home.
Shares the client's journey: The designer worked with her to figure out a design and layout she loved — but in a helpful and non-salesy way.
Describes where the client is today: The homes in her development all have the same layout, but she feels she's done the best with the space out of everyone. She has also sent friends and family in to get the same service!
2. CultureWise: Rita's Italian Ice customer journey
CultureWise, another IMPACT client, recently worked with their customer Rita's Italian Ice to help them foster a better work culture and environment for their employees.
Here is what Linda Chadwick, the vice president and CEO of Rita's, had to say:
Why this video works:
Explains the client's problem: When Linda first joined the organization, she realized the company had a culture she and the leadership team didn't feel was right.
Shares the client's journey: The senior leadership got together to brainstorm the fundamentals of the culture they wanted to see at Rita's. They also maintain this culture by using the CultureWise app.
Describes where the client is today: After using these fundamentals to recruit new employees, and the app to keep those fundamentals front of mind, the company has formed a culture they love that is easy to reinforce and has become second nature.
3. IMPACT: Berry Insurance customer journey
Berry Insurance is a Massachusetts-based insurance company that helps clients find the right policies for their needs (flood, car, life, etc.).
We filmed a customer journey video about what it's been like for Berry Insurance to work with our team at IMPACT.
Why this video works:
Explains the client's problem: In 2018, President and Co-owner Kaitlyn Pintarich felt overwhelmed by the marketing needs of the business. The company tried working with an agency, but the results weren't generating enough revenue.
Shares the client's journey: She worked with IMPACT to hire a content manager and videographer, in addition to getting their strategy in place using They Ask, You Answer.
Describes where the client is today: They've experienced so much growth in viable business that they're hiring new accounts managers and more employees for the marketing team.
4. Fire & Ice: Jonathan's customer journey
Here, we share a customer journey video from IMPACT client Fire & Ice.
In it, Their customer Jonathan shares how his new HVAC system took their old home from being far too hot or cold to always comfortable — all while being guided through the process by helpful, experienced staff.
Why this video works:
Explains the client's problem: The customer, Johnathan, had an HVAC unit that would either run too hot or cold. And even worse, it quit working on one of the hottest days of the year. But he wanted to make the best buying decision possible and didn't want to just go with any company.
Shares the client's journey: Jonathan explains how smooth the process was when working with Fire & Ice, including how they took time to properly install the unit and ensure the ducts were working properly.
Describes where the client is today: Johnathan and his family are more than happy with the unit and service. They have better airflow in their home, and with the advanced technology they installed, they can adjust the comfort of their home from their phones.
5. California Pools & Landscape: The McDermotts' testimonial
When the McDermotts needed to overhaul their backyard, they consulted IMPACT client California Pools & Landscape.
With impeccable design and service, the couple is now more than happy with their new space.
Why this video works:
Explains the client's problem: The McDermotts work stressful jobs and wanted to have their very own backyard oasis. They wanted to create a space where they could relax and feel like they were on vacation.
Shares the client's journey: They explain how the process of working with California Pools was easy and the designers immediately got the layout of what the McDermotts wanted. They also mention how the company took care to work in some of the natural landscape in their design and fix quality-control issues before the clients even brought them up.
Describes where the client is today: These happy clients are enjoying their backyard, which feels like a vacation to them. They also enjoy sharing the space with their (envious!) friends and family.
Other customer journey video examples
These customer testimonials we found insightful are from businesses other than IMPACT or our clients, but they follow a similar three-step, hero's journey format.
6. HubSpot: Endless Entertainment's customer journey
HubSpot is one of the best CMS companies out there. We use the platform ourselves and often recommend it to businesses looking to take control of tracking their website, marketing, and sales growth.
Here is a customer journey video where Endless Entertainment, an event production company that serves an impressive roster of clients (such as Amazon, Microsoft, and iHeartMedia), explains how HubSpot has taken its marketing efforts to the next level.
Why this video works:
Explains the client's problem: The company was having trouble keeping track of all its blogging efforts and wasted a lot of time spinning wheels trying to tie its inbound marketing to an actual ROI.
Shares the client's journey: With video-based integrations in HubSpot, such as Wistia, Endless Entertainment can now see when people are clicking links and even which parts of their videos are routinely skipped or rewatched. As a result, the company is able to market to their clients more effectively.
Describes where the client is today: The client used to beg people to give his entertainment company a chance. After using HubSpot, however, his company is now sought after and growing.
7. Drift: ThriveHive's customer journey
ThriveHive is a marketing and software company devoted to helping businesses exceed their outreach and revenue goals.
In this customer journey video, the company explains how using Drift's chatbot technology has helped them increase their ability to speak to customers in real-time.
Why this video works:
Explains the client's problem: They needed to find a way to decrease the time it took to respond to customers.
Shares the client's journey: With Drift, they were able to use chatbots to engage immediately and answer customer questions faster, while their service was still top-of-mind, versus having to wait days.
Describes where the client is today: Now, the client is closing three times the deals.
Use customer journey videos to show people why they want to work with your business
By now, I hope that you can see how powerful these customer journey videos can be. Having your happiest clients share their experience working with you can be extremely persuasive — especially for potential customers who are sitting on the fence.
Take the next step toward creating customer journey videos by learning more about The Visual Sale or taking our IMPACT+ course Crafting 'Selling 7' Videos That Convert.
When you're ready to begin, schedule an appointment with one of our advisors who can walk you through how to alleviate your marketing challenges and help grow your business with video.
Customer journey videos help build trust with prospects and show how incredible it is to work with your business — so don't wait to make use of these highly effective videos, start making them as soon as you can.
And happy filming!
Free Assessment:
How does your sales & marketing measure up?
Take this free, 5-minute assessment and learn what you can start doing today to boost traffic, leads, and sales.