Subscribe
Join 40,000+ sales and marketing pros who receive our weekly newsletter.
Get the most relevant, actionable digital sales and marketing insights you need to make smarter decisions faster... all in under five minutes.
Thanks, stay tuned for our upcoming edition.
Vidyard vs. Wistia for Video Hosting in 2022: Which Is Better?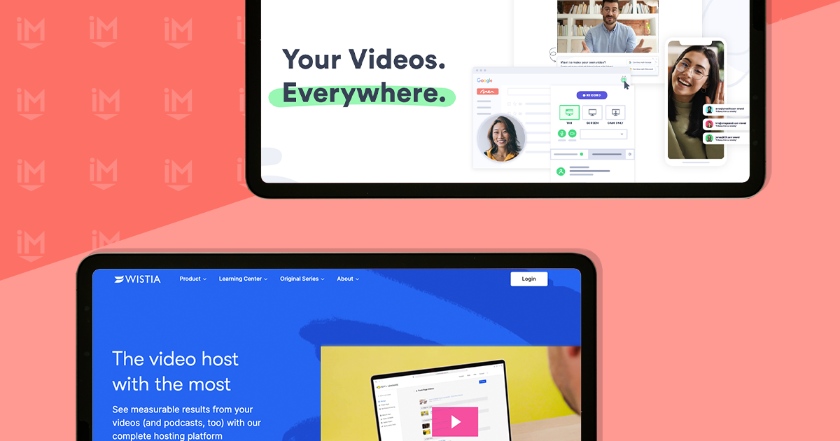 Video has emerged as a must-have asset for today's growing business. The medium offers a better way to tell your story, educate buyers, and build a more personal and trusted connection with clients.
Video remains a critical component of brand marketing and social media, but that's no longer its only function. Savvy businesses are using video in virtually every aspect of marketing, sales, and customer service.
But to do so effectively, you need the right tools and platforms that are trustworthy, high functioning, and easy to use.
As the use of video accelerates and expands, video platforms like Vidyard and Wistia are taking the place of consumer-grade video hosting services like YouTube and Vimeo.
However, different video platforms offer different pros and cons, and I often hear growing companies ask about the differences between Vidyard and Wistia.
While both solutions offer cloud-based video hosting, global content streaming, and video analytics, there are some big differences for businesses that want to truly embrace video as a better way to communicate.
Now, before I get into the details, know that at IMPACT we've chosen to use Vidyard for our video hosting. This is not a sponsored or promotional post — I just want to clearly convey up front that in the choice between Vidyard and Wistia, we've chosen Vidyard.
So, what follows will be a blend of review and opinion. You'll get a good idea of why we've chosen Vidyard, but I know that it might not be the best option for your needs.
Below I'll cover seven key areas, from our perspective, where Vidyard differs from Wistia, and what those differences could mean for your business:
Automatic optimization
Enhanced engagement
Video analytics and CRM integration
Sales and service team opportunities
Enhanced lead generation
Personalization
Support and scalability
Now, let's dive into some details so you can learn more about how these platforms stack up.
Platform overview
Vidyard is, according to its website, "key to making remote selling easy. From prospecting to proposals, record and send videos that add a personal touch at all stages of the sales cycle." With Vidyard you can record videos from your webcam, do minimal editing, and send videos in emails or Slack messages.
But it's not just sales videos. Vidyard also allows you to embed marketing videos where you please, and they offer cookie tracking for better analytics.
Wistia brands itself as one easy-to-use platform that turns your videos and podcasts into marketing machines.
Wistia is primarily a marketing video hosting platform that provides a slew of features and tools to make those videos sing.
When it comes to 1:1 videos for sales, Wistia offers Soapbox, a correlated tool specifically for this function. However, you need subscriptions to both.
Note: While this article focuses on these two platforms, there are others you might consider as well. Loom, Hippo, Twenty-three, and others might be worth checking out, depending on your needs and budget.
But for now, let's look at how Vidyard and Wistia match up.
1. Automatic optimization
Both Vidyard and Wistia make it easy to embed videos on any page, add a customized call-to-action (CTA), and track engagement rates.
In our experience, however, Vidyard goes beyond this to further optimize your videos to get more people watching and to generate more conversions.
To do this, first, Vidyard automatically transcribes the audio from each video you upload and embeds the transcript, along with all the other video metadata, on every page where that video is embedded to improve your SEO.
There is no manual intervention required; it's all automated.
As more people land on your pages, Vidyard will also automatically split-test different thumbnail images to help you identify the splash screen that produces the highest click-through rate (CTR) to maximize views and engagement.
2. Enhanced engagement
Now that you've got more people watching, Vidyard makes it easy to add interactive annotations, lead generation forms, and customized CTAs to help generate your desired conversions.
While Wistia also offers CTAs, Vidyard's expanded capabilities give you more flexibility and more conversion opportunities throughout the entire playback experience.
You can even create dynamic 'choose your own next step' experiences, but more on that later!
Now that your video is working harder on its main embed locations, Vidyard helps you drive even more engagement by publishing that video to a custom-branded Video Hub — like your own YouTube channel, but custom-branded on your own website.
This enables your sales reps to send prospects directly to your hub via email, social, HubSpot, Salesforce, and other apps using Vidyard.
Vidyard even helps you create versions of your videos that can be personalized for each individual viewer to drive up click-through and engagement rates, which I'll explain more later.
This all adds up to ensuring your videos get the attention they deserve so you can get the most value from your content.
3. Video analytics and CRM integrations
If your team uses a marketing automation or CRM platform such as HubSpot, Pardot, Salesforce, Marketo, Act-On, or Eloqua, this part is of particular importance.
Vidyard and Wistia both offer integrations with all of these platforms to help simplify how you add videos to your marketing workflows and sales outreach, to provide actionable insights on who is engaging in your video content, and to help you report on the true ROI of your video content.
The takeaway here is that if you're looking for a video platform, making sure that your favorite tools are supported with a full two-way integration isn't just a nice-to-have — it's pretty much mandatory.
In the past, Vidyard powered HubSpot video, but HubSpot has (as of February, 2022) provided its own hosting tool.
With regards to video analytics, no matter which of those marketing and CRM platforms you use, Vidyard enables you to track which videos each of your known contacts are watching and to use those insights within your marketing workflows, lead scoring, and CRM applications.
This helps you qualify leads faster, trigger immediate actions based on video viewing activities, and report on how videos are contributing to pipeline and revenue growth.
While Wistia also provides video viewing insights within HubSpot Marketing Hub and Pardot to support lead scoring and workflows, Vidyard synchronizes with the HubSpot CRM and Salesforce to give your sales team the insights they need to close more deals.
It also provides your marketing team the reporting they need to tie video views to customer accounts and closed deals.
For those using Marketo or Eloqua, Vidyard offers the most comprehensive integrations that enable you to customize and scale your lead scoring and workflows to accelerate pipeline development.
4. Sales and service team opportunities
Many sales and service teams have moved toward a less filtered, more candid approach to outreach, recording and sharing personalized video messages with prospects through email or text.
This approach is proving to be a highly effective way to stand out and build more personal relationships, and Wistia Soapbox and Vidyard are both great tools for it!
Both products are free and enable individuals to easily record webcam and screen capture videos from within Google Chrome, but Vidyard takes things one (big) step further for businesses, in my opinion.
Vidyard goes beyond Google Chrome and Gmail with native integrations into a wide range of business apps including Microsoft Outlook, HubSpot Sales and Service, Salesforce Sales Cloud, Slack, SalesLoft, MixMax, and Zendesk, among others.
Vidyard also enables your reps to easily access and share all other videos in your central video library from within the Vidyard app, making it easy for them to send out your latest product demo, customer testimonial, or thought leadership videos to prospects or clients.
They can create custom playlists with personalized introductions, and be notified as soon as the customer watches, with full visibility into how long they watched.
Vidyard also enables you to fully customize your video playback landing pages to match your company's brand and website, and you can even add custom CTAs for each one of your sales reps, such as one-click to book a meeting.
Finally, Vidyard tracks all of these viewing activities back into your marketing automation and CRM tools for comprehensive customer insights and ROI reporting while providing a centralized manager's dashboard to monitor the adoption and usage by your team.
Wistia users also benefit from detailed analytics with their audience page. The page shows who's watching your videos, and makes it easy to sort through that data.
Much like Vidyard, Wistia customers can send this data back to your analytics platform and CRM.
5. Enhanced lead generation
As you embrace video as a new way to engage your audience, Vidyard offers a number of innovative solutions that help you truly stand out and stay ahead of your competitors.
Vidyard's interactive video player enables any business to create highly engaging experiences that turn your videos into two-way conversations with customers.
You can create customized pre-roll gates, mid-roll overlays, and post-roll CTAs to interact with your viewers in any number of ways, or build a customized "choose your own next action" experience where viewers can go on a self-guided tour of your products or services!
Found a custom CTA that is working really well?
Easily apply it to any other videos in your library to start generating more conversions from your existing online videos. And as you mature, Vidyard enables you to create new interactive video experiences that are designed from the ground up to offer a wow-worthy experience.
Wistia users can collect emails from right within their videos as well. Called a "Turnstile," this Wistia form can appear at any time during your video and lets you collect emails and names from your viewers.
Wistia Turnstyles are simple forms that can't be fully customized, however if you're looking for a simple solution, it will do the trick!
6. Personalization
Vidyard is also the only online video platform to offer automated video personalization.
This unique solution enables you to create videos that are designed to bring the viewer into the story, literally!
By bringing each viewer's own name, company name, or other relatable information right into the video (and the thumbnail image), many businesses are doubling or even tripling click-through and engagement rates on important marketing campaigns.
Personalized videos can be delivered at scale via automated email campaigns, or they can be triggered by marketing workflows and actions on your website.
7. Support and scalability
If you're serious about going video, you'll need help along the way — and a platform that will scale as you grow.
Vidyard offers dedicated onboarding and customer success programs that center around your business goals, not just your videos.
Vidyard's team can help you build out a video strategy with checks and balances along the way to ensure you're achieving your goals and offer support to ensure your video programs stay on track.
Also, as your business grows and your use of video expands, so does Vidyard.
With group-based administration and customizable policies, you can confidently expand the use of Vidyard across multiple teams and geographic areas.
Once you're ready to take video beyond your core marketing and sales programs, Vidyard provides full support for secure internal video distribution, public and private live streaming, private publishing within Salesforce applications, and more.
Wistia also offers excellent support and a range of options for businesses of all sizes, with free, pro, and advanced tiers. And it provides a library of content to help users level up their video skills and use the platform to its fullest.
Ready to go video?
As a digital sales and marketing coach here at IMPACT, I have spent a lot of time with both Vidyard and Wistia, and I like them both. I rank Vidyard over Wistia, just on the feature set alone.
If you really want to beef up your video marketing, I believe that Vidyard is the better option, but I know many teams who are very happy with Wistia.
Keep in mind also that these platforms are always growing and adding functionality, so check each website for the most up to date listing of features and capabilities.
If you are ready to take the plunge and get started with a hosting platform, be sure to consider everything:
How are you going to be using video?

Which other business applications you are using today (i.e. marketing automation and CRM), and how do you plan on having video integrate with them?

What does your long-term video strategy look like?
Regardless of which platform you choose, there's one universal truth: Wistia and Vidyard are each terrific video platforms that will take you well beyond the limits of YouTube and Vimeo.
Free Assessment:
How does your sales & marketing measure up?
Take this free, 5-minute assessment and learn what you can start doing today to boost traffic, leads, and sales.