Subscribe
Join 40,000+ sales and marketing pros who receive our weekly newsletter.
Get the most relevant, actionable digital sales and marketing insights you need to make smarter decisions faster... all in under five minutes.
Thanks, stay tuned for our upcoming edition.
23 on-camera tips for video marketers [Film School For Marketers Podcast, Ep. 25]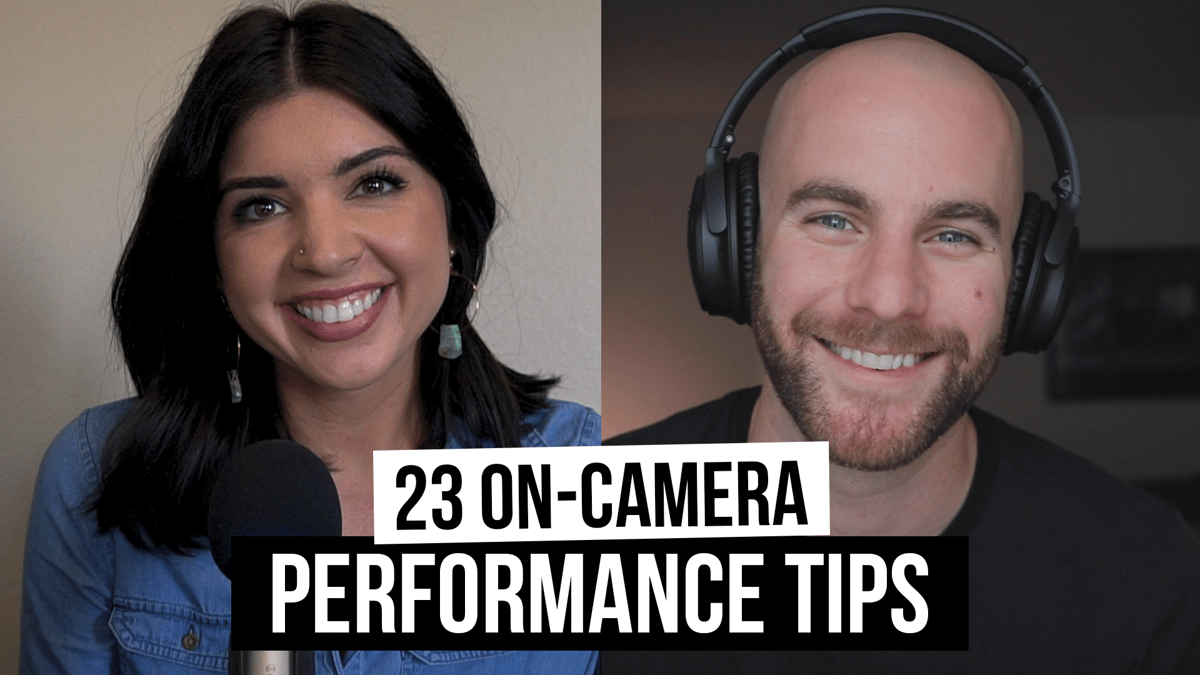 In the spirit of this being Episode 25, we wanted to do things a little differently today.
We were planning on sharing 25 on-camera tips for produced video and 1:1 video — But full transparency, that didn't happen.
After going through footage we realized some footage was lost, so we're bringing you 23 tips for now and will add the last two at a later date. Sometimes, that happens in video world!
Let's get into it:
1. Pick a time of day you are most energized to film
If you want to be the best you on camera, you'll want to think about a time of day that you're most happy and energized. This will help with your on-camera performance.
2. Try out live streaming

Before you start doing produced style videos, starting out with live streaming is a great way to get started with video and interact with your audience.

3. Being aware of your surroundings

If you're doing a produced video your videographer should have that taken care of, but if you're doing 1:1 videos you'll want to be aware of what is going on around you and what can be distracting to the person watching.

4. Wear something new

Zach learned this from a friend who worked in broadcast journalism, she mentioned that she always felt most confident when she wore something new.
I couldn't agree more, if there is something you own that makes you feel more confident wear it when you're shooting video.

5. Get to the point and be concise in your message delivery

You want to make sure that you're delivering a message that isn't full of fluff, people appreciate when you can get straight to the point.

6. Start with a smile

This goes for any video you make. It'll be easier to hold your smile throughout the video if you start with one. You don't want people to think you're in a bad mood, and starting with a smile will help your mood throughout.

7. Lighting

If you have a videographer they should already be taking this into account as they are setting up for a video shoot. But if you are recording a 1:1 video make sure you do it in an area of your office or house that has great lighting. I suggest finding a window that you can put your computer in front of for the best light.

8. Eat mints/ chew gum before shooting your video

There's something about having fresh breath that helps people more confident when shooting videos, or at least that's the case for Zach.

9. Sound Quality

You don't want your audio to be muffled. People aren't as forgiving about audio, have headphones with a mic, or use a mic. If you're doing it through your computer it can pick up outside sounds around you and make yours less crisp. There is an extension you can install that will block out background noise called Krisp.

10. If you're sitting on stool when recording, don't have both your feet on the ground

It will give you bad posture, if you're able to sit up straighter you can breathe easier, and articulate your message better. Also be aware of swiveling or moving around too much.

11. Look into the camera

This is for produced or 1:1 video. You want the person to feel like you're speaking and talking to them. If you have another computer screen don't look between that and your camera.

12. Don't wear stripes

The sensor in the camera has a hard time processing stripes and fine patterns.

13. Stage to page

Zach learned this in a public speaking course. Instead of writing out your entire script out first, start by saying it through a transcribing app. It helps you sound more conversational, whereas you might not sound as you typically would speaking if you write it first. It helps with making it sound more natural.

14. Don't wear loud and distracting jewelry

This is more for produced video. If you're wearing a necklace that is constantly hitting your mic, or a ton of bracelets it can make it very hard to edit the audio of your video.

15. Enforce no stop rule on yourself

If you give yourself the option to stop in the middle of a take, you'll continue to do it. If you tell yourself you can't stop it will allow you to get through your video without having to do takes over and over again. The more you stop, the more you begin to lose confidence and become frustrated.

16. Know what your thumbnail is going to be

If you're recording a 1:1 video think about what you plan to have your thumbnail be that way you include it in the recording you do.

17. Mark where you're standing

If you're standing in your video mark the part of the ground that you'll be standing on. This way if you leave in the middle of shooting and come back your shot stays consistent.

18. Limit your distractions

Whether you're in an office or work from home, you want to limit distractions around you. You don't want things to be distracting in your video, but you also don't want to be distracted yourself.

19. Save saying your name and title until the end of your shoot

The biggest thing we see people get caught up on is saying their name and job title at the beginning of the shoot. This helps with not getting frustrated out of the gate.

20. Practice makes perfect

Don't be so hard on yourself when you get started. No one likes how they sound, or how they look on camera. Know that as time goes on you'll get better. Don't let that hold you back from doing video. You become what you think about. If you start out being like "I don't want to do this" it will be noticeable in the way that you talk and look.

21. The "truth plane"

You want to make sure that you have open body language when communicating your message. Make sure you aren't crossing your arms, or not using your hands or you'll appear less trustworthy.

22. Be aware of your appearance and what you're wearing

There is nothing more distracting than a tie that isn't laying the right way, or something on your shirt. You don't want to look back after all your footage is shot and feel like you have to do it again when you could have been aware of it before.

23. Use bullet points instead of fully written out script

If you are looking to prepare your message and you want your points to come through clearly, rather than making a full script, make a script outline that has bullets.

To close out this episode we wanted to let you all know about a super fun event happening on November 14th and that is Vidyard's Fast Forward Virtual Summit.
There will be leading experts giving sessions around everything from video marketing to video in the sales process. Yours truly will also be doing a session with Vidyard's Ellen Stafford on Enabling Your Sales Team to Crush it with Video: Tips, Tricks and Hacks.
You can sign-up to save your spot here.
We'd love to hear from you!
First, subscribe to our Film School For Marketers Podcast.
Second, leave us a review on iTunes or share the love with fellow marketers and sales professionals who could benefit from our content.
Lastly, have a question or idea for a future episode? Let us know!
Free Assessment:
How does your sales & marketing measure up?
Take this free, 5-minute assessment and learn what you can start doing today to boost traffic, leads, and sales.