9 Examples of Brands Doing Brand Publishing Well
Kathleen Booth also recommends this free guide: The Ultimate Inbound Marketing Strategy Playbook 2022.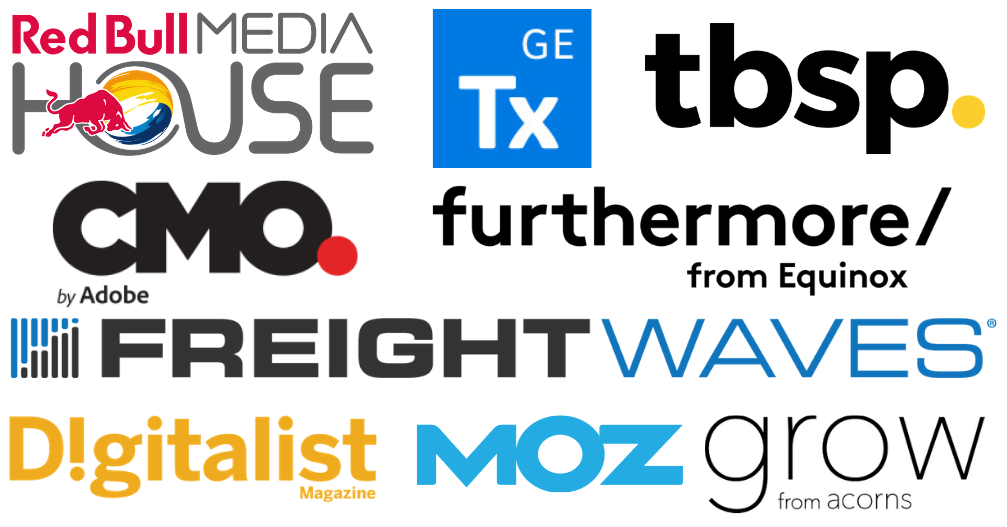 Top Brand Publishers
Red Bull
Adobe
General Mills
GE
Equinox
SAP
Acorns
FreightWaves
Moz
Companies that blog are a dime a dozen these days, and content marketing has gone from a somewhat new and novel strategy to being table stakes for any business that wants to get found online and generate leads from its digital presence.
Free Guide: The Ultimate Inbound Marketing Strategy Playbook 2022
Then there are the brand publishers.
These are the companies that have pushed the content marketing envelope and embraced the notion that it's not enough to simply blog — to be a true category leader means becoming a media company.
Media Companies v. Brand Publishers: What's The Difference?
The evolution of the internet has disrupted just about every industry, and the media business is no different.
Today, software and tools such as WordPress and YouTube have made the cost of entry into the media business very low. As a result, new players (including brands and even individuals) are entering the market all with the same goal — to build a large and loyal audience that can be monetized.
The main difference between most brand publishers and traditional media companies lies in the ways that they monetize their audiences.
The traditional media business model was built largely on revenue from advertising and paid subscriptions. Examples of this include newspaper and magazine publishers such as Gannett, New Media/Gatehouse, and Condé Nast, as well as broadcast media companies such as Bloomberg, Fox News Network, and WarnerMedia.
Most brand publishers, by contrast, approach their media strategies as a long game. Ultimately, it will serve to drive revenue to their core product or service business while supplementing that with sponsorship dollars, as well as revenue from events, digital products (memberships and subscriptions), merchandising, and — in some cases — advertising.
The Top 9 Brand Publishers
While countless brands (including IMPACT) are pursuing branding publishing strategies, there are a handful, both big and small, that really stand out from the pack.
1. Red Bull
Read just about any book or article on brand publishing and you will see Red Bull cited as the leader in this category.
Red Bull Media House is a multiplatform media company that was created in 2008 as a separate arm of energy drink maker Red Bull with the purpose of creating premium media. The company's mission is "to inspire with 'beyond the ordinary' stories — both direct-to-consumer and through partnerships."
With a focus on sports, culture and lifestyle content, Red Bull Media House creates everything from TV shows to feature films, books, a lifestyle magazine and more. The company's content is also licensed by a host of other media companies including the Discovery Channel, Netflix, and even Nintendo.
Red Bull also boasts a lucrative global events business comprised of adventure races, extreme sports challenges, and specialty competitions such as the Rubik's Cube World Cup.
What makes Red Bull the leading brand publisher is that its content can truly stand on its own as world-class broadcast, print, and digital media — a fact that has been recognized by numerous awards.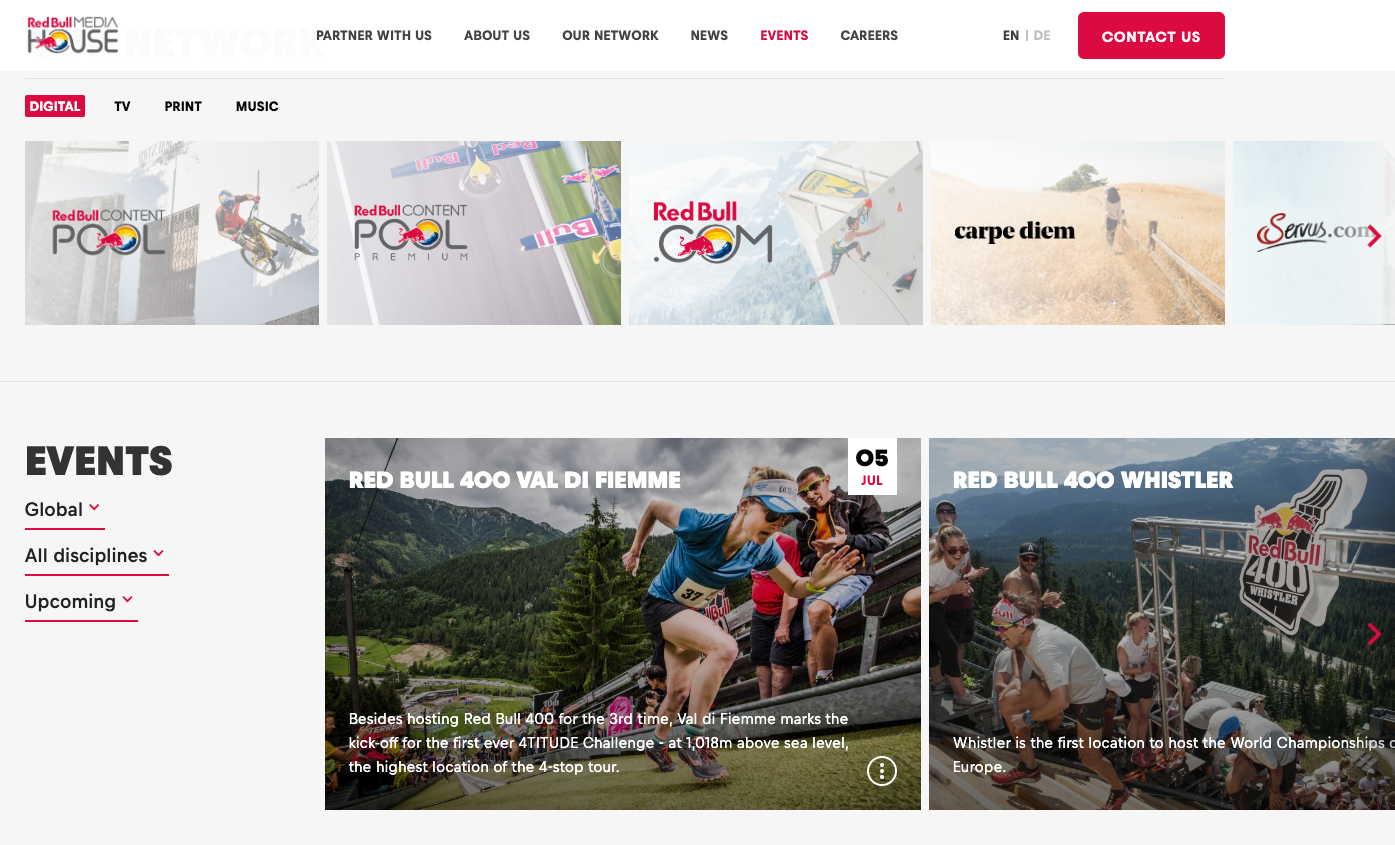 2. Adobe
Most people have heard of Adobe and have used one of the company's software products, but did you know that CMO.com is an Adobe property?
CMO.com's mission is to "deliver marketing insights, expertise, and inspiration for and by marketing leaders — all aimed at helping CMOs, senior marketers, and their teams become better marketers and deliver standout experiences in a digital world."
It delivers on this mission by publishing interviews and advice from industry leaders, help and how-to guidance, curated marketing news, and data-driven research and insights from across the marketing industry and around the world.
The content on the site is overseen by a professional staff of editors and includes content created by Adobe itself, as well as a considerable number of articles submitted by outside contributors. In addition, the content from CMO.com is syndicated to The Wall Street Journal and Fox Business News.
The emphasis of the content on the site is thought leadership and not to serve as a promotional vehicle for Adobe's products, and Adobe's approach to branding is subtle, with Adobe Digital Insights as one category of content and a small "by Adobe" tagline under the CMO.com masthead.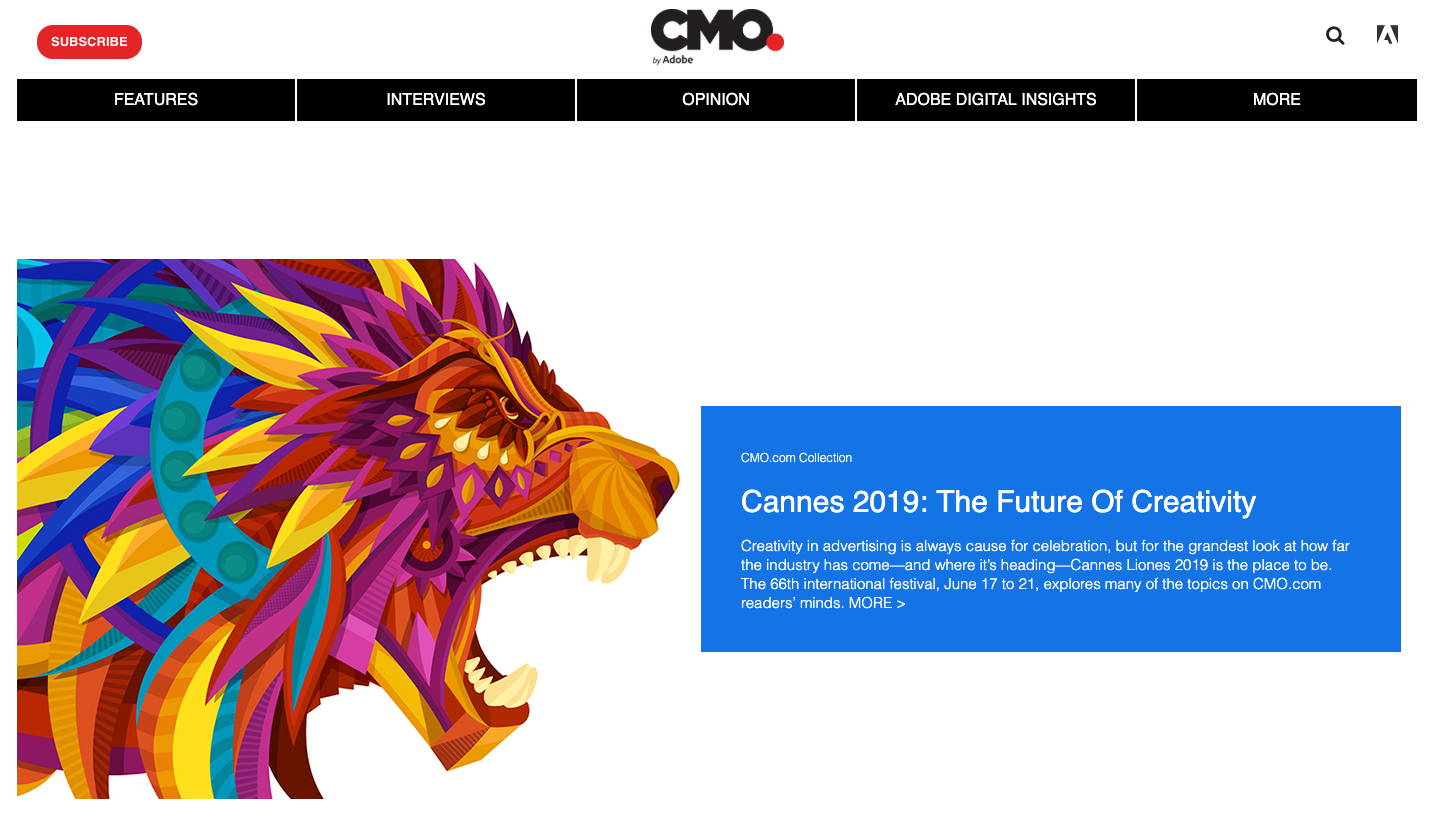 3. General Mills
It might surprise you that one of the oldest and most established traditional food brands is also a cutting-edge brand publisher. General Mills, which makes such beloved products as Cheerios, Häagen-Dazs, Yoplait, Nature Valley Granola Bars, Pillsbury Dough, and Gold Medal Flour is also the publishing powerhouse behind Tablespoon.com.
A cooking and recipe site that stands on its own, Tablespoon is aimed at "inspiring through doable ideas — from fresh dinners with creative twists to clever apps and easier-than-they-look desserts, we think that food is best when food is fun."
The site includes a variety of multimedia content, from articles and recipes to how-to videos, coupons and a membership community that allows users to save their favorite content, clip and print coupons, earn rewards and have conversations with other members as well as the Tablespoon editorial team.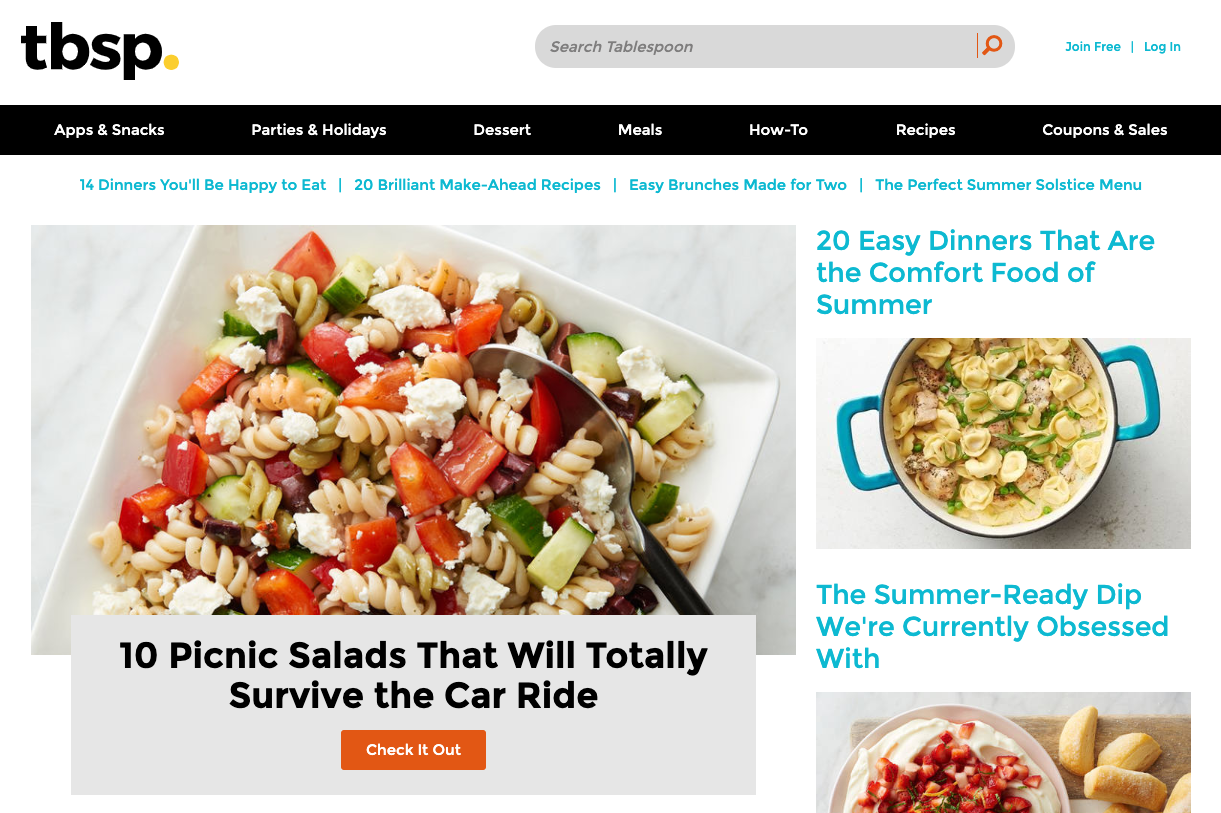 4. General Electric
General Electric traces its roots back to the 1800's, when it was one of the original twelve companies listed on the Dow Jones Industrial Average at its launch. Today, GE is a multinational powerhouse with interests in a wide range of sectors encompassing aviation, healthcare, power, manufacturing, venture capital, lighting, and oil and gas.
For an old and established company, GE has a surprisingly nimble and forward-thinking content strategy that includes a deliberate push to be the first to launch its presence on new platforms including Vine, Google Plus, Instagram, and more — all as part of an effort to activate unlikely audiences.
One way that GE is fulfilling this vision is through TXCHNOLOGIST.com, an online magazine built on Tumblr that explores the ever-changing worlds of science, technology and innovation.
While sponsored by GE, TXCHNOLOGIST acts as a standalone source of independently reported science and technology news, and its content is widely disseminated throughout other media properties including Scientific American, Gizmodo, i09, and Business Insider, to name a few.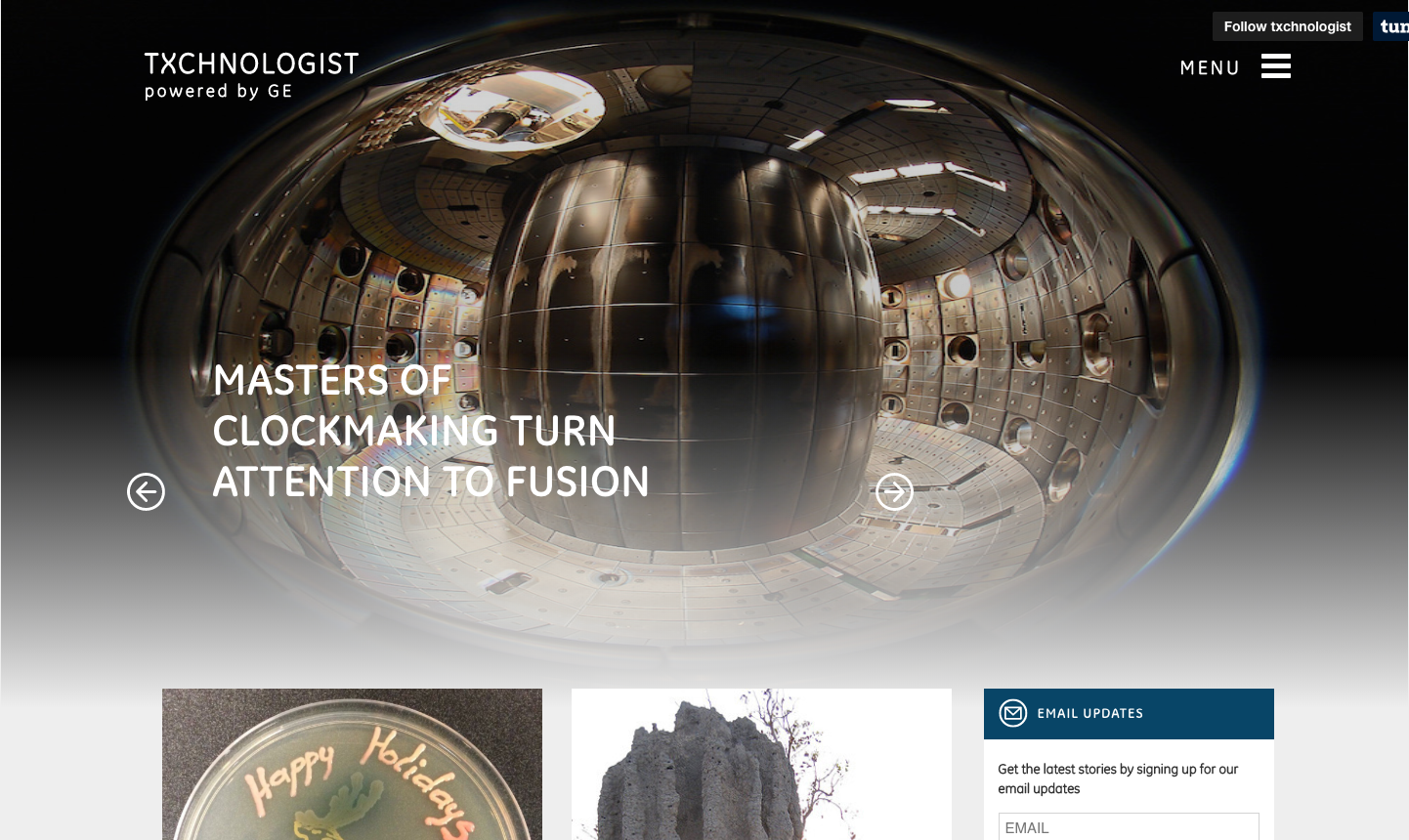 5. Equinox
Equinox is best known as a luxury fitness company that operates fitness clubs and includes satellite brands such as PURE Yoga, Blink Fitness and SoulCycle.
In 2016, Equinox launched Furthermore, a digital magazine focused on reframing and redirecting the fitness and luxury style content category through science-driven fitness content and lifestyle inspiration.
Born from Equinox's "Q by Equinox" blog, Furthermore is a self-sustaining editorial and advertising publication that is led by a professional editorial staff (the editor-in-chief comes from SELF Magazine) and collaborates with some of the world's best directors, photographers and stylists to produce innovative photo and video content with a clean, modern aesthetic.
The Furthermore website includes multimedia content encompassing workouts, recipes, videos and lifestyle articles, and the Furthermore Instagram account supplements that with shoppable stories. The company's future plans include launching a print publication and podcast, all under the same Furthermore brand.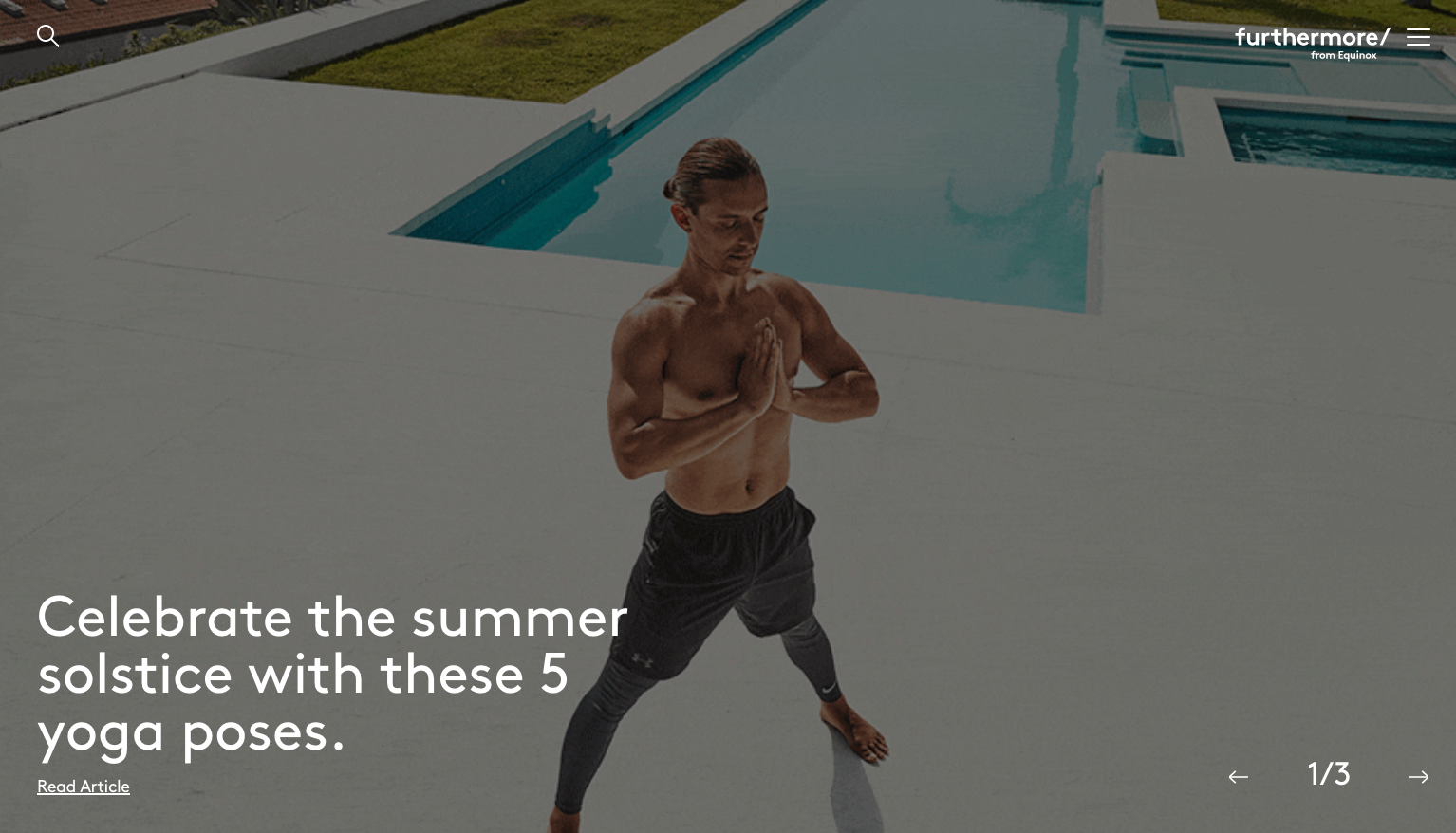 6. SAP
Enterprise software-maker SAP launched its Digitalist Magazine in 2015 as part of a broader content marketing play aimed at reaching C-level executives. The editorial team at Digitalist produces content that takes an outside-in view from the customer's perspective and answers the questions they are asking and addressing the issues they are dealing with.
The site covers topics around the challenges that businesses face in the digital economy with the goal of helping C-level executives to improve their leadership skills and grow their businesses. The articles on the site are written primarily by outside contributors, as well as some SAP subject matter experts, and are all reviewed by the Digitalist's professional editorial staff.
In addition to the online magazine, Digitalist publishes a daily newsletter covering its best content, along with nine weekly newsletters on specific topics such as customer experience, digital supply networks, and the internet of things.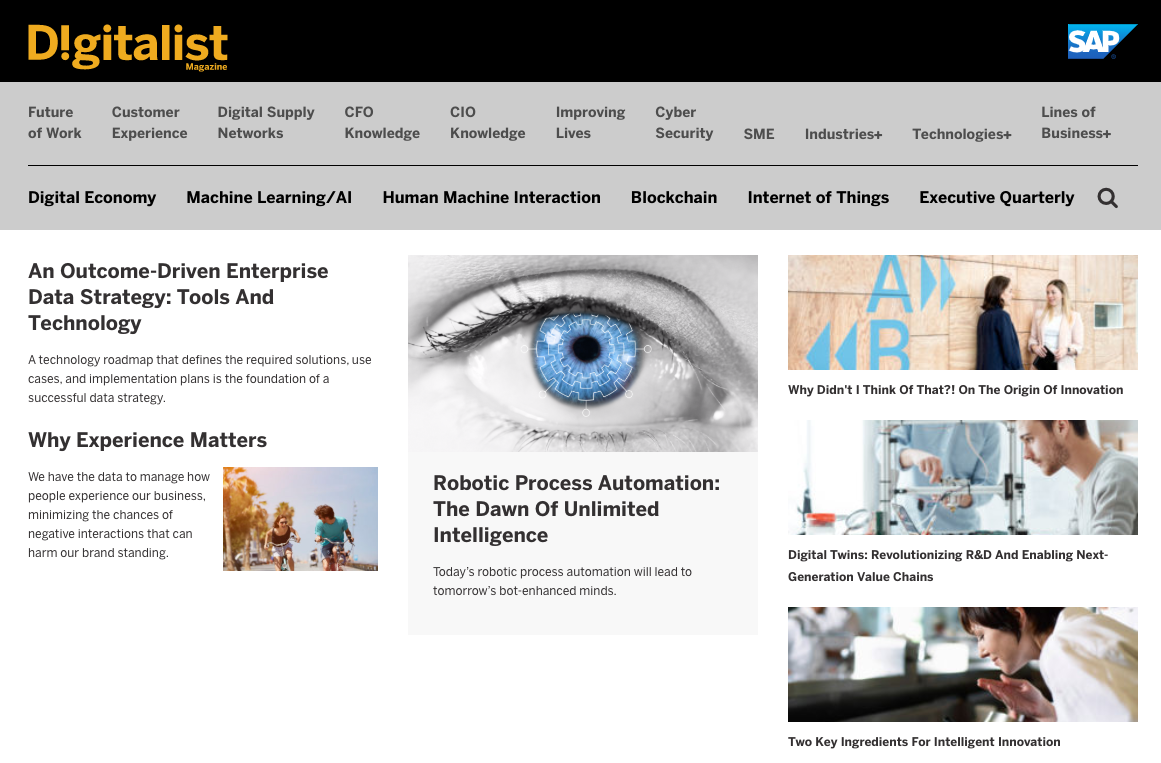 7. Acorns
While some of the other companies on this list of top brand publishers are old and established brands, Acorns is a great example of a relatively young company making big waves as a brand publisher.
Founded in 2014 with the mission of making investing accessible to everyone, the mission of Acorns is "to look after the financial best interests of the up-and-coming, beginning with the empowering step of micro-investing."
Acorns' Grow is a digital publication launched in 2016 with the aim of converting readers into Acorns users and providing an alternative revenue stream for the brand. It is part of the company's deeper mission to educate consumers and its editor-in-chief holds the title of Acorns' "Chief Education Officer."
The content on Grow is mostly Acorns agnostic, however, the only ads on Grow are for the Acorns app.
Acorns has formed editorial content-sharing partnerships with sites like Business Insider, Refinery 29, Forbes, and Marketwatch. And, in early 2019, it announced a strategic partnership with CNBC, under which CNBC is hiring a dedicated team to create financial literacy and personal finance content for the Acorns platforms.
In addition, CNBC will produce features for a cross-company financial wellness initiative "Invest in You: Ready. Set. Grow." It will run across CNBC, NBCUniversal, and Comcast platforms.
8. FreightWaves
FreightWaves is a fascinating example of a brand that built its publishing business first and its product second.
Launched in 2016 as a digital publication by entrepreneur Craig Fuller, FreightWaves is aimed at educating companies and individuals in the freight industry on events and trends that might impact the freight markets as part of Fuller's strategy to build the first-ever freight futures market.
Building a new futures market requires a considerable number of participants who are educated and informed on the factors that could affect their investments. Because no such source of information existed at the time, Fuller decided to insource it and FreightWaves was born.
In less than a year, it grew to the second most trafficked news site in all of freight, globally.
In March of 2019, three years after FreightWaves was born, the company successfully launched its freight futures market. In that time, the publisher site has expanded to include a considerable volume of breaking news, in-depth articles, a daily video show, a digital radio channel, podcasts, webinars, and more.
On top of that, the company hosts multiple events and conferences throughout the year.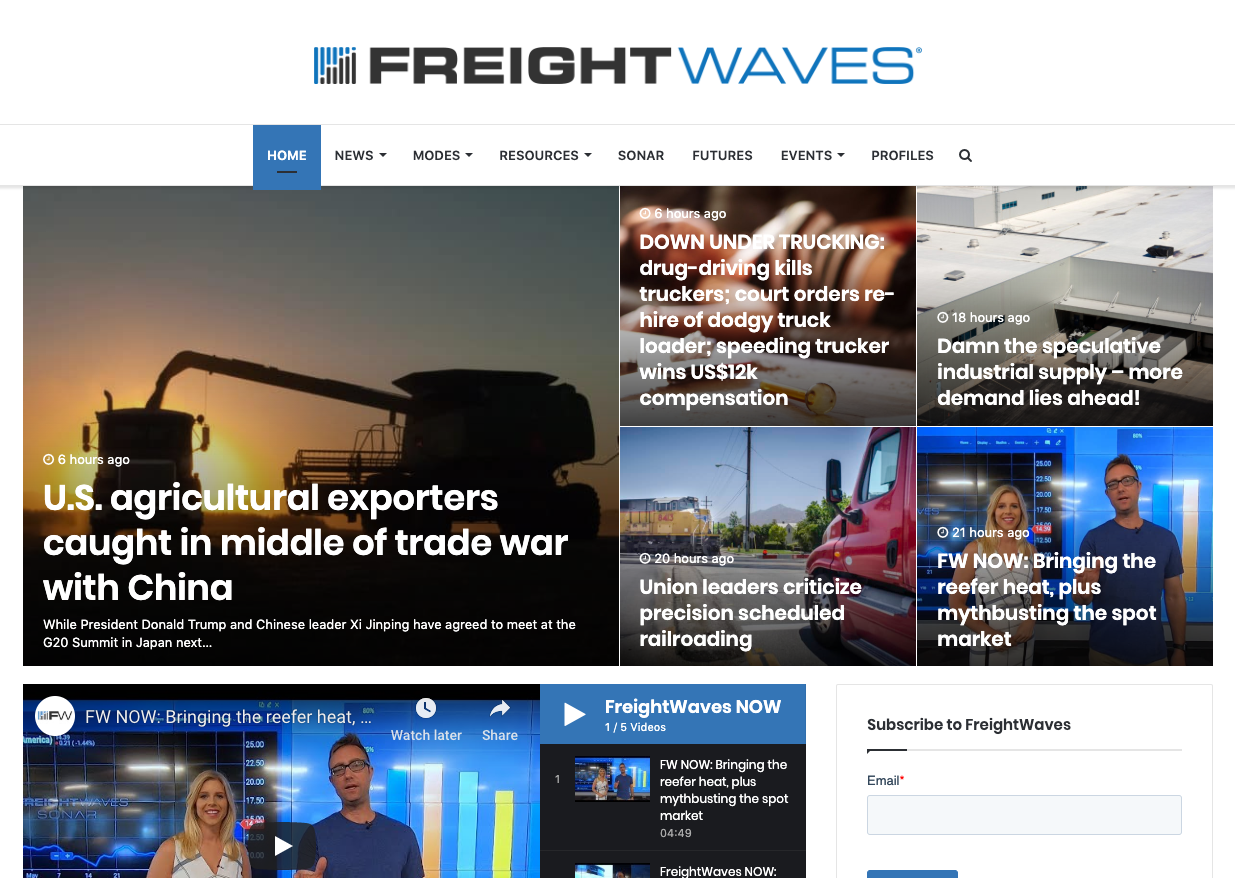 9. Moz
Most marketers are familiar with SEO software-maker Moz, and many will have discovered the company through its content.
While many of the other examples of brand publishers that are included in this list created stand-alone digital publications, Moz kept it simple by doubling down on its effort to publish a high volume of quality content and sharing that with its audience via a blog, videos, and annual event.
Today, the Moz blog is amongst the most read in the marketing industry and is widely viewed as a top authority on topics relating to search engine optimization.
Founder Rand Fishkin's Whiteboard Friday videos have developed a cult-like following and the company's annual conference, MozCon, is a popular event that attracts a consistent crowd and sponsors from throughout the martech community.
While Moz may not appear to be a brand publisher on the surface, make no mistake, the company's publishing strategy has been a major driver of its growth.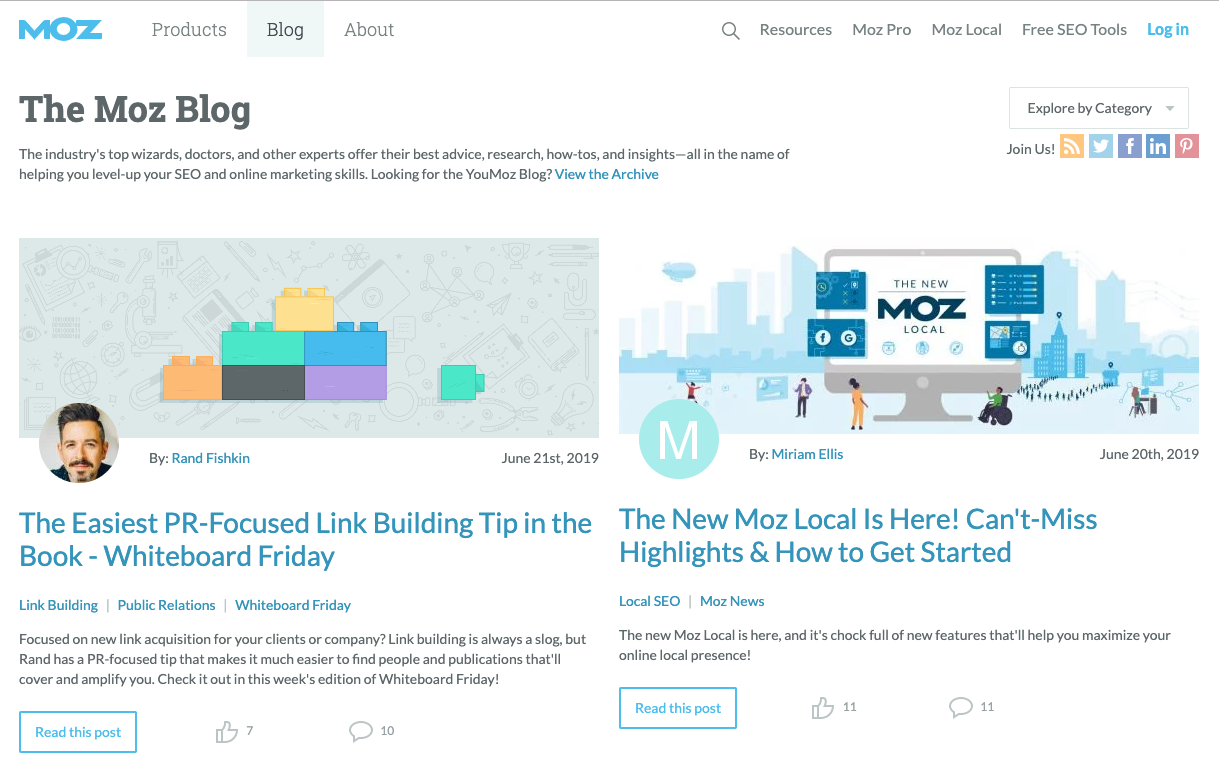 What All of These Brand Publishers Have In Common
The companies on this list come from a variety of industries. Some are old and established, while others are only a few years old. Some created standalone media companies while others manage their brand publishing strategies using their in-house marketing teams.
While there are many differences between them, there are also a few very important commonalities that have contributed to their success as brand publishers:
They view their brand publishing strategy as a long term-play and an investment in audience building;
They've made a serious commitment to creating a high volume of very high-quality content and publishing it on a consistent basis;
The majority of their content is brand agnostic, meaning it is not about their products and services and instead is focused on educating their audiences; and
Their content is multimedia in nature and includes some combination of written articles, video, and audio.
These are the basic building blocks for successful brand publishers. On top of them, many of these brands have layered events, membership programs, communities, contributor programs, content syndication and strategic partnerships.
Regardless of the exact components of their publishing strategy, each of these brands has committed to educating its audience and as a result, has become a category leader in its space.
While not all companies or brands will choose to pursue a brand publishing strategy, there is a lesson there that is relevant to all of us.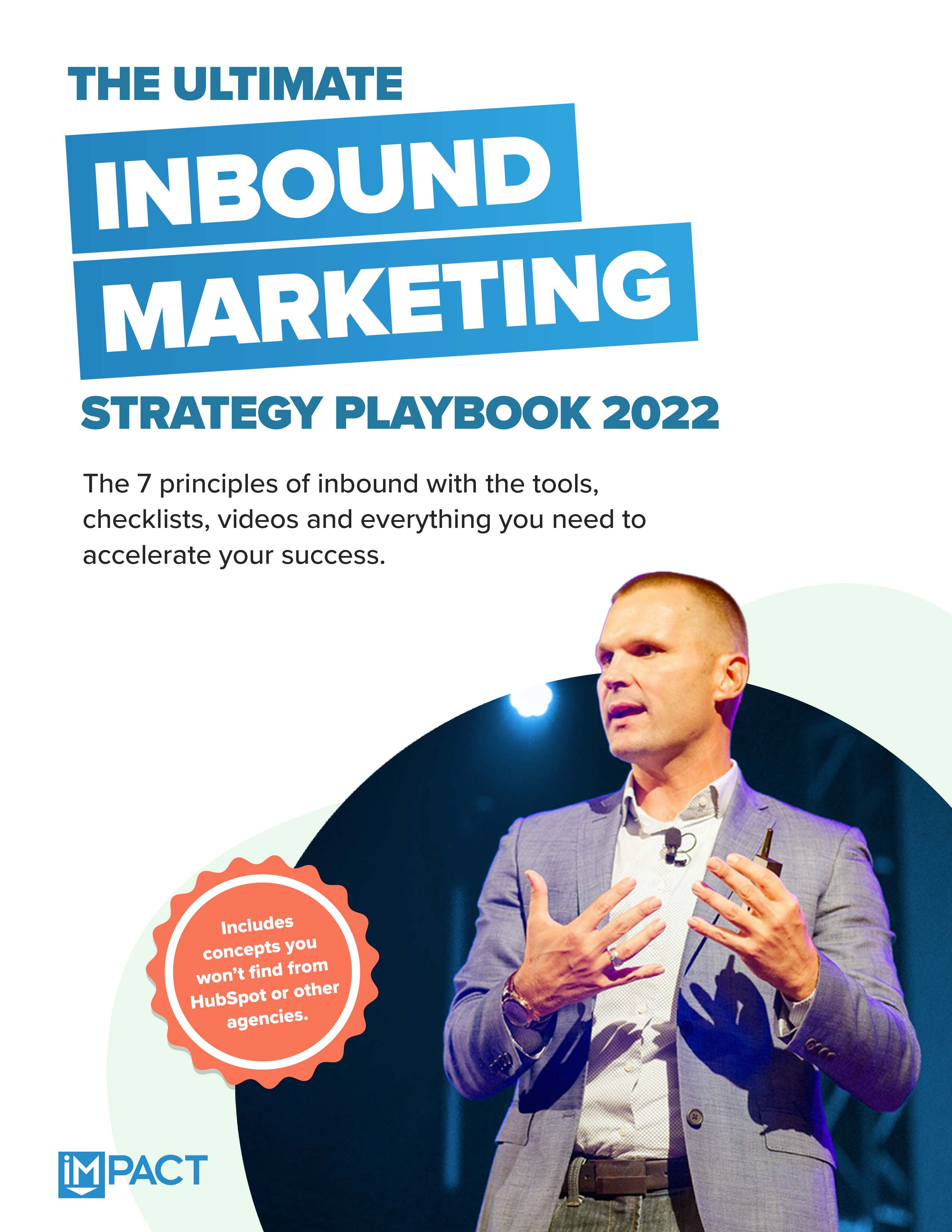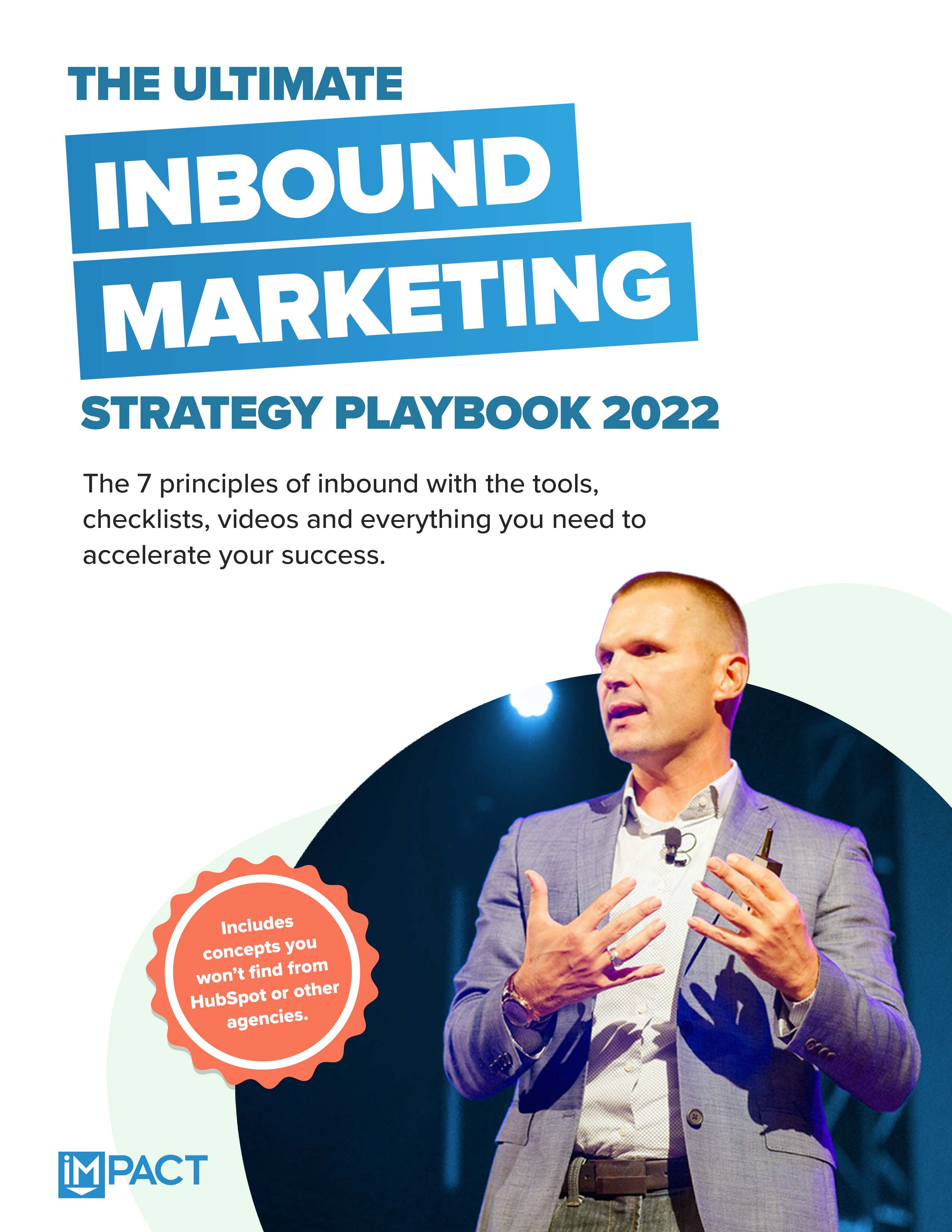 Free Guide:
The Ultimate Inbound Marketing Strategy Playbook 2022
Take your inbound strategy to the next level
Master the 7 principles of highly effective inbound marketing
Dramatically improve your inbound sales
Get more buy-in at your company
Published on July 1, 2019