How to Add a Chatbot to Your Website
Improve conversion rates and keep your sales pipeline moving along with chatbots (don't worry ... it's easier than you think!).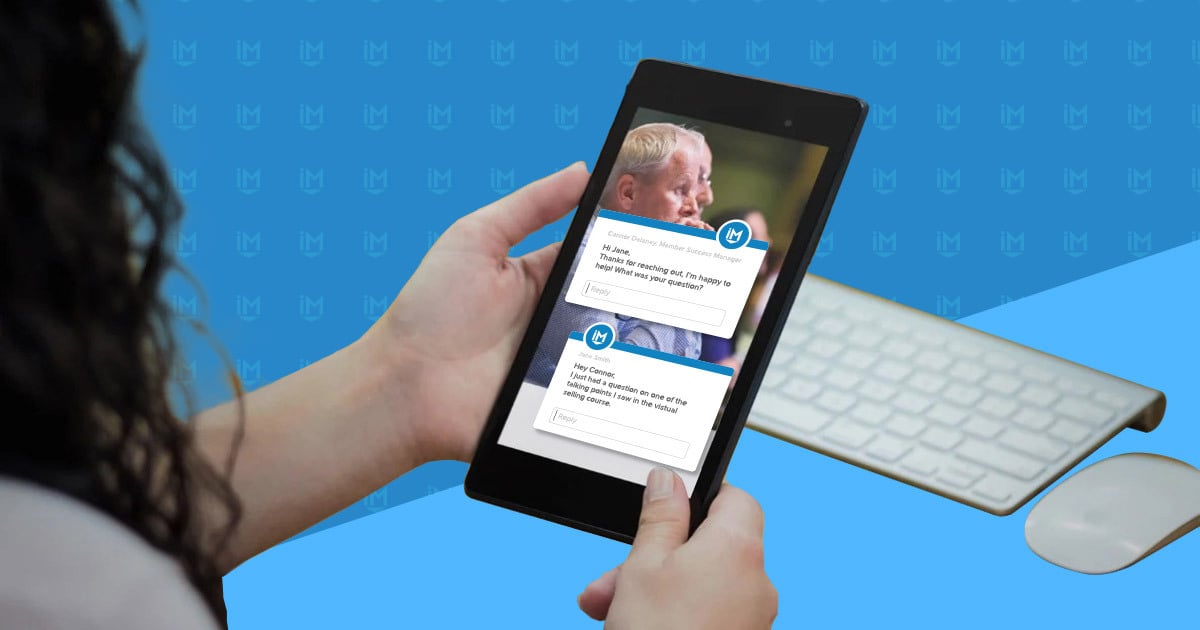 According to Drift's most recent report on conversational marketing, buyers are now using chatbots to solve their purchasing issues 92% more than they did in 2019. The report also shows that slow response times can stop a buyer in their tracks — causing them to leave your website and find solutions elsewhere.
This proves something we already know: The way we communicate today has fundamentally changed. We are so used to having apps, social media, and personal conversations at our fingertips that we want that same experience in our buying journey. This means that not only do our prospects want us to help them solve their problems and answer their questions, they want us to do so immediately.
When HubSpot added chat to its product pages, it saw a 160% increase in conversions. Since we started using chatbots and other conversational tools to our website at IMPACT, we've also closed lots of deals that might not have happened had the conversation not occurred at that moment. By simply giving our prospects the chance to ask us questions in the moment, we are empowering them to make a decision in real-time versus leaving it to chance.
Although we all know chatbots can help us move the sales needle, many of us feel intimidated by the process and have yet to follow through. If that's the reason you don't have a chatbot on your website, you're certainly not alone — but trust us when we say that setting up and using chatbots on your website is a whole lot easier than it might seem.
In this article, we're going to cover:
What chatbots are and how they work.
The simple steps you need to take to integrate a chatbot with your website.
How to measure your chatbot's success.
Common mistakes to avoid when setting up your chatbot.
You'll also learn how to set up your chatbot in a way that drives more leads and sales opportunities without annoying website visitors so much that they leave your site.
But before we get into the "how-to," here's a bit about what chatbots are and how they help your business land more sales.
What are chatbots and how do they work?
Chatbots are software applications that simulate human interaction and lead users toward their end goal. This might be something as simple as finding the answer to a straightforward question such as "What are your business hours?" or as complex as proposing a series of queries that leads your prospect toward making a purchase.
This technology allows your prospects to engage with your business 24/7, whether someone on your team is personally available or not, which means more opportunities to communicate with right-fit leads. When done right, it also allows your prospects to have greater control over their own buyer journey, among other benefits.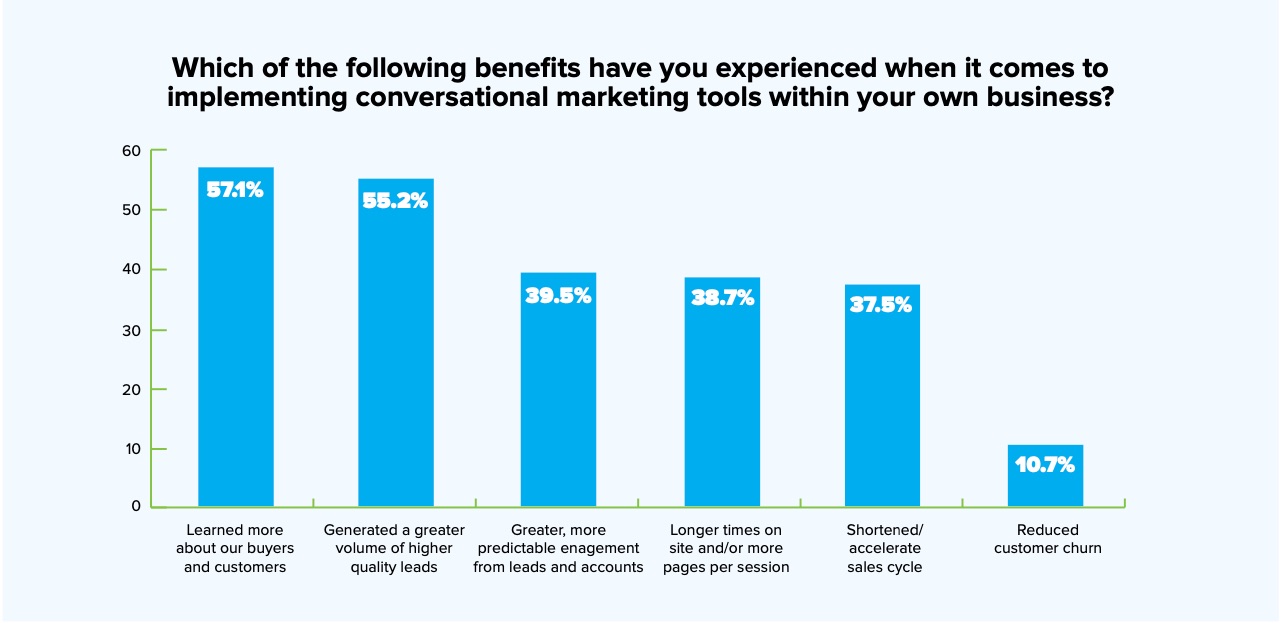 Chatbots can be set up in three ways:
To initiate live chat: Once a user signals to the chatbot that they need help, it connects that user to a human who is available on your team. Ideal for sales or customer service applications, live chat is a great way to connect prospects to someone on your team the moment they're on your site (which is when they're more likely to buy).
With rules-based functionality: This type of chat uses a series of predesigned workflows that tell the chatbot what to do and where to lead the prospect next. These work best with a set of preplanned queries typically presented as multiple choice that can lead to a desired action.
Using artificial intelligence (AI): This type of chatbot is the most complex. It's initially set up and "trained" by a chatbot developer, but then learns as it goes and gets better at directing people the more it's used.
As you can imagine, there are all sorts of interesting ways to use chatbots on your website — and in various combinations. For example, you can set up your chatbot to be rules-based during off-hours and route to a human being during the day while people are available to answer customers' queries. This flexibility makes it easy for you to adapt the technology in a way that works for your team.
How to add chatbots to your website
As we mentioned previously, installing chatbots on your site is easy, and your chatbot software tool of choice should walk you through the process, making it fool-proof.
Here, we're going to show you what installing a chatbot looks like using Drift, but keep in mind the process is similar no matter what software you use.
The general steps will be:
Sign up for an account.
Customize your chatbot (colors, branding, etc.).
Set up the welcome message.
Install the chatbot on your site.
Here's a more in-depth how-to:
Step 1: Sign up for an account
The first step for many chatbots will be to set up an account and provide some personal information. With Drift, enter your email address and click "Let's go!" to get started.

Step 2: Customize your chatbot
This step should be initiated by your software of choice with some simple instructions for choosing your colors, how the chatbot will look on your site, and making sure it aligns with the look and feel of your brand.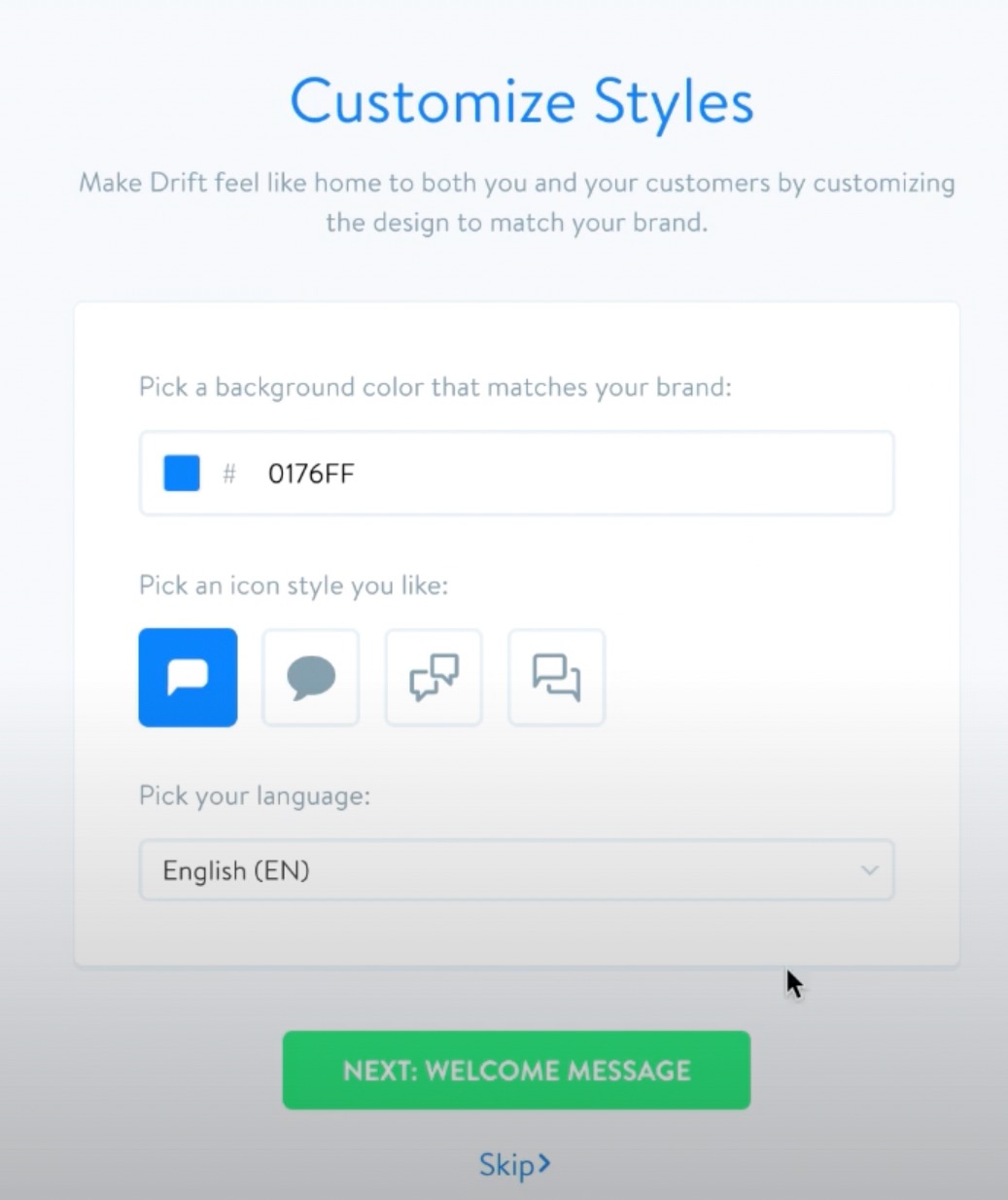 Step 3: Set up the welcome message
Next, you should be prompted to include the chatbot's welcome message, such as, "Hi! What can we help you with today?" It should make your visitors feel welcome and open the door for a friendly exchange.
Drift allows you to add an avatar here, which is a great way to include the face of one of your teammates to make it feel more personalized.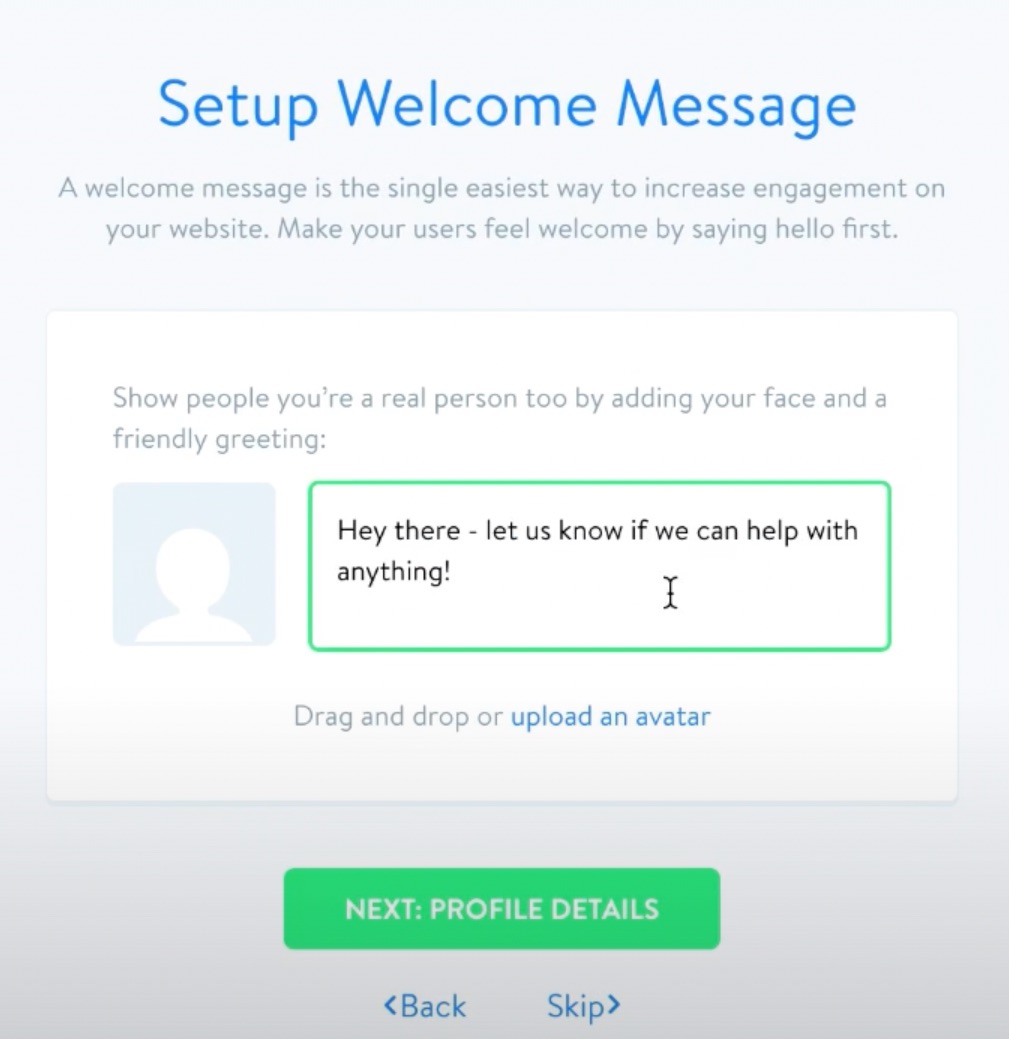 Step 4: Install the chatbot on your site
After your chatbot is designed and appears how you want it, the next step is to add it to your site.
Drift gives you several options here. Either you can copy and paste the Javascript code it provides directly into your website's HTML head tag or install it on Segment, WordPress, or other hosting software directly.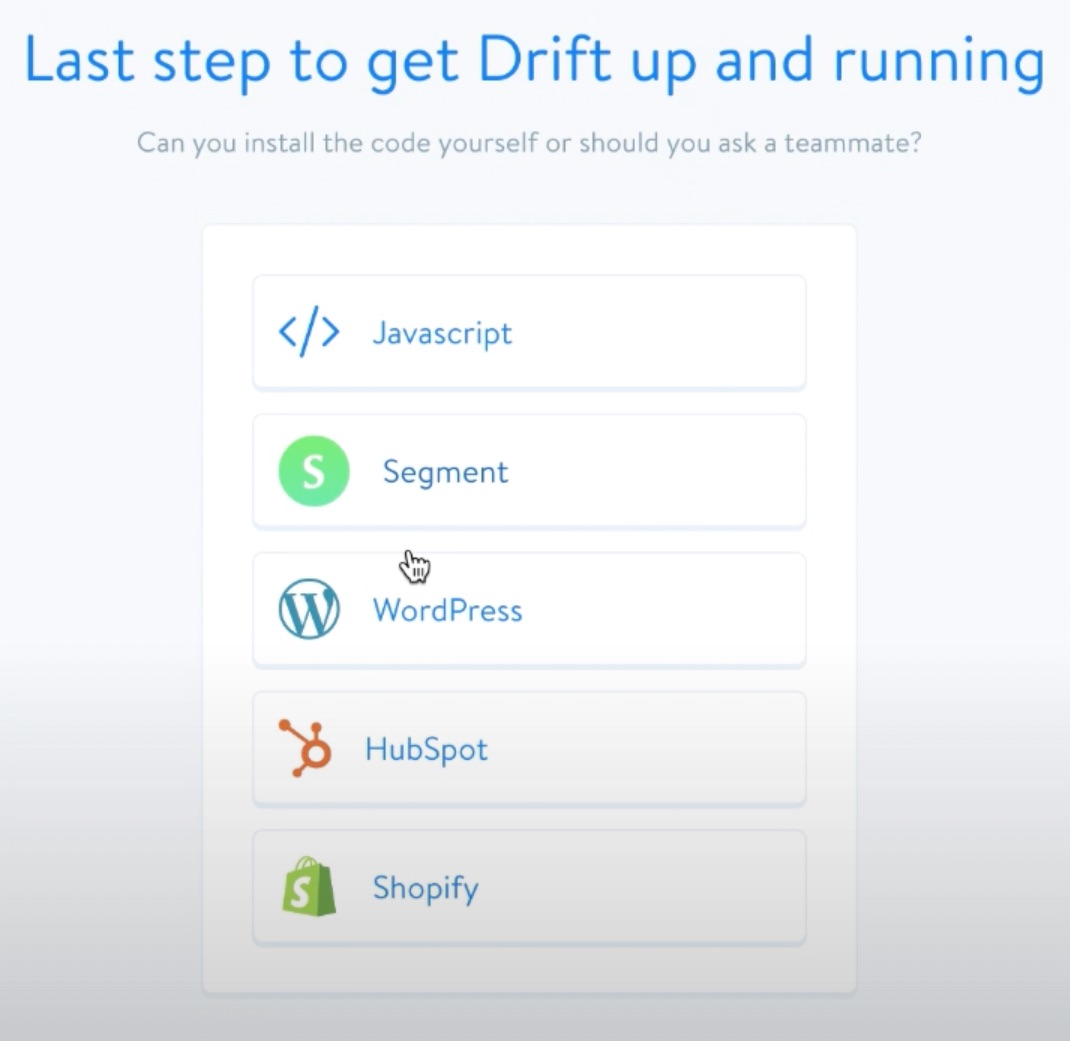 Either option will show you exactly how to install your chatbot on each platform. Some require that you copy and paste a snippet of code, while others can be installed by logging into your account.
For example, if you choose to install it onto your website directly using code, Drift will prompt you to take the following steps:
Click "Javascript" to get the code, and copy the snippet provided.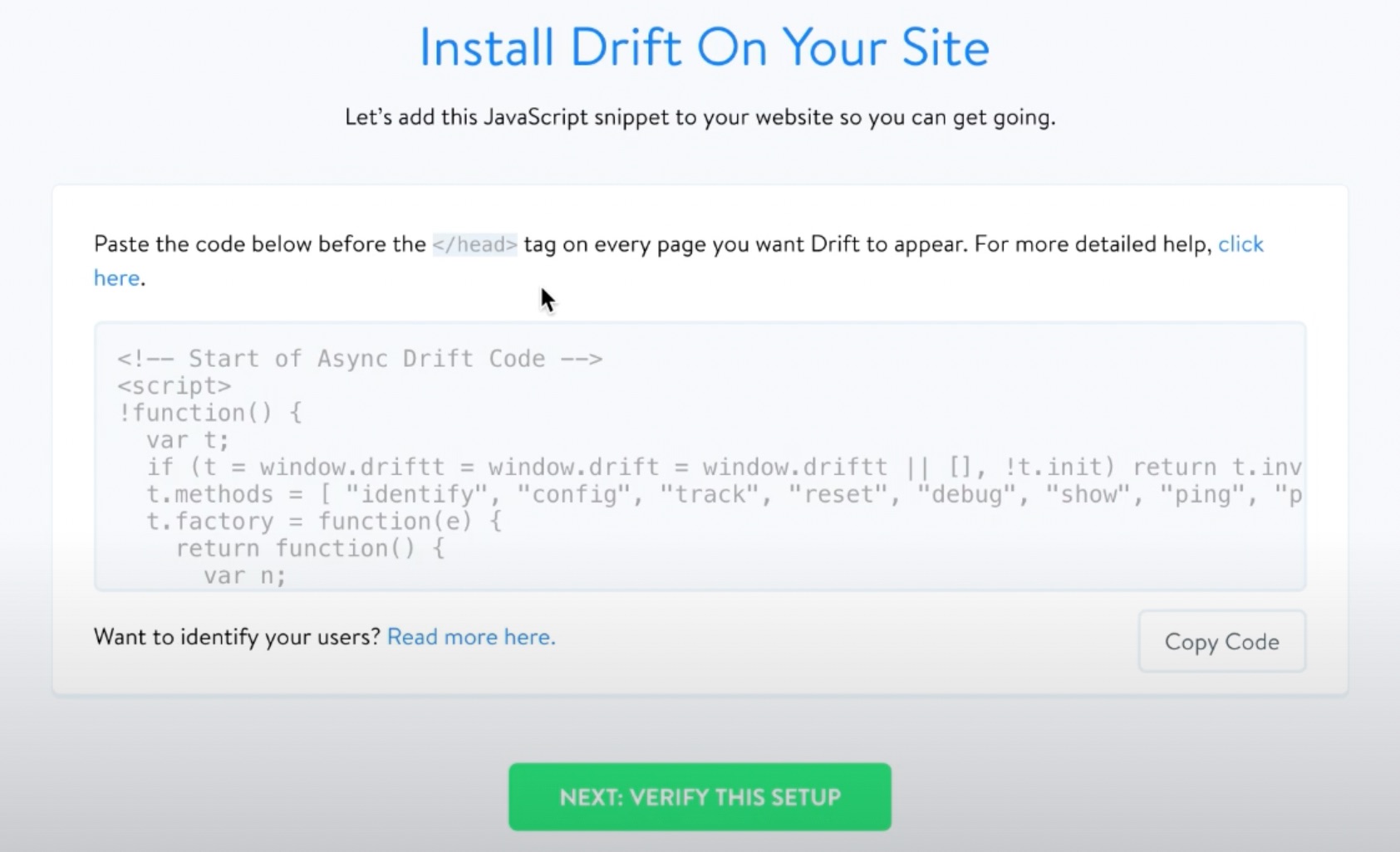 Once you copy the text, head on over to your website's HTML head text and paste the code in as such: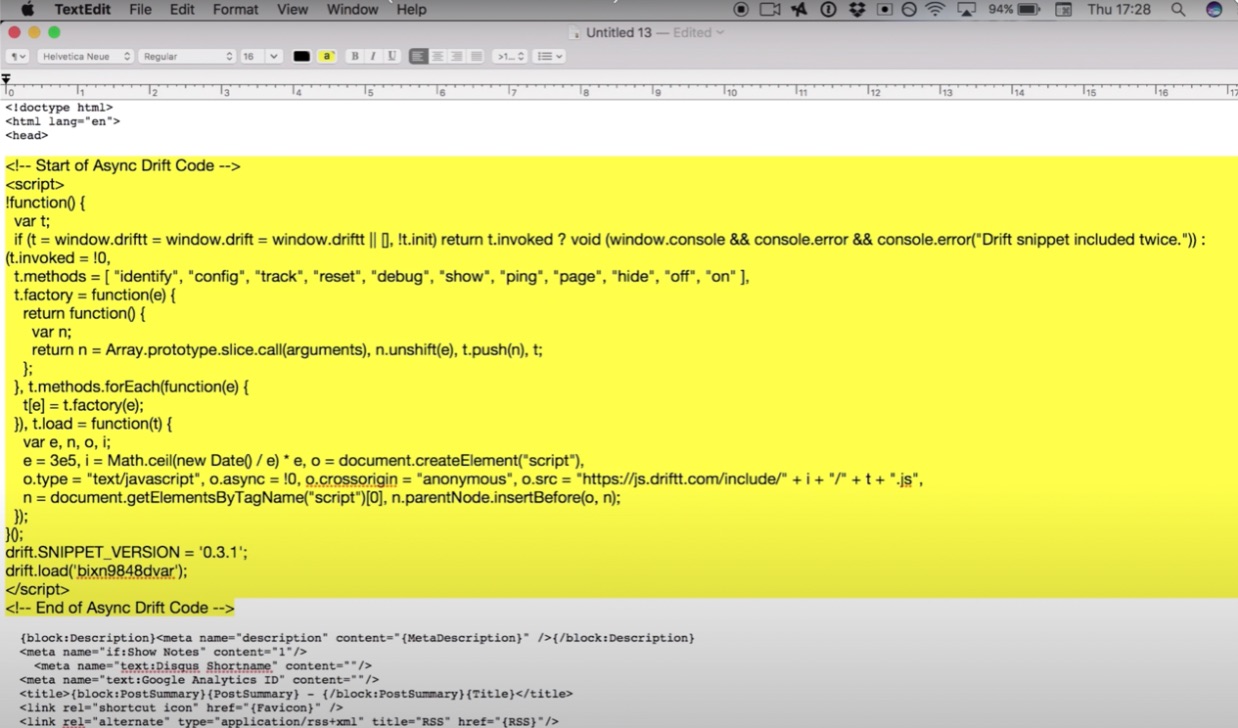 If your website is hosted on WordPress or any of the other options listed above, Drift will also walk you through adding the chatbot on those as well. To install on WordPress, for example, you'll be prompted to first download the Drift plugin.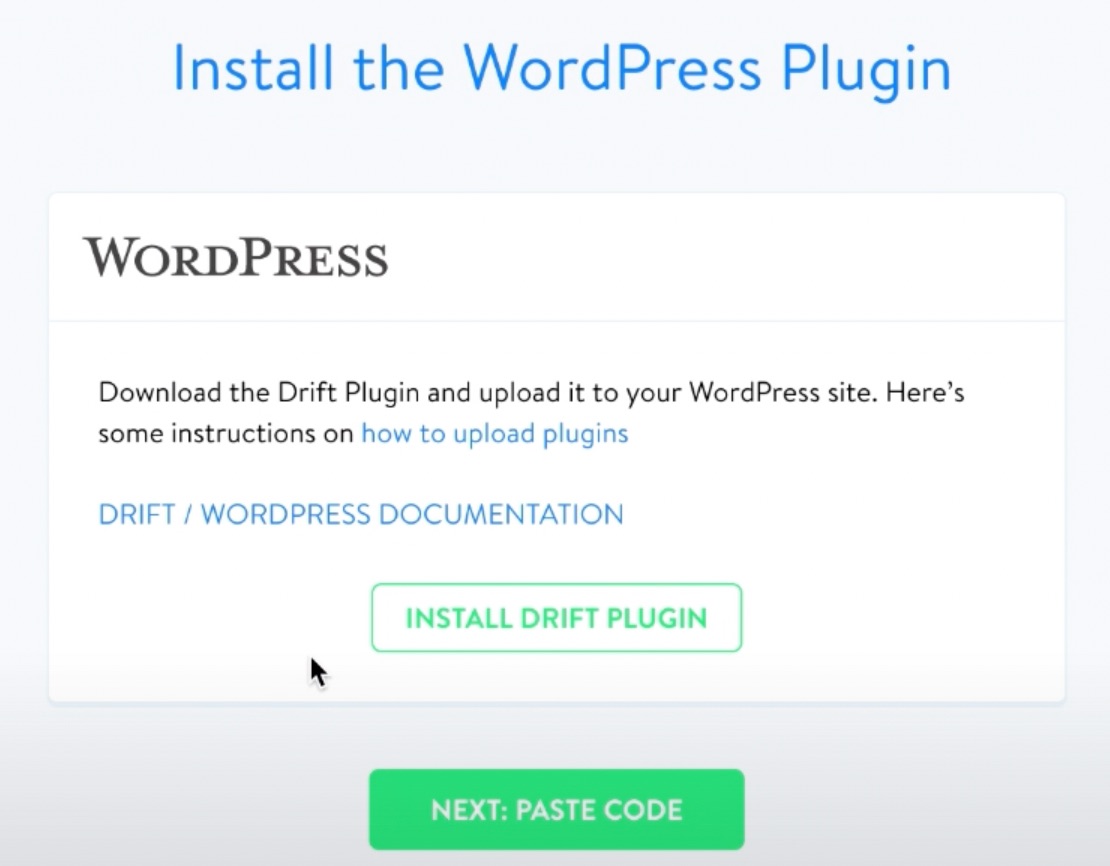 Once you've downloaded the plugin, head to WordPress "settings" then "Drift.":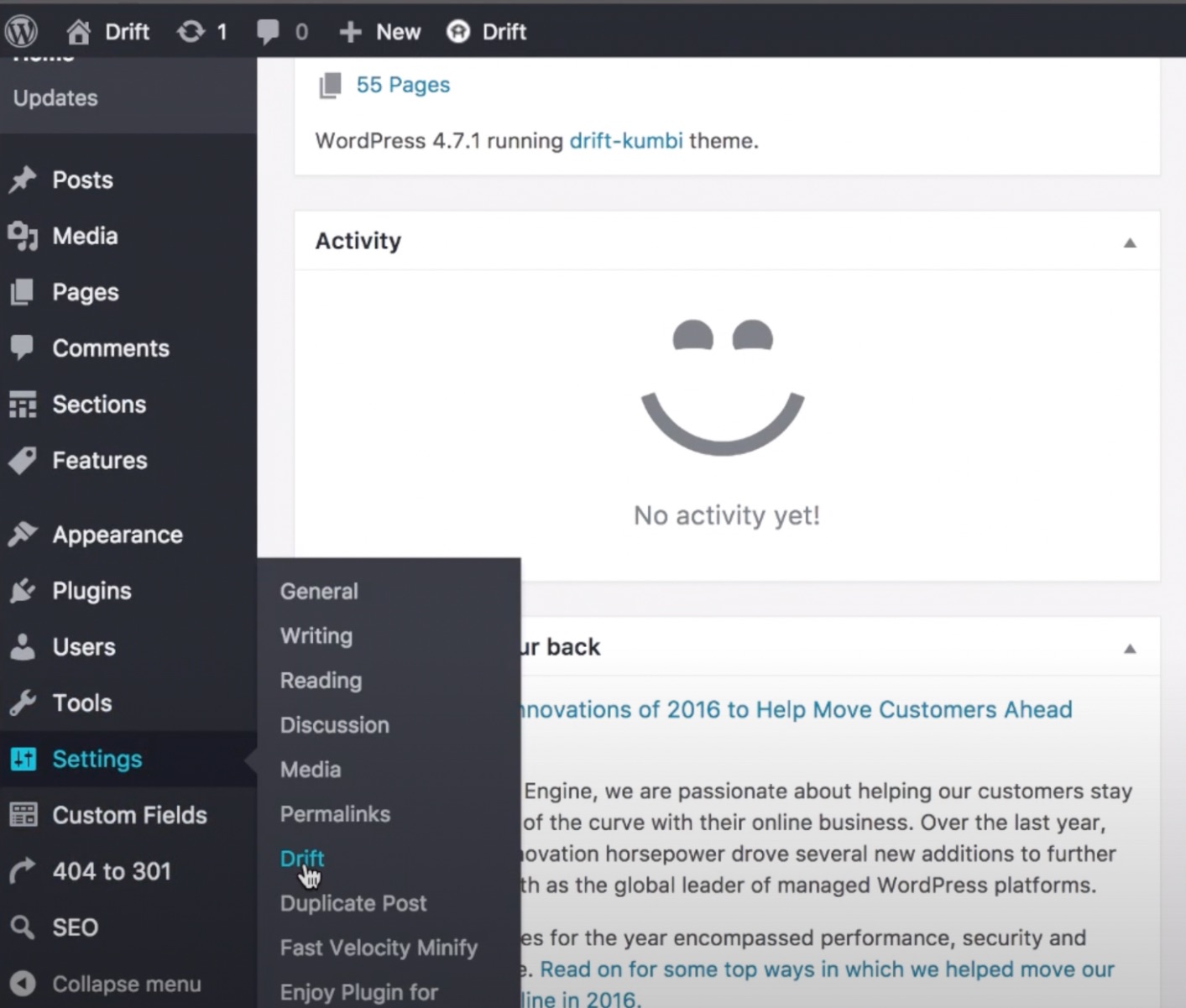 And paste the code where it says "Insert the Drift tag here":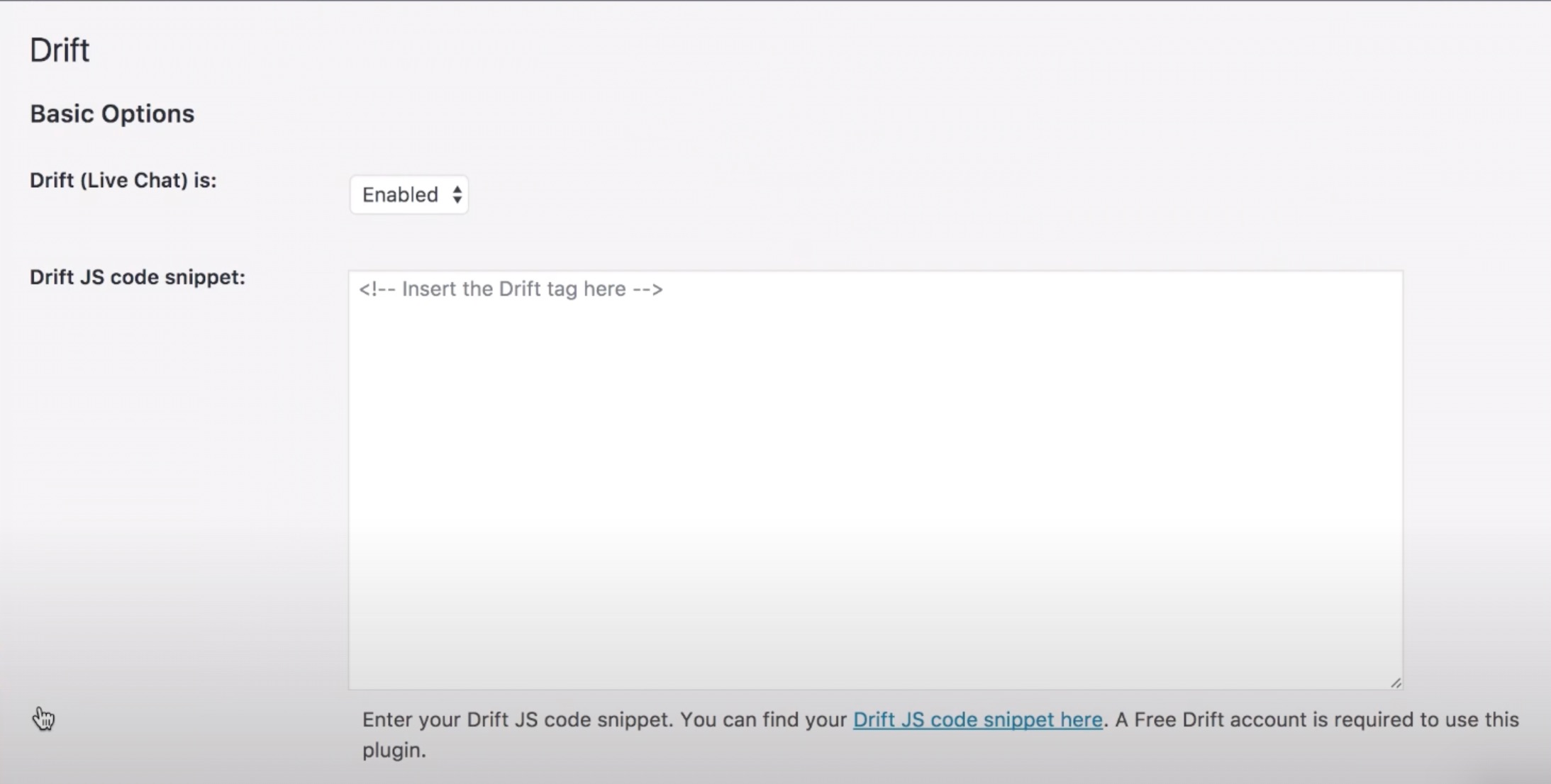 Step 5: Celebrate!
That's it! Once you design your chatbot and get your code, install it on your site and you're good to go.
If you need to update your chatbot, you can typically do so directly in the plugin or through the software. Some will update your bot automatically, whereas others might require you to update the code. No matter how your software of choice works, the process of updating and installing the chatbot will always be extremely similar (copy and paste the code in the head text or plugin, etc.) — but again, the software should make it easy by walking you through.
How to measure the success of your chatbot
Now that you've installed your first chatbot on your website, how do you make sure it's working like it's supposed to?
The majority of chatbot software tools will have metric-tracking abilities that make analyzing your chatbot a piece of cake. Drift, for example, lets you see which deals won have been helped along by your chatbot, allowing you to tie it back to actual accounts and ROI.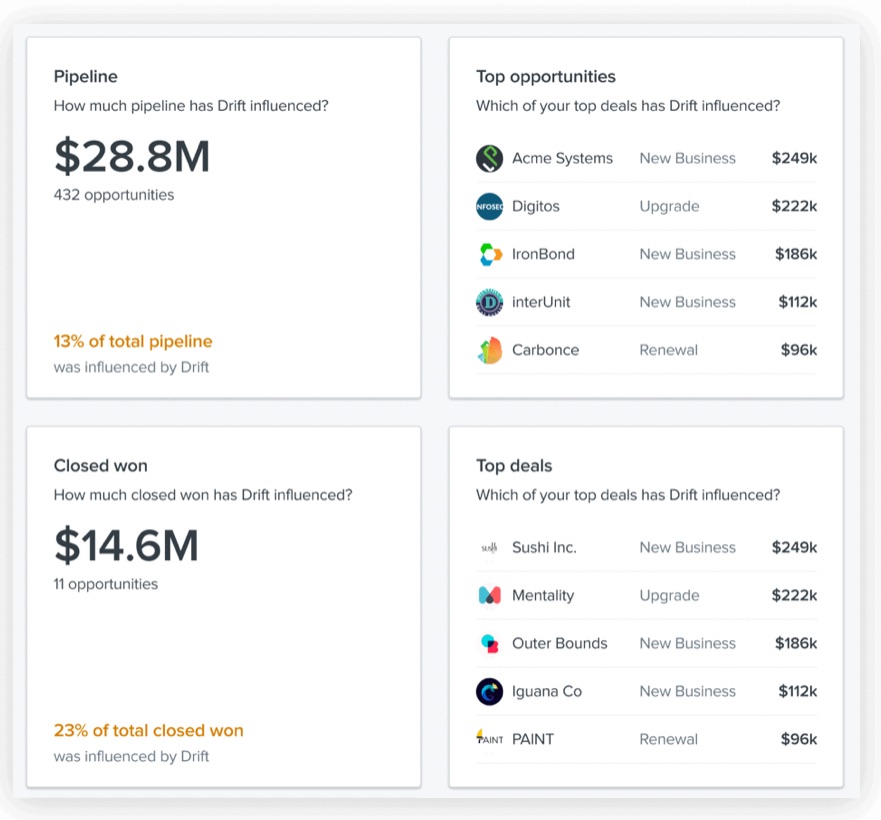 You can also track retention and conversion rates to analyze where prospects are dropping off, which could indicate that you've lost their attention somehow. Perhaps what you're asking them isn't relevant to what their needs are in their buyer journey. But this is also where chatbots can help you learn more about your customers' needs — and you can take that information and make your interactions even better and more efficient in the future.
Chatbot mistakes to avoid
In our experience, companies that fail with using chatbots and conversational marketing don't adjust their approach enough. In other words, they use chatbots but keep communicating in the same manner they always have.
This can manifest itself in a few ways:
If you have a form on a landing page on your website and you replicate it in live chat but don't adjust it to make it feel human.
You might be taking too long to get back to your prospects while you try to create the perfect answer, as you would in an email exchange. It should be a fast response with an "instant messaging" feel rather than long-winded communication.
You are using chatbots to cut costs rather than create a genuine and helpful experience for your website visitors.
Here at IMPACT, our chatbot begins with a simple, "How can we help you?"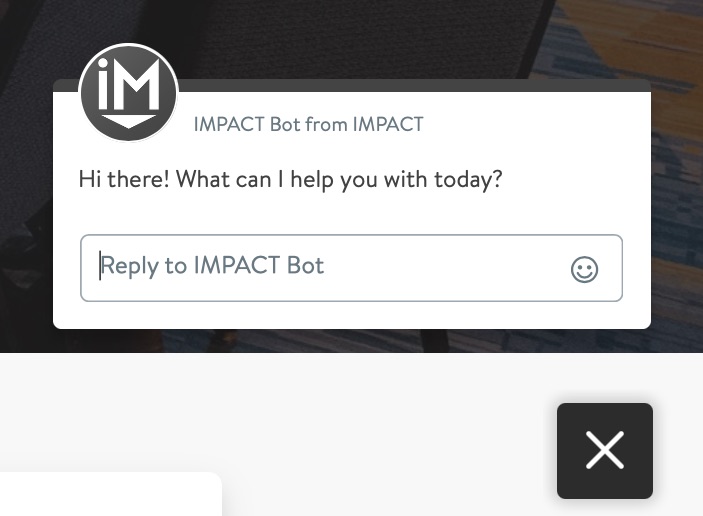 While one of our clients, Berry Insurance, requires you to give your location first (and with an adorable mascot to boot):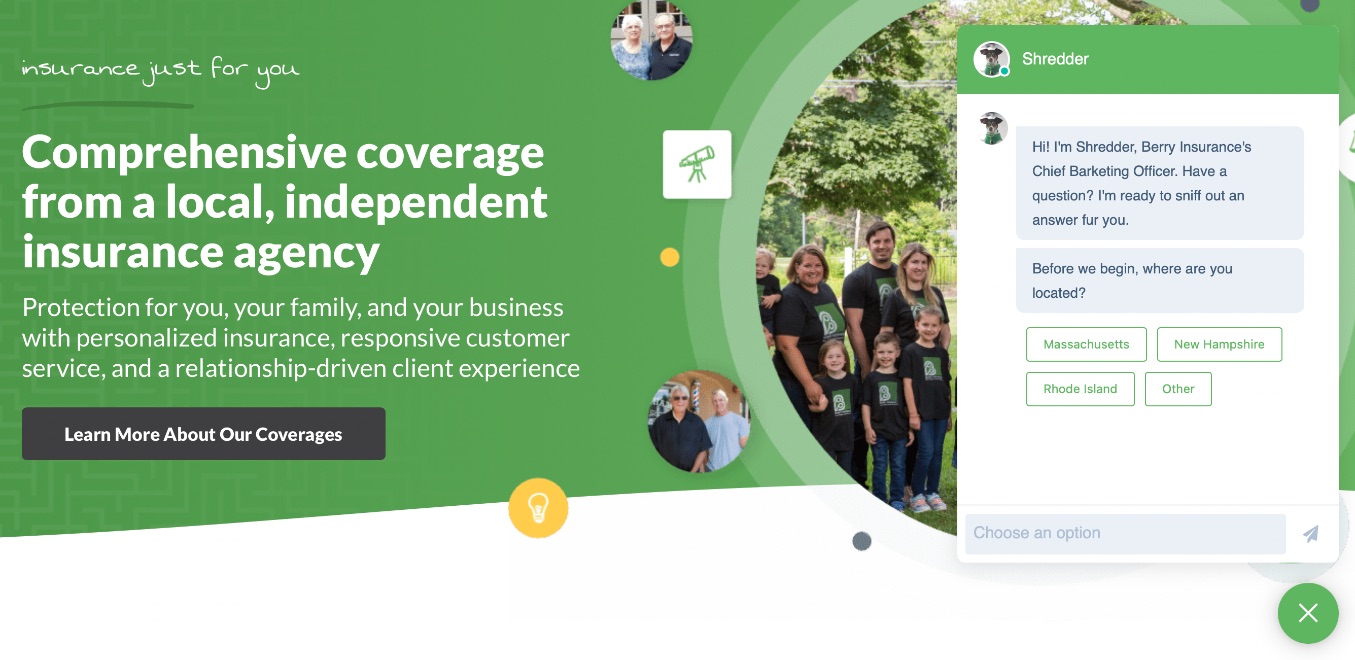 The bottom line is, if you want incredible results with conversational marketing, you need to use your chatbot to facilitate a faster, better way to answer your prospects' questions.
When it comes to succeeding with chatbots and other conversational technologies, it's all about the experience you're providing your customers — how easy you make it for them and how well you're addressing their concerns. This should always be your main focus, and as long as you do this well, you will see incredible results with your chatbot.
Don't let another right-fit slip away
The information and examples we've shared with you here come from the award-winning inbound marketing framework we teach our clients called They Ask, You Answer. Here at IMPACT, we strive to help businesses like yours build the best inbound marketing strategies on the planet, and a large portion of our clients' success with conversational marketing comes from the They Ask, You Answer approach.
This method has worked for thousands of companies, small and large, B2B and B2C, and across a wide range of industries — and hundreds of our IMPACT clients have used these steps to help their sales teams realize incredible results.
Learn more about our no-fail inbound marketing framework that teaches how to use chatbots and other automated technology — in a way that drives infinitely more traffic, leads, and sales — with a few helpful resources:
Our strategic coaching and hands-on training for your marketing and sales teams will help you improve your live chat strategy and scale your business one-on-one. Set up a time to talk to one of our advisors, and we'll show you how to alleviate your conversational marketing challenges so you can finally do what you set out to do: Help your small business grow its traffic, leads, and sales.
Free Assessment:
How does your inbound marketing measure up?
Take this free, 5-minute assessment and learn what you can start doing today to boost traffic, leads, and sales.
Get Started
Free Assessment:
How does your inbound marketing measure up?
Take this free, 5-minute assessment and learn what you can start doing today to boost traffic, leads, and sales.
Published on September 24, 2021