Chatbot customer service statistics and trend you've got to see for 2021 [infographic]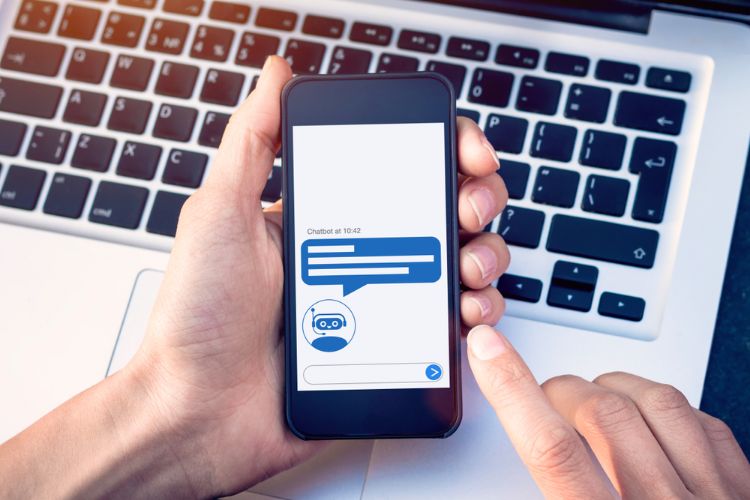 With the steady progression of artificial intelligence (AI), we've seen a wide range of products, from smart assistants to natural language processing tools, emerge. In the digital space, however, conversational marketing bots — or chatbots for short — are how this technology has come to life.
Put simply, Salesforce defines a chatbot as "a computer program that simulates human conversation, either via voice or text communication," and marketers from all sorts of industries rely on them to help their companies communicate with their prospects and customers to improve the customer service experience.
There are two main types of chatbots: fixed and AI.
Fixed chatbots offer a more limited type of experience, as the information they can store is, you guessed it, fixed. Because of this, they are unable to understand human emotions and behavior.
AI chatbots, on the other hand, possess the ability to continuously collect data and improve in order to better serve the customer interfacing with them. In other words, they can learn.
Both are useful in certain situations, but the "intelligence" that AI chatbots offer over fixed chatbots is what makes them a more popular choice amongst customer service teams.
As you begin to wonder whether implementing a chatbot within your customer service department is the right move, here are a few statistics and trends from an infographic by Invesp to help you understand the impact chatbots are having on both businesses and consumers.
Benefits of chatbots for businesses
Chatbots can help businesses grow and improve in a countless number of ways, especially when it comes to customer assistance. Here are only a couple of the reasons we're seeing more and more companies adopt a chatbot solution:
1. 67% of consumers worldwide used a chatbot for customer support in the last year
With the rise in customer use, why shouldn't you implement a chatbot? Consumers are using chatbots regularly to resolve complaints or issues, make reservations, pay bills, and even to connect with a human customer service representative.
Furthermore, 40% of consumers don't care if they're being helped by a chatbot or a real person, as long as they're getting the help they need. And if a chatbot can answer up to 80% of routine questions, there's a high chance your employees won't even have to jump into the conversation at all.
2. Chatbots can help businesses save up to 30% in customer support costs
As we just learned, a chatbot is expected to be able to answer most common questions consumers have when it comes to your business. As a result, your customer support staff can spend valuable time on more critical situations that may arise.
It's also important to note that chatbots can create additional value and increase efficiency for your customer service department, as well as your entire business. Through routine conversations with your customers, a chatbot simply collects information that can be used in a variety of ways.
For example, gathering patterns of specific pain points commonly experienced across your customer base can help you make decisions on how you can improve your product or service.
You may also be able to act on behavioral information, like better understanding when your audience is most active so you're able to present content or send planned emails during specific days or times.
Data gathered by an AI chatbot can lead the way to a broad range of potential improvements you can make to your business strategy which, in turn, decreases the amount of questions or issues your support staff may need to deal with.
The increased efficiency and data-driven decisions lead to more targeted efforts, thus reducing operational costs. The results may even open up the possibility of hiring fewer customer support staff to address your customer concerns (which is also a money saver).
Benefits of chatbots according to customers
If chatbots are implemented correctly, many businesses are finding that their consumers actually love communicating with them to quickly get the help that they need.
According to Automat, consumers find them "quick, easy, fun, friendly, informative, and all that adds up to helping them buy more and being more satisfied with their purchase experience." Here are a couple statistics that show customers' favorite things about chatbots:
1. 64% of customers love that chatbots can be available 24/7/365
If you're anything like me, then you're probably a human, and we humans need our sleep. That means we can't be available for our customers at all times of the day, on the weekends, or during holidays. This is where a chatbot can really come in handy.
Not only can a chatbot respond much quicker than a human, but it can continuously operate whenever needed without losing energy (or patience).
2. 51% of customers love that chatbots are easy to communicate with
I'm going to play the human card again, so bear with me. How many prospects or customers can you actually handle at one given time?
If you want to provide the best value, it's probably a low number, because you want to give your full attention to each person in need.
Chatbots don't have this issue so, as a result, they can instantly handle thousands of inquiries at once, while providing a consistent experience across each interaction. In turn, this can directly impact the customer experience in a positive way, providing more help to more people.
Furthermore, a chatbot's attitude cannot be affected by whether or not they've had a good day, so you can rest assured that your customers will always experience a polite, respectful conversation.
Ready to deploy a chatbot?
Including a chatbot in your business strategy can open up a lot of opportunities in areas like sales, marketing, operations, and especially customer service.
With the potential for cutting costs, increasing customer happiness, and gathering additional consumer data, implementing a chatbot seems like a no-brainer. Take a look at the rest of the statistics and trends outlined in Invesp's infographic below.

Free Assessment:
How does your sales & marketing measure up?
Take this free, 5-minute assessment and learn what you can start doing today to boost traffic, leads, and sales.