5 Battle-Tested Benefits of Insourcing Your Content Marketing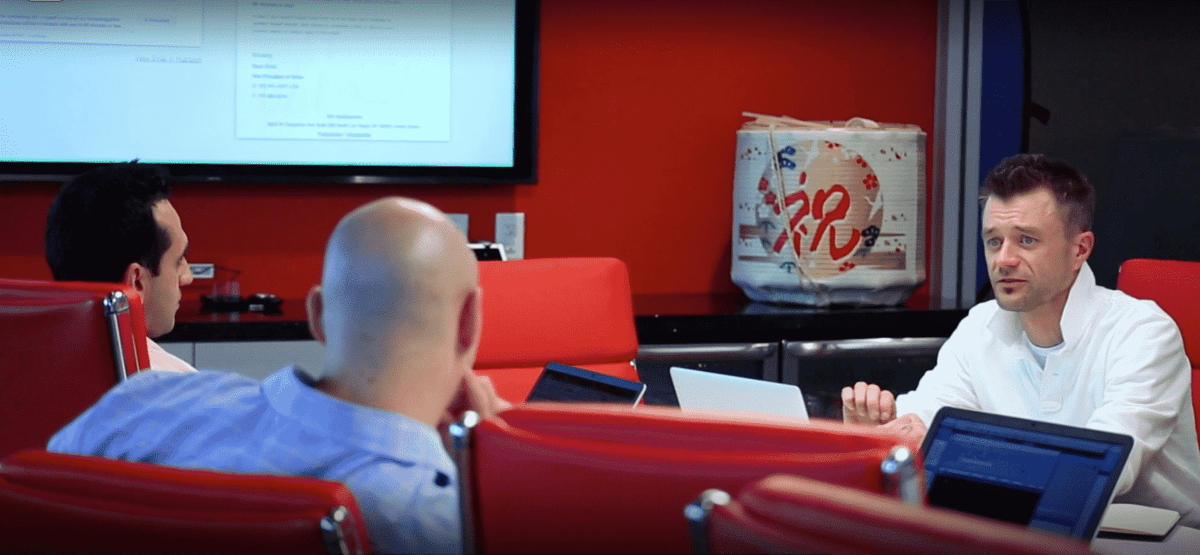 Benefits of Insourcing Content Marketing
Nobody Knows Your Buyers Better Than You
In-House Content Managers Will Become Experts
Not Restricted to Deliverables
Builds Company Culture
Google Prefers Expert Written Content
Here at IMPACT, we've recently undergone a major shift in how our agency helps clients with their content marketing efforts.
Rather than continue to do what most digital marketing agencies do: help businesses find outsourced content producers to write blogs, create premium downloadable offers, develop pillar content, and other forms of content, we've pivoted towards encouraging businesses to take these efforts in-house.
You're probably wondering, why would we go and do a silly thing like that?
Why embolden our customers to take content creation into their own hands when we can sell them content for a premium price?
Because we've found in-house content creation to be WAY more effective than outsourcing it. And as much as we love revenue and could continue charging for these services, we care more about getting results for our clients.


Does Insourcing Content Really Work?
I joined IMPACT in February 2018 when The Sales Lion (TSL) merged with IMPACT.
At The Sales Lion, we didn't do content marketing for our clients. Instead, we trained and consulted with clients on how they could do content marketing themselves.
Originally, my role at IMPACT was meant to provide a specialized service for clients that wanted to take ownership of their content marketing rather than rely on an agency to produce results for them.
But after just a few months, the data was pretty clear: the clients that produced their content in-house saw far greater results than those that outsourced.
In fact, the majority of our most successful case studies to date come from companies who have insourced their content marketing efforts.
Just a quick look at a few of the following traffic graphs will give you an idea of what kinds of results I'm talking about.

Retrofoam of Michigan organic traffic shown above.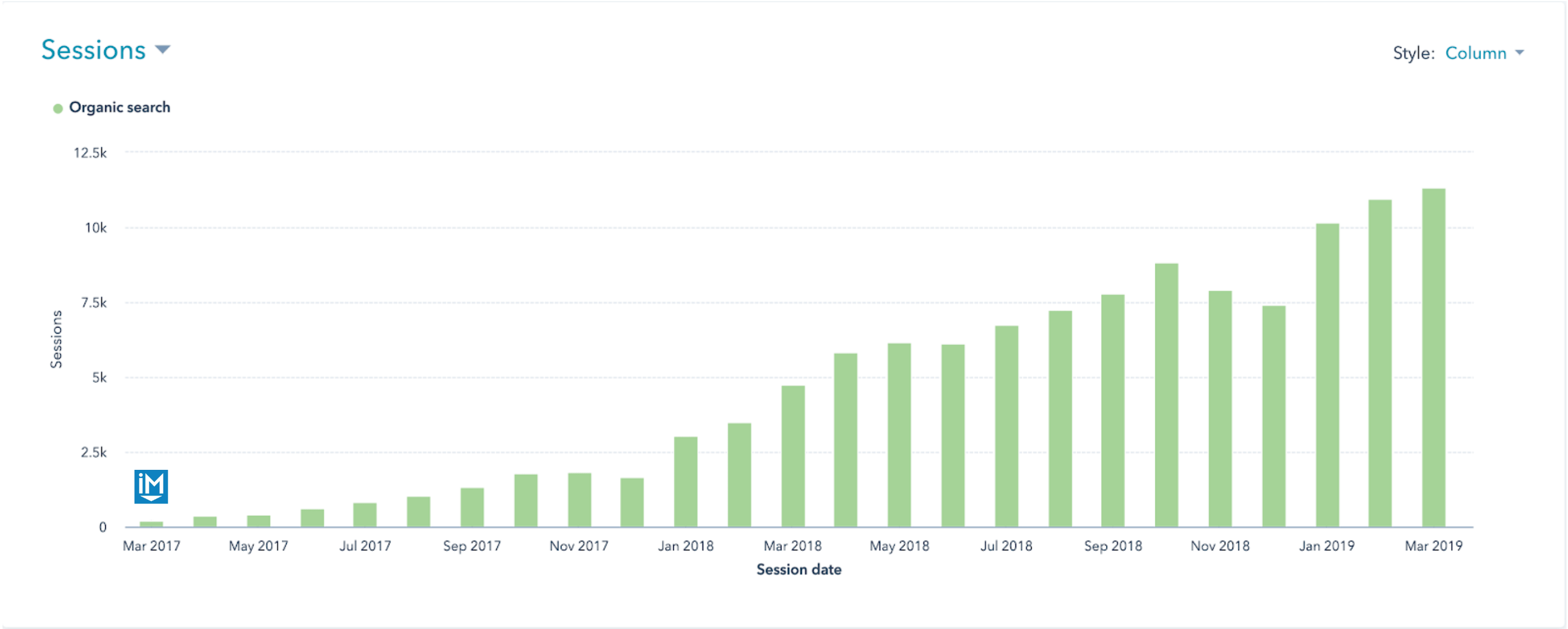 West Roofing Systems organic traffic shown above.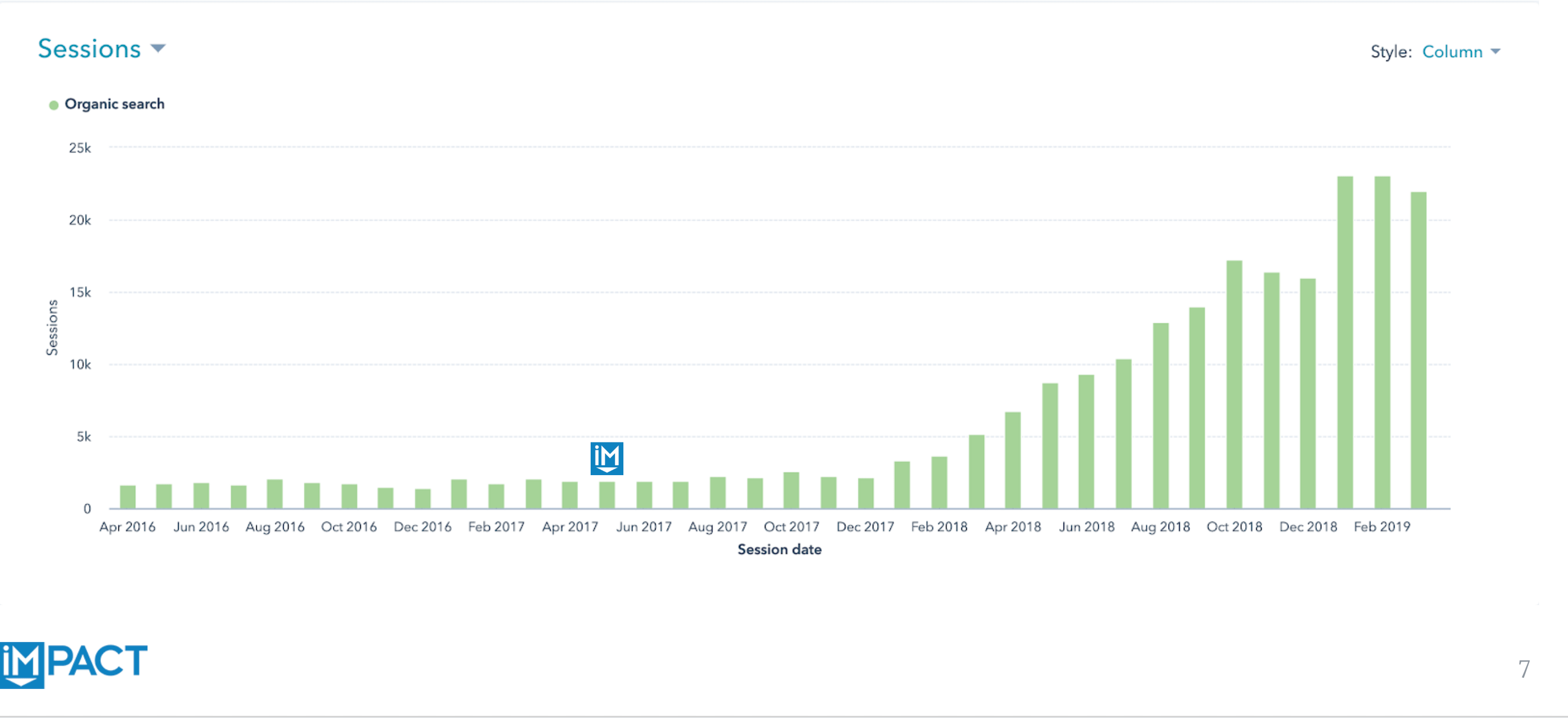 Aquila Commercial organic traffic shown above.
After reviewing those case studies and others, we realized our entire approach to content marketing had to change. Our new goal is to have the majority of our clients insourcing their content by the end of the year.
Still skeptical? Here are the top benefits of insourcing your content creation:
1) Nobody Knows Your Buyers Better Than You
When you outsource your content, you're relying on an agency to research your brand, industry, and consumers to create content that drives traffic to your website.
And while there are a lot of agencies that are great at this, they'll still never truly understand you or your buyers as much as you do.
One of our top case studies comes from Mazzella Companies who were able to increase traffic over 600% and leads over 650% once they began insourcing their content creation.

Mazzella organic traffic shown above.
When asked about the benefits of insourcing content, their content manager, Mike Close said, "Having someone on your team dedicated to producing content is invaluable. Many people work with agencies or outsource their content to freelancers. These people are never really going to understand your brand, your products, or services. Why would you not want someone fully invested in what you've built?"
This exact sentiment is shared by every client we asked this question.
Rick Lagore, CEO of Intek Logistics, not only runs his company, he's the author of every blog article on his website. Rick said, "The greatest benefit of insourcing the content is there is no one better positioned to write about our business than us."
Intek began working with IMPACT in November 2018 after years of stagnant growth.

Intek Logistics organic traffic above.
Keven Ellison, VP of Marketing for AIS-NOW, has experienced both outsourcing and insourcing content for his company. After years of stagnant growth, they switched to insourcing in September 2017 and went from 500 organic visits per month to over 5,500 in 18 months.
"We had worked with a marketing agency to develop our content and now we have switched to creating our own," Keven said, "No one can know your business, industry, or your targeted customers better than you. When possible you should always develop your own content."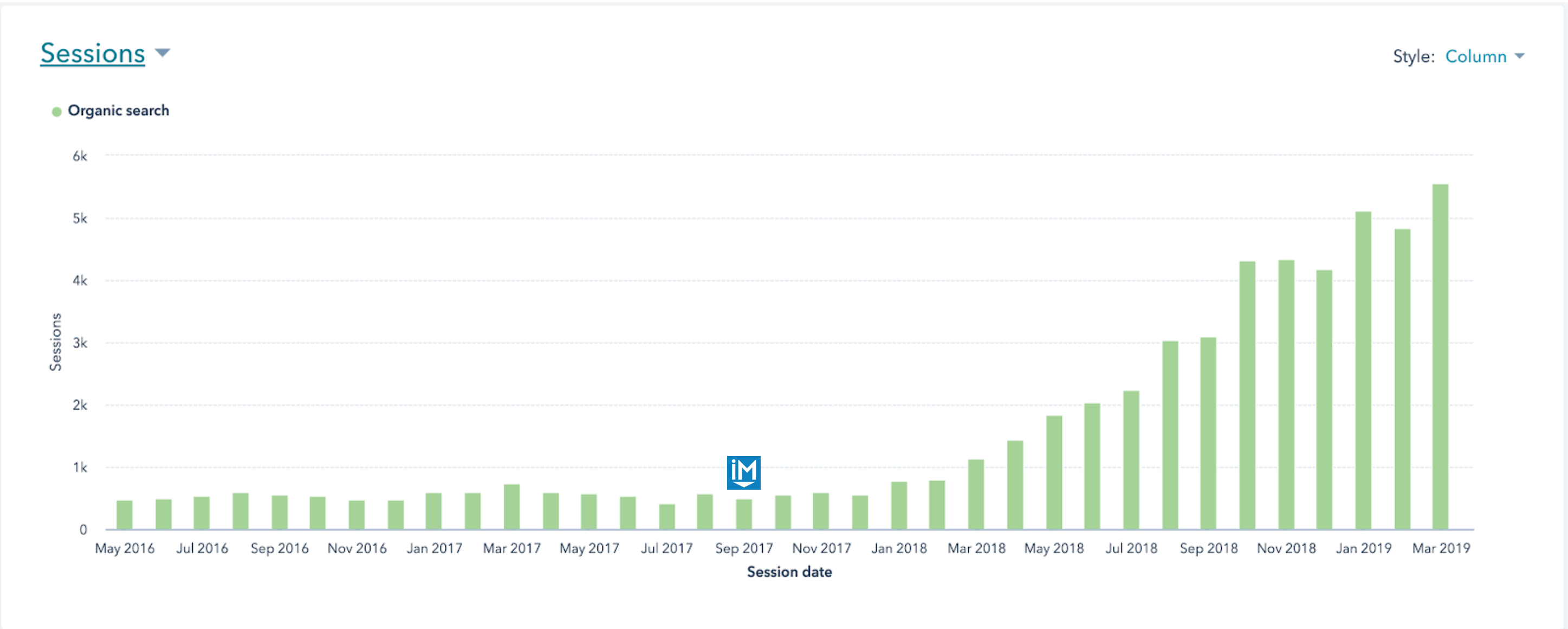 AIS-NOW organic traffic shown above.
It's pretty clear, if you want an accurate reflection of your brand targeted to your consumers, insourcing is far superior to outsourcing.
2) Your In-house Content Managers Will Become Experts Themselves
One of the most frequent arguments against insourcing content is, "But I'm not a good writer."
While I'd counter-argue that anybody who can communicate a coherent thought can learn to write better, it is a skill that can take time to develop. Many companies don't have the time to learn new skills and want results fast.
So what do they do? They outsource their writing to agencies or freelance journalists.
At IMPACT, our solution is to hire a content manager.
While it is definitely a greater investment to have someone on your payroll rather than pay a freelancer, ultimately, it's the more profitable solution.
Why? Well, freelancers are often working with multiple brands on many pieces of content. And while they may be amazing storytellers, they're most likely not an expert in your field.
They also don't always have a direct line or easy way to contact your subject matter experts for interviews.
When you have a content manager, they're embedded in your company. They may not know everything about your industry initially, but through constant writing on the same subject matter, they'll become experts themselves.
It happened to me!
I got my start as a writer for Alaska Sleep, a sleep medicine diagnostics company specializing in sleep studies for sleep apnea patients.
When I started, I was heavily dependent on interviewing the doctors, technologists, and DME providers for information. However, after a few months , I could spout many facts about sleep apnea from the top of my head (and can even to this day) because I wrote over 150 articles on sleep medicine.
Julianne Calapa, Content Specialist for Mazzella Companies (writing for Sheffield Metals) has been writing content on all things metal roofing for over a year and a half. She was hired for her writing skills, not her knowledge of metal roofs.

"I didn't come from a metal roofing background," Julianne said. "In fact, I knew nothing about metal roofs. But through spending time closely with our salespeople and interviewing industry experts, I've become one of the metal roofing experts for the industry. My name is attached to all the metal roofing articles being read online."

Sheffield Metals organic traffic shown above.
The other benefit of having a content manager is that they're often within the same building as the experts (or at least have access through tools like Slack). It was easy for me to pop down the hall when the doctor had a few moments between patients to either interview him or have him clarify questions for me.
An outsourced writer simply doesn't have the same level of access as someone within the company.
3) You're Not Restricted to Deliverables
When hiring an agency or freelance writer, you're often given an agreed upon number of deliverables per month.
Part of their scope of work may include a set number of blog articles per month and premium content offers per quarter.
And this can be a really good thing because you know exactly what you're getting.
However, this can also be problematic for a few reasons.
As Marcus Sheridan, partner at IMPACT and author of They Ask, You Answer explains in his book:
"Companies that insource aren't restricted by deliverables. If they want to produce ten blog articles in a month, they do it. If they want to write just one epically long and valuable blog post, they do it...The creative flexibility to simply produce great content, in all its forms, without the limitations of a contract or deliverable, is a powerful, powerful thing."
Sure, there may be capacity issues to tackle, but there is no legal or logistical reasons you cannot scale. That is in your control.
Further, in most cases, outsourced content is for new content.
What happens when you want to update an older piece of content with current information? It'll either get left untouched or will require new negotiations. An in-house writer can simply revisit older content and make necessary changes.
4) It Builds a Stronger Company Culture
Outsourcing your content is often a hands-off approach. Many companies become dependent on agencies taking over their content creation. They think to themselves, the agency's got this. I don't have to worry about my marketing anymore.

So what happens? People in the organization aren't paying attention to what's written, how it's written, if it properly reflects the brand's voice, or what the article is even meant to achieve.

At best, the company's marketing team is aware of (and hopefully a part of) the content being produced, but it doesn't capture the attention of the sales and leadership teams.

And this passive attitude towards content marketing leads to unsubstantial results.
The companies we've worked with that insource their content get stronger buy-in from the entire organization, which leads to a culture of content marketing.
When you have a content manager, that person should be not only working with the marketing team, they should be talking frequently with the sales and leadership teams.
They should be asking the sales team what questions prospects were asking on the phone, having the leadership team review content for accuracy and clarity, and, most importantly, getting the sales team to use the content in their sales process.
If most prospects are asking 80% of the same questions, the sales team should be aware of which questions have already been answered on the website and following up with prospects with links to the content.
Sales can even get ahead of prospects' questions by using assignment selling, the process of giving homework to prospects to read content ahead of sales appointments. This process ensures prospects get answers to their questions before they even ask a sales rep.
In short, when everybody in the organization is actively participating in your content marketing efforts, it creates a culture of content marketing.
John Pearson, Content Marketing Manager for IMPACT client La-Z-Boy Southeast, says that creating a content marketing culture has enabled more involvement from their sales team, interior designers, and other experts.
"Insourcing our content marketing has empowered all of our subject matter experts to create helpful articles, videos, and podcasts," says John, "It's also shifted our company culture away from discounting and traditional advertising to a focus on building trust and value through our content. We believe insourced content has a more intimate knowledge of our market because we're deeply seated in the industry every single day."

La-Z-Boy Southeast organic traffic shown above.
5) Google's Wants Content Written By Experts
Did you happen to notice any major fluctuations in your website's traffic or keyword rankings in August 2018?
At that time, Google came out with a broad core algorithm update dubbed E-A-T, which stands for Expertise, Authority, Trustworthiness.
The hardest hit sectors were healthcare, e-commerce, and financial institutions; producers of content that "could potentially impact the future happiness, health, financial stability, or safety of users," as stated in Google's Search Quality Evaluator Guidelines.
So what does this mean?
Well, when the update came out, I saw a few websites lose a significant amount of traffic.
In the image above, you'll see a medical clinic that outsourced their writing to an agency.
They were on their way up with incredible growth. The agency was writing the right kinds of content and had taken them from under 1K visits per month to over 113K.
Then the update happened, and they began losing significant traffic and keyword rankings.
The main cause of this loss was that the author name associated with the articles was simply the marketing agency's name.
The E-A-T update really focused on WHO was writing the content and not just which website was publishing it.
Google wants to ensure web users are getting the best answers from the best people.
So when they see that the author isn't a real person, or the author isn't associated directly to the organization, or there's no bio describing the author's expertise on the topic, the content loses its expertise, authority, and trustworthiness.
And as sad as it is to say for some of these folks, it's a good thing for searchers.
Too often, websites are outsourcing blog writing to experts in writing, not medicine or finances.
That person may have zero knowledge of medicine and had only done a few web searches themselves to pull together an article displaying expertise on a subject they just learned about themselves.
They could unknowingly be spreading false information. And when it comes to health, false information could be harmful or deadly.
When you insource your content, your author works for the company, they (hopefully) have a bio page on your website attesting to their industry knowledge, and they should also have a link to their LinkedIn page so search engines can further crawl and verify the writer knows their stuff.
If their LinkedIn page states their occupation as "Freelance Writer" how do you think that looks for their credibility?
And remember point #2, your content manager may not start with any expertise in the industry, but from frequent blogging on topics specific to your industry rather than tons of topics for various industries, their expertise, authority, and trustworthiness will grow.
Another alternative is to drop the "but I'm not a good writer" excuse, and have your experts write content that can be edited and reviewed by your content manager.
Final Thoughts
Insourcing your content may not be the most feasible option for you. If you're working with an agency that is producing incredible results, why fix something that isn't broken?
But if you've been outsourcing your content and haven't seen any results, I'd highly suggest a hiring a content manager and taking control of your content creation.
The clients we've worked that create their own content are the most successful case studies we've had to date.
But it's not a cheap and easy solution. It's a lot of work and it is more expensive than outsourcing. And we've seen companies with internal marketing teams struggle to see results on their own.
And for those reasons, we offer content training and consulting to give in-house marketing teams all the tools and best practices they need to succeed.
Free Assessment:
How does your sales & marketing measure up?
Take this free, 5-minute assessment and learn what you can start doing today to boost traffic, leads, and sales.