Business website copywriting: Pros and cons of writing your own site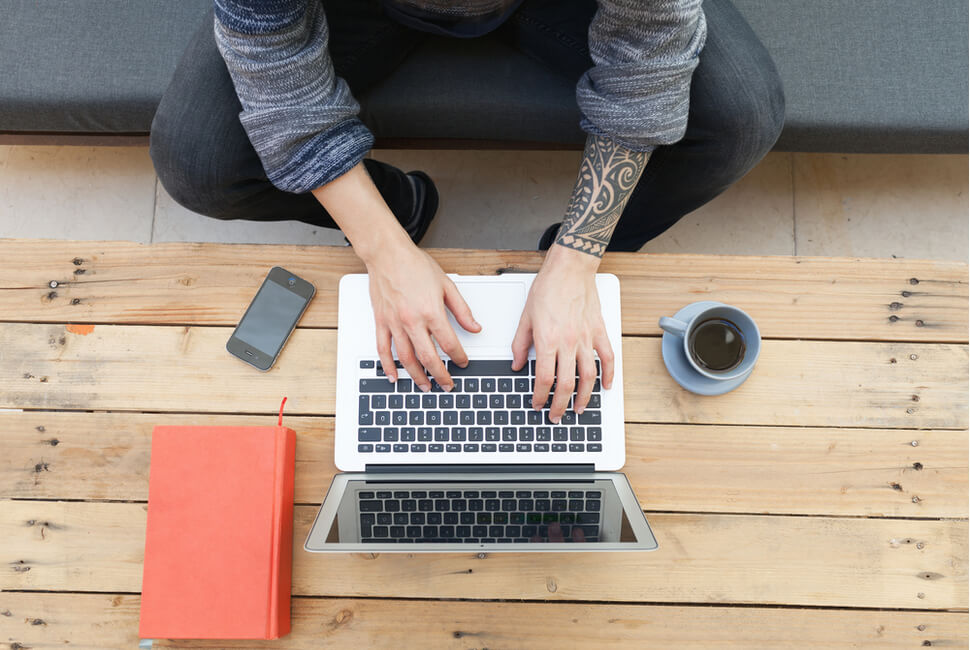 Writing is an art form that is seldom appreciated but frequently required. Lots of people, even professional writers, struggle with a blank page staring back at them and not knowing where to start.
I'm sure you've seen it in a movie: the writer sitting at the typewriter with the blank page staring back at them. There's this feeling of dread where you realize you have no idea how to start and no idea how long that's going to take.
Compounding this fear of writing there are moments of dread where the person begins to edit their own content and realizes that their word is going to live on in perpetuity and be scrutinized even when what they wrote is no longer in context.
Thankfully, in most instances, writing about something you really know by heart is usually much much less daunting.
At IMPACT, we encourage, nay require, that our clients write their own content.
Our experience and research has shown that content written by stakeholders ends up being way more effective at communicating who they are and why they deserve their customer's business.
It's the same when it comes time to write their website. Who better to write the virtual storefront (your website) than the person responsible for keeping its doors open?
We're huge proponents of our customers taking the reins on their own marketing website and their future by producing and writing their articles, videos, you name it.
Still, we realize it's not an easy task.
That said, there are definitely pros and cons to writing your own website versus having a professional writer do it. In today's article, we'll cover what I think are the most important things to keep in mind as you set out on the journey of deciding who's going to write your website content.
Pros of writing your own website content
Ability to infuse your brand personality
Your brand culture and personality is what truly sets your company apart from the rest. Whether it's a video, or a blog article or, even your 404 page, introducing a level of personality goes a long way with consumers because it humanizes your brand and allows them to form a deeper, more emotional connection with you.
A brand that is more human is more trustworthy and this trust helps cut back on the apprehension buyers feel as they decide whether or not to interact with your brand.
It's so important to ensure that your personality is consistent in every piece of communication you produce. The goal is that every touchpoint, whether it be your website, an email, or a social media post elicits the same emotion and message.
This will subconsciously associate that emotion with your brand and set a precedent for what people can expect from you.
So how do you want your consumers to feel about your brand?
Are you a leader in your space because you've got a great company culture that attracts the best talent? Do you guarantee your customer's satisfaction to make sure they won't feel buyer's remorse? Perhaps it's because you never cut corners and consistently push yourselves to put out the best product or service?
These are questions that only your internal stakeholders can effectively and accurately answer because it's who they are; it's the brand they live and breathe every day.
In the case of conveying a "fun" overall personality, for example, simply telling an outsourced writer this isn't going to culminate in the same piece of communication as it would coming from someone on your team. Your definition of "fun" is unique to your organization.
Inversely, having continuous conversations internally about who you are as a company and instilling that in everything you do aligns everyone and focuses them on the same understanding of what you stand for.
Capitalize easily on the in-house expertise you already have
Just like we said before, who do you know, outside of your company, who can communicate the intricacies and nuances of your product and service as effectively and accurately as your team? How about your company's price structure? How about someone who knows the one thing that sets your product apart from everyone else?
I'd bet you're hard-pressed to think of someone who isn't going to require months of training and education on even the smallest part of what it is you do.
There are so many ways you can leverage your in-house experts to write content for the pages that will represent their department, product, or service.
Doing so will ensure that each and every part of your website is owned by one of your leaders to effectively communicate the important facts a consumer needs to know in order to make an informed decision about your brand. They will set real, accurate expectations based on their day to days.
Even if you go out and hire someone to be your in-house writer, the access they'll have to your experts can't be re-created with an outsourced writer in the same amount of time and with the same efficiency.
Improved quality over time
Over time, your in-house experts should continuously write, test, and tweak the site content to ensure your culture, industry outlook, and personality is ever-present and current.
Using your favorite form of analytics, they'll have an opportunity to see if your message and tone is successful and effectively driving users towards your ultimate goal — engagement and conversion.
Being able to revise and refine content iteratively — on your internal schedule and at no additional cost — is a huge advantage over working with an outsource writer where every new idea will certainly mean more money.
For in-house content writers, time will also be beneficial as they develop relationships with your internal stakeholders thereby leveraging their expertise, as well.
Overall, having an employee that's laser-focused on your website content will translate to less friction getting from concept to completion, plus the quality and effectiveness of your website content will get better and better.
Easily control deadlines and maintain accountability
When you write your own website content internally, you have more flexibility in terms of time.
If someone is on your team, you can have more control over their schedule and workload. This will empower you to keep the focus on the areas of content you need delivered within your timeline.
Alternatively, an outsourced writer usually works with multiple clients and their availability is always in flux potentially causing delays in deliverability or limiting your ability to make changes.
Plus, you can bet your employees will hold themselves accountable in ways that no outsourced writer will. Not only does their full livelihood depend on it, but their team is depending on it.
Overall quality and accuracy is always going to be better if you write it
If you've ever heard someone say, "If it's not me that does [it]... it won't get done right!", I'm here to tell you that's never been more true than when it comes to writing your website.
Overall, the quality of your content is going to be better if written by you or someone in your company that fully understands your business versus any research that's available online.
Internally produced content almost always ends up being more authentic and hyper-targeted to the company's goals because it's produced by the stakeholders themselves. They know best what the most important facets of your business require attention on your site.
As we've touched on previously, no one is going to be able to describe what it is you do better than you and your team.
Cons of writing your own business website
It's MUCH more expensive in the short term
Realistically, unless you're going to roll up your sleeves and write the site yourself, hiring a content manager is a large investment. On average, it will cost your company anywhere between $50k - $80k per year to hire someone that can write, communicate, fit your culture, etc.
On top of the yearly salary, you'll need to calculate another 25-40% depending on your location for the customary benefits package.
Alternatively, an outsourced writer typically costs anywhere between $300 - $600 an article or around $150 - $200 per hour if you're dealing with an agency. This sounds expensive, but you can definitely get started for a smaller investment and only pay for what you use.
It's very hard to find a unicorn
Finding a good writer who already knows your industry and your space within that industry doesn't come easily.
During any hiring process, you can expect time invested in interviews, negotiation, onboarding, training, evaluation and, possibly, resetting if someone doesn't work out, so you're not going to see the fruits of all your efforts for at least a few months from the time you hire the right person.
The time it takes to hire the perfect fit varies and could delay your project indefinitely. I've worked at companies where a position was a revolving door of people who just didn't have the right experience, didn't fit culturally, or became a financial burden before their efforts paid off.
So I'd say if you have a long timeline, go on a unicorn hunt, but if not, then perhaps consider your current workforce and their potential ability to take the reigns of your website content or outsourcing.
Even after you've gone through and found the right person, you'll still have to test and iterate the content until it's just right and completely conveys what you and your brand is all about. Just like anything else in life, getting your message right takes time by experimenting, analyzing, documenting, learning, etc
What about outsourcing to the same writer?
Yes, outsourcing makes it super easy to scale your website writing faster. There's almost always a large pool of available talent so spending money does get you content relatively quickly.
While internal team members cost a bunch of money annually, outsource costs are between $300 per article or as much as $600 if you go with an agency. Still, that's a fraction of the initial cost in time and money as compared to hiring someone.
But this doesn't get you the pros we listed.
Even working with the same outsource writer is going to mean much more time to get the content just right versus having that employee that's accountable and always available to you.
Plus, although it may be faster to get up-and-running by contracting an outsource writer, you'll probably have to deal with revisions that go back and forth and, maybe, even end up re-investing time to turn what they write into something that sounds more like your voice.
Outsourcing your business website content is less expensive than hiring a content manager, but it may cost you money in the long run.
At IMPACT, our recommendation is always going to be that you embrace the task of writing your own content. Someone at their company should be accountable and eager to communicate with the masses what makes their product or service stand out from the crowd.
Doing so has always led to success, in our experience, because those that own their customer's experience can make the difference in achieving the state of delight that's so sought after.
Consumers buy and stay loyal to companies that are very clear about their culture and what they stand for. To paraphrase Simon Sinek, "they don't buy what you do, they buy why you do it…"
At the end of the day, no one is going to be able to communicate your why better than you or someone you trust inside your company.
Free: Assessment
Does your website build trust with buyers and bring in revenue?
Take this free 6 question assessment and learn how your website can start living up to its potential.