Zoom alternatives: As video conferencing platforms stumble, Google Meet aims to capitalize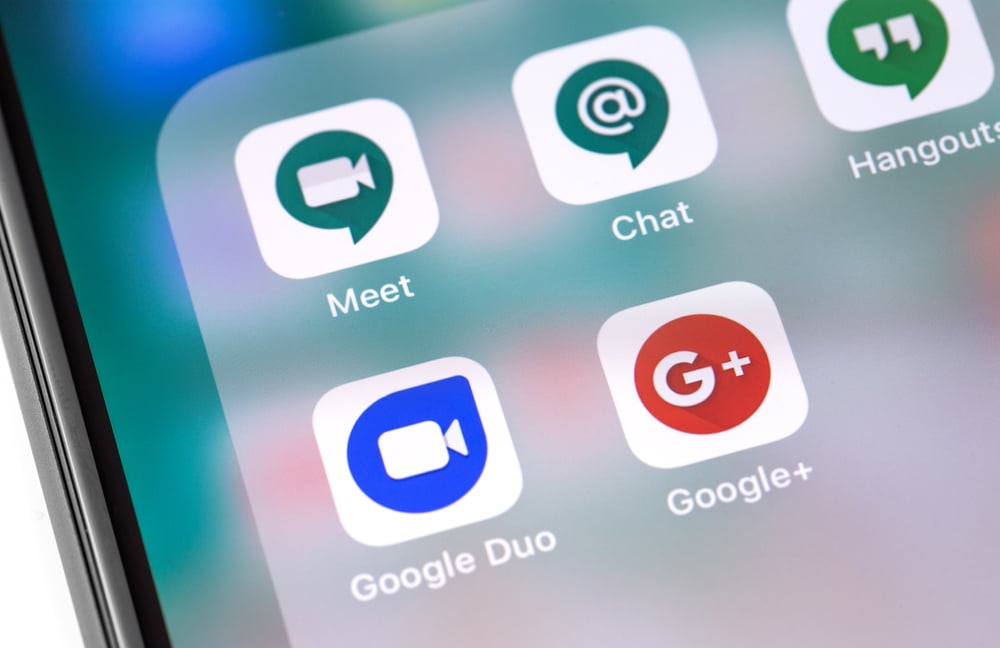 Have you used a video or web conferencing tool today?
I bet you have.
In both businesses and homes, a lot has changed with the rise of the coronavirus pandemic. Social distancing and self-quarantining have changed the very way we communicate with one another.
In an effort to adapt to the new "normal," there's been a dramatic surge in video conferencing, online events and webinars, non-work-related hangout sessions, and other virtual get-togethers.
In fact, according to Computerworld, during the week of March 14th - 21st, the demand for video conferencing had reached an all-time high, with enterprise-focused mobile app downloads passing 62 million — the highest number ever seen.
Well-known video and web conferencing solutions like Zoom, GoToMeeting, Microsoft Teams, and BlueJeans have seen surging popularity, with soaring stock prices and record-breaking numbers of new users.
However, the growth of these solutions comes coupled with the emergence of some troubling issues.
Zoom, for example, has seen an uptick in a sort of hacking dubbed "Zoombombing" in which unwelcome strangers effectively insert themselves into meetings and classes to cause disruption.
At the other end of the spectrum, more complex systems like Microsoft Teams prove to have features that are too difficult to figure out for first-time video conferencing users.
Google's own offering, Google Meet, has sought to rise above the frat while learning from others' missteps, launching new features and shoring up security risks. So, can it take on Zoom?
The emergence of Meet
Quietly released in 2017, Google's Meet video tool is available only for schools, businesses, and the government, and it's quickly growing — at rates around 60% more users day over day.
That translates into about two million new users per day, adding to its already more than 100 million education users across 150 countries.
Along with its app's recent growth, Google is taking advantage of the competition by proactively releasing features that combat the potential security and ease-of-use issues its competitors are experiencing, and this is not going unnoticed.
The New York public school system, among others, is leaving Zoom and similar platforms to start using Meet, due to its sensitivity to security and strong focus on making itself user-friendly.
Some functionalities Google is planning on adding this month include:
Integrating Meet with Gmail
Displaying up to 16 call participants at once (similar to Zoom)
Improving video quality in dim lighting
Improving filtering of background noise, such as keyboard clicks and slamming doors
Letting users display a specific tab on their Google Chrome browser (a more refined screen-sharing option than Zoom and others provide)
What's more, in an effort to win customers in the long run, Google is not charging for upgrades to Meet-related features like large video calls during a six-month period ending in September.
And, according to an article on Reuters, Google is also working on streamlining features across its services for its users "so the products they use at work, they can use at home." With these types of benefits and Google's weight behind it, it's no wonder Meet is becoming so popular.
Furthermore, businesses and consumers are starting to accept the fact that our post-COVID-19 world is going to be a whole new "normal" — one that will most likely not match how we lived life before.
Companies who never had a remote culture have suddenly been forced to learn how to work from home, and as a result, it's been predicted that the rise in video communication is here to stay.
Knowing this, video conferencing companies are making big strides to win business early, as they know it can add to their loyal customer base in the long run.
Should you switch video conferencing tools?
Just to clear things up, IMPACT's employees are avid users of Zoom, and we have no plans to make a switch to another solution. But that's because Zoom works perfectly fine for what we need.
If you're thinking about adopting a video platform or evaluating other solutions to make a future switch, consider what's most important to you, your company, your employees, and your customers in the long-term. Items to think about in your evaluation process include:
Security: What kind of security measures does the platform have in place? For example, do you need additional security for legal reasons or HIPAA compliance?
Ease-of-use: Are the features easy to use for someone who is not tech-savvy? Is it easy to set up?
Price: What is the cost? Is there a free version? If so, are features limited?
Dependability: Does the software make frequent updates?
Flexibility: Do users have the ability to call in versus having to join a conference via a browser?
Availability: Is the platform available to use on desktop, a mobile app, and via the cloud?
Features: Does the platform offer additional opportunities to use online video, like hosting a webinar or a virtual conference? Can you screenshare or chat?
Once you figure out what's most important for you to prioritize, you can make the right decision for your company's video conferencing needs.
Free Assessment:
How does your sales & marketing measure up?
Take this free, 5-minute assessment and learn what you can start doing today to boost traffic, leads, and sales.