How to research blog topics that will drive traffic and revenue in 2020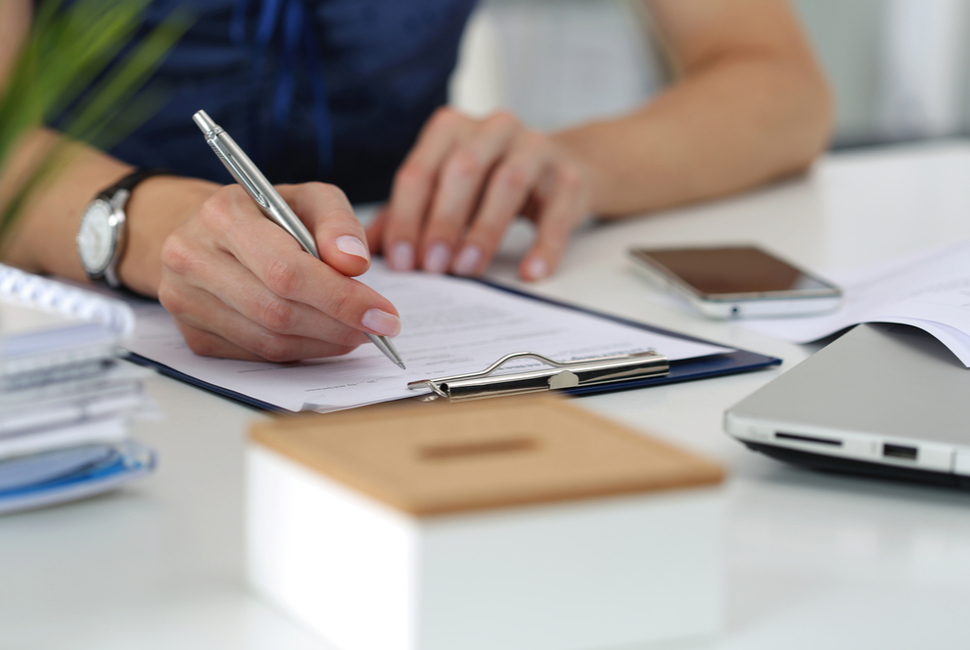 Today, you can't build a digital marketing strategy that works without a solid blogging strategy. Without one in place, you won't be able to attract the right kinds of visitors to your website.
Unfortunately, many businesses have little clue as to what kinds of topics their audiences are searching for and getting value from.
And because of this, their websites either bring in very little traffic or, at best, the wrong kind of traffic.
This article is going to simplify how you can research blog topics that not only drive traffic to your site but bring in prospective customers.
Topics are greater than keywords
Let's clear one thing up first: researching topics is more important than researching keywords.
That's not to say keyword research isn't valuable.
Far from it.
In fact, as you read through some of my methods for finding blog topics, you might say to yourself, "this sounds an awful lot like keyword research."
And that's because, in many ways, it is.
The problem I have with keywords is that many people get hung up on the short-tail keywords (or root keywords as I like to call them) and try to rank for those.
Unfortunately, when looking at root keywords, you don't get a lot of context as to what the intent is behind the search; you can't pinpoint what kind of information the searcher wanted to find.
The best way to find blog topics is to start with a root keyword and expand it to all the questions someone may have about it.
Doing this will create topics.
Confused yet? I figured, so let me give you an example.
Let's say your business sells managed IT services to other businesses.
You'd probably think, we gotta rank for "managed IT services".
Okay, but what is a searcher really looking for when typing in "managed IT services"?
A description of what it means?
A list of companies that sell managed IT services?
Information on whether it's a good fit for them?
You need to expand on that root keyword to turn it into a helpful piece of content for your audience. This long tail keyword research yields actual topics surrounding the root keyword you want to rank for.
You could write articles like:
What are managed IT services
Best managed IT service providers
Are managed IT services right for your business?
To get you started on some of the most common blog topics to create around your root keywords, check out 17 Business Blog Topics Your Audience Wants You to Write.
1. Talk with salespeople
So now that you understand the difference between blog topics and keywords, let's talk about how to find the best topics to write about.
If you're looking for insights into what your customers and prospects really want to know about your product and services, turn to your sales team.
Salespeople field questions from prospects every day.
They know the questions nearly every prospect will ask before making a purchase, and they should know how to frame the answers properly.
Nobody understands the struggles and buying habits of your consumers quite like your sales team.
Here's what we recommend:
Gather your salespeople together in a room.
Ask them to write down the top 25 customer questions they answer most often.
Have them help rank which questions are most critical in the buying decision.
Prioritize these questions as your first round of blog articles.
An often underutilized benefit of getting your sales team involved in this process is that you get to hear what kinds of content would be most helpful to them in closing sales.
When salespeople use this content ahead of sales calls by proactively assigning educational materials to prospects, their calls go faster and their closing rates go up.
When you anticipate all the questions a prospect will ask on a sales call and send answers ahead of time, you eliminate the learning curve.
We call this process Assignment Selling.
2. Start with The Big 5
We've helped hundreds of businesses through exercises just like the one described above, and we've seen a few common questions that nearly every buyer finds important.
These are The Big 5, and they're described in-depth in IMPACT partner, Marcus Sheridan's book, They Ask, You Answer.
You'll also find The Big 5 discussed amongst the other 17 Business Blog topics mentioned above.
Here's The Big 5:
Cost
Best of lists
Comparisons
Problems
Reviews
Cost
Who doesn't want to know how much a purchase will ultimately cost them? Especially when they could be very expensive.
You might struggle with answering how much something costs because there could be a variety of factors impacting the final price, but you should still address the question.
Here's an article that details How to Write a Cost Article.
Best of lists
When searching for products or services to purchase, everybody wants to know which is the best fit for them.
In doing so, most people use "best" as part of their search and want to find lists of products to buy, services to use, or companies to buy from.
Comparisons
Deeper in the buyer's journey, when people are heavily weighing a purchase, they'll often be looking at just two or more options.
Write content that details the key differences between these popular options helping consumers choose the best fit for them.
Here's an article that walks through How to Write a Comparison Article.
Problems
Let's be honest, no product or service is perfect.
If we try to package our offerings as a flawless, one-solution-fits-all, we can hurt our credibility and lose trust.
However, if we're the first to admit the problems with what we're selling and offer alternatives or workarounds, we can position ourselves as true educators.
Not only do these kinds of articles establish trust with prospects, they're also good at weeding out bad-fit prospects before they go too far down the funnel.
For more details, read How to Write Great Problems Content.
Reviews
According to a survey conducted by Fan & Fuel, 94% of online customers read reviews before making purchase decisions.
As people near the end of the buyer's journey, they often turn to reviews of products and companies to see what they're really like and help them make the best choice.
If you sell products, detailed and honest reviews are a must.
3. Use Google
Google Search can be a gold mine for finding topics surrounding your root keywords.
There are several ways to source great questions you can answer in blog articles.
Here are three of my favorite methods:
Auto-complete
Over 5.6 billion search queries are entered into Google every single day.
Of those 5.6 billion searches, only 15% of them are ones never before entered verbatim.
It should come as no surprise that as you start to type in a given query, Google has probably fetched similar searches before.
So much so that as you're typing queries, Google often tries to guess what you're planning on entering with its query auto-complete.
These guesses come from previous people who've searched something similar (as well as things you've previously searched).
How can you use Google's autocomplete feature to your blogging benefit?
Type in your root keyword, pause, and see what Google tries to predict.
You might just get a list of potential topics.
🔎 Related: 17 top content marketing tools and apps for 2020
You can take things a step further by typing in various modal and auxiliary verbs plus your keywords to find questions people ask.
For example, let's say you're producing content for a snowboard shop and you want to produce content for snowboard boots.
Here's a couple of searches using "snowboard boots" as a root keyword paired with several different verbs to create questions.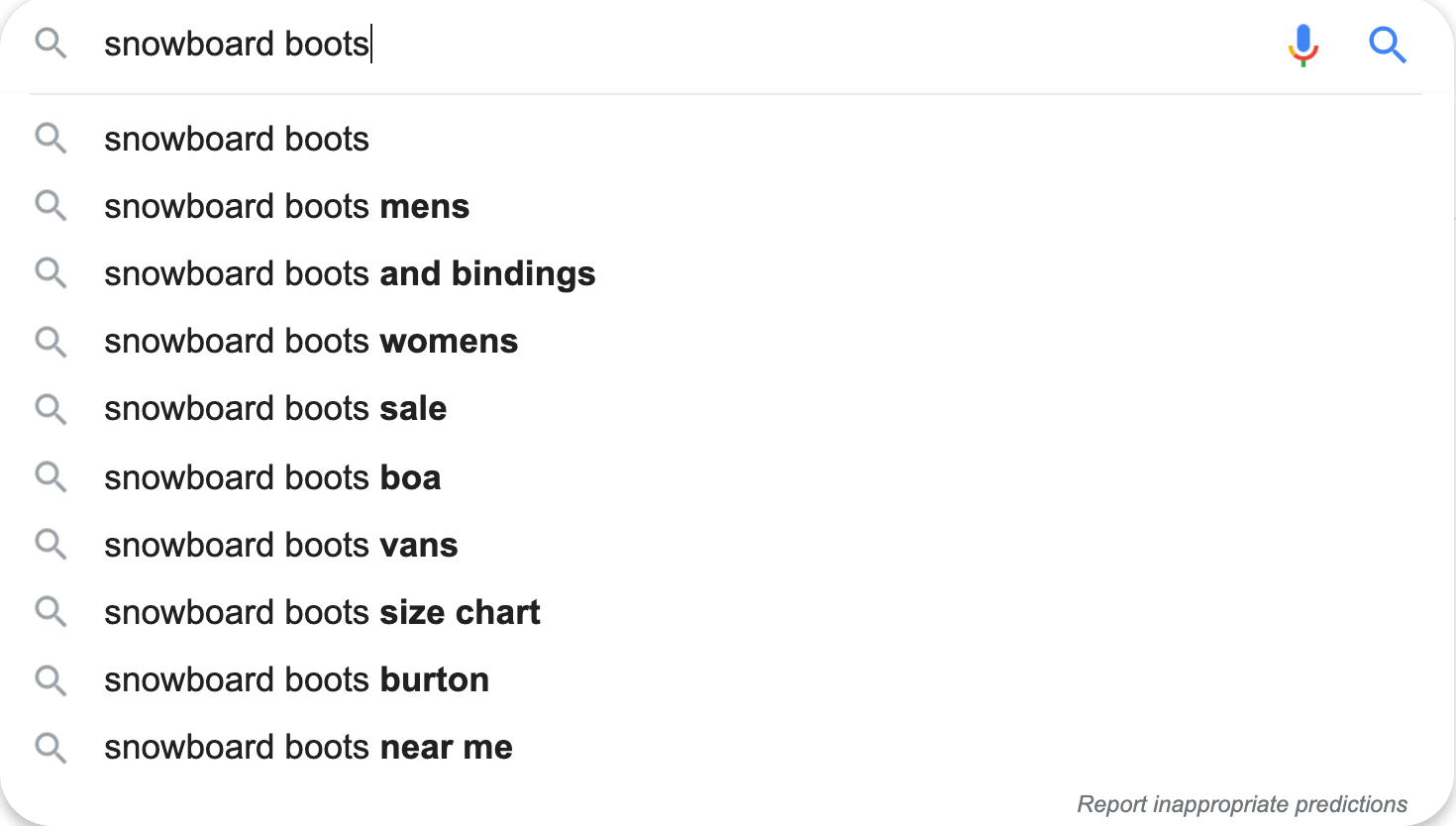 People also ask
In addition to auto-complete, once a search has been entered, many search pages will have a special SERP feature called People Also Ask (PAA).
These boxes contain questions similar to the one you just typed in and if you click one of them, the box will expand with a truncated answer.
Rather than guess what other questions people might have about your product/services, Google hands them to you on a platter.
Below you'll see a PAA that appeared after I typed in "how to choose a pest control company."

Related searches
Along the same lines of PAA are the Related Searches queries found at the bottom of the article.
These are sourced in a similar means as PAA but lack the short answers.
Instead, to see answers to those searches, you need to click on one of the queries and go to the next search results page.
Below you'll see the Related Searches for the same pest control query shown above. Some of these results are fairly similar to what's shown in the PAA's, but there are several completely different.

I highly encourage you to spend some time on Google typing in various questions people would have about your products/services. Write down all of the relevant Auto-Complete suggestions, PAA questions, and related Searches you find.
You'll end up with a wealth of content ideas.
4. Use Answer The Public
Answer The Public is a really cool tool anybody can use as they have a free version that can give tons of topic ideas from entering root keywords.
All you have to do is enter your root keyword into the search bar and they generate a ton of topics you can write about.
What I like even more about this tool is it breaks the results down into a few types: questions, prepositions, comparisons, alphabetical, and related searches.
You can view the results in a neat exploded visual or in tables.
Take a look at the the results I came up with after typing "law firm" that shows the "questions" it came up with: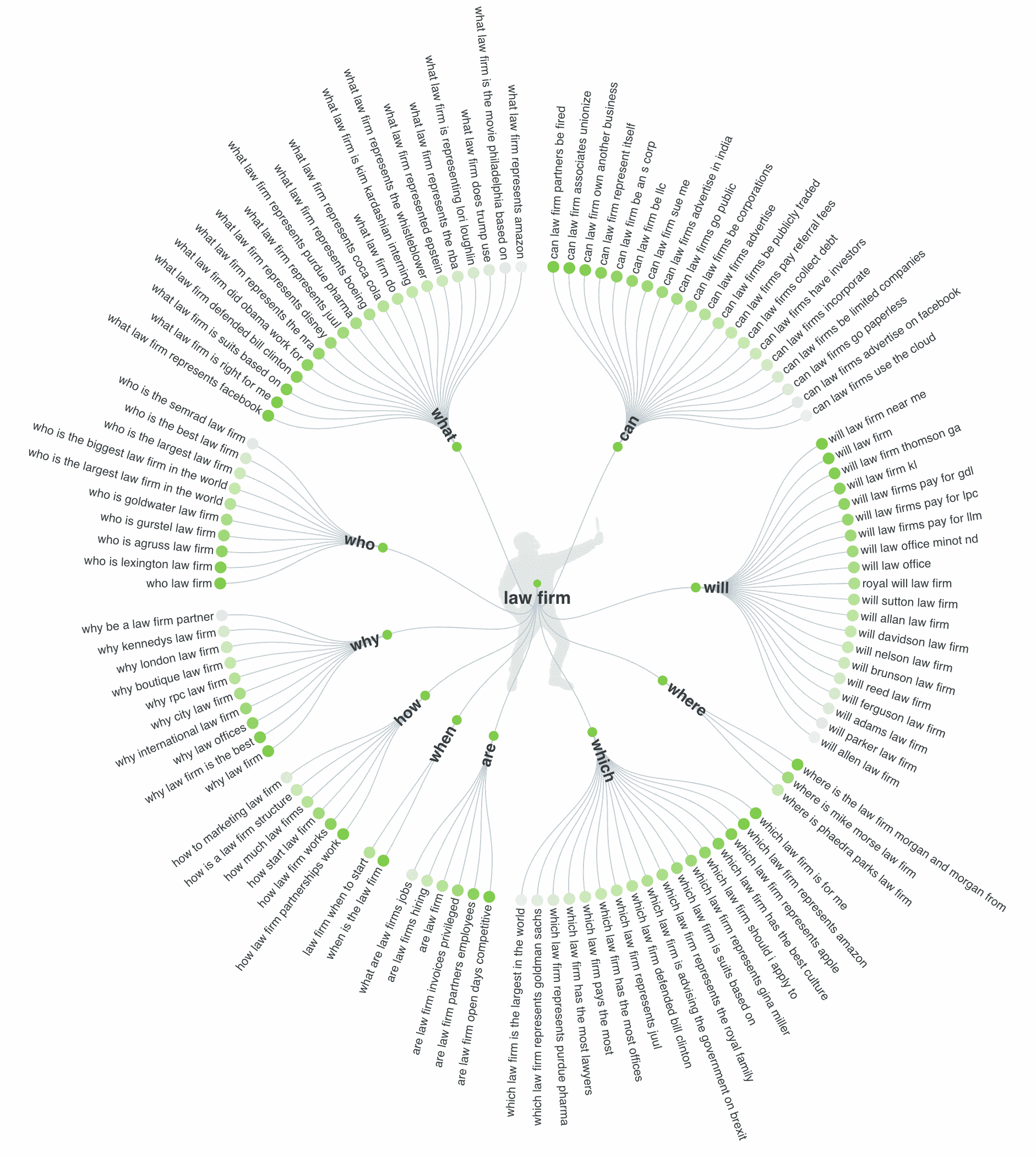 One thing the free version lacks is that while you get tons of keywords, you don't get average monthly search volumes and ranking difficulty.
For those metrics, I turn to other tools.
5. SEMrush (or similar paid tools)
Editor's Note: Full disclosure, any link on this article to SEMrush is an affiliate link. IMPACT partners with SEMrush and will receive compensation if you sign up for the tool. This, however, in no way influences my review of SEMrush. If you'd like to check out comparable tools, I've listed several of my other favorites below.
Easily one of my favorite tools for keyword research is SEMrush.
Even though I always start with interviewing salespeople and targeting The Big 5, I still want to see the data of these keywords which SEMrush provides.
It's a great tool to continue to find new topics as well.
There are a lot of mentionable keyword research tools like Ahrefs, Moz, Ubersuggest, and dozens of others, but for me, I prefer SEMrush.
I enjoy their tool so much, I've even guest hosted a webinar with them on this very topic before.
I want to highlight two of my favorite methods for finding new blog topics:
Keyword magic tool
This aptly named tool delivers tons of potential topics. It really is magic.
Below, you'll see results for the root keyword "HVAC repair."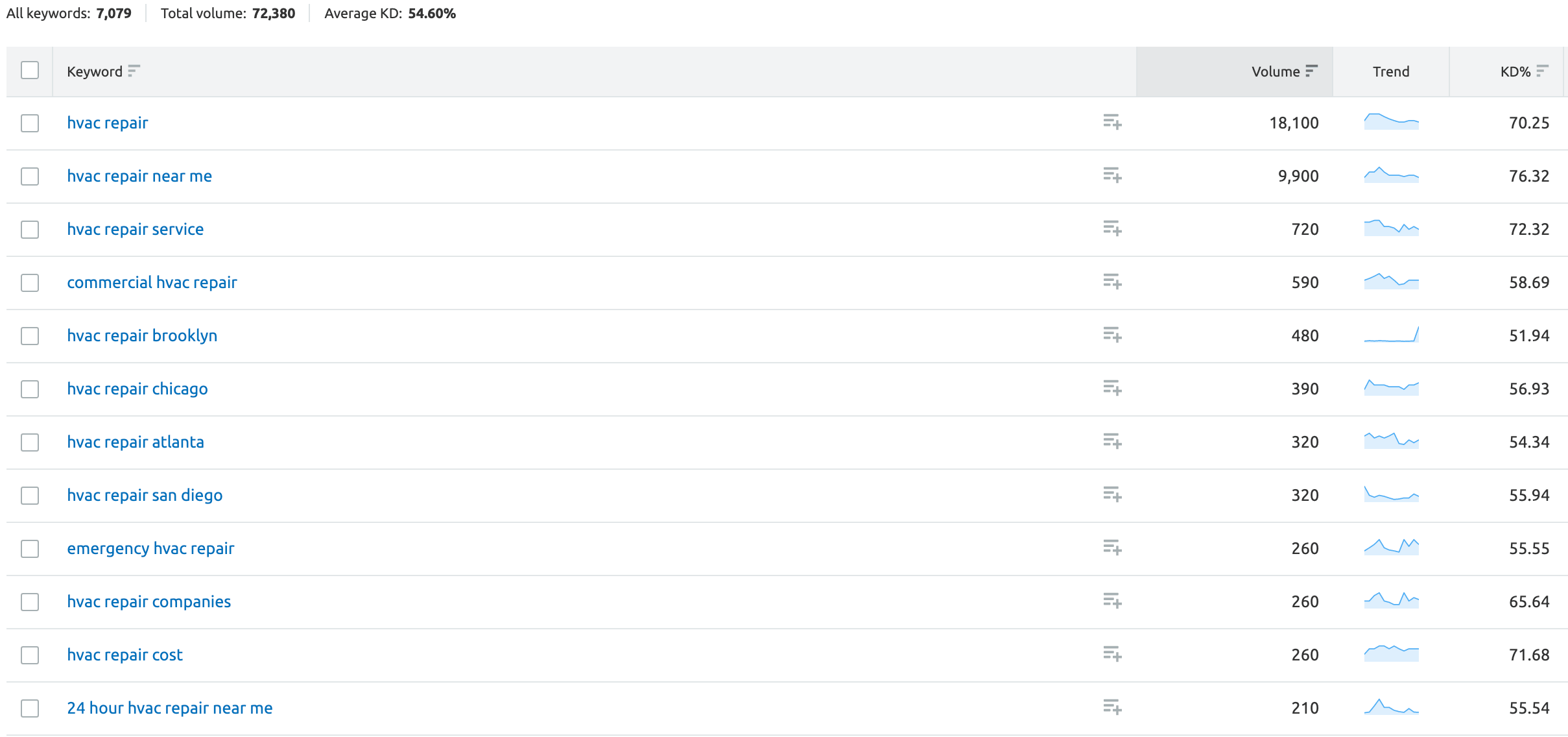 The data I can get from this simple query is astounding.
In SEMrush's databases, they've found over 7,000 potential keywords totaling over 72,000 searches per month.
By default, SEMrush lists the keywords with the greatest volume first.
In the sidebar, it lists other keywords that pop up the most frequently in conjunction with my root keywords.
🔎 Related: How to do keyword research the right way
For example, it suggests I look at 295 results that also include "service" in the keyword or the 240 results that contain "commercial."
But, as I mentioned at the top of this article, some of these shorter keywords don't always give me the best context to what people are really looking for when searching these terms.
I often click on the "Questions" tab to get a list of queries that tell me what the searcher truly wants to know.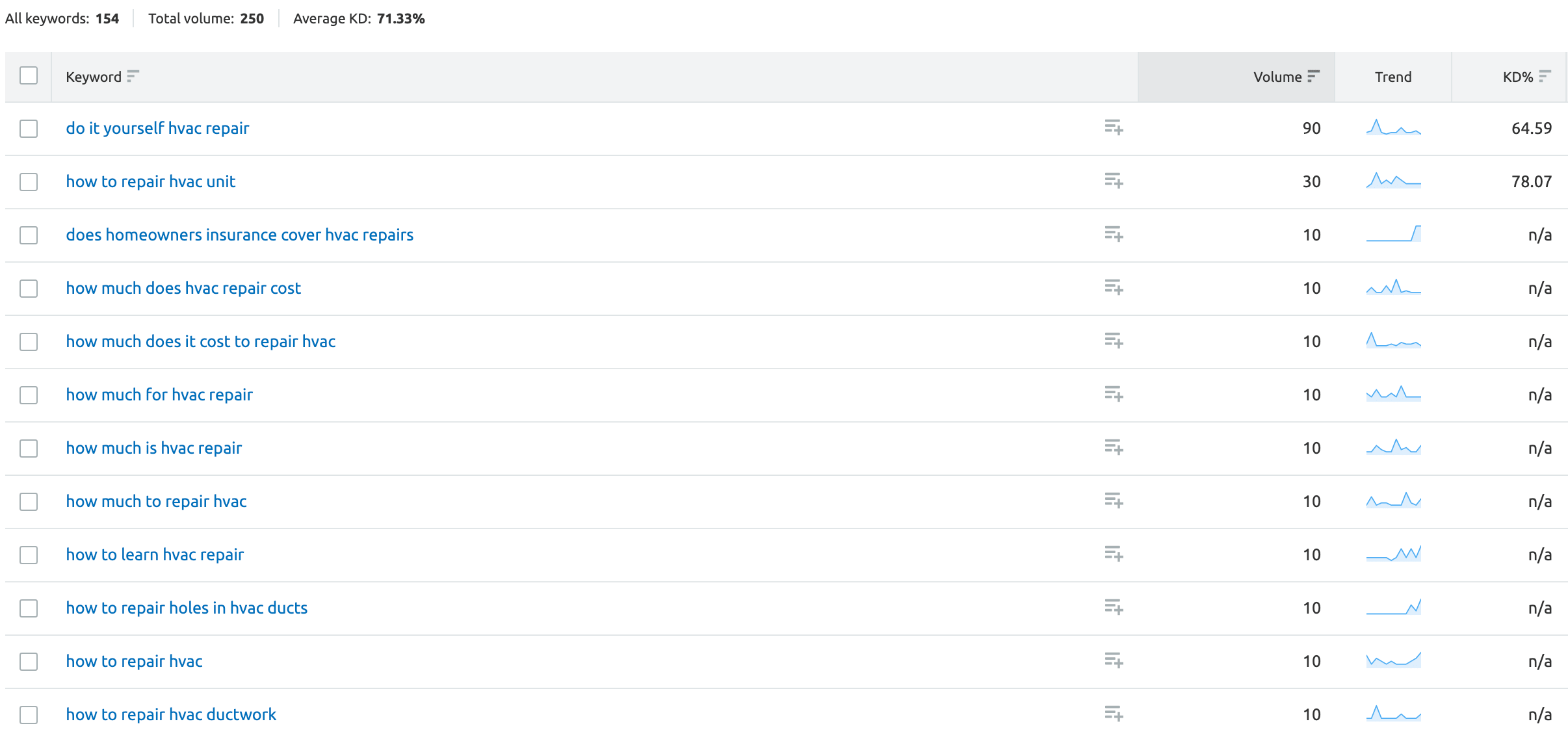 I also use Advanced Filters to plug in The Big 5 topics to get a better look at the volume and difficulty of ranking for those terms.
Below, you'll see a few results for segmenting for "cost".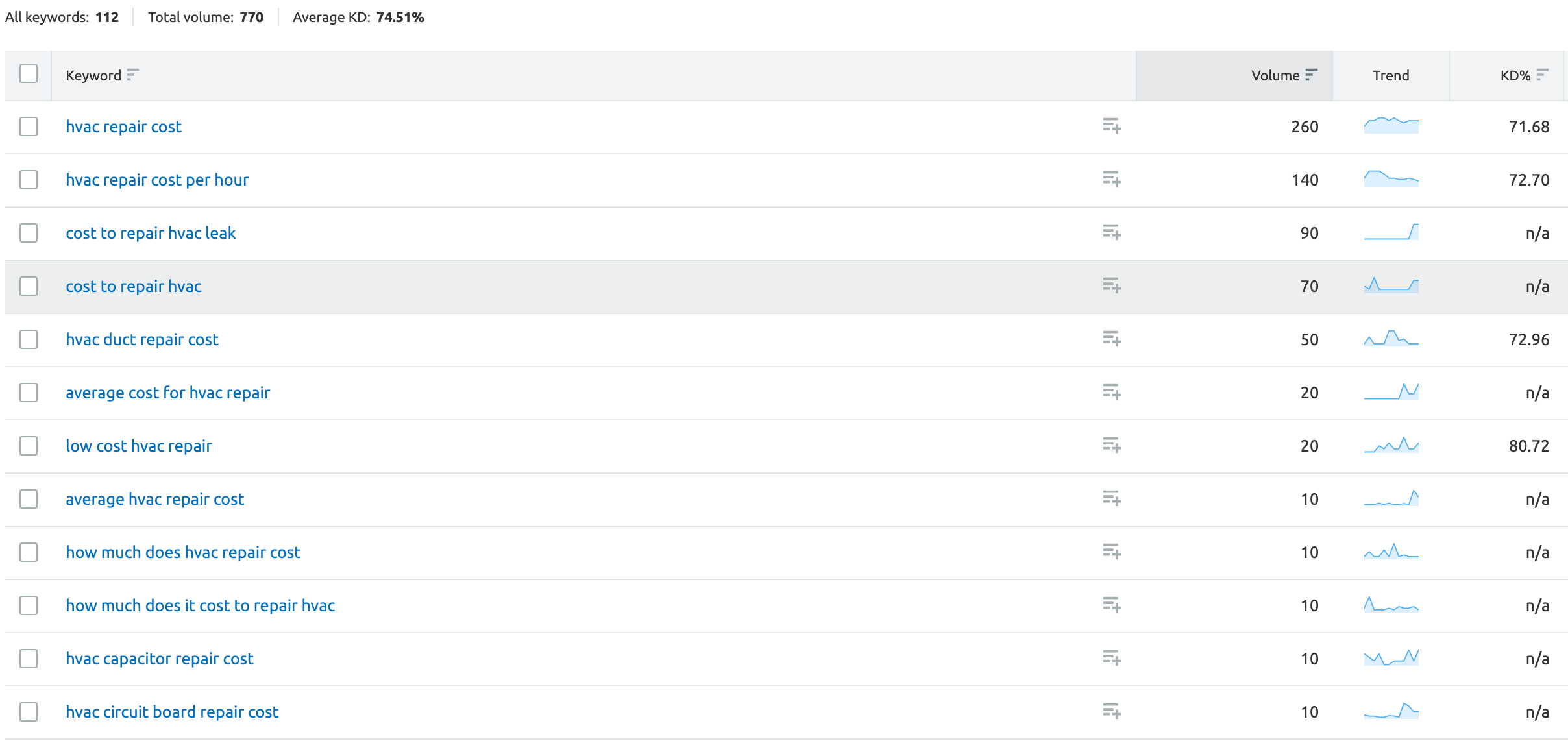 I can honestly spend hours sorting through all the keywords and coming up with an editorial calendar that can stretch for several months.
Keyword gap tool
Do you have any competitors in your space you'd love to scrape ideas for blog topics from?
If so, head to the Keyword Gap tool and put your website into the gauntlet to compare yourself to them.
With the Keyword Gap tool, you can enter up to five domains at a time, but I often prefer the head-to-head comparison for this next tip.
SmartBug Media is one of IMPACT's greatest competitors.
And like any savvy marketer, I want to get as much insight into the competition as possible.
I especially want to know what blog topics they outrank us for and those that they rank for that we haven't even written about.
When you enter websites into SEMrush's Keyword Gap tool, you'll see a Venn Diagram between the domains.
By default, the Venn Diagram is set to keywords we both have in common.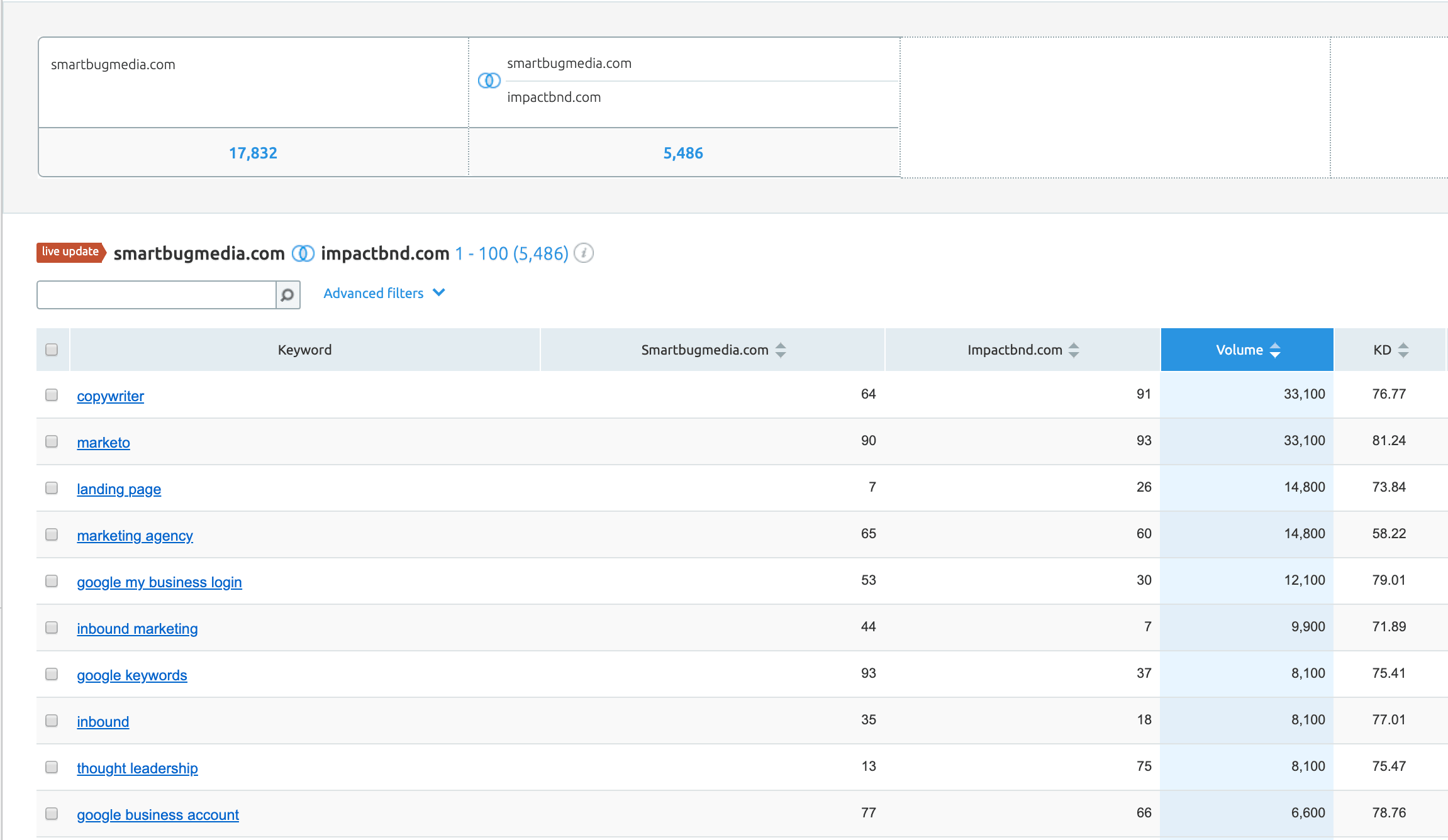 From here, I can review keywords my competitor is outranking me for.
To find blog topics from this list, I pay close attention to keywords that are questions and those that are several words long.
I pare that further by looking at keywords that I'm not on the first or second page for.
If I'm stuck on the third page for a keyword, there's a good chance the content of the page is either too weak to rank higher or the copy isn't quite relevant enough to rank better.
I can either edit the existing page if it's on-topic but poorly written or I can write a brand new piece of content.
With that said, what I really enjoy doing with this tool is switching the Venn Diagram to keywords unique only to their domain. That's a clear indication that I don't have any content targeting those terms.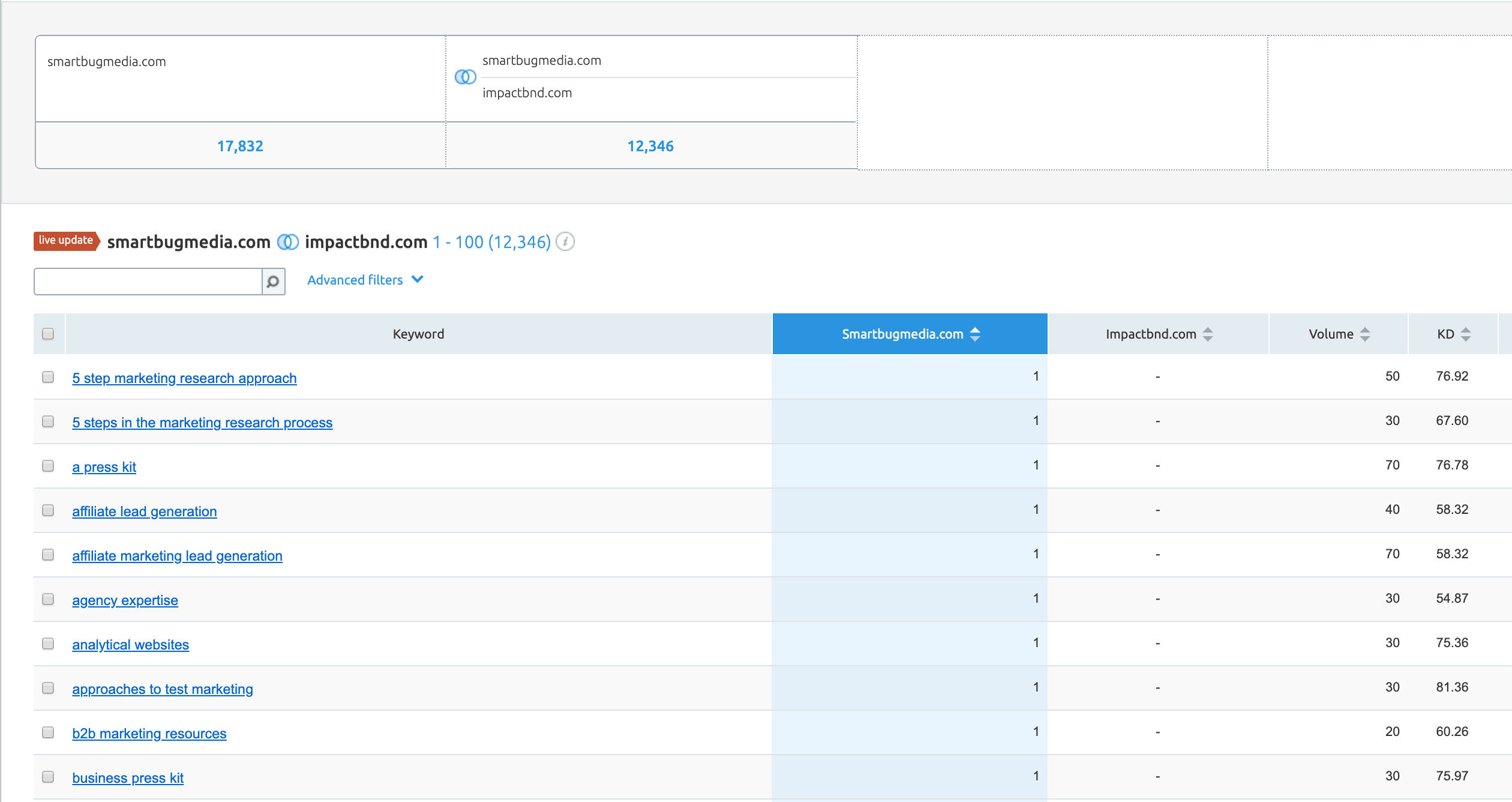 Again, I meticulously sort through the list of keywords looking for questions and longer keywords that give me greater context into the search intent so I can turn those into blog topics.
Next actions
Alright, so there you have it.
A list of easy to use research methods for finding your next blog articles.
And trust me, if you try even half these methods, you should have enough topics to write about long into the foreseeable future.
But does this mean you're done?
Absolutely not, you've still got a lot of work ahead of you.
You still have to develop a content calendar and start creating this content.
Once you do that, here are a few other resources I recommend you bookmark and reference as you continue on your content creation journey:
And of course, if your company needs customized guidance, we offer several consulting solutions and website design services to help you drive more traffic and revenue for your business.
🔎 Related: Free content calendar template for marketers (no form-fill required)
Free Assessment:
How does your sales & marketing measure up?
Take this free, 5-minute assessment and learn what you can start doing today to boost traffic, leads, and sales.