What Is a Content Style Guide? (+ Free Content Style Guide Template)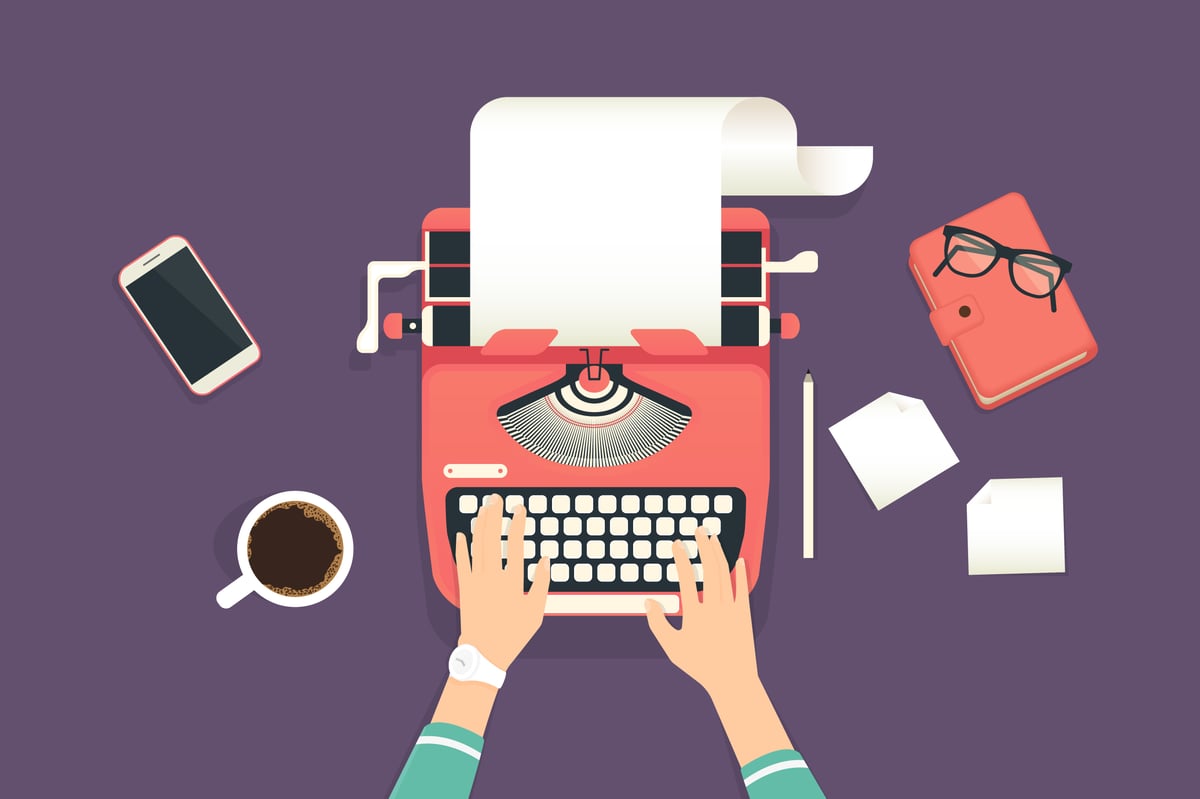 Before I explain what a content style guide is, why it matters to your brand messaging strategy, and how to create one, I need to vent a little bit. When most people look at the internet, they see opportunity.
I, on the other hand, often feel like I'm looking out over an unending hellscape of wasted potential.
Like a mother, I'm not angry; I'm just disappointed. As if the internet were my second, lesser child who means well… but also still lives in my basement and spends most of their time online, trolling people on message boards about who shot first -- Han Solo or Greedo.
Okay, first of all, it was Han.
Second, I know I'm being a little dramatic, (I'm a reformed theater nerd, so it's bound to happen) but look at it from my point of view.
As a content strategist for an inbound marketing agency, not only do I spend my days empowering our clients to create great content that resonates with their audience, I often find myself wading through a lot of crap.
And by "crap," I mean the following:
Websites where it seems like a different person wrote every single page.
Blogs where spelling and grammar conventions vary from post to post or author to author.
Unfocused content, with no clear insight into who the brand is or how they want to be perceived.
In short, I run into a lot of brands that are aces with their understanding of the need to create content but don't have any style.
More specifically, they don't have a content style guide -- a marketing tool that so many consider a "nice to have," but I would argue is just as important as the marketing strategy itself.
So, today I'm going to teach you what a content style guide is, why you need it, and how to create a content style guide for your own business.
Okay, let's get started.
What Is a Brand Content Style Guide?
The selfish part of me wants to answer that question with a glib, "Well, genius, content style guides are the thing you don't realize you need until a prospect calls you to laugh about all the typos on your about page."
But I know that's neither a helpful, nor a friendly answer.
A better definition of a content style guide would be to say it's a document for your content creators and/or employees breaking down who your brand is, and how that is (and isn't) expressed through copy, both from the 80,000-foot view and a tactical execution level.
While everyone has their version of what a style guide should include, here is what I include in the style guides for our clients:
Though some consider voice and tone to be shoulder-shrugging, optional inclusions, I think of them as the backbone. They outline your brand's personality, and how that's conveyed in different contexts through the modulation of tone.
(Sorry, HubSpot. I usually adore most of your stuff, but your style guide template is seriously lacking. Voice and tone aren't optional in my book and deserve much more than a single page.)
For instance, you may always want to be considered "approachable" and "innovative" in your copy. However, where your blog may be full of personalized, narrative-driven articles, a compelling and persuasive case study will need to be more streamlined and free of editorializing, so the results you want to showcase are able to shine, free of distraction.
Now, contrary to its name, that last bubble, style, isn't terribly glamorous, but it is the final, very necessary polish for your content. Those spelling and grammar rules of the road are critical -- your organization needs to agree upon them and stick to them across the board.
(Because nothing hammers home the point of a business being detail-oriented when it looks like you couldn't even be bothered to hit the spell check button, am I right?)
Why Do You Need a Content Style Guide for Your Brand?
Some people think I create and hold people to content style guides because I'm a comma-obsessed control freak who likes to torture others. While that may be half-true, I assure you my insistence does -- at least in part -- come from a good place.
Here's what I mean:
The best style guides are those designed with your buyer personas in mind. They also encourage best practices and -- most of all -- breed brand consistency.
I'm going to take a moment here to beef over some turf when it comes to the term "brand consistency." Recently, I conducted a totally unscientific poll among other marketers, asking them if they had a clear understanding of what brand consistency means.
While they all knocked it out of the park by zeroing in on the importance of visual brand consistency, not a single person mentioned brand consistency in the context of copy.
When I asked one person about it, they said, "Well, copy is copy, right? You just have to get your message across."
Another marketer replied, "The word 'brand' is really all about logos and visuals. What you're talking about is words. Totally different conversation."
Wrong. Wrong, wrong, wrong.
I think people forget that the copy you put on a website or the text of a blog post are also extensions of your brand. In fact, they're the most literal and direct forms of communicating your brand you'll have with the prospects you're trying to reach.
So, to say that brand consistency and content have nothing to do with each other is asinine. Put another way, let's say your brand is a peanut butter and jelly sandwich. (Bear with me. It's close to lunch time, and I'm hungry.)
Your visuals are the peanut butter, your copy is the jelly, and your style guides -- both visual and content, ensuring that coveted brand consistency -- are the bread holding everything together.
To say brand consistency has nothing to do with content is like saying you want to have a cohesive peanut butter and jelly sandwich, but with the jelly free-floating in space, to the side of the sandwich. Because it's not relevant to the context of the rest of the sandwich.
I want to feign righteous indignation at this logical fallacy, but I guess I shouldn't, considering the surprising number of people in this field who haven't even heard of a content style guide before.
That's okay, though. We're going to make this better.
How Do You Make a Content Style Guide?
Okay, let's say you've made it this far and you've come to realize I am a beacon of shining wisdom in this dark, desolate world. (You're welcome.) You get you need a content style guide, but how do you even make one?
This is going to be an annoying answer, but there is no single template out there that works for every organization without some sort of customization. Even the ones I create have some degree of deviation from client to client.
However, when it comes to a content style guide, all that matters is you start somewhere.
They're living documents, so they should continue to evolve over time, right alongside your organization. With that in mind, here's how you can get started with your content style guide that tackles the three components I mentioned above:
Brand Voice: This is your brand's personality. So ask yourself, how should your prospects always view your brand? What are the qualifiers that should never change?
Brand Tone: How do you want to sound? What spectrum of words should encompass how you modulate your voice, based on context?
Style: This one is easy, as there are tons of editors out there who have already done the heavy lifting for you. So grab yourself an AP Stylebook subscription (my external style guide of choice), decide what your exceptions are, then document those exceptions in your style guide, along with your external style guide access.
Defining your voice and tone will probably be the most challenging part of this exercise, but in my experience, it can also be very fun and rewarding.
Grab between three and five employees across different parts of your organization -- along with someone to facilitate -- and have a guided discussion about who you are and how you sound.
I have two tips to share with you about this discussion. First, don't pack a bunch of executives in a room; a diverse cross-section of job titles and perspectives will yield the best results. Second, involving any more than five (okay, maybe six) people will create a circus.
It's kind of like that old joke. "What's a camel? A horse designed by a committee."
I digress.
When I conduct a content style guide workshop with clients, it takes around two hours for us to work through all of the activities and worksheets, but since you don't have me or my worksheets, here are a few of the questions we run through, which can help you guide your own discussion.
As a note, you should run through this process in the order outlined below. The foundation questions are the basis for your discussion on voice, which in turn supports your final decisions around tone. It all fits together!
Foundation Questions
Who are your ideal buyer personas? (If you don't know, start with our buyer persona toolkit, and then create your style guide. Don't skip this step. You can't create the latter without the former.)
What are your core values? (Not sure? Check out IMPACT's.)
Do you feel those core values are conveyed well through your writing?
What are you doing well already?
What would you love to see change in your content?
What is your why? (Need help? Have your team watch this video.)
Be brutally honest

--

why are you better than your competitors?
Voice Questions
What adjectives should always come to mind when someone thinks about your brand?
What adjectives should never come to mind when someone thinks about your brand?
Are you more modern or traditional?
Are you more cutting edge or classic?
Are you more thoughtful or spontaneous?
Are you more all-inclusive or exclusive?
Can you be funny?
Tone Questions
What adjectives should always define how you sound?
What adjectives should never define how you sound?
Does your audience require complex ideas broken down in ways that are more accessible?
Do you have an audience that prefers demonstrated mastery of complex subject matter?
How will you scale your tone across different pieces of content?
Proactive vs. Reactive
As I said at the start, a content style guide is the marketing resource you usually don't realize you need until something has gone horribly wrong, but for those of you sitting there saying, "I hear you, Liz, but nobody has time to do this," I have one question:
Do you want to be taken seriously by prospects, or do you want to have to wait for them to point out errors or problems with your copy?
I'm no scientist, but my gut tells me the former is probably a better option.
Free Assessment:
How does your sales & marketing measure up?
Take this free, 5-minute assessment and learn what you can start doing today to boost traffic, leads, and sales.