Is the HubSpot CRM the best for They Ask, You Answer?
For a business to meaningfully chart its interactions with customers, it needs a robust software solution that can track all the touchpoints that occur along the way. From social media impressions to page views to form fills to downloads, each piece of data offers more insight into a customer's journey to purchase.
If companies are actively employing They Ask, You Answer as their business strategy, the importance of customer data is even more acute.
When Marcus Sheridan first pioneered the They Ask, You Answer approach, he found that prospects who read numerous website pages were much more likely to become customers. This sort of insight allowed him to evaluate prospects and leverage assignment selling to further educate customers in the sales pipeline.
Simply put, the data made him a better salesman and marketer, and he would not have had this data without HubSpot.
While there are other CRM (customer relationship management) platforms available on the market, we find that no competitor offers the end-to-end insights that HubSpot does, and we firmly believe it is the best CRM for They Ask, You Answer success.
HubSpot offers end-to-end insight
There are numerous CRM options out there for your business. But, says Jess Palmeri, "The benefit and the beauty of HubSpot is that this is a tool designed to track all of your sales and marketing activities."
Jess is a certified HubSpot trainer at IMPACT who works with businesses to help them set up, organize, and make use of their HubSpot portal. She sees other CRM offerings on the marketplace falling short to HubSpot because they don't offer the same breadth or seamlessness of focus.
"One of the major goals of They Ask, You Answer," she says, "is to really understand your prospects at every stage of their journey, so you need to see the full picture in one convenient, uniform location."
That's what HubSpot offers.
Tracking the modern customer journey
For every customer in your pipeline, the journey may be unique. Sure, there are common pathways to purchase, but the unique touchpoints involved describe a path that is not always straight and narrow.
Let's say you're a landscaping business. And your potential customer, Susie, is a gardener who needs help.
A customer journey could start with a social media impression. Susie liked a post about getting a garden ready for spring.
Next, she finds her way to an article on your site — whether through social or organic search. She wants to learn about hardscapes that are low maintenance.
Next, she watches a video about planting a privacy hedge.
Next, she signs up for an instructional webinar about DIY pesticide application, and you now have her contact information.
You send her emails of tips, tricks, and product reviews. She forwards some of these to her parents and friends.
And on and on it goes. There might be a half dozen more touchpoints just like these. At the end, she may become a customer who contracts your company to do a major project at her house — and recurring year-round maintenance.
And it all started with a social post.
HubSpot lets you track every interaction Susie has with your content. You'll know what pages she sees and how long she spends on them. You'll know what she downloads, how much she watches of each video, and which emails she reads.
And there's more. With the right workflows set up, you can send Susie information that's particularly suited to her challenges and needs. If she's been reading a lot of content about hardscapes, it could trigger a sign-up for a showroom demo, a download, or an offer that's right up her alley.
How much HubSpot do you need?
To enable such insight into the customer experience (and such targeted automated actions) Jess recommends using the three core "hubs" of HubSpot's platform: Marketing, Sales, and Service. Together, these offer more than a typical CRM.
"There's a reason it's called the HubSpot ecosystem," Jess says. "Even though it all lives under the umbrella of HubSpot, it's a CRM, it's a sales tracking tool, it's a marketing automation platform, it's a service ticketing and support system, and more."
For most companies going all-in on They Ask, You Answer, we recommend Professional or higher because this allows you to truly track your customers at every stage of their journey. (The higher the tier, the more insights available to the user.)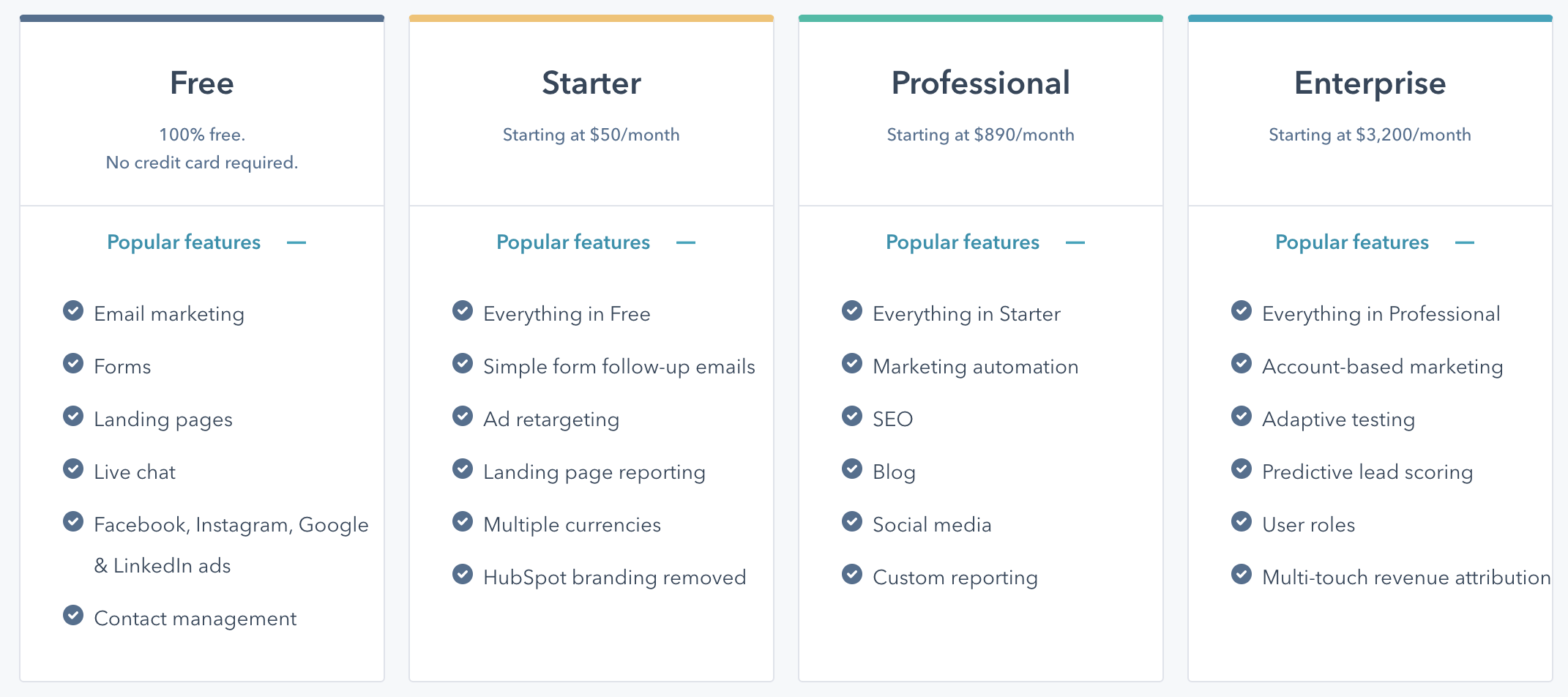 HubSpot Marketing Hub offerings and features
Each organization is different, however, and your unique needs might not require all aspects of HubSpot's product offerings. You might just focus on sales and marketing, for example. Also, smaller businesses can get into HubSpot at a lower tier and move up when they have more resources at their disposal.
Whether you're a startup or an enterprise-level company, there's a version of HubSpot to fit your budget.
HubSpot for startups and small businesses
One of the beautiful things about They Ask, You Answer is that it can be enacted by a small team. After all, it was Marcus himself who put in extra hours creating content back when he was a pool salesman that gave rise to the whole movement.
HubSpot offers versions of its software to companies just like Marcus'.
"If you're a small business that's hesitant about the initial investment, HubSpot offers steep discounts for startups and solopreneurs," says Jess. For these types of companies, she recommends testing out the waters with HubSpot Starter, which is $50 per month. This allows you to install the HubSpot tracking code on your website so you can start seeing analytics information.
"Eventually you'll need to upgrade to fully implement They Ask, You Answer best practices," advises Jess, "but you can certainly lay a foundation with HubSpot Starter that will allow you to start learning the tool and implementing it into your sales and marketing decisions."
The HubSpot marketplace: Helping your tech stack get along
Organizations about to introduce new software into the office are frequently concerned with how that software will integrate with the tools and platforms they already use. This is a legitimate worry. After all, you don't want convoluted workarounds or tedious integrations. This, again, is the value of HubSpot's end-to-end functionality.
Still, you'll want to be sure your data and assets from other sources can be easily harmonized with HubSpot. This is where the HubSpot app marketplace comes in.
"I have clients who want to include text messaging or phone calling into their HubSpot data," says Jess. "In the app marketplace, you can find solutions for those sorts of challenges."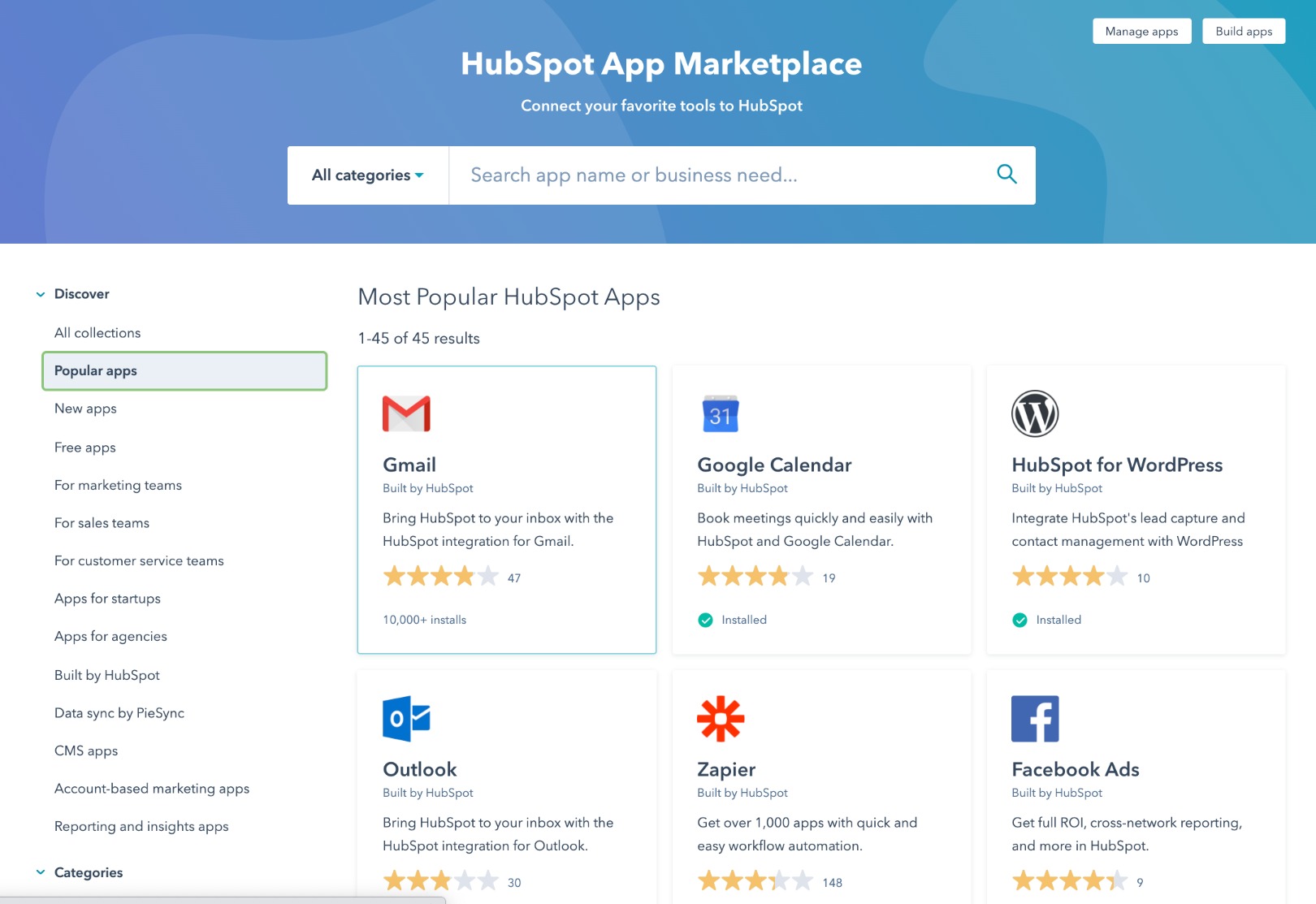 There are thousands and thousands of apps in the marketplace, with new ones being added all the time. Chances are, if you need HubSpot to integrate smoothly with something else in your tech stack, there's an app for that.
They Ask, You Answer and HubSpot
At IMPACT, we've explored and evaluated a good number of popular CRMs. We choose to use HubSpot for its cost, efficiency, seemly integration, and functionality. It's what we use for our website and marketing, and it's what we recommend to clients.
When Marcus got started with They Ask, You Answer, he used HubSpot to measure the results. Now. more than twelve years later, it's still the platform we choose for companies to keep track of their own They Ask, You Answer success.
Free Assessment:
How does your sales & marketing measure up?
Take this free, 5-minute assessment and learn what you can start doing today to boost traffic, leads, and sales.