The HubSpot-LinkedIn Sales Navigator Integration has been updated to allow users to send Inmail right from HubSpot.
With the integration, you are able to get LinkedIn information right in your CRM on your new leads and prospects found through the Sales Navigator.
Now with the new update, you have more options when it comes time to reach out. You can send an email, call, and even a LinkedIn Inmail right from your HubSpot CRM.
Free Guide: Everything You Need to Know About HubSpot Marketing Hub
Adding Inmail to HubSpot
Since 2017, the HubSpot-LinkedIn Sales Navigator Integration has allowed sales teams to get important information from LinkedIn into your HubSpot contact records.
The integration takes various data points that it can pull from LinkedIn so your sales team is able to view it all in the contact record in HubSpot.
You are able to get information like shared connections, experiences, interests, and even the contact's activity stream. You can even get company news so your team can stay up-to-date on your prospects.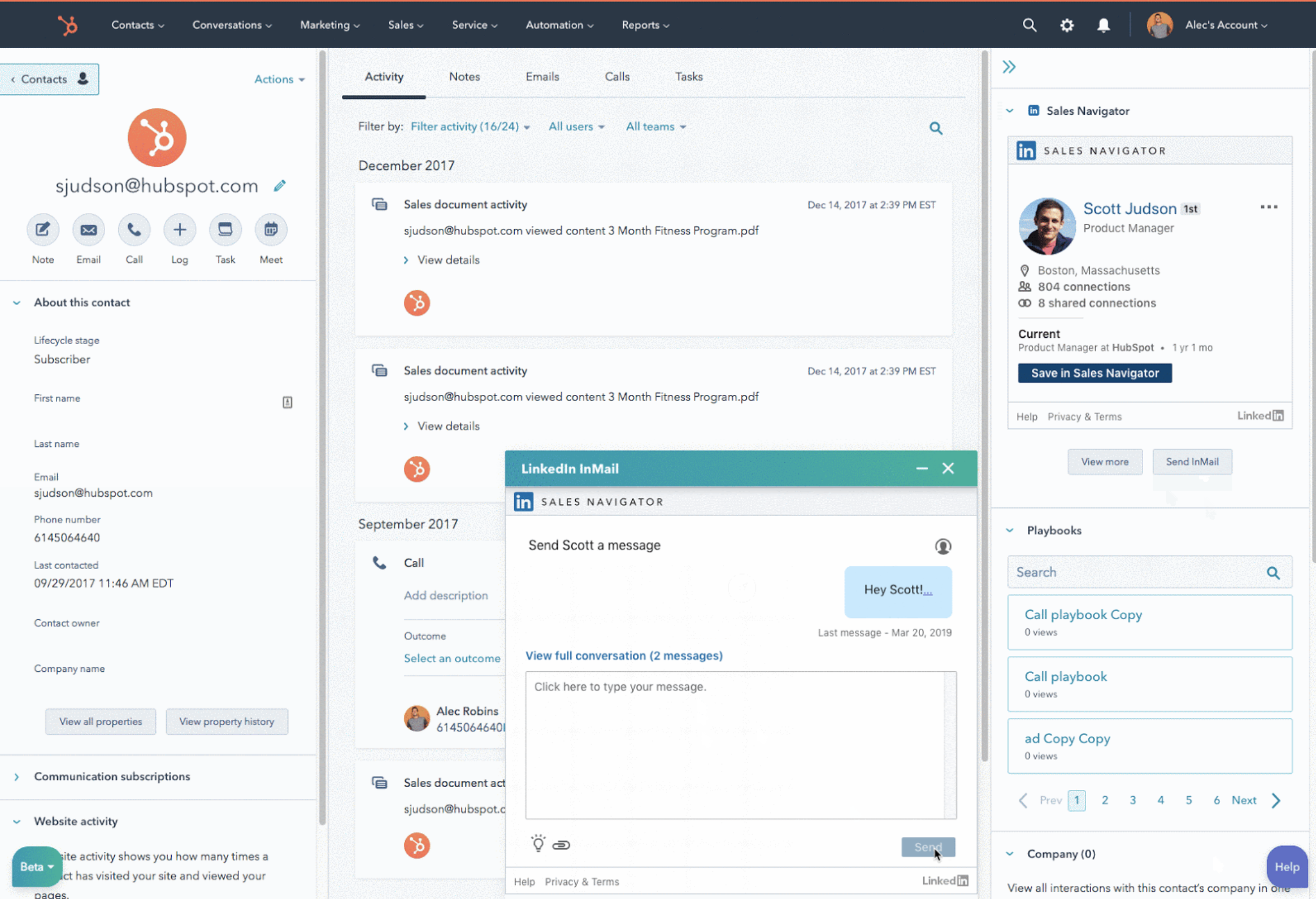 The integration also allows you to discover more leads at the same company and add them to your Sales Navigator leads list.
Now, with the latest update, the integration allows you to reach out to leads via Inmail right from your HubSpot CRM.
You are able to view all the information the integration pulls from LinkedIn, and reach out to the prospect without ever leaving HubSpot!
Taking Advantage of the Update
This update makes your HubSpot CRM even more powerful by allowing your sales team to reference information about your contacts from LinkedIn and send an Inmail without ever having to jump between HubSpot and LinkedIn, saving the sales team a bunch of time.
It is also beneficial because not only will you be able to see the information that the HubSpot-LinkedIn Sales Navigator Integration brings in, but you will also be able to reference everything that HubSpot has pulled into the contact record while conducting your Inmail.
This includes how that lead has interacted with your website, which forms they have filled out and what type of communication you have already sent them throughout the nurturing process.
This all makes it easier for your team to have an informed conversation with each prospect that they reach out to.
Get Started
The latest update is now live to all HubSpot users with a subscription to LinkedIn Sales Navigator Team or Enterprise editions.
Once installed, be sure to check out the update and features it adds by heading over to your HubSpot portal and view contact and company records.