How to get the most out of HubSpot (in 5 simple steps)
Oh boy could I write a novel on this! On second thought, maybe I will… check back in 2021 for Carina's Complete Guide to Getting the Most Out of HubSpot!
But for now... you've purchased HubSpot — maybe it's the marketing, sales, service, or website tools, or some combination of all of those — and you're spending a lot of money every year on it.
It's important that you can confidently say you're getting the most out of the platform, or at least that you're clearly able to see the value that it's providing to your organization.
The only problem is, "getting the most out of the platform" is going to look totally different for your organization than it will look for mine, than it will look for Frankie at the company next door. That's because HubSpot is a robust tool that can help many different organizations of various shapes and sizes do awesome things.
As our team has worked with companies across varying industries, sizes, and complexities, there are five foundational steps to success we've found that apply to companies across the board.
Follow these steps and you'll be on the road to HubSpot mastery in no time.
1. Understand how the HubSpot CRM works
One of the most common reasons organizations invest in HubSpot is because of all of the data you can collect and track. But do you know how HubSpot collects, stores, and manages your data in the CRM database?
If the answer to that question is no, make sure you spend some time getting to know how the database works. Here's a quick overview:
HubSpot's data is organized into four main objects: Contacts, Companies, Deals, and Tickets. Each object has default properties for storing different types of data. For example, default contact properties include things like First Name, Last Name, Email, Job Title, Lifecycle Stage, etc. Default deal properties include things like Deal Amount and Deal Stage.
🔎 Related: The Ultimate Guide to HubSpot Marketing Hub
Other than having some different default properties, each object-type functions just like the others. You can see that evidenced by how similar contact, company, deal, and ticket records look when you're viewing them in the CRM.
You'll also see that objects can be associated with each other — this important connection ability allows you to do powerful things with automation and reporting.
Contact Record: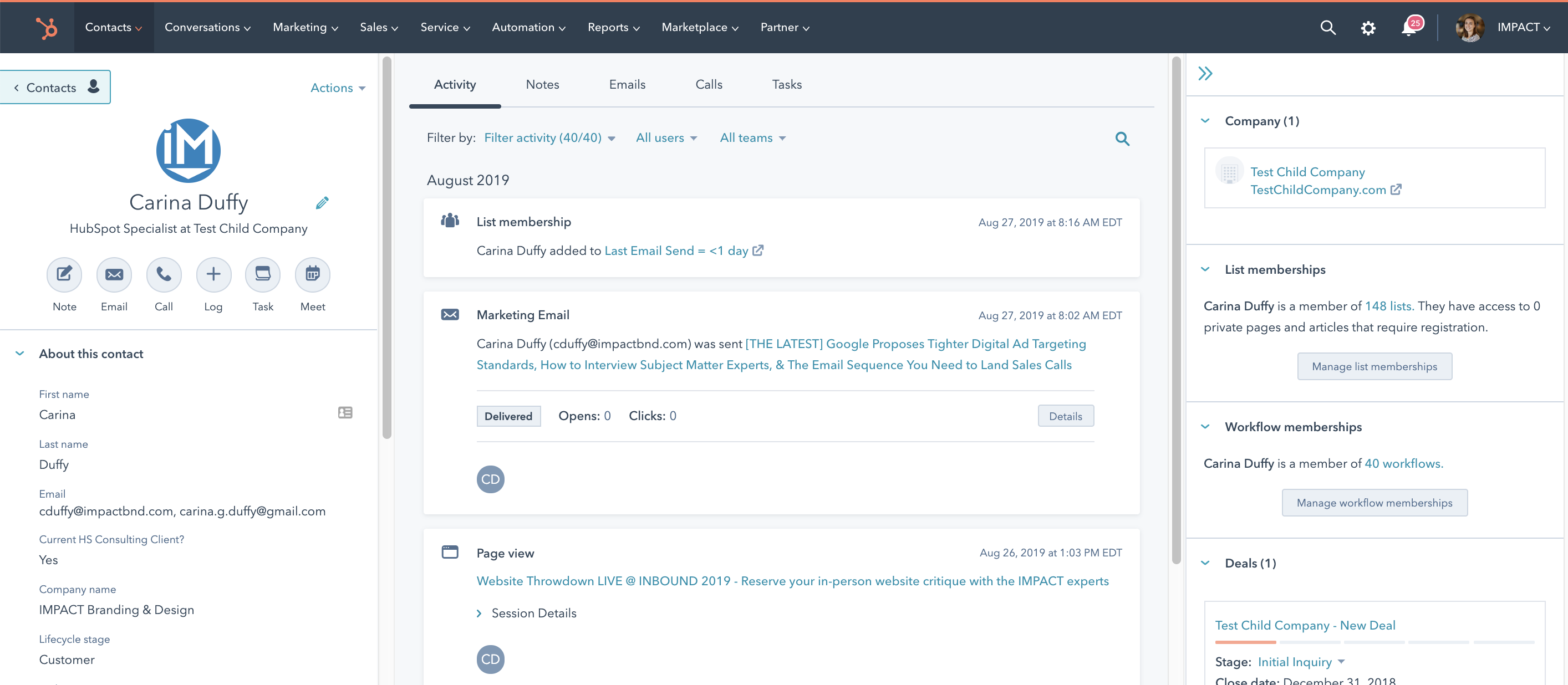 Company Record: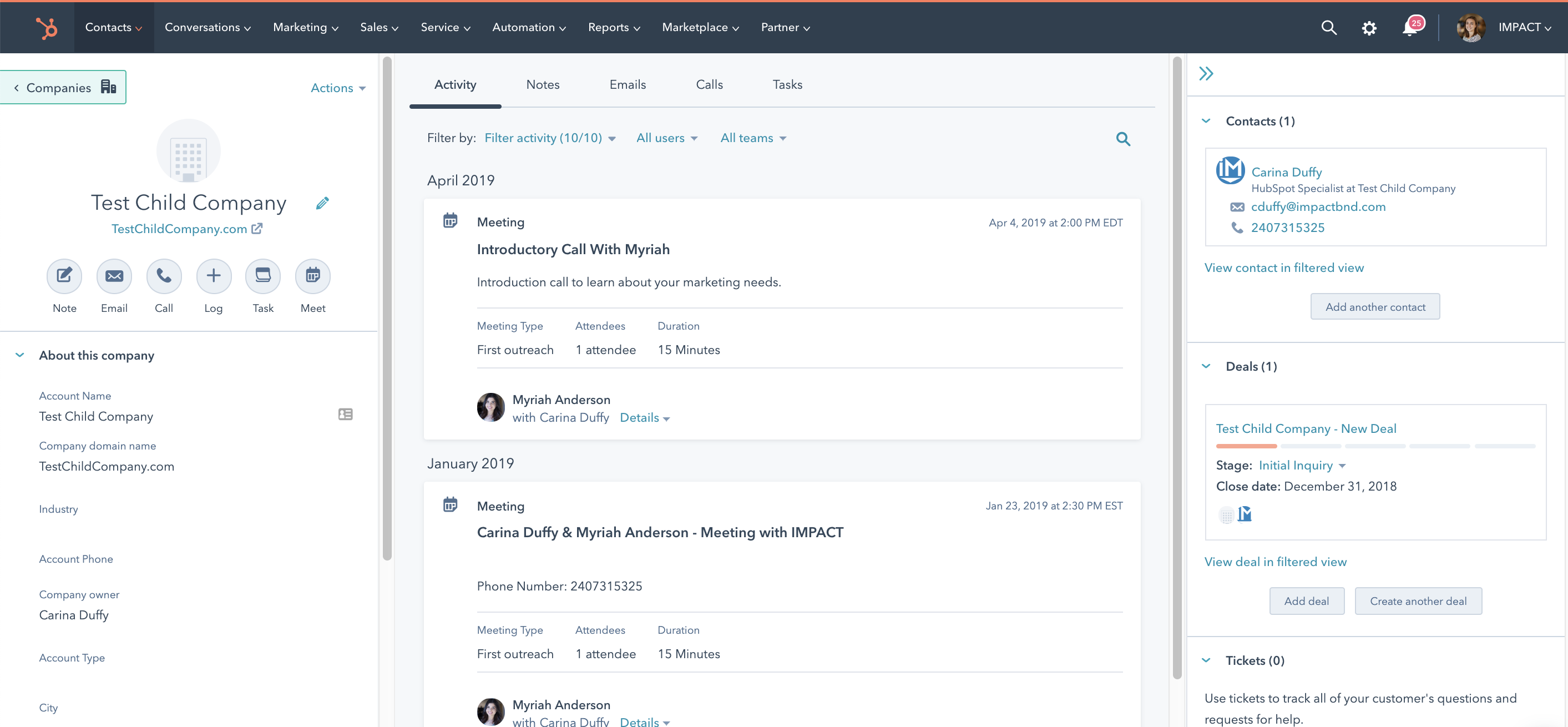 Deal Record:
2. Understand how your team needs to function in HubSpot
Since success with HubSpot looks different for every team, it's important to take a step back and work out how your unique team will be using the platform.
I like to start this process by asking fundamental questions like these:
What do we already know we need to be able to execute with the tools?
What information do we need to collect and manage on our contacts?
How many people will be using the platform?
Will we be hosting our blog on HubSpot? Our landing pages?
How will success with HubSpot be measured?
Answering these questions as a team and making sure everyone is in agreement will help ensure your expectations are set properly and you're clearly articulating what it looks like for your company to get the most out of HubSpot.
3. Nail your portal setup
This step is of course easier if you're just starting than if you've been using the tools for a long time, but it's important either way.
My recommendation is to first go through the Getting Started With HubSpot project and make sure you've got everything checked off the list (in your portal, navigate to Marketing > Planning and Strategy > Projects > search for Getting Started).
Then, spend some time getting to know the Settings section of HubSpot. This may sound silly, but it's one of the best ways you can truly understand how your portal is set up. Go through each item in Settings and make sure you've actually set up things the right way, not just the default way.
Spending time on Step 1 of this process will also help you make sure you're setting up things like Properties, Forms, and Lists in a way that will allow you to have an organized, segmented database that you can analyze and report on easily.
4. Nail down your strategy (outside of the tool)
One of the worst mistakes you can make with using HubSpot is thinking that the platform itself is your marketing, sales, or customer service strategy. Just because you have a hammer doesn't mean you can build a house, right?
Spending time building out and planning your strategy for how you'll use the tools and articulating what success ultimately looks like for you will ensure the things that you're executing with the tools are meaningful and valuable, and you're not just checking the box.
It's easy to get lost using all of the different functionality that HubSpot provides, without actually formulating a bigger picture strategy around your flywheel. (If that term is new to you, check this out!)
5. Get on a continuous improvement cycle
Once you've got a fundamental understanding of how HubSpot works and how your team needs to function within it, and you've got your portal set up and functioning in a way that's going to spin your company's flywheel, make sure you're getting yourself into a continuous improvement mindset.
While you might make a big push initially to get HubSpot set up, get automation running, and get everyone on your team using the tools, don't get caught thinking that's the end of your HubSpot journey.
Just as your marketing, sales, and service strategies change and morph over time (because the way people buy changes and morphs over time!), so too will the ways in which you use HubSpot. Be willing to adjust your processes and not hold the things you initially set up sacred.
But how do you know what things to improve and how? I thought you'd never ask!
You've got to hit the proverbial HubSpot gym to keep those HubSpot muscles strong and growing. Here are a few of the top ways you can learn how to keep using the tools better and better:
Follow these steps and you'll keep yourself from asking that pesky "how do I get the most out of HubSpot?" question ever again. And if you're looking for more hands on guidance on what to do next, let's chat!
Free Assessment:
How does your sales & marketing measure up?
Take this free, 5-minute assessment and learn what you can start doing today to boost traffic, leads, and sales.