The Pros and Cons of Migrating to HubSpot Sales Hub Enterprise for Your CRM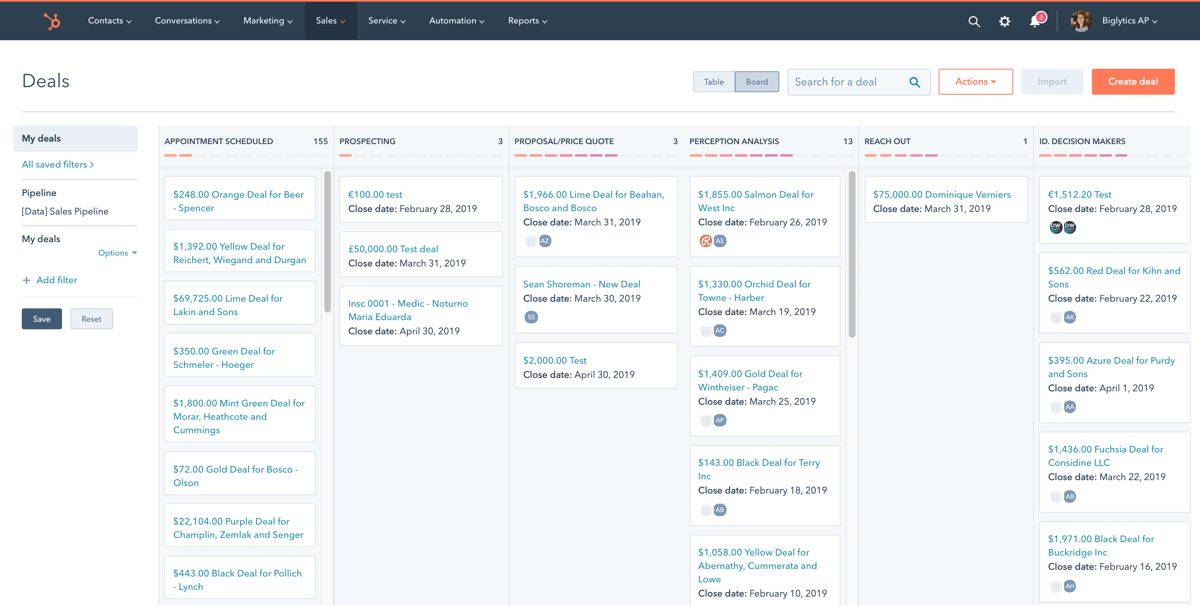 Let's be real.
If you're thinking about migrating to a new sales CRM platform, you've probably been dreading it for a while and have finally gotten to the point where it's inevitable.
Nobody really wants to do it.
Sometimes you just need to.
Well, we're here to make the process of migrating to HubSpot Sales Hub Enterprise just a little bit easier.
If you've come across HubSpot Sales Hub Enterprise as one of your options for migrating, but just aren't sure if it's the right fit, this article's for you.
We'll be breaking down the pros and cons of using HubSpot's enterprise sales tools to help you decide whether you should pull the trigger on HubSpot, or maybe think about some other options.
You'll also notice that there are a few things listed as both pros and cons.That's because they can be either depending your needs -- another reason why this process can be difficult to navigate.
But before we get to the pros and cons, you might be wondering - "my company isn't an 'enterprise' level company; does that mean this doesn't apply?
Is Sales Hub Enterprise Just for Enterprises?? (i.e. Who Is It For?)
Short answer: nope!
Slightly longer answer: HubSpot's Sales Hub has four different levels, making it more inclusive than you might think.
Here's an overly-simplified breakdown of what kinds of teams are good fits for each:
Free: great for getting in and getting a feel for the UX of the tools and some of the core functionality without having to swipe your card. I wouldn't recommend unless you're a one-man band without much budget, though.
Starter ($50/user/mo): great for small teams (less than five reps) with simple sales processes and simple reporting needs
Professional ($80/user/mo): great for larger teams (3-10 reps), still with simple sales processes and organizational structure
Enterprise ($120/user/mo): great for large sales teams (anywhere from 5 to 200+ reps) who have sophisticated sales processes with significant automation and reporting needs
Clearly, despite its name, Sales Hub Enterprise can be useful to teams and companies of many sizes.
If you've got a team with more than one level of management, more than five reps, more than one different sales "team," and need a high level of visibility and reporting for your team, the tools were built for you.
Let's get to the pros and cons of each.
Pros of HubSpot Sales Hub Enterprise:
1. Usability and User Interface
What's the number one problem sales managers face when implementing new CRMs? Adoption, adoption, adoption.
Luckily, the HubSpot sales tools are are intuitive and user-friendly, making adoption by your reps that much easier.
If you've got reps who are technically savvy and understand what a CRM should do, onboarding them to the tools will be as simple as giving them a login, and a couple of knowledge articles.
As for reps who are less savvy, one or two days of intensive training from a HubSpot trainer will get them up to speed.
Here are a couple examples of just how clean the interface is: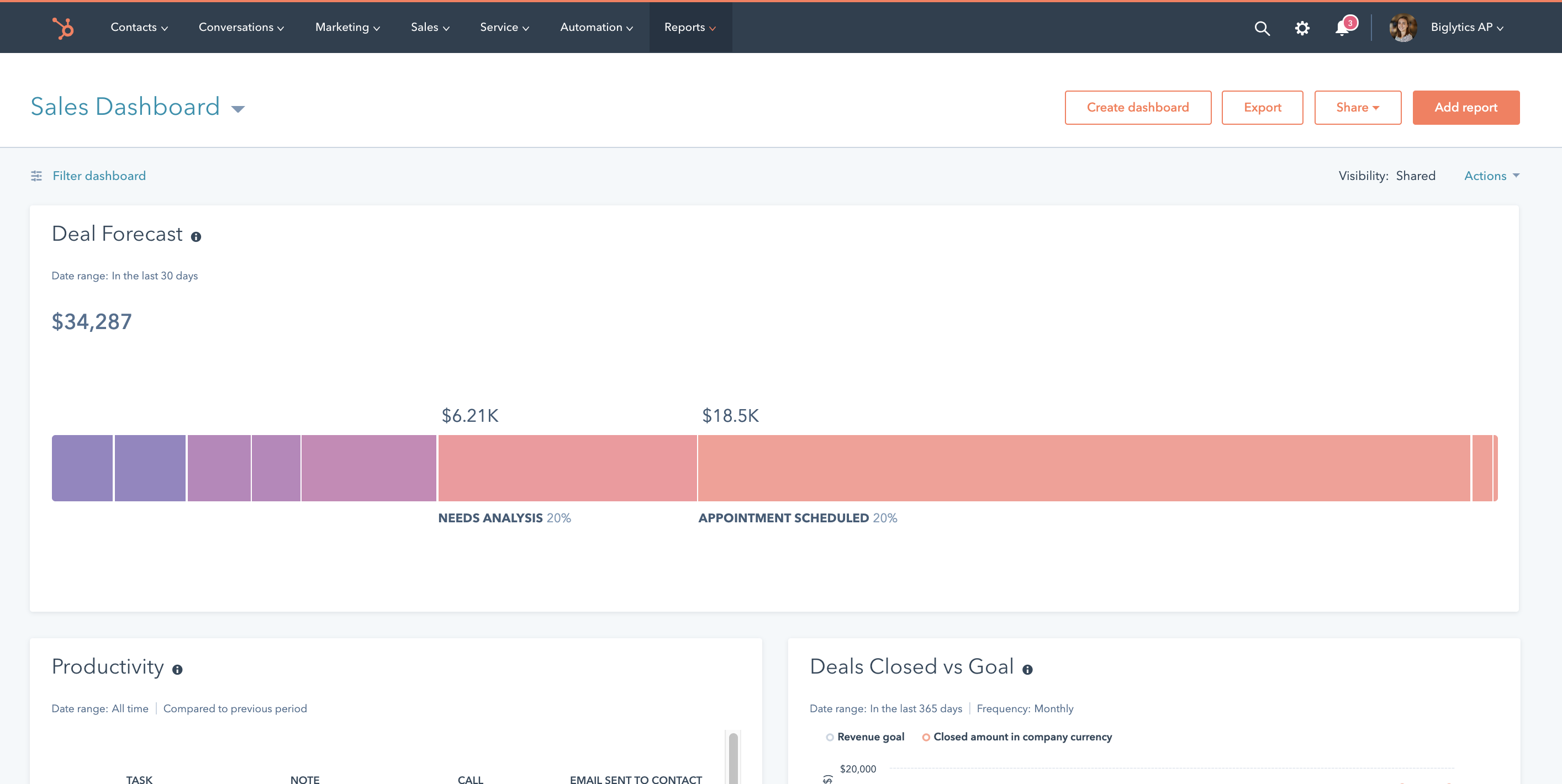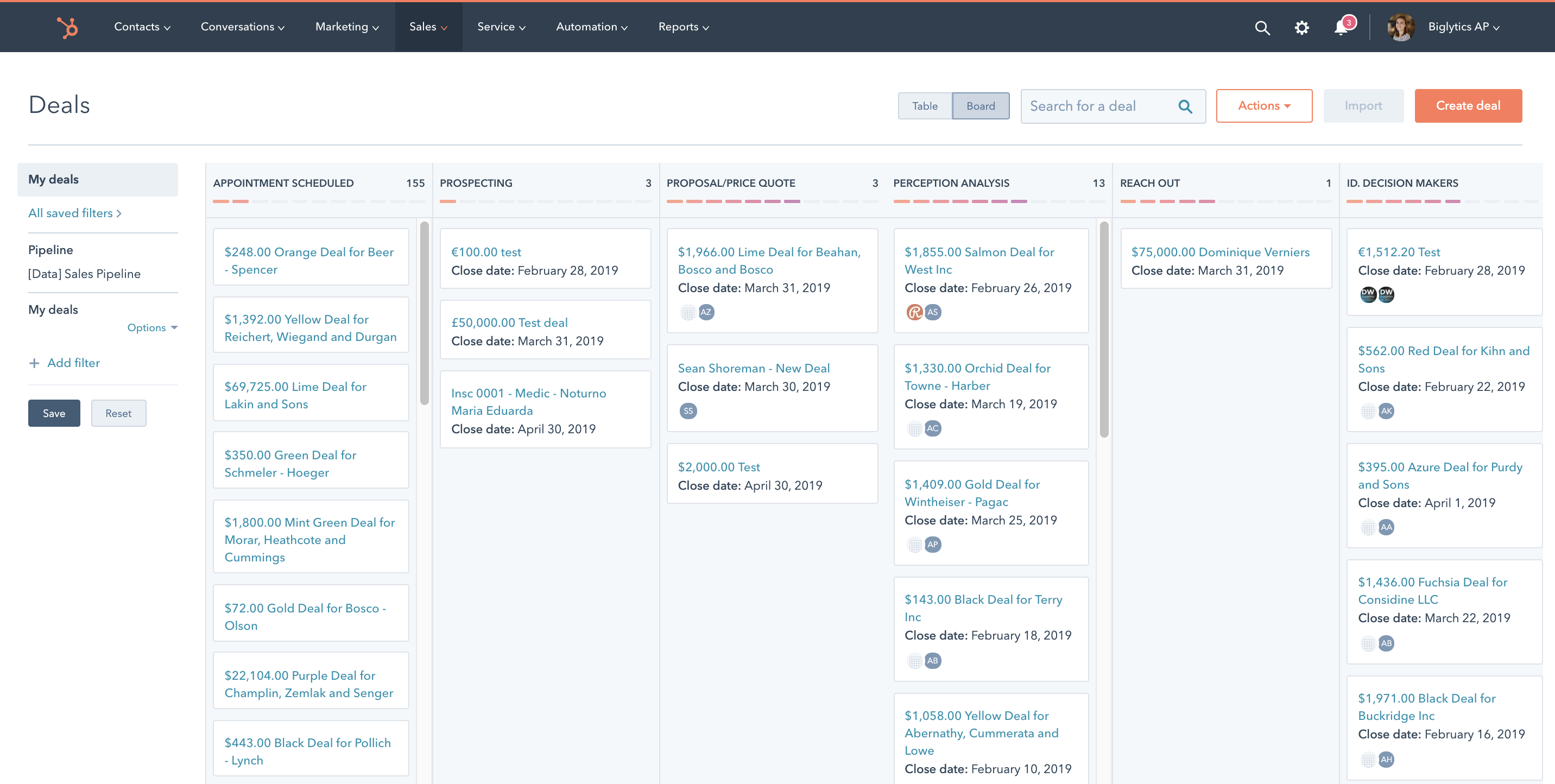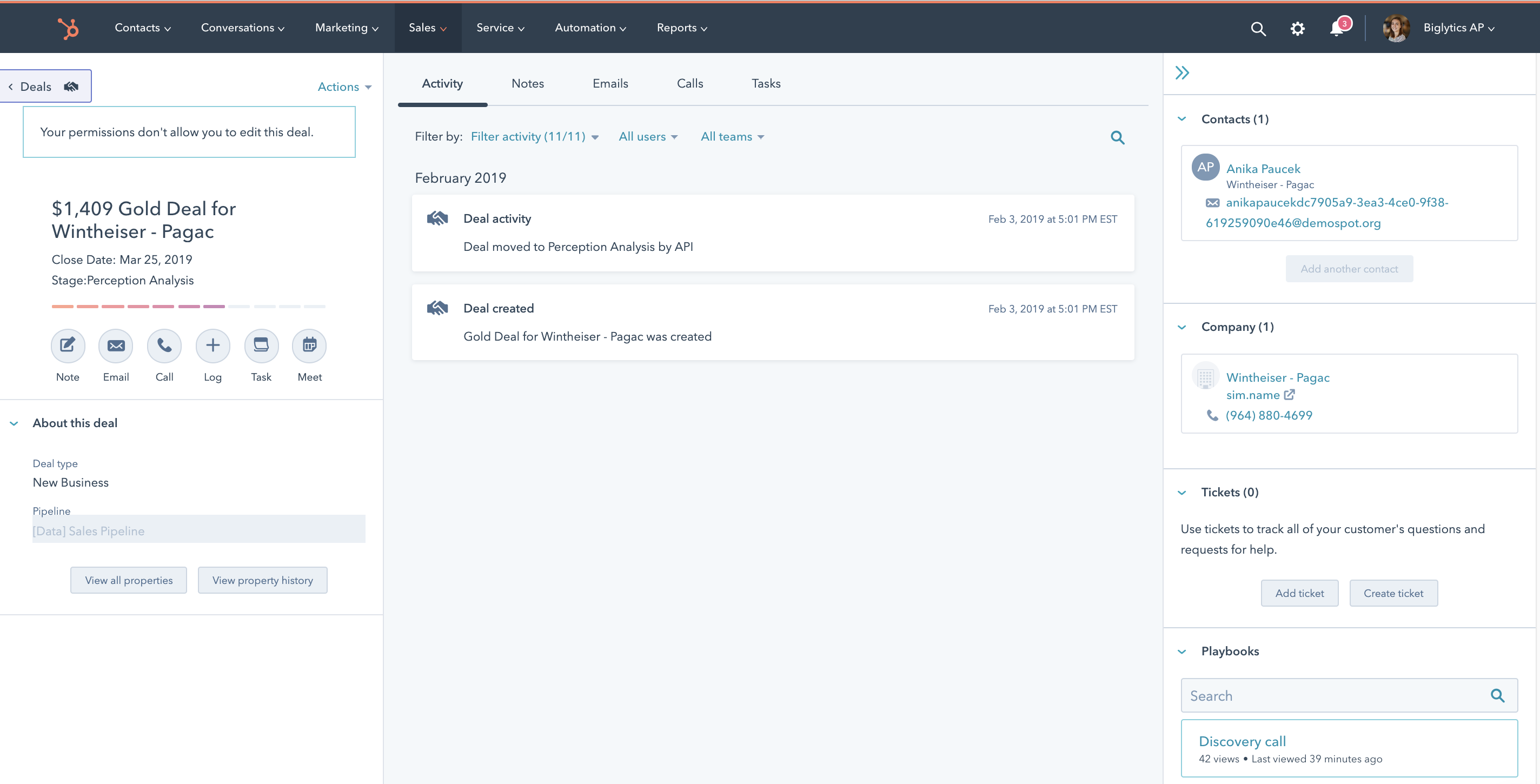 2. Marketing and Sales Data in One Place
It's highly likely that the reason you're looking at HubSpot's sales tools is because your marketing team is already using the Marketing Hub.
When you use HubSpot for both a marketing and sales CRM, you get the double whammy of detailed lead intelligence for your sales reps, plus full-funnel revenue reporting on your contacts.
Working on marketing and sales alignment? Having all of this data in one place makes it easy to see where there are roadblocks and slowdowns in your processes.
When your marketing team is using the Marketing Hub, your reps will be able to see things like how their lead found you, what pages on your website they've viewed, what forms they've submitted and how engaged they've been with your marketing efforts.
This means your sales team is able to spent less time researching their leads and more time engaging with them in meaningful ways. For example, if your rep knows a lead has spent multiple sessions viewing a specific product page, they're going to be able to focus on that product and the pain associated with it during the sales process.
3. Sales Productivity Tools
If you heard about the HubSpot sales tools from one of your reps or a rep at another company, it's likely because the productivity tools within the Sales Hub have changed their lives.
HubSpot's productivity tools help reps save time, get more done, and optimize their individual workflows.
For instance, with its email templates and snippets, copying and pasting or re-writing the same emails are things of the past. With the Meetings tool, there's no more going back and forth with prospects trying to find a time that works for everyone and with Sequences, reps can automate their outreach.
And with everything synced to your Gmail or Outlook, you can work out of either tool and track and log everything within HubSpot automatically. It's a thing of beauty.
4. Cost (If You're Coming From Other Major Platforms): $120/user/mo starting at 10 users
If you're comparing to other enterprise-level sales platforms, HubSpot is likely at the low end of the cost spectrum.
Plus - if you use all of the platforms in HubSpot's Growth Suite (Marketing, Sales, and Service), you get a 25% discount on everything.
Note: there is a minimum of 10 users, or $1,200/mo, for Sales Enterprise.
5. Reporting
HubSpot offers canned dashboard reports for the most common data sales teams want to look at, as well as the ability to create custom reports. These include reports like forecasted revenue, rep productivity and activity, and closed revenue reports.
With the custom reporting tools, users can create reports that pull in data from any of HubSpot's objects (contacts, companies, deals, etc) and visualizes it in a table or graph form.
For example, you can create a report that shows a breakdown of the industries of all of the contacts (object 1) associated with your closed won deals (object 2), and then make business decisions based on the industries you're finding the most success in.
Users also have the ability to create custom object properties, so you can track the data that matters to your team.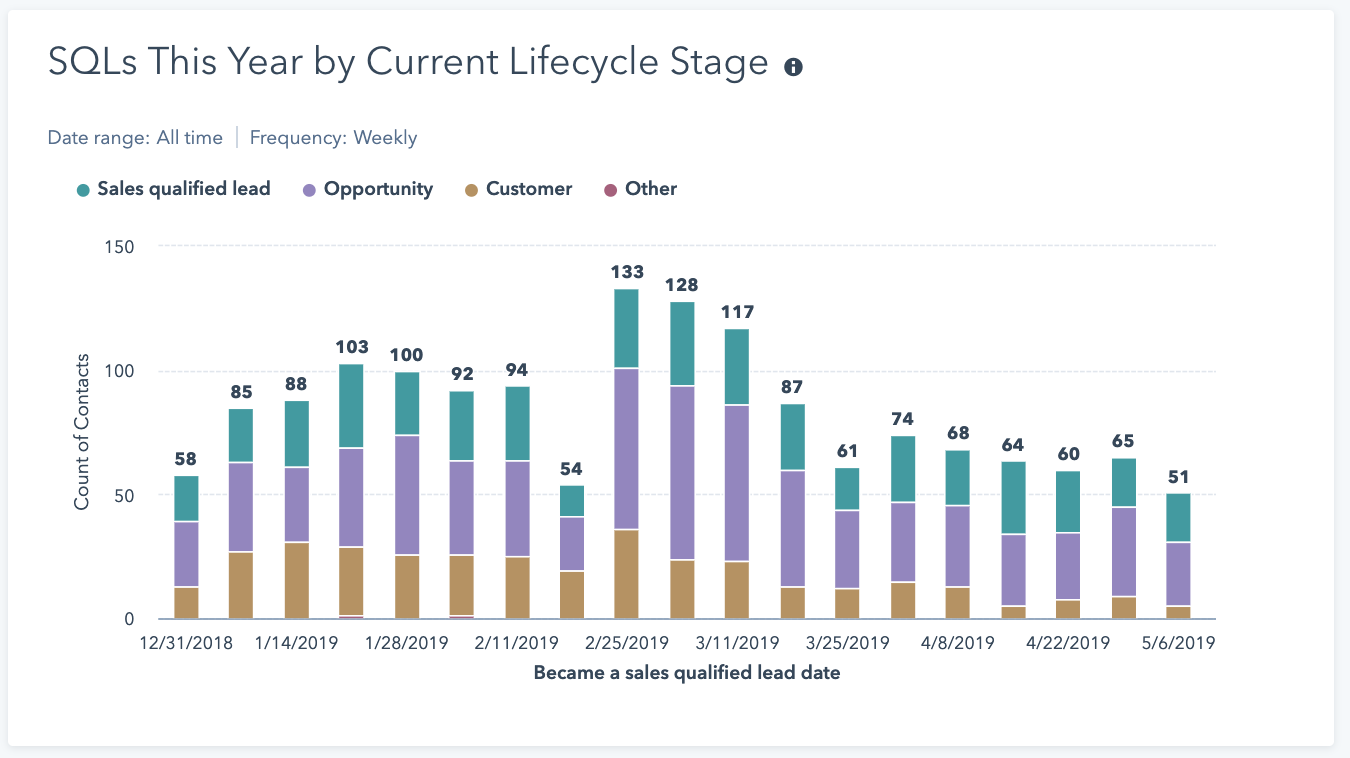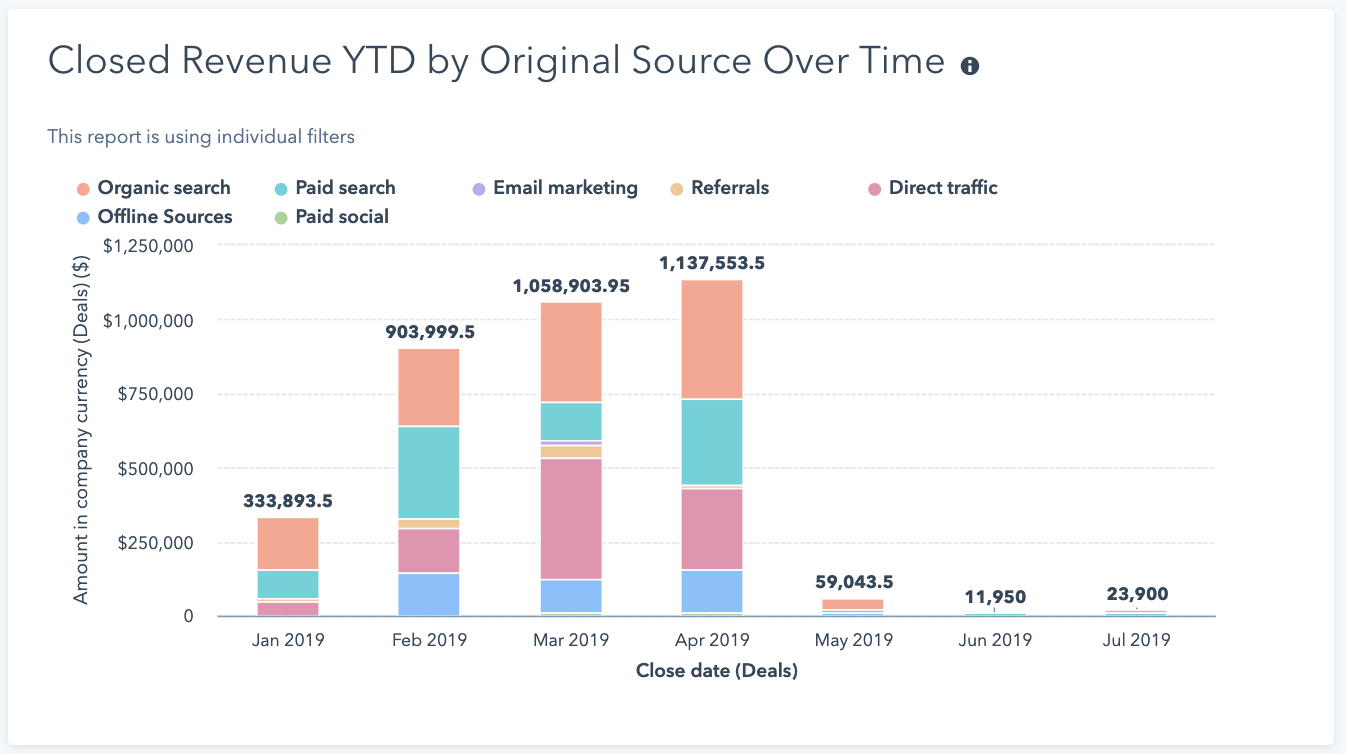 6. Support for Multiple Teams / Products / Services
Some companies have one product/service, with one team that sells that product/service.
While that's nice, most companies have a lot more complexity when it comes to selling
That's why HubSpot's Enterprise tools have built-in functionality for hierarchical teams, multiple pipelines and currencies, and product/service tracking.
With this functionality, you can make sure you're able to track the high-level of how your sales are performing as a whole, as well as break things out by individual teams, reps, products/services, or pipelines.
This allows you to look at your people and processes from different angles in order to optimize both. Gain visibility into what teams or reps are under-performing (or over-performing!) or what products are trending poorly.
More clear data means better, more data-driven business decisions!
7. Sales Playbooks
If you've got a large sales team, you want to make sure your reps are equipped with everything they need to do their jobs well, but sometimes that can be hard to scale across teams.
With sales playbooks in HubSpot, managers can create documented guidelines for their reps to use for specific types of calls, meetings, or deals.
Reps can attach these playbooks to the deal they're working, and use them to collect and track information about that deal.
Filled-in playbooks also update any object properties you've associated with them, making it even easier for your reps to keep their data clean.
Overall, these help maintain consistency and quality so you're not reinventing the wheel every time a new deal or team member pops up.
Cons of HubSpot Sales Hub Enterprise:
1. Flexibility and Customization
While there is certainly flexibility and customization in the HubSpot tools, the platform is not meant to be a "sandbox" for a developer to go in and create a bunch of custom widgets and processes from scratch that effectively change the way the CRM is set up.
However, at INBOUND 2020, HubSpot launched a live beta for custom objects. This means that while you can't go in and change the interface of the sales tools, you can now configure the platform for unique sales processes. Learn more about custom objects and when to use them here.
But wait! Before you write less customization off as a total con - it can actually be a pro, and with the addition of custom objects it is much less of a con than it used to be!
If you've been around the CRM block, you know that customizing or building CRMs from scratch can easily end up being more effort than its worth. This process can actually turn into a huge time and money drain.
We've often found that some sales processes are more complicated than they need to be and switching to HubSpot can be the ideal time to streamline.
If you're willing to adjust some of your processes to fit within HubSpot's ecosystem, you may just find that your reps adopt it faster, use it more, and you're able to get more value out of it than a homegrown CRM built just for your company.
2. Cost (If You're Coming From No CRM)
If you're upgrading from spreadsheets and sticky notes, paying a minimum of $1,200 a month for a tool is a major investment.
Not only that but if you're also going to be investing in the marketing tools, you will be paying per 1,000 contacts in the CRM.
Depending on the size of your business that can cause costs to rise rapidly.
If budget is an issue for your organization, consider starting with the Starter or Pro level tools and scaling up from there. If you choose to upgrade, nothing in your portal will change other than getting access to more tools and having fewer limitations on the tools you already have.
3. Custom Reporting Can Be a Learning Curve
While there is a lot you can do with HubSpot's custom reporting tools, the current toolset isn't as robust as some of HubSpot's more established competitors.
Up until recently, all of the custom reports you create must center around object properties and it can sometimes be hard to manipulate data to create the reports you want to see.
However, with HubSpot's new custom report builder, you can pull in non-object data from things like sales activities, website activities, marketing emails, and more. Learning to use the custom report builder does take a deep understanding of how HubSpot structures your data, but once you get it, you'll be able to create just about any report you can think of.
There are also reporting limitations that, for larger organizations, can mean an additional investment in HubSpot's Reporting Add-on to get unlimited access. With this, you get 50 custom dashboards (which can each hold 20 reports), and up to 500 custom reports with Sales Enterprise.
4. Quoting and eSignature Limitations
While these features do exist in Sales Enterprise, they are currently fairly simplistic and limited.
Reps can create and share simple quotes that include pricing for your products and services. Then, you can accept payment for these quotes via Stripe and reps can each use 30 eSignatures per month on their quotes.
If you've got a high sales volume or need more robust functionality for your quoting, however, you'll likely have to use a third party tool to create and manage your quotes.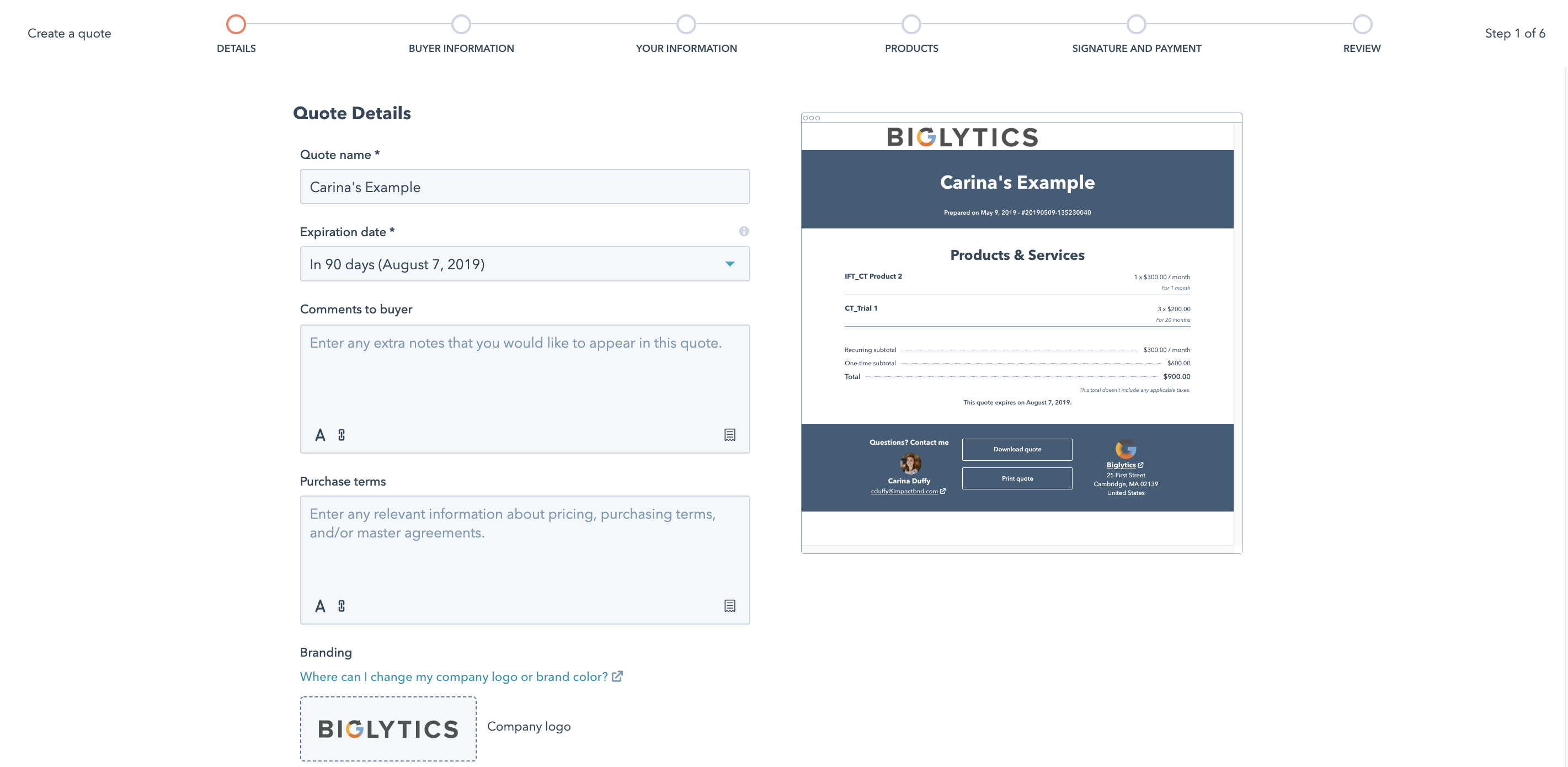 5. Recurring Revenue Tracking
Like quoting and eSignature, recurring revenue tracking in HubSpot Sales Enterprise exists but is currently very simple.
You can track a single recurring revenue amount (which works well for subscription-based products that only ever have one price) - when it starts, when it expires, but you can't do things like change the recurring amount for different months. Any change in the recurring amount would have to get set up as a new deal.
This makes it difficult for organizations like agencies to forecast all of their revenue within HubSpot and without using some kind of external forecasting tool.
Changing CRMs is About More Than Just the Tool
Looking at this list, if you're considering making a CRM switch to the HubSpot Sales Hub Enterprise or otherwise, you've got a lot more to consider than just what platform you're using.
Take this time to evaluate your entire workflow - how your sales team is functioning, what areas of opportunity there are for improvement, and make sure you're not in the mindset that purchasing a tool is going to fix all of your problems.
And if you're ready to pull the trigger, let's talk about how IMPACT can help!
Free Assessment:
How does your sales & marketing measure up?
Take this free, 5-minute assessment and learn what you can start doing today to boost traffic, leads, and sales.