What Does Content Consulting Look Like at IMPACT?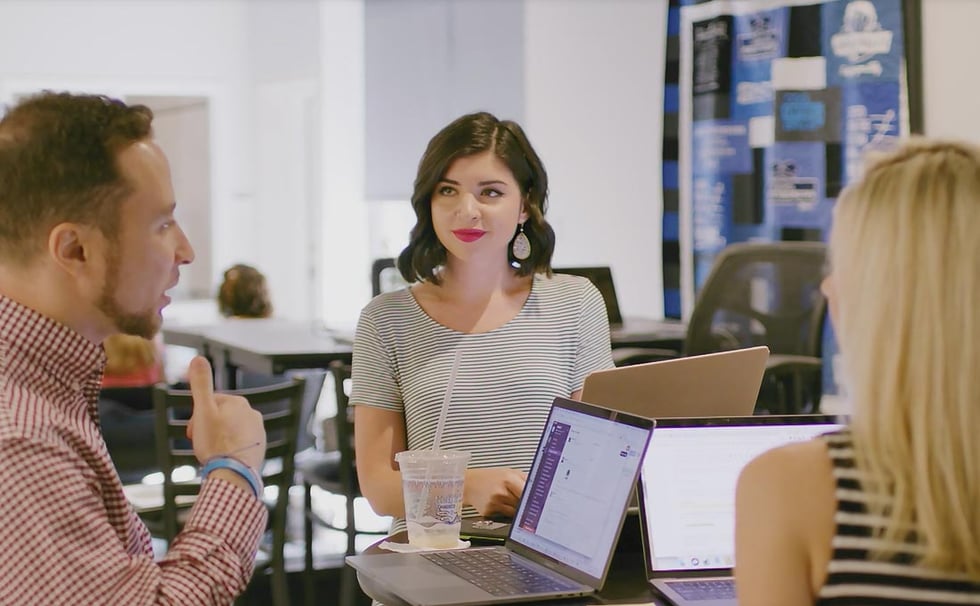 So, you believe wholeheartedly in the value of insourcing your content over outsourcing.
You've also become obsessed with answering your prospects and clients questions through content, but you only know so much about blogging and SEO best practices.
Also, as much as you're ready to hit the gas on content production, you aren't quite sure where to start or how to guarantee the content you plan to produce will be effective.
Does any of the above sound familiar?
If so, know you're not alone. We've heard these concerns from countless clients who are excited to get started with creating content that drives revenue, but need guidance in starting off on the right foot.
Here at IMPACT, our content consulting services -- which is a strategic blend of training, hands-on coaching of inbound content best practices, and a safe place for sharing ideas -- were designed specifically to address those challenges.
Using the age-old "teach a person to fish, and you feed them for a lifetime" philosophy, we will work as a team to give you the skills and knowledge you need to be successful curating and managing content on your own.
Consider our consultants multifaceted experts that serve as a content coach, therapist, editor and SEO guru.
For example, how does content consulting actually work at IMPACT? And how long does a typical content consulting engagement last and what will I be getting out of it?
In the 18-minute video below, the content consulting team here at IMPACT will answer common questions we get about partnering.
Don't have 18 minutes to listen but really want the Cliff's Notes version? Scroll below for the abridged version of the interview and key takeaways that will help you determine if content consulting is right for you.
But before you dive in, let's meet the IMPACT Content Consulting team -- the folks you'll be meeting in this video, and might be working with in the future!
00:45 What Is the Cost of Content Consulting?
The average content consulting engagement with IMPACT costs $2500 per month.
What is Typically Included in a Content Consulting Engagement?
You will meet with your dedicated content consultant once a week for 30 minutes and will be assigned homework and resources to hit your goals.
Every 90 days, your consultant will work with you to develop a training roadmap customized for where you're at in your content journey.
During your calls, your content consultant will review copywriting best practices (for blog articles, site pages, landing pages, social posts, email copy, downloadable offers, etc).
Not only will be focusing on on-page SEO, but our consultants will teach you what to write and how to write it well.
The rest of the training curriculum will be customized to fit your unique content needs.
01:05 - What Am I Going to Get Out Of My Content Consulting?
We are arming people with the best practices to where they can be self-sufficient with their own content marketing without having to rely on an agency indefinitely.
You will be able to own the process from beginning to end and your in-house team will be able to implement it
03:10 - Will You Be Editing My Content?
Yes, we will review every piece of content before it goes out
If there are other internal team members that need a sign-off/review pass, that should happen before coming to the IMPACT content consultant for final review.
We don't look at your first draft; we don't know your business as well as you do.
While you will need to oversee any fact-checking of your own work, we will be there to review it from the perspective of your target audience.
05:05 - How Long Should Our Content Consulting Engagement Last & What Will We Focus On?
We have a few different tracks. However, on average, you should plan for an engagement that lasts from six months to a year.
The first three months is focused on writing that blog content, teaching you fundamental SEO principles and the user experience of your content.
Once we start seeing traffic to your blog content, we start answering questions like:

What does our traffic look like and where can we improve?
How do we convert that traffic into leads?
How do we do get people coming back?

Next, we focus on getting people to subscribe to your blogs, reading emails, downloading content to become leads. Then we look at SEO value of all of your pages and messaging across the website - that teach people about YOU. Blog is teaching people about your industry and the problems you solve in a more general sense. Your website is how you solve those problems.
In months six through nine, we will shift into how to nurture leads so they ultimately make a purchase through you.
We also determine how to measure the success of your content through tools available to you and be self sufficient to interpret the data and improve what you're doing.
07:30 - What is the standard curriculum?
There is a foundational curriculum (as discussed). However, everyone has different needs, and businesses come in at different stages or with varying levels of expertise, when it comes to content.
There is a sense of customization that is possible on any curriculum for any client.
You can pick and choose what is best for you. We will work with you and collaborate to ensure that the topics that we are covering will indeed help you grow your business.
09:00 - How do I know if content consulting is right for me right now?
If you are a business that knows the value of content -- and you want to know the right way to do content without publishing things that aren't getting traction -- then consulting could be right for you.
We want to teach you how to fish. We want you to be as proficient as we are in digital marketing tasks -- such as blogging, and on- and off-page SEO -- in a way where you are driving results for your business.
If you can see content as a way to answer your customers questions and save your sales team time by providing this resource, it's a great fit.
The best time to do content consulting is when you have buy-in from leadership and the decision makers of your company.
If you're coming into this with a deep understanding that buying behavior -- the way people are buying and researching online -- has changed, content consulting is going to work for you.
12:00 - How much time can I anticipate investing in writing?
If you have a full time writer, you should be producing two pieces of content a week.
Best practices we are getting three.
You will spend a day researching and writing the content. Then that content gets sent internally for a review. Then it gets sent back to us. After we review it, then you should be able to turn it around to publish fairly quickly.
13:00 - What if three pieces of content is too much? Is there a ramping up period?
Yes - especially at the beginning. Some of this is counterintuitive so there is a learning curve.
In the first couple weeks, you could be producing one article a week.
But once they get the hang of it and you see the value of it all, things move faster.
13:20 - What is a best practice for producing a lot of content?
One best practice is to hire someone with actual writing experience.
It doesn't have to be someone with the industry knowledge because that can be learned.
If you have a journalist, they know how to research and write on topics that they were unfamiliar with before and then speak to them as an authoritative figure; write it as if they've known that subject their entire life.
And over time, if you have that journalist/content manager in house, they are going to become experts themselves.
14:19 - What if I don't have one person dedicated to content management? Is now not a good time to engage in content consulting?
We have seen two successful methods.
One is the everybody writes model, but you still need a central person who "owns" your content. Their responsibilities would include overseeing the brainstorming, editing, and reviewing processes. This is one way to solve if you don't have a singular person who will write content.
The second is to get a writer and a content manager in place. And this really is the best method in the end.
When you boil down the numbers of insourcing versus outsourcing, some businesses have found that it's really not that much of a difference in cost. (But with outsourcing, you're paying someone who isn't as invested in your company's overall success.)
16:15 - What are the top benefits I can expect from content consulting?
Your own managing editor who reviews content through the lens of your customer.
You are learning to answer the questions your clients have proactively - which helps shorten the sales cycle!
You become proficient in content by learning how to fish.
Branding and messaging alignment through internal buy-in.
There's no question of whether or not content is measured effectively. By working with a consultant, you will have your own personal sounding board, safety net, teacher, and friend every single week going into the meetings. That way you know you are always producing content that is going to get you the results you need.