What Not to Wear: Tips for Choosing the Right Clothes for Your Marketing and Sales Videos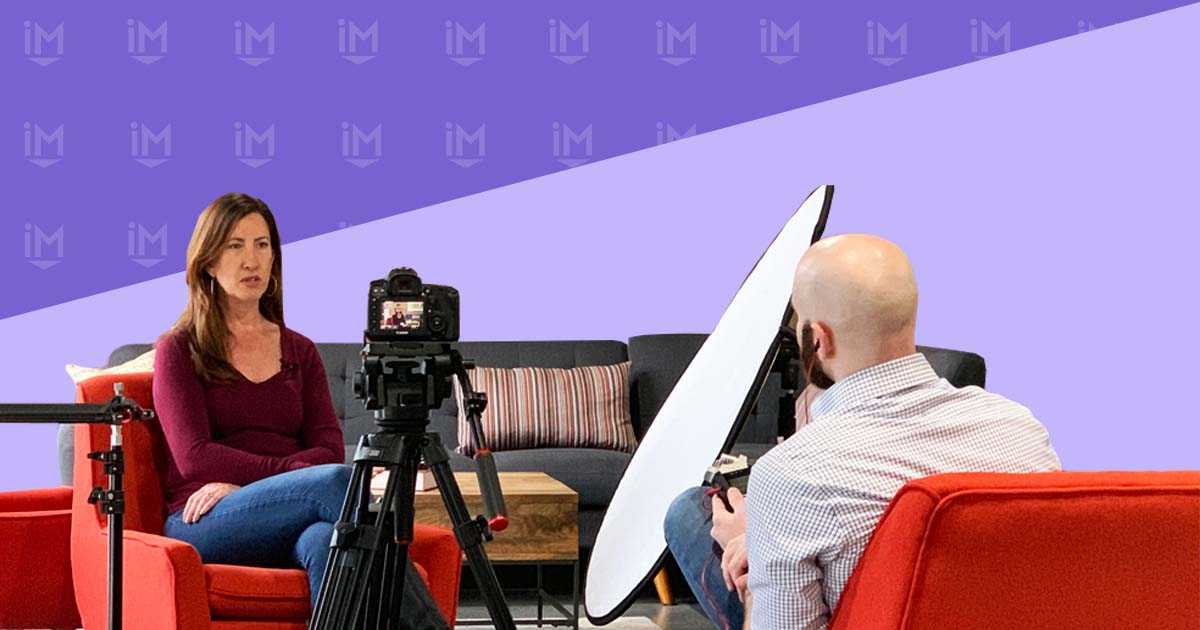 We all know the importance of video in sales and marketing and how you present the people on your team on camera can say a lot about your company before anyone actually speaks.
With this in mind, you should be sure that what you and your team wears on camera not only films well but conveys what you want to viewers.
Why does it matter what I wear?
Unfortunately, we judge people on the way they look all the time.
Think about how we prepare for a first date or an interview.
In these cases, what we wear says a lot about who we are and how we want to be seen. You have a few minutes (if not seconds) to visually assure your audience that you know what you're talking about and video is no different.
In your marketing and sales videos, you want your viewers to focus on what you're saying, not that someone's hair is sticking up or that they're wearing a loud sweater.
Even if you have a relaxed company culture, you still want the world to take you seriously so you have to pick your attire carefully.
If a visitor clicked on a video of any company and saw the CEO with a hat on backwards and band t-shirt, what would they think of the company?
The way you present your people on camera matters. Whether it's the CEO or an intern, you should be putting your best foot forward.
As much as you rehearse in your bathroom mirror, it's another thing entirely when the camera turns on. Feeling confident about how you look will help with your presentation as well.
Similarly, it will assure others that you are worth listening to.
So, what should I wear?
To some extent, your clothing might be dictated by your company or industry.
If you're an attorney, viewers may expect to see you in a suit while if you're an artist, a suit might look out of place.
Suffice it to say, there are levels of professionalism that you can pick, but it should match your role, your company, and your industry.
Remember that what you choose will affect how your company is perceived.
Before we get into more specifics, not that dresses can be troublesome if you have to put the mic pack somewhere for audio.
Usually, the mic is attached to a battery and transmitter and you will have to stash this somewhere. A back pocket or on the line of your pants if easiest.
Wearing pants or a skirt for the mic to clip onto is especially helpful if you're going to be standing up.
What colors to wear and not wear
First off, if you're shooting on a green screen, don't wear green!
The way a green screen works is by changing the green in any part of the frame to be transparent. You'll look like a floating head.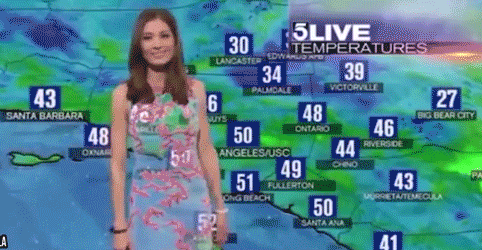 (Source)
While shooting on a green screen isn't overly common for videos like The Selling 7, there's a chance you might find yourself against one, and you want to be prepared.
In any case, make sure to ask about the background you'll be against.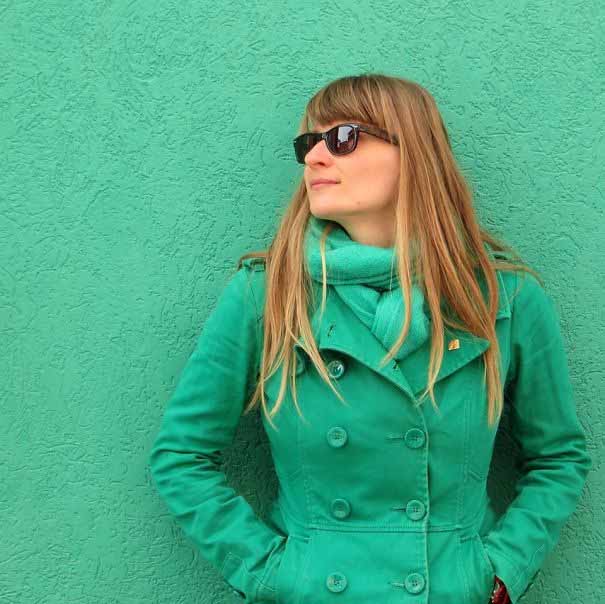 (Source)
If your videographer is not sure about the background, bring a few options.
Avoid pure white. Light reflects more off of brighter surfaces, so the lights for the camera will reflect off of your shirt more than your skin, making it look like you're glowing.
It's kind of like how blinding it can be after a snow storm.
On the other hand, black will not show any details, so you may look formless.
The best colors are jewel tones like these:

(Source)
They're interesting enough to allow you to express yourself, but neutral enough not to cause any problems on camera.
Here's an example from a recent video IMPACT shot.
For one of her shoots, Melanie Collins, our director of sales and revenue, wore neutral, light colors and stood out from the background.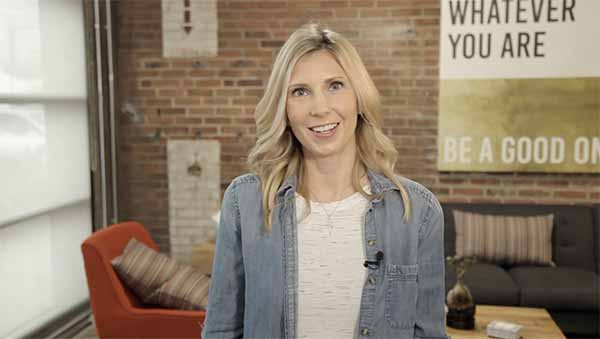 Patterns, logos, and fabrics
It's always a good idea to stay away from any distracting patterns like what's on a Hawaiian shirt. These will draw the eye away from your face, and away from what you're saying.
Without getting too technical as to the why, just trust that you'll also want to stay away from tight or busy patterns, as they can read strangely on camera: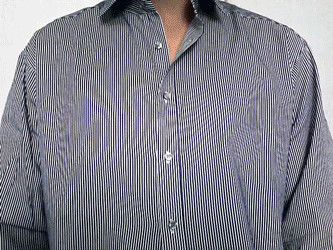 You should also stay away from visible logos. You don't need to be reminding people of other brands while you're trying to sell yours.
Wear solid colors if you can. If you wanted to wear a plaid shirt, maybe throw a sweater over it to tone it down.
Pat from Yale Appliance and Lighting (an IMPACT client) did just that for his interview in our case study. While he does have a logo on his vest, it's small enough to not be distracting.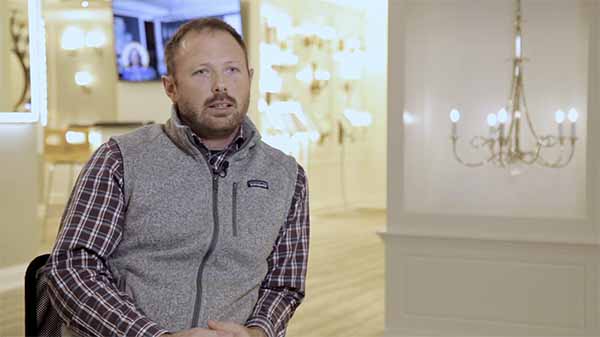 Which accessories you should leave at home
If you want your audio person to like you, no loud bracelets, please! Nothing is more distracting than bracelets jangling while you talk.
Avoid dangling earrings, too. They can reflect light and can sometimes make noise.
You'll also want to try to avoid scarves. If you are going to be wearing a mic, which runs up the inside of your shirt and clips on the neckline, the scarf will muffle it, or the audio person will make you take it off.
If you can see without glasses or have contacts, go that route.
You want people to be able to see your eyes and most glasses, like the color white, reflect light and can be difficult to film, especially in small spaces.
There can be a lot of maneuvering needed to make it so a light doesn't show up on your glasses, and some rooms just don't have the space for it, so best to avoid the issue.
In general, the smaller and simpler your accessories are, the better.
Studs for earrings, simple necklaces, and soft bracelets are fine.
Most accessories like watches and cufflinks won't cause too many issues either, but be conscious of the sounds your hands make while moving them before you start shooting.
We producers don't want to limit your self-expression, but we do want to make sure people can see and hear you clearly.
Last, but not leads: Avoid heavy clothes
It gets hot under studio lights. So, even if you're coming in from a winter storm, shed those layers!
They also tend to add bulk and make you look bigger than you are. Staying with thinner fabrics will make you more comfortable and look your best.
Lastly, avoid fabrics like silk because they can look too reflective.
Keep it simple
Everything above said, simplicity is your friend.
There are many ways you can express yourself present and still look great on film and following these tips will help you look like the professional you are.
As we mentioned, you want to sure that when your team is on camera, viewers are not more focused on their outfits than their content. So, avoid anything too flashy.
Just look professional, be confident, and you're on your way to making a great video!
Need more guidance with this or the rest of your video production? The IMPACT video team and I are happy to help.
Free Assessment:
How does your sales & marketing measure up?
Take this free, 5-minute assessment and learn what you can start doing today to boost traffic, leads, and sales.