5 Ways to Ace Your YouTube SEO Strategy in 2022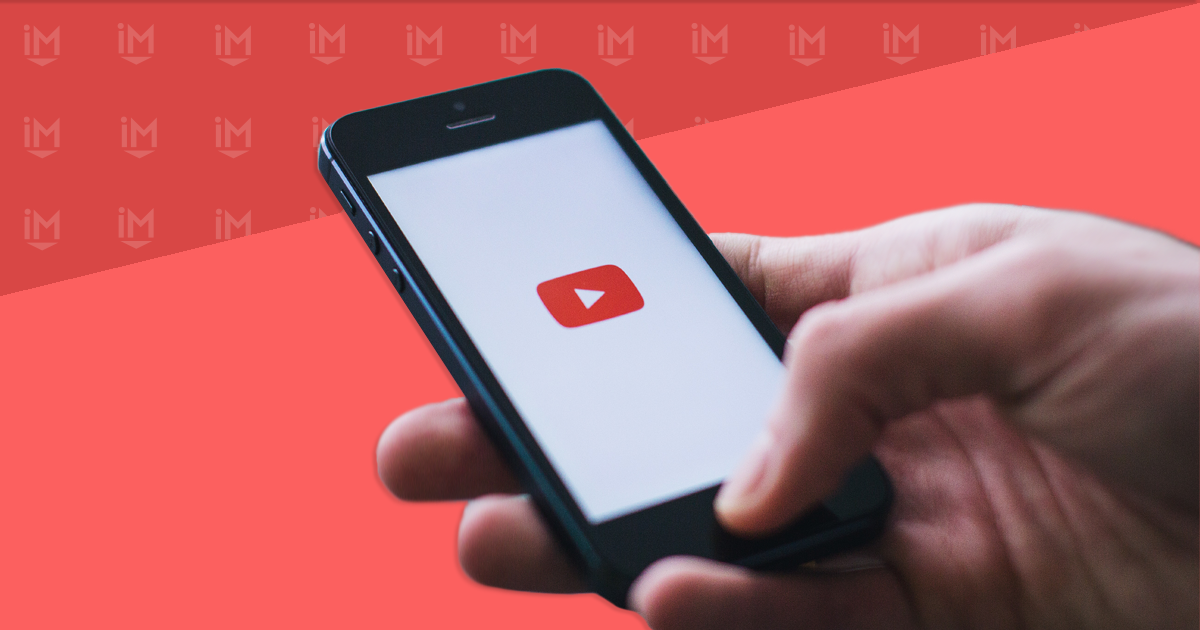 In the world of search engine optimization (SEO), it can sometimes feel like you're learning an entirely new language. If you don't have a working knowledge of how websites, Google, and algorithms work, it can be downright confusing to read a bunch of blog articles and websites trying to discern what is the right thing to do based on all the expert's suggestions.
And now, if you've decided to also use video and YouTube search in your marketing strategy, it can feel like entering another dimension of unfamiliar information.
You might be thinking, "Why should I care about YouTube SEO strategy in the first place? I'm uploading videos, and that should be good enough."
The biggest reason is that, next to Google, YouTube is the second largest search engine in the world. Despite this fact, most businesses aren't tapping into this resource (which means there's a whole lot of opportunity here still).
Second, when you make SEO mistakes on YouTube, you diminish your ability to get your business in front of the people who are searching for and need the solutions aligned with your products and services.
Think of the YouTube search engine and your YouTube videos as a marketing channel that should be maintained and optimized just like any other. The most successful YouTube channels have all relied on YouTube SEO to get in front of users.
The good news is, you don't need to be an expert in YouTube SEO to grow with video. The strategies I'm going to share with you in this article are considered to be tried and true best practices. They are strategies that we teach our clients here at IMPACT — and they've helped thousands of businesses explode their traffic, leads, and sales with video.
These YouTube SEO tips include information about how to:
Perform keyword research.

Create chapters in your YouTube videos.

Make a YouTube playlist of related videos.

Monitor watch time and retention.

Track engagement.
Ready to nail down the basics of YouTube SEO so your strategy has the potential to create an audience of raving fans who can't wait to watch your next video?
Here's what to do.
1. Perform keyword research
Keyword research isn't only useful for boosting your business blogging strategy; YouTube SEO also requires it.
Homing in on the right keywords before you create any videos is important because you can use them to tell the site what your YouTube videos are actually about. The platform algorithm cannot watch your content, so it needs to be told what the content of the video contains so it can show it to people performing relevant searches.
This means that you'll want to make sure that the title and video description are accurate and feature keywords.
YouTube keyword research can be done in several ways. For example, in tools such as Semrush, you can look specifically at which questions users search, and optimize your video title around them. This works especially well for "how to" and question-driven content, as these tend to be terms that people search for heavily on the site.
Here, I'm going to show you how to do it using Google Trends. When you open the site, you'll have the option to start with a search term or an example.
At the home screen, type in the topic of your next video project. Once you've hit search, you'll be navigating to a display that looks like this:
The above dashboard allows you to see how a keyword is trending, but also allows you to compare different keywords and phrases.
Initially, you'll see the results for web search, but you can change the setting (as pictured above) to be reflective of YouTube search queries. Comparing the growth and potential of YouTube keywords over time will allow you to make calculated decisions on how to present your video on the site based on these searches.
If you continue to investigate the page, you'll notice that you're also provided with related search terms and how they rank on YouTube:
While it's helpful to know what regions those keyword terms are trending in, it will also be helpful for you to know which related keyword searches are popular and potential tag ideas for your YouTube videos.
You can also see which keywords have potential if you toggle between "top" and "rising" keywords, pictured below:
You can also use tools like TubeBuddy during the upload process and make updates to your published video as needed.
In addition to tools like this, YouTube's own search bar can help. The suggestions provided by YouTube search can help you learn how others have optimized their own YouTube video titles and descriptions. Furthermore, a review of the YouTube video results page can offer insight. Don't neglect YouTube's search bar as a powerful tool in its own right.
The most important thing is to remember that you should never upload any YouTube videos without doing YouTube keyword research, just like you wouldn't write any post for your business blog without researching how people are finding content like yours.
2. Create chapters in your YouTube videos
In May of 2020, YouTube introduced a feature called "chapters" to its user experience, and these chapters play a role in related searches.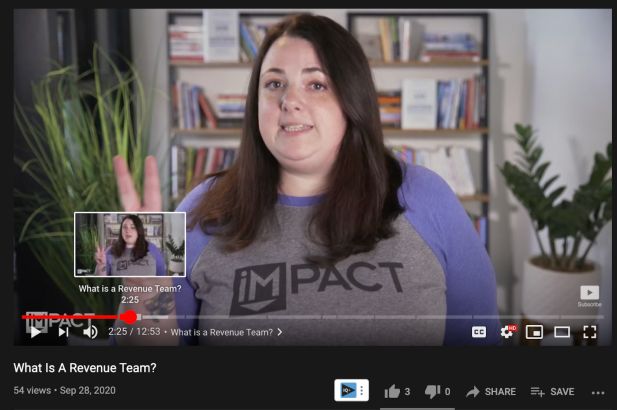 Notice the chapters in this video from our YouTube channel video, What Is a Revenue Team? They break the timeline up into sections that you can easily skip to.
To create chapters within your video, edit your description to include timestamps of when you've moved on to the next topic, indicating a new chapter.
This video is broken down based on the segments that walk through all the elements from what a revenue team is down to what makes it successful. Additionally, YouTube content that features chapters tends to perform better in Google's own video search results.
If you're unsure how to break up your video, and you'd like to use chapters, incorporate segments as we recommend in The Video 6.
3. Make a YouTube playlist of related videos
Playlists are not only a great way to organize your videos into relevant categories, but they're also a great way to create new and unique content for your channel. It's important to publish new content often, especially since the YouTube algorithm favors those who publish consistently.
To create a playlist, start by choosing a video on your channel. At the bottom right-hand corner, click "save."
Once you've clicked "save" a menu will appear (pictured below), where you'll have the opportunity to create a new playlist or choose a playlist that has already been created to add new videos to.
If you're creating a new playlist (or need to update the titles of your old playlists), name the playlist with your keywords at the forefront of the title so that it pops up in relevant searches.
The image above shows an example of a playlist title that could be started for the chosen video.
Also notice that under the privacy settings, "public" is selected. The default for this option is private. You will want to make this playlist public so that anyone searching for the topic has the opportunity to view your hand-selected series of YouTube videos.
4. Monitor watch time and retention
Unlike its parent company Google, YouTube doesn't rely on backlinks to rank the content of a video. Rather, it relies on and rewards videos with a high audience retention rate. If you want to build a solid YouTube SEO strategy, you have to understand how to improve your engagement.
Audience retention rate refers to how long viewers are watching your video. The higher the percentage, the better.
To figure out what the retention rate for your videos is, first navigate to studio.youtube.com, which will bring you to the dashboard for your channel (if you're logged in):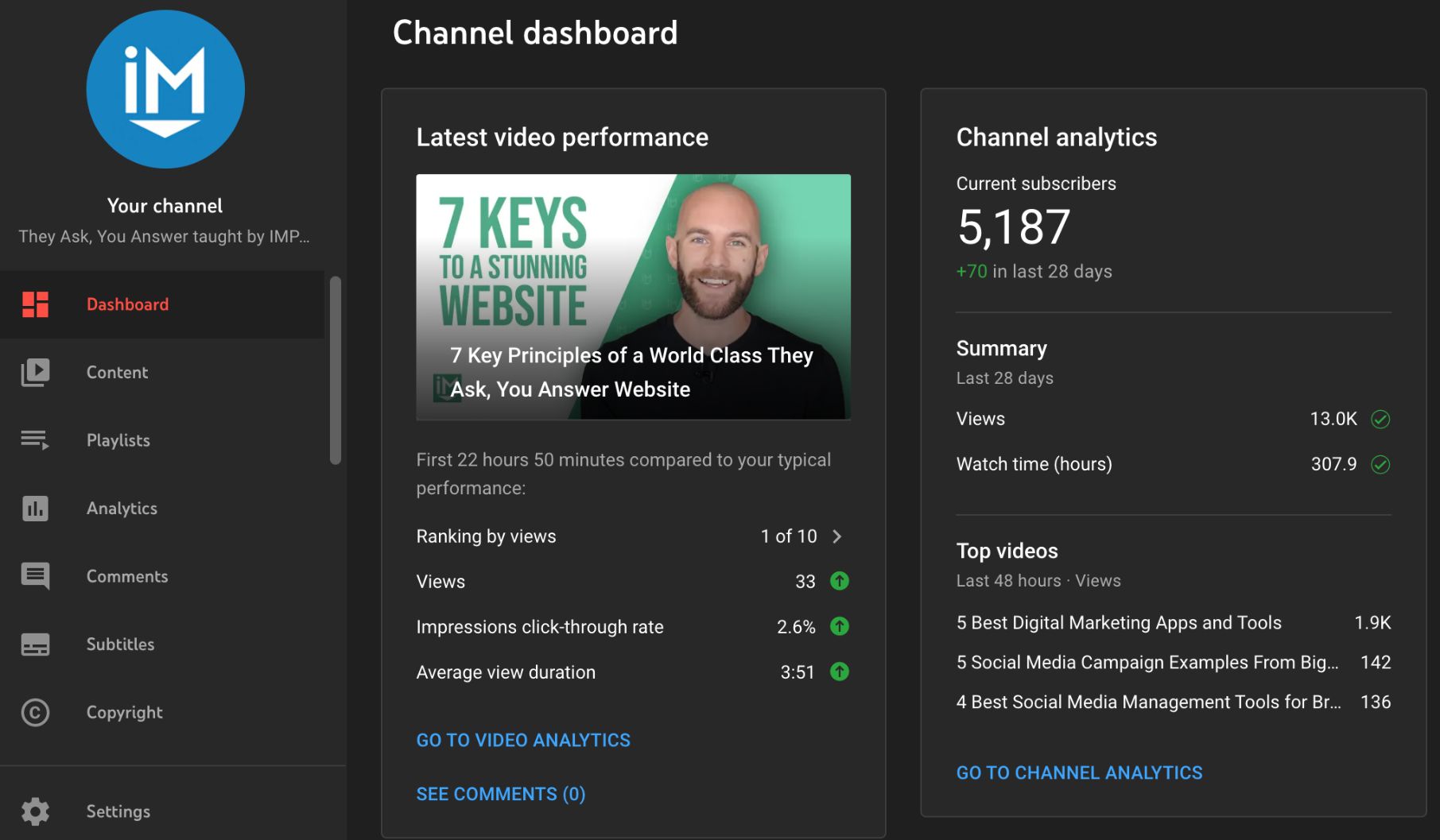 The dashboard of your YouTube channel should look something like this one from our They Ask, You Answer taught by IMPACT channel.
Once you're in the dashboard, choose the "videos" tab on the left of your screen. Once you're in the tab, you'll see all the videos you've uploaded to the channel in the order that they're published. From there, hover over the video you'd like to review the analytics for and select the second icon from the right that looks like a bar graph.
Choose the analytics (pictured above) section for the video you want to review.
Once you've clicked into the analytics, to find the audience retention metrics, select "engagement," and scroll until you see a line graph that represents the audience retention rate of your video, similar to the one pictured below.
At the bottom of the engagement tab, you'll find a graph similar to this showing the retention rate of your video.
Now you may be asking yourself, what is a good retention rate? Generally speaking, the answer is 60%. However, you should aim to create YouTube videos that make your audience want to stick around to the end. In the example above, you'll notice that the retention rate for the video is about 42% with most of the audience only making it through 90 seconds of the video.
What could be the cause of this?
Perhaps the video isn't being directed at the right audience. If this is the case, updating thumbnails, descriptions, and tags could make a difference. Or the answer could be that the video isn't providing enough information to the search queries.
Compare your videos that have the highest retention rate and those that have the lowest. What are the key differences in the video content itself? What are the differences in the way this video is set up?
Once you truly understand what your audience needs, wants, and best responds to, your audience retention will reflect that.
5. Track your engagement (a critical metric)
Engagement is defined as any action that someone takes on your channel or a single video. Examples of engagements include but are not limited to likes, dislikes, comments, subscribes, and unsubscribes.
In the analytics dashboard, you can keep track of the engagement of your channel and the top-performing videos.
To start, navigate to studio.youtube.com, and, again, you'll be taken to your channel dashboard.
This is the side menu of your dashboard.
Once you're in the menu, select analytics. In the analytics view, you'll be able to choose "engagement" toward the top of the page. After engagement is selected, you will be able to analyze the videos and video elements that are engaged with the most as pictured in the view of the engagement metrics of our channel, Film School for Marketers below.
There are a few ways you can encourage engagement in your videos. By asking viewers to like and subscribe, you can encourage them to engage with your content. In addition, using end screen elements that encourage engagement at the end of the video — which you can track in your engagement analytics shown above — will allow you to see if your strategy for engagement is working.
You can also use your other platforms to promote the viewership of your content. Share your videos on social media, in an email newsletter, and/or on your website to continuously find ways to get more viewers watching your content. This is an underappreciated outreach method that many YouTube channels have used to grow their subscriber base.
You're now on your way to becoming a YouTube SEO master
The information and examples we've shared with you here come from the award-winning inbound marketing framework we teach our clients called They Ask, You Answer.
We help businesses master the basics of video and build a strong foundational YouTube SEO strategy, along with showing them how to follow general SEO best practices on their own site.
By creating a habit of consistency and best practices, you're well on your way to creating a presence with your videos that's not only memorable to your audience but is also searchable content that is easily found.
Watch and share the courses Fundamentals of The Visual Sale and Video Sales and Marketing Strategy with your entire team to help get you started with what video content you need to create, and how to create it.
Free Assessment:
How does your sales & marketing measure up?
Take this free, 5-minute assessment and learn what you can start doing today to boost traffic, leads, and sales.