3 essential YouTube tools to improve your organic performance in 2020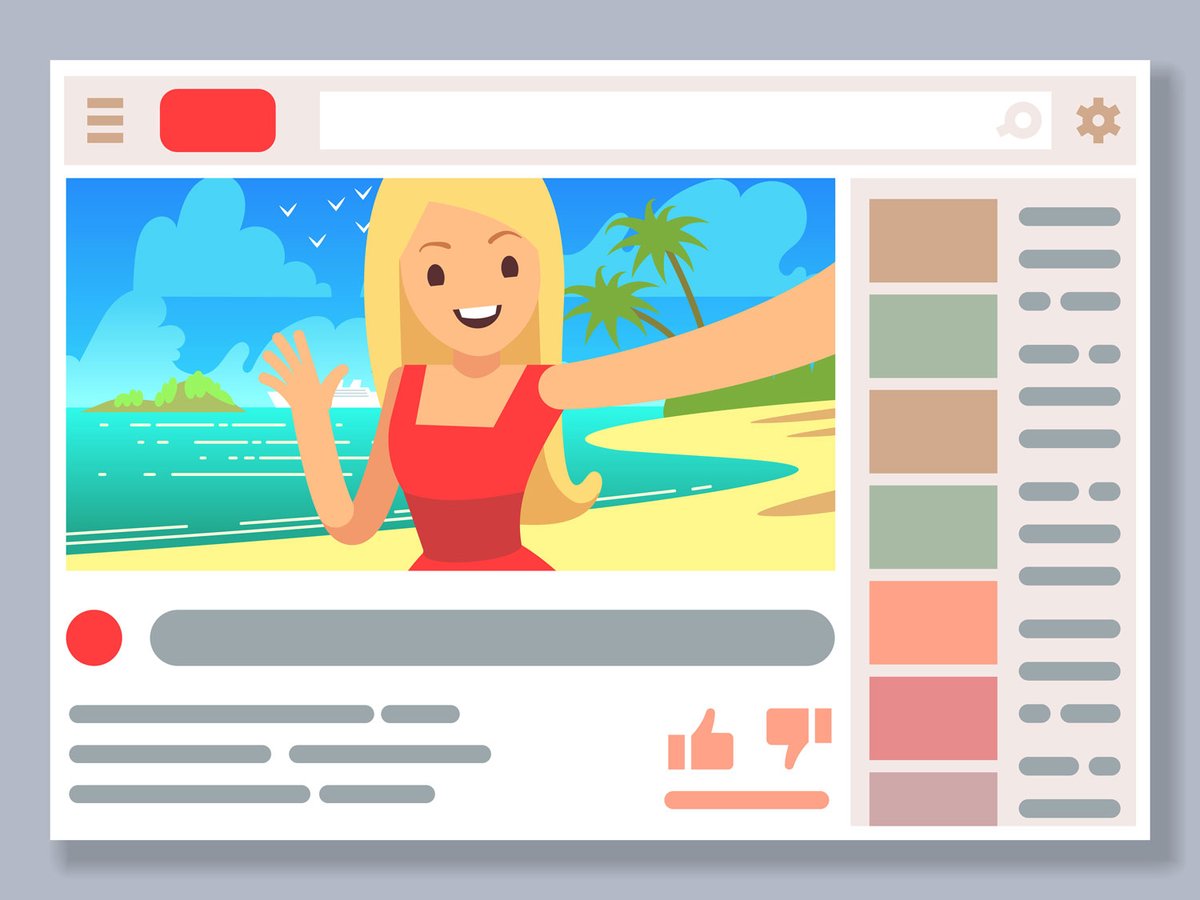 How often do you read tips and tricks on SEO for articles and web pages?
Daily? Weekly?
Heck, it seems like every other marketing article is about search engine optimization. But usually only for written pieces of content optimized for Google.
We don't however, hear a whole lot about how to optimize our video content for video search engines like YouTube.
Where are all those answers? How do we optimize our videos for search, and is there software out there that might help us out?
Make no mistake, YouTube has major differences from its big brother Google, which means we need to be looking at different metrics. One of the major differences of YouTube is their strategy to keep you watching.
They accomplish this by suggesting content before, during, and after you're already tuned in. Don't get me wrong, optimizing for search is very important. However, at the end of the day, it could account for only 25% of your overall viewership on YouTube. On the flip-side, suggested views could make up 50% or more of your channel performance.
As of October 2016, the average time spent on YouTube is 40 minutes per session. Yeah. YouTube is busy serving up those suggestions alright.
But fear not, optimizing your videos for suggestion AND a YouTube SEO strategy is easier than you think.
We're going to show you three YouTube tools, all of which can be used for free, to improve Video SEO. At The Sales Lion, we not only use these tools in our own endeavors but also implement them for our clients to improve their video marketing strategy. The results are promising, and we want you to know about the tools too.
TubeBuddy Chrome extension
Arguably the most popular YouTube plugin amongst creators, TubeBuddy serves up tools for productivity, bulk video processing, video SEO, and data & research. Once you've signed up for a TubeBuddy account, you'll need to install the TubeBuddy chrome extension.
TubeBuddy offers TONS of features with the plugin, but for now, we'll focus on SEO tools.
Top 3 features of video SEO with TubeBuddy
1. Tag Explorer
Crucial to any SEO effort, you'll need quality keywords. You'll need to know who's ranking for short-tail tags, and where the opportunities lie with long tail keyword research and the tags you create.
With this tool, you can begin to plan, or retroactively optimize, your post with valuable tags. Upon running a search in the tag explorer, you'll be presented with keyword difficulty, search volume, competition, and even given the chance to "borrow" the tags used in top ranking videos. While you're at it, why not see who's ranking number one for that tag?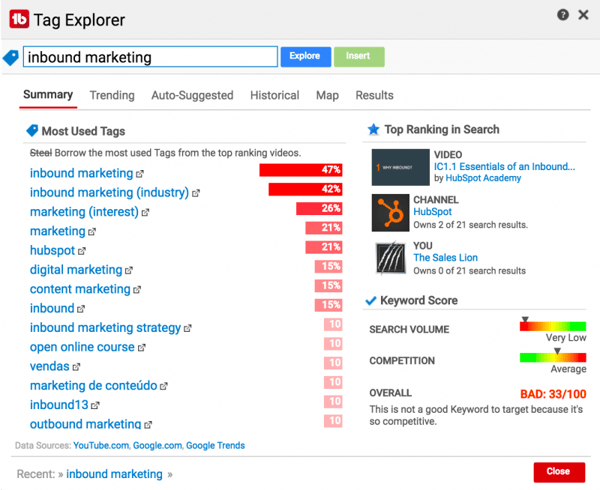 2. Suggested Tags tool
Once you've developed your keywords using the tag explorer and identified your opportunities, let TubeBuddy do the rest. Did you know you can have up to 500 characters in your video tags? Use TubeBuddy's 'Suggested Tags' feature and fill in as many relevant long-tail tags as possible.
This feature will return results based on your existing tags and suggest additional tags to optimize your video. Find viewers on the fringe using this tool and take full advantage of your tag limit. Next to each term, you'll see a score chart indicating the potential difficulty of ranking for that tag.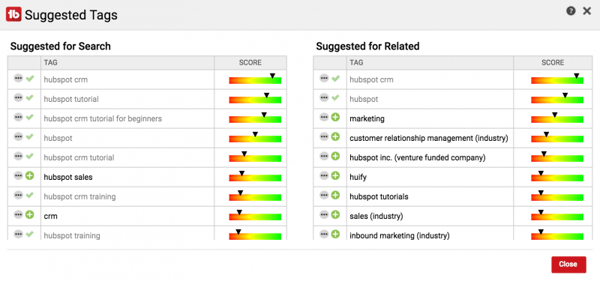 3. Video A/B tests
Sometimes, you might not really know what the most enticing title looks like, or you might want to experiment with a couple different thumbnails to see which gains the most clicks. With TubeBuddy you can do just that, using up to 2 variations at a time.
Using different metrics, like engagement and CTR, TubeBuddy will pick a winner from your two variations. This is completely hands-free and customizable.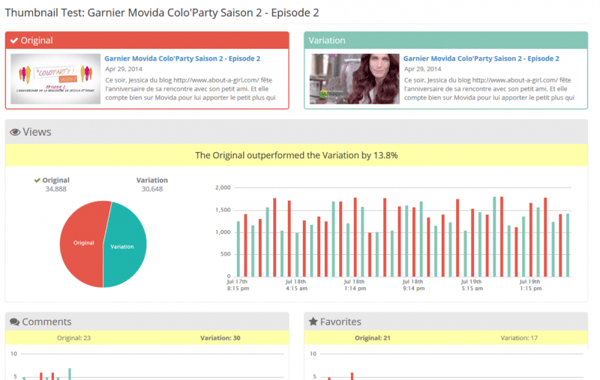 Other cool features from TubeBuddy:
Animated GIF generator

Canned responses for comments

Custom short links with click tracking

Backups and export
vidIQ Vision Chrome extension
The Vision chrome extension from vidIQ offers many similar tools as TubeBuddy, but they have a much bigger emphasis on insights. You will not find as many productivity tools, but they make up for it with their checklists and scoring system, which uses different criteria to determine how well optimized your video is.
Upon signing up for a vidIQ account, and installing the chrome extension, you'll instantly have access to all the tools I'm about to mention.
Top 3 features of video SEO with vidIQ
1. SEO scorecard and checklist
Within the settings area for each video, you'll see a small scorecard listing out actionable items to improve the overall SEO of your video. As you begin to complete items from the checklist, you'll get an updated score.
Using suggestions from the scorecard, you'll increase the optimization for each video. Some of the suggestions won't necessarily affect your ability to rank for anything but are important steps to take. For instance, including cards and end screens are important for keeping your content in front of the viewer, but won't help SEO.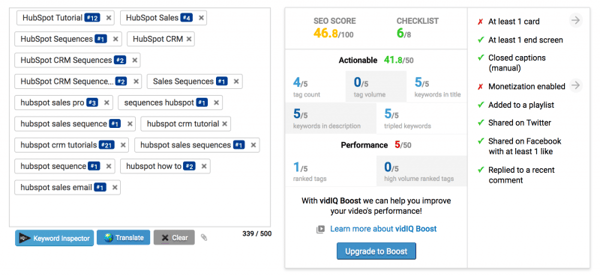 2. On Page Stats and Video Overview
Want real-time insights or your videos? How about your competitor's video content? See everything from social engagement metrics, video tags, embed sources, referrers, and much more. This is probably my favorite part of vidIQ and I don't care who knows it.
This snapshot from Casey Neistat's latest video shows overall insights from views per hour and average view time, to average daily subs and subs within the last 30 days. More importantly, you could look at competitor channels and videos and scope out their referrers and embed sources. This overview also shows the tags used on the video as well as the channel.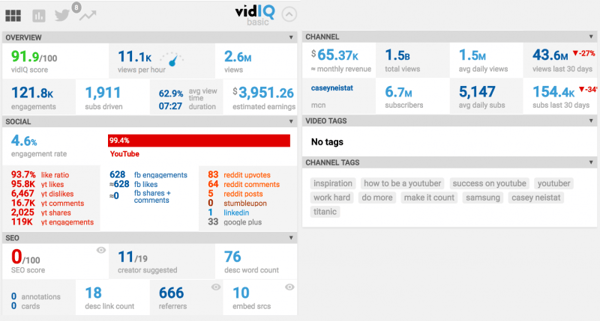 3. Quick Look Analytics
It's understandable that you won't be able to do in-depth analysis on your YouTube channel every day. However, if you want to able to see how you're doing at a quick glance, simply use the vidIQ shortcut and see a beautiful display of important insights.
In the following dashboard, we've got a quick snapshot of:
audience demographics
top performing videos
top search queries bringing our videos traffic
key trends.
The chart in the upper right corner also displays important insights like:
views
suggested views
watch time
likes
comments
and more
Keep in mind, this is simply a quick reference, and YouTube's native analytics are much more comprehensive.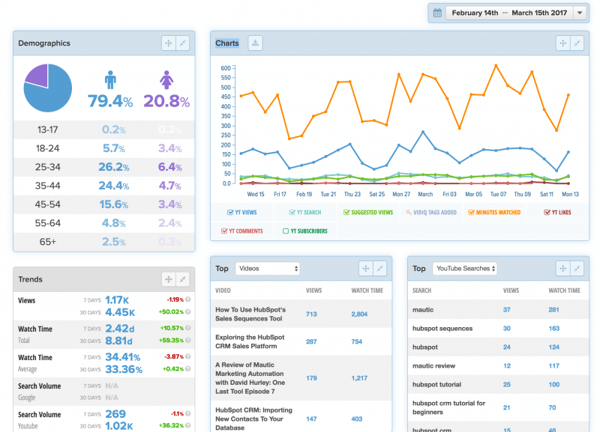 Another cool feature, which is also available in the free version, is a competitor dashboard, which shows channel growth of your competitors versus your channel.
Tubular Labs free YouTube dashboard
Tubular Labs has developed some pretty cool tools for YouTube creators; some of these really wouldn't be valuable to marketers. The YouTube dashboard, however, does gives us some really interesting insights which TubeBuddy and vidIQ don't offer up.
Top 3 features of video SEO with Tubular Labs
1. Audience insights
Imagine being able to look at your YouTube audience, and see who your top engagers are, what videos they've engaged with, and be able to visit their YouTube pages. Almost too good to be true though, right? It's possible with Tubular.
With the ability to check on your most frequent engagers, you could get to know your audience that much better. Go poke around their channel, see what they're interested in, build a relationship, it's up to you, but now you have the information.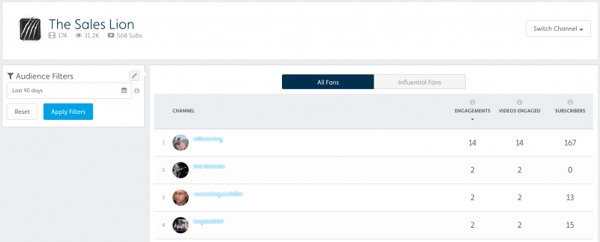 2 & 3. YouTube session insights
This is the REALLY useful piece of the free YouTube Dashboard. In this section of insights, you can actually look at the channels and videos your audience is tuning into. You'll not only find a list of these channels, but also useful metrics like:
audience overlap
engagement level
affinity index (how likely your audience is to engage with them against the average)
subscriber base.
It's a great tool for getting to know your viewers. You'll be on the fast track to becoming a great content creator, strictly based on the fact that you know what your audience enjoys consuming. Remember when I mentioned how important it is to have your videos optimized for suggestions? Now you can see exactly which videos you're being suggested with.
Channels also watched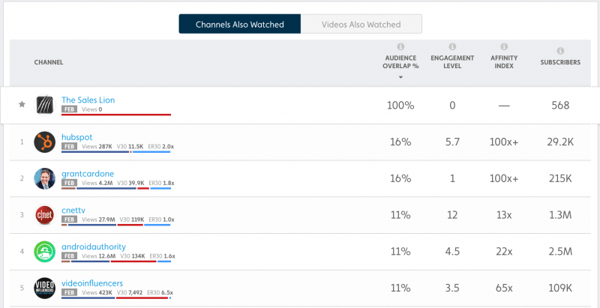 Videos also watched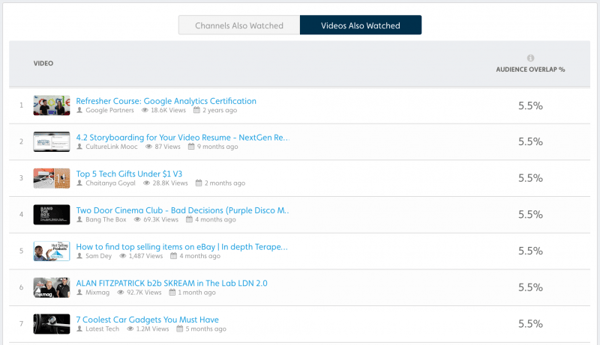 How to get started with these free plugins
Each of these tools has a free version, and if you would like to unlock further functionality or add more users, each has paid versions as well.
TubeBuddy
Premium packages range from $9 to $39 a month depending on your needs. Get 50% Off by entering coupon code RisingStarBuddy on the Pro License. With the premium packages, you'll have access to more tag tools, social media publishing, templates for cards and annotations, and search ranking tools.
vidIQ
More sophisticated plans start at $7.50 a month for the Pro package up to $39 for the Boost package. With these plans, you'll be able to track more competitors, social tools, a keyword research tool, and even title and description recommendations.
Tubular
Tubular doesn't have any pricing for an average user, in fact, their more premium solutions are geared towards enterprise companies, YouTube creators, and influencer marketing. If that sounds like you, visit their website for more information.
As you can see, although you might not hear about video SEO on a regular basis, there are several ways for small channels to succeed with video marketing on YouTube. At The Sales Lion, we've seen our clients experience the impact such tools can have on the ongoing success of their videos, and it only gets better.
Have questions about how to improve the SEO of your videos? Let us know in the comments section and we'd be happy to help!
Free Assessment:
How does your sales & marketing measure up?
Take this free, 5-minute assessment and learn what you can start doing today to boost traffic, leads, and sales.