7 B2B content marketing examples every digital marketer must see
At first glance, content marketing can seem like a no-go if you're a B2B company. How do you create content about topics for which there is no simple answer?
Eric Dunn also recommends this free guide: The Ultimate Inbound Marketing Strategy Playbook 2022.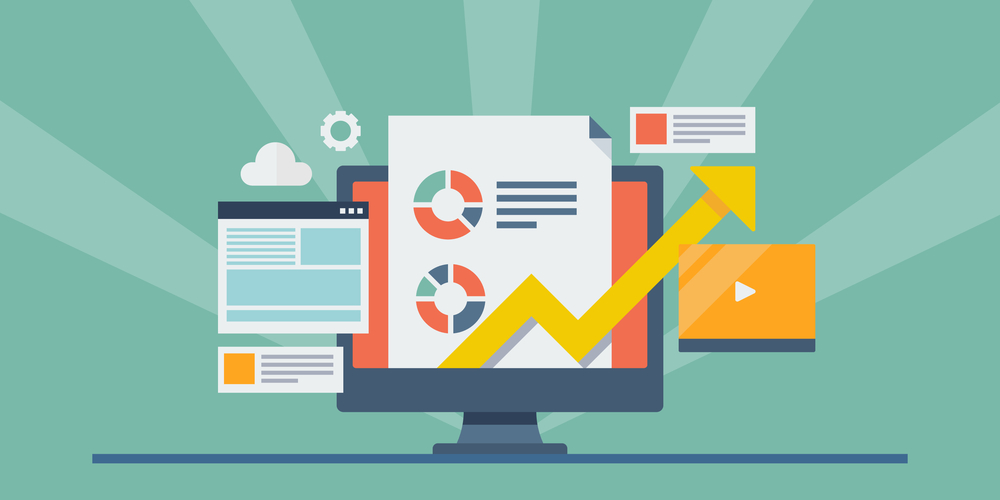 B2B content marketing examples
AIS (technology services)
Mazzella (manufacturing)
Aquila (commercial real estate)
Office interiors (office design, real estate)
EBP (wholesale and distribution)
Sheffield Metals (roofing)
IMPACT (B2B consulting)
It's easy as a B2B marketer to get discouraged by the idea of content marketing. Creating content that answers the most pressing questions of your ideal buyers honestly and transparently is difficult, right?
For example, it's very likely your pricing models are complex; there is no single price tag for what you sell, with each agreement drawn up in a way that is hyper-personalized to specific needs of your clients.
Free Guide: The Ultimate Inbound Marketing Strategy Playbook 2022
Even if you do sell a consumer good rather than a service – like office furniture – the final contract likely takes into account fluctuating variables and nebulous factors that influence what your client ultimately pays.
🔎 Related: Content Marketing Benefits: What You're Missing Out On
In fact, for almost every question your buyers have, the answer will (most assuredly) begin with some form of, "Well, it depends."
So, how do you create revenue-generating content marketing for that? How do you provide the answers your ideal buyers are demanding on your website, clearly and concisely, before they talk to someone on your sales team?
Well, that conversation first begins by understanding the five specific topics you need to cover in your content marketing and why.
5 content marketing topics that drive the most traffic, leads, and sales
When your buyers are considering making a purchase for their company, they generally search for information online first. More specifically, they are seeking the answers to questions that will help them better understand:
What precisely their real problem or need is (if they don't know already)
What the best ways are to solve that problem or meet that need
Who can help them in providing that solution or meeting that need
(If you're familiar with They Ask, You Answer, you know where this is going. If not, don't sweat it, we're about to get to the good stuff.)
So, what questions do your ideal buyers ask when trying to better understand those three things, while working through their purchasing journey?
Surprisingly, our research has found that there are five distinct, industry-agnostic content marketing category areas that are proven to drive more traffic, leads, and sales than any other topic:
Pricing and cost
Comparisons
Problems
Reviews
Best
If you want to get started with a B2B content marketing strategy that will yield measurable revenue returns, you will want to start with these five topics.
Learn more about what we call "The Big 5" ☝️
Whether you're a B2B, B2C, non-profit, or a hybrid organization, people want to know how much your product or service will cost them. It doesn't matter if you're selling to a homeowner or a business owner, we're all consumer's first. We make purchasing decisions based on honesty, transparency, loyalty, and trust.
🔎 Related: Why trust is the true currency for any business
Think about the last time you searched for something to buy online. Whether it was for your business, or for you personally. When you found the product or service you were looking for, what was the first thing you wanted to know? Nine times out of 10 the question is "how much will this cost?"
Companies who are willing to address these five categories honestly and without bias, will ultimately have a better chance of winning trust with prospective buyers.
And that's what we're going to showcase here for you today – seven world-class examples of B2B companies (both product- and service-based) who nail this proven approach to content marketing.
1. B2B technology services content marketing example (cost)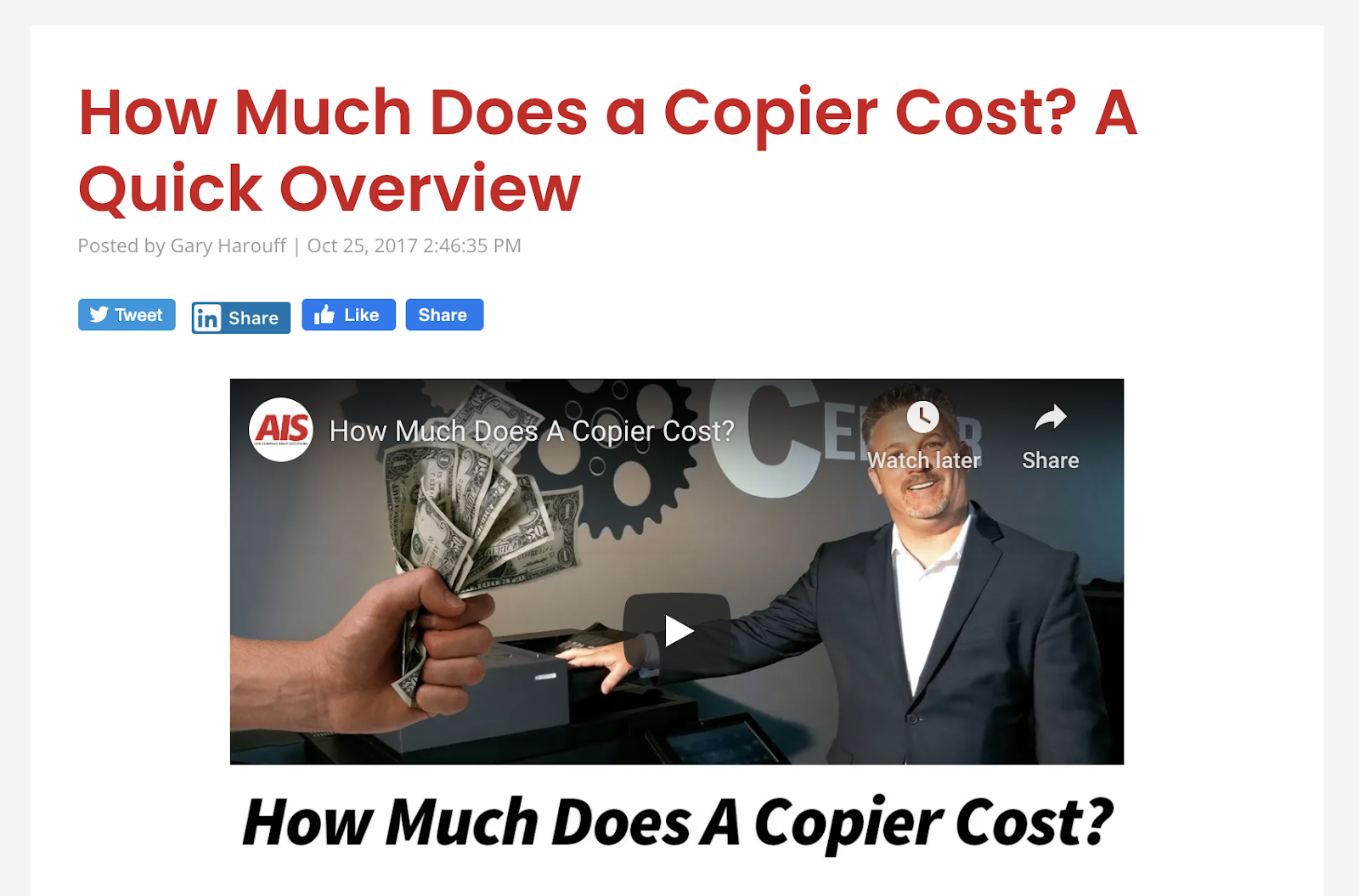 This all-star B2B content marketing example from AIS starts with a great, simple, and buyer-focused title: "How much does a copier cost?" The title poses the question as if the buyer were asking it directly to the AIS sales team — or like they would type it into the Google search bar.
Next, it tells me who the author is and when the article was published. Including the author helps establish credibility, and gives the opportunity to link back to their bio on the company's team page.
Another bonus? It answers the same question in a video that's available on the same page above the written content. When it comes to content that drives revenue, nothing is more engaging than video. In fact, a study by Forbes shows that 90% of consumers say video helps them make a buying decision.
🔎 Related: How to write an effective cost article for your business in 2021
This article from AIS is a great example of using video and text to answer this all important question, something we know will be one of the first, if not the first question any buyer has when contacting their sales team.
The author also does a great job of speaking directly to the buyer, beyond the title. The author's tone is conversational, honest, and unbiased. They also absolutely knock it out of the park in answering these specific questions most consumers will have as it relates to cost and price:
What drives the cost up, and what brings the cost down?
Why are some companies expensive, and why are others cheap?
Why AIS copiers cost what they do?
There is also a well-designed call-to-action, or as we call it in the digital marketing biz, "a rockin' CTA." OK, no one actually says "rockin'" but you catch my drift.
This is very important, because CTAs with a clear "this is what you do next" action outlined help your ideal buyers know what their next step is. And in this article from AIS, they are sending the reader to a landing page that includes a downloadable e-book with information on how they can save money.
Imagine you're interested in buying a copier for your business. You've just read this article and watched this video that has educated you on your pressing concerns about cost. Now you click on the CTA and have the opportunity to fill out a form and receive an educational e-book that will dive deeper into cost savings opportunities for you and your business.
When you fill out that form to receive your e-book, AIS now knows who you are, what you're interested in, and most importantly, the sales team has a new qualified lead.
2. B2B lifting and rigging services content marketing example (problems)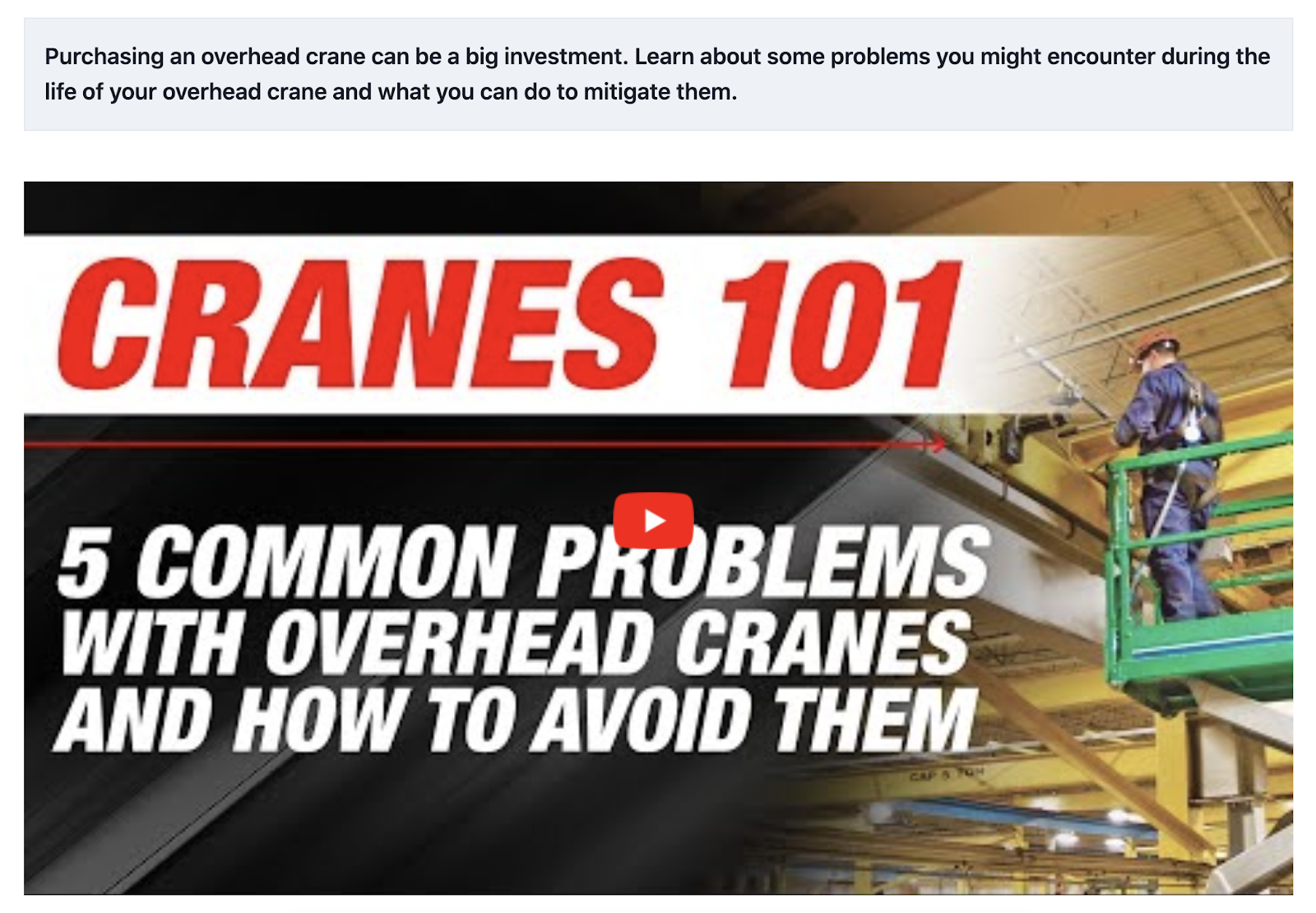 This little ditty from B2B lifting and rigging leader Mazzella kicks-off with a strong title, framed as if the buyer would be asking this question.
If you find this article online when searching for common overhead crane problems, you know from the title that you're going to learn exactly what those five problems are — and more importantly, you're going to be educated by Mazella on the specific ways to avoid those problems.
🔎 Related: How to write great "problems" content
They could have easily made this title "5 common problems with overhead cranes" and left it there. But adding this simple phrase "and how to avoid them" immediately calms the reader's concerns, begins to eliminate their fears, and entices them to click and learn more about the solutions.
Oh yeah, and it has a great corresponding video! As we mentioned in the cost article above, video is a powerful educational tool. And this video from Mazella does a great job of not just telling you about the problems, but more importantly, showing you what they are, up close and personal.
As you scroll through the article, each of the five problems includes a corresponding image. This helps break up the text for the reader, while also telling a compelling visual story.
🎓 Free online course: Video and marketing strategy for businesses
It's fearless and, therefore, trustworthy. It shows they're willing to address these common concerns from customers, while also providing solutions.
The article also features 13 links to related content on Mazella's website. That's 13 opportunities for readers to learn more, continue their education, and become more informed buyers about their products and services.
3. B2B commercial real estate content marketing example (comparisons)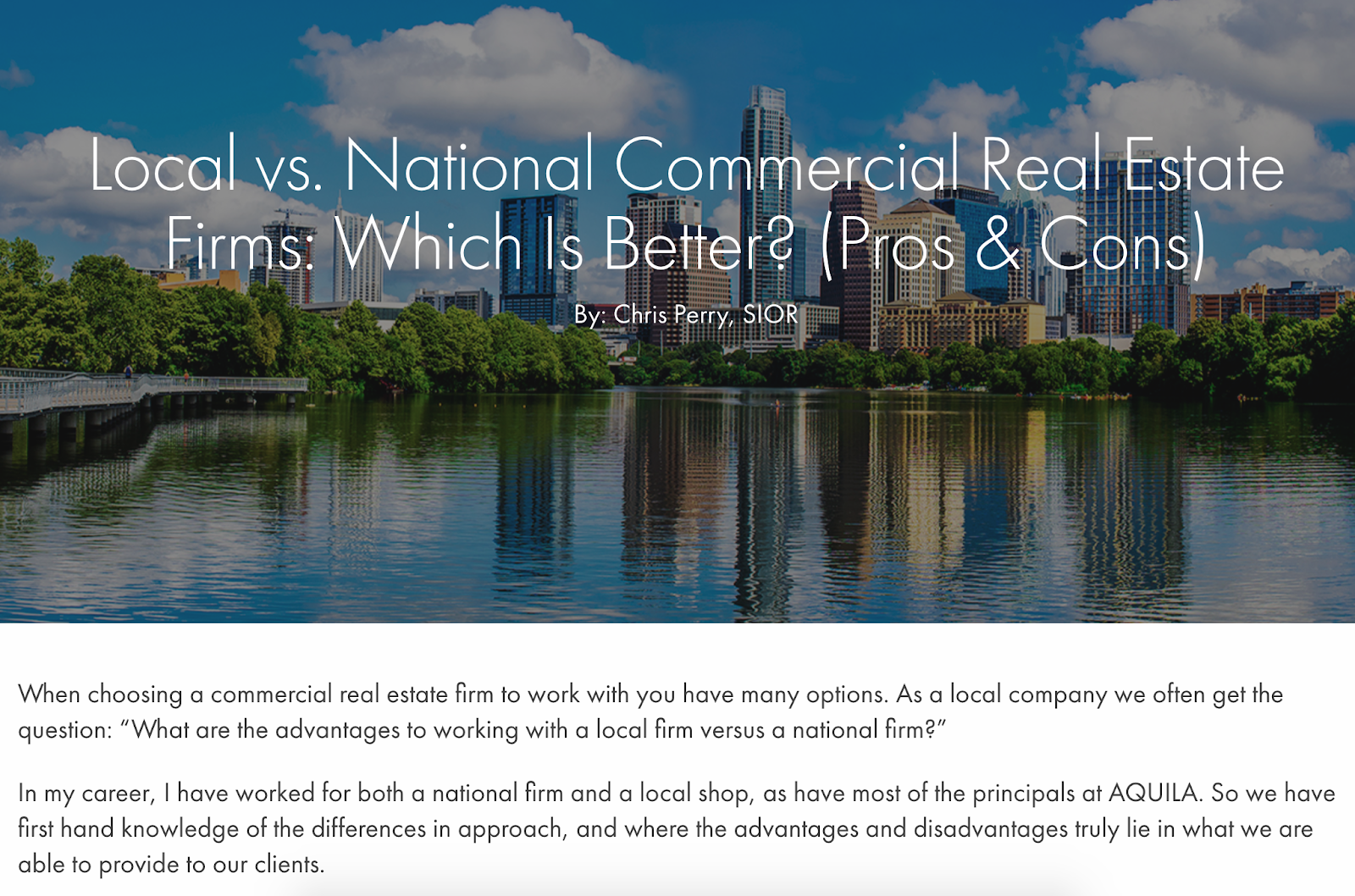 Once again, this example from Texas-based Aquila opens with an outstanding, buyer-focused title. Framed as if they would be asking the question, while also clearly stating this will be an unbiased breakdown by including "pros and cons."
If you need more affirmation that the article will be honest, look no further than the third paragraph:
"As a local, Austin-based commercial real estate firm ourselves, we are obviously a little biased. But we wanted to approach the question honestly and try to give as objective of an answer as possible."
They literally say how important it is for them to approach this common question honestly.
The article is also very organized, well structured, and easy to follow. Readers can land on the article, scroll down, and quickly find the advantages for local commercial versus national commercial firms.
🔎 Related: How to write an effective comparison article
The article helps qualify any potential leads. If someone in the Austin area is weighing their options between a national commercial or local commercial firm, after reading this article, they'll have a much better idea of what is a better fit for their needs.
4. B2B office interiors/real estate content marketing example (reviews)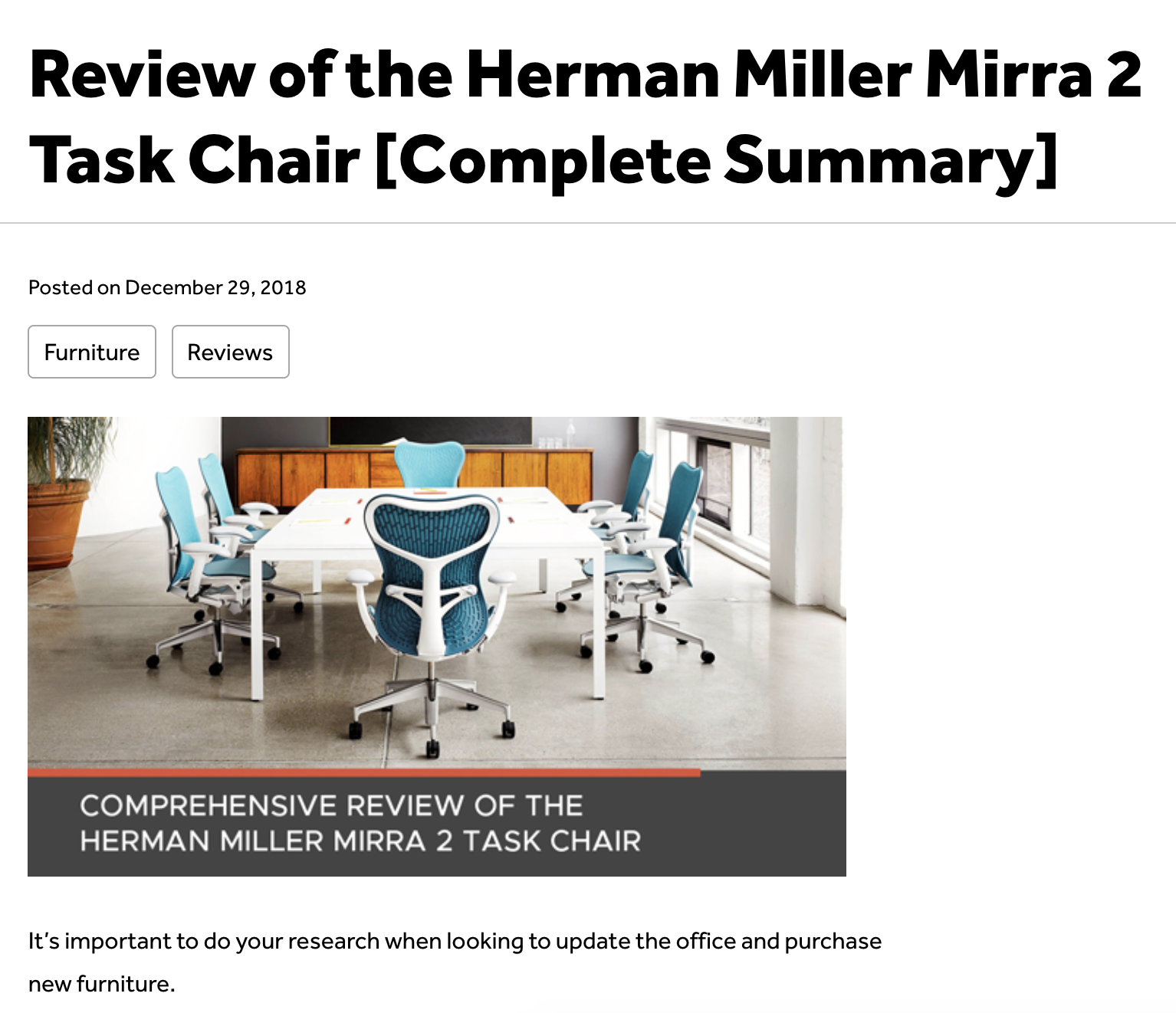 The first two paragraphs of this article from Office Interiors immediately inform the reader of two critical things:
1. Where and how they collected the data for the review
"The goal of our comprehensive task chair reviews is to gather the information you need in one convenient place. First, we scoured the internet for third-party data. Next, we distilled these reviews down for you, providing the critical information, and not judgements or opinions so that you can make an informed decision."
2. Calling out potential bias
"Please note, we do sell task chairs, and we're happy to work with you to find the right chair for your needs. However, we've done our best to use third-party data and reviews so that our opinions won't influence the Mirra 2 chair review or any of our other Herman Miller office chair reviews."
By including that honest and objective information up front, readers are much more inclined to trust the review. This article was clearly not written for the sole purpose of convincing the reader how great the Mirra 2 chair is, but rather, to inform and educate them on what buyers are saying.
🔎 Related: How to write a practical product review
To solidify that this is not a sales pitch to buy this amazing office chair, they also include an objective pros and cons list, along with "common drawbacks of the Mirra 2 task chair."
5. B2B wholesaler and distributor content marketing example (best, best of)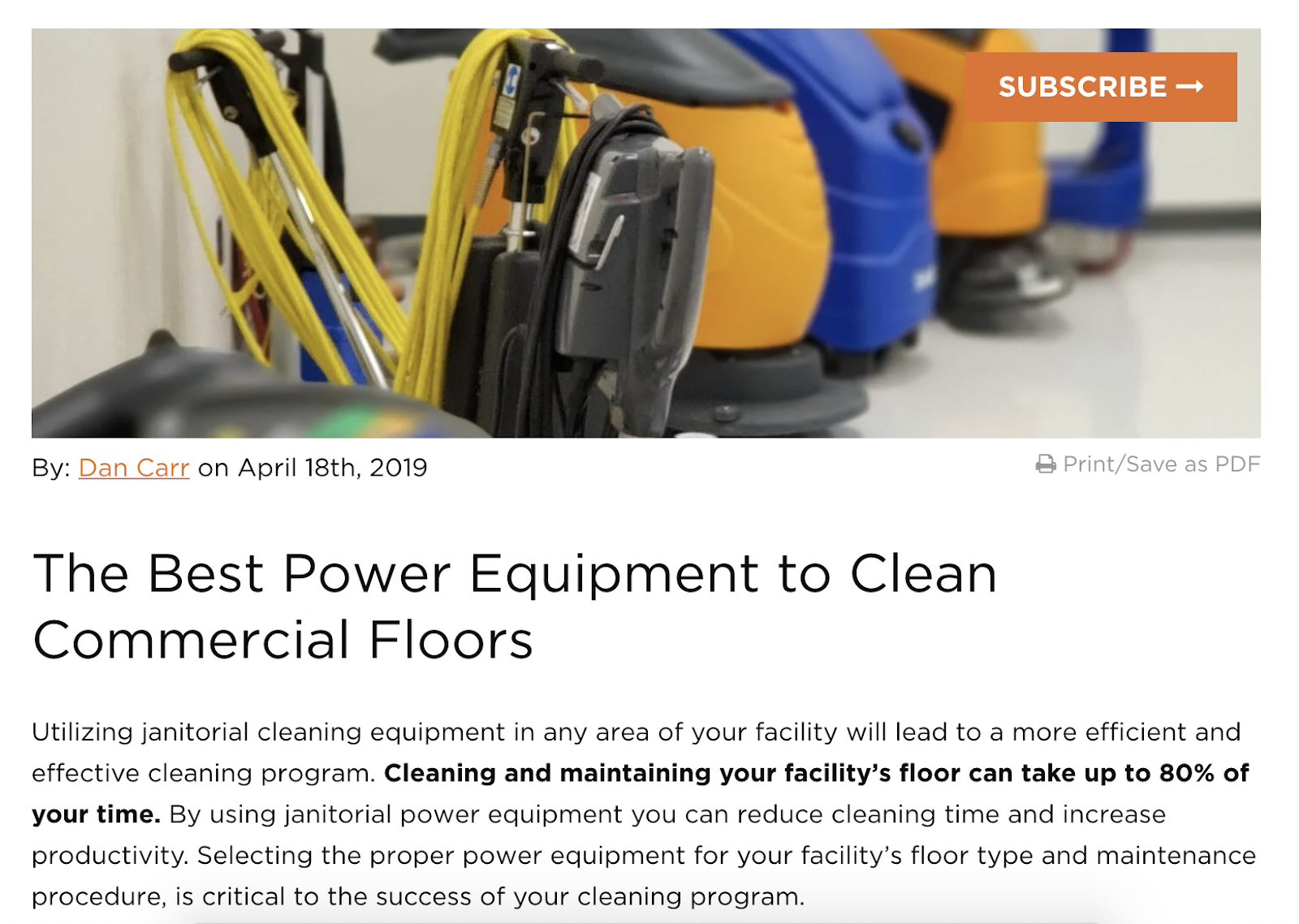 No matter the industry, product or service — as consumers — we all want to feel like we're getting the best value. People inherently want to know who or what does it best.
This article from EBP Supply Solutions, does a great job of including a very effective preface at the beginning of the article, before diving into the best types of power cleaning equipment.
"Depending on the type of flooring, carpeted or hard, there are several different types of janitorial cleaning equipment to supplement your cleaning program."
Before they dive into what is best, the reader first has to decide what is the best fit for them based on their specifications. Do they have carpet or hardwood floors? As soon as they answer that question, they can move down the article to better educate themselves on what is best for their needs.
What I really love about this article is the effective use of multiple CTAs.
Throughout the article, they do a great job of including four relevant and colorful CTAs to delineate buyer's guide e-books. Not only do these help break up the text in the article, but each CTA sends readers to a landing page where they can convert to a qualified lead after downloading the educational guide.
6. B2B content marketing example of a great landing page
You might be asking yourself, if there are five categories that are guaranteed to drive traffic, leads, and sales, then why has Eric listed seven examples? Is he just terrible at math?
Well, yes, math is hard. But I promise I included seven examples for a reason.
And that reason is conversions. We've talked a lot so far in the previous examples about the importance of including calls-to-action that are relevant to the needs and wants of your buyers, as well as what their logical next steps should be.
But when they click on a call-to-action, where do they go?
The answer, my friends, is a landing page...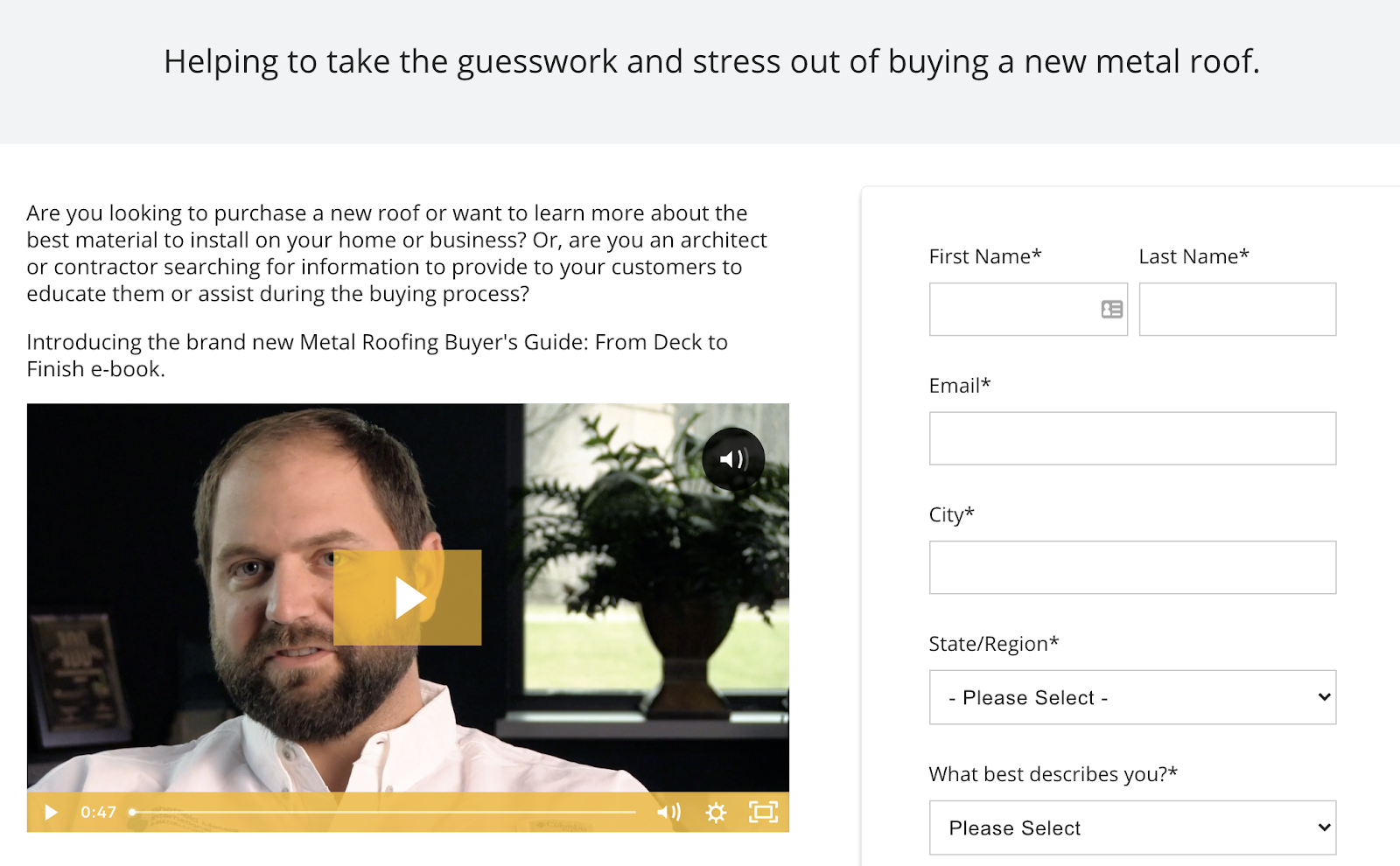 This gated content from Sheffield Metals requires a key.
And that key comes in the form of contact information. If a potential customer wants to view this piece of premium content — and in the case of Sheffield Metals, that means an in-depth, educational metal roofing buyer's guide — then they need to provide some valuable information that will go directly to Sheffield's sales team as a qualified lead.
This starts with a great landing page that is easy to navigate. The text is simple, with benefits highlighted for the reader in a short intro paragraph, with bullet points as needed.
The landing page video briefly describes to the viewer what happens when they fill out this form. Which immediately removes fear and concern for people who are usually hesitant to provide a company with their personal information.
🔎 Related: 5 all-star landing page video examples that increase conversions
After the visitor fills in their information, they'll be taken to a thank you page that displays the content they were looking for, or gives them access to download the educational resource.
And viola, the viewer now has a robust guide to help them become a very informed buyer. And Sheffield Metals has a new qualified lead to add to their sales queue.
7. B2B consulting content marketing example of a pillar page
OK, we probably shouldn't be tooting our own horn, but I promise you, it's for a good reason.
Even though we are on a mission to be the foremost educators about everything having to do with digital sales and marketing, we also are driven by a service-based content strategy as a consulting firm for growth-focused businesses.
That's right, we're a B2B business ourselves. And we use content marketing to achieve aggressive traffic, leads, and sales goals – in short, we eat our own dog food.
One of the most powerful traffic-driving and lead-converting ways to leverage content marketing for your B2B company is to create what's called a pillar page.
🔎 Related: How to write a pillar page (+ examples and tips)
A pillar page is simply an ungated long-form guide on a broad topic that you want to be known for. Behind the scenes, a pillar page lives at the center of what's called a topic cluster – a content marketing technical term for a group of clustered pieces of content that tells search engines, "Hey, this is a topic we want to be known for and should own because we're the experts in it!"
When structured the right way, your content pillar (along with its connected topic cluster content pieces, typically blog articles), will increase your search rankings overall for every piece of content in the cluster.
For example, one of our services we provide is virtual sales training for teams. So, one of the topics we want to be known for us the use of "video for sales," which is why we created a pillar around it:
What's neat is that, in addition to the content being completely ungated, we still added a form ahead of the content (which also follows the reader down the page in the navigation bar at the top of the screen).
Again, they can still see everything that's in the guide, it's just a convenience option to give them a PDF they can peruse later on.
What's funny is that we still see a 20%+ conversion rate on all of our pillar pages, which is the industry benchmark standard of a healthy landing page, where the content is completely gated.
This is the perfect example of a piece of content that helps you achieve traffic growth due the topic cluster and pillar content model being the modern way to increase organic traffic, and drives qualified lead conversions.
B2B content marketing will work for you with the right strategy
When done effectively, with honesty, transparency, and without bias — a robust, buyer-focused content marketing strategy can and will generate revenue for your company.
If you approach your articles and videos with the same kinds of buyer-obsessed language, and educational tone displayed in the seven examples above, your organization can be on the road to developing world-class marketing content that moves the needle and drives traffic, leads, and sales.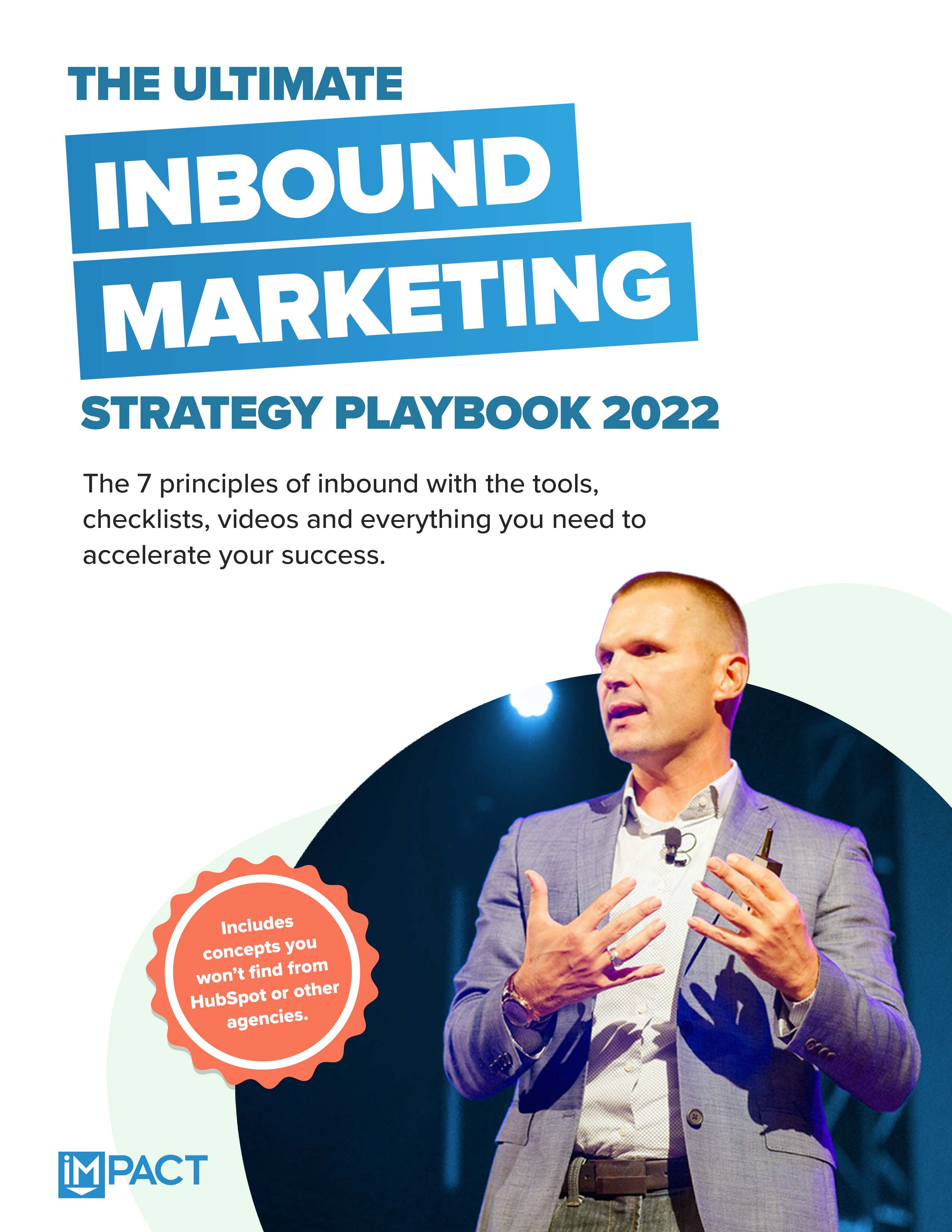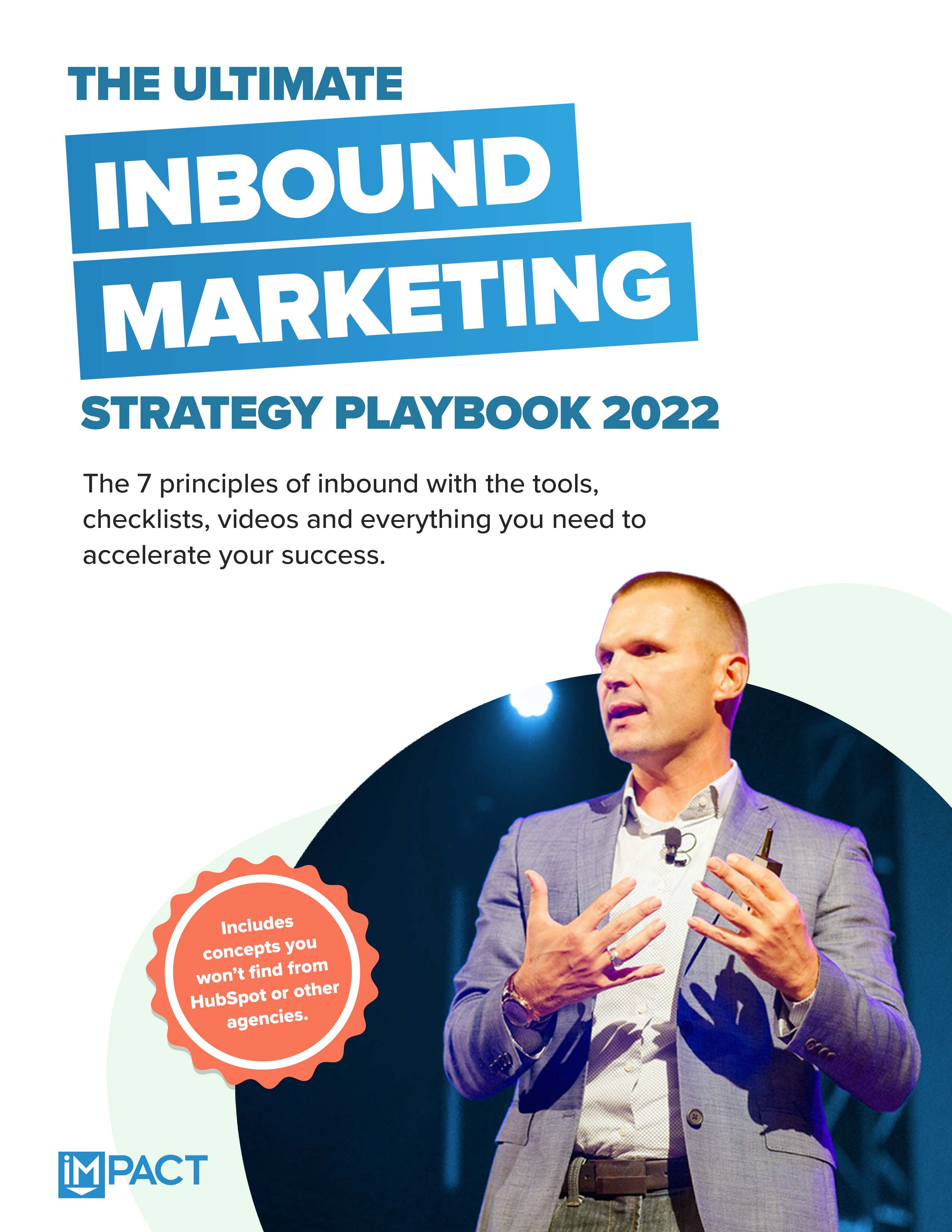 Free Guide:
The Ultimate Inbound Marketing Strategy Playbook 2022
Take your inbound strategy to the next level
Master the 7 principles of highly effective inbound marketing
Dramatically improve your inbound sales
Get more buy-in at your company
Published on March 8, 2021