With blogs aplenty, video equipment sitting in our pockets, and social media amplifying our voices, everyone can be a content creator these days.
Looking at this state, many marketers in the B2B space scoff.
"Content marketing is for consumer audiences, not professionals. It's for reaching teenagers and pushing fast food, not selling an industrial software or service," they may say — but in 2021, that couldn't be further from the truth.
Free Guide: The Ultimate Inbound Marketing Strategy Playbook 2022
Whether they're buying for themselves or their business, consumers are consumers — people are people — and in 2019, 73% of B2B consumers reported reading between three and seven pieces of content before ever speaking with a salesperson.
In fact, just last year, 67% said they rely even more on content than they did in 2019 to research and inform purchase decisions.
🔎 Related: 63 new content marketing statistics to guide your strategy
All modern buyers want to be empowered. They want to be educated and informed so they can make the best purchase decision for themselves, not just be mindlessly sold to. The brands that help them get there are the ones consumers trust and want to buy from.
🎓 Free IMPACT+ course: Digital sales and marketing for today's modern buyer
This is why even B2B companies need to be creating helpful content marketing if they aren't already. In this article, we'll highlight nine B2B companies (including some IMPACT clients) that have experienced tremendous success through their B2B content marketing efforts to better help you envision yours.
1. Zendesk
Zendesk is a service-focused software company offering tools like online help desks, FAQ knowledge bases, forums, and live chat to other businesses across a variety of industries. Their tools help users offer better customer service and also enable their own customers to troubleshoot common issues without additional guidance.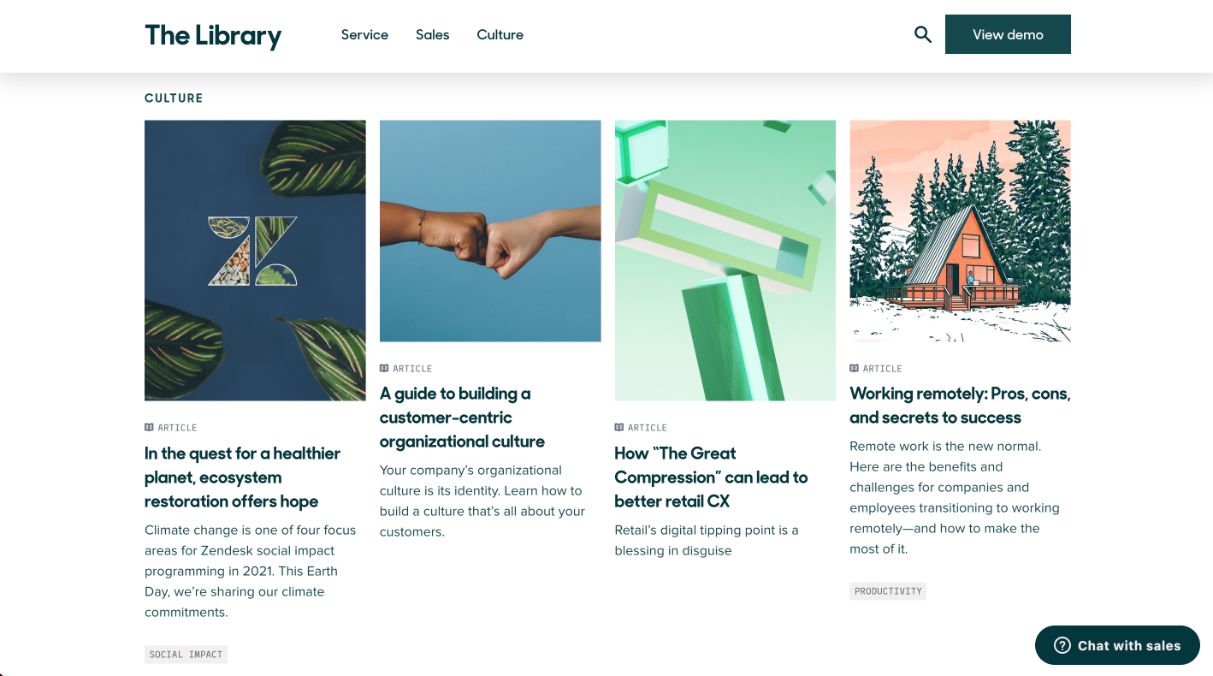 In order to appeal to these audiences, Zendesk creates a wide array of educational content discussing topics like:
Customer support management
Customer engagement
Customer loyalty and retention
Personalization
Customer experience
This includes blog articles, guides, webinars, and even events and certifications, but their B2B content marketing is not limited to the top-of-the-funnel or awareness phase.
Unlike a lot of B2B organizations, Zendesk also dabbles in what Tyler Lessard in The Visual Sale refers to as "brand entertainment." For example, in this video, the company positions the impact of its company (improved relationships) from a more human, relatable angle.
This not only endears potential buyers using humor but makes the pain points and solutions tackled by Zendesk that much easier to grasp.

Zendesk also creates case studies, which they call "customer stories" to highlight what success with them can look like for potential buyers.
2. Berry Insurance
Berry Insurance, an IMPACT client, is another B2B organization that's made impressive strides thanks to content marketing.
The personal and commercial insurance company has a comprehensive learning center covering topics like liability, workers compensation, business umbrella insurance, and property insurance.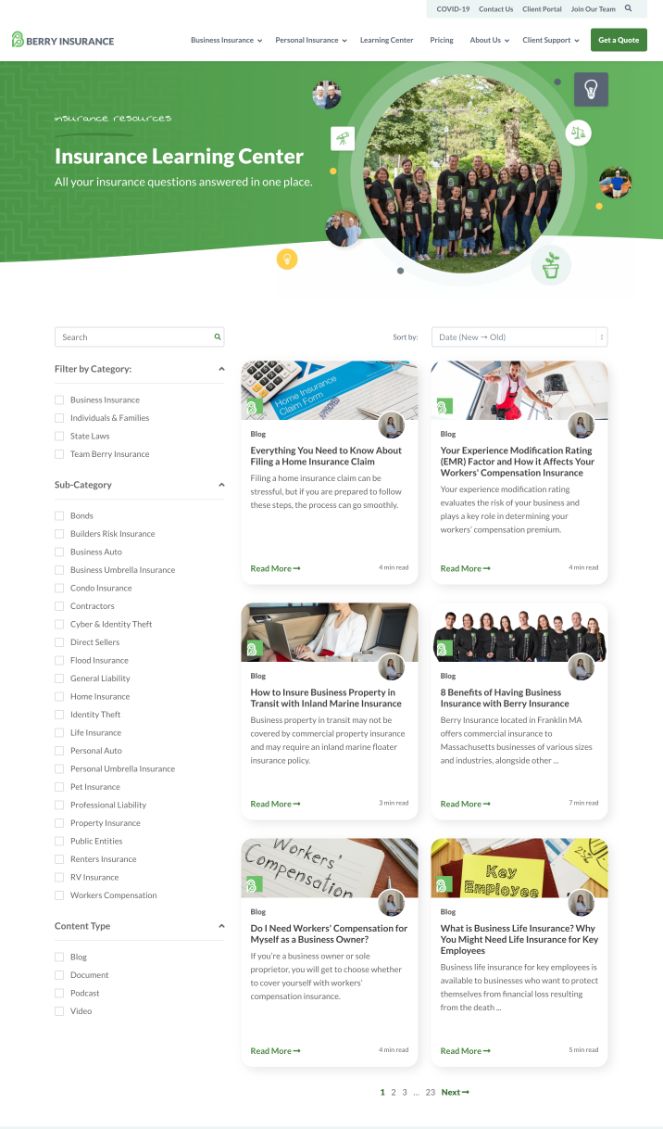 The company makes it clear that it wants to be your go-to resource for learning about insurance. They even share content in a variety of mediums, including blog, document, podcast, and video to cater to whatever your learning style might be.
What's most notable here, however, is the fact that they focus on their buyer's most urgent questions. In fact, their learning center even has the subheader, "All your insurance questions answered in one place."
They make executing the They Ask, You Answer methodology a primary focus of their content strategy.
🎓 IMPACT+ course: How to Write "The Big 5"
3. Uberflip
Uberflip is a digital experience tool that enables businesses to build a dynamic content hub on their websites and as a native of the content realm themselves, it should be no surprise that they excel at B2B content marketing.

Click over to the resources section on their website and you'll be met with a page brimming with articles, downloadable guides, original reports, templates, infographics, videos, and podcasts (among other things) discussing areas of interest like demand generation, account-based marketing, and, of course, content marketing.
They even offer events, webinars, and customer stories to nurture leads closer to a purchase.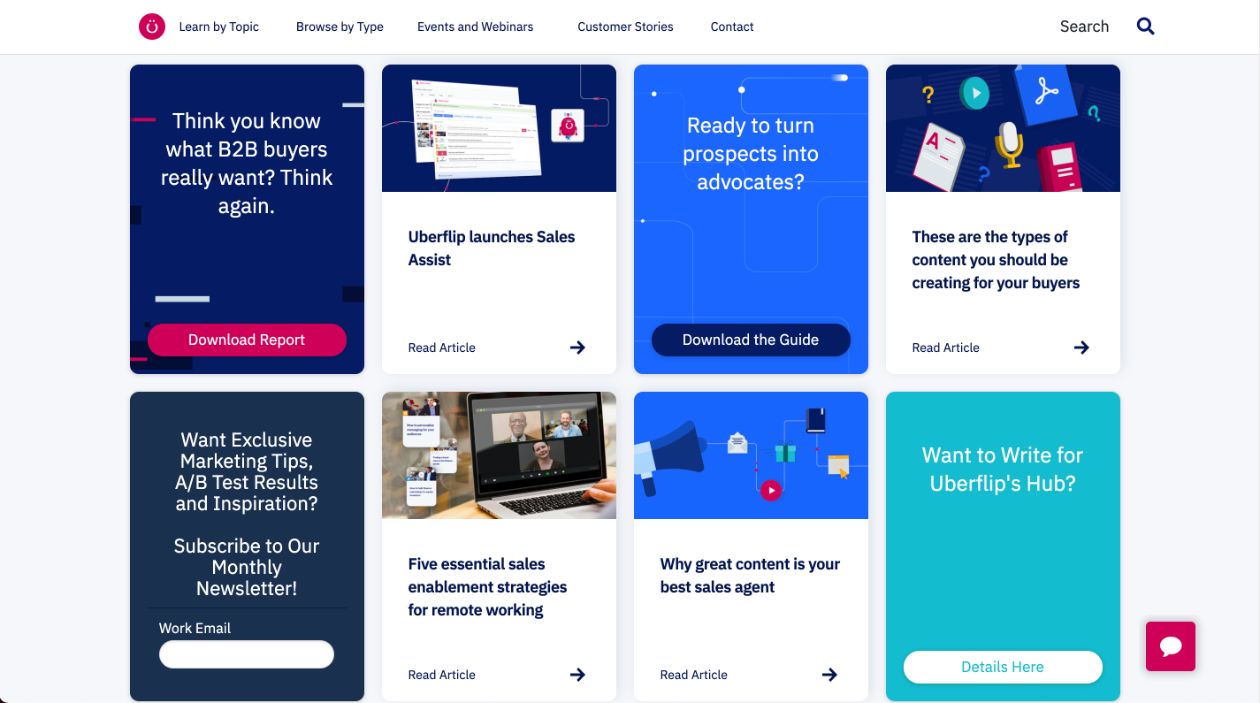 Although this comprehensive library of resources clearly positions Uberflip as a trusted authority in its space, that doesn't mean they are stiff or unapproachable.
This explainer video is a perfect example of how the brand infuses personality and humor to educate their audiences in a friendly way:
This "explain it like I'm five" (ELI5) approach is a popular format for the brand and again, makes their content not only engaging but memorable.
4. Applied Educational Systems
Another IMPACT client, Applied Educational Systems (AES), strives to help schools develop better digital curriculums, and this is also the focus of their B2B content marketing.
In addition to case studies, they organize their educational content marketing into two primary areas on its website — a blog and a learning center that pulls in articles as well as materials from its Help Center, lesson plans and activities, and guides, among other things.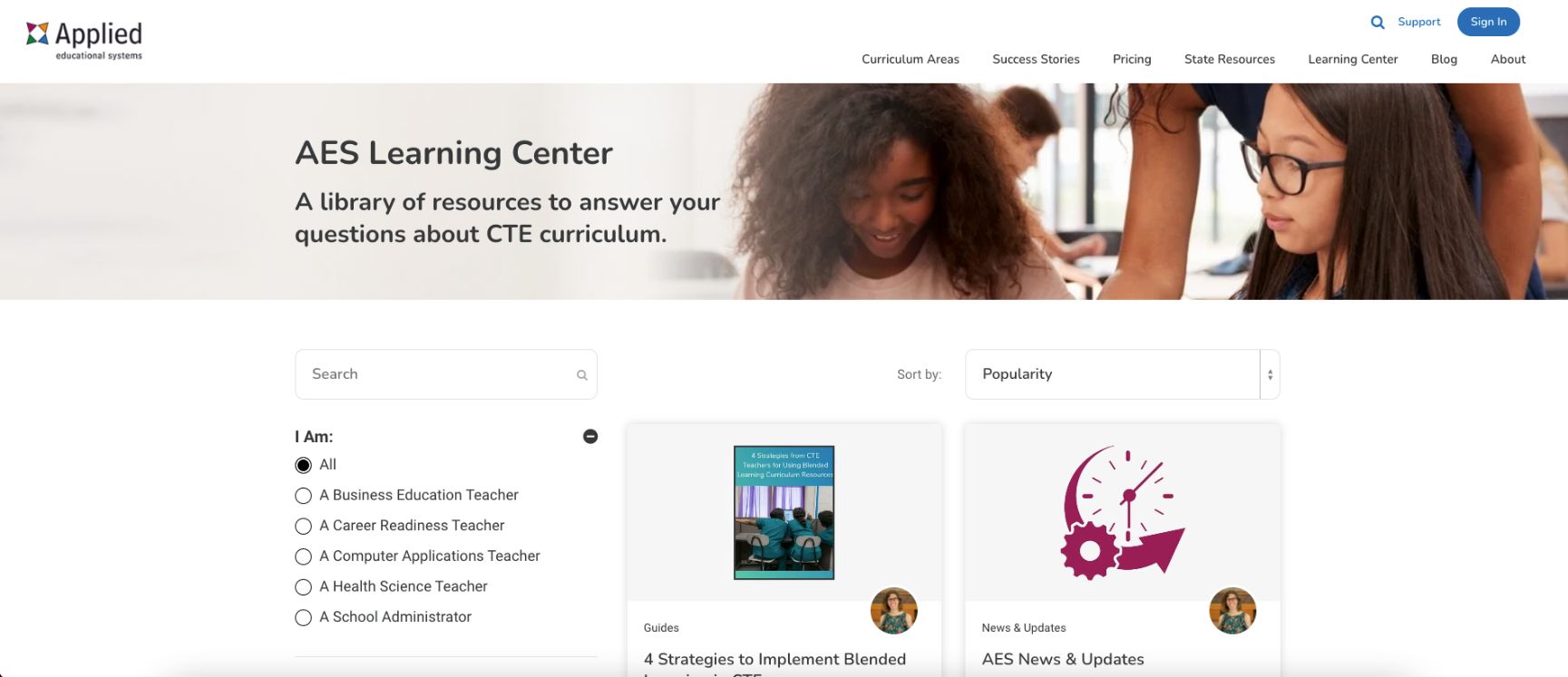 This is all in an effort, as IMPACT partner and They Ask, You Answer author Marcus Sheridan puts it, to be the helpful, most-trusted "teacher" in their space.
You might say they try to educate educators to be better educators by being the best educators themselves.
5. HubSpot
Now, I can't go any further without mentioning one of the pioneers of B2B content marketing. HubSpot has been publishing content marketing and teaching others to do it well for over a decade.
What I've always admired about the marketing automation giant is its dedication to diversifying its content and experiment with it.

Alongside staples like blogs, email, ebooks, and video, HubSpot heavily invests in social media and does its due diligence to ensure the content it publishes makes sense for the platform.
While many B2B businesses just spam each social network with the same automated links and call it "content distribution," HubSpot caters. Its Instagram Stories capitalize on the native features (i.e., polls and questions) and behaviors of users on the platform.
Its tweets don't just share links to their blog but start conversations.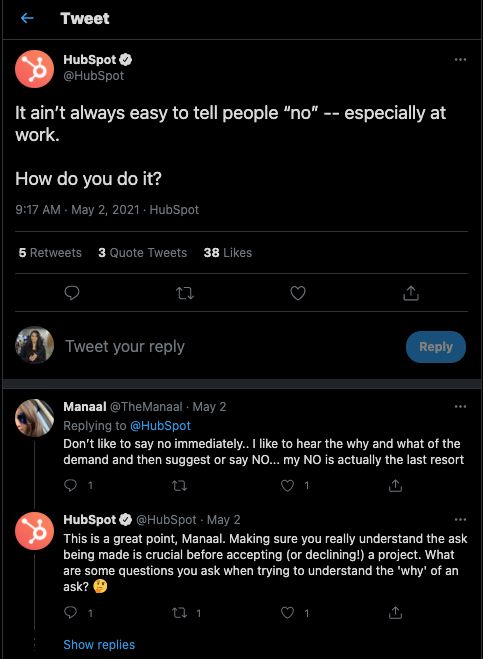 HubSpot is also not afraid to explore new mediums and tactics as they emerge. They learn the language or unique offerings of the tactic, how users engage with it, then explore how they can offer value through it before shrugging it off as irrelevant. Nothing is discounted or approved without a thorough trial.
6. INTEK
This IMPACT client is a full-service freight logistics company offering supply chain coaching and managed freight services. As their learning center states, they are here to "take away your logistics worries, so you can focus on making your business great."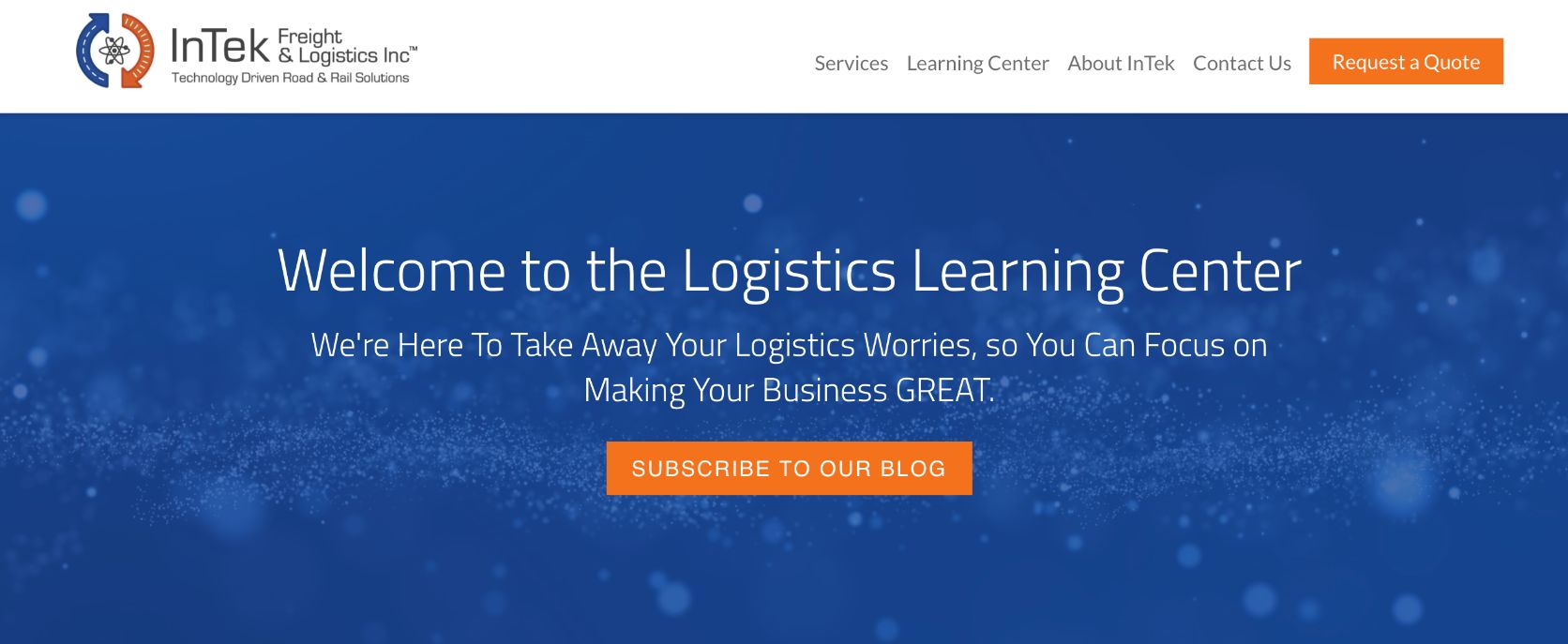 They do that by publishing both short and comprehensive articles, videos, and ebooks on topics focusing on The Big 5 topics for their industry:
Reviews
By focusing on these topics, INTEK ensures every piece of content it shares is something its audience wants and needs to read. Each piece is valuable in not only making a buying decision but helping them run their business more successfully.
Sharing this kind of wisdom positions INTEK as a helpful trusted guide, not simply a brand trying to sell the reader something. With more and more consumers becoming averse to sales pitches, this value is what gravitates them to a brand and makes them more inclined to follow them, if not buy them, immediately.
7. Wistia
Video hosting platform Wistia has noteworthy marketing, and their content is no exception.
The company has a robust learning center speaking to every stage of the funnel — articles discussing marketing and production for those just becoming aware of Wistia, customer stories for those considering a purchase, and product updates for those who've already signed on — as well as a podcast and video series to appeal to members of every audience.
Every piece they create is high quality, educational, and full of personality, making it appealing and engaging to even those outside of its target audience.
Below is an especially impressive example of their B2B content.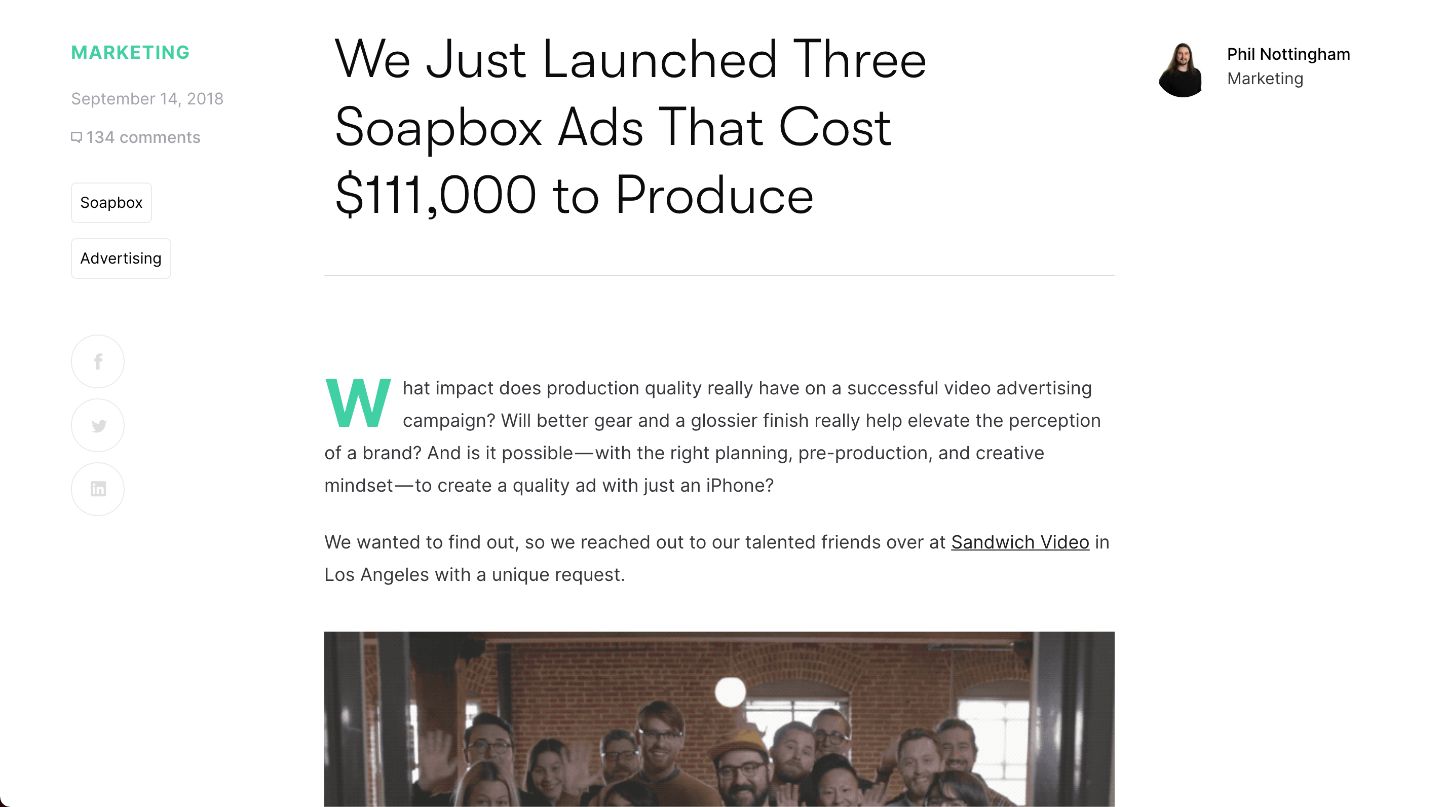 In this article, the team aimed to educate audiences on how budget impacts your video production, Wistia teamed up with another company to produce three different product videos on three drastically different budgets.
Not only did this result in a compelling and unique piece of content, it created a comarketing opportunity and also introduced their tool (Soapbox) as an effective solution
8. Veryable
Like other IMPACT clients mentioned above, Veryable does a great job creating case studies and buyer-question-focused content on its blog to help drive traffic and enable sales.
However, what stands out most from their content marketing efforts is their smart use of a self-selection tool. In their navigation, you'll find a striking orange call-to-action encouraging visitors to "Find Your Veryable Solution."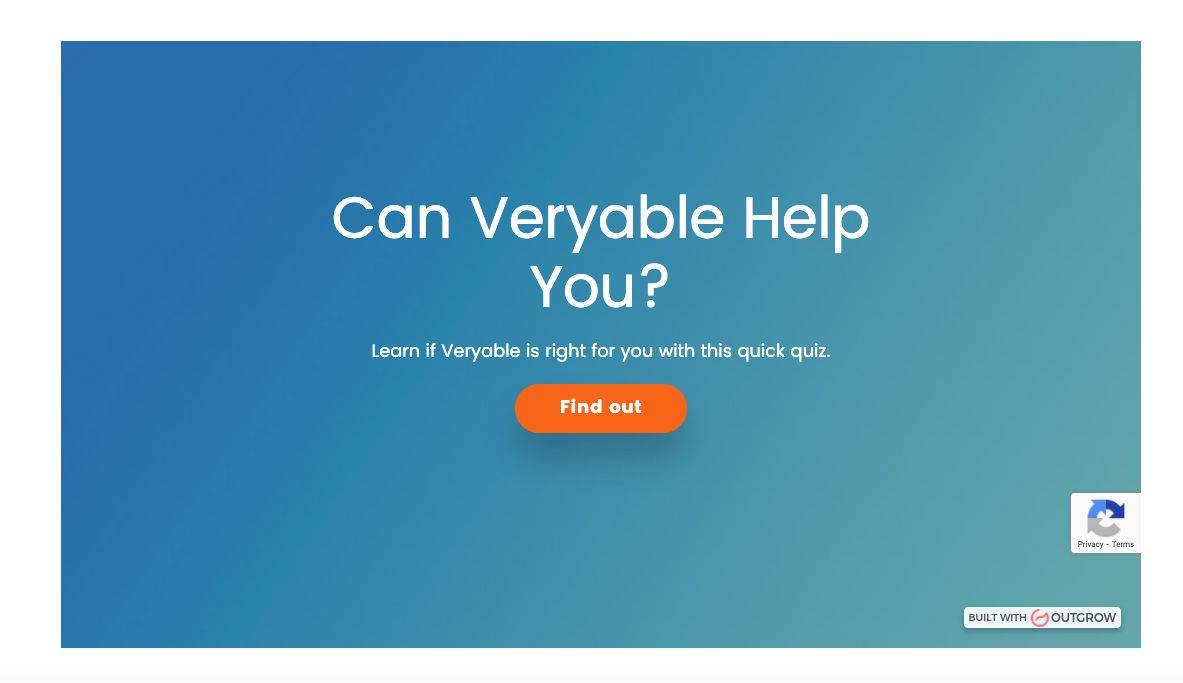 A manufacturing labor and logistics solutions company, this quiz helps guide visitors to the right information and solution for them by answering a few simple questions.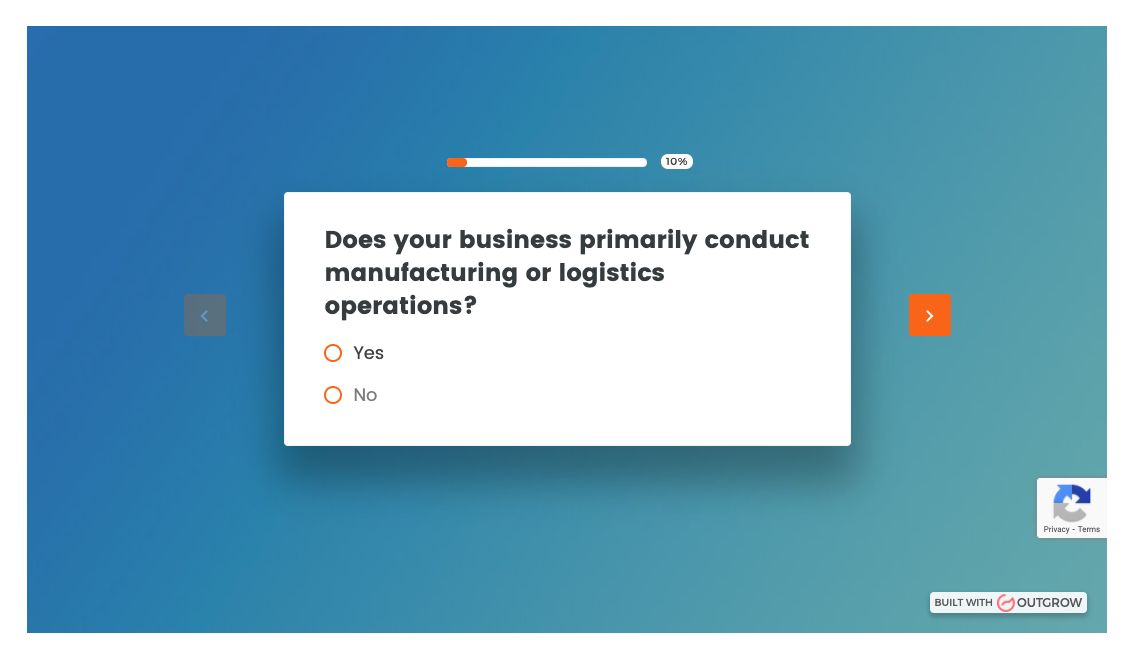 This is not only beneficial to visitors, but to Veryable as well. Self-selection tools like this put buying power back into the hands of the consumer, creating a more independent, "seller-less" experience and freeing up sales teams up to work on the leads that really need that one-on-one attention. It's a win-win.

🎓 IMPACT+ course: Self-selection and the touchless website buying experience

9. The KR Group, Inc.
Last, but not least, we have The KR Group, Inc.
This IMPACT client provides technology solutions for your business including security, networking, and data storage among other things, and once again, it is a pristine example of They Ask, You Answer in action.
What is most noteworthy, however, is their use of pillar content. In the company's learning center, in addition to articles, you will also find "The Ultimate Guide to Managed IT Services." As the name suggests, this comprehensive guide gives readers practically everything they need to get started with managed IT services.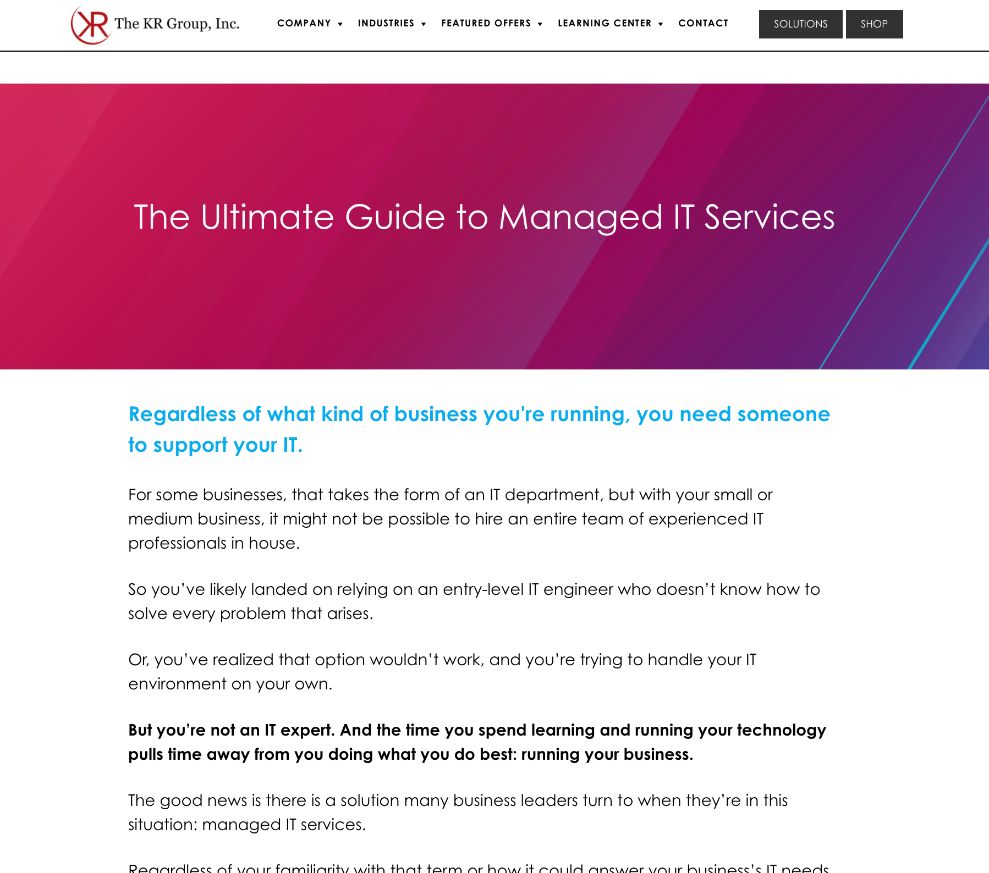 The ungated page is broken down into chapters with a clickable table of contents and also doubles as a lead generator with visitors given the option to exchange their email for a downloadable copy.
Content marketing for all
I could have listed dozens of other B2B organizations doing exceptional things with content marketing. In fact, probably hundreds. The point is, content marketing is effective regardless of your business' size, product, audience, or industry.
Buyers have changed. They no longer want to sit down or pick up a phone and be told what they should be buying, especially by someone who has a horse in the race. They want to gather the information and come to the best decision for their business themselves. Content marketing is your opportunity to be a part of this effort.
Still don't believe me? Dive deeper into how buying has changed and the role content marketing plays in it with our free IMPACT+ course: Digital sales and marketing for today's modern buyer.