How many people on my team need to know how to use HubSpot?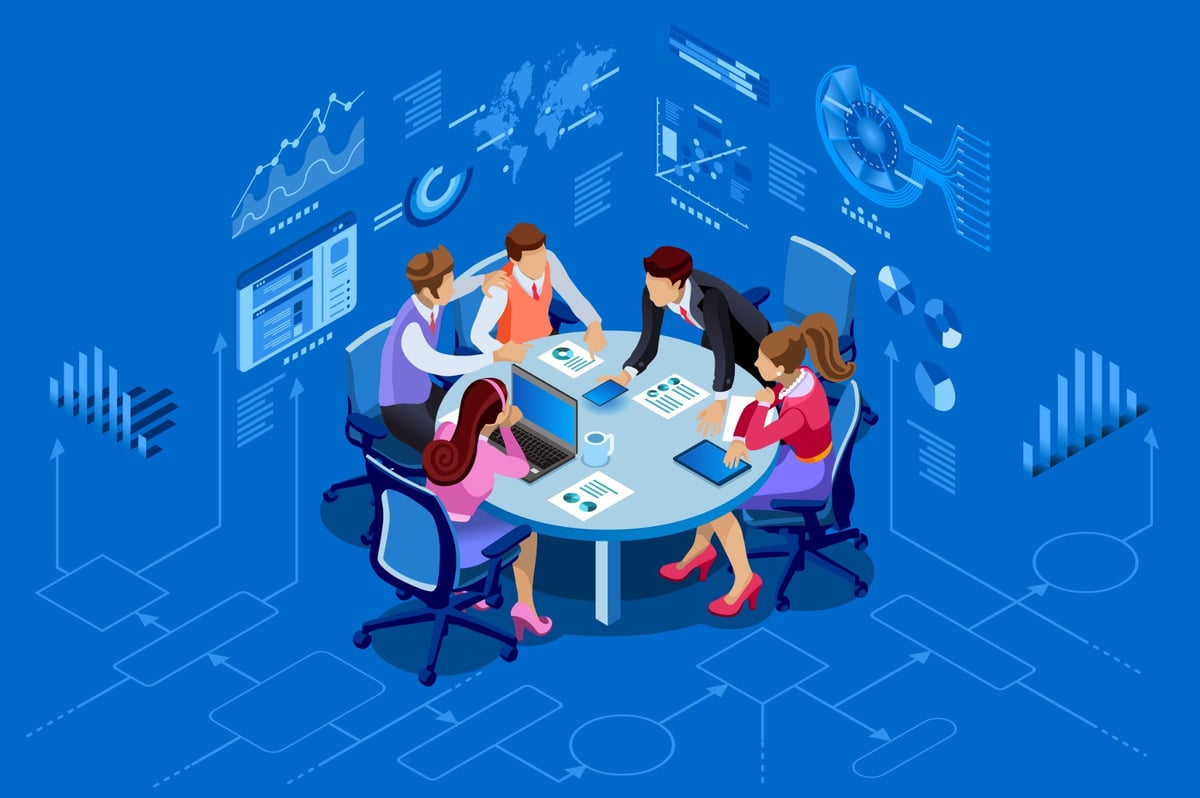 While user-friendly, HubSpot does come with some learning curve. It can take a few weeks if not to understand all of its comprehensive tools and start really using them to their full potential.
That's why when building out a marketing, sales, and service automation strategy, marketing managers often wonder: How many people on my team really need to know how to use HubSpot?
There are obvious advantages to having all team members working in the same tool – such as increased collaboration and a shared source of "truth" when working together in one database, but there can also be "switching costs" and other pain points to consider when trying to force interdepartmental adoption.
So how many HubSpot user invites should you send out? The truth is, it depends.
The number of people on your team that need to know how to use HubSpot is entirely dependent on:
your company structure
your organizational goals

For some, it will be 25+ users across multiple departments; for others, it will be just one key player who runs the entire marketing automation machine.
The only way to figure out what the "right number" is for your organization is to focus on your long-term goals, and what teams need to be actively involved with achieving those goals.
For example, if you want to…
Automate your marketing efforts from start to finish: You're going to need at least one Marketing Associate to design a minimally viable marketing automation machine.


Report on the ROI of your content marketing efforts: You're going to need the marketing and sales teams tracking the lifecycle stages of your database contacts from a website lead to a closed/won opportunity.


Monitor individual productivity across the sales team: You're going to need each member of the sales team actively logging emails/tasks/calls and tracking deal progress in the sales pipeline.


Track client issues/resolutions: You're going to need the marketing, sales, and customer service departments working together in the tool to coordinate on incoming customer tickets.

Clearly, even one goal in HubSpot can require the involvement of several different departments and this can dramatically impact the number of users you should have. Some companies can get by with a limited number of users, while others prefer to invite the whole team.
Let's dive into four main groups/roles that you will want to consider adding to your HubSpot portal.
If you're having trouble deciding who to include, always keep in mind that your number of users can evolve and change over time.
The HubSpot super admin
At bare minimum, you need one power user in your HubSpot portal. A HubSpot power user will be a super admin that's responsible for initial training and onboarding. After all, if no one "owns" HubSpot, your efforts will fail to launch.
Once you decide which member of your marketing team "volunteers as tribute" to learn the ins and outs of the tool, adding one primary user as a super admin is easy within the HubSpot Marketing Hub.
But what can you really accomplish with one user? The answer: A lot.
Anyone can create email marketing campaigns, launch a blog, or embed a Hubspot forms.
But with a true HubSpot super user, you can create a unified strategy that tracks all marketing efforts across multiple content mediums.
From email to social, paid ads to SEO, HubSpot provides an all-in-one solution to track and grow your marketing initiatives. You can also create dashboards and custom reports to share key insights with the rest of the team.
At this stage of the game, there are no major cost considerations, since Marketing Hub seats are not priced per set, however, you should always consider the amount of time it will take to bring someone up to speed on a new software.
If your super admin is going to own HubSpot marketing automation efforts, he or she needs the time and bandwidth to go through HubSpot training, take HubSpot Academy courses, dig into the HubSpot Knowledge Base, and build up a solid foundational understanding of the tool.
But with the right resources in place, you can turn any user into a HubSpot expert ready to automate your entire marketing process.
The marketing department
Now that we know what we need at a bare minimum, let's take a look at what's possible when you start to include more members of your organization.
To kick things off, the marketing team in particular is a must because it adds to your bandwidth and capacity to implement both basic marketing tasks and larger projects.
You can build a lean, mean, marketing machine that leverages workflows, chatbots, social media, email, blogging, and even lead scoring to focus your energy on the best fit prospects for your business.
If you're going to get the most out of HubSpot, every member of your marketing department should have some level of familiarity with the tools.
Does every HubSpot user need to be a super admin? Not necessarily, but with multiple team members trained on the basics you'll now have the ability to divide and conquer bigger initiatives (ex: someone owns chatbots, another manages lead scoring and the hand-off to sales, while another team member creates content for email nurture workflows.)
And again, Marketing Hub seats are not priced per set. There's no additional cost to your organization if you add multiple teammates to your portal — so really, what do you have to lose?
The sales team
So your marketers know the ins and outs of the blog, email, social media, and automation tools, but at some point, they also need to know:
What is sales actually doing with all of these leads?


How do I know that the sales team is following up?


How many leads have become opportunities, and how many of those opportunities are considered closed/won?


(And most importantly) What is the ROI of my marketing efforts?
This is why your sales team needs to be in HubSpot as well.
It's important to focus on what you can achieve when marketing and sales work together seamlessly in the same tool. By logging all sales activity, from initial outreach to finally closing the sale, you can trace all revenue back to the original point of entry, and double down on those lead sources.
More importantly, you can create a single source of "truth."
Marketing always knows how close the sales team is to hitting their quotas. Sales has insight into the early stages of the buyer's journey (ex: what pages is the contact viewing, what content is the lead consuming) and shape their pitch accordingly.
Everyone benefits when working together in one database.
It's also important to keep in mind that HubSpot Sales seats come at an additional cost.
HubSpot Sales Starter seats come in at $40/mo for two users, but depending on the size of your team, and the functionality you need, seats can go as high as $120/mo/user for Enterprise.
Customer service
Once you have marketing and sales working harmoniously within one database, the next question becomes: where does my customer service team fit in?
As we've already established, having cross-departmental collaboration throughout the early lifecycle stages can be hugely beneficial to marketing and sales.
But does the buyer's journey stop once that lead has converted into a customer? Absolutely not!
HubSpot Service Hub creates a natural extension of that buyer's journey by including service and delight activities, allowing your customer service team to join in on the fun.
By bringing your customer service and support team's into HubSpot, customer service reps (or CSRs) can have access to the full contact history — every page view, form submission, chatbot conversation, and closed/won deal.
If your team is using the email tool, CSRs can also access every email sent to the contact during the lifetime of the relationship.
CSRs can use this information to their advantage as they work to find a resolution to customer issues using HubSpot ticket pipelines.
By understanding the full context of these past touchpoints, your customer service team can seamlessly tailor their response.
But as with the Sales Hub above, there are costs to consider.
First, there are the switching costs of updating the CSR processes and procedures to mesh with the HubSpot Service Hub. And, similar to Sales Hub, HubSpot Service Starter seats start at $40/mo for two users, and can go as high as $120/mo/user.
While it is important to weigh the pros and cons of this additional investment, it's also important to keep in mind the bigger picture. With marketing, sales, and support all working together in the same space, the full lifecycle of the contact can be captured at every stage.
The bottom line
There is no "magic number" of HubSpot users. Some organizations succeed with a single SME, others need an entire team working together to keep their automation machine functioning like a souped up Ferrari.
At the end of the day, it's not the size of the team in HubSpot that matters, it's how each person plays his or her part to achieve your marketing, sales, and service automation goals.
Free Assessment:
How does your sales & marketing measure up?
Take this free, 5-minute assessment and learn what you can start doing today to boost traffic, leads, and sales.