How to create a YouTube channel for business (+ examples)
For businesses, a well-crafted YouTube channel can drive better website traffic results. Here's a step-by-step guide on how to create one of your own.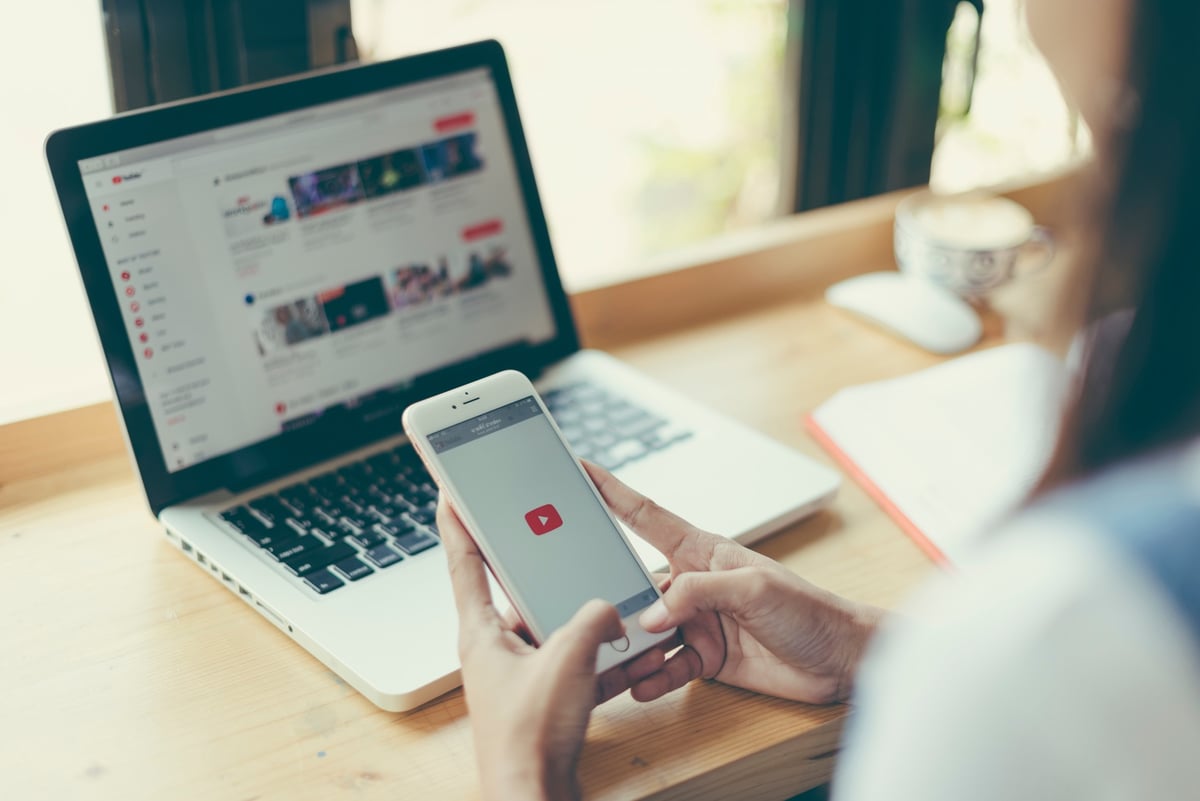 Video marketing has been surging over the years, and it continues to burst open opportunities for businesses. With more than 2 billion logged-in viewers every month, YouTube gives you a golden chance to capture an audience, drive visitors to your business's website, and assemble an army of loyal customers.
But not all business leaders know how to create a YouTube video, let alone launch a channel that dazzles visitors, captivates leads, and boosts your brand.
Starting a YouTube channel for your business may be easier than you realize. Here's how to create one that takes your business to the next level.
🎓 IMPACT+ course: Video sales and marketing strategy for businesses
Why create a YouTube channel for your business?
Before you start crafting that dynamic YouTube business channel, ask yourself, "Is creating a YouTube channel for my business worth it?" The answer from professional marketers is a resounding "Yes": According to Cisco, video will make up 82% of internet traffic by 2022, and YouTube is easily the most dominant online video platform in the world.
Video marketing has also been known to explode results when it's teamed with a strong inbound strategy, such as international keynote speaker and inbound marketing professional Marcus Sheridan's They Ask, You Answer philosophy. Essentially, the philosophy is about zooming in on your ideal customer, throwing yourself into their shoes, and giving them content they love.
🎓 IMPACT+ course: They Ask, You Answer fundamentals with Marcus Sheridan
Here are a few reasons inbound marketing, and a solid YouTube marketing strategy, is the ultimate combination to carry more customers to your business:
It helps you build trust: If you want to connect with modern consumers, building trust is essential. In fact, one

Edelman survey

found that 81% of consumers say brand trust is a deciding factor when making a purchasing decision. Not only does that trust bring in business, but it can also skyrocket customer loyalty. The same study found 82% of U.S. consumers will stick with a brand they trust, even if another brand becomes trendy.
One of the best ways to secure trust with potential and current customers is to give them helpful content. By seeding useful information across YouTube, your business becomes a trustworthy source customers will want to interact with because:
It educates your customers:

Your customers have questions

about your business's services, products, or area of expertise. And YouTube positions you perfectly to give them answers. By providing lots of how-to content, helpful tips, or in-depth instructions about your products or services, you can give them a valuable gift: education. The hope is that, in turn, they'll reward you with more business.
It positions you as an expert and thought leader: By putting out quality online video content, you can show you're an expert in your business arena. It's another way to secure trust and spark more interest in your brand.
It encourages better online reviews: If you want your business to survive in a saturated online environment, online reviews will be your beating heart.

Bright Local discovered

that 93% of consumers found local businesses online in 2020. Of those consumers, 34% conducted searches every day. By posting helpful content via YouTube, you can polish your online reputation, churn out better reviews, and quickly spread the good news about your business across the web.
🎓 IMPACT+ course: Fundamentals of creating sales and marketing videos
How to set up a YouTube channel for your business
So, how do you start using YouTube to reach and retain more customers? Here is a step-by-step guide to setting up a YouTube channel for your business:
1. Create a Google account for your business
Because YouTube is owned by Google, you'll need to set up a Google business account before you create your business's YouTube channel. This step isn't 100% necessary if you would rather use your personal Google account, but we recommend making a separate account for your business. That way, you won't have personal messages mixed in with your business's day-to-day communication platform.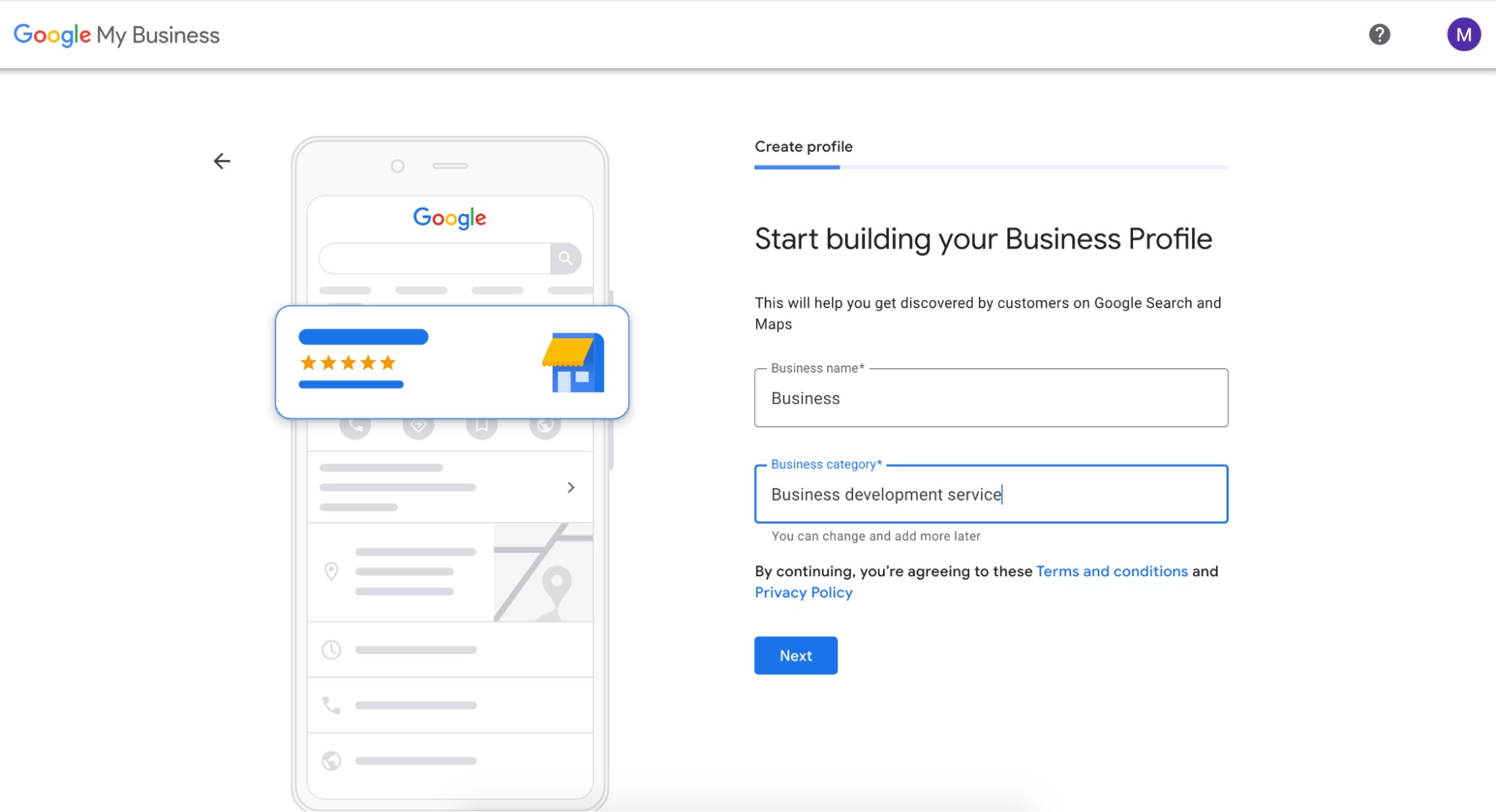 2. Create your business YouTube channel
Once you've created a Google account, you can set up a YouTube channel by logging into your Google business account. Next, click your business's profile icon in the upper right corner of the screen and select "My Channel." This will lead you to a prompt where you can enter your business name. Push "Create," and you'll be in business.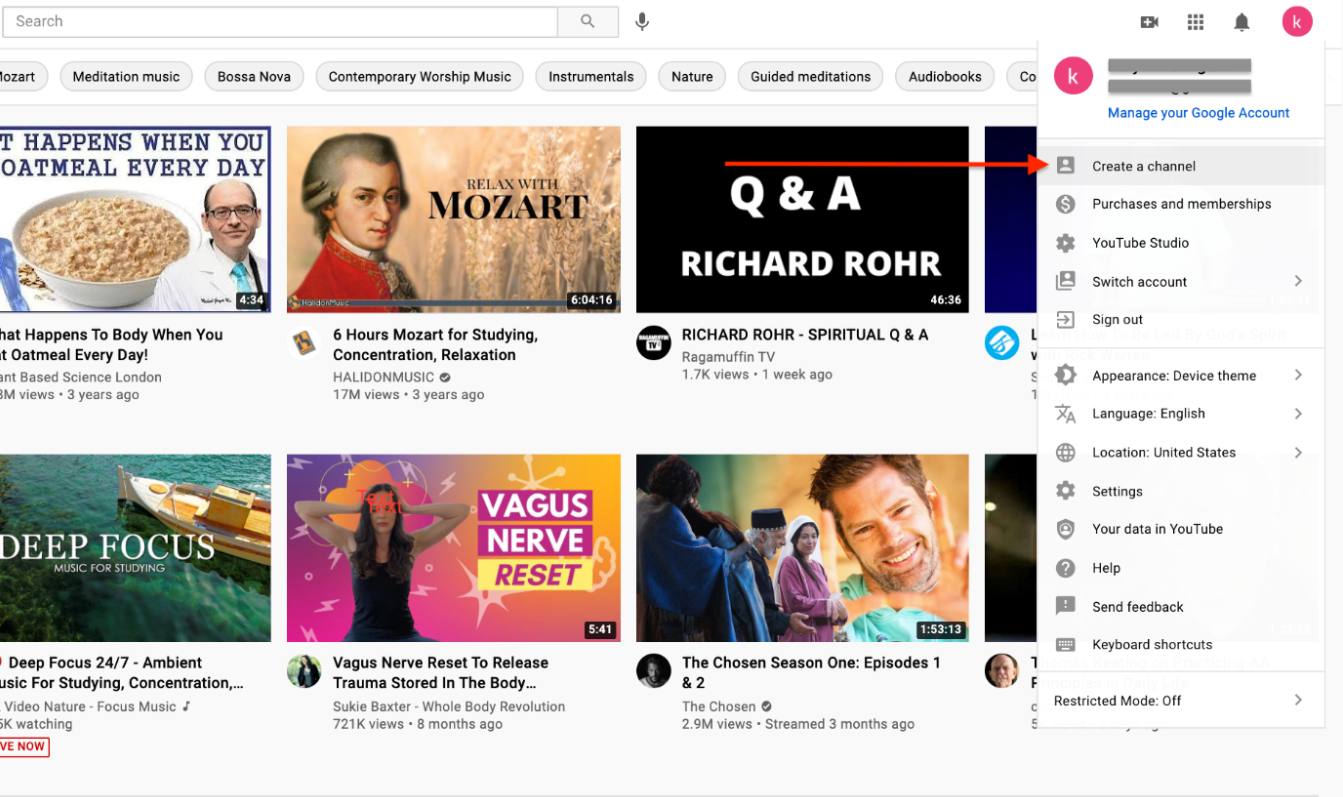 3. Deck out your channel
Just having a YouTube channel in the ether isn't enough; you'll want to deck it out to fit your business brand and personality. Don't forget to add these three critical pieces to your business's YouTube channel:
Set up your profile image. Your business's profile image, or channel icon, is a visual representation of your brand. It pops up in YouTube searches and in other highly trafficked areas, so it's important to add it to your account.
Upload a banner image. Your banner image sets the tone for your YouTube channel's homepage. It's important that it aligns with your brand and is a clear image because your banner image is prominently displayed above your content.
Complete your "About" section. Your About section is critical because it describes your business to visitors. It's your chance to explain what your business does best and why you're the best source to help your customers solve their problems.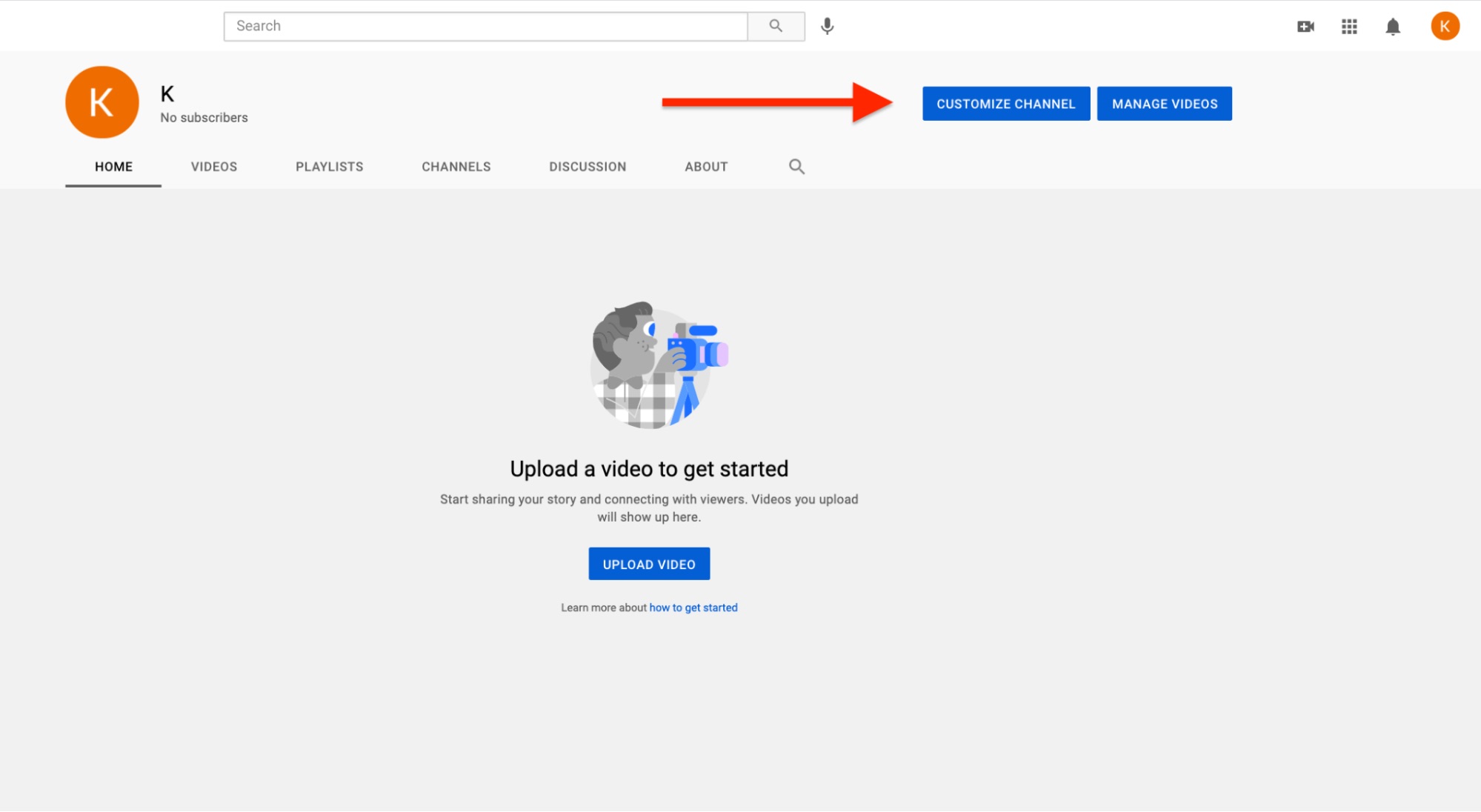 4. Set up controls
If you want to hand off work to other employees on your team, you'll need to set up YouTube controls. This lets you designate managers to access and post content to your business channel.
To set up controls, follow these steps:
Go to the "Settings" section under your profile picture in the upper right corner.
Click "Add or Remove Managers."
Click the "Manage Permissions" button.
Add email addresses for the users you want to give managing powers to.
🔎 Related: The Selling 7 sales and marketing videos that get results
What does a stellar business YouTube channel look like?
Once you've set up your YouTube business channel, it's time to turn it into a traffic-generating machine. And you can learn from some of the best YouTube channels out there.
Here are some examples of well-crafted business YouTube channels to inspire your own:
Aquila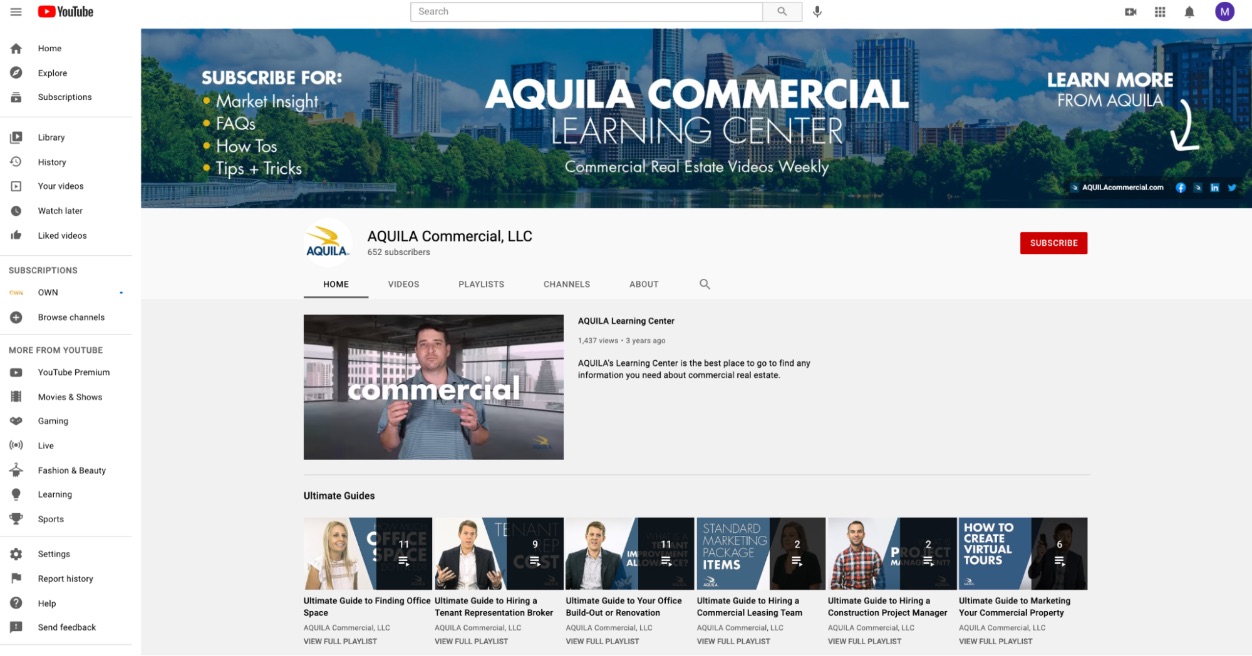 Aquila is a commercial real estate company that saw its website traffic flatline in recent years but reversed this trend by turning to inbound marketing using the They Ask, You Answer framework.
Today, Aquila's YouTube channel is loaded with educational guides and helpful videos that provide insider tips from real estate industry pros. In addition to proving the company's credibility, the content rewards the viewer with useful insights, such as what features are located within certain property domains, what makes the area attractive to buyers, and how to find the best office space. These jam-packed videos give visitors a reason to come back to Aquila's site to learn more about the ins and outs of commercial real estate.
The result?
With quality content fueling their efforts, Aquila was able to boost monthly organic traffic to their website from 2,000 to 23,000 visitors per month, with a large portion of the results stemming from their video efforts.
GoPro

The video technology company GoPro's YouTube channel lines up beautifully with its brand — in both design and content. It's full of helpful videos that show customers how to use products and that unveil new uses or techniques the customer may have never thought of.
By answering questions and educating visitors — in addition to showing all the exciting and innovative ways people are using their products (such as the video showing athlete Daniel Oss cycling along the Italian countryside) — the channel boosts the brand's reputation as a trustworthy source for high-tech, quality cameras.
Office Interiors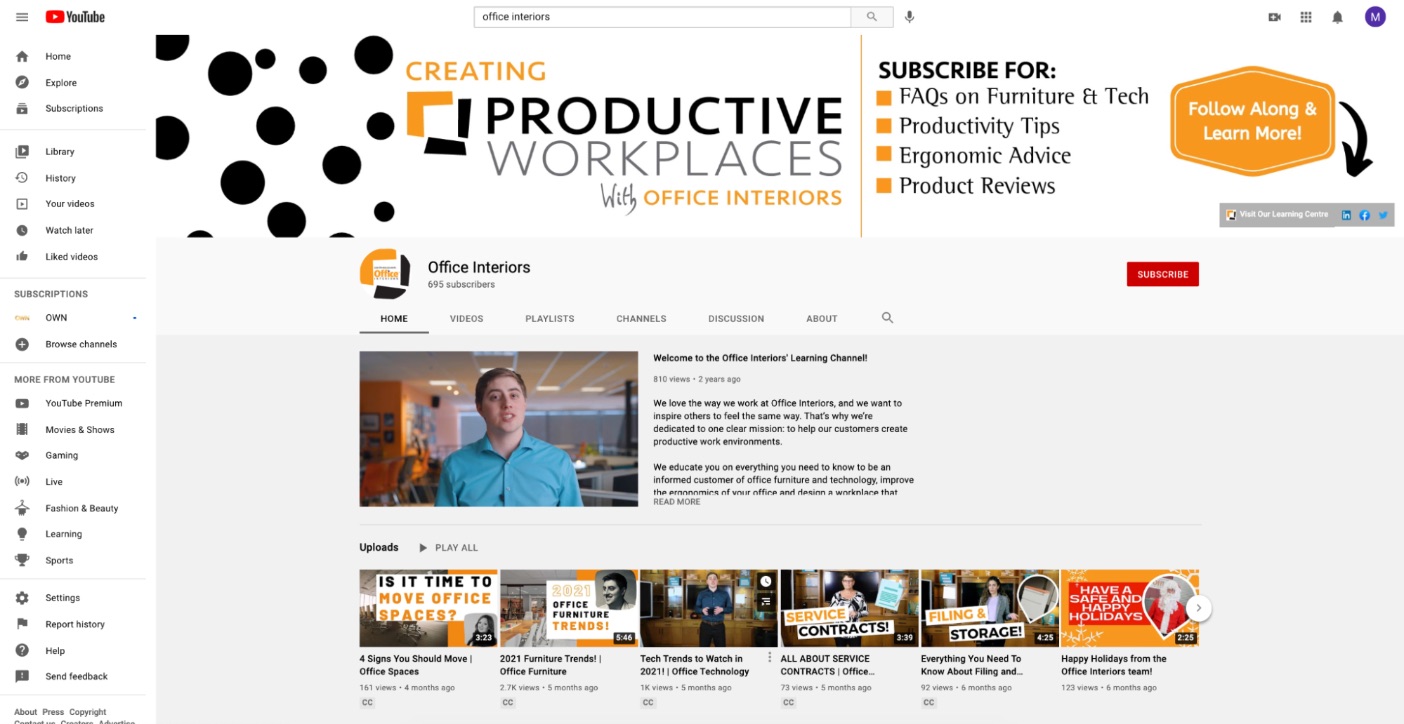 Office Interiors bought into the They Ask, You Answer philosophy, but the content it was creating wasn't hitting leads with the punch the managers wanted — so, they adjusted. By working with IMPACT to produce higher-quality content that fit into a sound inbound marketing strategy, they were able to lift visitors from 2,000 per month to 14,000 and increase their number of qualified leads.
Top to bottom, Office Interiors' YouTube channel is decked out in an eye-catching layout that reinforces the brand's look and feel. The video content within its channel rewards visitors with loads of how-to guides, product reviews, tips for driving in-office productivity, and other content.
They even include a great example of "the claims we make" video, which is one of Sheridan's "Selling 7," where Office Interiors goes through all the claims about the value the company makes and why. This allows potential customers to choose who to do business with after becoming more acquainted with the business's offerings. It's another simple but impactful way to build trust with your prospects.
Nike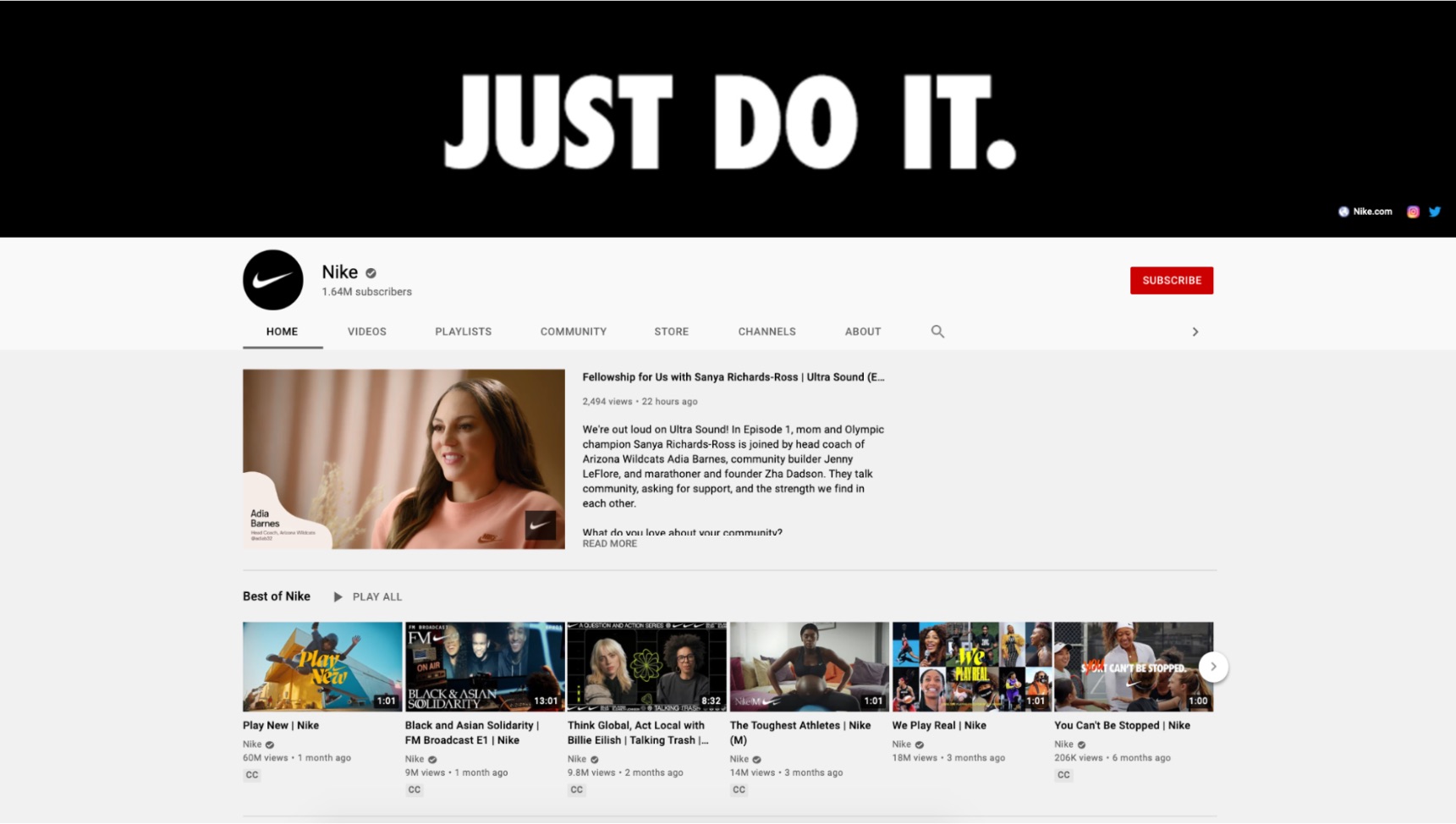 Nike's YouTube channel reflects the company's values through clear images and crisp videos. Its banner reinforces the group's trademark slogan, "Just Do It," and the page is filled with entertaining, educational, and inspirational video content. By telling relatable stories, and featuring some of the best-known athletes and entertainers out there, Nike's channel positions the company as thought leaders.
Now the good thing is, you don't need famous people to sell the products in your video. Even using the power of storytelling in a way that shows how other people are using your products can resonate. But the way Nike does this is a remarkable example of how storytelling and brand development through video done right can be particularly effective.
🎧 IMPACT+ podcast: "How to Be a Rockstar Brand Storyteller" with Melanie Spring
AIS*
*Editor's note: AIS is an IMPACT client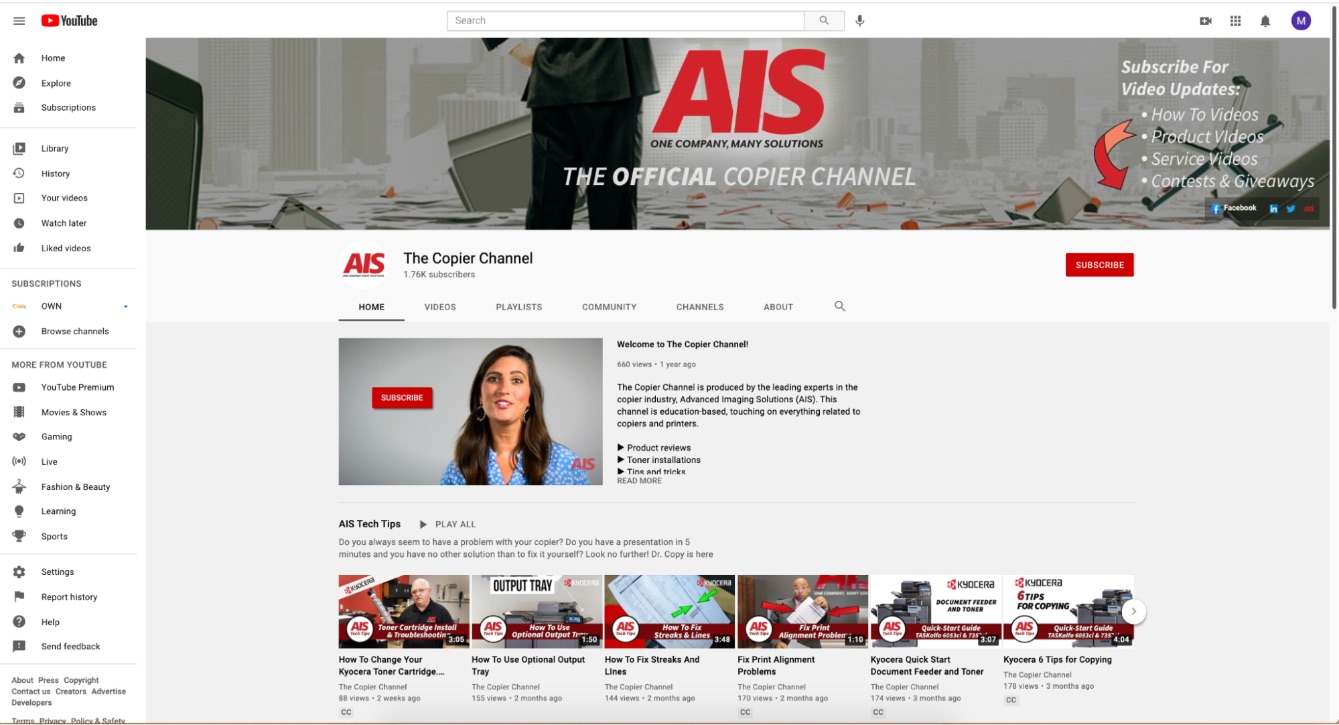 With stagnant web traffic, office technology provider AIS needed to improve its presence in the market. To do so, it worked with IMPACT to pair the They Ask, You Answer philosophy with content answering what potential customers consistently asked. As a result, the site's organic web traffic grew from under 500 visits per month to more than 5,500.
AIS's YouTube channel helps situate the company as gurus within the copier and office technology industry through clear, easy-to-understand videos, such as:
The page is filled with how-to articles, step-by-step guides, and tips that inspire visitors to come back to the site any time they need advice about purchasing, using, and maintaining copiers, in addition to general office IT advice.
General Electric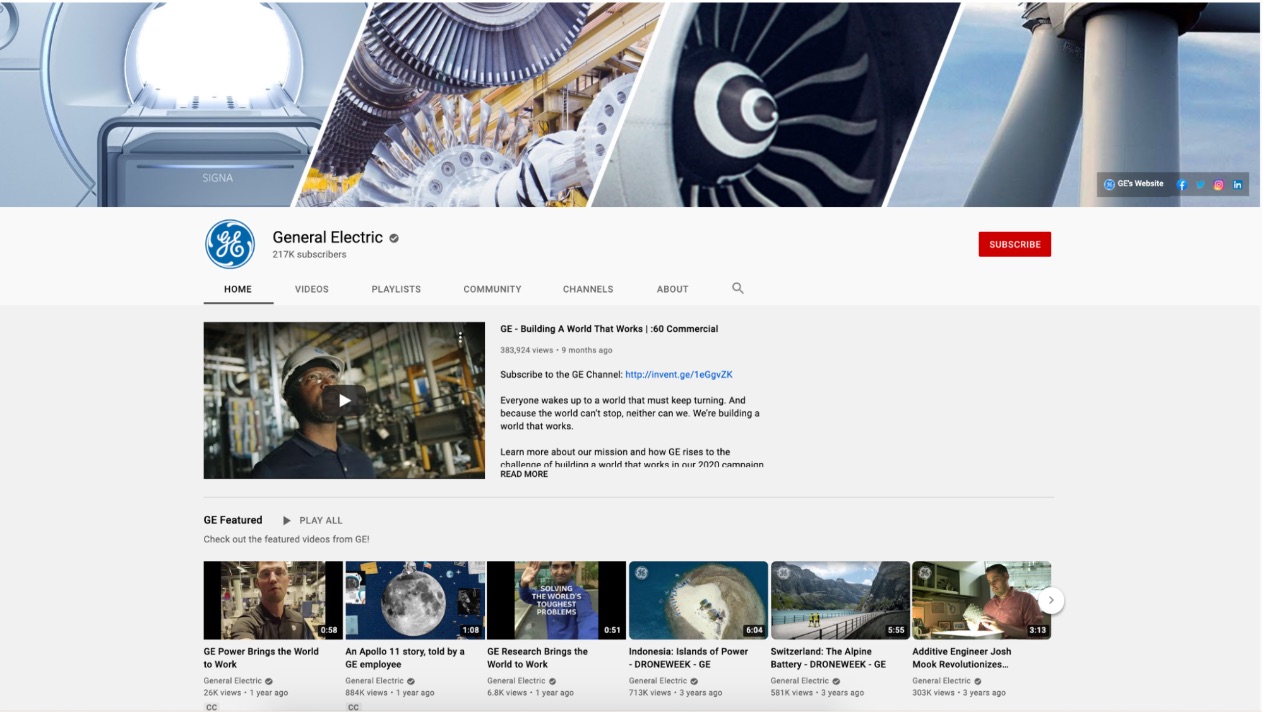 General Electric (GE) has positioned itself as a cutting-edge multinational company, and the GE YouTube channel tells that story through video.
The site uses everything from high-production videos to employee clips to show off how the company is using innovation to impact people's lives. In a behind-the-scenes look at testing jet engines, Kelly Dunham of GE Aviation walks you through a typical manufacturing and testing process. By simply walking through the factory and showing how the engines are made and rigorously tested, GE shows how exciting and dependable their products can be. At the same time, it empowers you as a visitor because you learned something new.
🔎 Related: How to use video for sales (5 easy tips)
Use video to drive business revenue
After you set up your business YouTube channel, you'll have a foundation to launch powerful content that pulls in more traffic. Now, all you need to do is learn the secrets to crafting video sales and marketing content that's irresistible and helpful to your prospects.
If you're looking for more video marketing inspiration, check out these IMPACT+ courses:
Published on July 16, 2021