Subscribe
Join 40,000+ sales and marketing pros who receive our weekly newsletter.
Get the most relevant, actionable digital sales and marketing insights you need to make smarter decisions faster... all in under five minutes.
Thanks, stay tuned for our upcoming edition.
How To Create a YouTube Channel for Business (+ 9 Brands Leading the Way)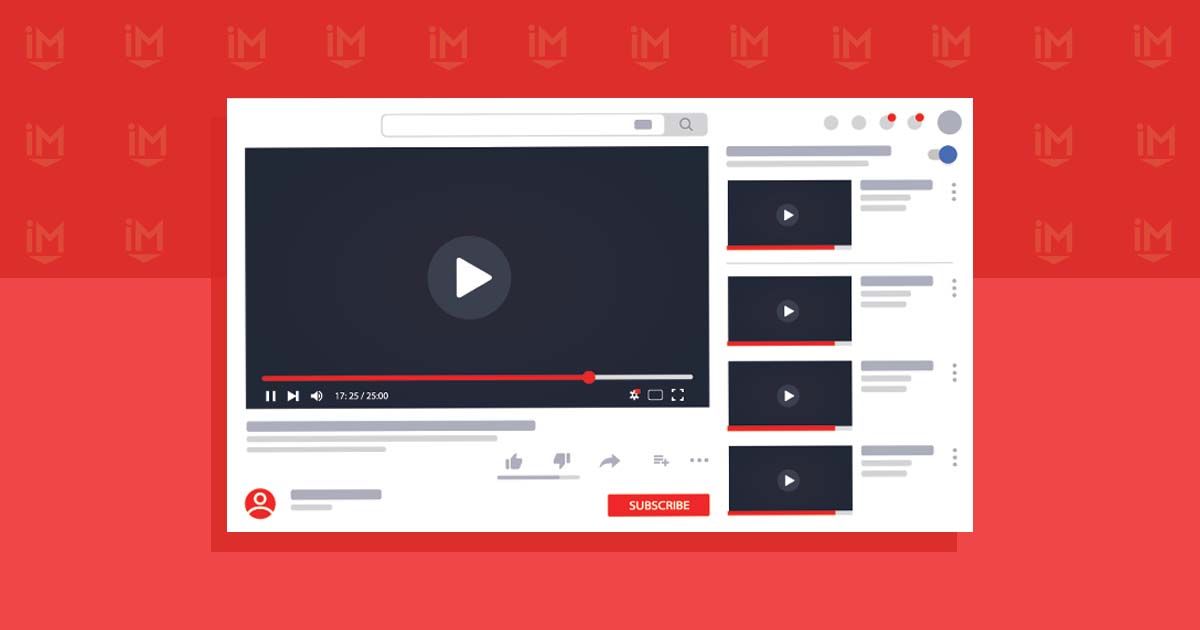 In 1979, English synthpop group The Buggles sang "video killed the radio star," and over 40 years later, it has proven to be more of a prophecy than just a catchy tune.
You see, according to Cisco, video will make up 82% of internet traffic by the end of this year, and it doesn't take an expert to tell you YouTube is easily the most dominant online video platform in the world thanks to smartphones, tablets, and smart TVs.
With more than 2 billion logged-in viewers every month, YouTube gives not only content creators, but marketers and businesses as well, a golden chance to get in front of a global audience with video content, drive visitors to their website, and assemble an army of loyal customers.
However, before you can reap any of these things, you need to start from square one: creating a YouTube channel.
Not all marketers know how to upload a YouTube video, let alone launch a channel that dazzles visitors, captivates leads, and boosts your brand. Thankfully, we have years of experience helping brands establish themselves on YouTube, grow an audience, and generate business from the platform.
In this article, I'll share:
Why you should create a YouTube channel for your business.
How to create a YouTube channel for your business.
Nine examples of what a great brand YouTube channel looks like.
Why create a YouTube channel for your business?
Before you start crafting that dynamic YouTube business channel, you're likely asking yourself, "Is creating a YouTube channel for my business worth it?"
And simply put, for a modern marketer, the answer is almost always yes.
Video marketing has been known to explode results when it's teamed with a strong content and inbound marketing strategy, like Marcus Sheridan's They Ask, You Answer.
They Ask, You Answer is essentially about addressing your audience's questions and concerns honestly and thoroughly in order to build the trust needed to earn their business. With its use of dynamic elements like visuals, sound, and often human delivery, video is particularly effective at doing this.
Creating a YouTube channel gives your potential customers access to a single, cumulative, and searchable library of branded content on one of the most popular websites in the world, allowing you to share your expertise via video and further establish yourself as a trusted leader.
But the benefits of a YouTube strategy don't stop there.
Users want video when researching purchases
In 2021, when asked how they'd most like to learn about a product or service, 69% of respondents to a survey by Wyzowl said they prefer to watch a short video over reading an article, viewing an infographic, or watching a webinar, among other things.
Moreover, another survey found that 83% of respondents reported that a product/service-explainer video had helped them make a buying decision. After all, product reviews and unboxings are some of the most popular types of videos on YouTube.
YouTube is the second most trafficked website in the world
Though it is technically a social video platform, YouTube is the second most trafficked website online, according to Alexarank, and is often called "the second largest search engine in the world" as it processes more than 3 billion searches a month.
All this considered, creating videos around your audience's questions and concerns (i.e., The Big 5) gives you another valuable opportunity to get found by users when they're searching for answers.
That being said…
YouTube videos can educate your customers
Your customers have questions about your business's services, products, or area of expertise. And YouTube positions you perfectly to give them answers.
By providing lots of how-to content, helpful tips, or in-depth instructions about your products or services, you can give them what they want: education. The hope is that, in turn, they'll reward you with more business.
An active YouTube channel positions you as an expert and thought leader
By putting out quality online video content, you can show you're an expert in your business arena. It's another way to secure trust and spark more interest in your brand.
Video helps you build trust
If you want to connect with modern consumers, building trust is essential. In fact, one Edelman survey found that 81% of consumers say brand trust is a deciding factor when making a purchasing decision.
Not only does trust bring in business, but it can also skyrocket customer loyalty. The same study found that 82% of U.S. consumers will stick with a brand they trust, even if another brand becomes trendy.
One of the best ways to secure trust with potential and current customers is to give them helpful content and let them get to know you on a more personal level. By uploading useful information across YouTube and showing your name and face in videos, viewers will start to recognize you as a reliable source of information.
How to set up a YouTube channel for your business
So, how do you start using YouTube to reach and retain more customers? Here is a step-by-step guide to setting up a successful YouTube channel for your business:
1. Create a Google account for your business
Because YouTube is owned by Google, you don't need to set up a separate YouTube account. Instead, you simply need to navigate to YouTube and sign into your Google account.
If you have one already, you can skip this step. If you don't, then you should set up a Google business account.
If you would rather use your personal Google account, you can, but we recommend making a separate account for your business. That way, you won't have personal messages mixed in with your business's day-to-day communication platform.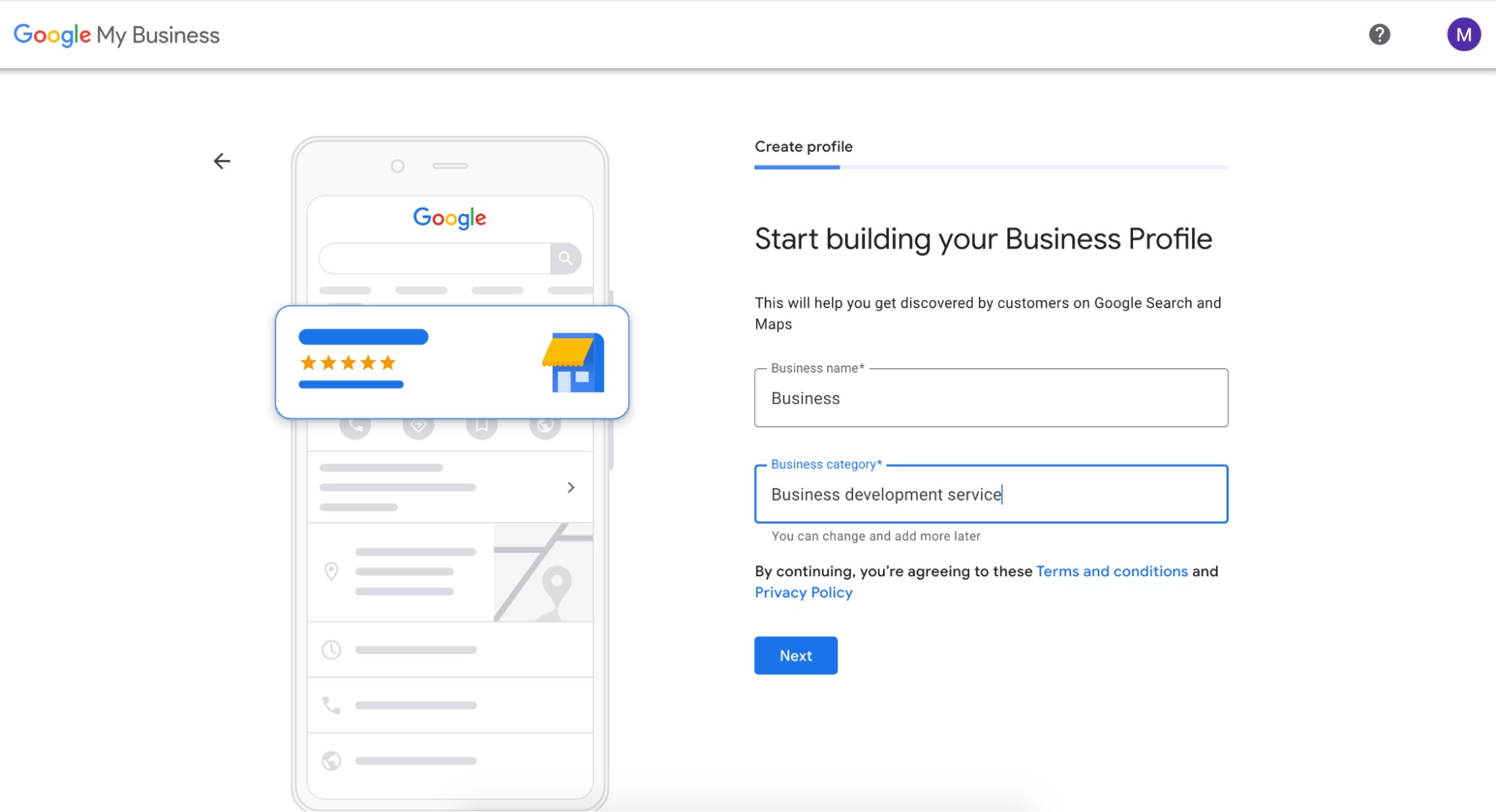 2. Create your business YouTube channel
Once you've created a Google account, navigate to YouTube.com. Next, click your business's profile icon in the upper right corner of the screen and select "My Channel" or "Create a Channel."
This will lead you to a prompt that allows you to enter your business name. Push "Create," and you'll be in business.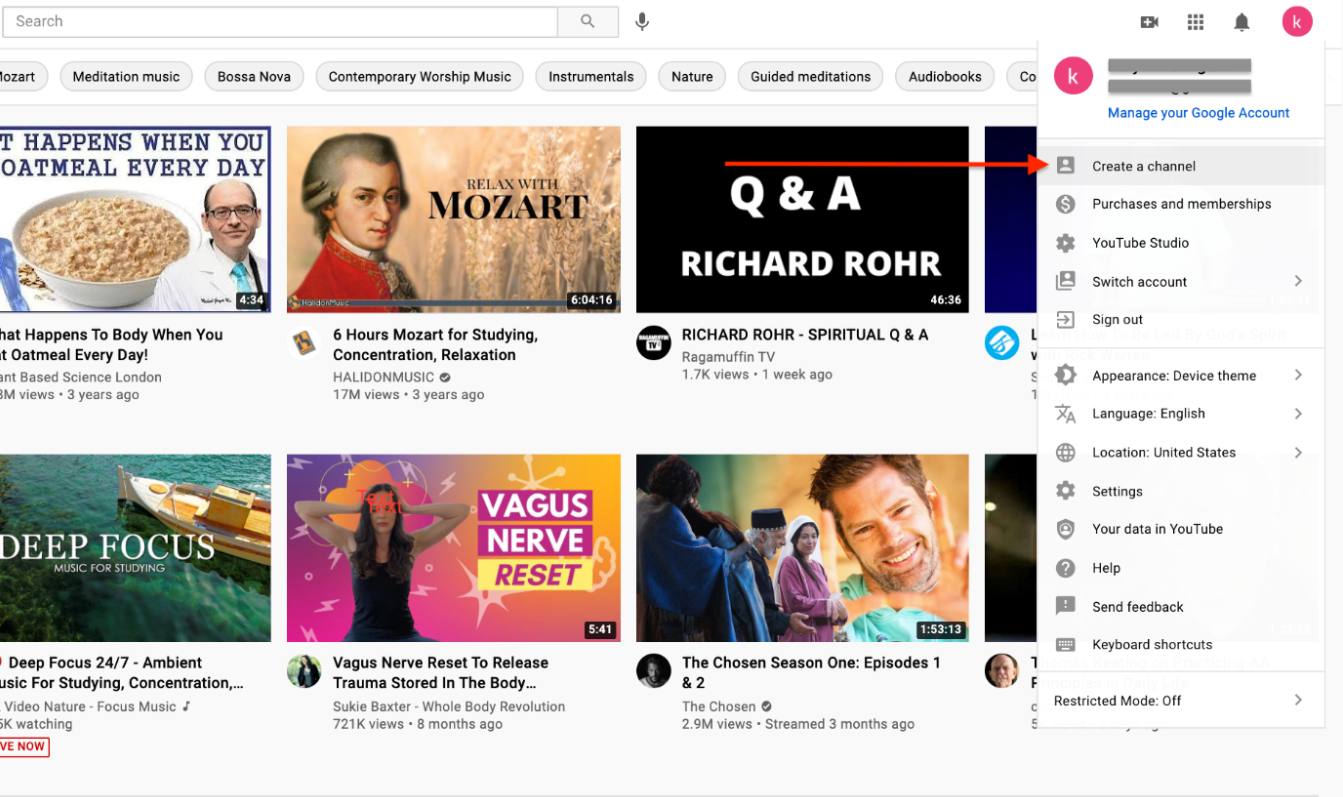 3. Deck out your channel
Just having a YouTube channel in the ether isn't enough; you'll want to deck it out to fit your business brand and personality.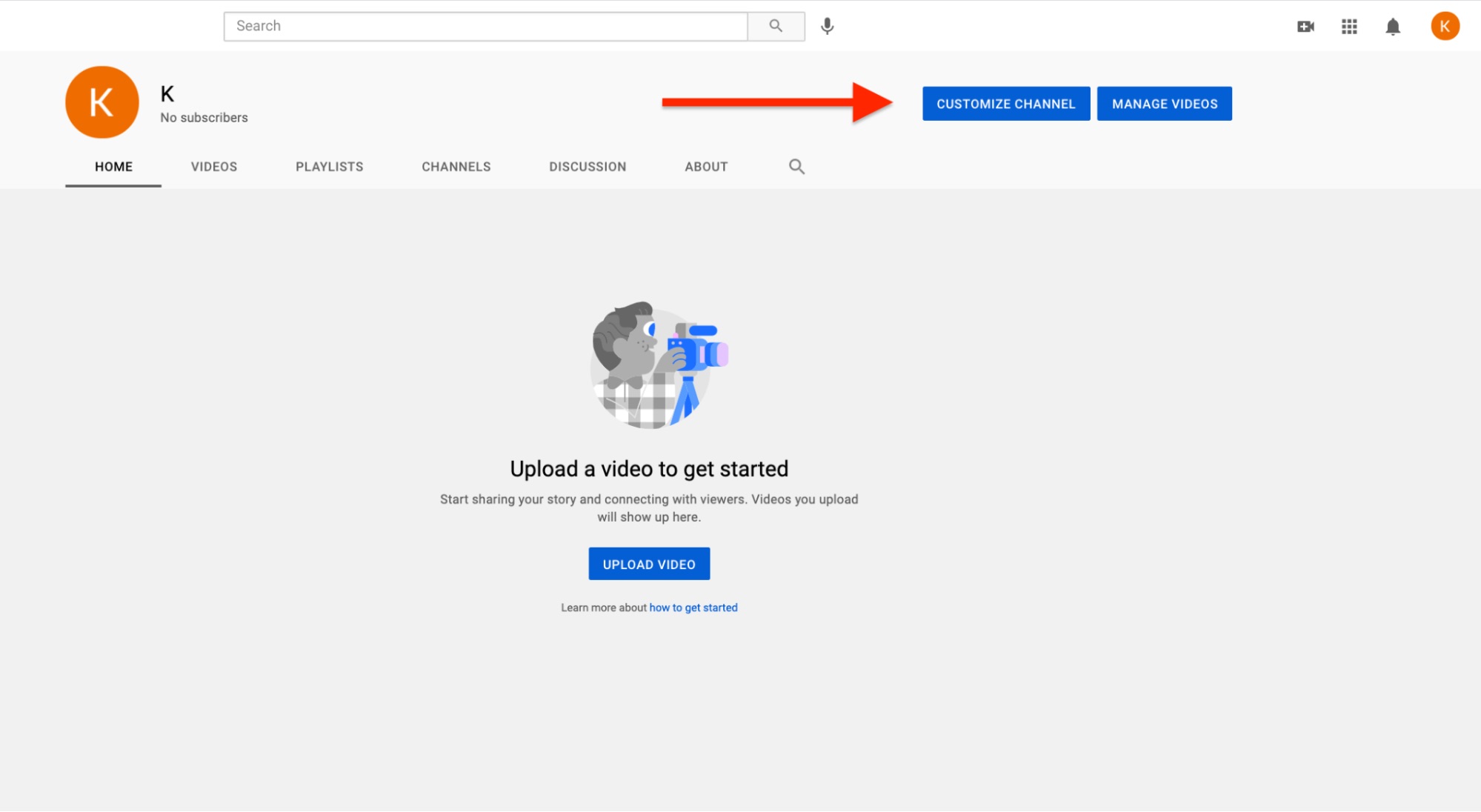 Don't forget to add these critical pieces to your business YouTube channel:
Set up your profile image. Your business's profile image, or channel icon, is a visual representation of your brand. It pops up in YouTube searches and in other highly trafficked areas, so it's important to add it to your account.
Upload a banner image. Your banner image sets the tone for your YouTube channel's homepage. It's important that it aligns with your brand and is a clear image because it is prominently displayed above your content.
Complete your "About" section. Your About section is critical because it describes your business to visitors. It's your chance to explain what your business does best and why you're the best source to help your customers solve their problems. It's also where you optimize your profile to get found in search and include links to your website and other social media profiles.
Add featured channels: Like "pinning" a tweet on Twitter or "featuring" a comment on Instagram, YouTube allows you to feature channels and particular videos on your channel to show love to other creators or partners. Our friends at

Sprout Social recommend brands:

"Highlight industry leaders and influencers (hint: but not competitors), 'Like' the content of companies or creators that you admire or find entertaining yet relevant, and avoid any content that could be perceived as controversial or otherwise unrelated to your business." At IMPACT, we used to highlight separate channels we had for other communities like Film School for Marketers (FSM).
Create playlists: Speaking of Film School for Marketers, when we ended the podcast, we moved all of those videos to our main account under a dedicated playlist of the same name. Creating playlists is a great way to organize your content to make it easier to navigate and determine where to start.

Create and post a channel trailer: Like a movie trailer, your channel trailer is where you get to give visitors a sneak peek of what to expect and make your best pitch for why they should keep watching and subscribe. Your trailer shows up at the top of your homepage and is prime real estate to introduce yourself.
4. Set up controls
If you want to hand off work to other employees on your team, you'll need to set up YouTube controls. This lets you designate managers to access and post content to your business channel.
To set up controls, follow these steps:
Go to the "Settings" section under your profile picture in the upper right corner.
Click "Add or Remove Managers."
Click the "Manage Permissions" button.
Add email addresses for the users you want to give managing powers to.
What does a stellar business YouTube channel look like?
Once you've set up your YouTube business channel, it's time to turn it into a traffic-generating machine. And you can learn from some of the best YouTube channels out there.
Building off of everything we shared, a successful YouTube channel is one that publishes high-quality, honest, and thorough content that delivers true value on a regular basis.
While "value" will vary from audience to audience, it usually comes down to two buckets: education (for example, addressing questions and concerns like The Big 5) or entertainment.
When this is done regularly, your channel, and by extension, your brand, becomes trusted by your audience. In turn, people want to subscribe to your channel and more likely buy from your business.
Here are some examples of well-crafted business YouTube channels to inspire you as you build your own:
Purple
Purple, the brand behind "the world's most scientifically comfortable mattress," does an admirable job with its YouTube channel, offering videos that both educate and entertain.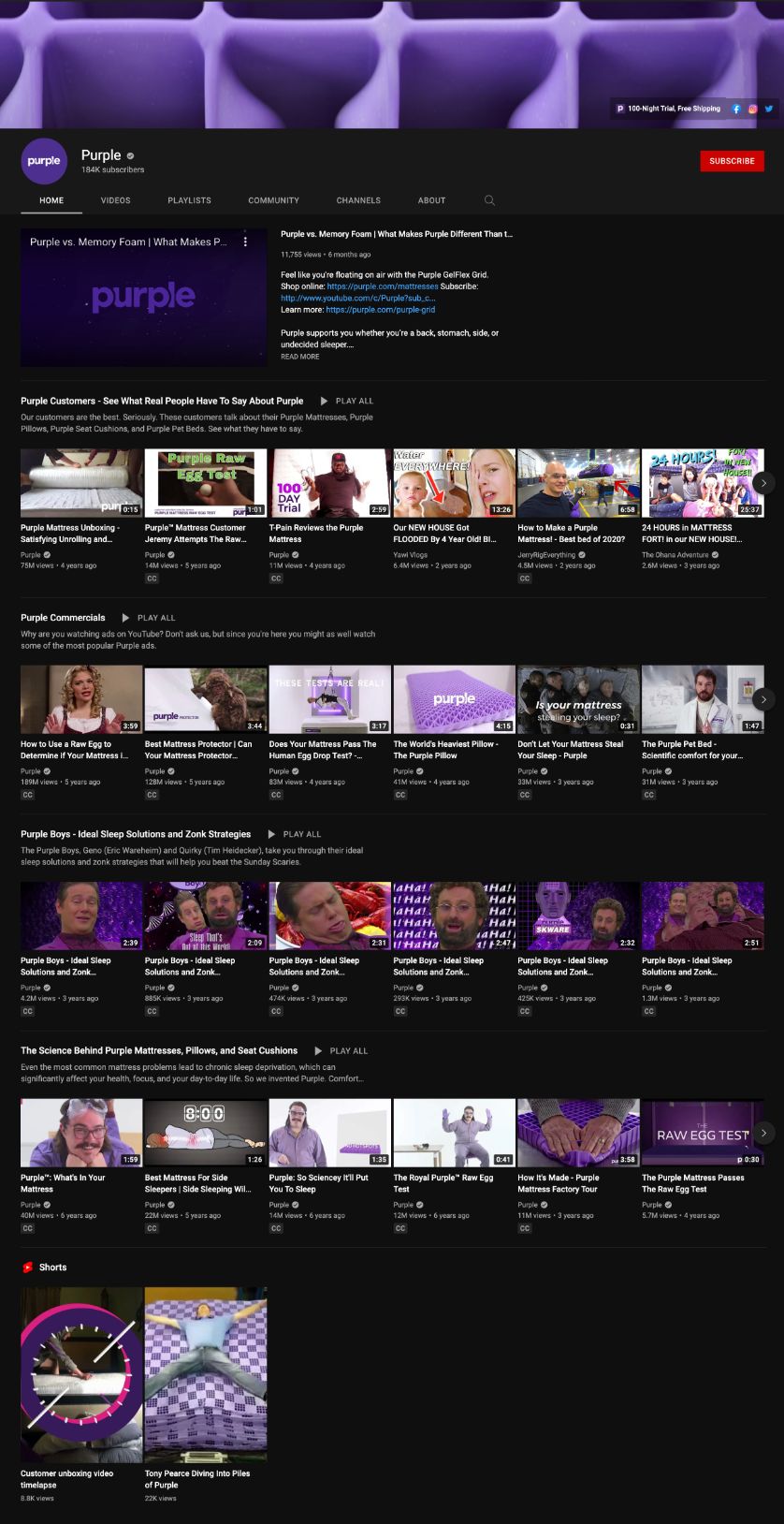 While its channel does feature funny commercials, entertaining product videos, and behind-the-scenes content, it also shares education on how to unpack your Purple mattress, the science of their product, and the difference between Purple and memory foam.
Purple even dips its foot into what we call The Selling 7 videos by sharing customer testimonials.
Aquila
Aquila is a commercial real estate company and IMPACT client that had seen its website traffic flatline in past years. Aquila reversed this trend by turning to inbound marketing using our They Ask, You Answer framework.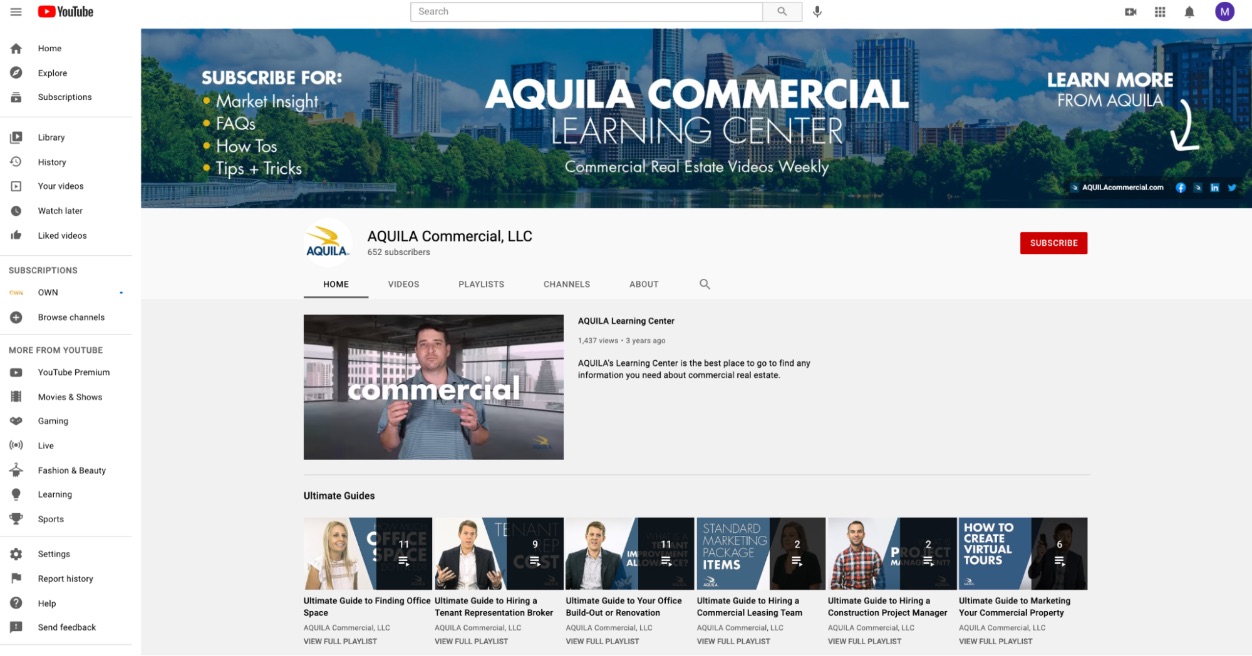 Today, Aquila's YouTube channel is loaded with educational guides and helpful videos that provide insider tips from real estate industry pros.
In addition to establishing the company's credibility, the content rewards the viewer with useful insights, such as what features are located within certain property domains, what makes the area attractive to buyers, and how to find the best office space.
These jam-packed videos give visitors a reason to come back to Aquila's site to learn more about the ins and outs of commercial real estate.
Guitar Center
Another well-known brand with an impressive YouTube channel is Guitar Center.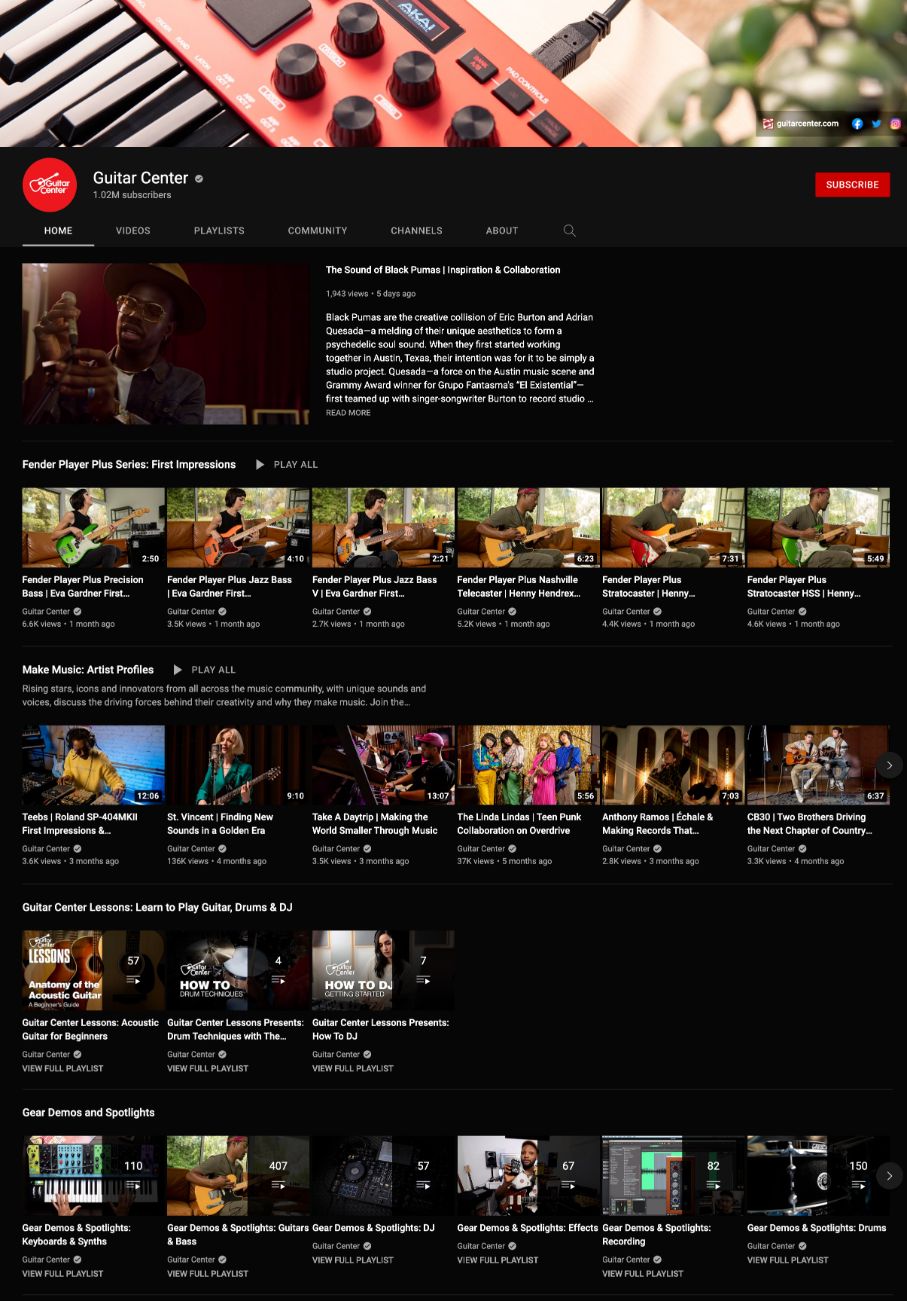 As an instrument retailer, Guitar Center's channel features performances from musicians and artist interviews and spotlights, as well as gear demos and spotlights, product comparisons, and "lessons" on how to play different products it sells.
GoPro
The video technology company GoPro's very successful YouTube channel lines up beautifully with its brand — in both design and content.

It's full of helpful videos that show customers how to use products and that unveil new uses or techniques the customer may have never thought of.
By answering questions and educating visitors — in addition to showing all the exciting and innovative ways people are using their products (such as the video showing athlete Daniel Oss cycling along the Italian countryside) — the channel boosts the brand's reputation as a trustworthy source for high-tech, quality cameras.
Headspace
Headspace is a subscription app that shares guided meditation sessions.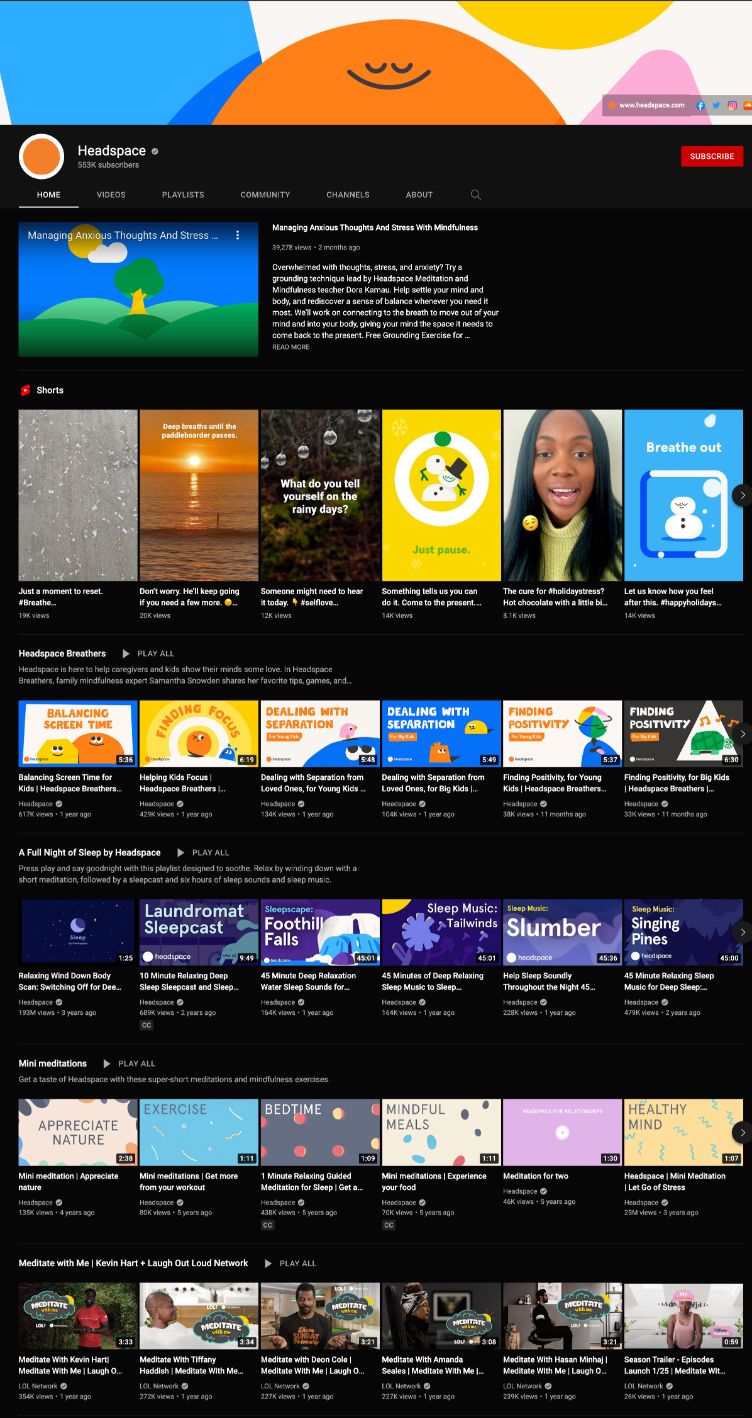 As a supplement to the app, the brand's official YouTube channel provides mini meditations, sleep music, meditation tips, videos with celebrity users and partners like Kevin Hart and John Legend, and education on common meditation obstacles.
Office Interiors
Another IMPACT client, Office Interiors, bought into the They Ask, You Answer philosophy, but the content it was creating wasn't hitting leads with the punch the managers wanted — so, they adjusted.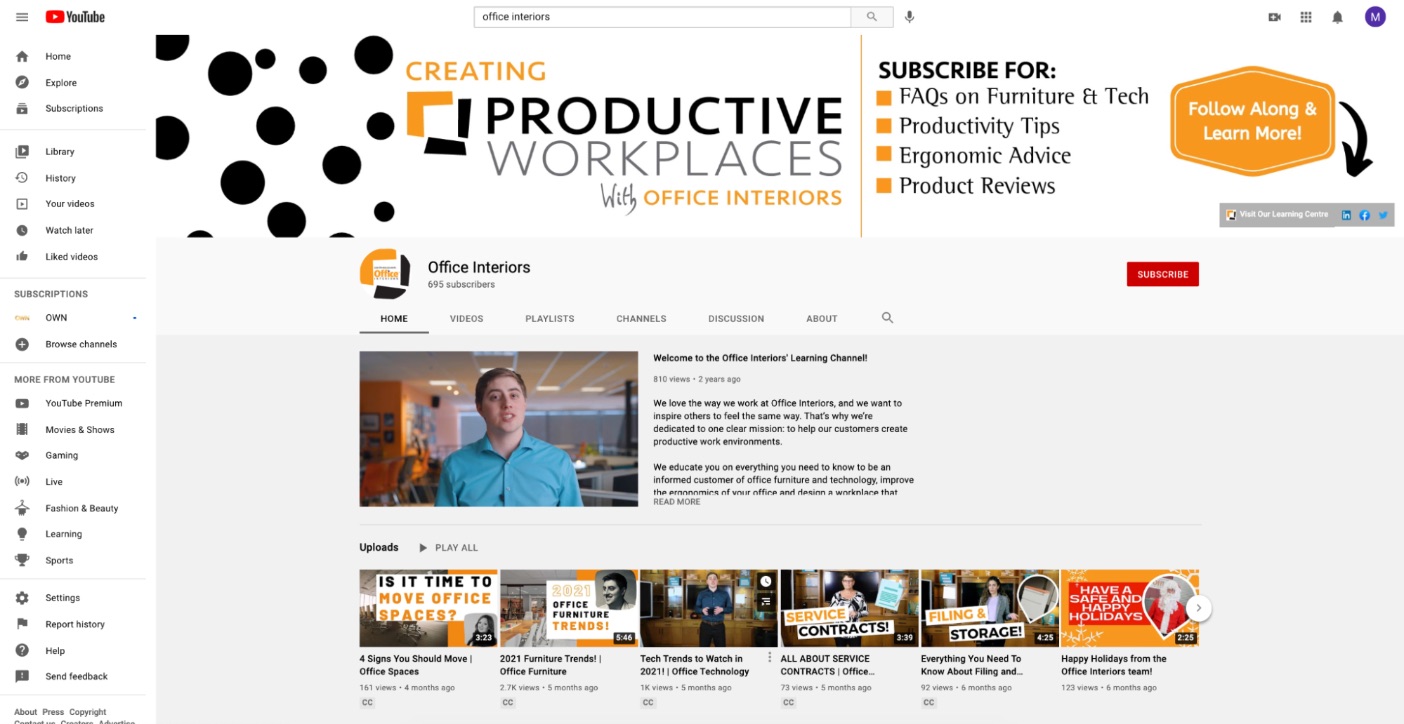 Top to bottom, Office Interiors' YouTube channel is decked out in an eye-catching layout that reinforces the brand's look and feel. The video content within its channel rewards visitors with loads of how-to guides, product reviews, tips for driving in-office productivity, and other content.
They even include a great example of a "the claims we make" video, which is one of "The Selling 7" videos we advise clients to produce. This allows potential customers to choose who to do business with after becoming more acquainted with the business's offerings. It's another simple but impactful way to build trust with your prospects.
Nike
Nike's YouTube channel reflects the company's values through clear images and crisp videos.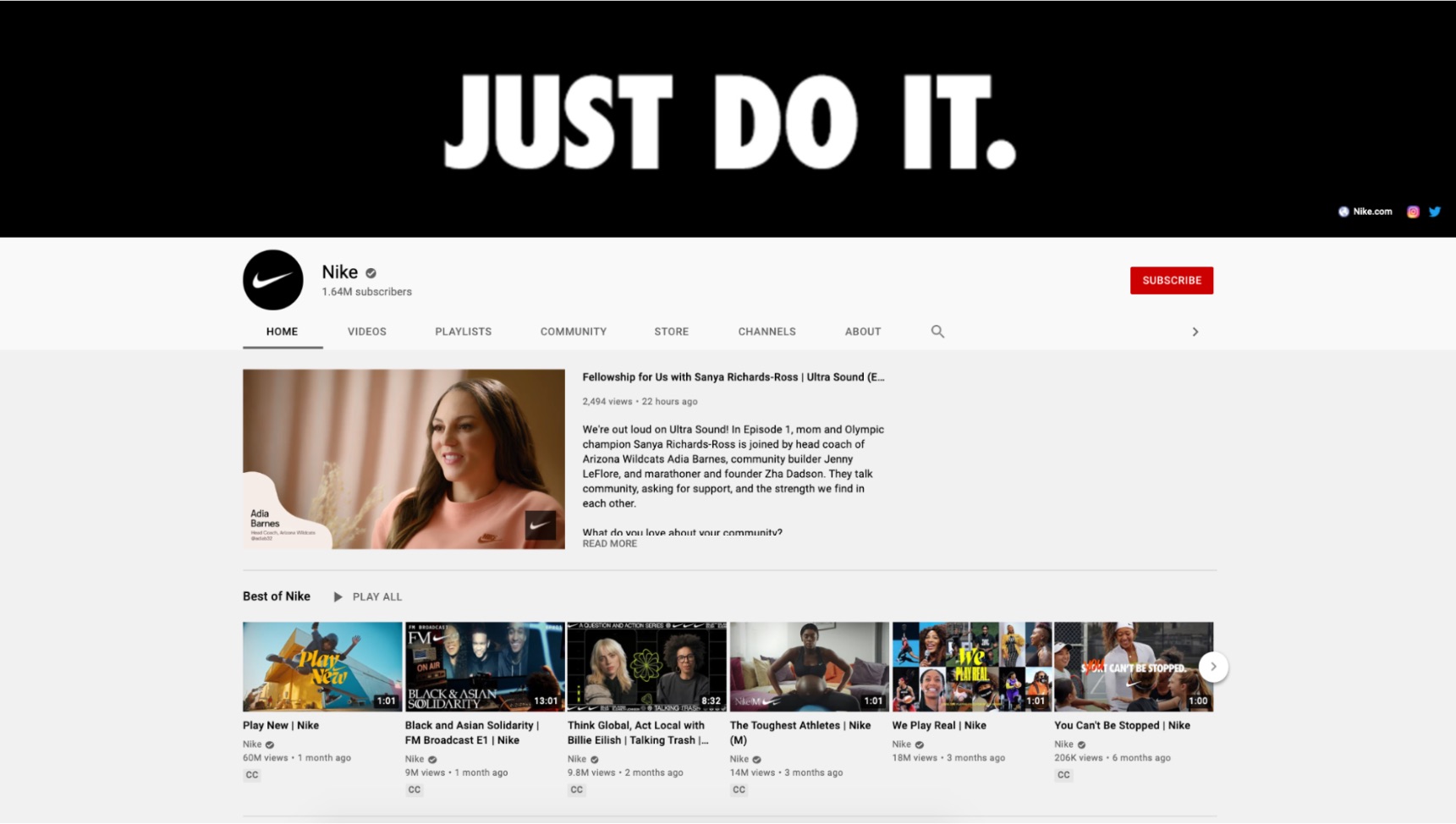 Its banner reinforces the brand's trademark slogan, "Just Do It," and the page is filled with entertaining, educational, and inspirational video content.
By telling relatable stories, and featuring some of the best-known athletes and entertainers out there, Nike's channel positions the company as a thought leader.
But you don't need famous people to sell the products in your video. Even using the power of storytelling in a way that shows how other people are using your products can resonate.
That said, the way Nike does this is a remarkable example of how storytelling and brand development through video done right can be particularly effective.
AIS
With stagnant web traffic, office technology provider AIS, another IMPACT client, needed to improve its presence in the market.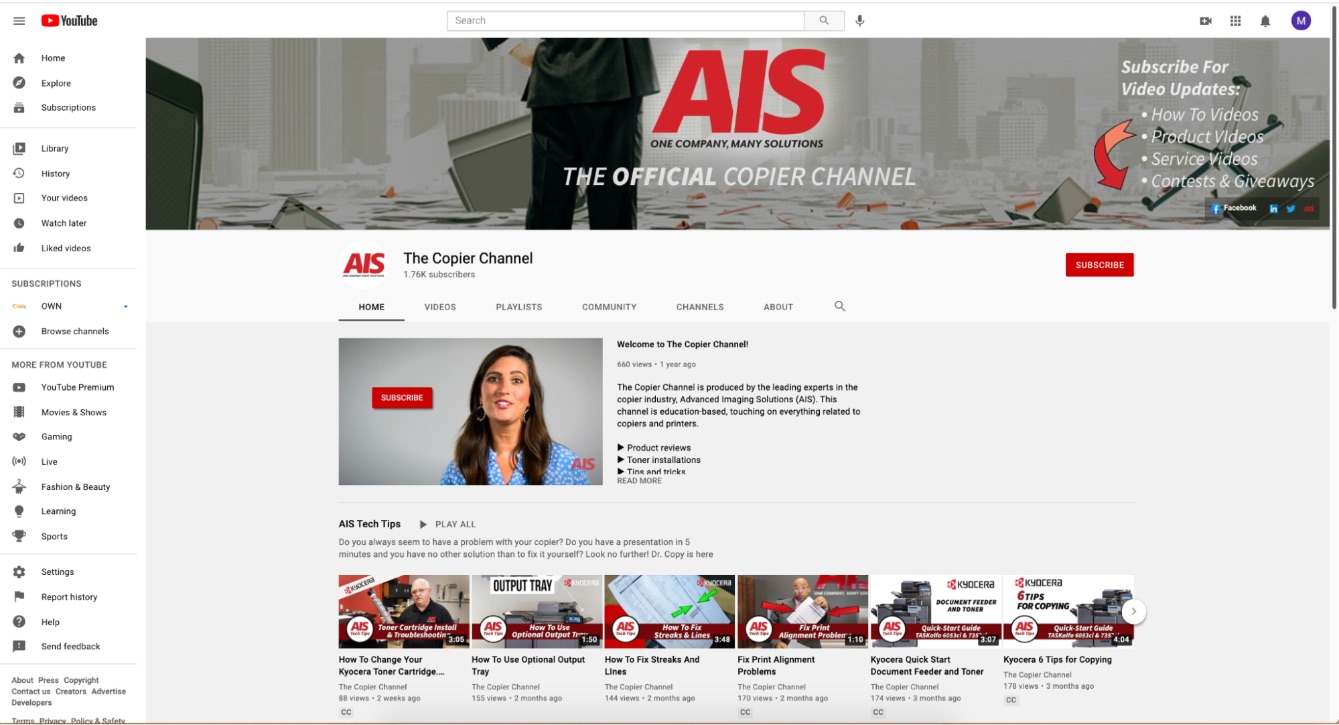 To do so, it worked with IMPACT to pair the They Ask, You Answer philosophy with content answering what potential customers consistently asked. As a result, the site's organic web traffic grew from under 500 visits per month to more than 5,500.
AIS's YouTube channel helps situate the company's personnel as experts within the copier and office technology industry through clear, easy-to-understand videos, such as:
The page is filled with how-to articles, step-by-step guides, and tips that inspire visitors to come back to the site any time they need advice about purchasing, using, and maintaining copiers, in addition to general office IT advice.
General Electric
General Electric (GE) has positioned itself as a cutting-edge multinational company, and the GE YouTube channel tells that story through video.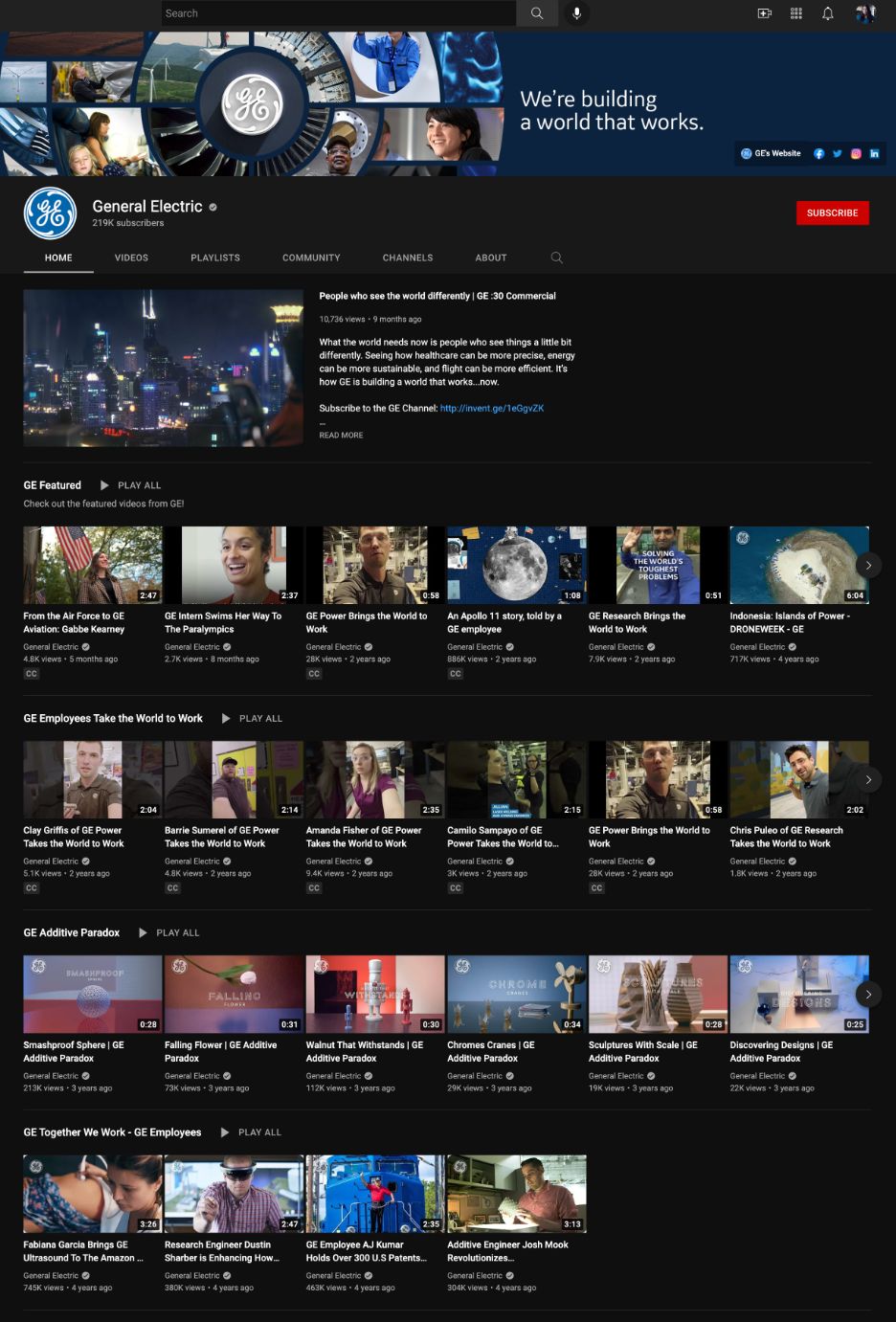 The site uses everything from high-production videos to employee clips to show off how the company is using innovation to impact people's lives. In a behind-the-scenes look at testing jet engines, Kelly Dunham of GE Aviation walks you through a typical manufacturing and testing process.
By simply walking through the factory and showing how the engines are made and rigorously tested, GE shows how exciting and dependable their products can be. At the same time, it empowers you as a visitor because you learned something new.
That's two marketing goals achieved with a single YouTube video.
Use video to drive business revenue
After you set up your business YouTube channel, you'll have a foundation to launch powerful content that pulls in more traffic. Now, all you need to do is learn the secrets to crafting video sales and marketing content that's irresistible and helpful to your prospects.
If you're looking for a deeper dive into creating a YouTube Channel and finding YouTube success or simply more video marketing inspiration, check out these IMPACT+ courses:
Also make sure to grab your free copy of "The Complete Guide to Video Marketing for Business in 2022."
Free Assessment:
How does your sales & marketing measure up?
Take this free, 5-minute assessment and learn what you can start doing today to boost traffic, leads, and sales.