How to make your sales videos look and sound great without breaking the bank
You don't need a big budget to create effective videos for sales and marketing. Here are some handy tips to show you the way.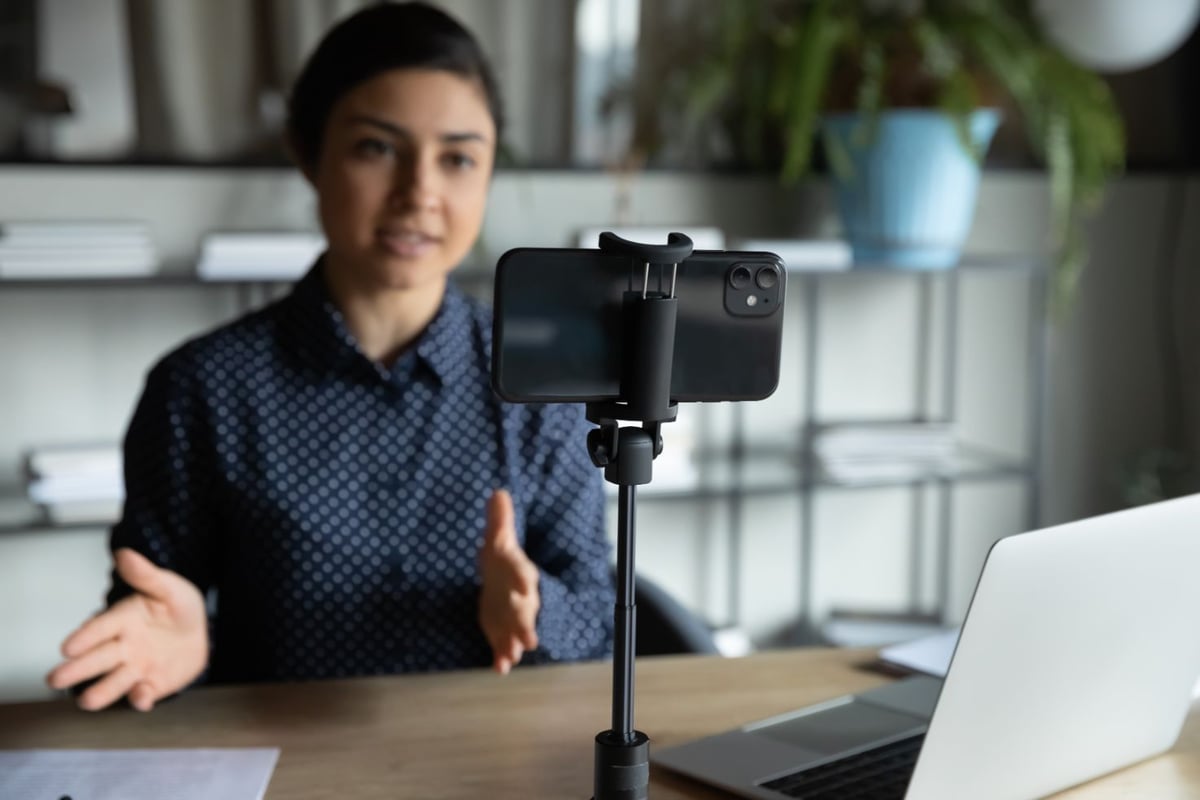 As reluctant as we may have been, during the COVID-19 pandemic lockdown everyone had to become a video star.
From birthday celebrations and first dates to business meetings and graduation ceremonies, people across the globe were forced to turn to video to collaborate and stay connected. But even with many social distancing restrictions thankfully behind us (knock on wood), the relevance and power of videos in sales and marketing remains strong.
In fact, according to The State of Video Marketing 2021 report by Wyzowl, about 91% of marketers believe video is more important for brands in light of the pandemic.
🔎 Related: What is virtual selling? (definition, examples, and tips)
Adding video into your marketing and sales process isn't just a "nice to have," but a must have in the current climate. This can be intimidating for many as the word "video" is often associated with a big price tag. But that doesn't have to — and often shouldn't — be the case with video for sales and marketing.
Rest assured, you can look and sound great without breaking the bank, and in this article, we'll give you a crash course in how by diving into:
Lighting
Audio
Framing your best shot
Sounding great without a script
Setting up a great background
This article is just a taste of our 40-minute IMPACT+ lesson, "How to make your sales videos look and sound great without breaking the bank," with Myriah Anderson and IMPACT's own Stephanie Baiocchi. To go deeper in these topics and learn how to choose a video tool and create click-worthy thumbnails, make sure to sign up for IMPACT+ Pro to check it out. It's free for 14 days!
Lighting
Lighting can be the difference between a clip looking like a Hollywood-produced film and a "hostage" video.
When it comes to video in sales and marketing, you want to look positive, approachable, and inviting. Not only do you need to entice people to click and keep watching, but you also want to make sure they are paying attention to your message.
Bright, natural lighting helps accomplish this by making it easier for a viewer to see your face and expressions. Dark or poor lighting, on the other hand, can have the opposite effect.
For great lighting on a budget, have your light source across from you to show your face (for example, a window or lamp behind the camera). However, you may also want to invest in some small equipment, such as a ring light. Want to avoid glare on your glasses? Try softening the lighting with tissue paper or an umbrella. More on that here.
Audio
Like lighting, poor audio can distract viewers from actually paying attention to the message you deliver in your videos, so make sure that it is crisp, clear, or free of background noise. To help improve your video audio, use headphones with a built-in microphone, or consider using pillows and blankets to help with echoes. Krisp.ai can also help cut out background noise.
🔎 Related: 13 video marketing tips for creating more professional video content
Framing your shot
More than likely in your sales video, visually, you should be the focus. With this in mind, try to keep your camera level at about waist or chest height. This a great height to create the impression of an intimate conversation, but still allow for people to see your hand gestures and body language.
🎓 IMPACT+ Course: Mastering On-Camera Performance
Small tools like a laptop stand or tripod can help accomplish this, but you can also consider simply placing your camera on top of a stack of books or sitting on pillows to raise yourself up as Myriah did in this talk.
With pillows vs. without.
Sounding great without a script
Have key talking points you need to cover in your video? While you don't want to look or sound like you're reading off a script, it's good to have notes handy to help you keep track of what you need to say.
🔎 Related: "To Script, Or Not To Script?" [Film School For Marketers Podcast, Ep. 4]
Try having a Google Doc open with bullet points of your topics or simply writing them out on a stickie note that you stick on your camera or laptop so they can't be missed. Video tools such as Vidyard also have built-in note tools so you aren't fumbling with multiple windows or tools.
🔎 Related: How to write a video script for marketing (Content Lab returns, Ep. 46)
Setting up a background
Like lighting and audio, your background can either enhance or detract from the message of your sales videos. Again, you want the viewer to be focused on you and what you are saying, not distracted by the pile of clothing on your bed or the bright red cereal box on top of your refrigerator. (All very real possibilities if your home has become your office in the past year.)
A good rule of thumb in any situation is to keep your background clean and simple. Try using a plain wall or something uniform like a bookcase or area with framed photos. You can also hang a sheet behind you or buy a simple backdrop.
Picking video tools and more
As you can see from these tips, a lot goes into making a memorable and effective sales video – but it doesn't have to be expensive.
We touched upon five points covered here, but in our 40-minute IMPACT+ lesson, "How to make your sales videos look and sound great without breaking the bank," with Myriah Anderson and IMPACT's own Stephanie Baiocchi, you'll go deeper into the hows of each of these topics, as well as how to choose a video tool and create click-worthy thumbnails.
Join IMPACT+ PRO today to check it out. It and dozens of other courses are free for your first 14 days!
Published on July 7, 2021