HubSpot's new duplicate management just got some improvements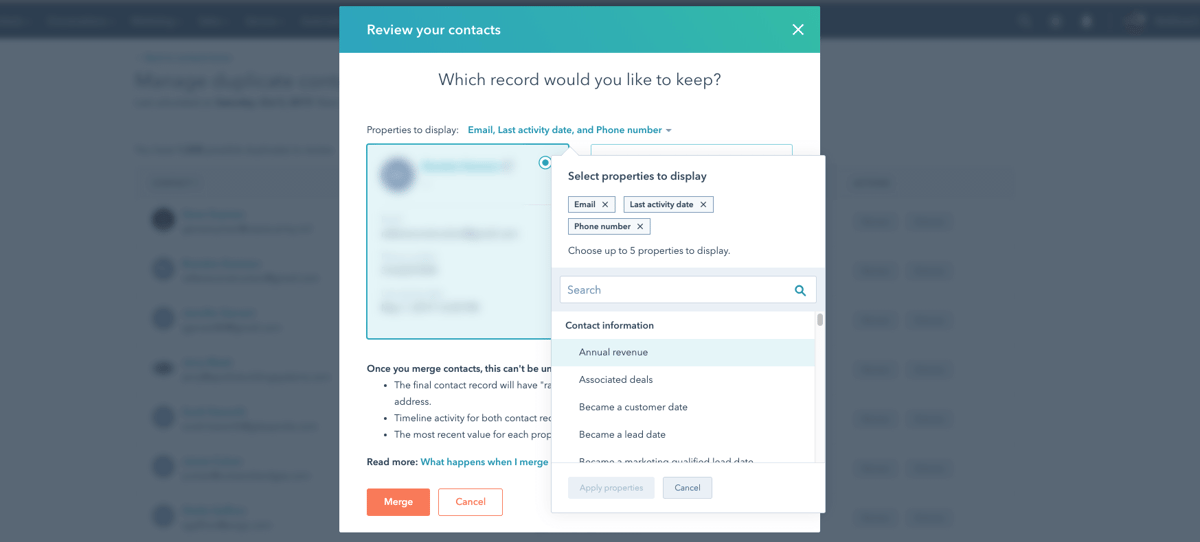 Months ago, HubSpot launched a new de-duplication tool that helped businesses merge contacts and company information that seemed to overlap.
This tool uses HubSpot's AI to find these records and allows you to select which contact or company you want to merge so your portal isn't filled with duplicate versions of contacts and companies.
Since then, HubSpot has added some new features to this tool that will make it even more helpful!
De-duplicate tool improvements
After HubSpot released its duplicate management tool, many marketers (me included) were super excited to get their hands on it. While it was great to see, there were still some features lacking that could take the tool to the next level. HubSpot has now released an update to the de-duplicate tool that includes some of those features.
It used to be that when you would dive into the de-duplicate tool in HubSpot, you were welcomed with a list of contacts that HubSpot thought were the same. In order to merge these contacts, you had to review a handful of properties and accept which record is the "winner."
This was limited to only three properties, which could sometimes make it hard to know which record you wanted to make the primary, especially since the properties only included name, email(s), IP-derived country, phone number, zip code, and company name.
Now, you are now able to select five properties you can see and compare when merging records. You are also able to choose from any of the properties you have in your database.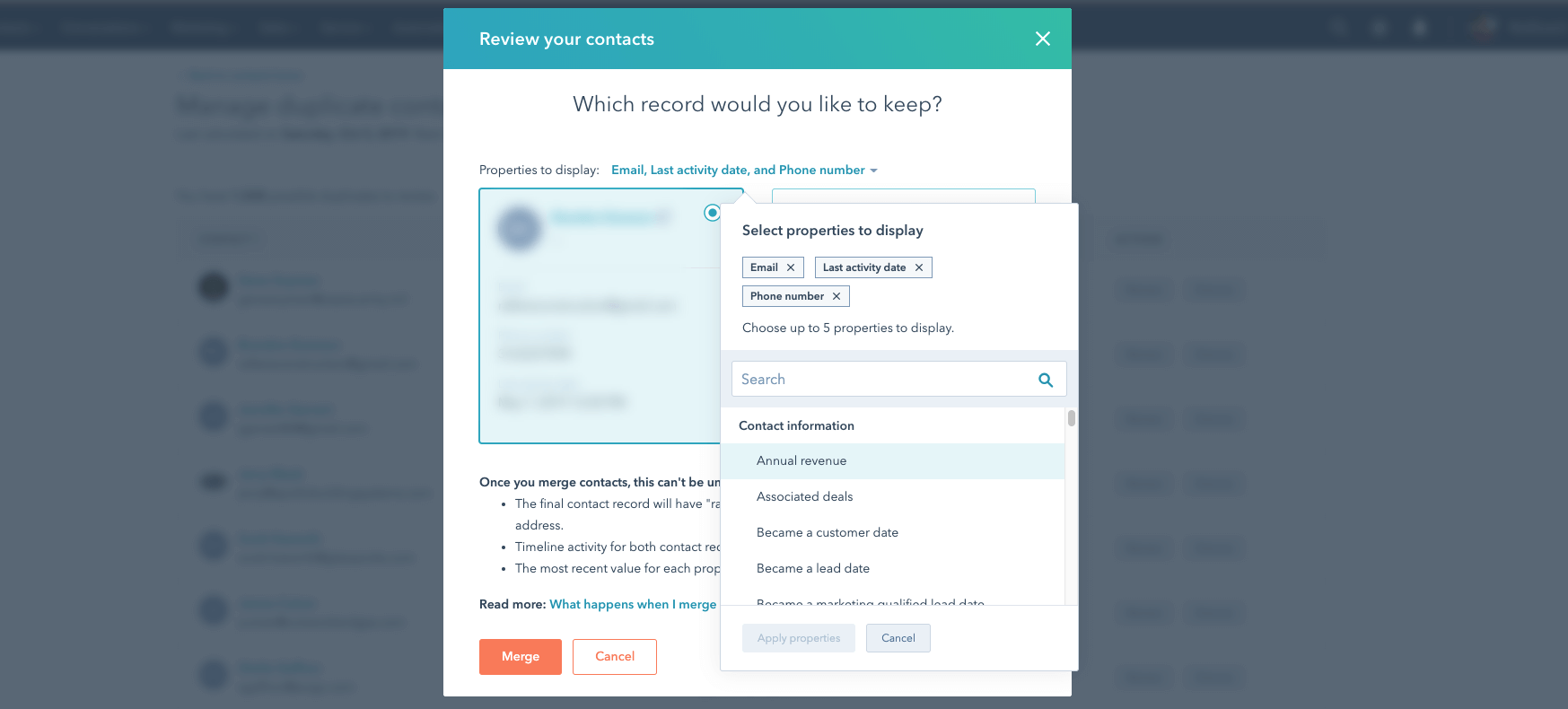 While these changes will carry over to the next record you are merging, this is a per-user feature — meaning it won't affect anyone else in the portal using the de-duplicate tool.
As a bonus, HubSpot has also added the ability to send notifications once it detects more duplicate contacts you can merge.
Taking advantage of the improvement
Merging contacts and company records can be crucial when trying to keep a clean database. It helps you make sure that all the data you have on one contact or company is in one record, and that your team is looking at the correct record. It is also a way to make sure you are not counting one contact as multiple, taking up space in your HubSpot account. What's more, it helps to make sure your data is not skewed by contacts that are counted twice.
Being able to now specify which properties you use to compare records makes it even better. when comparing records previously, it was difficult to determine which record was the "correct" record.
Now, you can click on the "properties to display" drop-down in the tool to specifically select which properties you want to display. This is also great for businesses that use a specific or custom property to determine which contacts they want to keep.
In order to make sure your notifications are turned on for duplicate management, head over to Profile & Preferences > Notifications > Status > CRM. Here, you can choose the type of notification you would want to receive.

What's next?
While we are still missing some features (like being able to merge contacts in bulk), these new features are definitely welcome.
If you are looking to take advantage of the new features, or even just the de-duplication tool, head over to your contacts or companies page and select "manage duplicates" in your actions tab. Here you can start reviewing all your contacts HubSpot thinks might be the same.
It is a good idea to establish an ongoing process to frequently merge duplicate contacts that works best for you.
Free Assessment:
How does your sales & marketing measure up?
Take this free, 5-minute assessment and learn what you can start doing today to boost traffic, leads, and sales.