There is now a better way to understand your Salesforce sync errors in HubSpot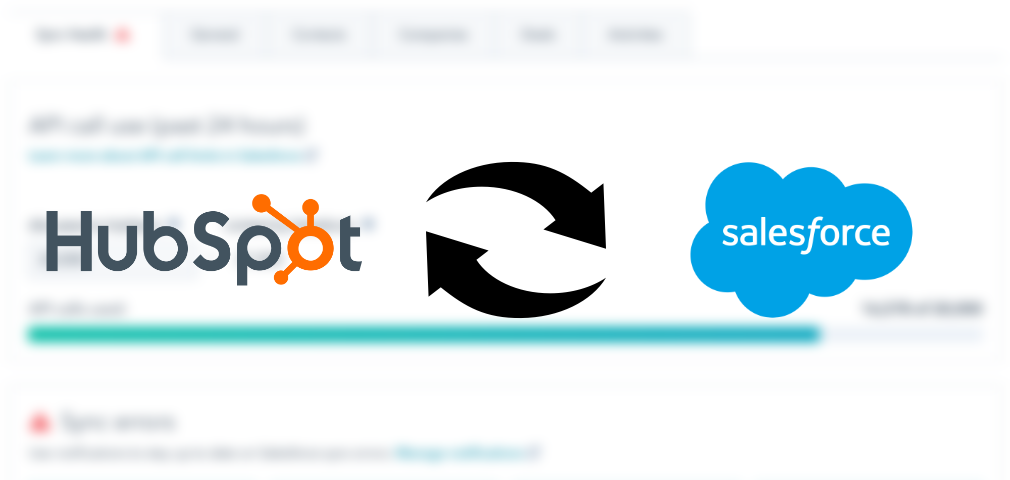 The HubSpot-Salesforce integration is an extremely important tool for many HubSpot customers. It allows them to sync information collected in HubSpot with Salesforce, and to send Salesforce information to HubSpot.
This is huge since it allows the marketing and sales teams on HubSpot and Salesforce to get the most updated information on contacts, companies, and deals on both platforms so they can work seamlessly together.
HubSpot has now released an update to the Salesforce integration that makes it easier than ever to find and fix any potential sync issues.
New Salesforce sync health dashboard
This updated comes with three major changes that should help marketers in HubSpot see if there are any issues with syncing their information between the two platforms.
1. The new sync health tab
When you now log into HubSpot and head on over to your connected Salesforce app, you will be greeted with a new sync health tab. This tab is also going to be the first thing you see when viewing the integration.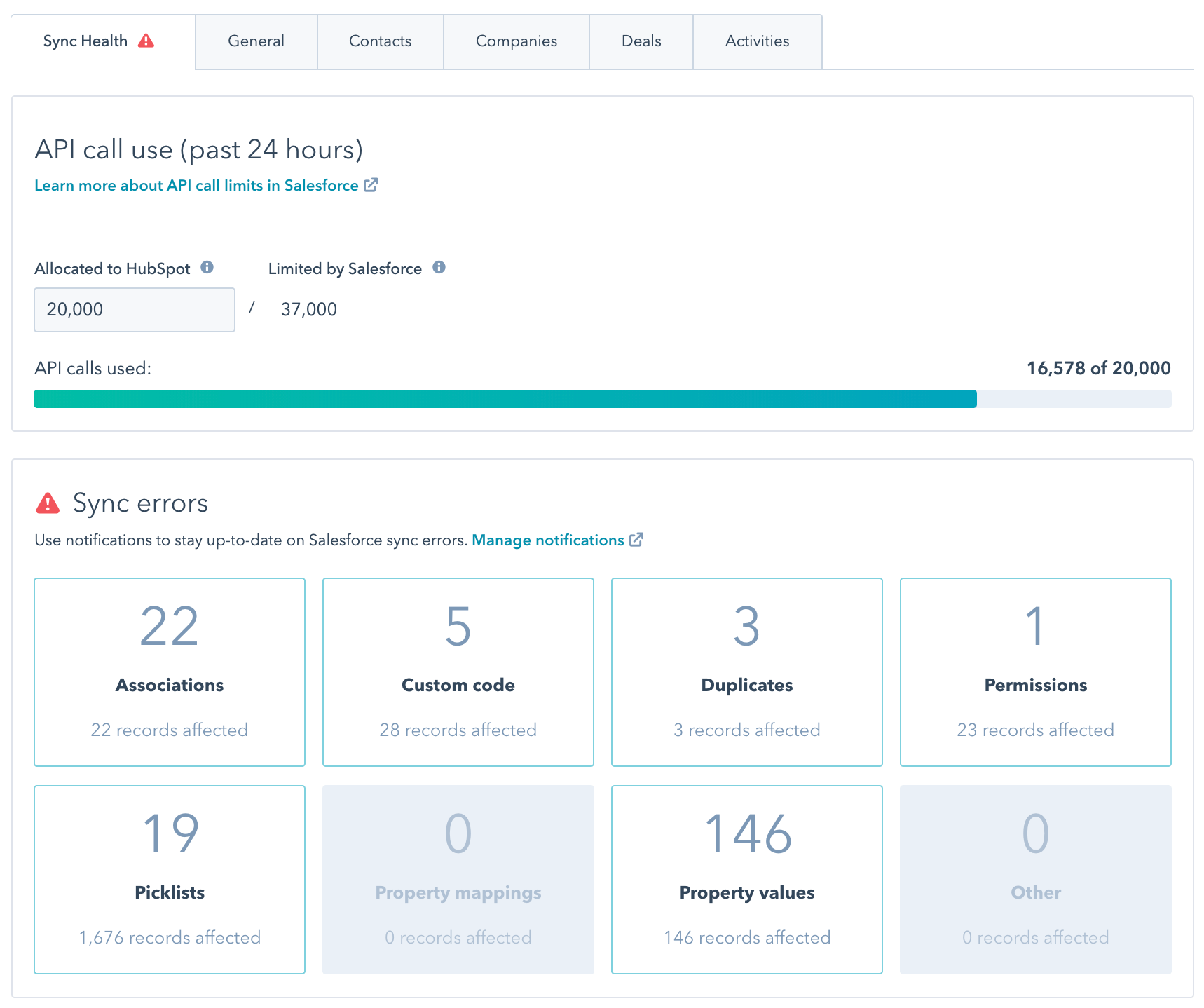 Because of this, you will be able to see right away whether the sync between the platforms has produced any errors based on the information you are providing. This ideally will help you take care of the issues faster since you will be aware of them as soon as you dive into the integration.
2. Distinct error categories
The integration also does a better job of categorizing any sync errors you have. The errors are broken down by associations, custom code, duplicates, property mappings, and more. For example, if there is an error with syncing a contact property like "contact owner," that would fall under the property value category.
This comes in handy when it is time to resolve your errors by allowing you to go through one category at a time (like all property values), and see which properties are not syncing correctly rather than jumping to separate properties.
3. Sync error notifications
Finally, you will now be able to set notifications to be sent to you if HubSpot determines there is a sync error between the two platforms.
You'll have the option to turn notifications on and off — and choose how often you want to receive them. This gives you another option to help stay on top of any errors you might receive to make sure the information is flowing smoothly between HubSpot and Salesforce.
Taking advantage of the new sync health tab
One of the more difficult parts of having HubSpot and Salesforce work together is making sure the data we are collecting between the two platforms are speaking to each other in a way that works with both platforms. The new sync health tab does a better job allowing you to understand if there is an issue, what it is, and how you fix it.
The update to the integration also improves your access to the record that has the issue in both HubSpot and Salesforce. This helps when you are trying to dig deeper to pinpoint what the error might be, and what the solution is to resume the sync on that record.
The notifications also help you stay on top of all of the errors. Having sync errors can stop the marketing or sales teams from getting the full picture on a record. Being alerted right away and taking care of the sync errors as soon as possible can help teams avoid any issues.
🔎 Related reading: Our 20 favorite HubSpot integrations for business
What's next?
The update is now live for all users who have the Salesforce integration and is available to all Marketing, Sales, and Service Hub Professional and Enterprise users.
🔎 Related reading: HubSpot cost and pricing guide for 2020
If you have had issues in the past making sure that the HubSpot-Salesforce integration is working correctly, I recommend heading over to your Salesforce app in HubSpot to turn on notifications, and to check out your current sync health tab.
Free Assessment:
How does your inbound marketing measure up?
Take this free, 5-minute assessment and learn what you can start doing today to boost traffic, leads, and sales.
Get Started
Free Assessment:
How does your inbound marketing measure up?
Take this free, 5-minute assessment and learn what you can start doing today to boost traffic, leads, and sales.