Top 5 Wistia alternatives for businesses that need video hosting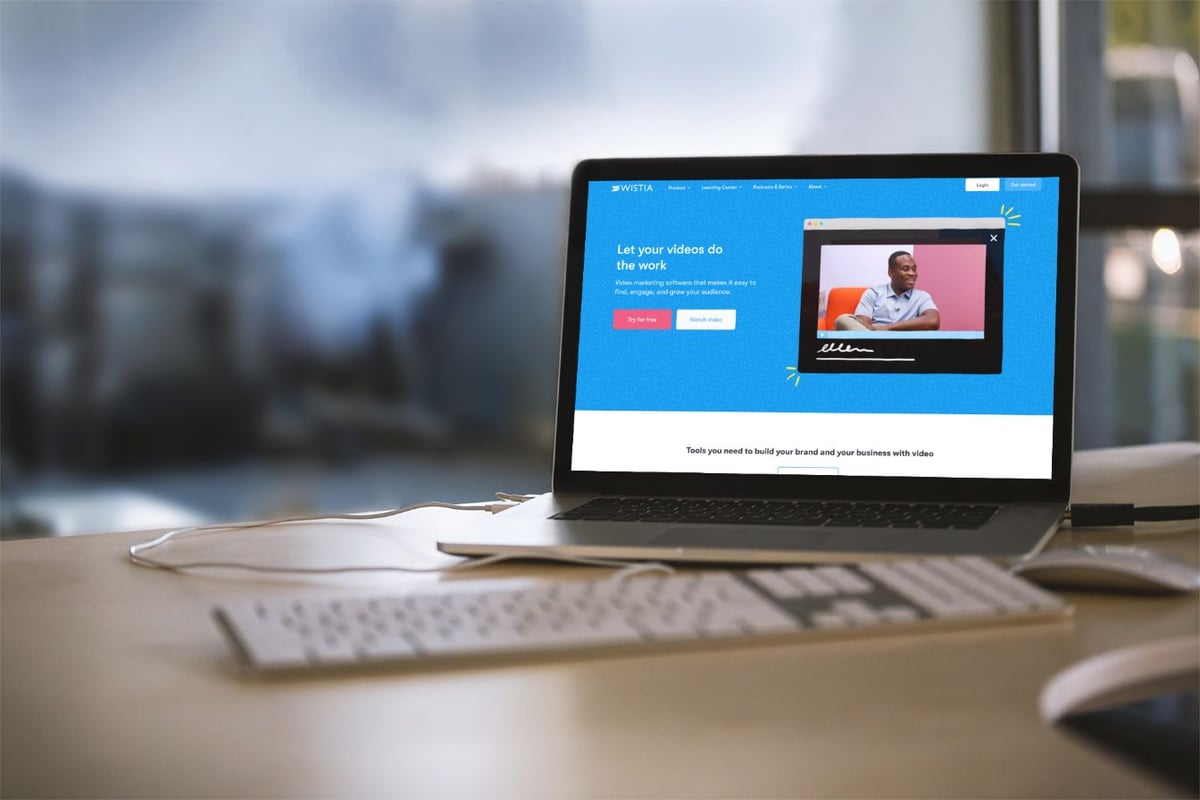 Best Wistia alternatives for business video
Vidyard - Best for 1:1 sales videos
Vimeo - Best for high-quality videos
Brightcove - Best for a large volume of videos
YouTube - Best to be found by search engines
Sprout - Best for social media
Video is an essential part of any business' marketing plans these days, so you no doubt want to have a lot of videos on your site.
But in order to have videos, you need a video host — a third party platform that allows you to upload and store your videos. Then, you can either access your videos on the third party site, or embed them as needed.
There are dozens of great options, and Wistia is a very popular one — and for good reason.
Wistia is a hosting platform that has an easy to use interface and unbranded players. This means when people are watching your videos, they won't see the logo for Wistia anywhere. It keeps the focus on your brand.
It is good for larger teams because of it can be accessed by unlimited users. It's also good for tracking analytics and integrating with marketing platforms. You can add CTAs, email gates, and annotation links to your Wistia-hosted videos.
Wistia is a good fit for folks who don't need to host many videos, as the platform charges per number of videos.
However, if you can afford it, Wistia is great for driving more leads to your website because of the custom players that give you the ability to customize colors, logos, and controls to match your brand. Wistia's email collectors help generate more leads, too, as your videos can have pop-ups asking for email addresses of your viewers.
But it's not perfect for everyone. You might not want to use it if you have over ten videos you need to host or are on a limited budget.
Wistia charges its clients per video, and if you produce a lot of videos you don't want to worry about paying extra for every single one.
More than three videos will end up costing upwards of $99/month. This can be a bit intimidating, especially if you're a small business just getting started.
Wistia can be a bit pricey for the features offered. So, if your needs and budget don't match up with its offerings, what should you look at instead?
Top Wistia alternatives
Here are some other popular video hosting options that might better suit your needs, along with some insights into pricing and features.
1.

Vidyard

- Best for 1:1 sales videos

Vidyard's goal is to connect you with your customers. They believe that distance doesn't have to matter, and that you can always be connected and communicating.
At IMPACT, we use Vidyard. A lot. But we don't use it for everything. Vidyard is very useful in places like emails, where the platform makes it easy and efficient to send a 1:1 video. We also use Vidyard to host videos on our landing pages and other webpages.
Vidyard is great if you're looking for easy analytics, impressive privacy options, and CTAs that you can add into the platform.
You can also do minimal video editing in Vidyard like trimming the endings or beginnings of your video as needed.
Another nice feature is easily creating GIFs as thumbnails, which can help your videos be more engaging when you're sending them in marketing and outreach emails.
Imagine seeing a friendly face waving hello to you, offering to answer all your questions. It's pretty inviting! If you were on the fence about doing business with a company, but you see they went that extra step to send you something personal, it might sway you.
Like Wistia, Vidyard integrates with platforms like HubSpot, too.
Vidyard is pretty affordable. It has a free option for single users, along with a paid option for just $15 per month. There's a wide range of prices depending on your situation, but the starter pack for teams of three is $300 per month.
This may seem like a huge jump, but you get double the number of embeds, added analytic options, and added security settings. There's also no per-video charge.
A potential downside I've found is that Vidyard's UI can be confusing at first, but like any tool, there's a learning curve. Luckily, they have a resource center to help you learn.
2.

Vimeo

- Best for high-quality videos

Vimeo could be a smart choice for medium-sized businesses. The platform started as a way for filmmakers to share their content. This led to a culture and reputation of high quality video and professionalism.
Vimeo offers an extremely user-friendly interface. You can easily embed videos in your site or emails and get useful analytics. Your customers can also view videos without ads. Vimeo does have "related videos" on the side, but they are generally relevant to the content, unlike the ads you see on YouTube.
Vimeo is best for companies that have more professional, cinematic videos and want to showcase their professionalism.
However, users can't edit in the platform, unlike with Wistia and Vidyard. That means if you'll have to do all your trimming and cutting in an editing suite like Adobe Premiere.
Vimeo offers reasonable prices, starting at $50 per month for 5TB of storage and 10 users. It's certainly enough for a small to midsize business, even if you're going to be posting videos often.
3.

Brightcove

- Best for a large volume of videos
Brightcove's mission is to educate and communicate using video. Using Brightcove, it's easy to upload and edit videos. You can upload, cut, trim, and add text right in the platform. The analytics are great too. There's also a YouTube sync option.
Brightcove's site is geared towards managing a very large number of videos, so this is a good fit for enterprise companies.
The big downside to Brightcove is the price, which is not addresses on the website and is rather difficult to track down.
As a potential customer, I was discouraged by not finding price specifics on their website.
Suffice it to say, this service is on the pricier side, and you might want to consider other options if you're a small to medium sized company.
4.

YouTube

- Best to be found by search engines

If you're looking to be found, YouTube might be for you. It's favored (and owned) by Google, so videos on this platform are more likely to pop up at the top of a search page.
It's also free to use with unlimited video uploads. It has an easy interface and decent analytics, too.
But those free features come at a different sort of price: there can be a lot of ads. When audiences come to see a video on YouTube, they might see a cat video or even something inappropriate on the side panel for related videos, so it's not the most professional-looking option.
That being said, viewers won't see those other videos as long as they watch the YouTube-hosted video embedded on your site.
While other options have no ads, and no bizarre related videos on the side, YouTube can still be a good option for some. I would suggest using YouTube if you're looking to widen your reach.
YouTube is the easiest way for people who don't know you yet to find you.
5.

Sprout

- Best for social media

Video host Sprout is an ideal option for videos intended for social platforms. Sprout has great security features and good analytics, too. There's also integration with Facebook. They also have five profiles for the lowest tier, but there is no free plan.
The price starts at $24.99/month for three users and up to 500GB.
Sprout allows you to host your videos on a professional site that won't have anyone else's branding on your videos. They also allow granular insights into the logs of who has watched your videos.
Unlike Wistia, there are a certain number of seats per pricing range, so Sprout would be better for a smaller team. If you have fewer than five people who will be uploading videos, Sprout could definitely work for you.
Choosing a video hosting platform
Knowing how important video is to your company's marketing plan, you certainly want to choose the best host to fit your needs.
The reality is, however, that the best option for you might be a combination of more than one platform. For instance, at IMPACT we use Vidyard for our 1:1 videos, Vimeo for IMPACT+, and YouTube for our inbound content.
Like anything else, video hosting is an investment.
Don't let the ones without free options deter you. It's often worth the money to host your videos in a way that works best for your company.
Sites like YouTube and Vimeo can be awesome for hosting more content-based videos, but you'll probably need another one for your sales video needs.
Remember, it's important to find what works best for your organization — so take your time deciding.
Free Assessment:
How does your sales & marketing measure up?
Take this free, 5-minute assessment and learn what you can start doing today to boost traffic, leads, and sales.