About us videos: Why they could be a waste of a good video marketing strategy [+Video]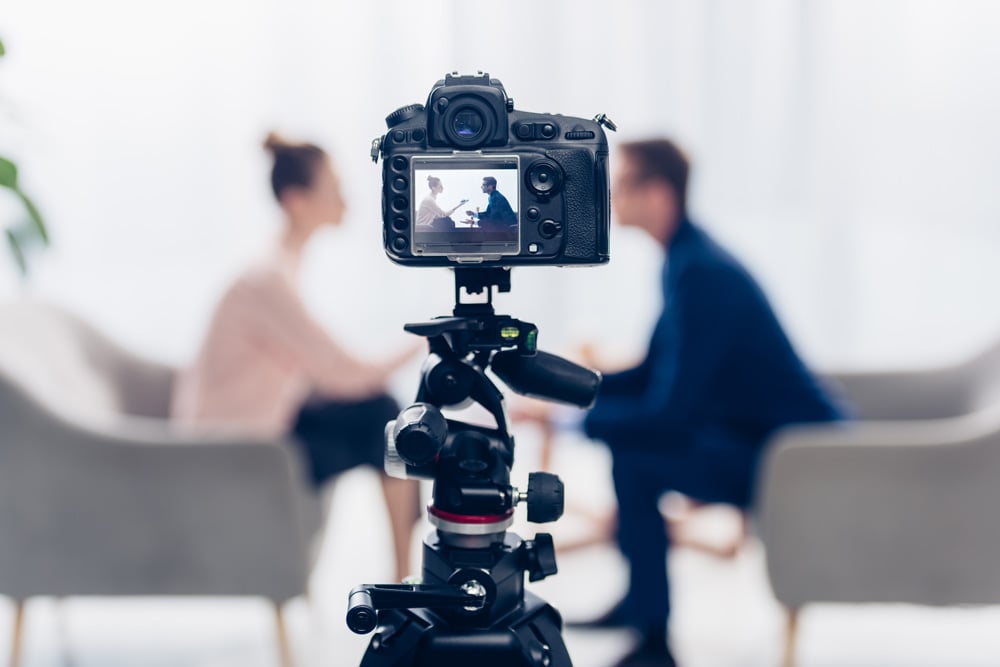 The "about us" video (or "corporate video") is one of the most popular types of videos you see on business websites these days.
In fact, it's one of the most popular types of videos clients ask us for here at IMPACT.
At some point in time, when we still treated our websites as online brochures, this became the go-to video strategy to communicate brand values, purpose, and competitive differentiators.
But here's the problem: Although about us videos may be popular, could you show me a case study that proves that one actually makes a difference in building trust and affecting revenue?
I highly doubt it.
Why the "about us" video hasn't stood the test of time
I don't mean to bash storytelling, because, honestly, storytelling is a powerful sales and marketing tool.
Many will say with good reason, that we purchase based on emotion and justify with logic. This is why we recommend strategies like the "Claims We Make" video, because the story must have a settled purpose.
I think it bears repeating that the "about us" video could have been viable at some point in time.
There's no question that communicating who you are is still important in sales and in building brand loyalty. Perhaps though, that alone isn't going to cut the mustard anymore.
That's not adjusting to today's changing buyer.
Instead of talking about yourself with your video, consider how you can communicate who you are AND educate at the same time. That's ultimately what the buyer wants from your video content.
So what do we do? Let's discuss what we really want from video content as consumers and what's missing from an "about u" video.
What buyers really want from videos
I'm always amazed to hear how much video is growing; like this study from Cisco which shows that, by the year 2022, 82% of all consumer internet traffic will be video-based content.
This is significant.
If you were to ask your family and friends how many of them have watched a video lately before making a purchase, even if they didn't buy from that company, you'll likely find most of them have.
But, what do people WANT from video content as a buyer/consumer?
I've asked this very question to literally thousands of conference and workshop attendees over the years and here are five of the most popular responses:
1. "I want it to show me what I need to see"
Whether it's a product explanation, a how-to, complex equation, or an unboxing, we often think of the tremendous opportunity video affords us for visual education.
Of course, what that education looks like depends on the product or service you offer. For a product, this could include demonstrations whereas with a service this could be an explanation of process.
2. "I want it to tell me what I need to know"
What do they need to know before making a purchase?
From an information standpoint, buyers want videos that help them determine when they are or are not a good fit for a product, service, or company. They want the brand to ease their fears, worries, and concerns.
3. "I want it to be unbiased and helpful"
They don't want to be sold to. They want to make the decision for themselves. In conjunction with that, they want to hear the pros AND cons of product and service offerings.
4. "I want it to be fun and human"
As human beings, when we watch a video, we actually crave a connection with the person on the other side of the screen. We want to trust and relate to them. This is why review channels on YouTube tend to perform so well.
5. "I want it to be short and concise"
While buyers want to be informed, they certainly don't want to waste any time. While I think it's relative to the type of purchase, they still don't want to spend forever or get bored.
The types of videos we should be making instead of "about us" videos
At IMPACT, we've had the unique fortune of helping hundreds of companies with their video sales/marketing strategy.
This not only has given us incredible insight into what will actually cause the biggest difference in traffic, leads, and sales but also, unwavering confidence that if you focus on the right things, you can almost guarantee success with video to a large extent.
The following are 12 types of videos to focus on, which we break up into two groups:
Following the principles of the They Ask, You Answer business philosophy, The Big 5 are the five categories of major questions that buyers have in nearly every industry when making a purchase.
Regardless of an application in B2B or B2C, product or service, local or national, video or written, these can be universally applied in content.
Cost/Price Videos
"Problems" based Videos
Versus/Comparisons
"Best of" Videos
Review Videos
The unique thing about these five categories is that they are often the most seldom addressed by organizations on their websites, so they create an area of huge opportunity for your video strategy to make a difference.
This model for video in the sales process is based on one simple philosophy, "We're all in the business of trust, and if we want to earn trust we must allow prospects to see, hear, and know us before we see hear and know them."
These are seven types of videos that are aimed specifically to the purpose of building more trust early in the sales process.
Employee Bio Videos
Cost/Price Videos
Landing Page Videos
Product/Service Page Videos
Customer/Hero's Journey Videos
Ultimately, these types of videos obsess over the fears, worries and concerns of the buyer rather than simply serving our incessant need to talk more about ourselves as organizations. The opportunities afforded to us with video allow us to show prospects what they need to see and tell them what they need to know, on their terms.
It's time for us to think bigger than how we can talk more about ourselves on our websites, and instead allow prospects to get to know us while we provide them with the answers they need and the solutions they're looking for.
Free Assessment:
How does your sales & marketing measure up?
Take this free, 5-minute assessment and learn what you can start doing today to boost traffic, leads, and sales.