The 4 most common problems with migrating from Salesforce to HubSpot CRM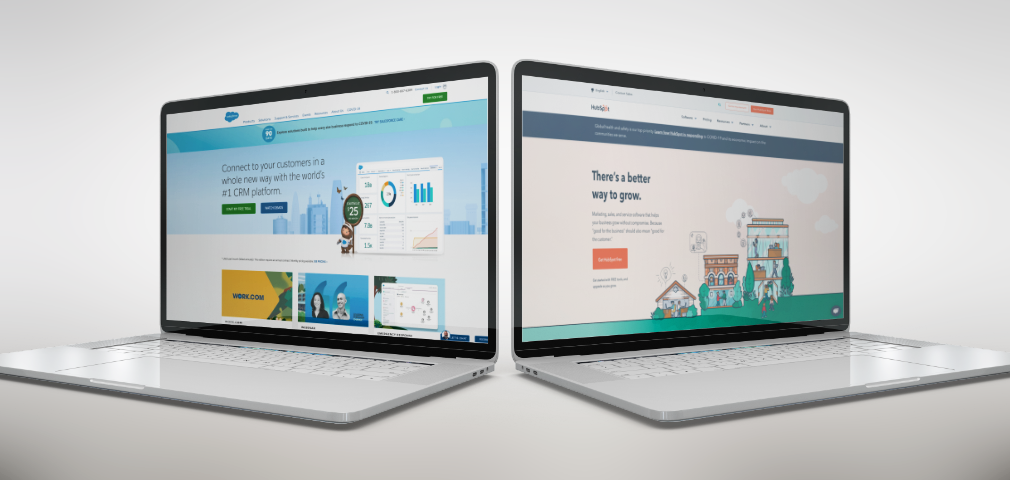 You and your team are about to embark on a difficult journey.
One that many marketing and sales teams have had to embark on. Some successful, others not so much.
You are switching from Salesforce to HubSpot.
Switching your CRM can be a tough task for your team. This pretty much goes without saying.
You have to take into account your current process and database, and how that can be switched to a new CRM and improved on to make sure you are getting your money's worth. All on top of educating your team on how to do so.
Changing your CRM from Salesforce to HubSpot is something I see all the time and while it is definitely a smart move for many businesses (more on that later), there are some problems that you can expect to encounter.
Why switch from Salesforce to the HubSpot CRM?
First, let's start with why you would be moving from Salesforce to HubSpot as that is the first question you will get from your frustrated team.
The most common reason I see is that Salesforce is too complicated.
Salesforce is very customizable and, while a good thing, the more you customize it, the harder it becomes to maintain or get support.
This is why when companies are using Salesforce, they usually have a dedicated person on staff to keep things in order.
For some companies, usually small to medium-sized companies with small sales and marketing teams, these customizations, whether it be custom objects or custom fields, are simply not worth it and they need something a little more straightforward.
Some would even argue (myself included) that even the standard Salesforce instance is too complicated.
A lot of that has to do with how user friendly it is.
Salesforce can look...well, kind of outdated. Many options are hidden in menus and contact views can house many different dropdowns based on integrations and custom views making instances look quite different.
That is where HubSpot can be a breath of fresh air.
While HubSpot is customizable in some areas, the overall structure (i.e. the objects and user interface) are not, so every HubSpot portal you are in will look very similar.
All this makes it easy for your team to train in HubSpot (since it is not custom for each company) and be able to find what you are looking for.
Finally, the HubSpot CRM has more seamless opportunities for integration.
While Salesforce is very capable of integrating based on your company needs, HubSpot has built a whole ecosystem around their CRM including a marketing platform, web development platform, and customer service tools, that are all as easy to use as the CRM.
Common problems with migrating from Salesforce to HubSpot CRM
As mentioned above, while it does have its positives, the transition from Salesforce to the HubSpot CRM will come with problems.
The best thing you can do is to be aware of the most common issues and be prepared.
1. Recreating your processes
Because the HubSpot CRM is on a completely different platform, your team will need to focus on how they want to recreate their processes to best fit how HubSpot functions.
This will be one of the most important issues to tackle to make sure you are taking full advantage of HubSpot, and so that your team gets what they need out of it.
One of the first things to look at when talking about the process is defining what your marketing to sales handoff looks like.
This includes what qualifies a lead as a Sales Qualified Lead, how you are notifying sales of this new prospect, and how is sales ultimately reporting back to marketing.
That last part is very important for marketing to understand if the leads they are passing over are truly qualified.
Another important process to think about is how to best manage new contacts, companies, and deals.
HubSpot is structured differently than Salesforce (see the managing your data section) so it will be important to understand how it works, and determine how your team will handle management..
To start getting most out of HubSpot right of the bat, you'll also want to determine how your team will use HubSpot before, during, and after a prospecting call. Even if you have nothing else decided, this will at least get your team using the platform quickly.
There are plenty of tools in HubSpot like playbooks and meeting notes that will help you and your team have smoother prospecting calls, and make sure that all information is being recorded as well.
Playbooks allow you to document and share the exact steps or script for a call.
Meeting notes is a great tool for making sure you record your notes about the call in the CRM for the rest of the team to see.
2. Replacing the tools your teams use
Another issue you will find when migrating to the HubSpot CRM from Salesforce is finding the right tools your team will need to adopt.
First, you need to find replacements for the tools that your team is already using in Salesforce. For example, an email integration.
Your team will still need to be able to email prospects and customers from Gmail or Outlook, and have it all be recorded in the CRM when they shift to HubSpot.
HubSpot offers a lot of these types of integrations but you'll also need to understand the breadth of native tools you and your team have available that can replace what you were using in Salesforce.
For example, in HubSpot, you can develop new sales email templates that your sales team can take advantage of when emailing a prospect. These are great to make sure the sales team is including the right talking points in emails that they send all the time.
You can also use HubSpot activities to replace the tasks tool in Salesforce to make sure your team is being notified to do any type of task, record a meeting, add notes to a contact record, and all other kinds of sales activity they would need to record.
3. Migrating your data
One of the most tedious problems that you will run into is getting your Salesforce data into HubSpot.
While HubSpot and Salesforce can talk to each other through an integration, the integration is not very flexible or customizable in terms of syncing custom objects from Salesforce to HubSpot, and the integration settings .
So, if you were using any custom objects in Salesforce, this problem may be more demanding than it would be if you weren't.
Simply put, Salesforce objects breaks down into HubSpot objects as shown below:
Salesforce Contacts/Leads -> HubSpot Contacts
Salesforce Accounts -> HubSpot Company
Salesforce Opportunities -> HubSpot Deals
For any custom Salesforce objects, you will have to structure the data in a way that it will fit into any of the existing HubSpot objects, since you can't have custom objects in HubSpot.
The good news is that you still are able to create custom fields (or properties) in HubSpot.
That means if you used to have a separate object in Salesforce that would something unique (i.e. favorite ice cream flavor) , you are able to create custom properties under the HubSpot Company object to house that information.
Migrating can also be made more difficult if your data isn't clean.
Let's be honest here. CRMs get messy over time and migrating to a new one is a great time to clean house.
Try and clean your CRM data as much as possible before you bring it over to HubSpot. This means making sure there are no "bad" contacts that no longer exist at a company, removing bounced email addresses, removing unqualified contacts, and so on..
The cleaner the data, the more accurate your reporting.
If you have a lot of contacts that are not real or engaged, then this will skew the number of contacts you have in lists, email sends, and contact reports.
Also, in HubSpot, you pay by the amount of contacts you have. You can save money by removing any old or dated profiles.
Before you bring over contacts to HubSpot, create reports in Salesforce of contacts you are willing to remove before migrating.
A contact validation tool like ZeroBounce is a great way to see which emails are real and won't bounce.
You also want to make sure that all contacts coming into HubSpot that you will communicate to from a marketing standpoint have given your company consent to receive that information. This is something that should have been recorded in your previous CRM.
4. Training your team to use HubSpot
Finally, there is the responsibility of making sure your team coming over to HubSpot is well trained in the new CRM.
After working with more than 50+ clients, the biggest issue I see is companies under utilizing HubSpot simply because they are not aware of what it can do or how it works.
While it helps having someone on staff who is your "HubSpot Admin," it still makes the machine run much smoother when your sales and marketing team is fully trained in HubSpot.
HubSpot is a very user-friendly tool, but there is still a learning curve. Fortunately, HubSpot actually does a great job providing a lot of information and training resources to make sure your team can get up and running as fast as possible.
HubSpot Academy, for example, provides courses and certifications for the HubSpot CRM, and for sales and marketing in general.
HubSpot also has a great Knowledge Base that includes tons of articles on pretty much all the tools and issues you might encounter.
I highly recommend searching questions you have to see the kind of articles you will run into.
When you are in the actual CRM, HubSpot has many project templates.
These templates provide you with a checklist of things you need to do in order to make sure that you are onboarding correctly, and doing the right things in HubSpot. These templates will also assign a task for your team in HubSpot to make sure what needs to be done is happening.
Finally, there are HubSpot trainers that you can hire to help your team get up and running fast. For example, IMPACT has a team of HubSpot trainers that can customize a curriculum for your team based on your needs and will help train on the HubSpot tool, and overall digital sales and marketing strategies.
Making the jump to HubSpot
Clearly, migrating from Salesforce to the HubSpot CRM is no easy task. Luckily, this isn't a new problem and there are many resources to help with your transition.
If you are in this situation, the most important thing is to be aware of the issues you will run into, and have a plan to attack them head on before you run into them.
You also want to look at your team and the people who will be in HubSpot. Make sure to have a transition plan specifically for your people and how they fit into this move. What should they be aware of and prepared for?
Thinking of the points above and answering those questions before you dive in will help you be better prepared for this journey ahead. Feel like you need some help making the jump? Talk to us.
Free Assessment:
How does your sales & marketing measure up?
Take this free, 5-minute assessment and learn what you can start doing today to boost traffic, leads, and sales.